Good morning! You may remember that I shared the design board for our master bedroom not too long ago. It's a room we have neglected for far too long so it feels good to be making progress. While we are still working on this space, I wanted to share our new bedding with you.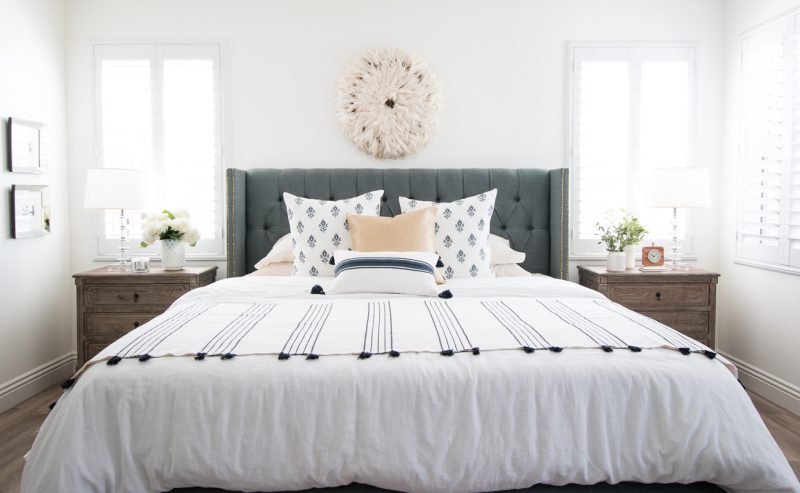 The overall goal for this space is to infuse as much texture as possible. The new linen duvet (care of Serena & Lily) is a nice way to accomplish that. I love the way it looks with the tassel throw. We've always wanted linen bedding so it's a complete treat.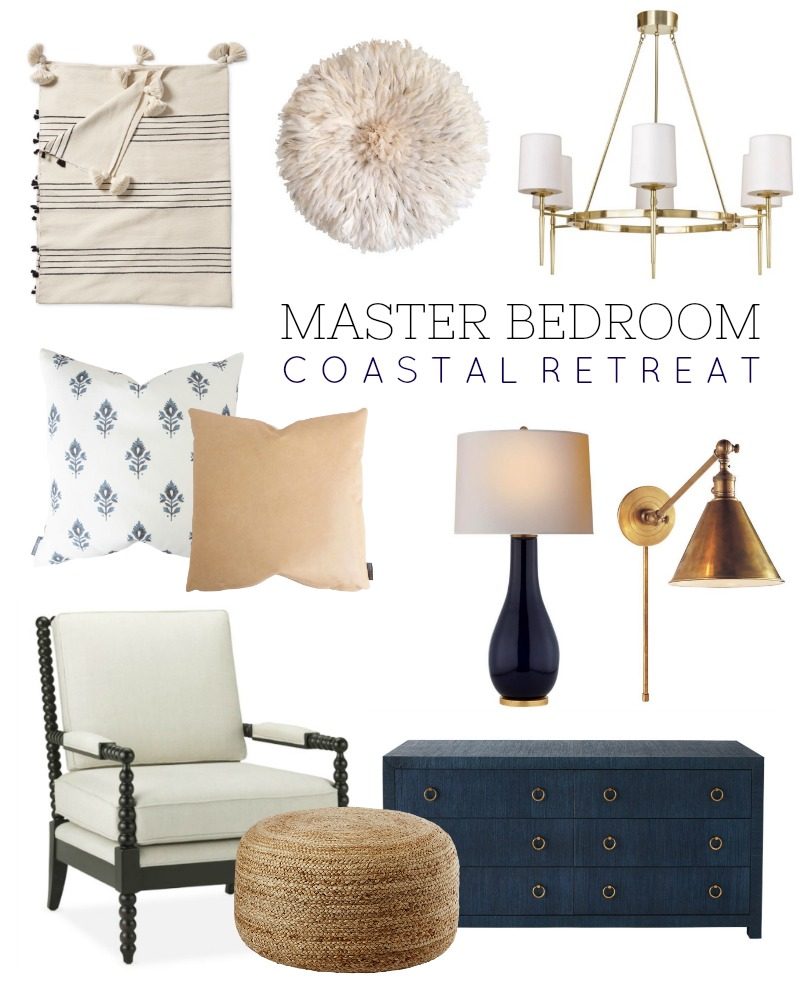 throw | juju hat | chandelier | print pillow | leather pillow | lamp | sconce | chair | pouf | dresser
Here is a reminder of the design board. I am still on the hunt for the perfect chandelier. I am struggling to find one that doesn't hang too low.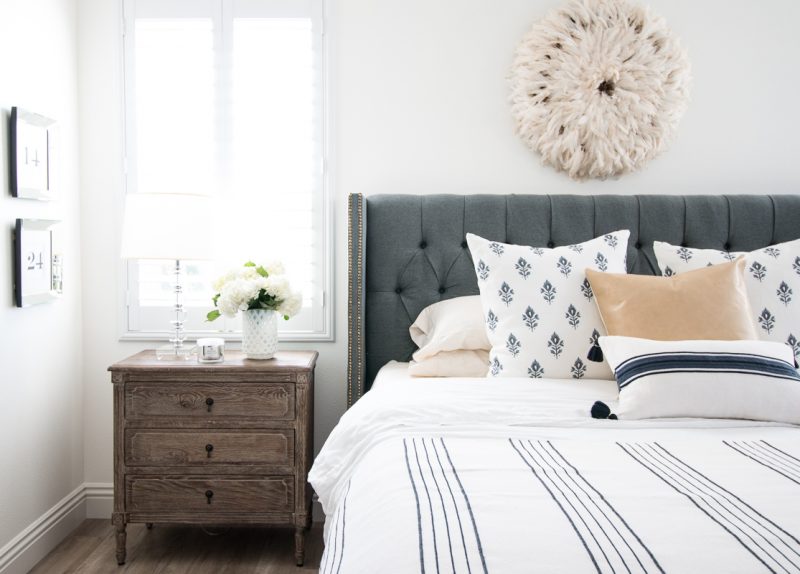 We get so much natural light in this room so I wanted to keep everything fresh and clean.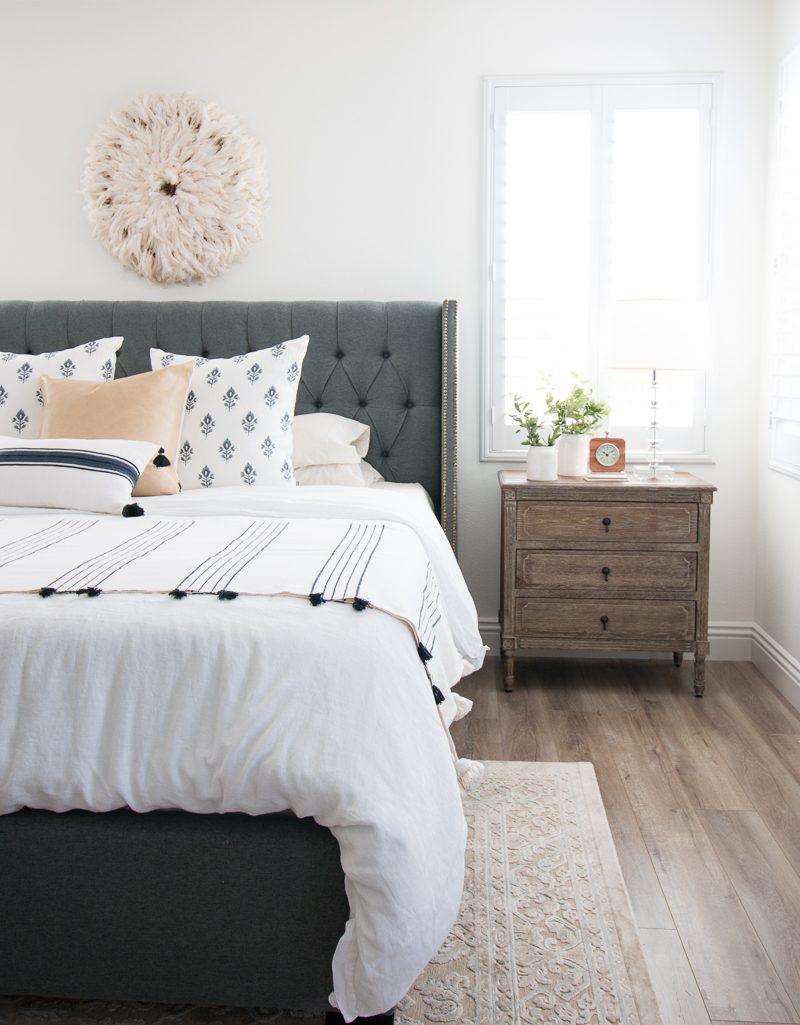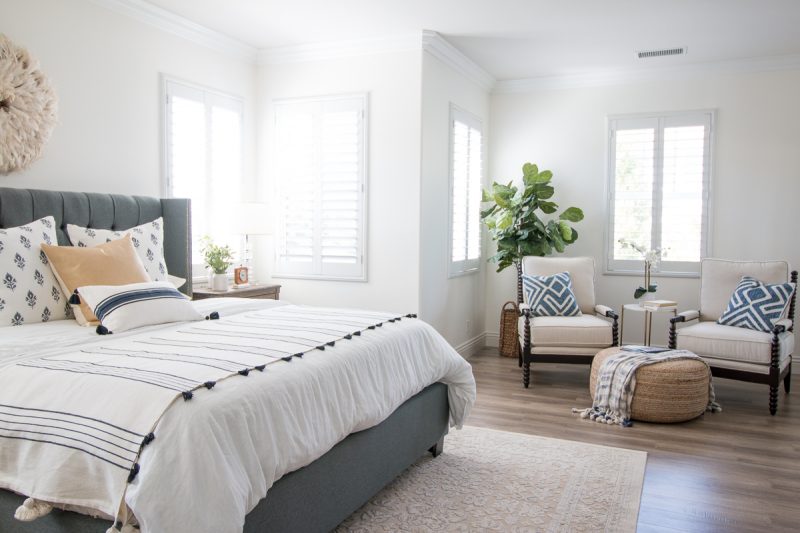 Here is a peek at the sitting area. I am looking for new pillows to go on the chairs (these are not working). An ivory sweater rug is on its way. It will work to define the space and be soft underfoot. I am also on the hunt for pretty artwork.
CREAMY WALLS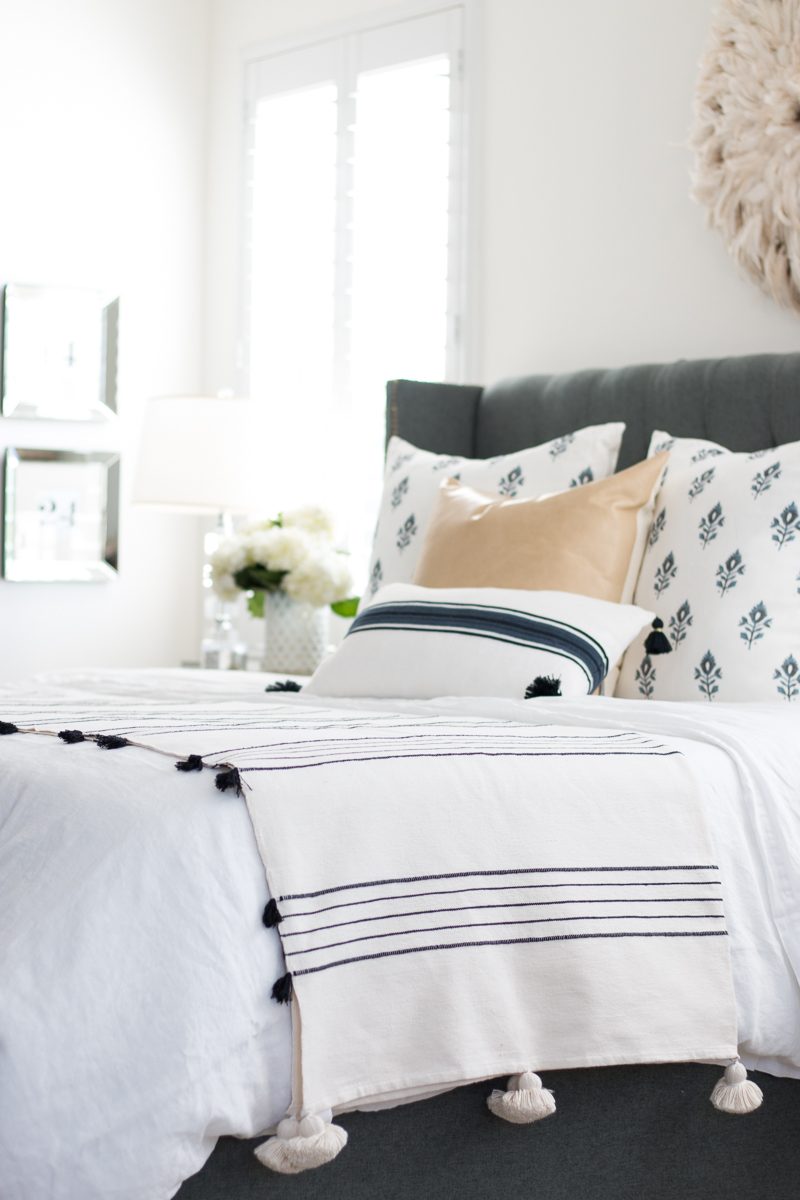 We had the walls painted Clear Moon by Behr. It's a warm, creamy white and it makes me smile every time I walk in the room. I chose more of a cream to play off of the tassel throw, and our ivory sheets. I really didn't want everything to be too white. Because the room is very neutral, the mix of white and cream adds more interest.
THE DETAILS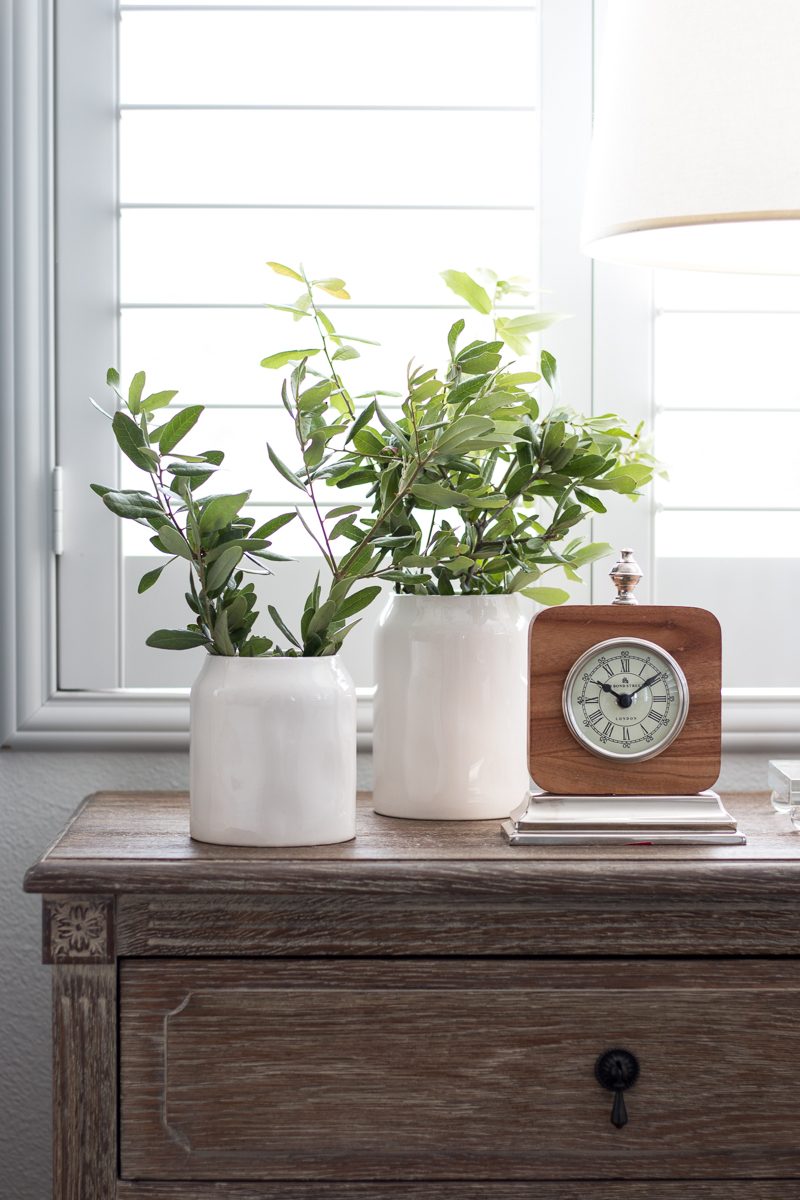 We've had these nightstand for a few years now (Restoration Hardware) and still love them. The jars and clock were  HomeGoods finds. Keep an eye out in the kitchen department for matching jars in different sizes. They came with lids but when you remove them you have a great set of vases. I think I paid $17 total.
The mirrored frames are from Aaron Brothers and are filled with numbers that represent my children's birthdates. The leather pillow and printed pillows are from McGee and Co.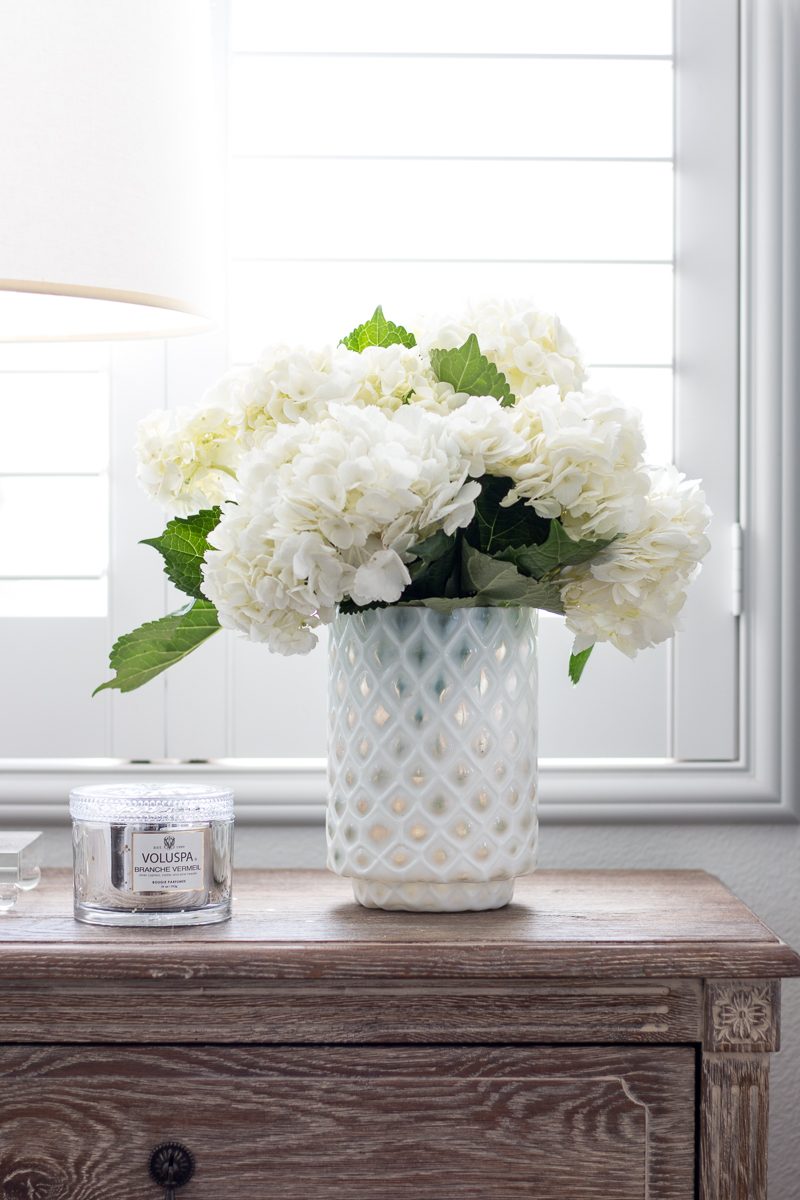 These hydrangeas have been blooming for over a week. When they start to wilt, trim the ends and place the ends in boiling water for 20 seconds. Then place the stems back in fresh cold water. They perk back up within a couple of hours. The hurricane (used as a vase) was a memento from the Better Homes and Gardens photo shoot we did in our last home. The stylist had found it at Target.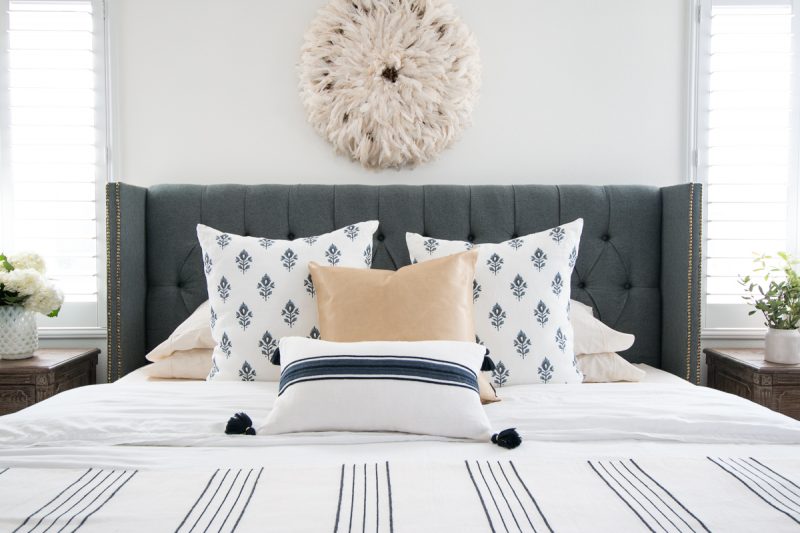 SHOP THIS SPACE

Now it's time to finish our room. It may take us some time but we will get there! Slowly but surely. This is shaping up to be my favorite room in our home.
In other news, our kitchen counters are being installed today. I am sooooo excited and so nervous. I'll try to share a sneak peek over on my Instastories. Make it a great day, friends.