Have you been to Napa Valley? We were lucky enough to travel there for a wedding not too long ago and I wanted to create a Napa Valley Getaway Guide so that you could use it as a fun reference should you ever find yourself headed there. It is truly one of my very favorite places. It is charming, inviting, and really quite breathtaking.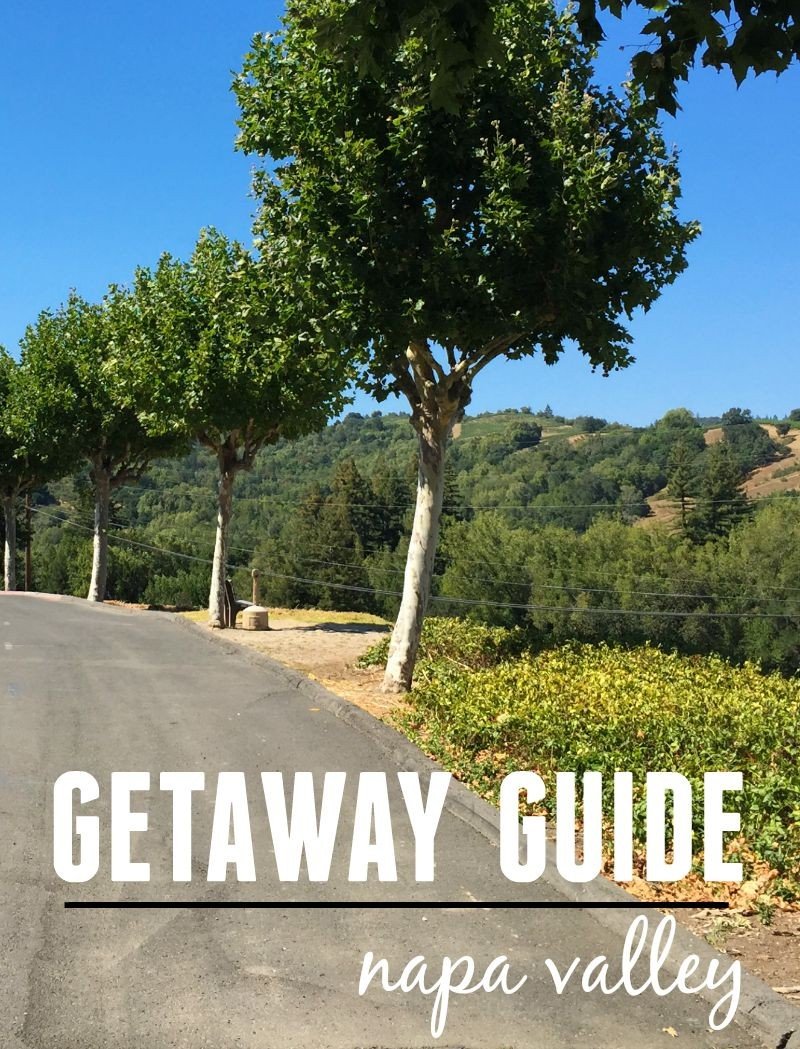 Hang on to your hats because this post is photo heavy but if you hang in there until the end you'll find a complete guide of what to do, where to stay and fun restaurants and wineries to hit up.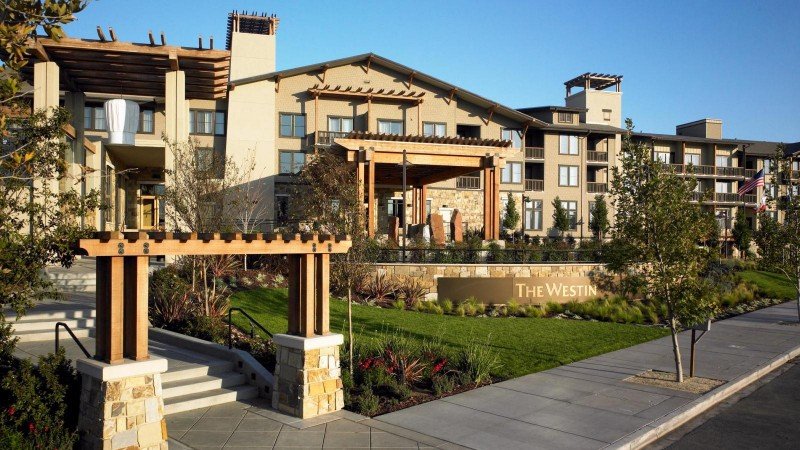 Westin Verasa (images via)
We all stayed at the Westin Verasa Napa and it was fantastic. I would definitely stay here again. The rooms are quite large and even equipped with a small kitchen so if you had a family with you it's ideal.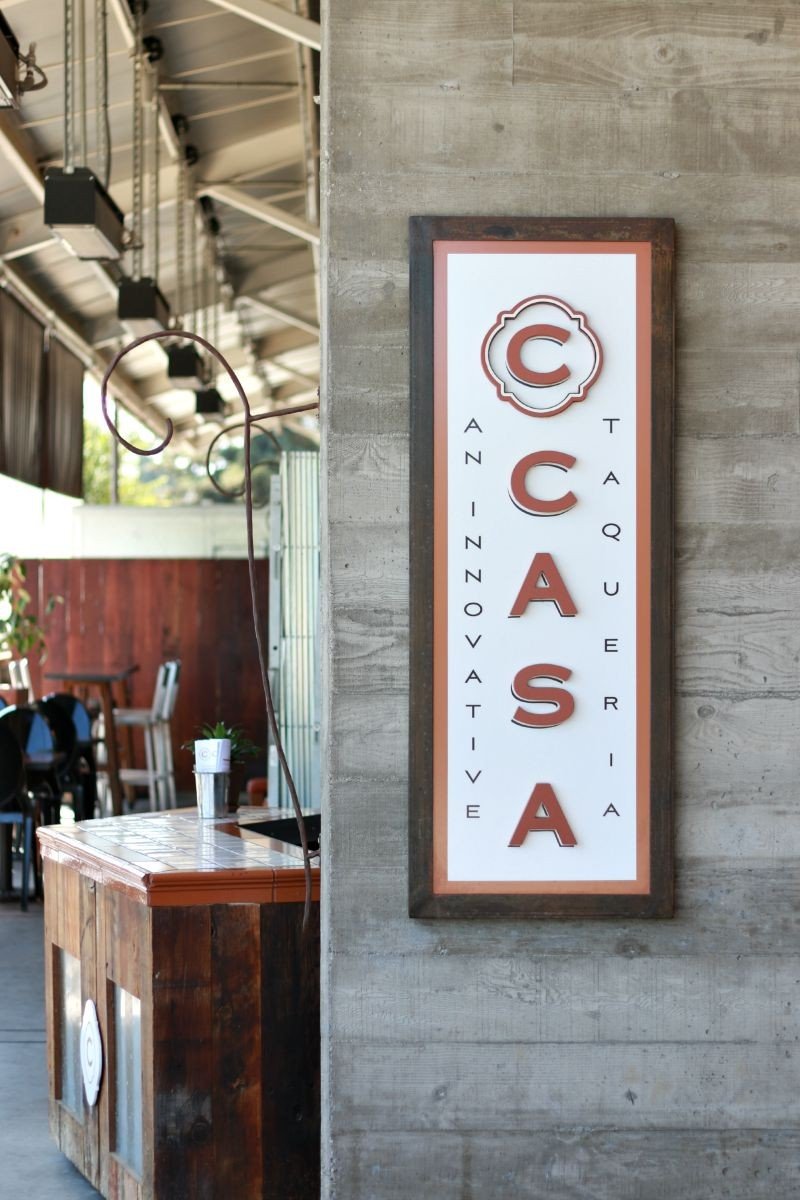 We drove in from San Francisco (read about our stay there in this post) and immediately met up with our friends to go grab breakfast. The hotel is a very short walk away from the Oxbow Public Market. It's a wonderful collection of restaurants, bakeries and little shops all under one roof. We loved Casa and enjoyed their breakfast tacos two days in a row.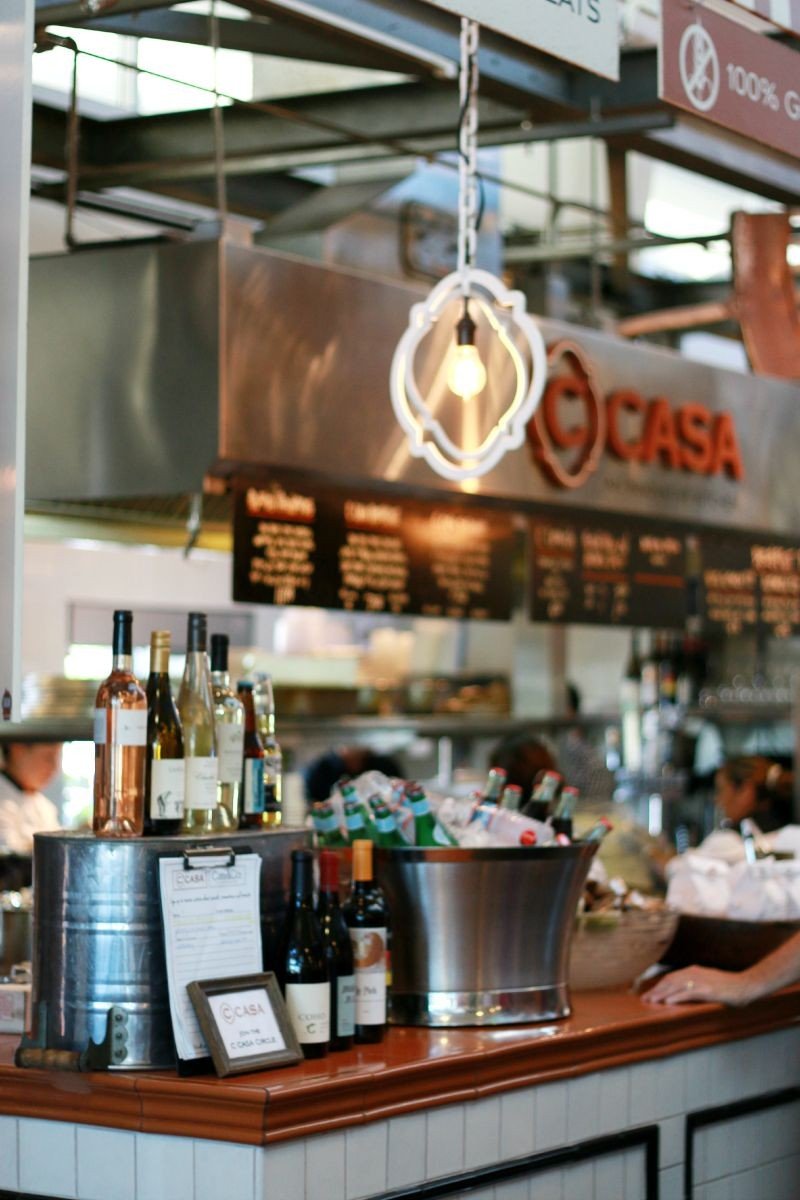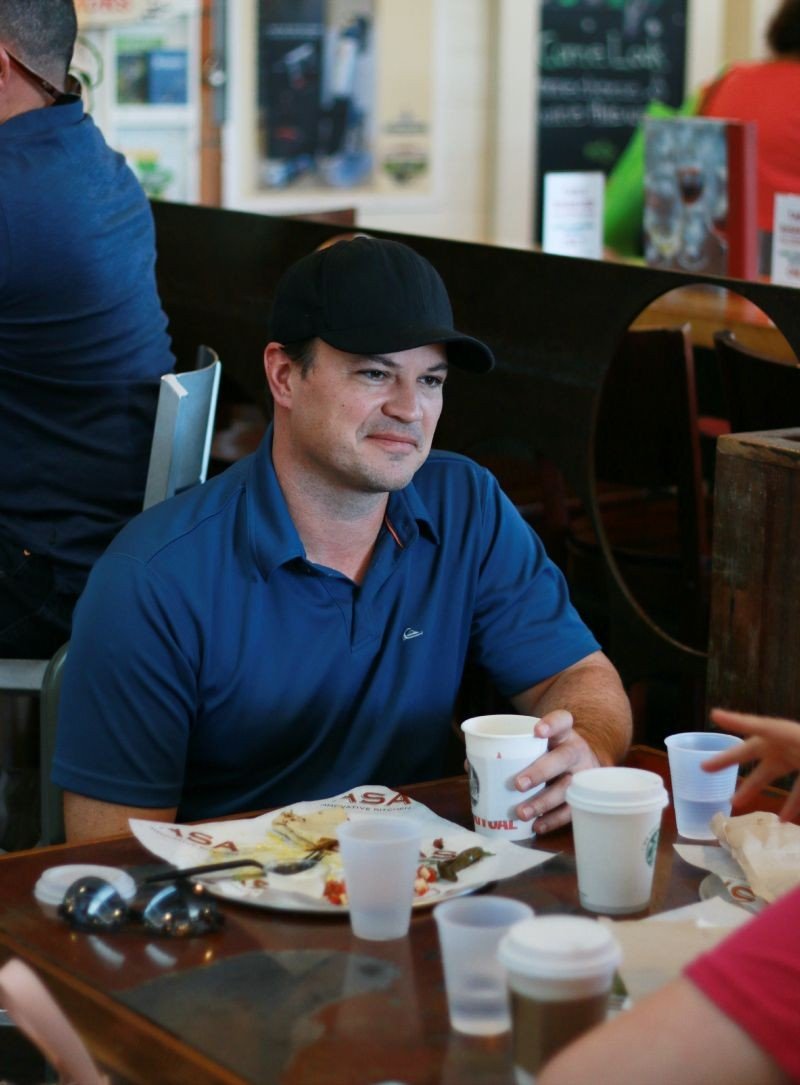 I love this boy. He is so awesome for always jumping in with my college crew. We had such a great time talking family, life and business with our friends.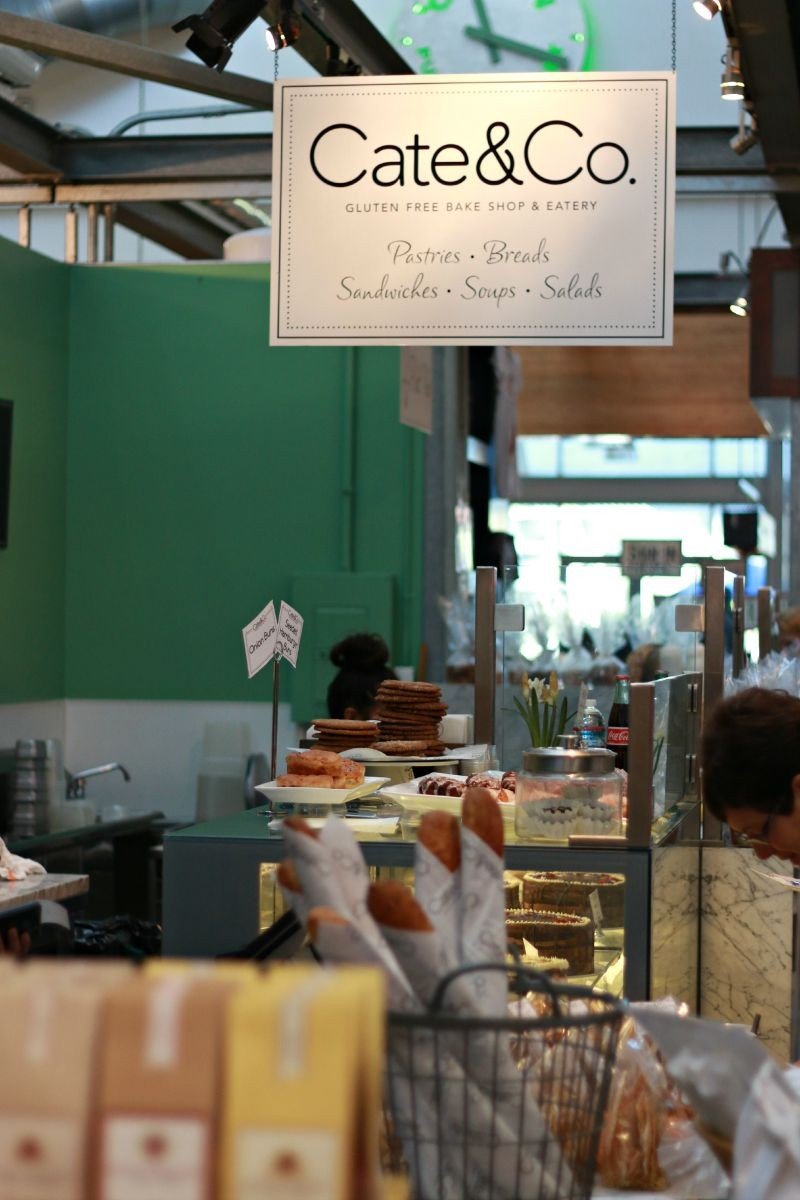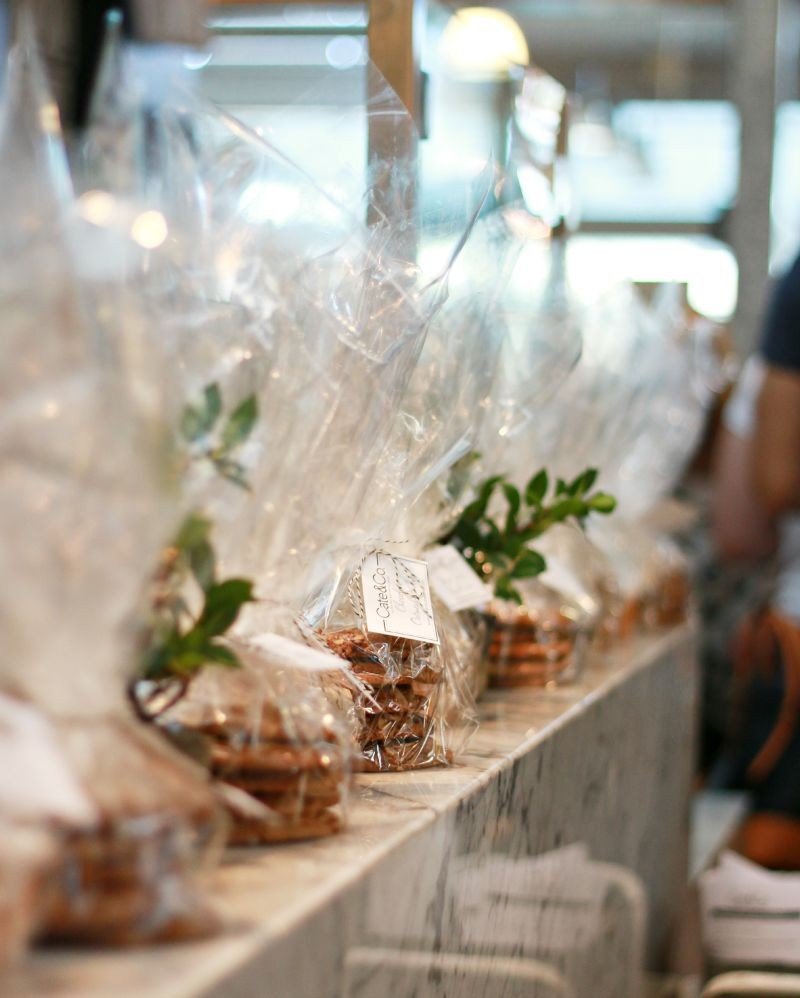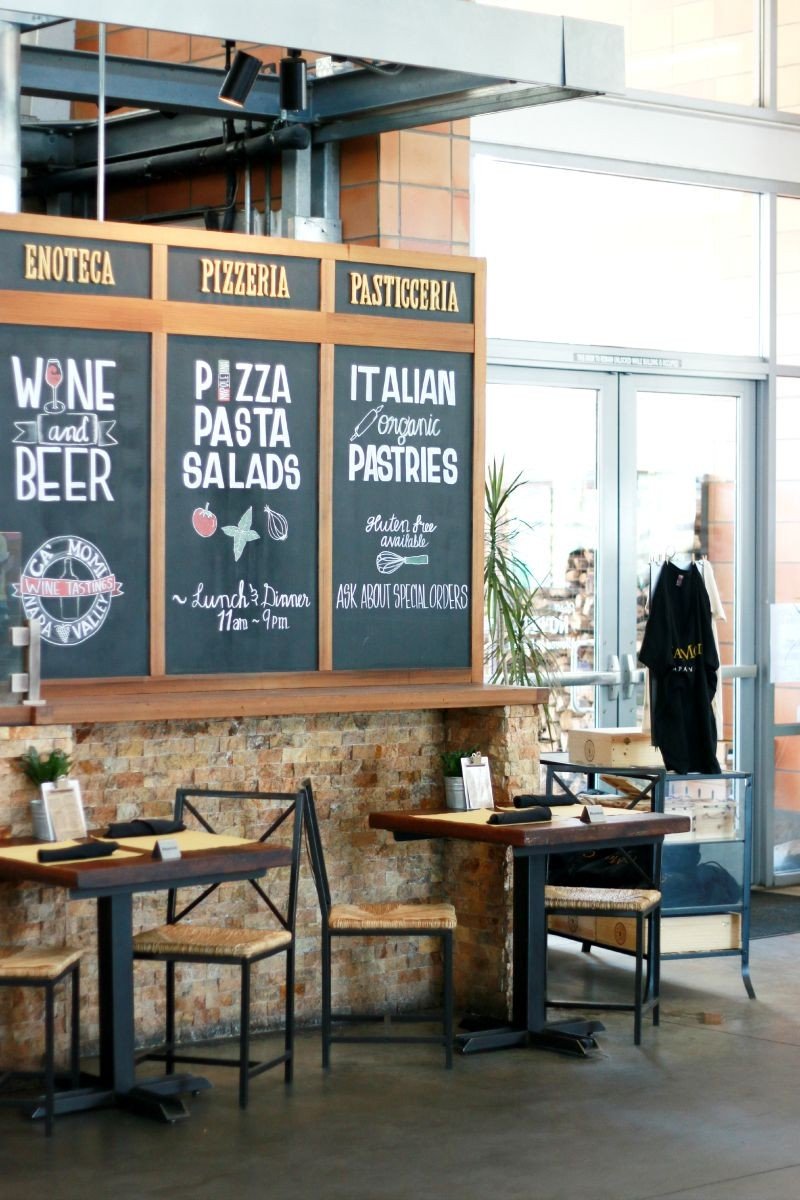 The market really is darling and as you can see there is a wide variety of places to enjoy. After that, we met up with our large group of friends for a wine tour. We visited two different wineries for tastings and loved every second.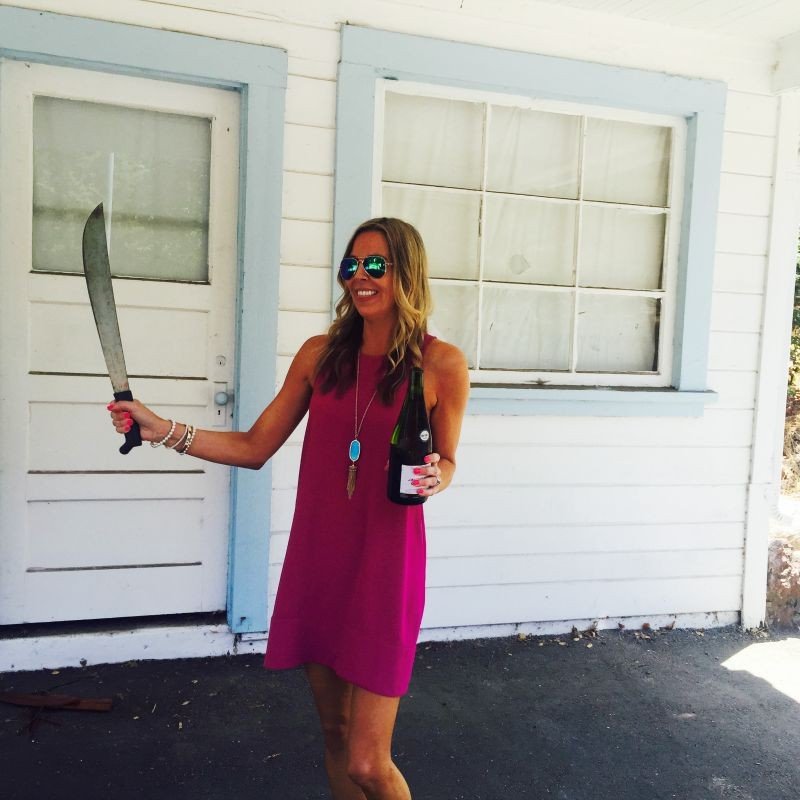 Our driver stopped at this little spot and we all hopped out of the car. I had no idea that they were going to have Ryan and I saber champagne as a toast to our 12th wedding anniversary. So much fun. . . I was scared to death but it went great! This awkward iPhone snap was taken right after the top of the bottle when flying off!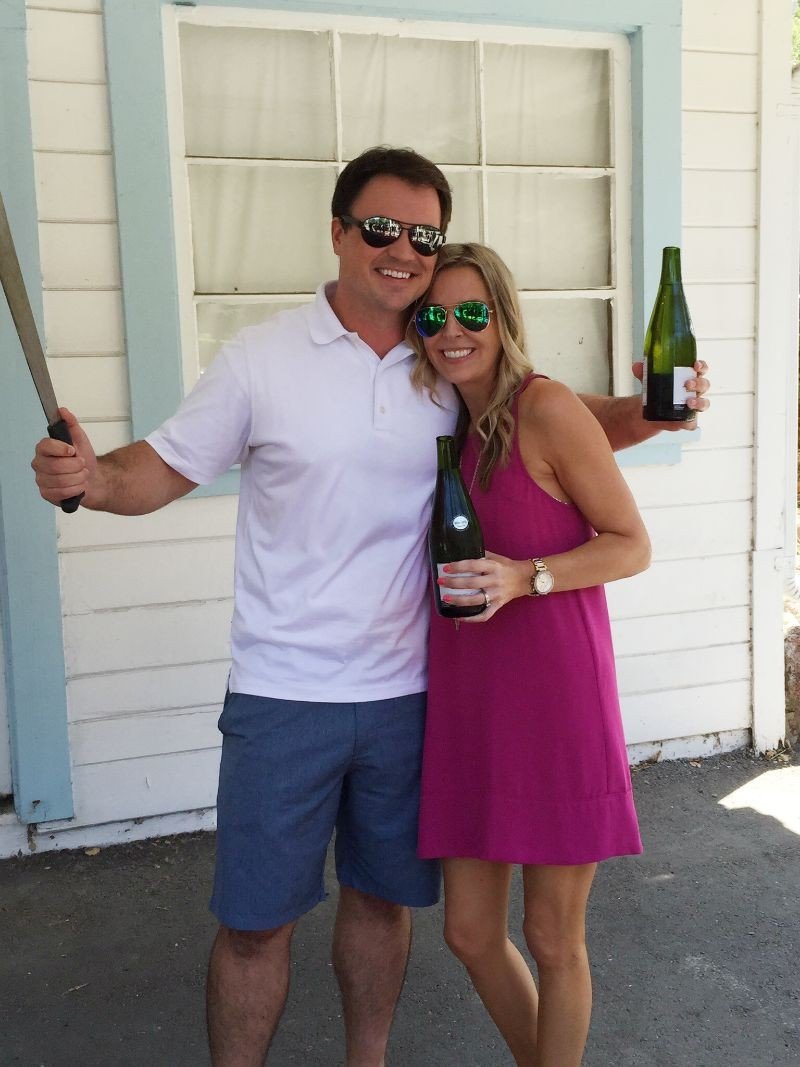 This dress (comes in six colors) is one of my favorites for travel. Packs so well and is super comfy.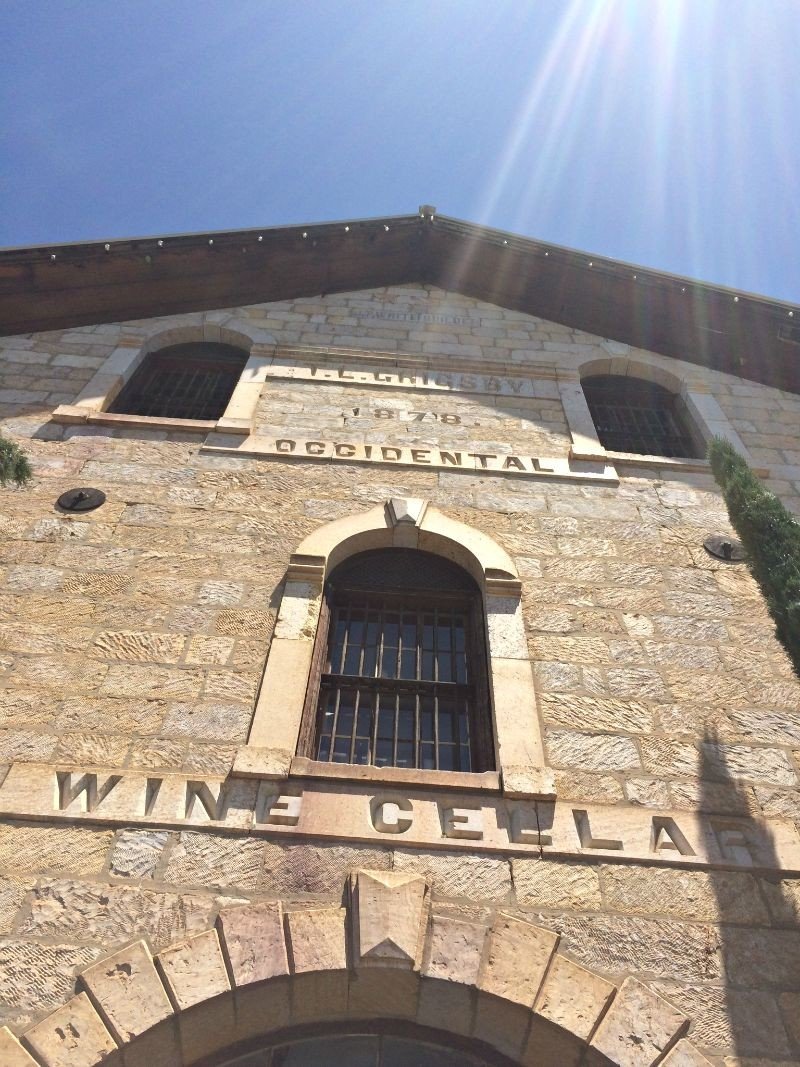 I highly recommend the Regusci Winery. The grounds were gorgeous. They even had a darling farmer's market stand which operates on the honor system. I mean how cool is that? The wine was fantastic and we really enjoyed our time here.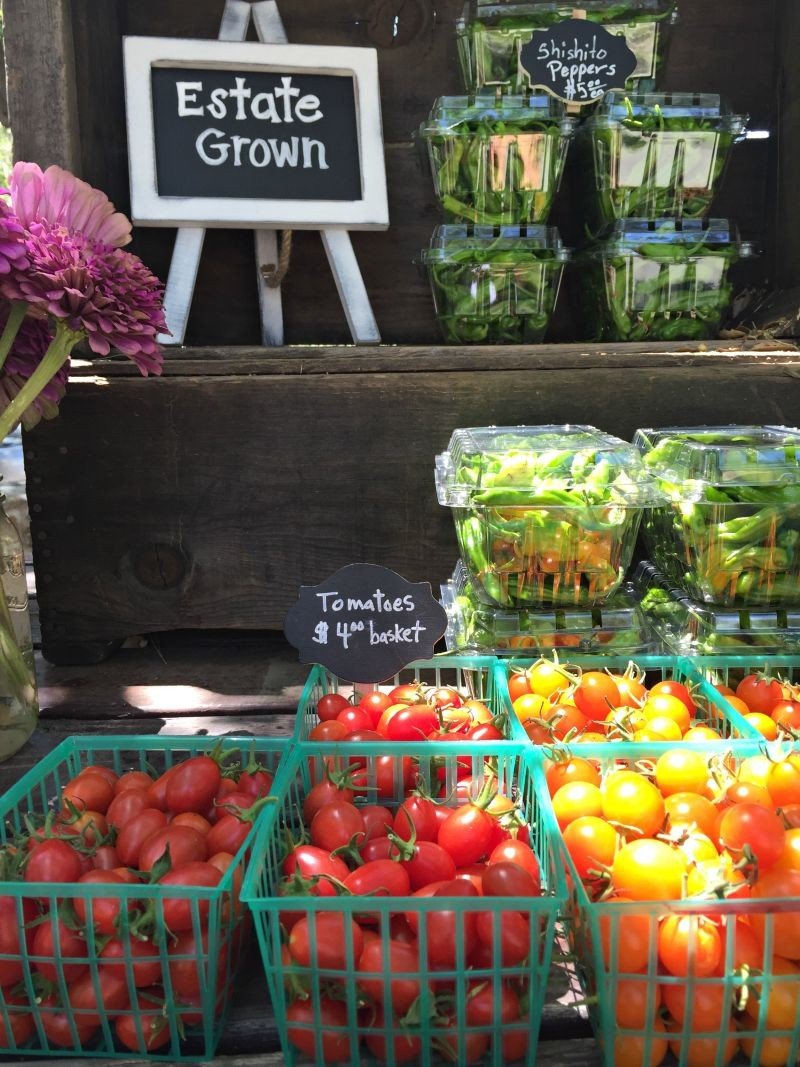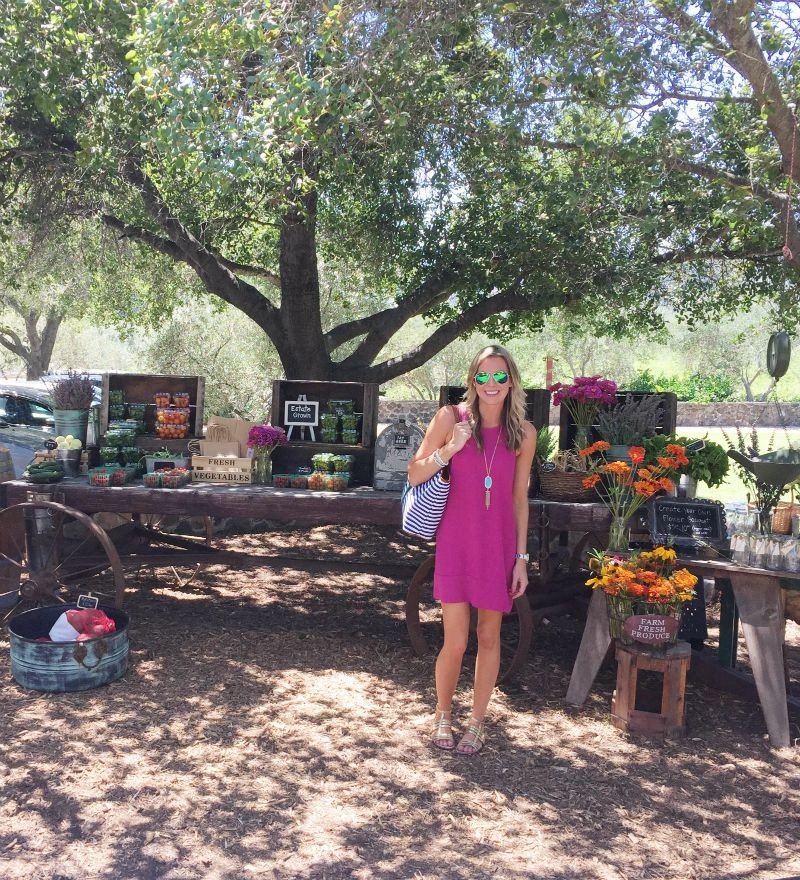 dress | necklace | sunglasses | striped tote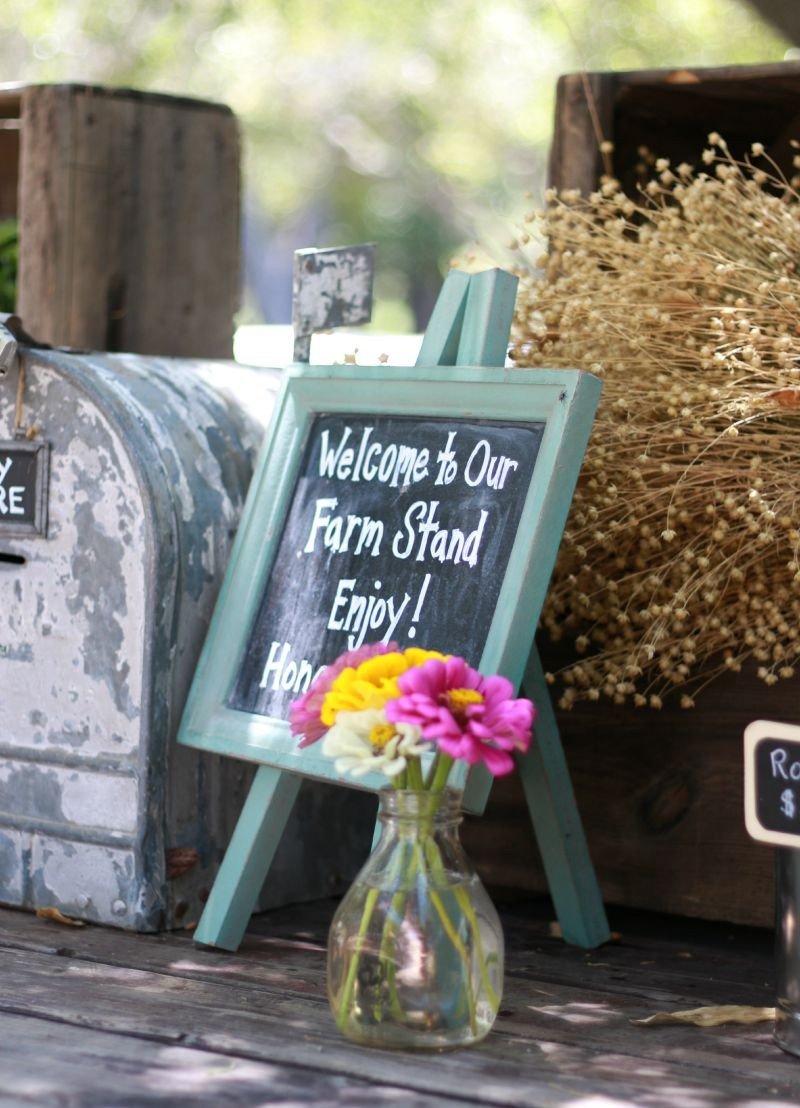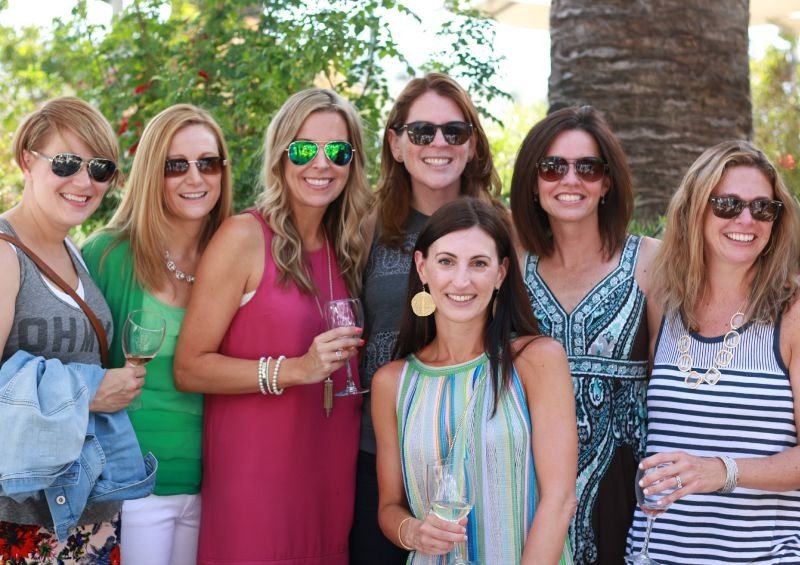 We kicked off the evening with wine tasting at the Napa General Store.  Over 175 wedding guests were rolling in and it was the perfect way to kick off the official wedding weekend. This is part of my college crew (so much love for these beautiful women). Nathalie, the bride, is front and center and pretty much the cutest thing ever.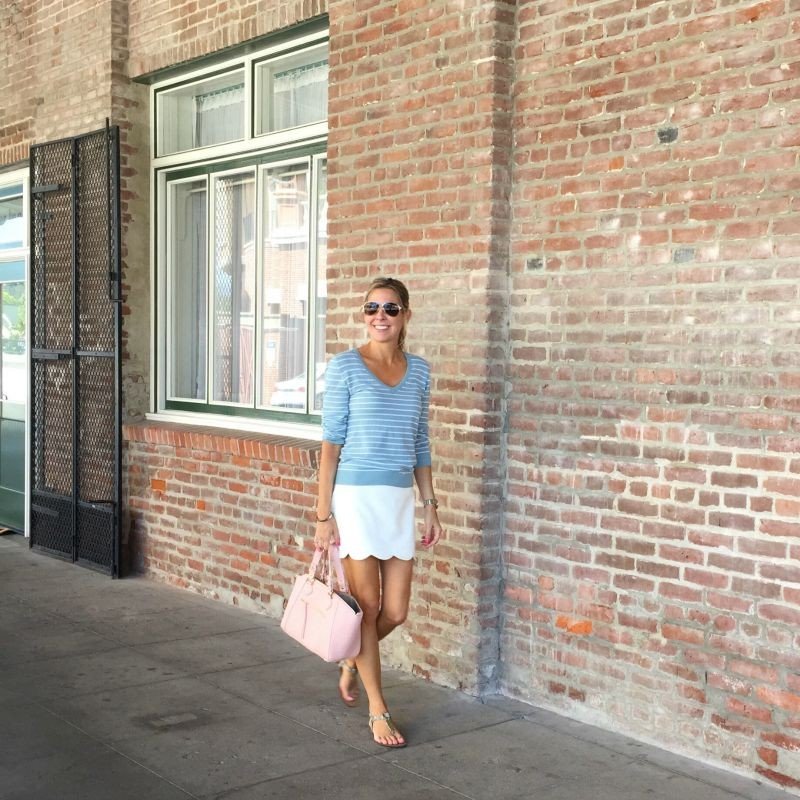 skirt | sweater | handbag | necklace | sandals | sunglasses
On Saturday, we spent the morning just strolling around Napa and enjoying the stores and restaurants. It's quaint and easy to navigate. Was able to spend quality time with college friends and really enjoy catching up (Carlyn, I miss you terribly!).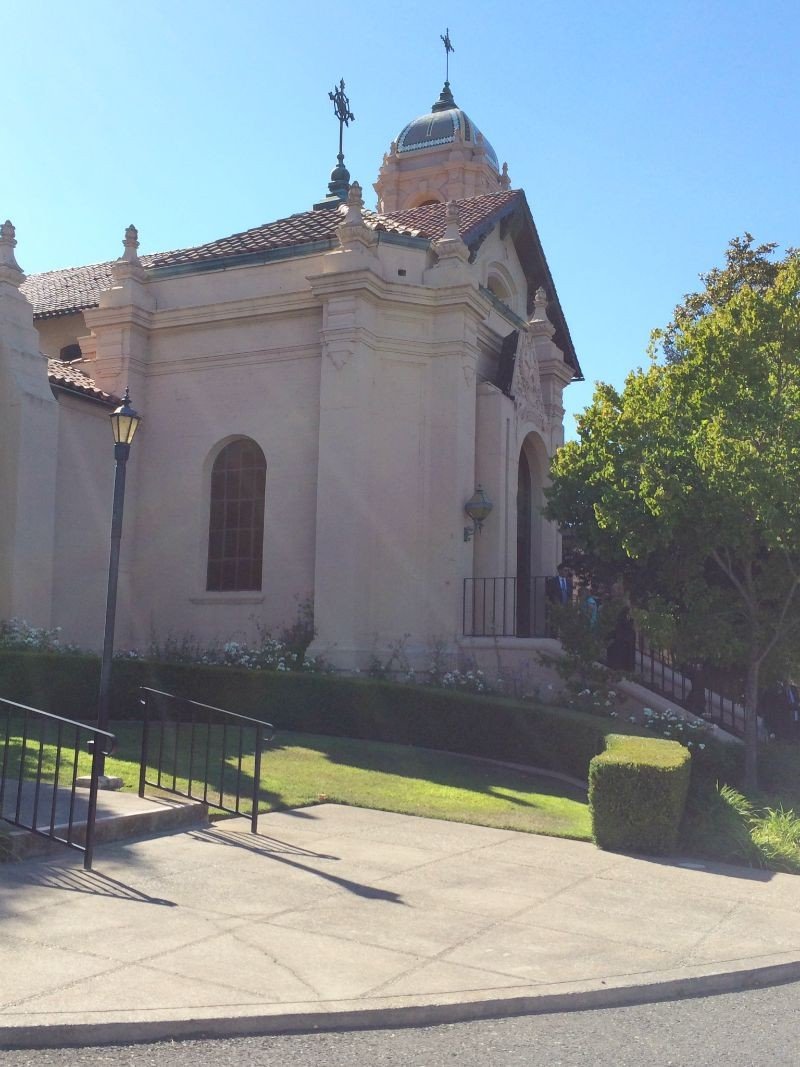 Then it was time to get dolled up and head out for the wedding! The wedding ceremony took place at Mont La Salle Chapel. The views were out of this world.
dress | similar heels | handbag | sunglasses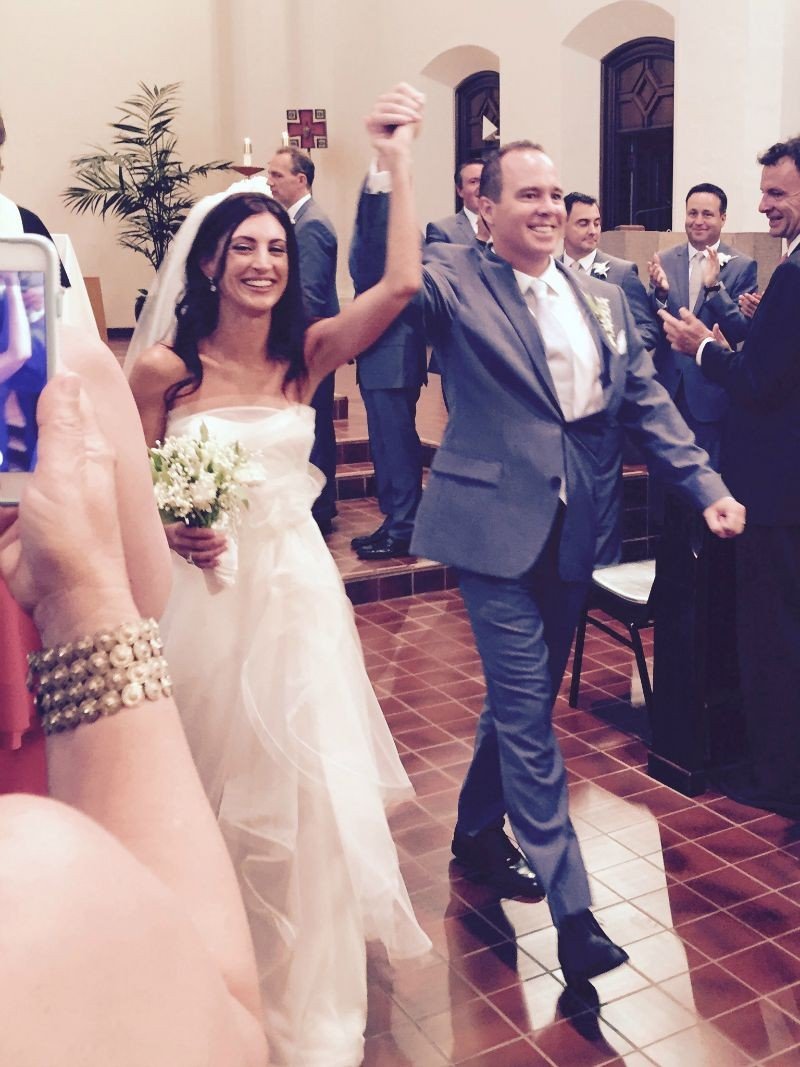 Honestly, Nathalie looked like a movie star. She was the picture of beauty and what was even more gorgeous was just how happy Neil and Nathalie were together. She also rocked the fashion all weekend long. Girl has some serious style.
After arriving to the sound of bagpipes playing, Neil and Nathalie greeted their guests from the balcony of the V. Sattui Winery in St. Helena.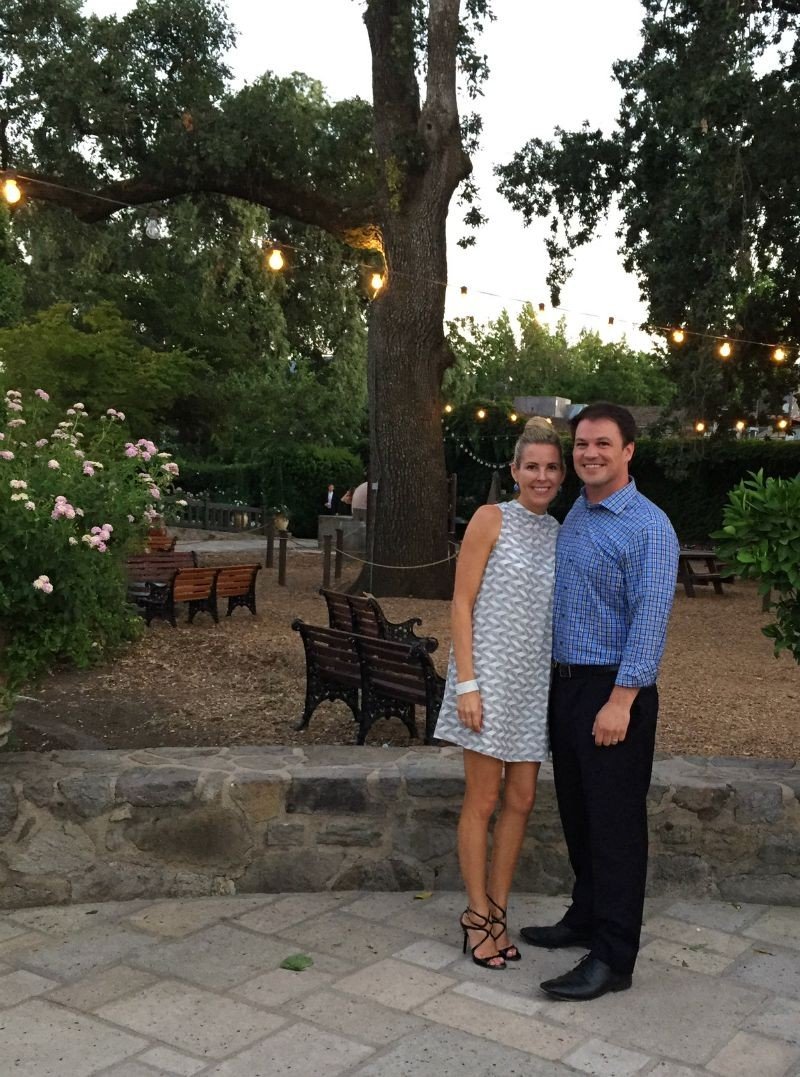 My handsome date and I had the best time and seriously danced the night away. It was just so much fun being with our college crew and enjoying each other's company.
Can you believe this? This was inside the winery for dinner and dancing. I can not even express how beautiful it truly was. These iPhone snaps do not do it justice in any way, shape, or form. The entire room glowed.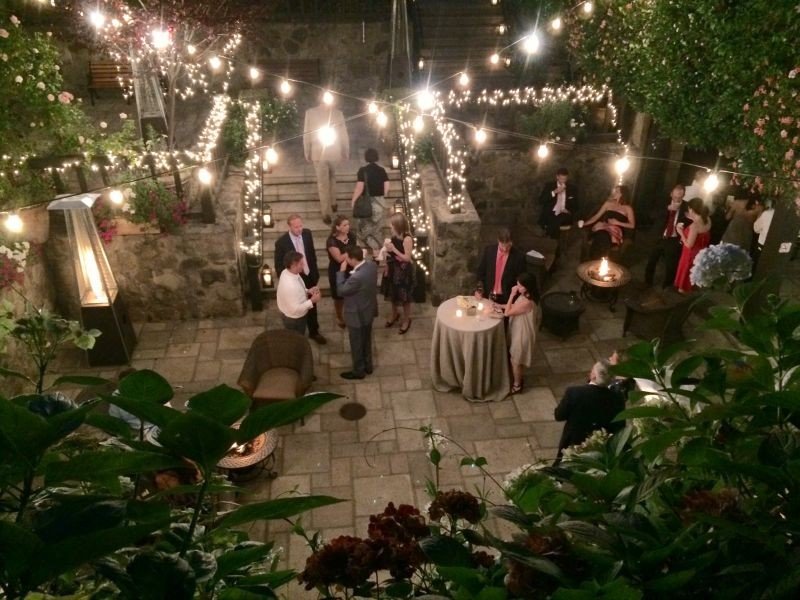 This was overlooking a courtyard where the bride and groom made arrangements for guests to enjoy a coffee bar and a crepe making station. Every detail was spectacular.
NAPA VALLEY GETAWAY GUIDE
WHAT TO DO
A visit to the California Culinary Institute in St. Helena, www.ciachef.edu  707-967-1010
The Wine Train, www.winetrain.com  707-253-2111
Visit  the shops in Sonoma (a short drive from Napa)
Visit the wineries in Napa Valley.  Take a bicycle tour or hire a driver for the day!
Walk around the town of Yountville where there are great restaurants and shops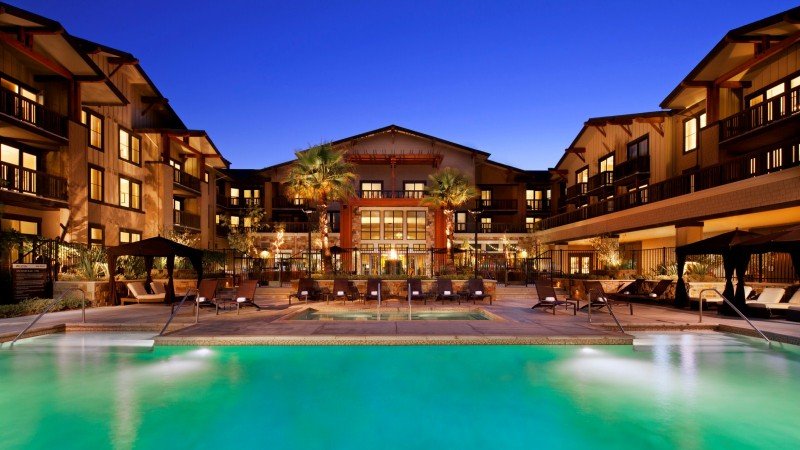 westin verasa napa
WHERE TO STAY

WINERIES

farmstead (where I went for the Michael's Makers Summit)
RESTAURANTS
Napa:
St. Helena:
Calistoga:
Yountville:
BIKE TOURS AND RENTALS
GOLF COURSES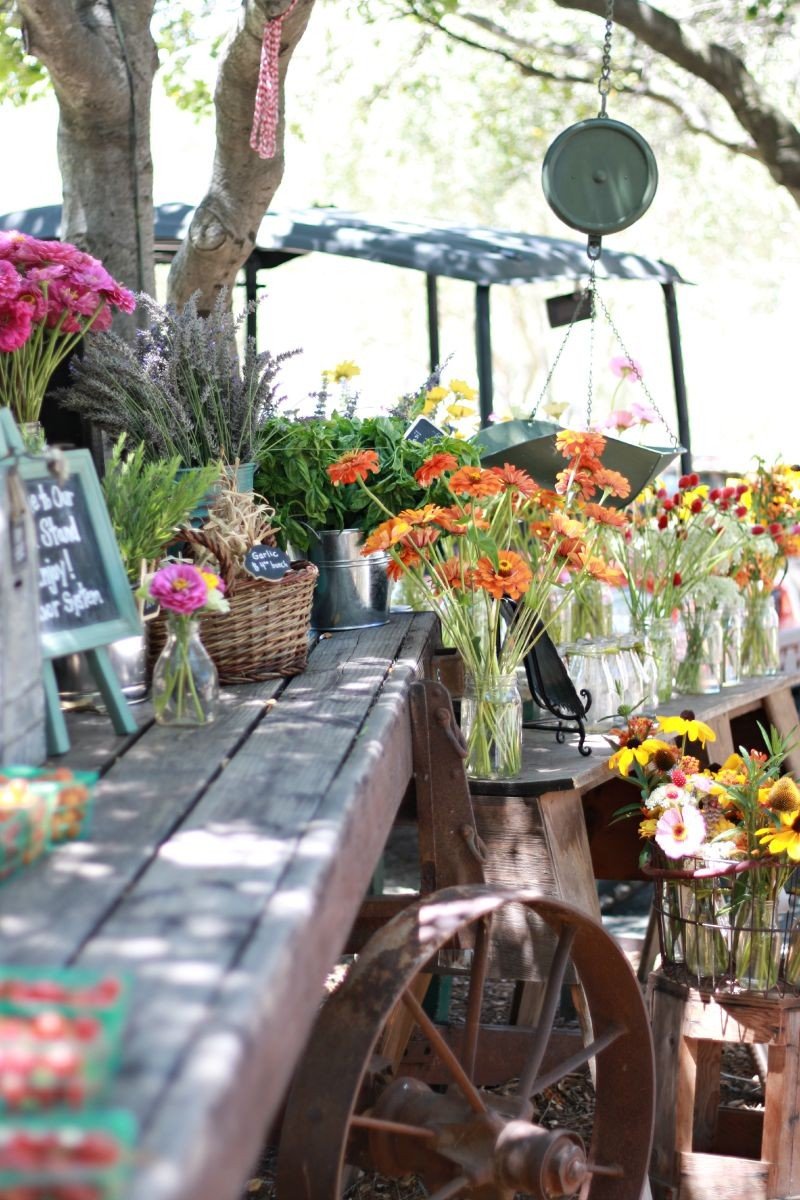 It really was a beautiful trip. The wedding was magical and created such lasting memories for all of us. I hope this Getaway Guide comes in handy if you venture to Napa Valley anytime soon!
Shop My Napa Valley Looks

 *To Neil and Nathalie: Thank you for the most amazing weekend with such special friends. Every detail was stunning and so well thought out. You two make a beautiful couple and I can't wait to watch your adventures. xo
OTHER TRAVELS