Good morning. Welcome to the birthday edition of Monday Morning Wrap-Up. Hope you had a lovely couple of days. This past weekend we celebrated our daughter's 14th birthday quarantine style. After showing a couple of photos on stories, I received so many requests to share what we did. These times can be challenging for celebrations so I love the idea of passing along ideas. Most of what we used were inexpensive decorations all purchased online or things found around the house.
BIRTHDAY EDITION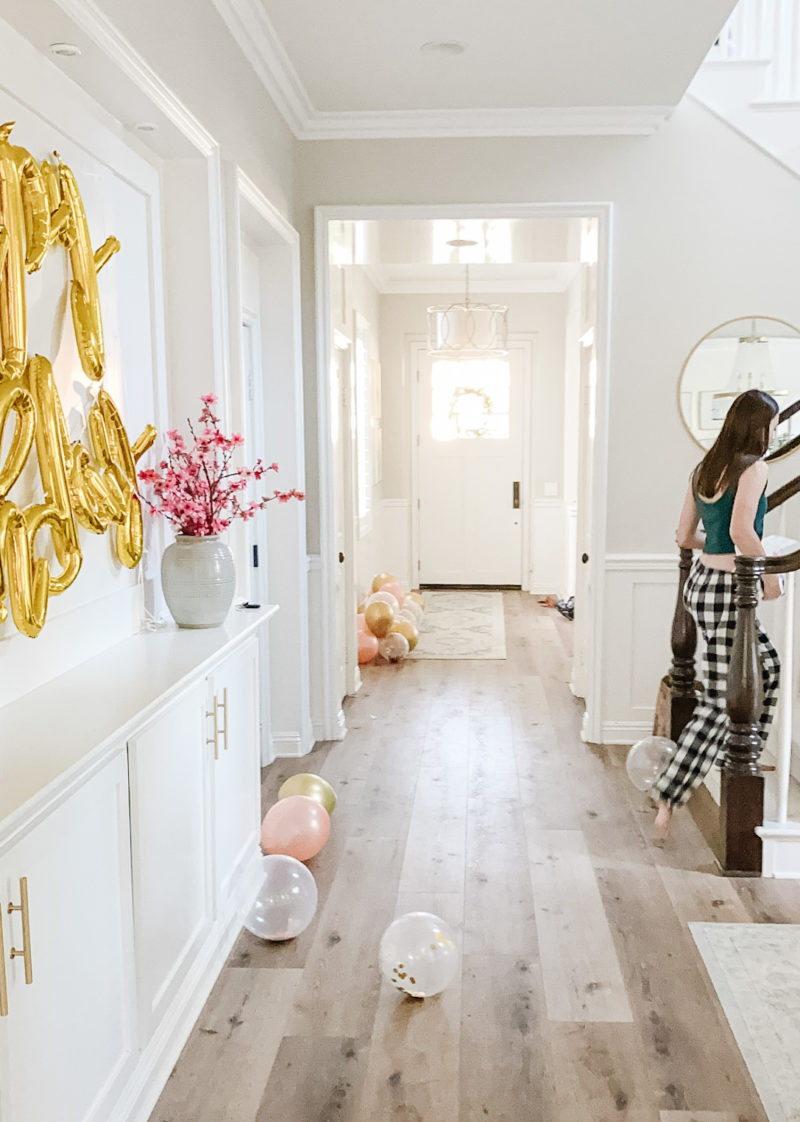 ONE | BALLOONS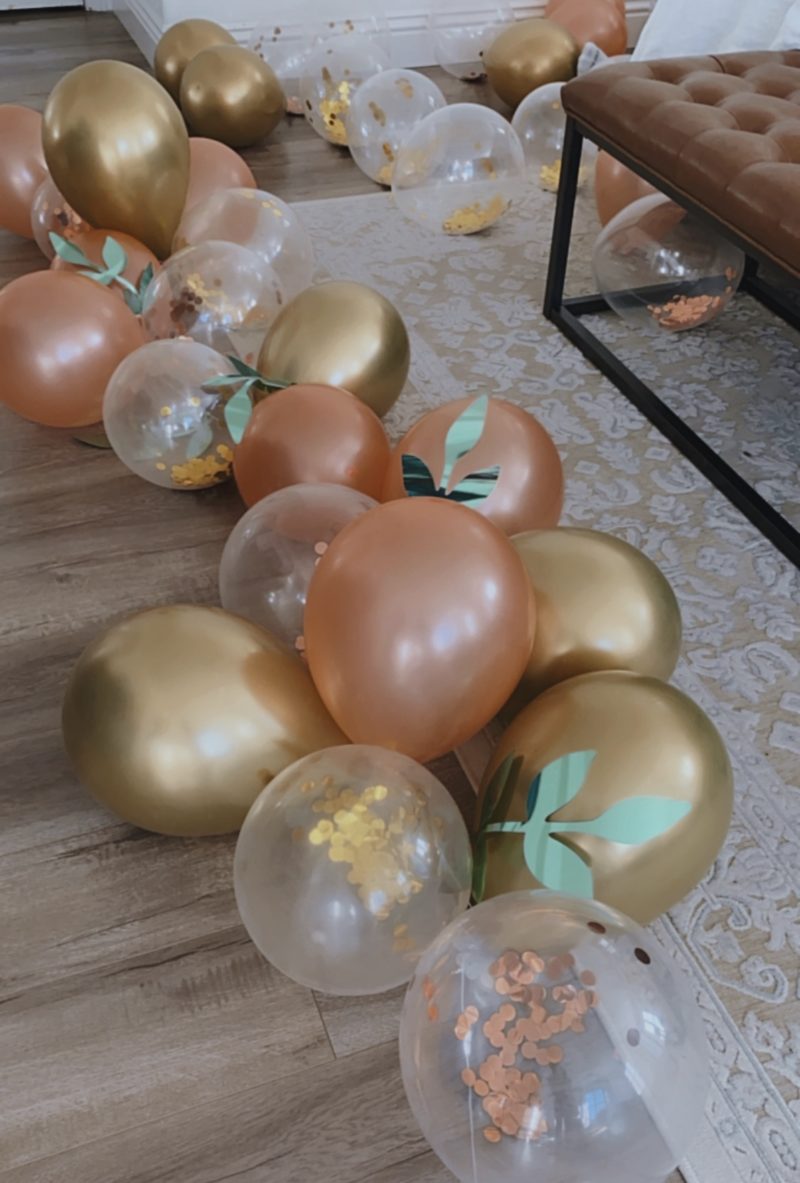 The hardest part of creating a fun atmosphere is hiding from the kids to pull it off. With everyone in the house 24/7 surprises are a bit difficult. My husband and I locked ourselves in our room to blow up balloons and make this garland. Our best balloon trick is to use an air compressor if you have one. We blew up 40 balloons in about 15 minutes. So quick and easy. Balloons are an inexpensive way to make things look festive. We like to throw them on the floor of the kitchen and entrway, too.
This package of balloons is from Amazon. Such a pretty combination of peach and gold. The leaves are ones I saved from a Target garland we used at Easter. But you can buy this garland kit for only $6 and reuse it. The plastic pieces allow you to attach the balloons to the string very quickly. We hung this one above the front door to decorate the outside of the house.
TWO | BIRTHDAY SIGN
Another simple Amazon find that made the house look really festive. This sign is also reusable because you can deflate the letters and save them for another celebration. You can actually customize the saying, too.
THREE | A FESTIVE CAKE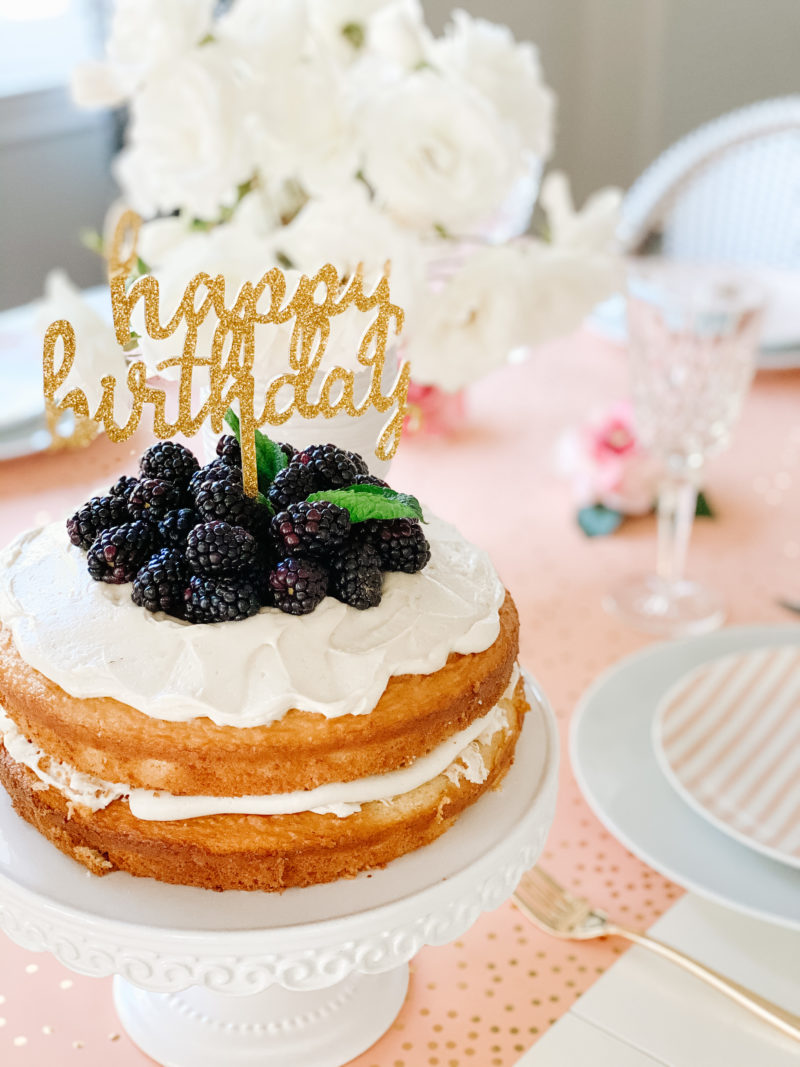 Nothing too difficult, my friends. I cheated and used a box cake. But I did make my own icing. We add a 1/2 tablespoon of syrup to give the icing a maple flavor. Top with fresh berries, mint and a cute birthday sign ($3 and reusable).
table | chairs (20% off) | chandelier (20% off) | drapery rod
FOUR | SHOP THE HOUSE
To set the table I always shop the house. We typically use wrapping paper on the table to add color. The peach and gold one happened to be in our wrapping stash. We cut flowers from the yard, used our "fancy" dishes and hung this birthday banner.
FIVE | TAKE REQUESTS
We always let the birthday girl or boy request their meals for the day. Riley requested these sweet potato taco sliders for dinner which are also one of my favorites. Just plan ahead. Because we are all heading to the grocery store less, I had to be sure we had everything on hand for the recipes she wanted.
SIX | PLAN A SCAVENGER HUNT
Growing up my parents started a really fun tradition. When we asked for a larger gift (like a bike or a Cabbage Patch Kid), they would create a series of clues and we would have to find our gift around the house. We LOVED when they did that and have carried on that tradition with the children. It really isn't difficult to do and is just a fun way to make it special.
But with the quarantine, I wanted to think outside of the box to do something that would take up more time and make it fun for the birthday girl. We decided on an Amazing Race. But before you think it's too much work, I promise you it was really simple.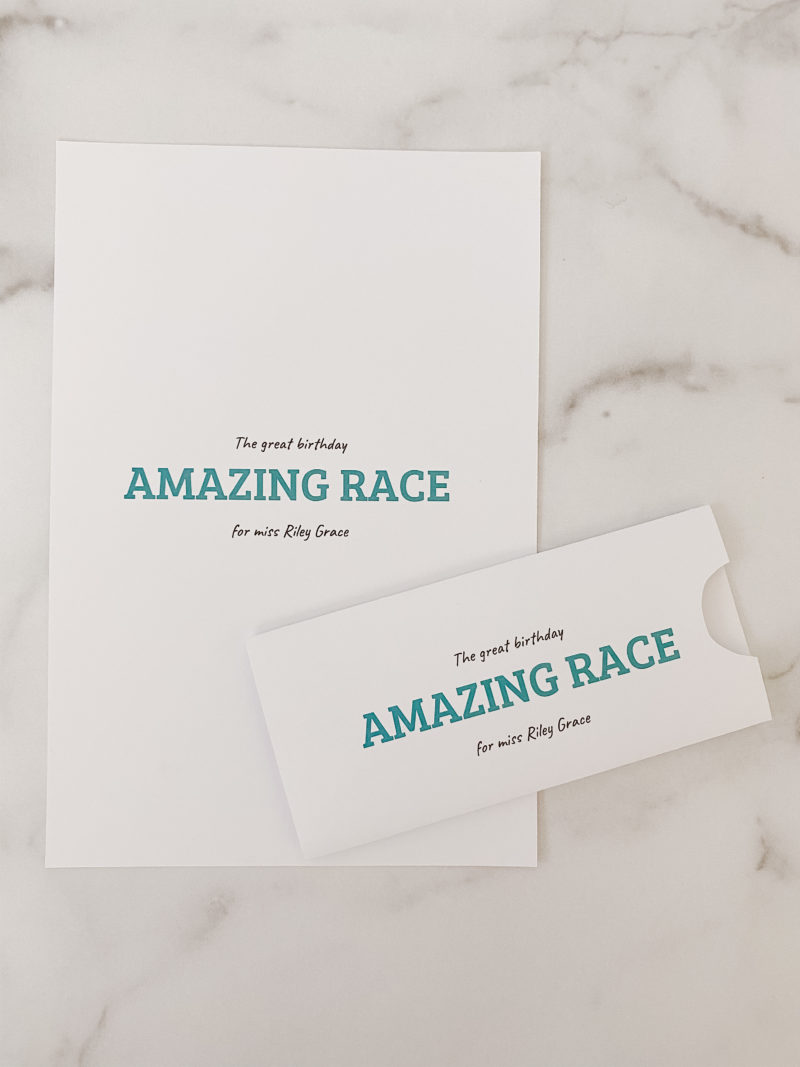 To create the clues, I used Google Doc. I printed seven of these and folded them backwards to create the envelope. Just use white glue to close them in the back. Use a piece of tape to secure the lefthand side and cut out a little half circle on the right side. You can write out or type each clue and place inside.
HOW TO START THE RACE
Our daughter requested Chick-Fil-A for lunch so when they handed us her meal, I slipped the first clue inside. It was an easy way to kick off the race.
The clues took us all around town. It was fun to hop in the car and just be out and about quarantine style. One clue took her through the drive through to grab a milkshake, one clue took her to an empty grass area to complete a few physical challenges. Each time she completed a task, we handed her the next clue. Eventually it lead back to the house to her present hidden on the front porch. I think my favorite clue was one that included latitude and longitude coordinates of the next stop. Thanks to her phone, she figured it out in less than five minutes.
SEVEN | BIRTHDAY CARAVAN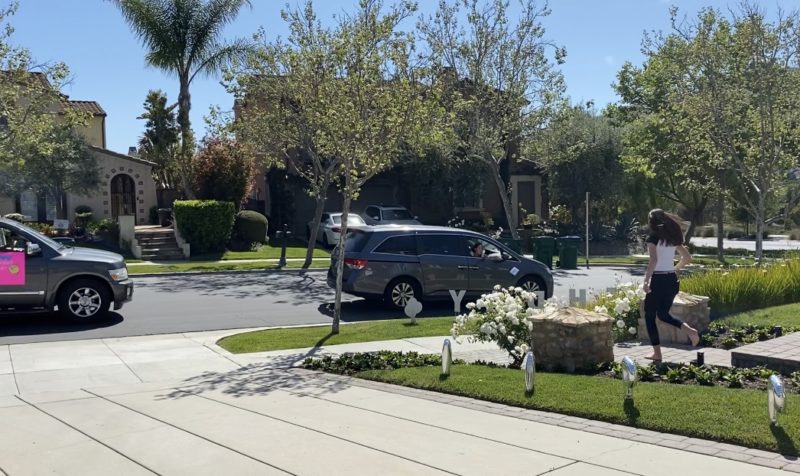 A huge shout out to Riley's friends for planning the best birthday caravan. We were so touched with how many friends showed up to honk and sing and show her some love. These stay at home times are not easy but these birthday caravans have been a highlight for sure. Tossing cards out the windows and waving sings . . . it all makes me tear up.
Michaels has really cute yard signs that are inexpensive but look so festive. You can order online and pick up curbside.
All in all, it was a beautiful day. I just can't believe my baby girl is 14. She is our miracle baby and Smiley Riley brings us so much joy. I hope this birthday edition gave you some ideas for your next quarantine celebration.
SPRING HAS ARRIVED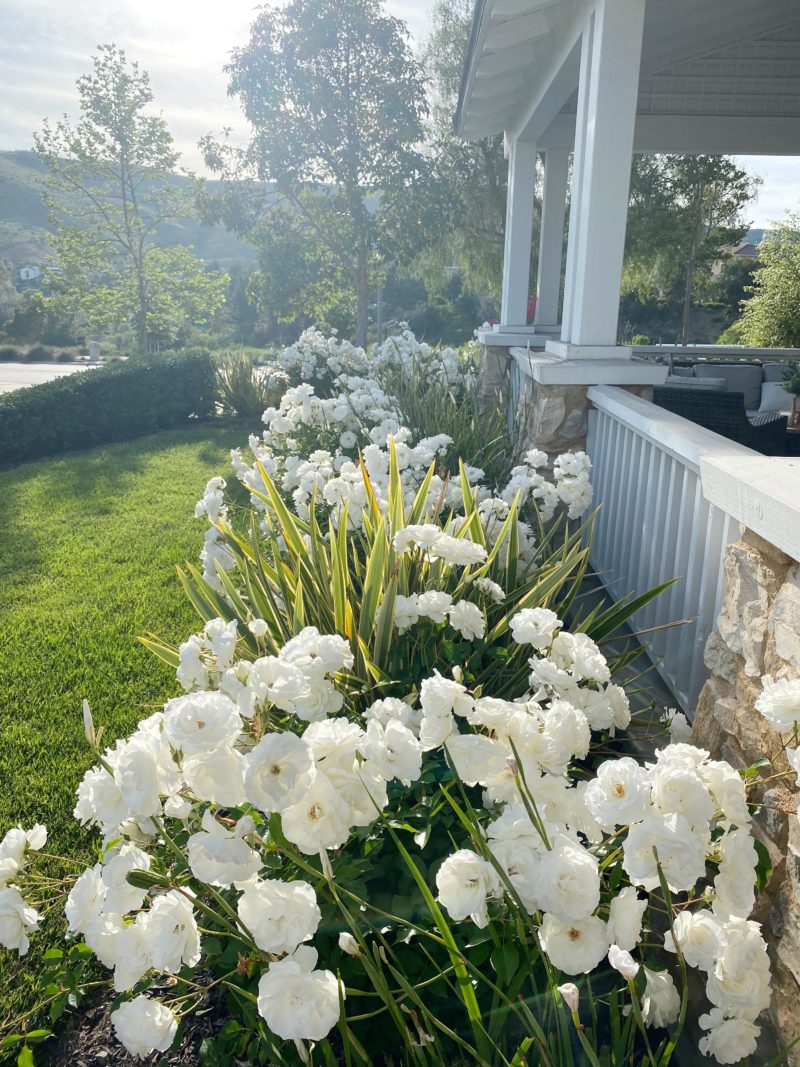 It was an added bonus that our iceberg roses exploded over night and created such a pretty backdrop for her special day. Roses always remind my of my mom so they are extra special.
MISSING THIS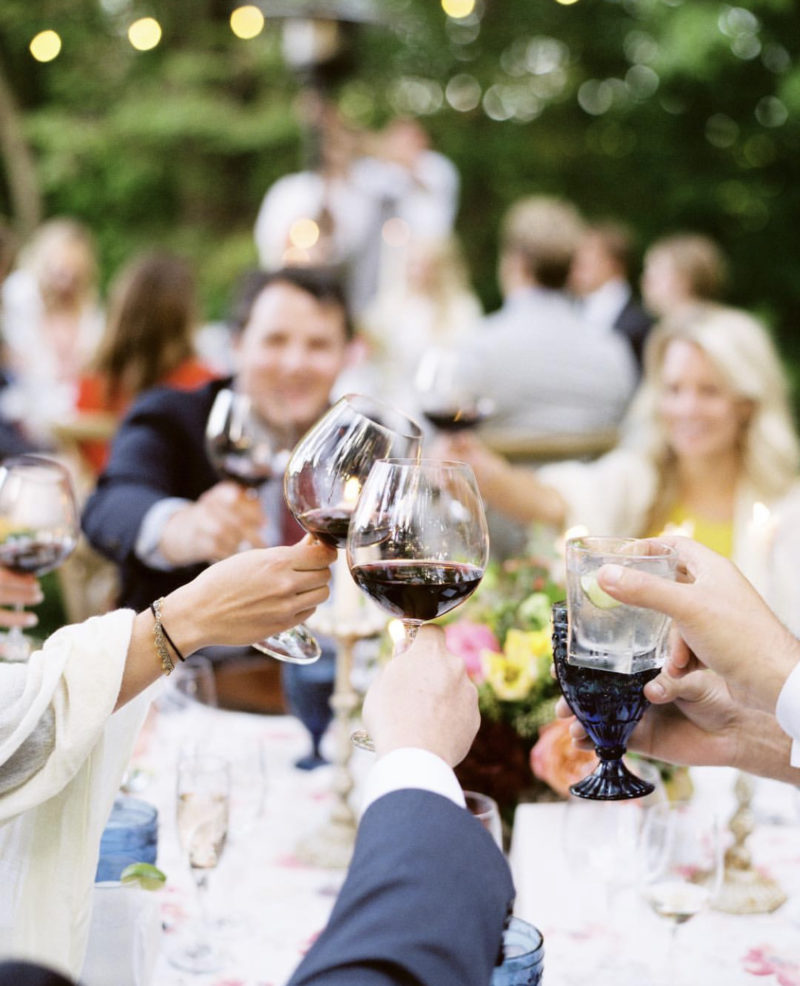 I stumbled upon this gorgeous image from @ashleyslaterphotography and it stopped me in my tracks. I miss this so much. Celebrating special events with family and friends. Gathering. It hit me just how much this has all changed how we live right now. While it is temporary my heart breaks for people who have had to postpone major life celebrations. And to my dear friend who lost her Grandmama this past weekend, I wish we could all gather to honor her together.
What a beautiful time it will be when we can once again be together for life's biggest moments.
SALE FINDS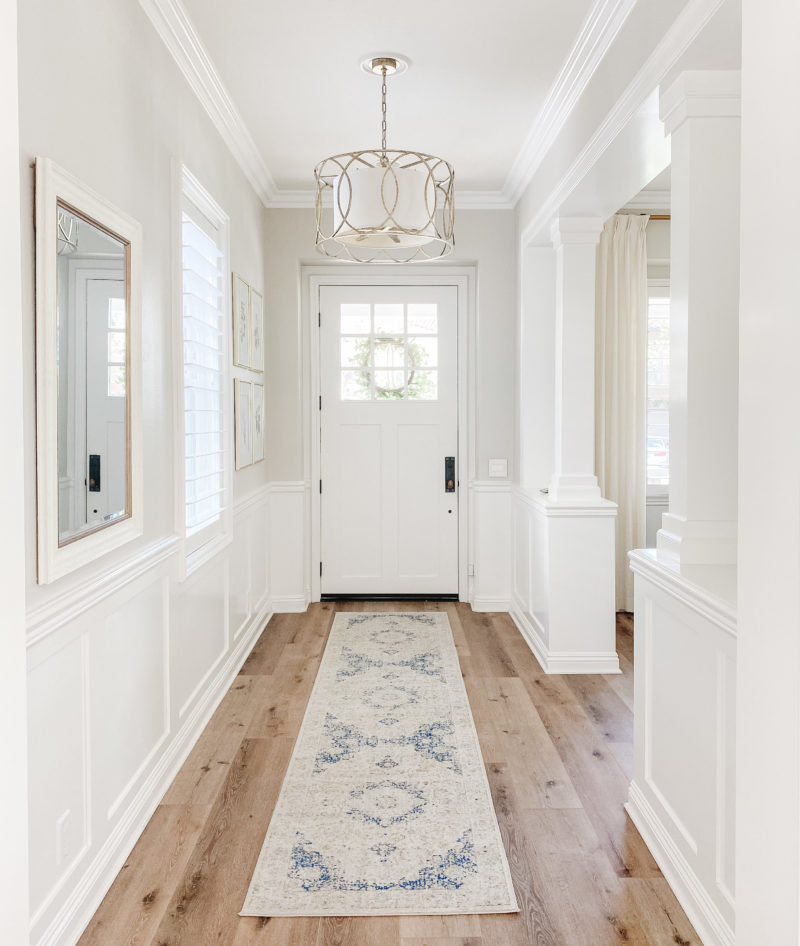 runner | chandelier | wreath
Just a heads up that Wayfair is still having a huge sale. So many things in our home can be found there. The runner is 12′ which is really hard to find. You can snag it for under $100. The chandelier is one of my favorite pieces in our home and also on sale. Our paint color is Pale Oak by Benjamin Moore and the trim is Swiss Coffee.
A post all about our new floors is coming to the blog next week.
PROJECT IN THE WORKS
And lastly, this is on our DIY list for this upcoming week. We have wanted to make these forever. I told my husband that if he and my son build them, I will paint them. I always envisioned our set to have a rugby stripe down the center so when @ourfauxfarmhouse posted these I took it as a sign. Time to get our DIY on.
And that's a wrap on the birthday edition of Monday Morning Wrap-Up. Wishing you all a really smooth start to the week. We are definitely feeling the groundhog day effect so hoping to combat that as much as possible.
If you missed my Mother's Day Gift Guide, it's filled with fun ideas from small businesses.