Last week I launched a new series called, "My Two Cents" and shared some of my favorite online designers. Today I am sharing some of my picks for cute and versatile work clothes. I hear form many of my readers who work in an office each day and it's not always easy choosing affordable fashion that is appropriate yet still feminine. I firmly believe that you can marry a professional look with feminine flair. So here are my two cents on work style.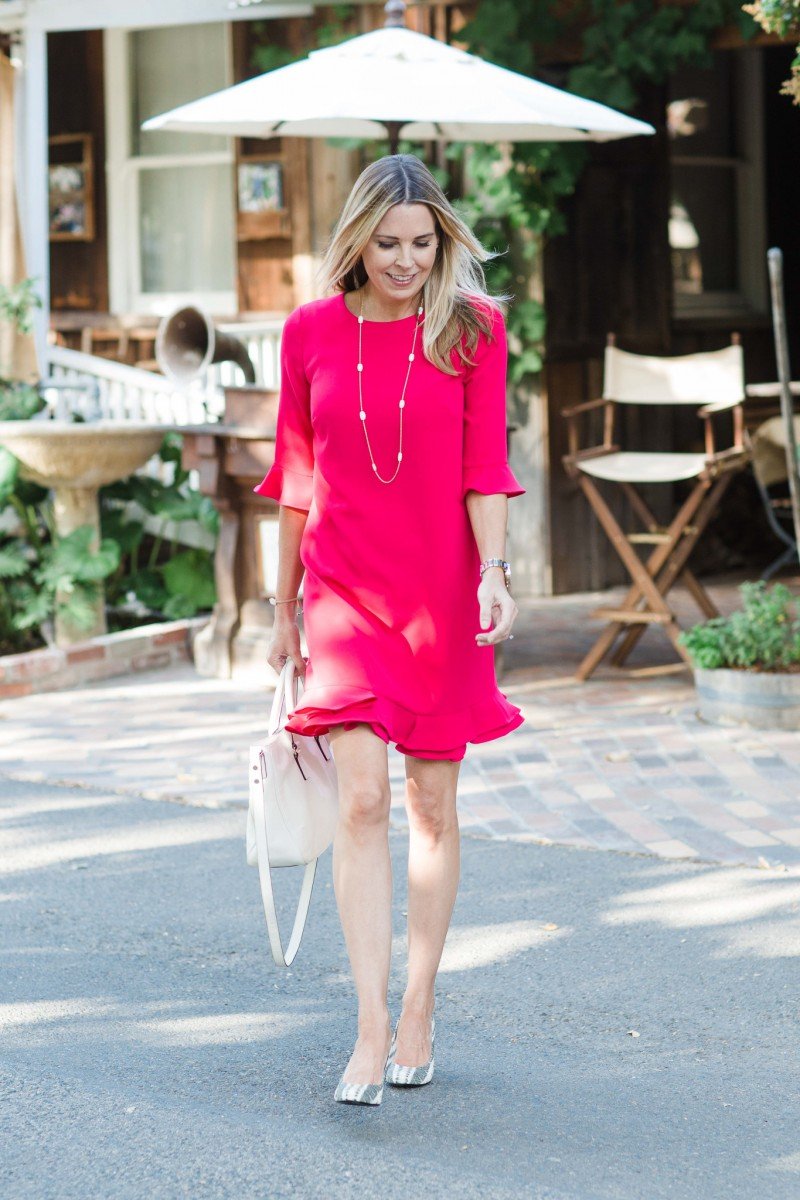 While I don't have an office, I do still have work meetings and recently just met up with an impressive gal who runs her own company. She was curious about the blog world and how social media can impact businesses. I love nothing more than supporting one another in whatever field it may be. Women empowering other women is so important in a world that seems to gravitate towards tearing one another down. There is room enough in this world for all of us to succeed and that's a lesson I want both of my children to learn. So whether you work in a traditional office or pave your way heading up the PTA or maybe you are wanting to break into the work force, I am sharing some of my favorite professional looks today and kicking it off with this darling dress.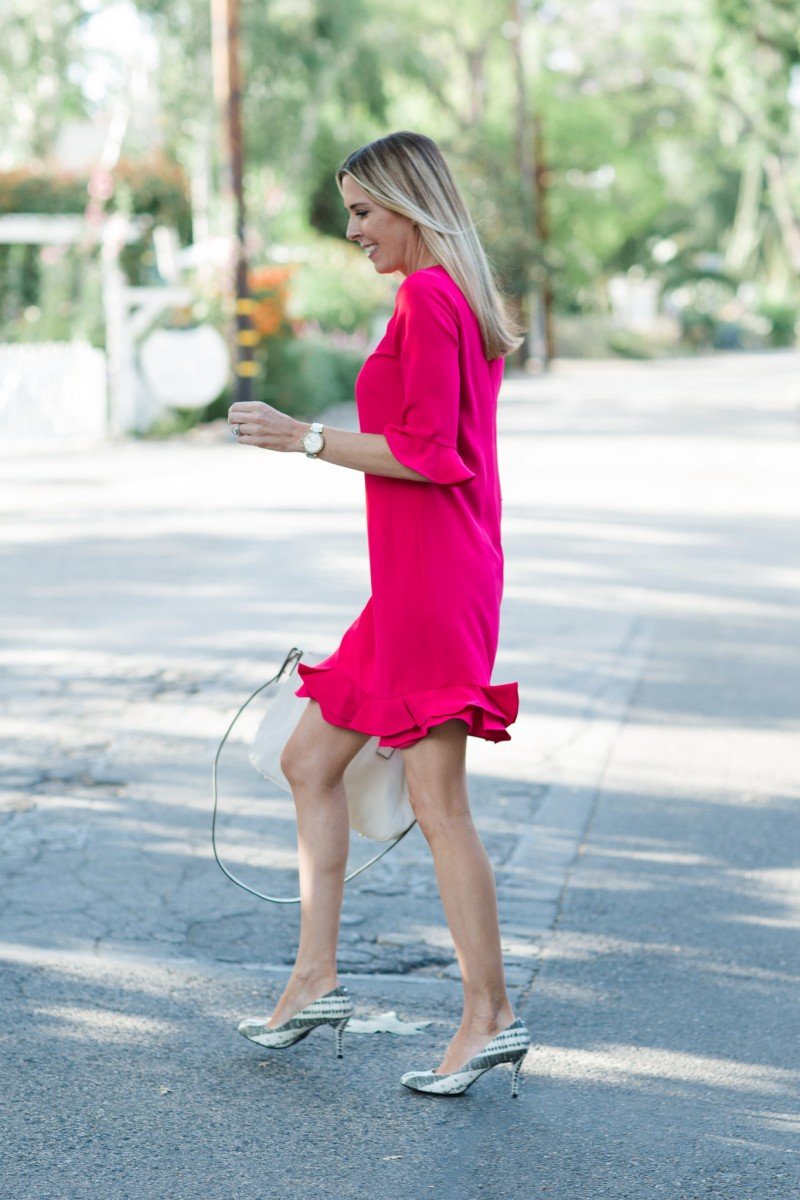 Why I Love This Dress: This dress is conservative enough for any business meeting but is cute enough to wear to your next summer wedding. I love the length and the flirty ruffle. I also appreciate that this dress comes in a ton of different colors. You can change it up with a statement necklace or choose to keep it simple. You could easily pair this dress with flats or rock a pretty great pair of heels. And the nigh neckline means you don't have to worry at all about reaching down and picking something up.
Sizing and Color: Definitely size down in this. I usually am a 2/4 and am wearing a 0 in this dress. The color is Rosado and more of a softer melon color than hot pink in real life.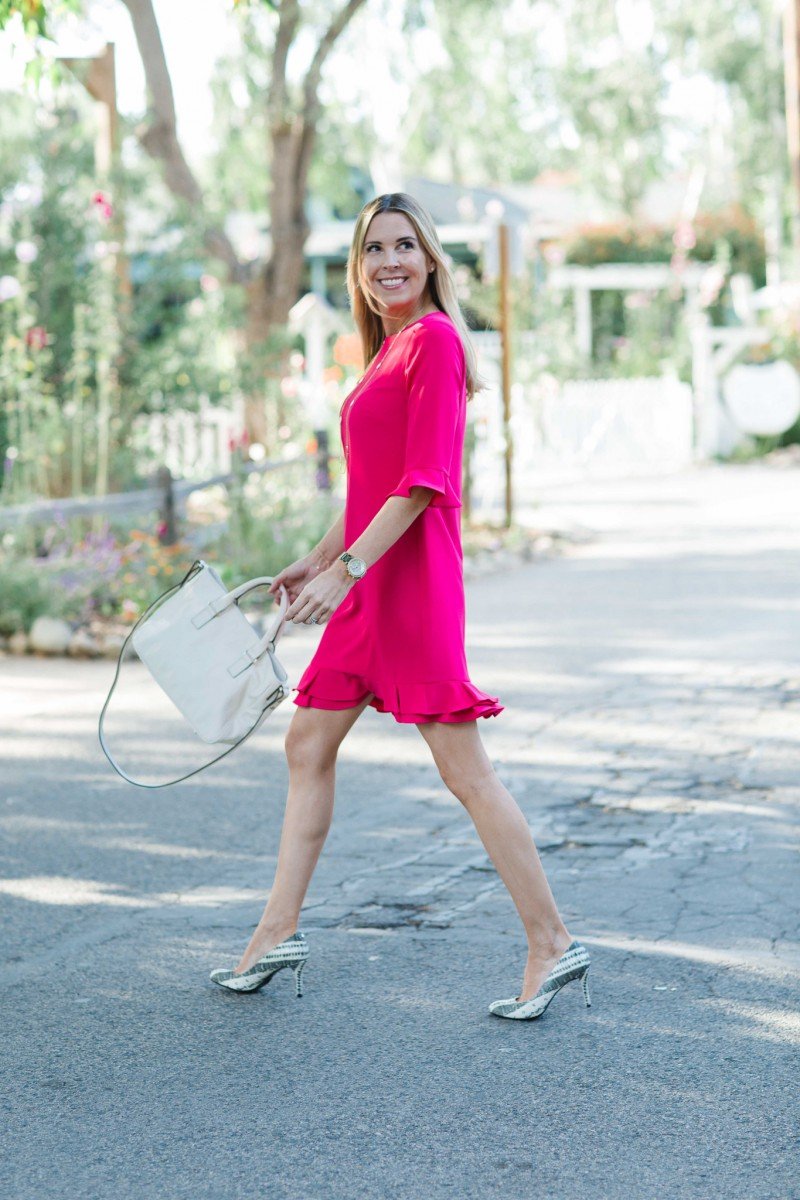 Shop This Look

Great Work Dresses

click the arrows to see more
This dress is a similar style without the ruffle and comes in 11 different colors! This one comes in 8 colors and has a pretty zipper detail in the back. This one is under $60 and comes in 8 different prints (great reviews).  And this little number wins in my book. This dress is feminine but not over the top and is jersey so it's a homerun in the comfort department. Also stellar reviews.
Stylish Work Separates

click the arrows to see more separates
These pants have received fantastic reviews and are such a great closet staple. I have a similar pair in black and can wear them with pretty much anything. And they work with flats or heels. Nordstrom has such cute pieces right now. This shell comes in three colors and while it has a v-nick it is not too low which is awesome. Great to pair with a cardigan or blazer or wear alone. Mixing and matching and switching things up with accessories helps a work wardrobe go much further. Sharing some fun accessories and my tips on that are here.
I have talked about these heels for years now. They are the flex pump and you could seriously wear them all day long. I have them in nude, black and the snakeskin. Mine are a couple of years old so the newer ones have a more pointed toe which is even prettier. I am loving the nude with the wooden heel. Great look right now. Highly highly recommend. The run true to size.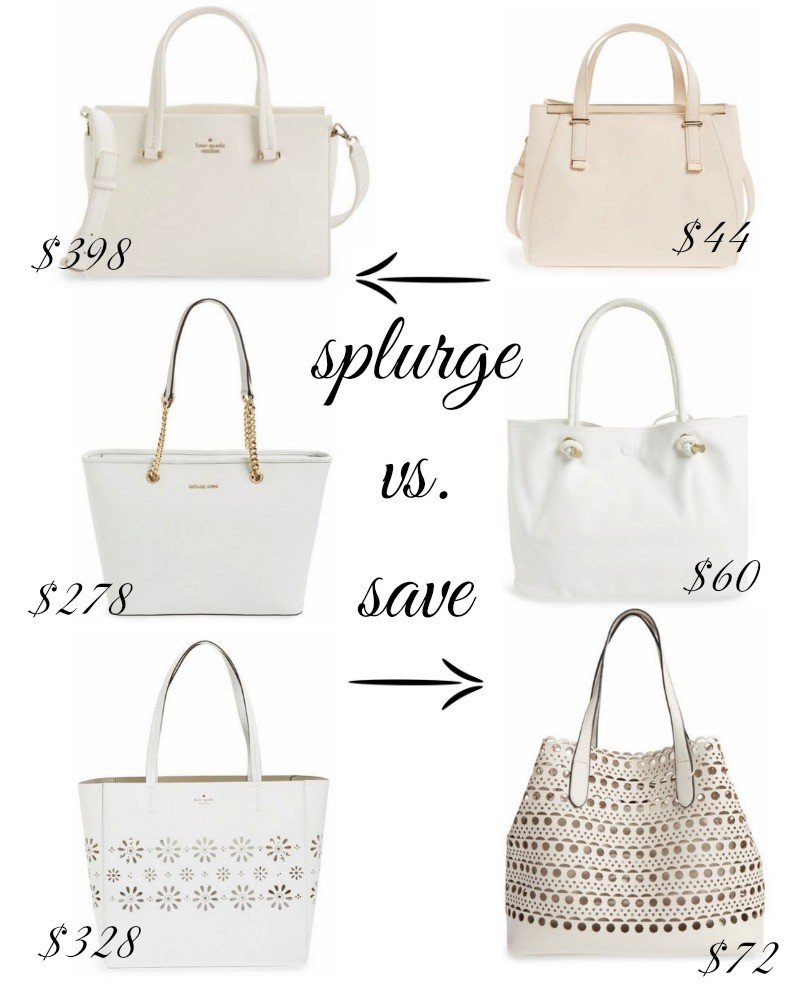 I love a great white handbag.  You know that because if you have been reading this old blog for a while you have seen my white handbag for years. I think my husband gave it to me (that's sad and frightening that I can't remember) and I have always loved it. Thought it would be fun to round up a few splurge versus save pieces.
Shop Cute White Handbags

Like I mentioned earlier, accessories are such a great way to take your outfit to the next level. And a cute pair of pants and a simple shell suddenly look much more chic when paired with a cute piece like this.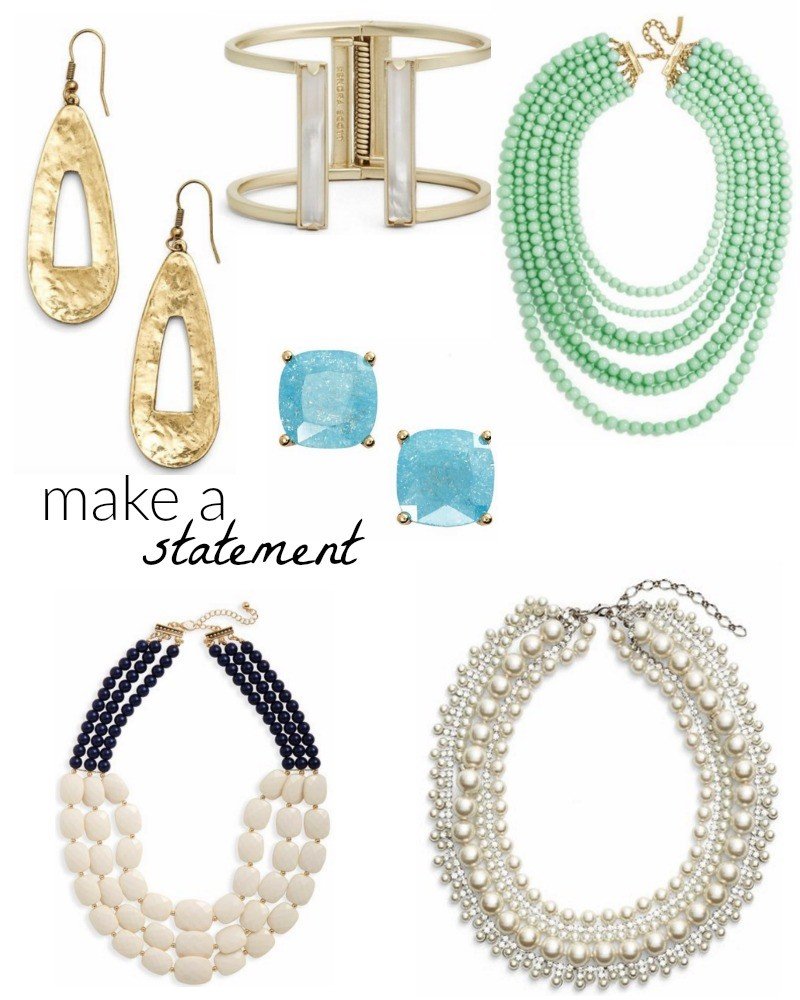 This pearl necklace makes any dress look a little bit more formal which is a great way to go. I love how classic pearls look. And they are great on bright colors, too.
Shop These Pieces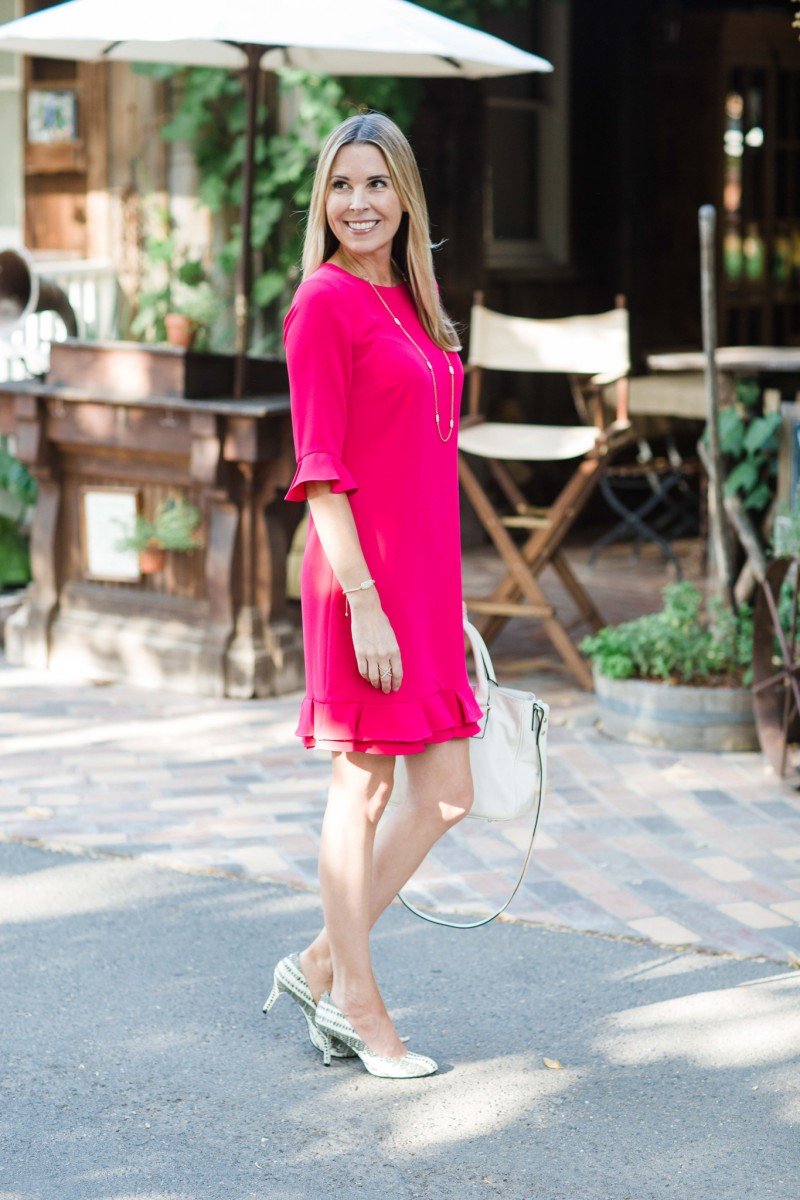 dress | heels | similar handbag | necklace | bracelet
How's your work wardrobe shaping up? Do you mix it up very often or have a handful of go-to pieces. Hopefully some of these options give you and idea of how you can breathe new life into your style while still staying both comfortable and professional. I am a firm believer that when you feel your best you act your best. And cheers to women everywhere who are rocking it in their chosen fields and working hard day in and day out to provide for their families. And now I am off to work in the classroom. Having taught for 10 years I have crazy respect for how hard teachers work. And something tells me that they are counting down the days until summer vacation!
Enjoy your day all.
*photos by Taylor Cole. Thank you to Nordstrom fro partnering with me. Affiliate links used.
Shop the Post