I'm back with a One Room Challenge update. I'm sorry, did someone say, "Week 3?" Why is it that time goes by quickly in general, but when you have a deadline it seems to go at warp speed? I am actually really excited about all of the progress we have made in our son's room. Our to-do list is still long, but the room is beginning to take shape and that is really exciting. Let's jump right in. Oh, if you are just joining the fun, this challenge is hosted by Linda and you can get caught up to speed right here.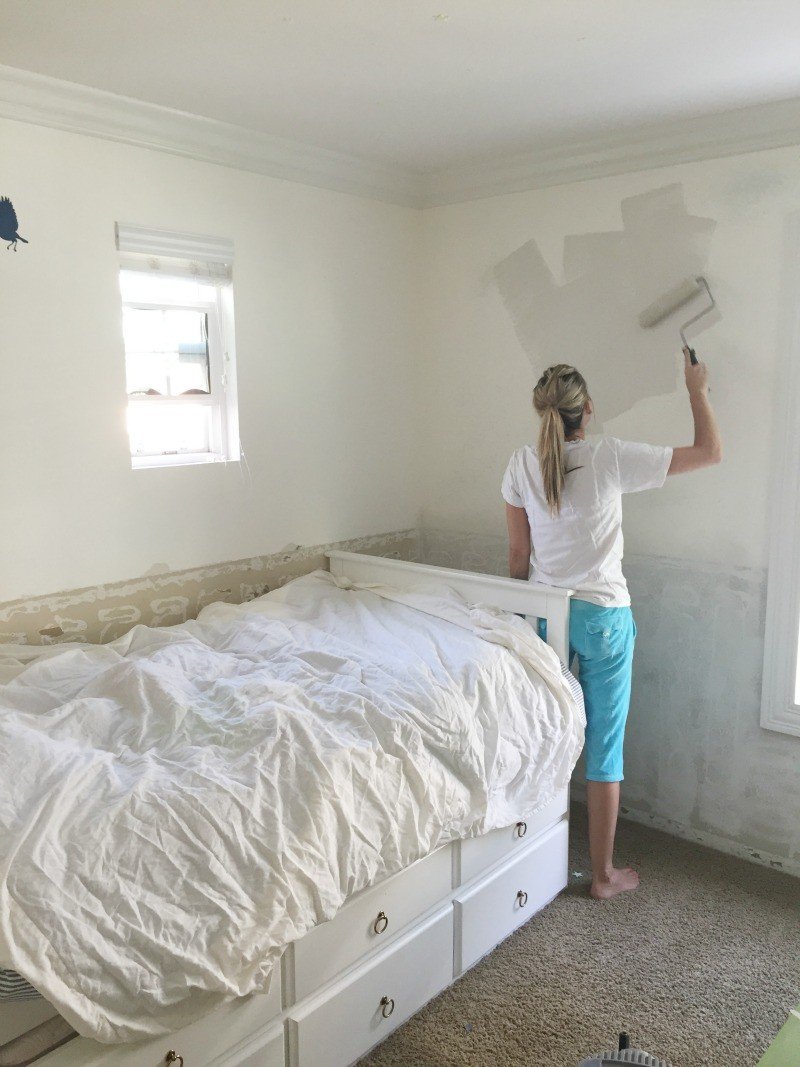 Don't mind the fancy paint clothes. Whenever I wear this my daughter says, "Oh, what are you painting, mom?!" She knows I only paint in this which cracks me up. We went with the tried and true Pale Oak by Benjamin Moore. I LOVED his white walls but with a reclaimed wood wall going in, I wanted to add a bit of color. And after years of painting experience, I like to roll first and edge last.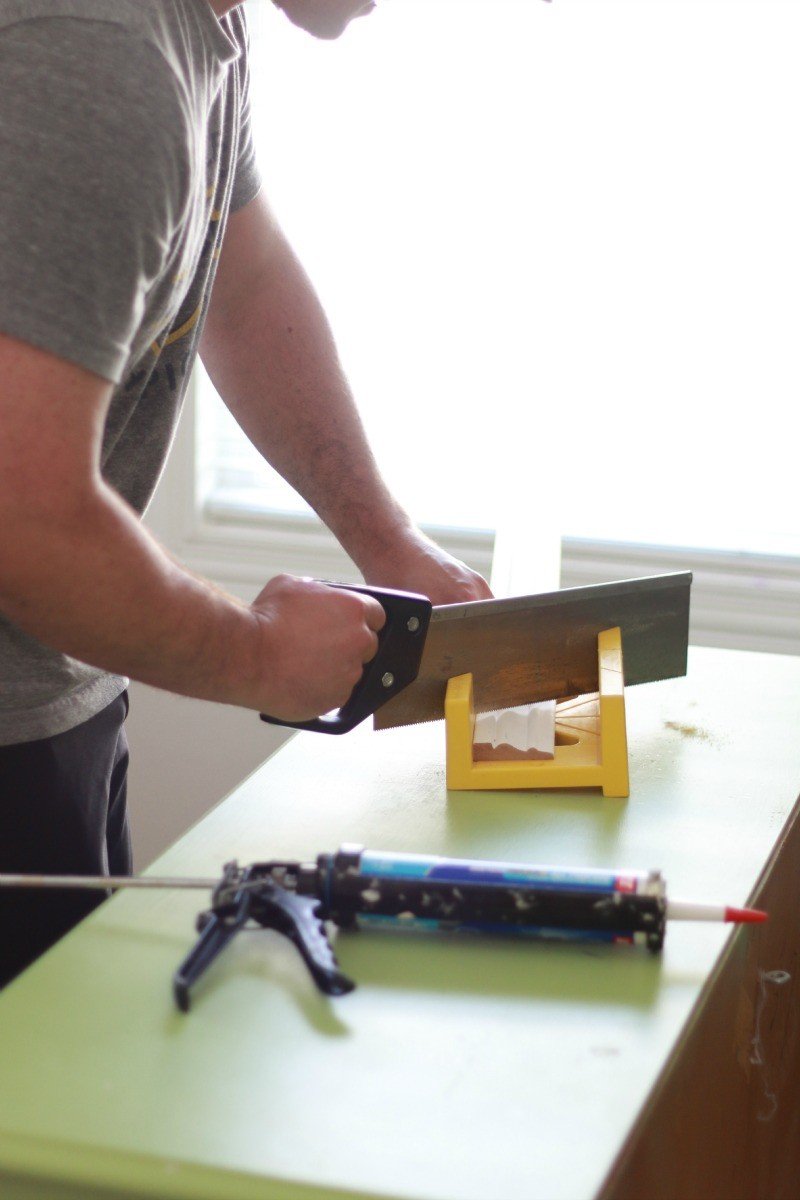 While I worked on painting the room, my handy husband worked on casing the small window. We wanted the window molding to pop from the wood wall.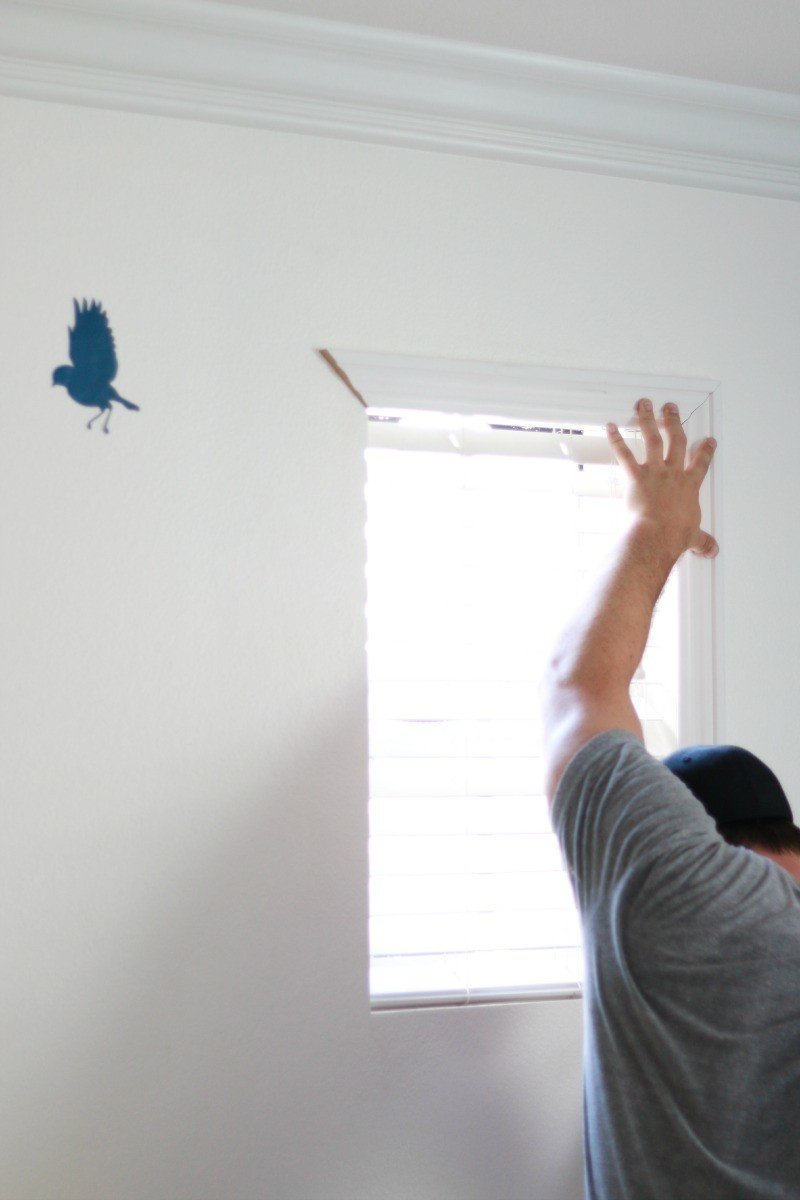 Notice the one flying bird that is still on the wall. It is the only part of my son's tree decal that has not fallen off of the wall. Huge sentimental significance to this and I am excited to share how we plan to incorporate the bird in the new room. Stay tuned.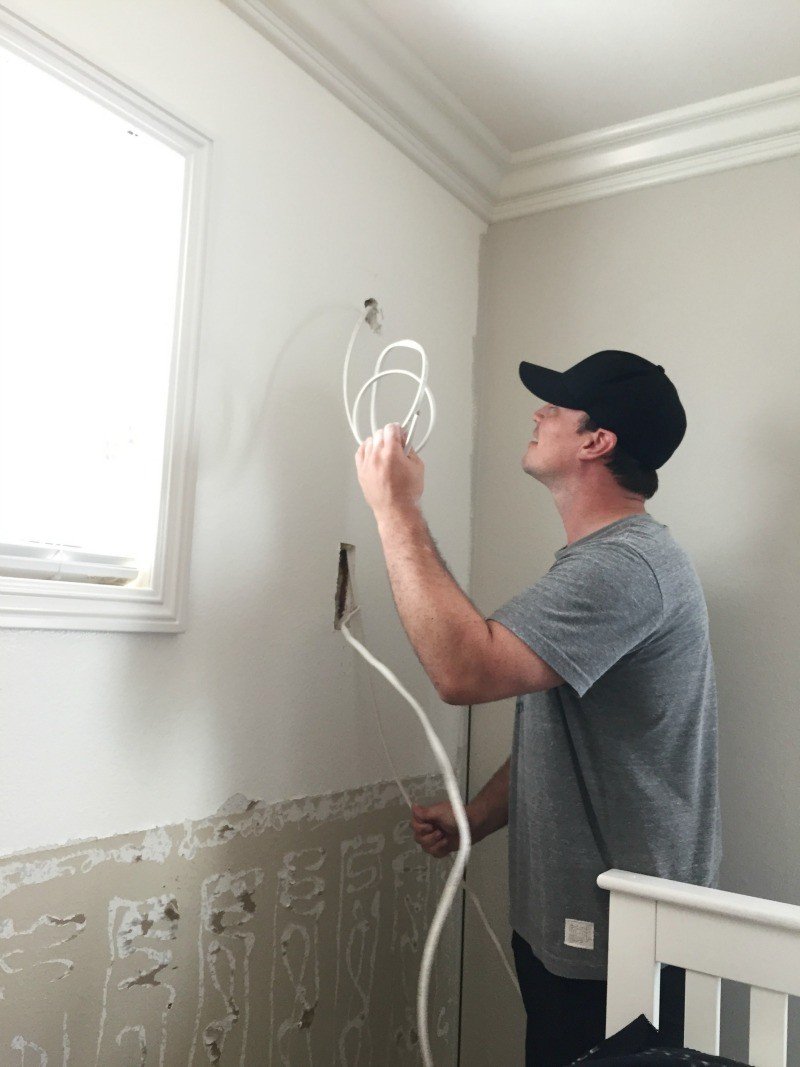 As soon as the paint dried, my husband was hard at work wiring for the new sconce sponsored by Bellacor. I LOVE this light. This man deserves a medal. This was a total pain in the you know what. There were weird firewalls going on and he had to drill a crazy amount of holes. He patched them all with drywall but luckily this wall is getting covered in wood so it didn't matter. Onward and upward!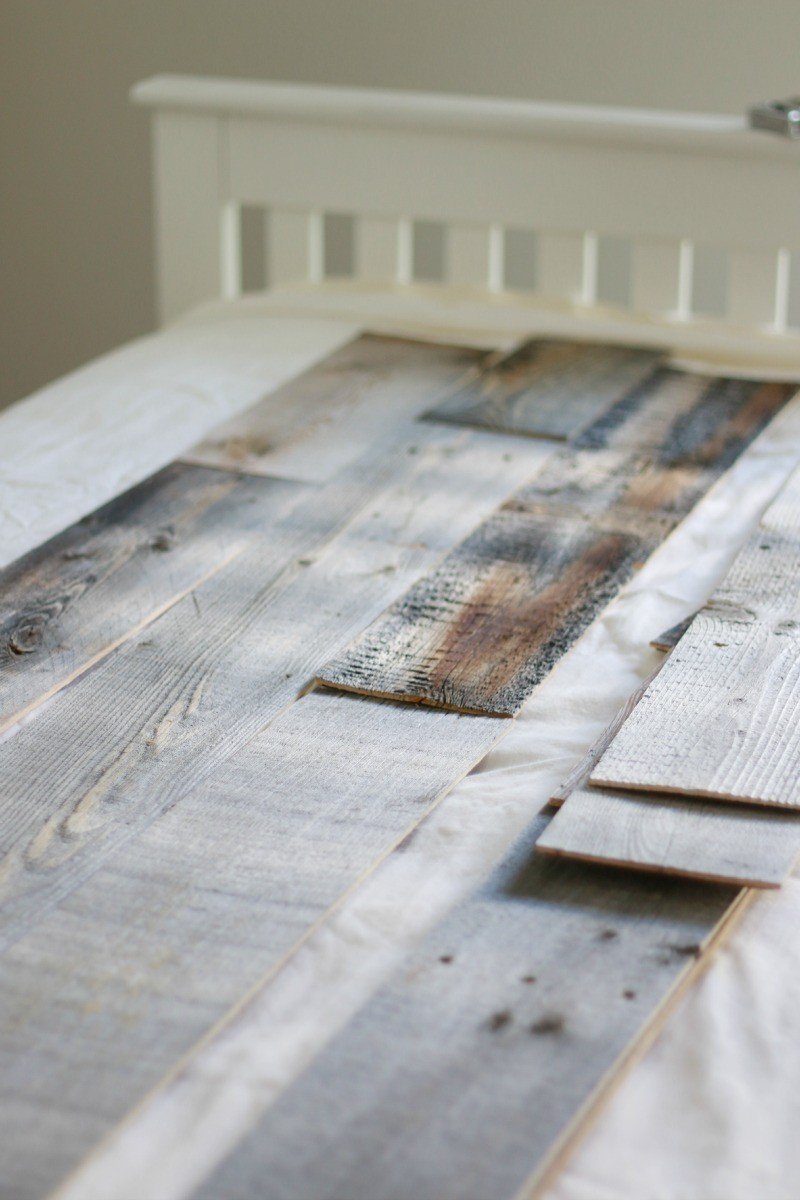 Squeal! This wood is my favorite part of the room. Look at that texture!!! Stikwood was gracious enough to split this expense with us. If you haven't heard of it, you can read all about it here. Basically it is reclaimed wood that has adhesive backing so it sticks to the wall. Other than cutting each piece to the necessary length, it was peel and stick.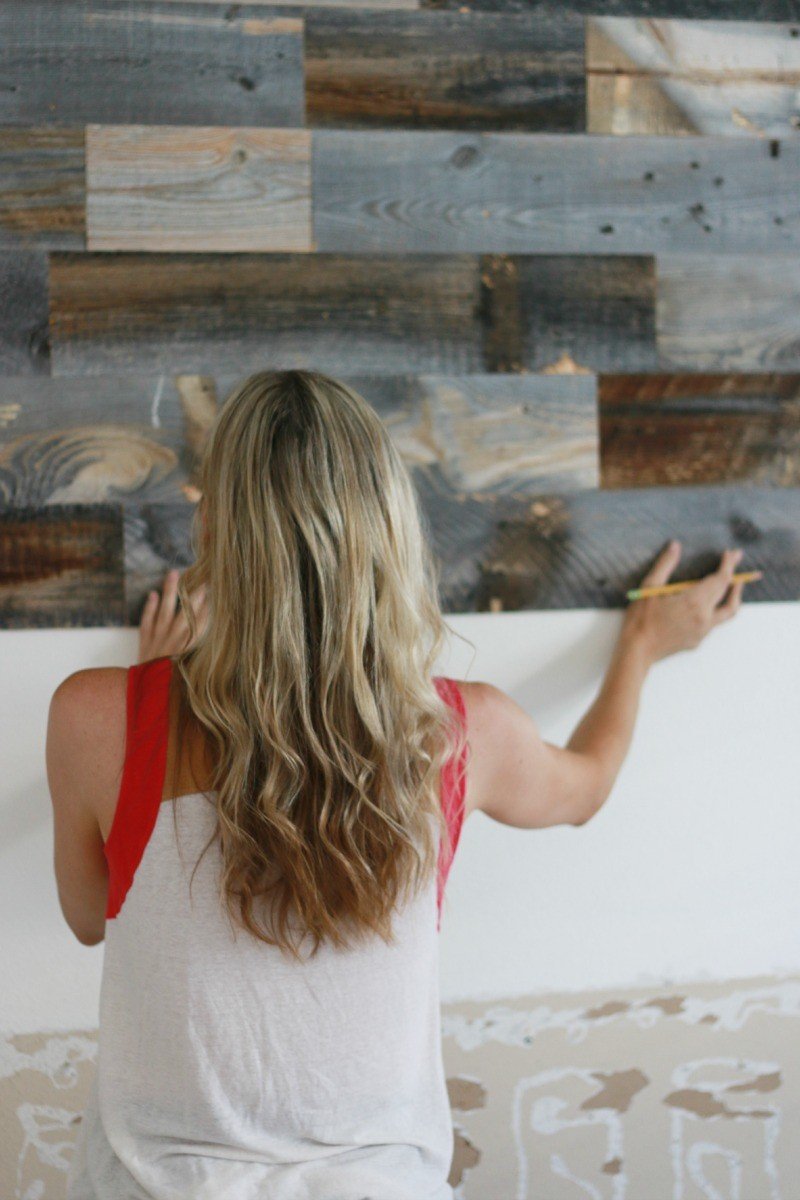 It was definitely a family operation. We had pieces all over the bed and floor and my daughter helped pick out which piece should go next (trying to vary the colors and grains). Then I would measure and my husband would do the cutting. I was the one who kept things level and stuck them all to the wall. Oh, our son. . . he ran around playing. At the end of the day, we couldn't be more thrilled with how it turned out.
We did the entire wall in one day. It was so much fun to see it come together. This is your sneak peek for now. I'll be so excited for you to see the whole wall during the reveal. And well, right now, there are heaps of tools and junk all over the place. We have basically used Grady's room as the work space for each project so it's definitely a hot mess outside of these shots!
After pouring over my inspiration photos from week one, I realized that the dresser in Emily's design was exactly what I needed in the space. No, not an actual dresser. . . but the contrasting drawers. I just adore that piece and decided our son's bed was the perfect way to incorporate that look in this design.  And to be honest, the white bed, while a much needed contrast with the wood wall, needed some warming up. So it was time to choose a paint color.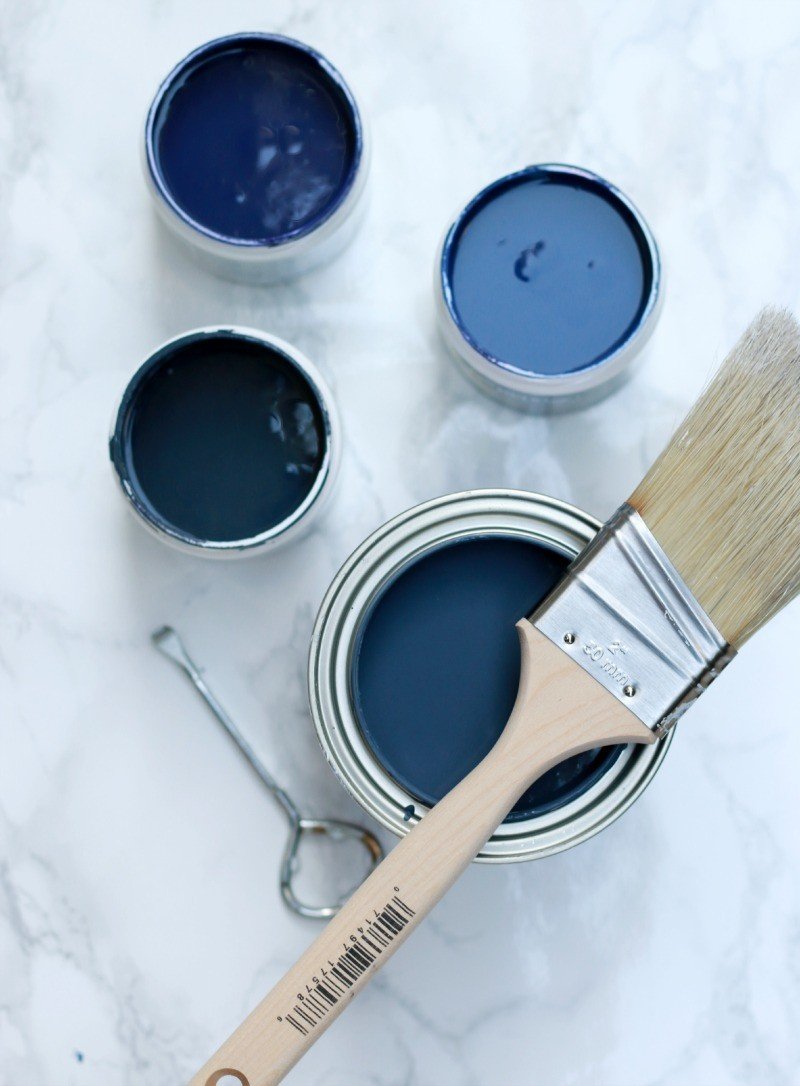 You would think that I would have had enough experience by now not to blow the paint thing. Nope. Not only did I send my hubby to get a quart of Hale Navy by Benjamin Moore (wrong color for this project) but I went on to test three more. Than I stood in Grady's room and looked at his little map dresser I made years ago. The perfect deep navy. It was there the whole time in the room. Hello! Luckily I had this blog post to look back at so I could see what color I used (it's convenient chronicling all of these projects). And the story of how I found the color in this post made me smile. I had completely forgotten that it was all due to my baby boy. So in the end we went with Galaxy Black.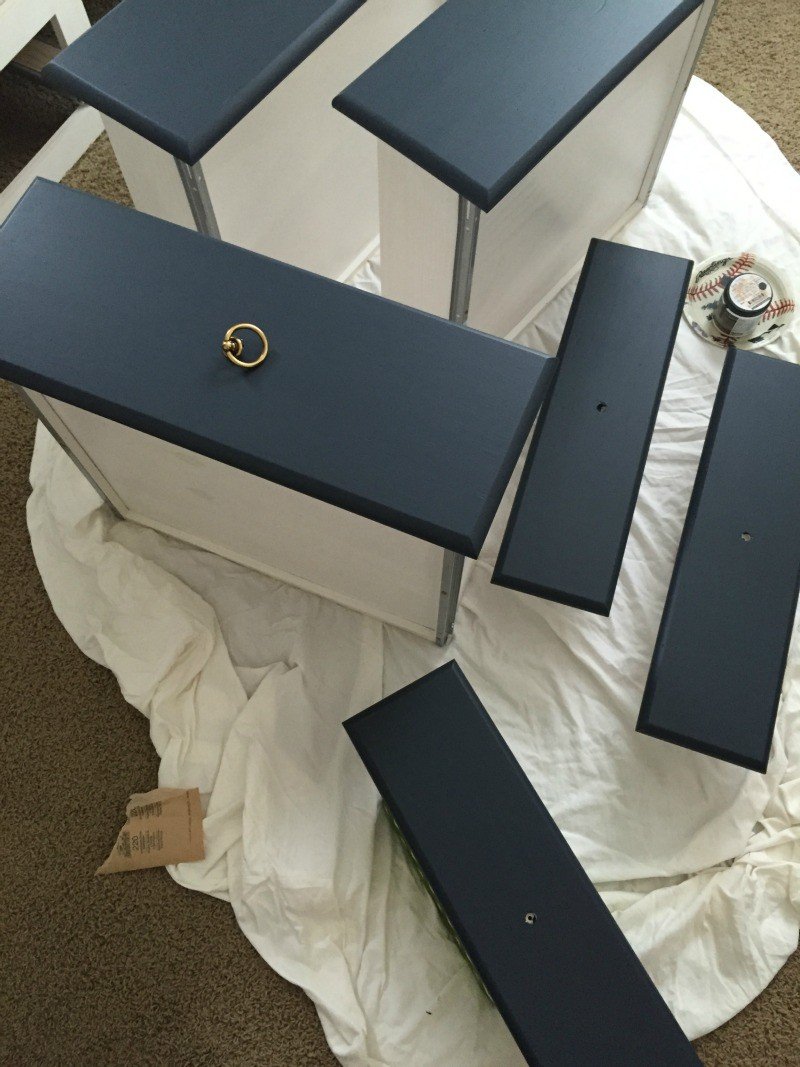 Here's the fancy behind the scenes. Luckily the drawers come out and the three faux drawer fronts unscrew so it was easier to prep and paint them. I was able to prime them, wait 45 minutes and then apply the Galaxy Black.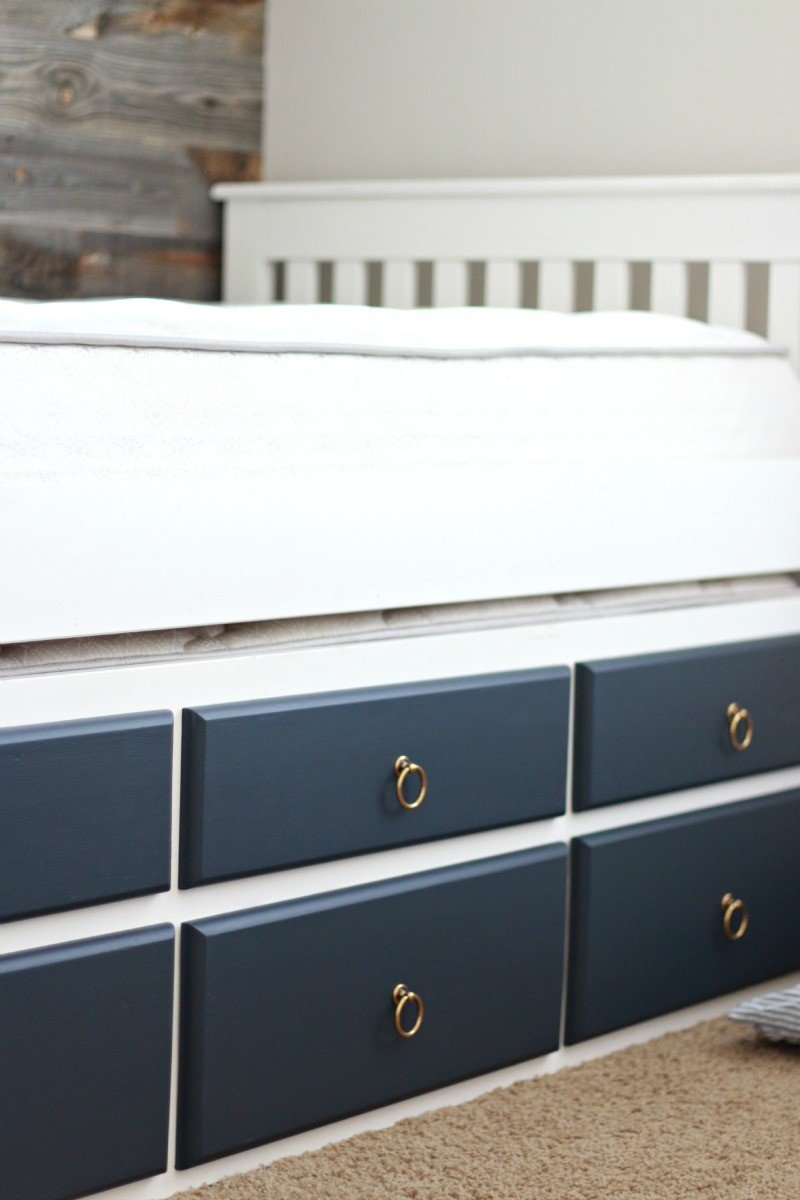 These drawers make me smile like crazy. I am obsessed with how they turned out. The bed has a very slick finish so I was afraid I wouldn't be able to get a great finish but I lightly sanded them and then used BIN Primer. Worked like a charm. Two coats of Galaxy Black later we have a whole new look. The hardware really pops now as well. I'm getting so excited!!!! Progress, progress, progress!
The other work in progress is a desk Ryan has started. It's a labor of love and he is fitting in building time after work. I will show you that next week. Other than that, we are just sort of exhausted!
Sadly, even though I crossed off a lot, I added a couple of more items. But that's ok! If it's on my list than I know I will actually get to it.
What We Need To Accomplish
remove bead board
paint
replace baseboards
case the window
wire for the new sconce
turn his closet back into a closet
make a desk
add more lighting
add a focal wall
find a new dresser
create a reading corner
paint the bed
hang drapes
have fun doing it all (said with a hopeful heart)
Catch Up On Past Weeks Here
Week One: Before Photos and Interview Video
Follow Along With These Talented Ladies