Good morning. I have a Pay This, Not That to share with you but I think I will wait until tomorrow. When I showed this photo on stories, the questions came flooding in so I thought it would be helpful to put the answers in one spot. This is our little slice of heaven. It's not grand in size, but it's cozy and peaceful. I still have some styling to do as we transition into Spring but here are a few details about our porch.
THIS SET MOVED WITH US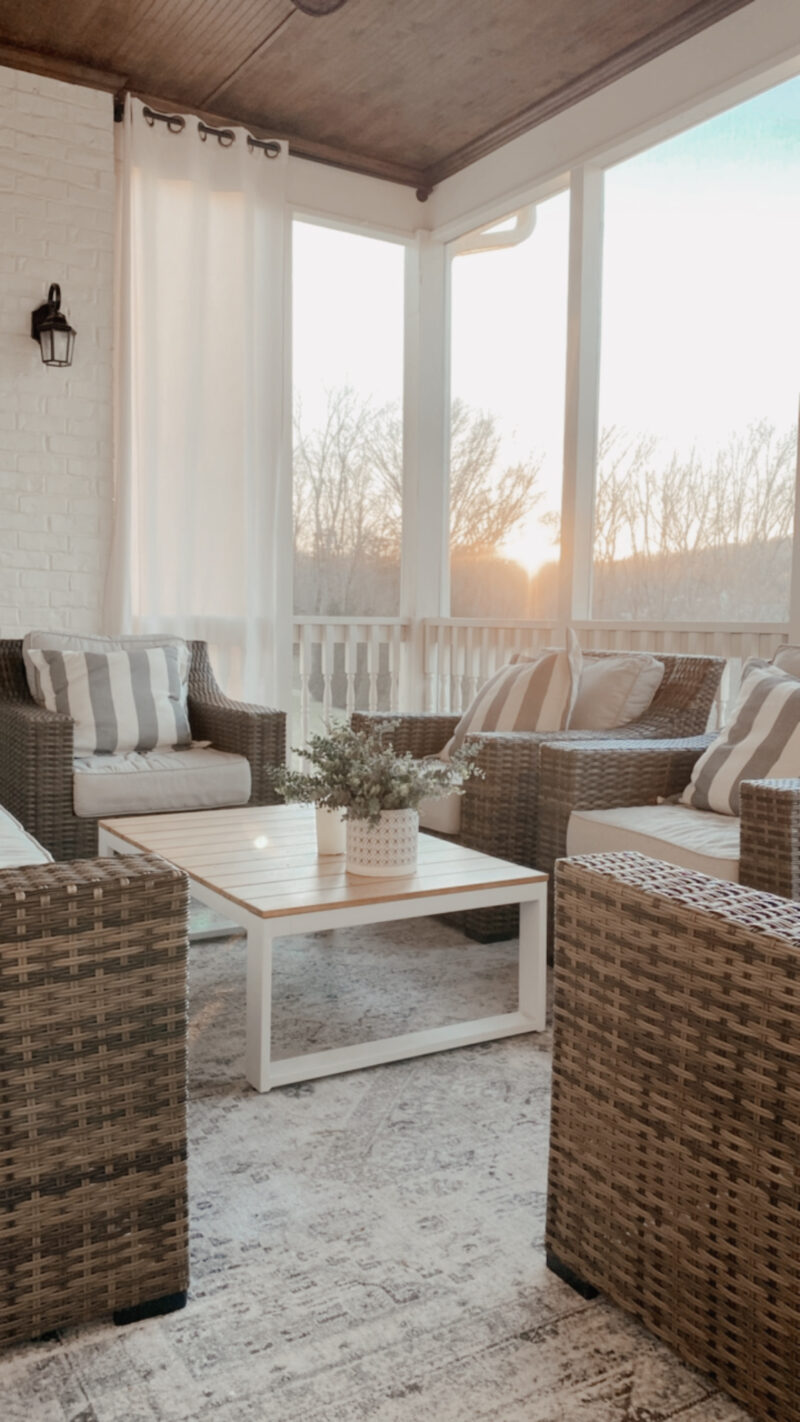 I am always asked about what we decided to bring when we moved. A lot of thought went into that. First and foremost, we measured very carefully to be sure things would actually fit. Once we knew they did, it was a question of whether we could be patient and wait up to a year (as the lead times are insane) or if we would want to immediately set up a space. The answer for this porch was easy. We absolutely wanted this space to feel complete. While the rest of the house was a bit crazy when we moved in, having this seating out here made us feel so much more calm.
DRAPERY PANEL
Our draper panel is from here. We only needed one to help with privacy and so I was able to splurge on something that is made to last. I like it because it's washable, mildew resistant and made with extra thick Sunbrella fabric. Having said that, if you need quite a few, it would be an investment. I know Ikea makes a similar white drape that would be cost effective.
Because we have a screened in porch, the white panel getting dirty has not been an issue as of yet. The large curtain rod was something I found at Walmart.
DIY SHADE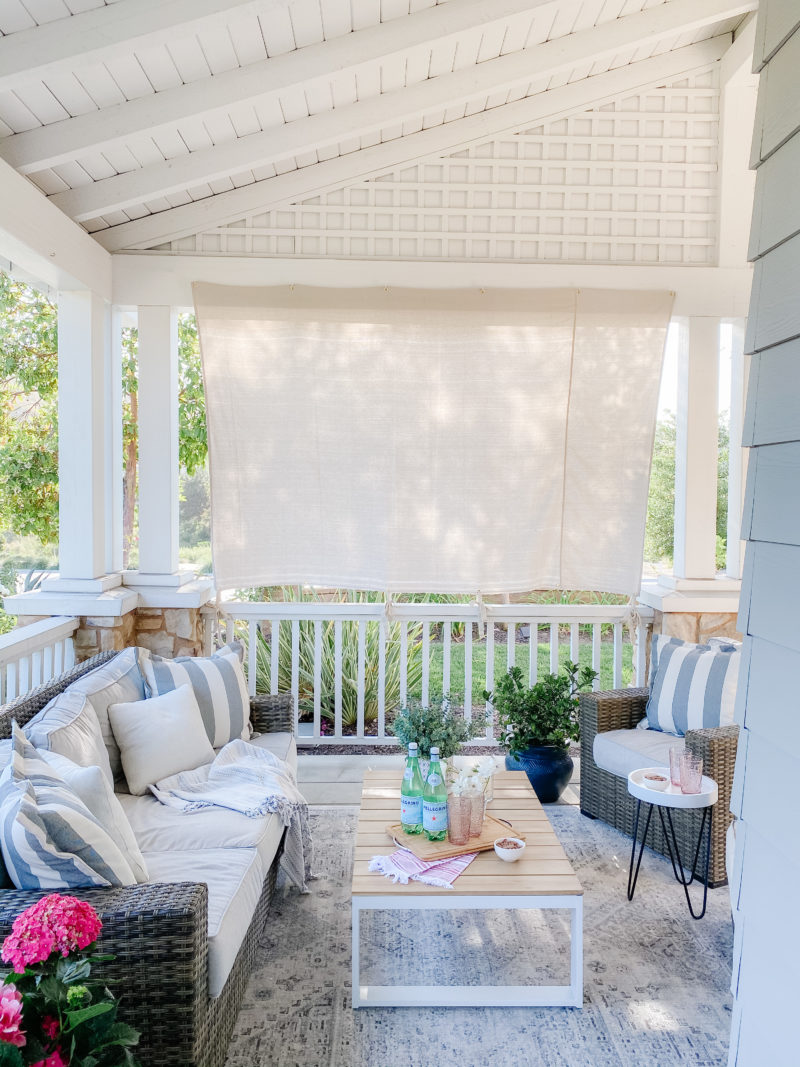 Some of you may remember when we made our own shade cover for this porch. That could be an affordable option, too.
OUR FURNITURE
Our pieces are from Living Spaces (Capri collection) and have held up beautifully through the years. They are also very comfortable.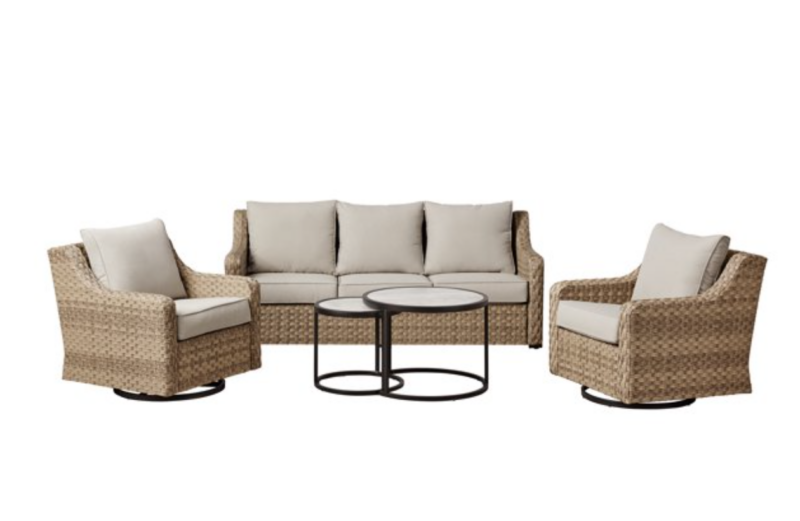 This outdoor set is quite similar and comes with the covers. A couple of my friends have this and have been really happy with it. I love that the chairs swivel, too.
THE PILLOWS
Our striped pillows have also held up beautifully. They were on our front porch in California for years. I just love a classic stripe and these are a nice size.
THE RUG
Our exact rug is no longer sold, but you will be in great shape with an indoor/outdoor option. I have loved ours and the light colors have not been a problem. The are so easy to power wash once a year (or less). We power washed ours right before we moved and it looks brand new. I recommend going with something very neutral so that you can dress up your porch area with different colors throughout the seasons. It was nice to be able to toss Christmas pillows on our outdoor furniture and not have them compete with the colors in the rug. Here are a few pretty options.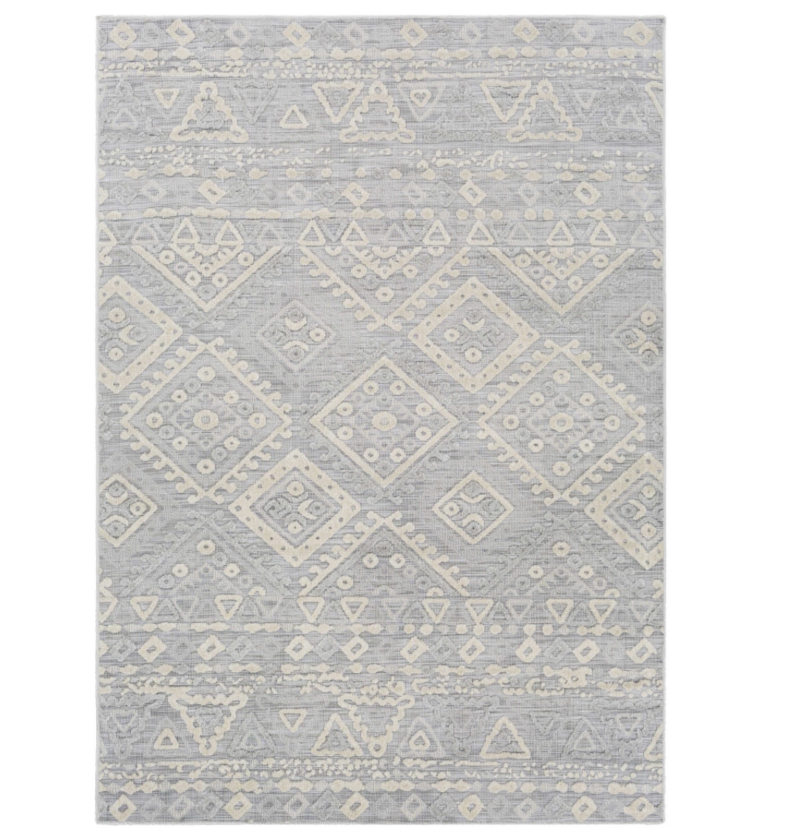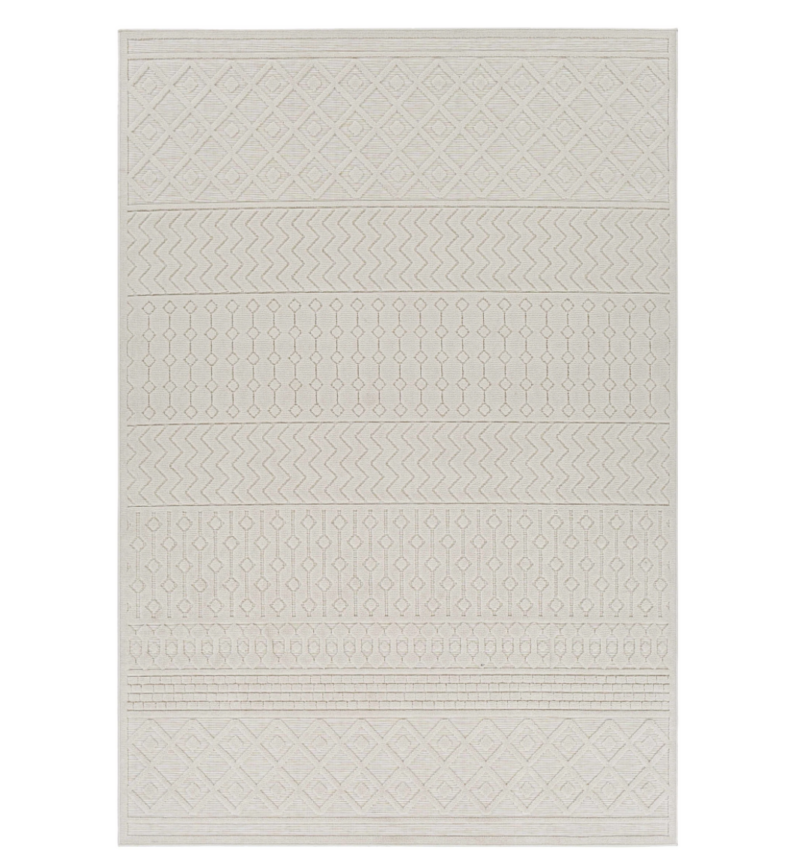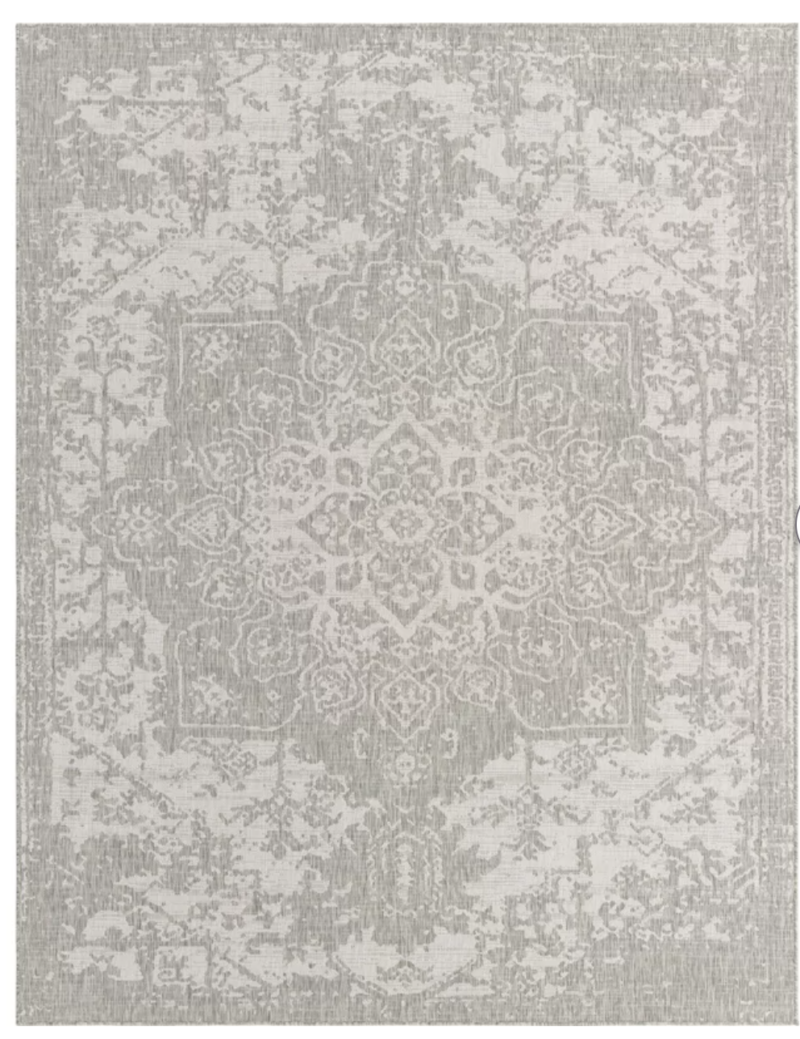 This rug reminds me a lot of ours. I like the traditional feel and it is definitely neutral.
THE TABLE
The coffee table is from World Market but no longer sold online. You may have luck if you have a store nearby. This all white version gets great reviews and has the same overall feel. Here is another great option. If you like the two-tone look, you could always paint the base white.
OUTDOOR DINING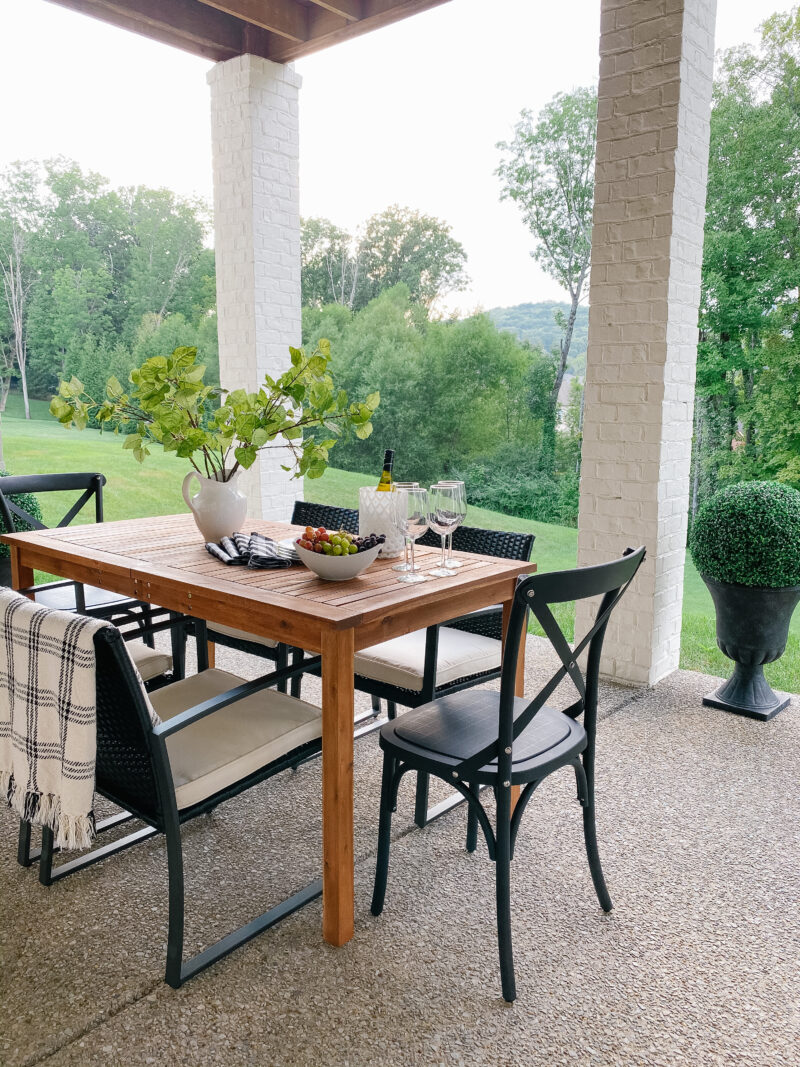 Below our porch, we have this patio. Looking at this has me dreaming of Spring when everything is green again. You can get more of the details on this space here.
Are you thinking about your outdoor spaces yet? It's nice to dream of warmer temps and sitting outside. Hope these ideas help.