In years past, I would have shared our Christmas home tour long before now. There is something about being in a new home that slows the process. It takes a minute to learn the home and discover how to decorate it. This year I relied on garlands, greens, candles, and ribbon to really do the heavy lifting. And no fancy cameras this year so casual iPhone photos it is. We kept things fairly simple and are so happy to have you. Now if we could just get a dusting of snow we would be in heaven. Thanks for stopping in. Welcome to our home.
WELCOME IN
red dress | black heels | favorite necklace | similar earrings
The minute my daughter and I saw our staircase our minds went straight to Christmas. There's no question it's a fun spot to design. This year we used garlands and this satin ribbon.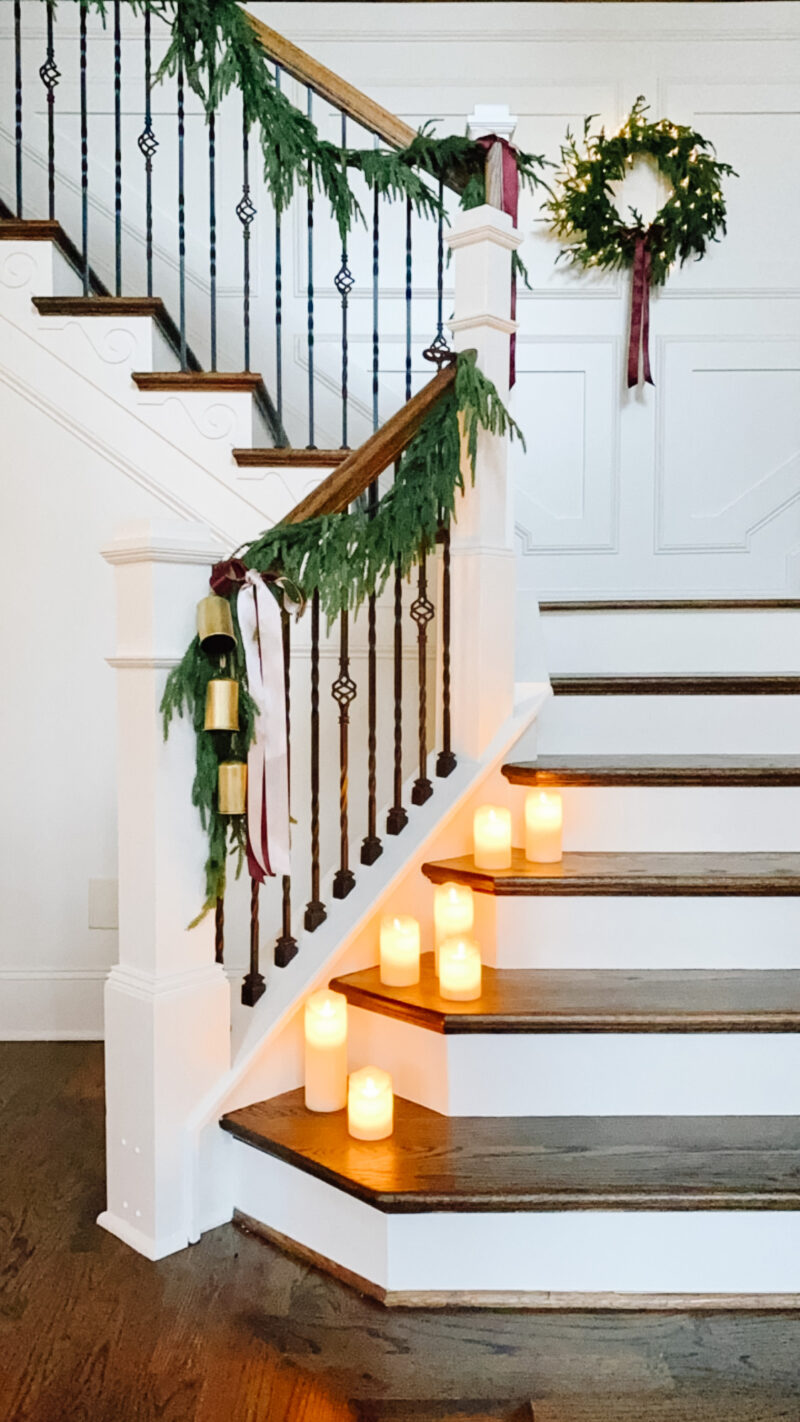 We also added battery operated candles to both sides of the stairs. It adds such a pretty glow at night. And because they are on a remote, it's really easy to turn them all on and off. The bells were a HomeGoods finds and I just gave them a coat of gold paint to brighten them up a bit.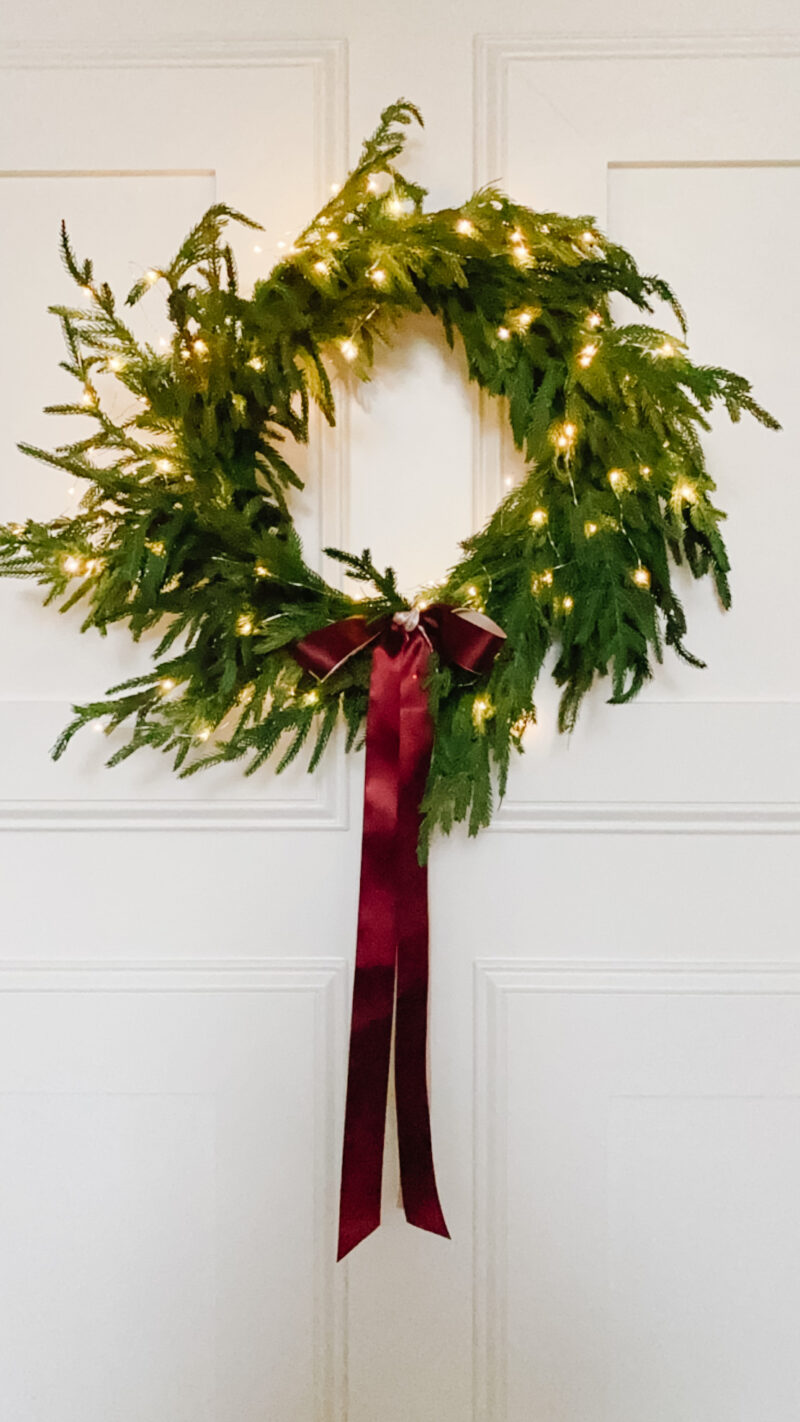 I layered two ribbons (burgundy and vanilla) for each bow.
*All of the wreaths and garlands we used are sold out. It's great to jump on them in October of next year.
THE LIVING ROOM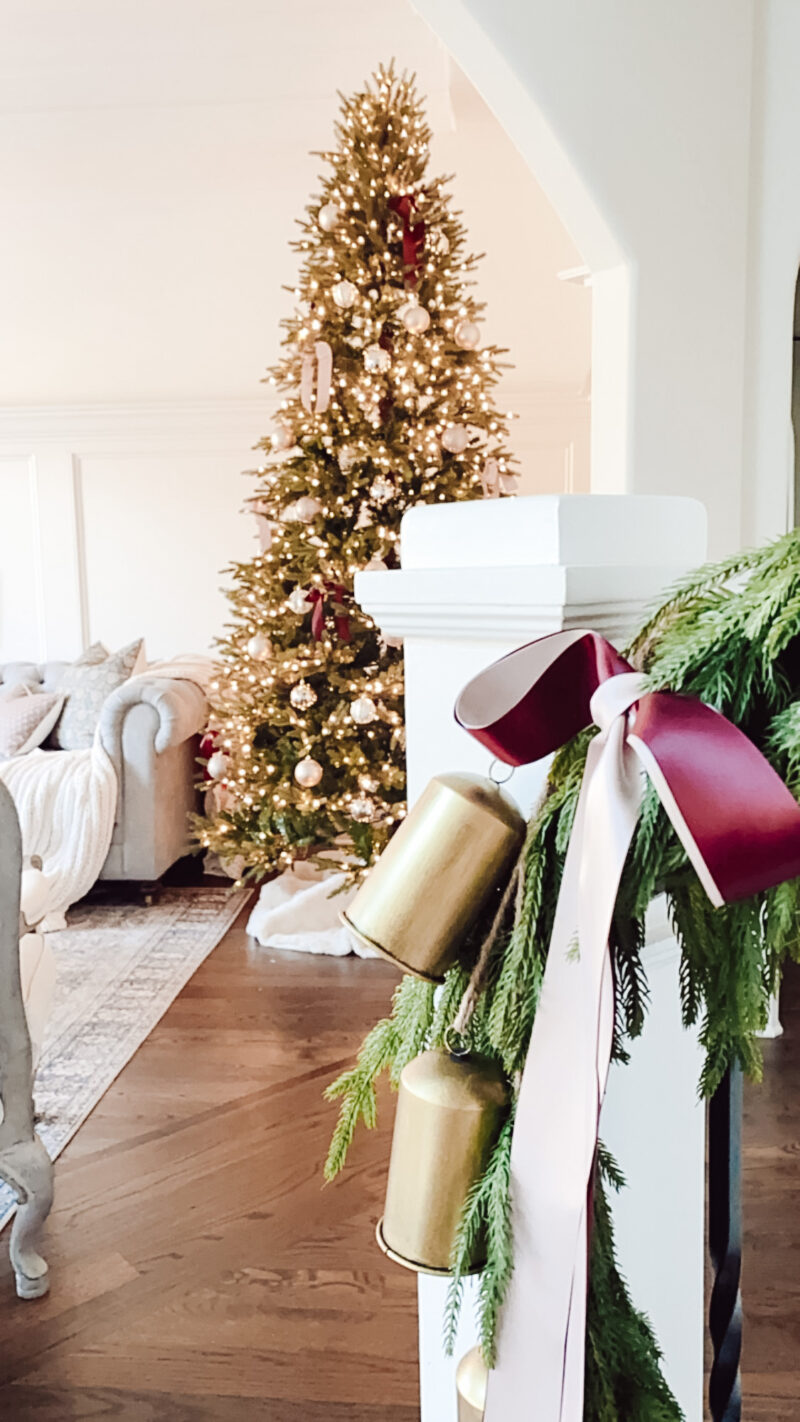 The living room tree is one of my favorites. We just added a few gold and glitter ornaments (we had on hand) and a few satin bows to match the stairs.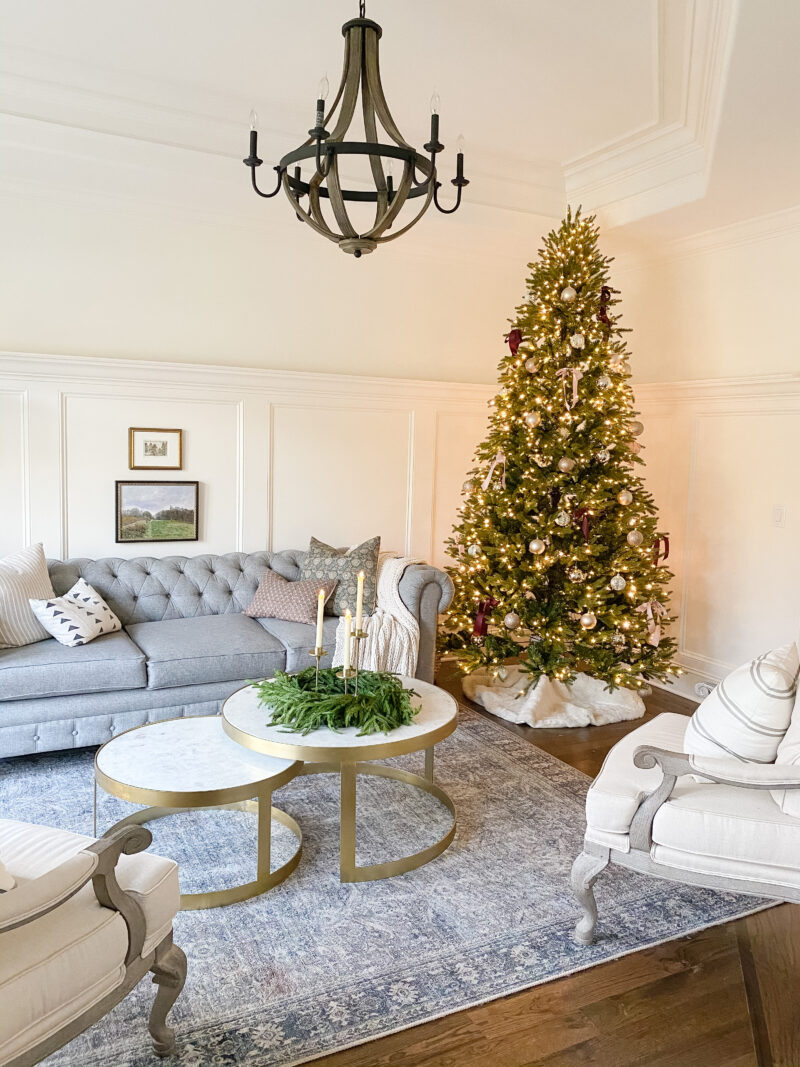 I am still looking for a piece of furniture to go on that tree wall, so it was actually an ideal spot for this tree.
*Rug sources for our home can be found here.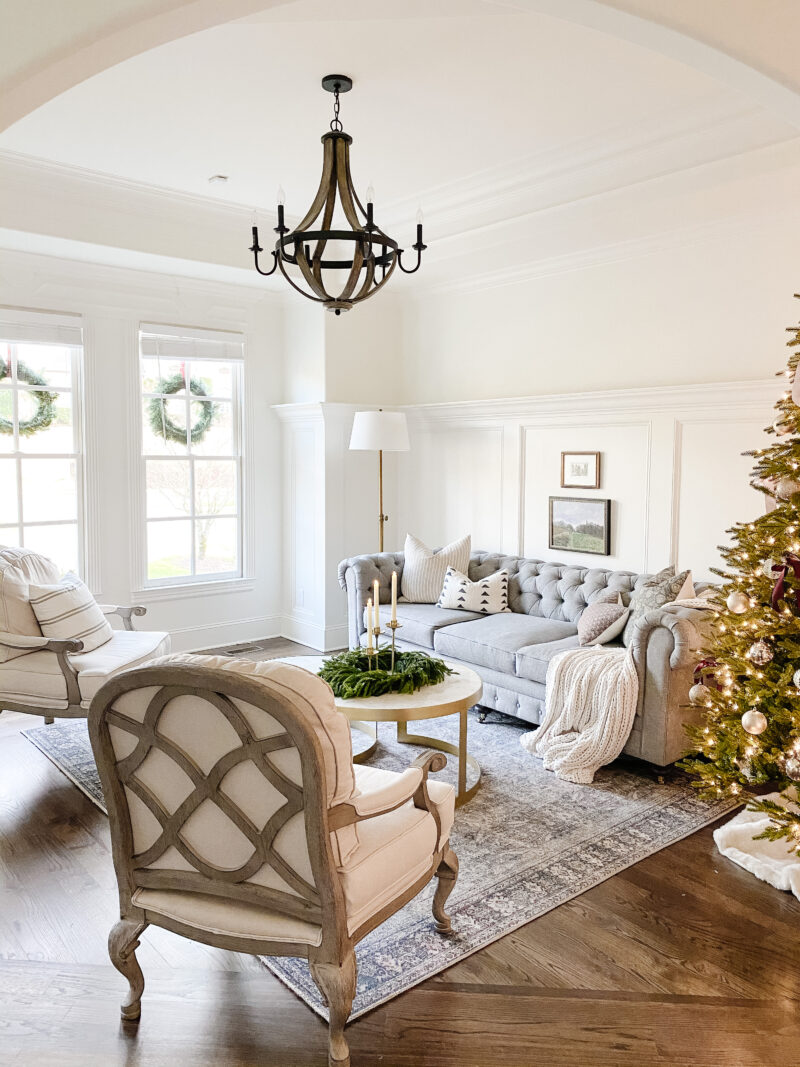 Other than the tree, I just relied on the outdoor wreaths and one on our coffee table to add a bit more of the Christmas feel. We have always used our formal living room. In fact it was one of our favorite spaces in our last home and that is how we feel about this one. I think there is something about having a cozy space without a tv that appeals to me. I love watching the sun come up outside these windows in the morning and the glow of the tree in here at night.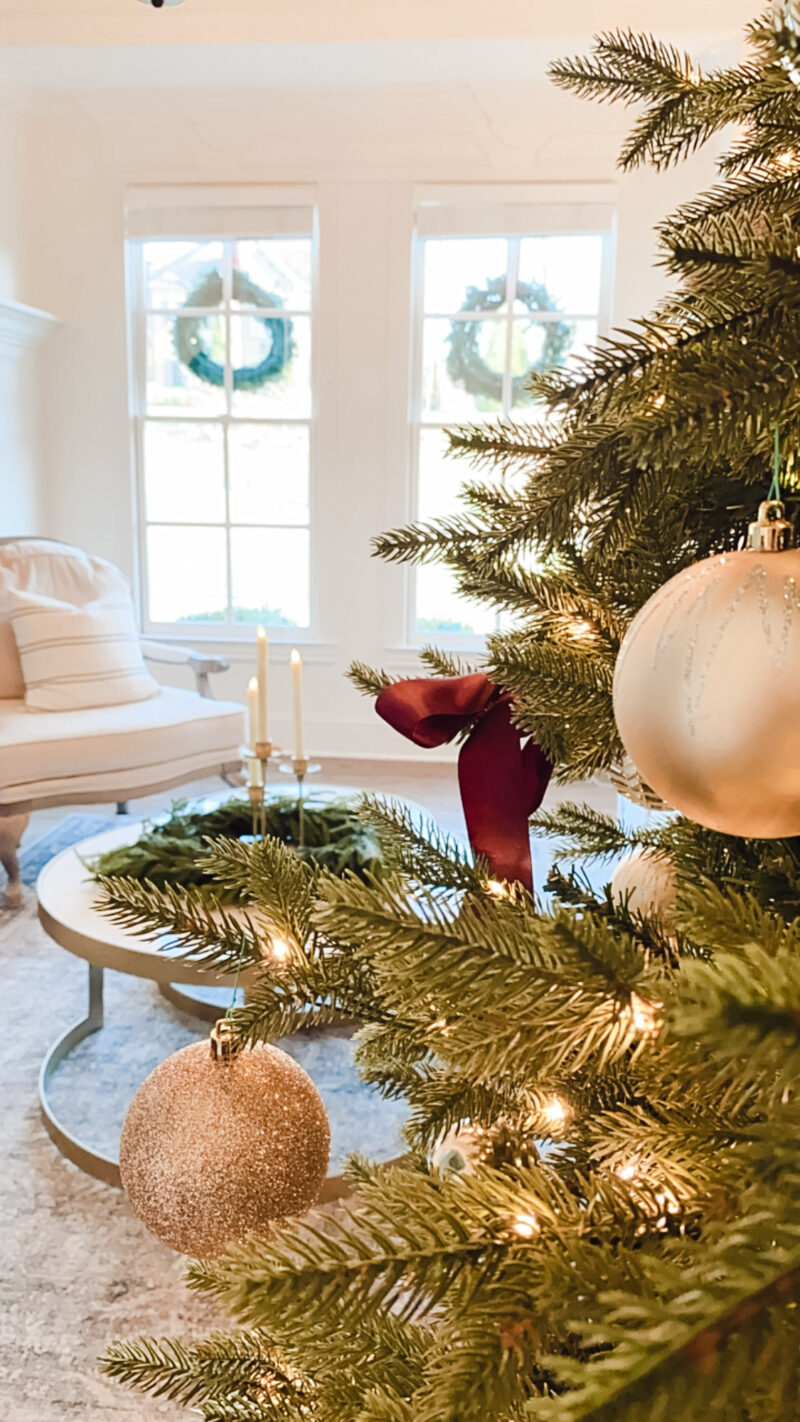 The battery operated tapers (also on a remote) are wonderful and I definitely recommend them. I was always so worried anytime I lit the real ones. Now we can have these turn on every night and I don't worry about leaving the room.
There's nothing better than all of the twinkle lights on at night. If only this season would slow down.
THE MUSIC ROOM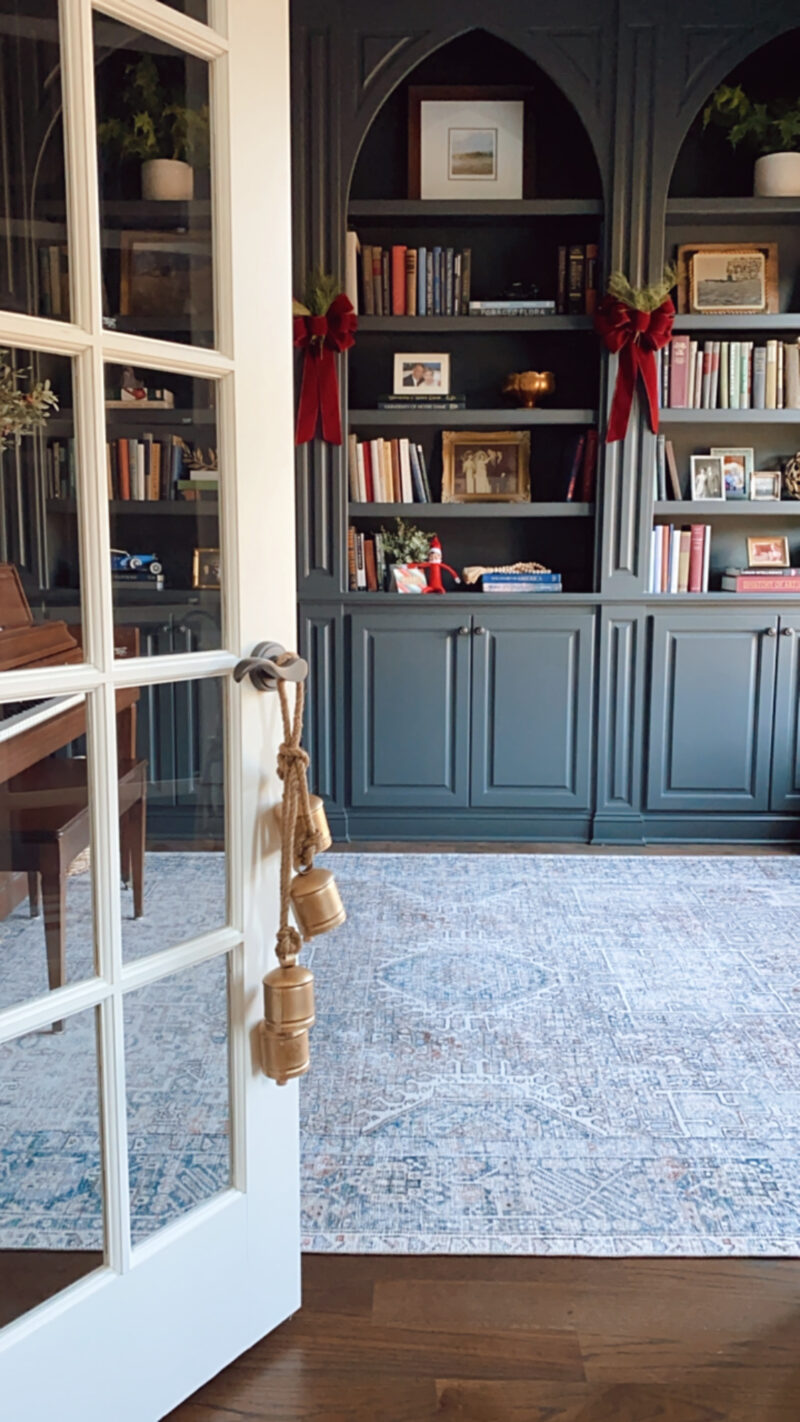 In the music room I added a set of bells and a couple of velvet bows. The bows are made from wire ribbon and so I just folded some of that ribbon around the pillars of the built ins. They aren't hung with anything and have stayed all season. A few of you have asked to see this whole room. This is it, my friends. We are looking for a nice comfy chair to put in the corner by the windows. It will be a great spot to curl up with a book or for my husband to play the guitar from.
LITTLE TOUCHES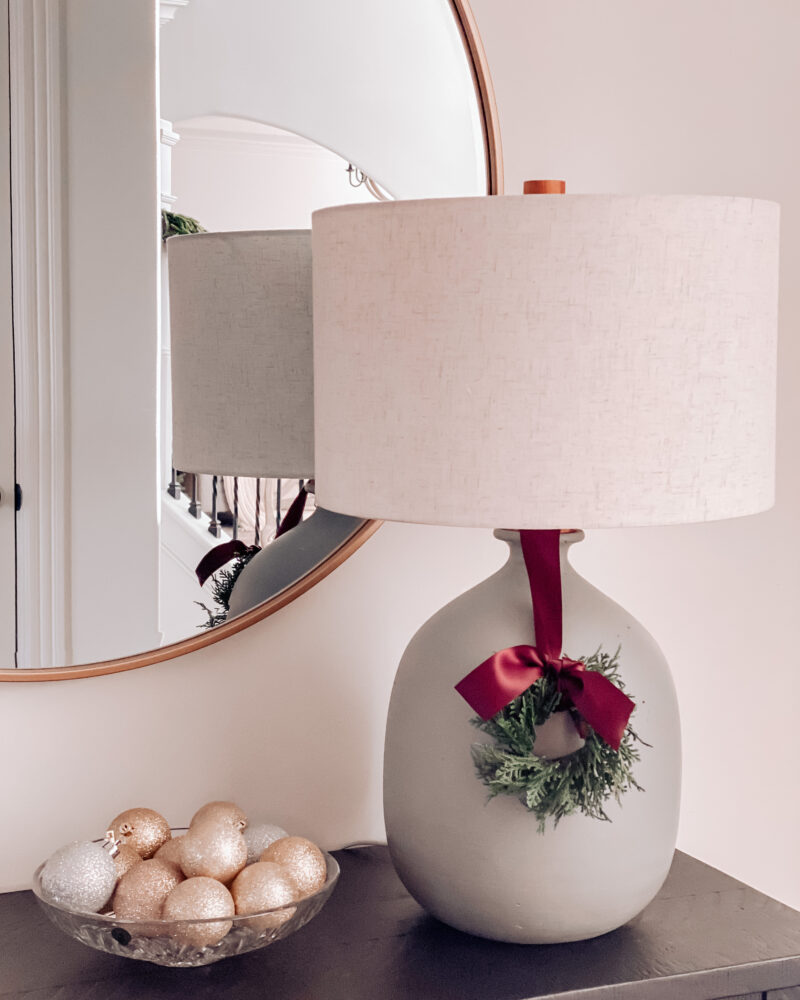 I did dress up a couple of our lamps with wreaths this year. The satin ribbon is just tied around one of the lampshade posts at the top.
THE FAMILY ROOM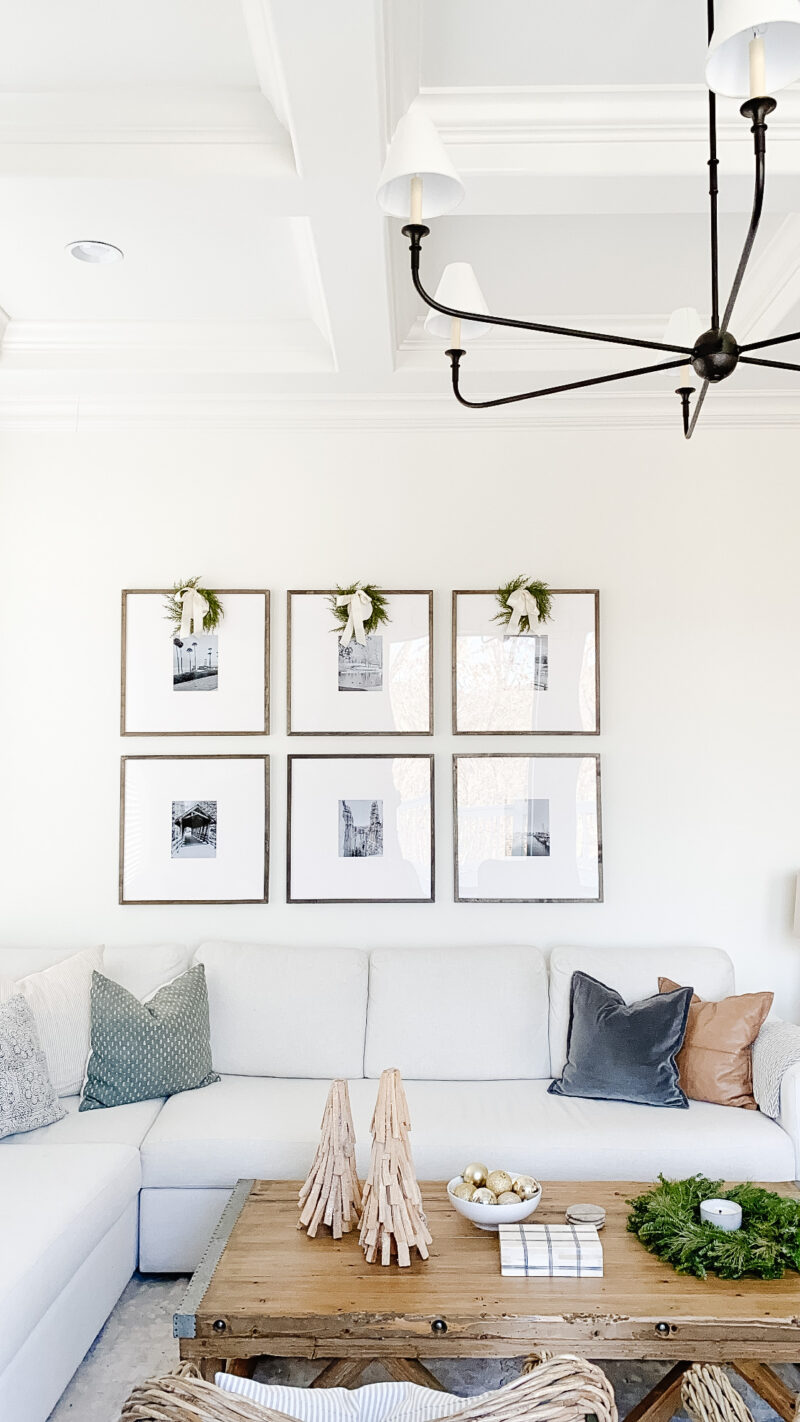 chandelier | coffee table | frames | leather pillows | similar sofa | grid box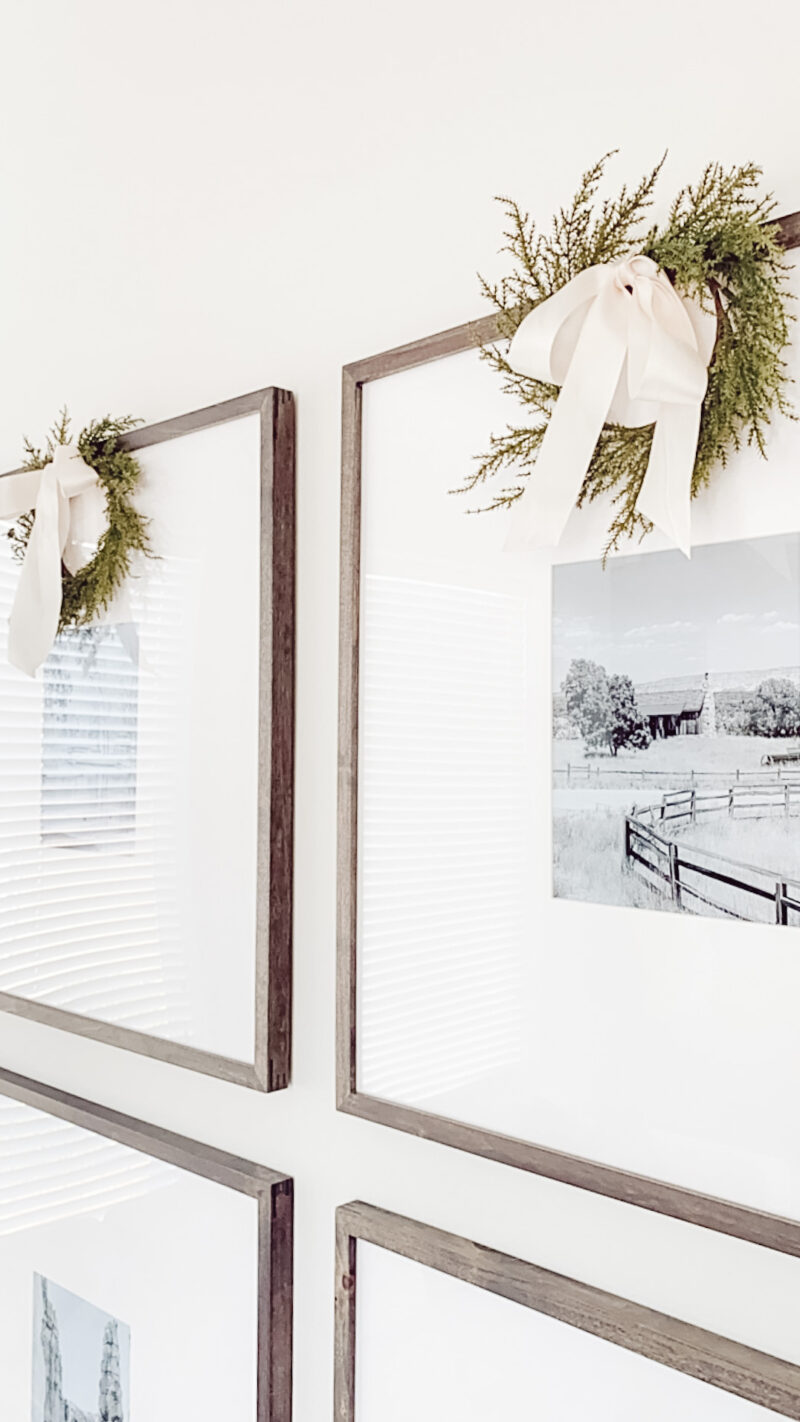 These wreaths used to hang on our barstools in California but I thought it would be fun to add them to this gallery wall.
Don't mind the television on the ground. It was delivered but will get installed in a couple of weeks. The best part is we turn it on with a fake fire right now!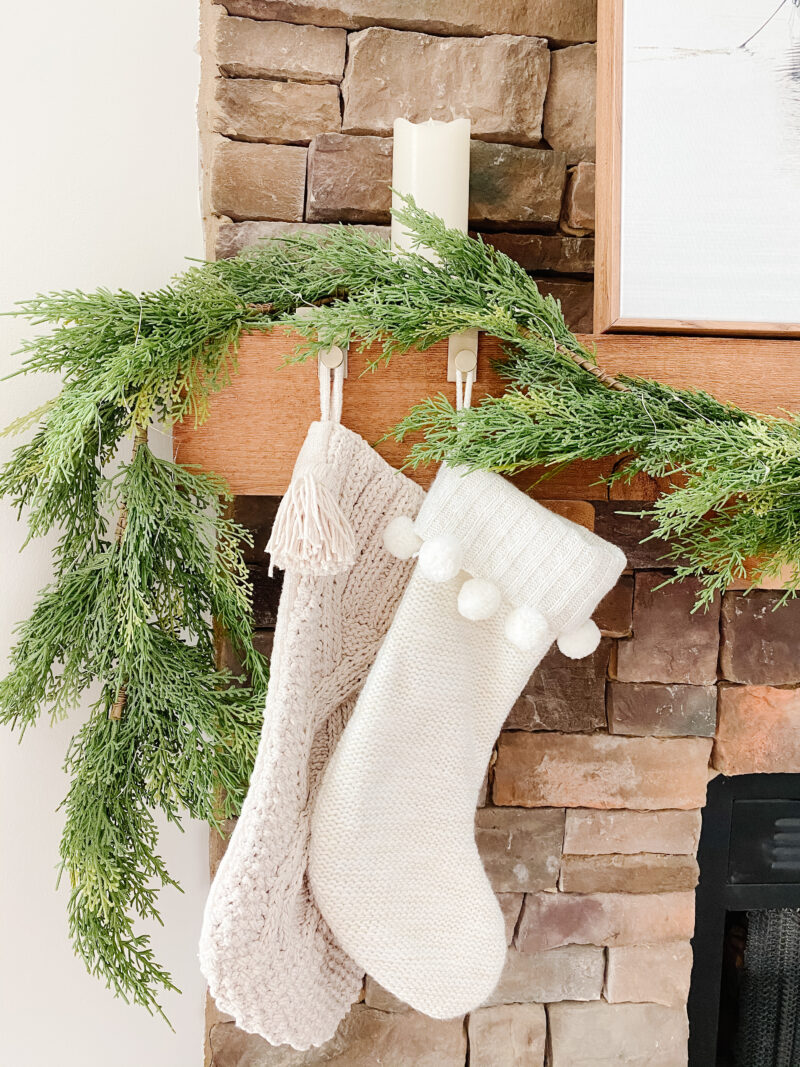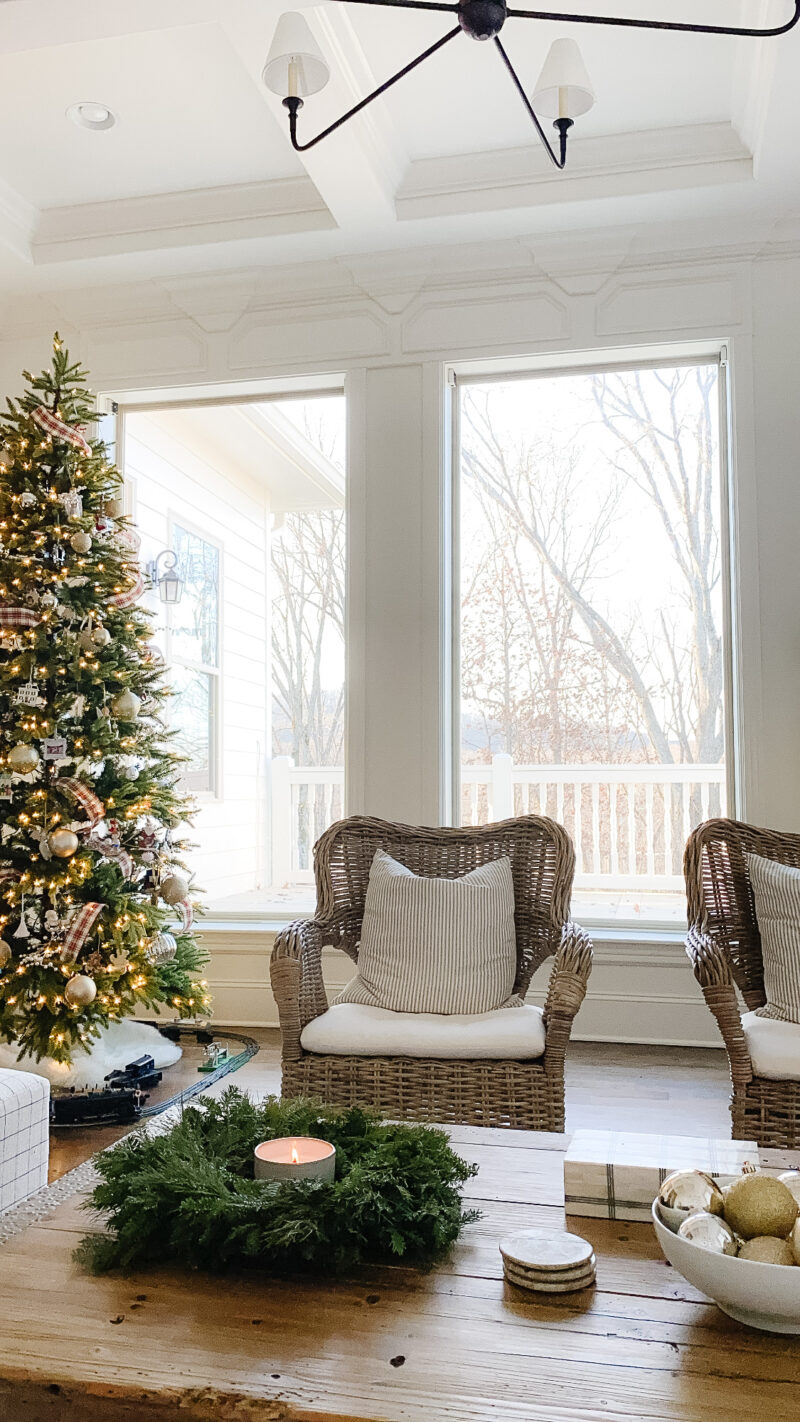 This tree has all of our sentimental ornaments. The ones given to us throughout the years and the ones we've collected on trips and special moments in our lives. Plus the ones the kids made when they were little.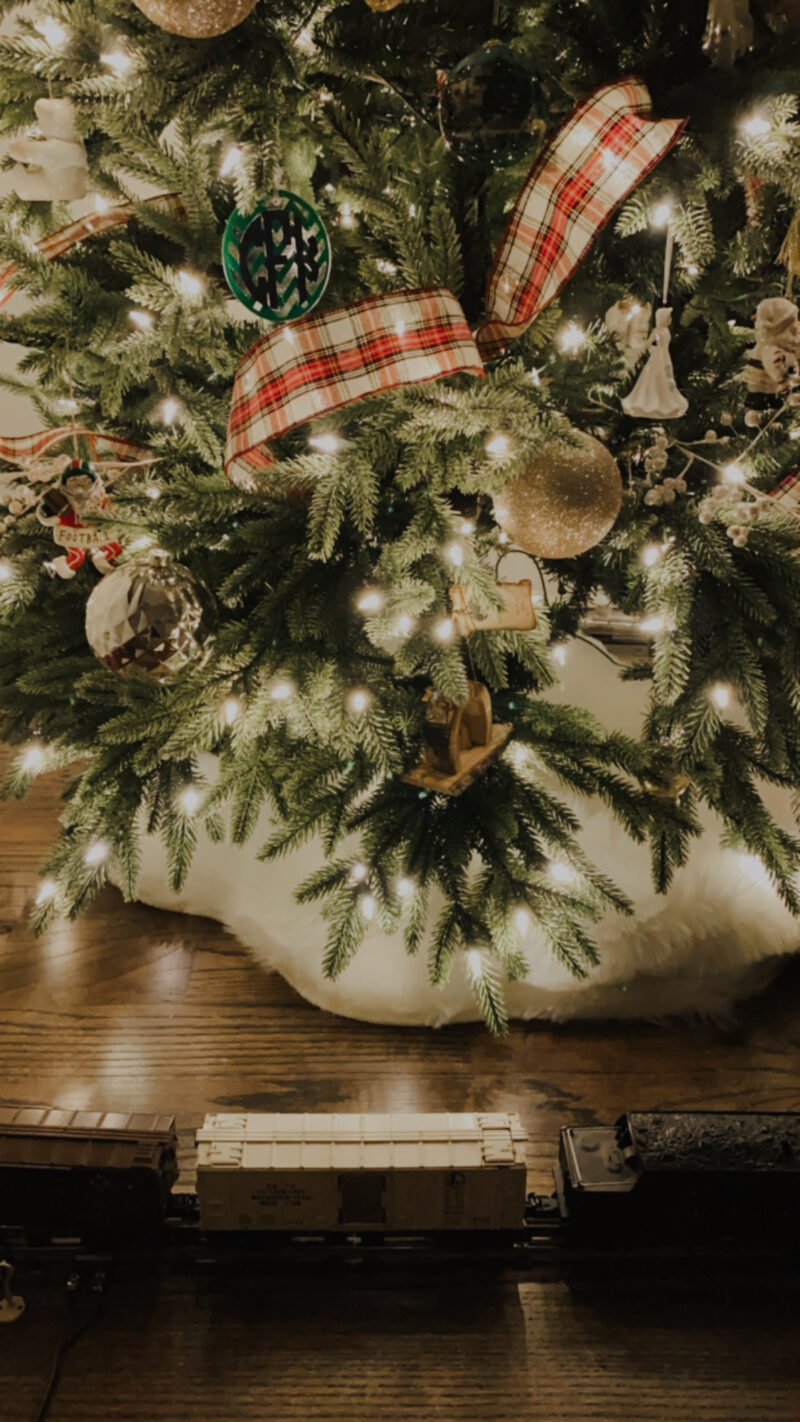 My husband put up the train this year which we love. He worked hard to get it all working. It belonged to both my dad and his grandfather . . . we used a combination of both of their collections. This is what I used as a tree skirt and it worked perfectly (2′ x 6′). I love how thick it is and the scalloped edges are so pretty.
DINING ROOM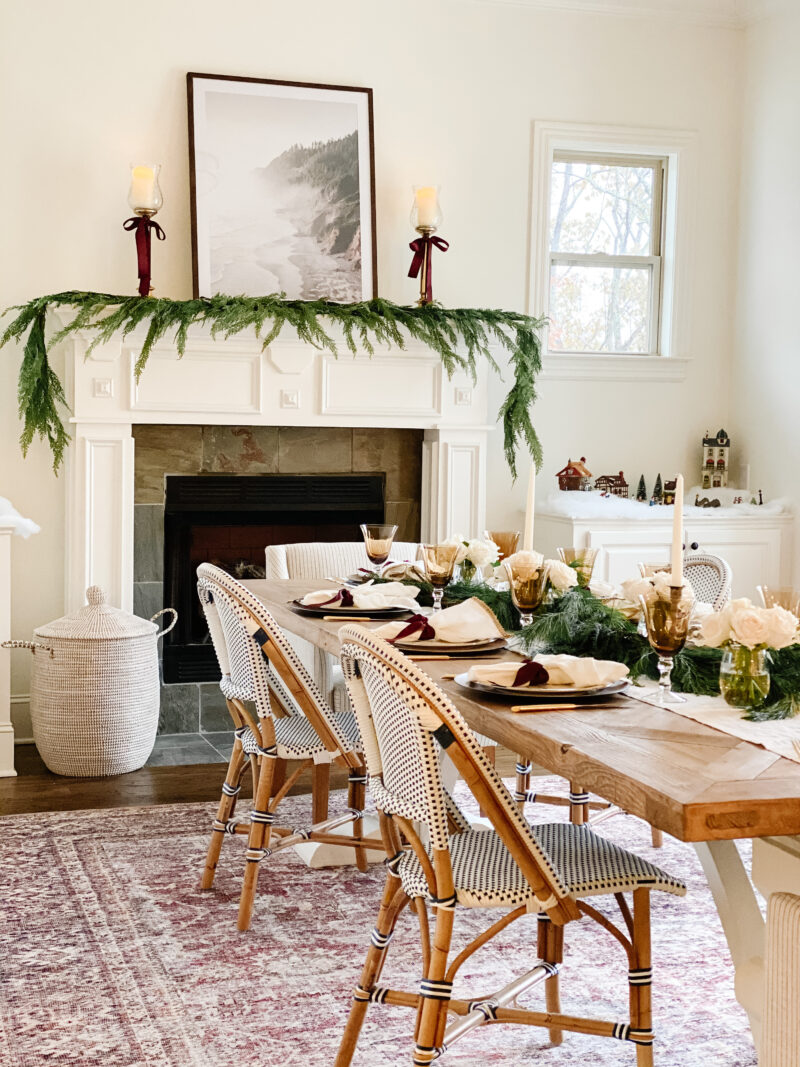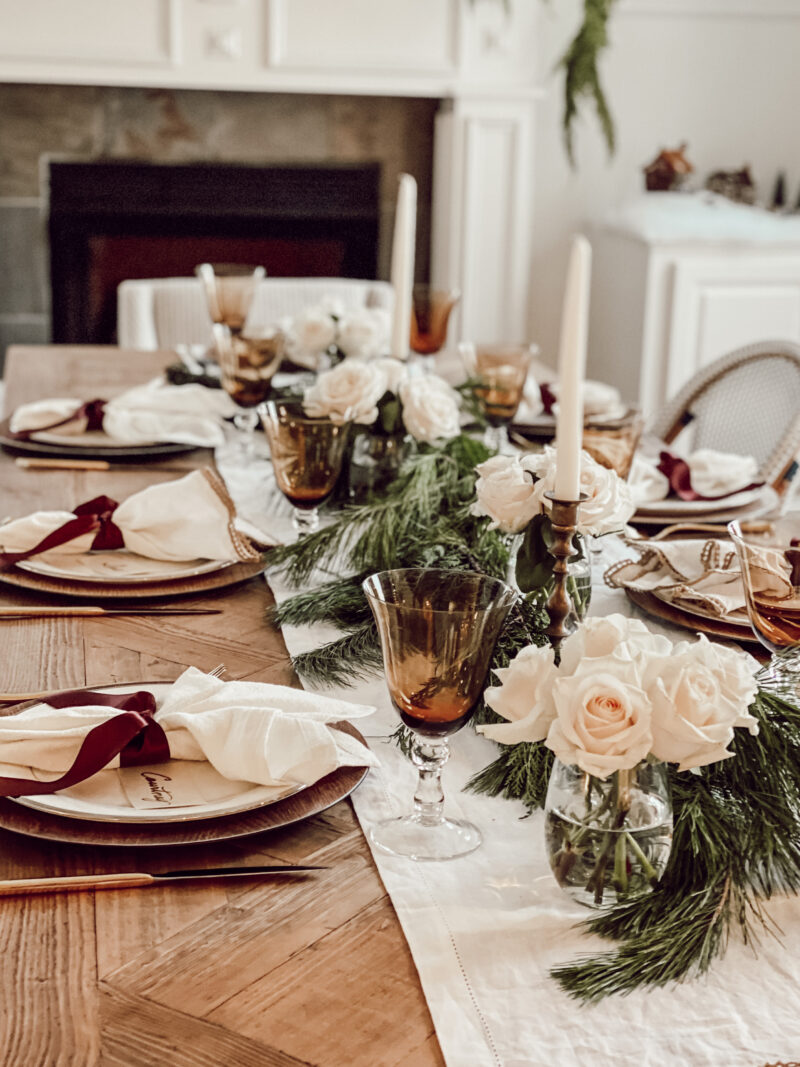 We love having this large table and have enjoyed hosting around it already. One day our dining chairs will arrive. One day.
OUR BEDROOM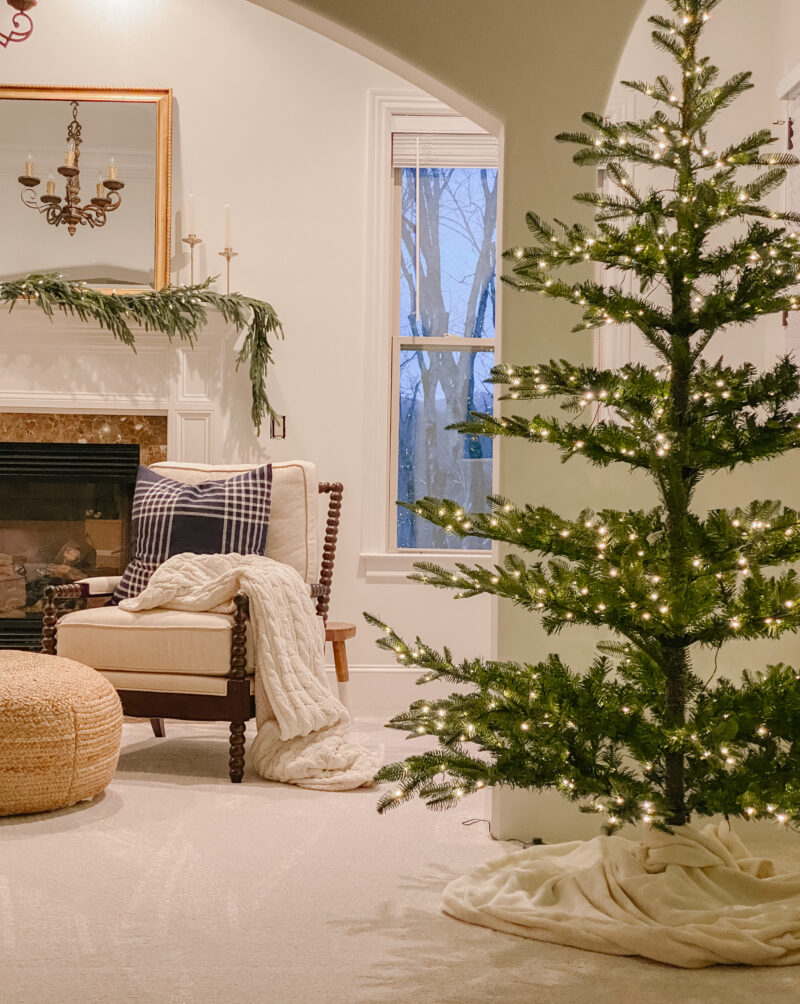 This tree was a last minute addition (because it went on sale) and it has brought so much joy. I love being in here. In fact we all like to pile on the bed for a movie with the glow of the lights. This may be my favorite tree to date.
THE GUEST ROOM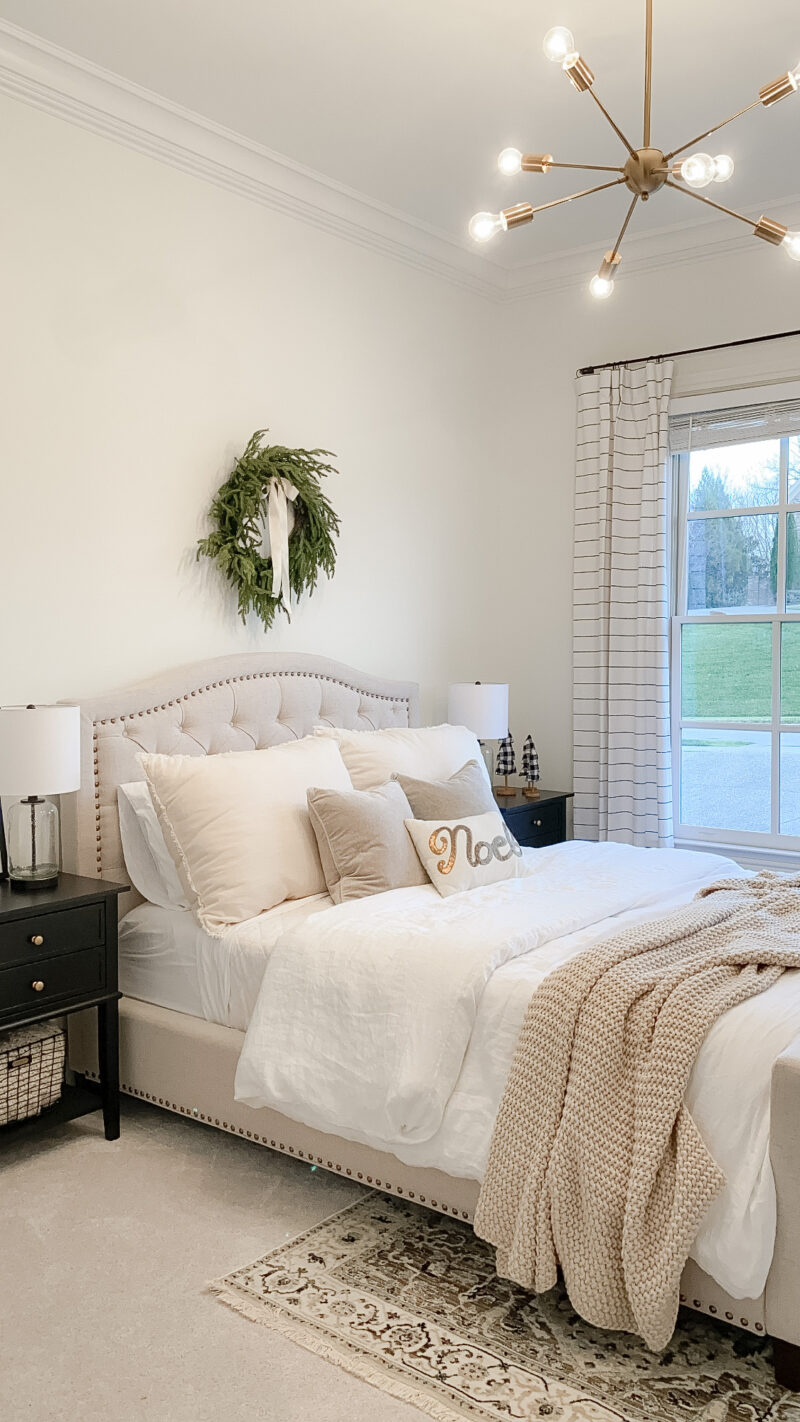 Coziest bed in our home. I slept in here to test it out one night and now I want these sheets on all of our beds.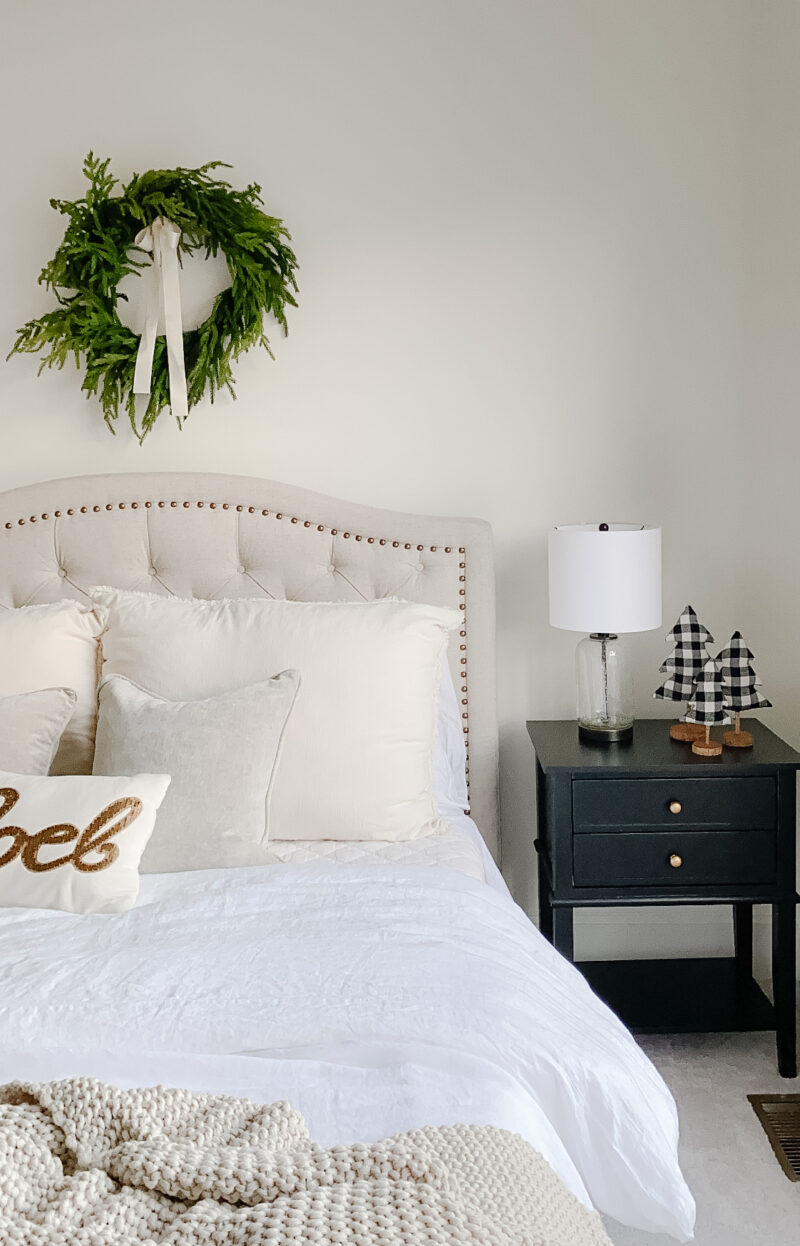 Just a couple of additions in here to make it feel warm and cozy for the season. The Noel pillow was a gift years ago and I am so happy I hung onto it.
BASEMENT GUEST ROOM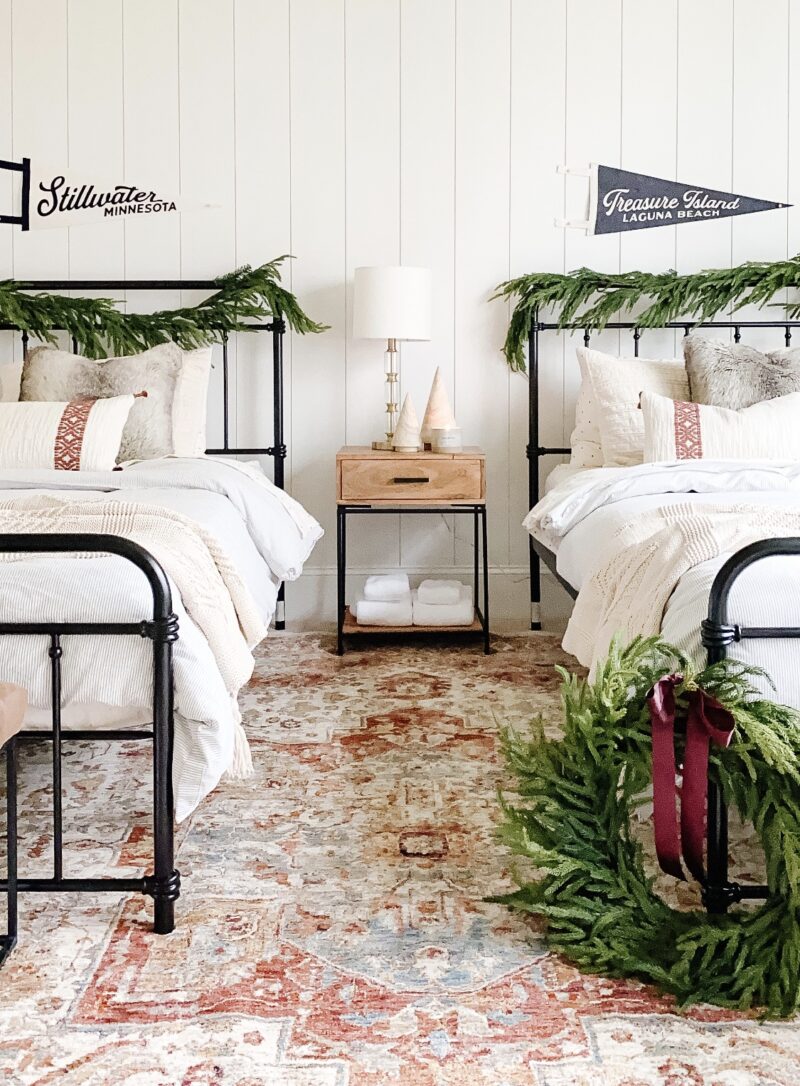 Despite being in a basement, this is one of my favorite rooms in our home. It has a great feel to it and it was easy to add greenery to give it some holiday cheer.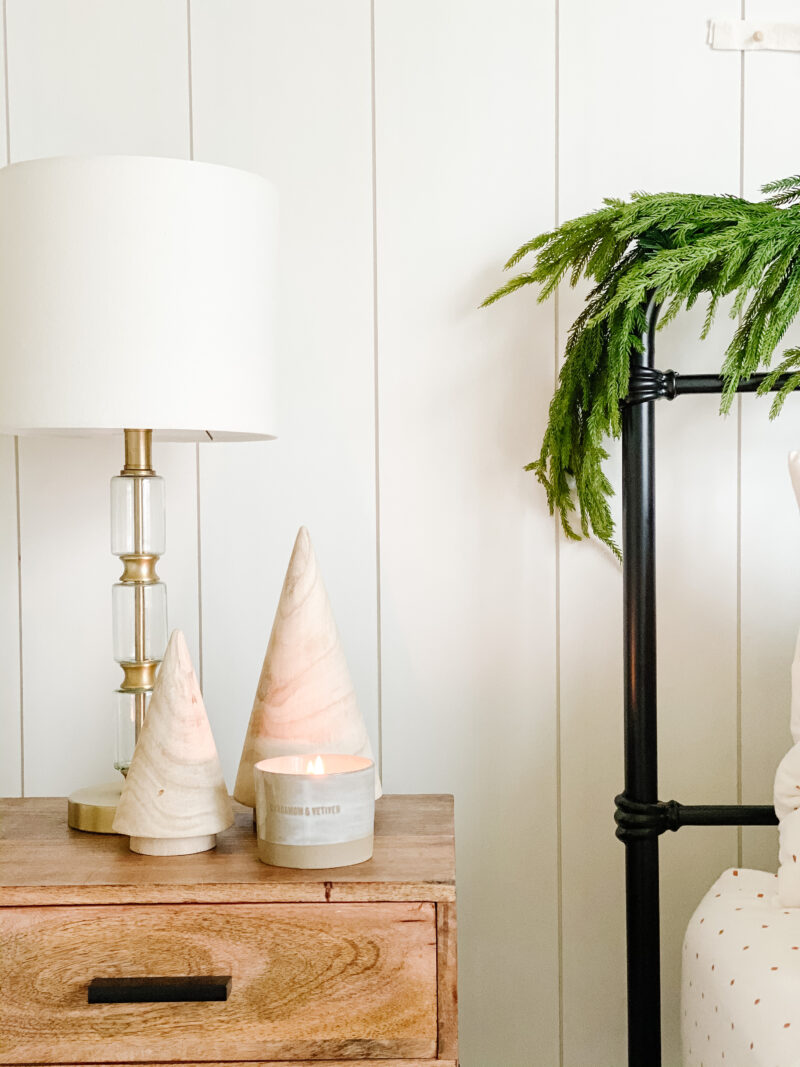 All of the sources for this basement guest space can be found in this post.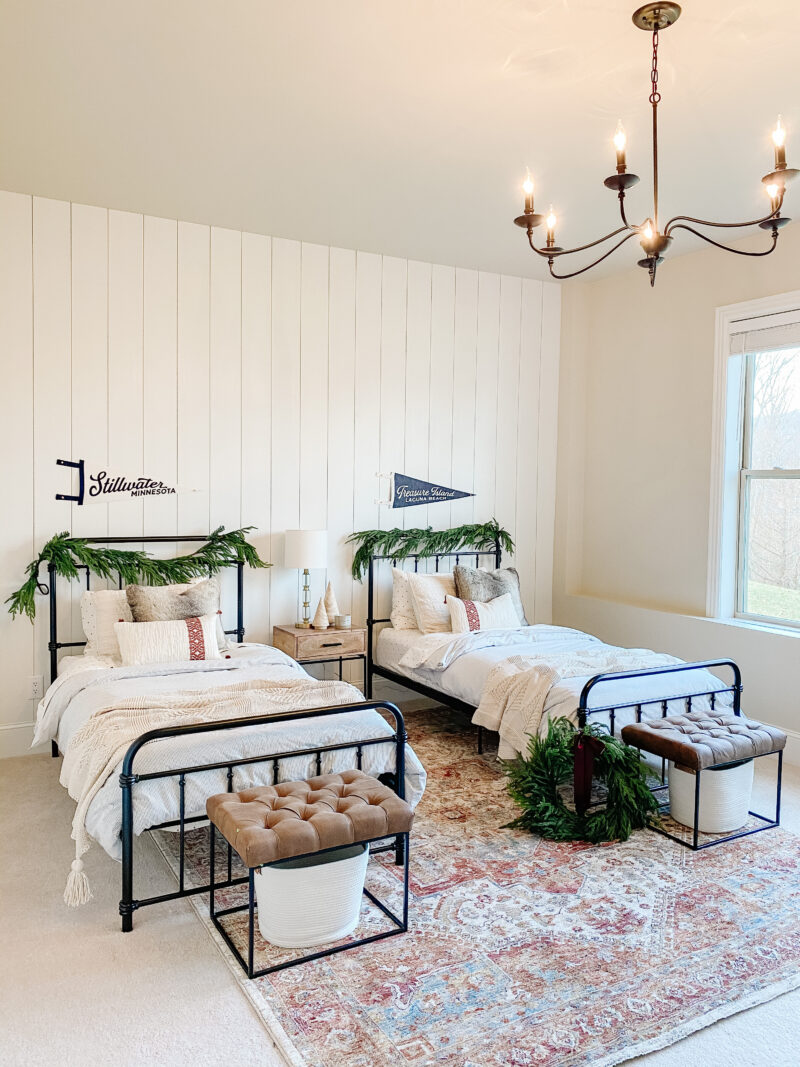 Thanks for stopping in. I so appreciate each and every one of you. I hope you're slowing down a bit this week. It's not about packing in all of the holiday activities and making things perfect. I have to remind myself it's just about being present and together. Wishing you really special moments with the people you love most.