I'm excited to share a bit of what we have accomplished in our primary bathroom refresh. In case you missed it, I go into great detail in this post about why we chose to work with what we have. I am hoping that by sharing these types of projects it gives you ideas of how to change the feel of a room without changing everything. Think of all the money you'll save! So without further ado, let's get to the updates.
BATHROOM BEFORE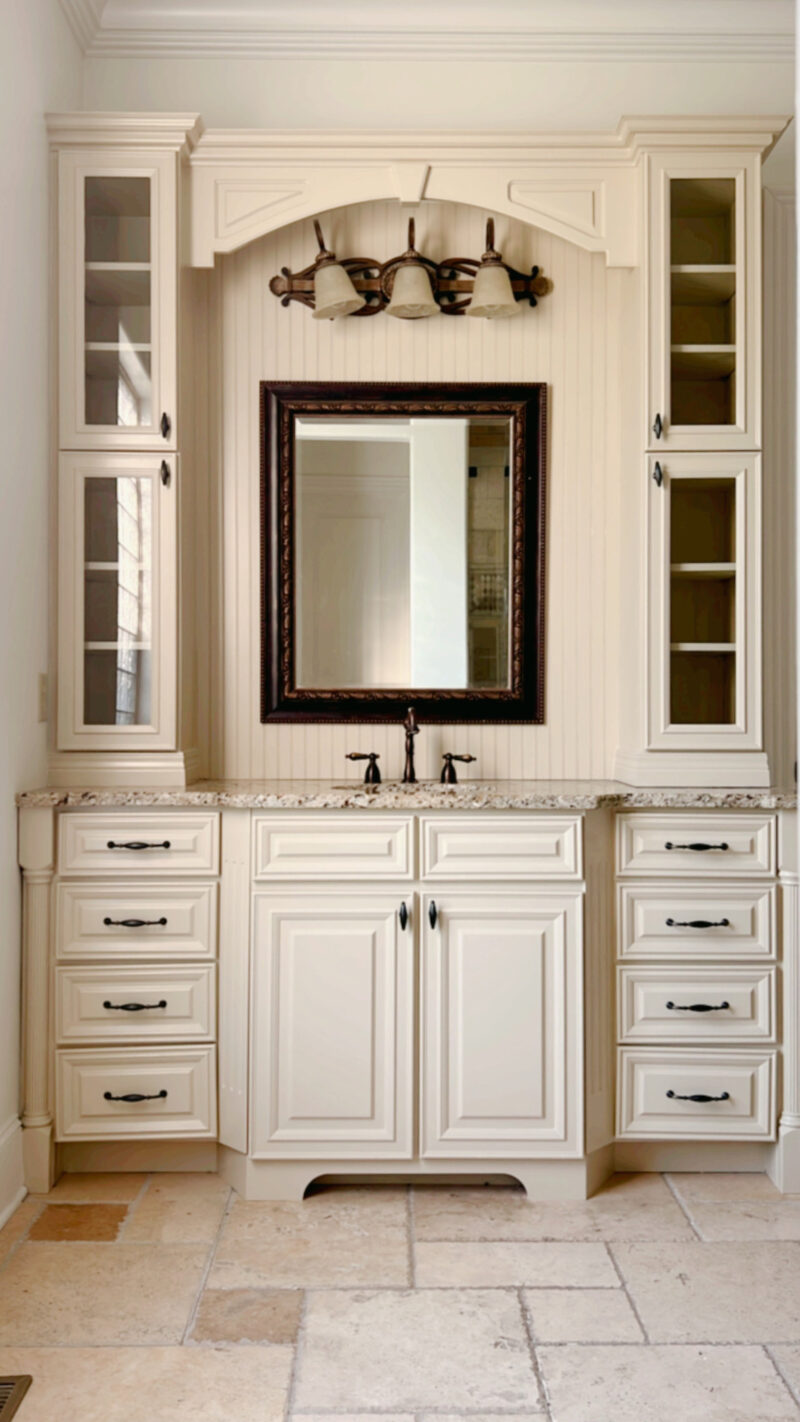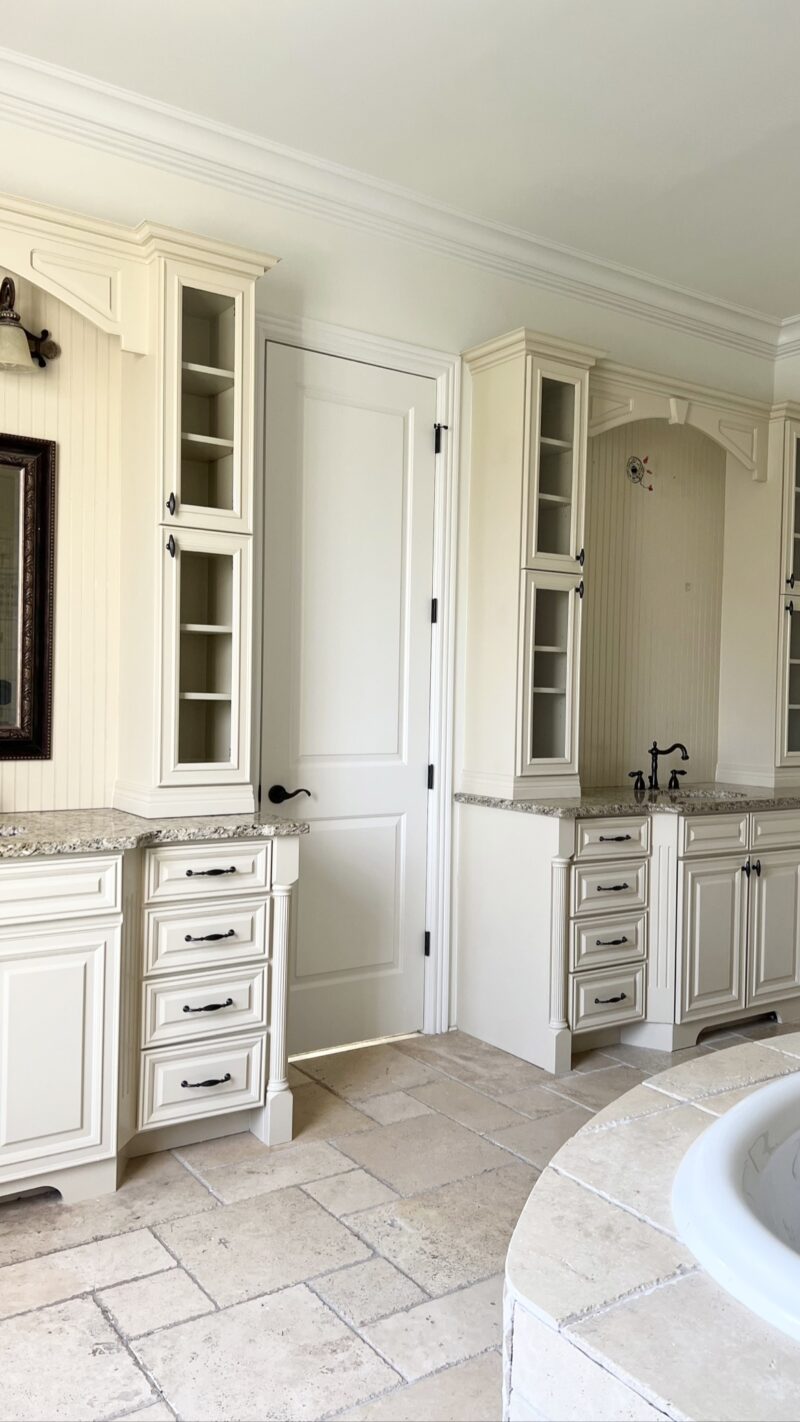 Here is a reminder of where we started. I break down what we love and what we don't in this first post.
THE POWER OF PAINT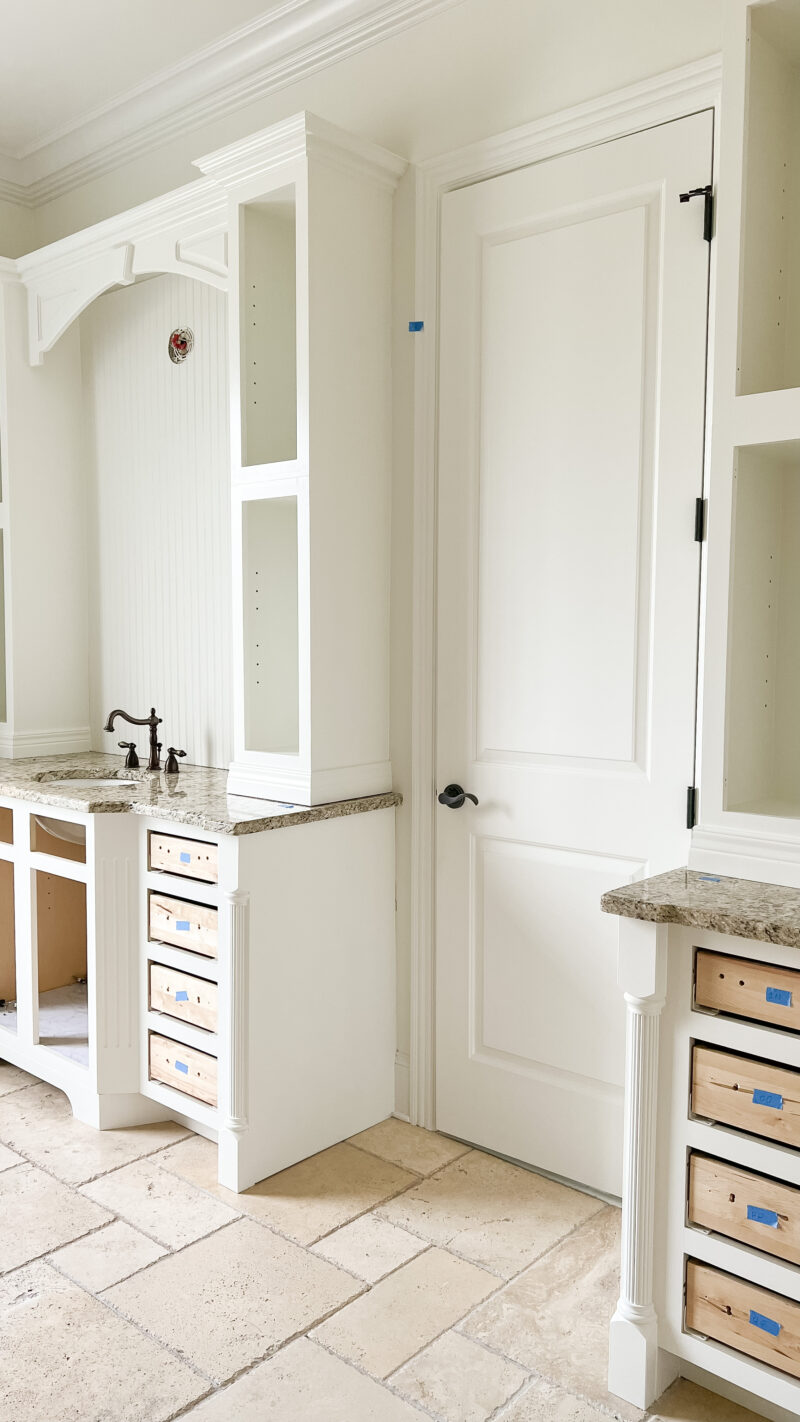 We hired someone to paint our vanities and it was money well spent. When I walked in I was shocked. I knew it would brighten things up but it felt like an entirely new space. Even the tile floor read differently. The vanities now seemed to melt back into the wall versus feeling heavy and imposing. They are really pretty and we love them, but we think the white fits the style of our decor much better. The door fronts were taken off site to be sprayed which allows for a very smooth finish.
NEW HARDWARE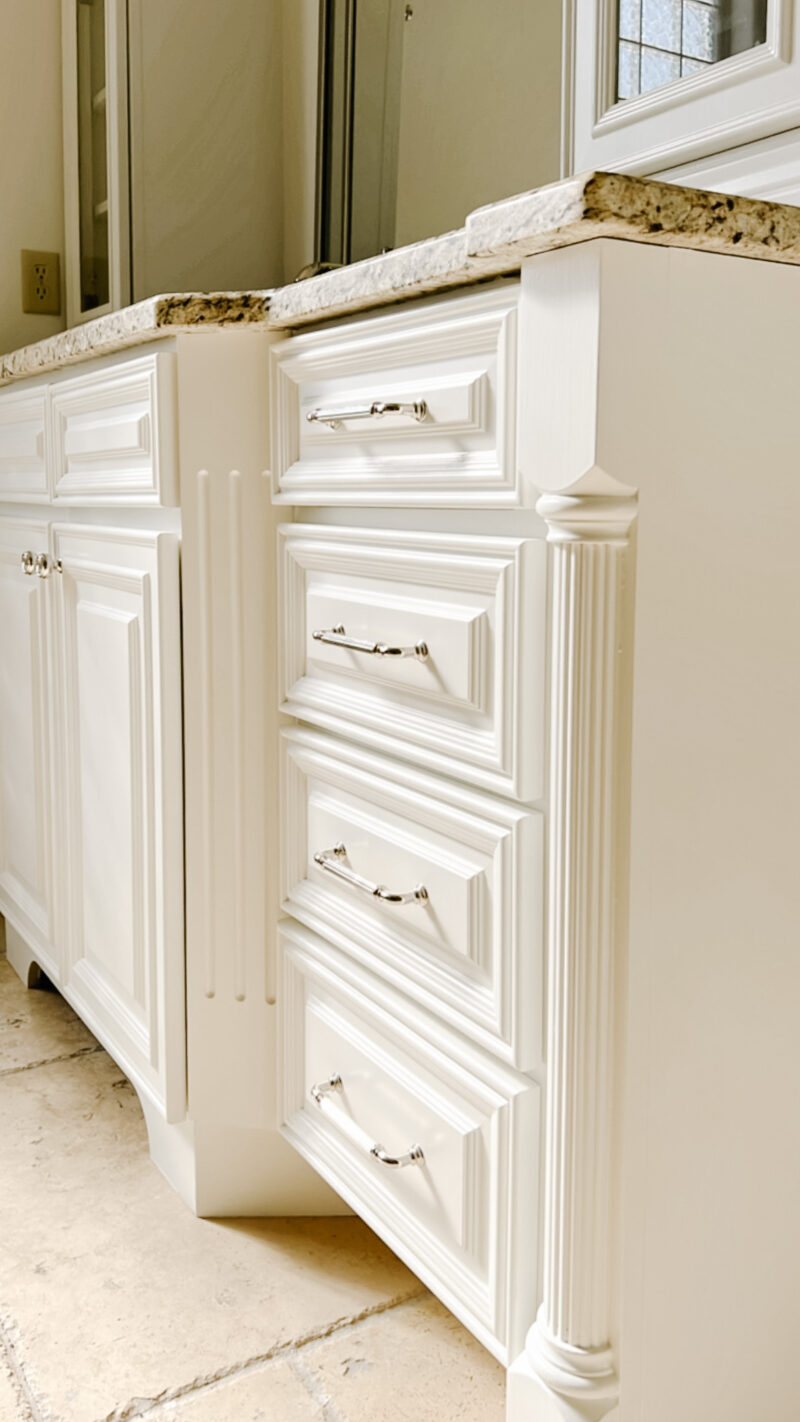 I am so in love with how they turned out. We chose Alabaster by Sherwin Williams to match our walls and trim. The cabinets were done in a semi-gloss finish. Swapping out the hardware also made a really big difference. Choosing classic styles and finishes gives it more of a timeless look. The hardware and faucet are both polished nickel. Find the pulls here and the knobs here.
THE MUST HAVE TOOL
If you struggle installing new hardware, this tool ($16) is amazing. We wish we would have it had it years ago. You attach your pull and set the tool. Then you take the pull off and attach it the tool to the drawer front. It allows you to see exactly where the holes should be drilled.
If you have your cabinets painted, I highly recommend having the previous hardware holes filled. That allows you to choose any size you want. So much easier than retrofitting and only being able to look at hardware with the exact dimensions. That can be really frustrating (especially if the previous hardware had unusual measurements).
LEARNING YOUNG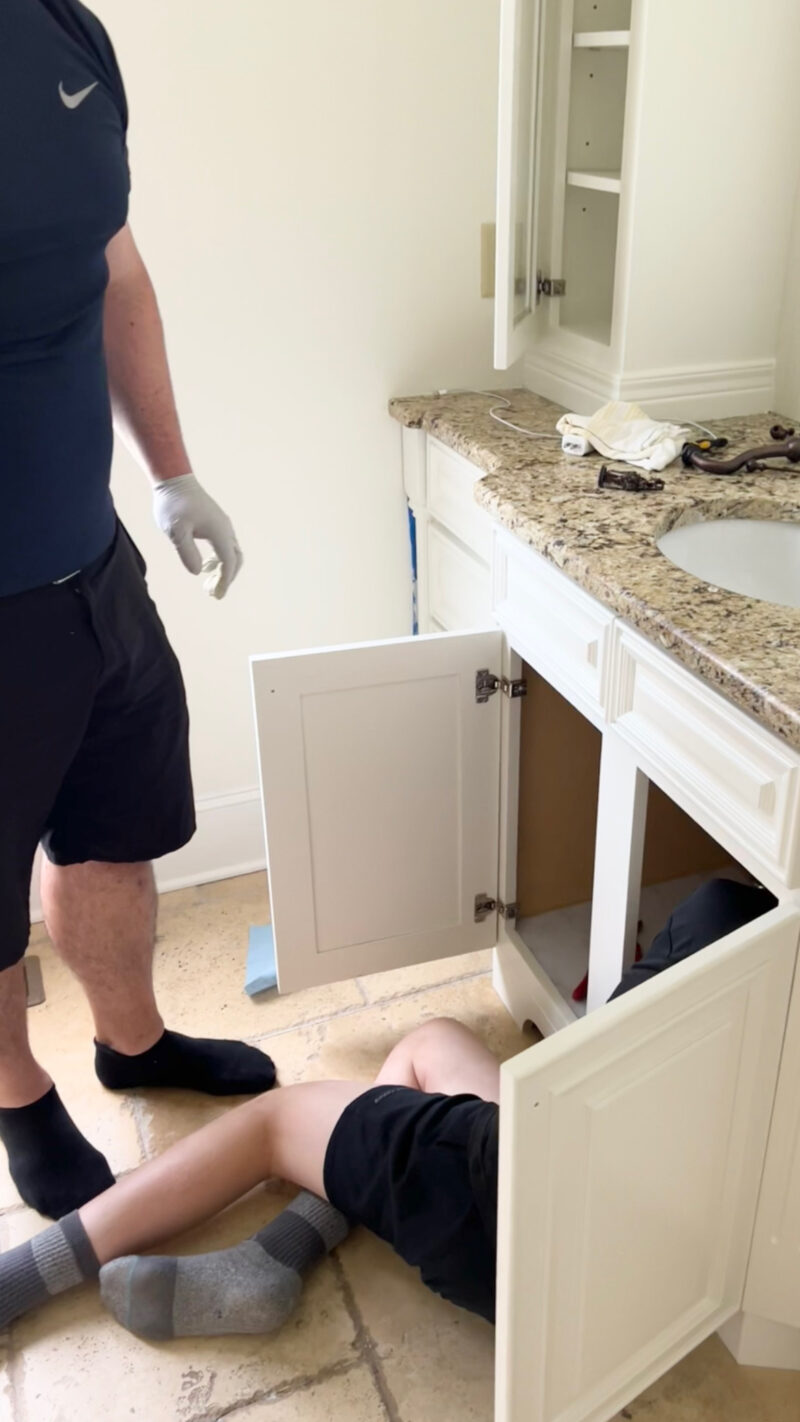 The best part about these projects is that my husband is able to pass along his knowledge. He learned from his Grandpa and now our son is picking up on how to be handy. This faucet is beautiful and my husband says it's a dream to install. Great quality and he highly recommends it. We bought the polished nickel and it's beautiful. It's the same one we installed in our dark and moody powder room.
LET THERE BE LIGHT
One of the biggest changes was with lighting. We chose pieces that are visually lighter and would add a warm glow to the room. Again, I went with polished nickel which has such a warm tone. Plus we will keep the shower set and door handles that are bronze so I wanted to keep the metal mixing to a minimum. The chandelier can be found here and the sconces here.
There is a lot going on with the tile and the large vanities so I wanted the sconces to be very clean and not too fussy.
MIRRORS WE CHOSE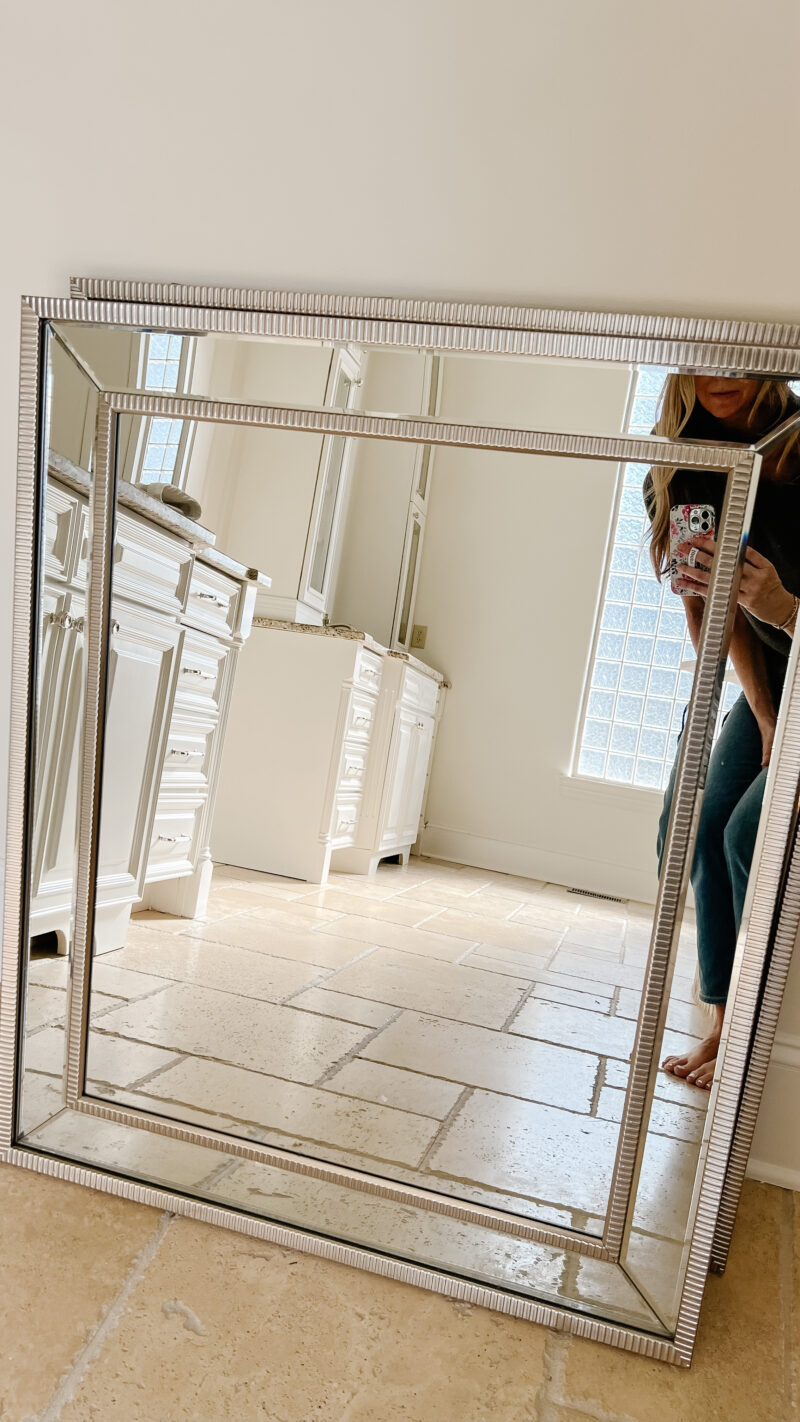 I made the mistake of purchasing these mirrors too small to begin with (I think I went off the measurements of the ones we took down) so we waited a couple of weeks for the larger size to arrive. They are just what we hoped for.
A WHOLE NEW FEEL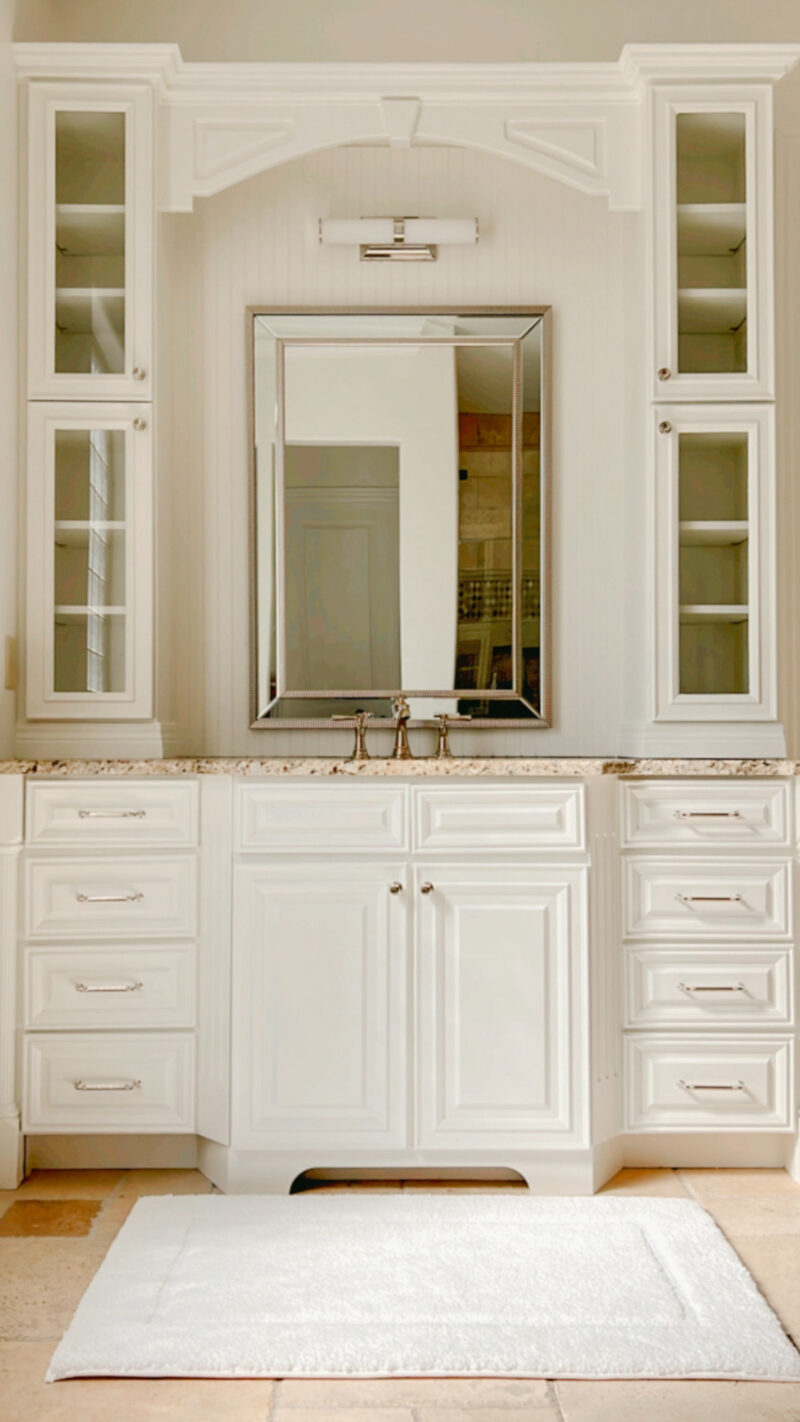 The bath mat is incredible. It feels so cushy under your feet. It's available in large sizes which is rare.
We've come such a long way and I am happy to say I love being in my bathroom now. It has such a light and airy feel thanks to paint and a few changes in finishes.
Next up we will tackle the the glass doors. I am planning to remove the glass and replace it with reeded panels or something that will hide our products. Believe me, it's not pretty seeing everything through the doors. Plus it will cut down on it being too busy. Stay tuned for that next change.
Thanks for sticking with us on this project. I know the end result won't be a magazine ready reveal, but these changes are doable and really making a difference in how we feel in the space. For that, I am so very grateful.