Good morning. How's everyone's week? We are continuing to settle in and anxiously awaiting our moving truck. We've tried really hard not to purchase much as we know things are just a few days away from arriving. But I thought it might be fun to share our recent buys and chat about the things we miss the most. It's funny how you don't really think about them until you go without. Of course, these are all wants not needs, but here is a look at things we are thankful we bought.
SIMPLE SHOE ORGANIZER
It's safe to say my family things I am nuts because I love this little find so much. But here's the thing. You know how it is when you move into a new home. As a mom, you wait and observe. You sit back in the shadows and witness the future piles that are going to drive you nuts. It's just the way things are. While we have only been in this home one week, I see it. It's the shoe pile up!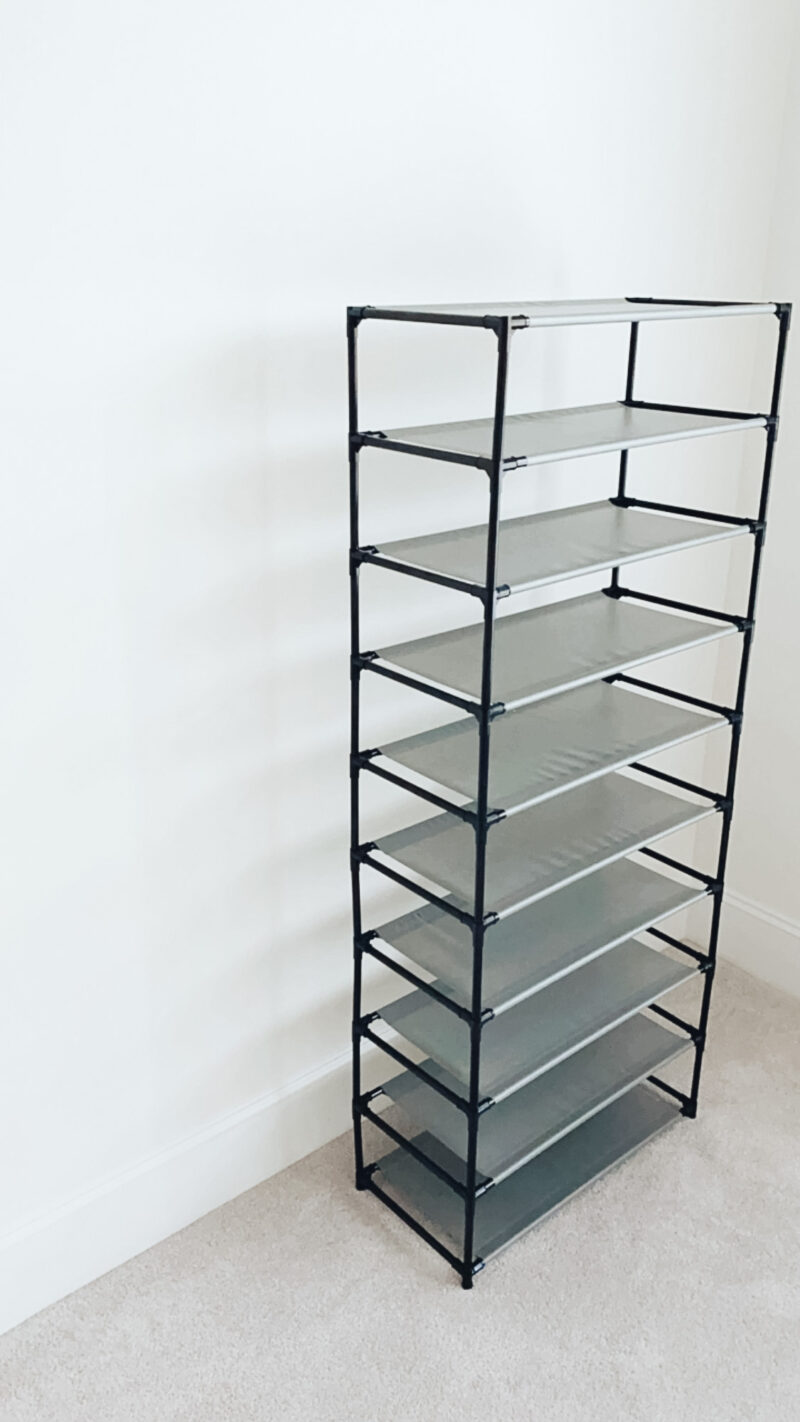 With this current floor plan, more often than not, my family is taking their shoes off and leaving them by the stairs. Not a fan but I do appreciate that they are removing their shoes. Enter the great Amazon shoe organizer. This was an accident because I was searching all over the internet for cubbies like we had in our last home. But I found this inexpensive number and knew it would be perfect. It's ten wipeable shelves and they each hold three pairs of shoes. Kudos to my daughter for putting this one together. It's not fancy but it really does serve a great purpose.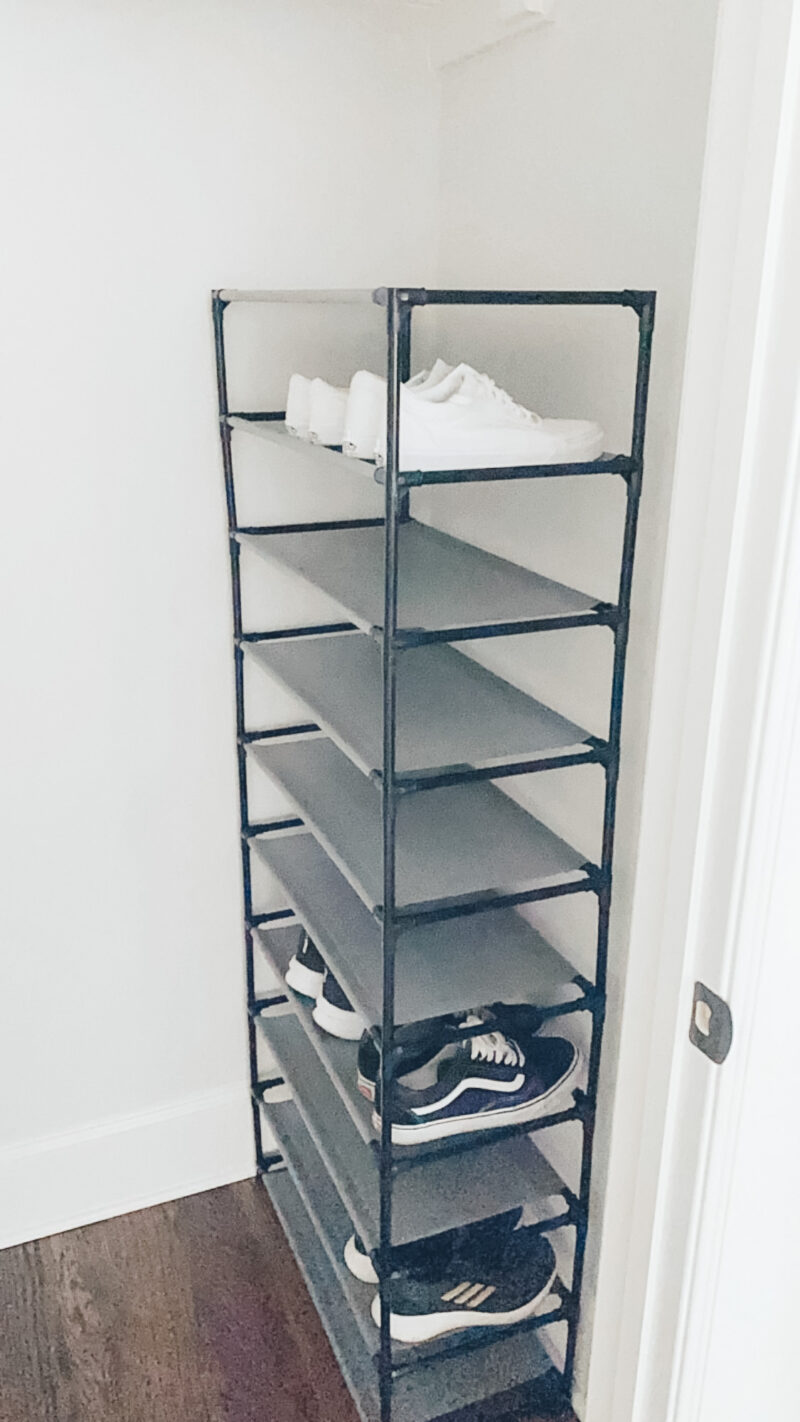 I apologize for the awful photo but knew you would want to see it in action. This was right after we put it together (at night) and there's isn't a light in this closet. This storage area is right off of our entryway (where I've witnessed the shoes piling up) so it's a great spot to have this. The closet is quite tall so there is no problem with this fitting. If it were too tall, you could always divide it up or make a shelf or two shorter.
I have to say I LOVE this thing. We will still store shoes in the garage and I keep most of mine in my closet. But those every day sneakers, sandals, etc. now have a place to hang out that isn't by my stairs. This might be the best $23 I have spent in a really long time. We turned it sideways so that we can still use most of the closet space.
I actually prefer this over the cubbies we had because those became dusty and dirty over time and were difficult to clean. These plastic shelves will be easy to wipe clean when needed.
NEW TOOTHBRUSH
Right before we moved, my toothbrush gave out on me. I needed to order a new one but there are so many choices. I ended up going with this one and LOVE it. You can upgrade to a version that shows you on your phone your brushing progress but I that wasn't something I was looking for. This stays charged forever, makes my teeth feel great and is really easy to travel with. Highly recommend and very relieved that I like it so much.
WEARING OVER AND OVER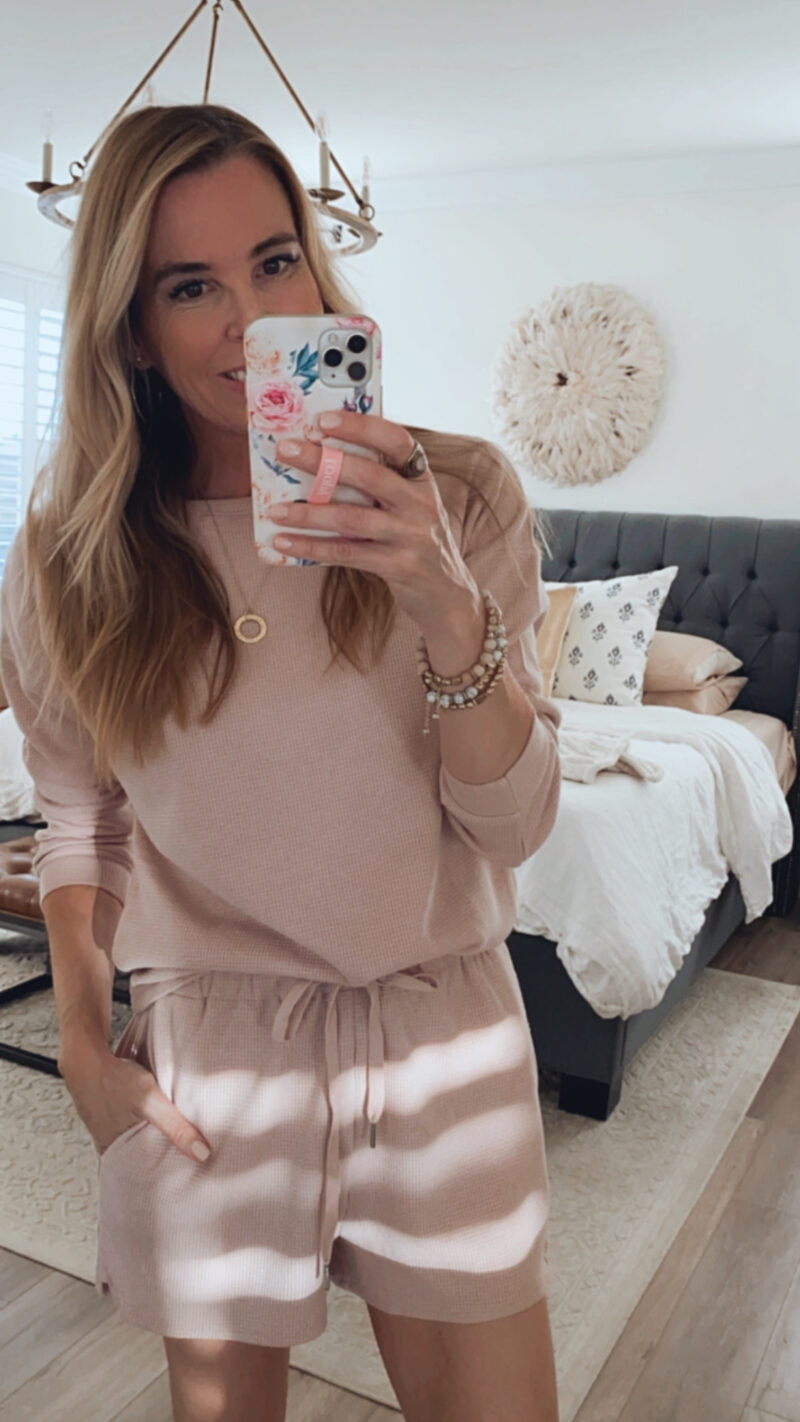 While not a recent buy, I did pack this set and wear it around the house all the time. It's so comfy and pulled together enough in case someone drops by. The blush color is really pretty. This set is under $40 and comes in a ton of colors.
DOOR DECOR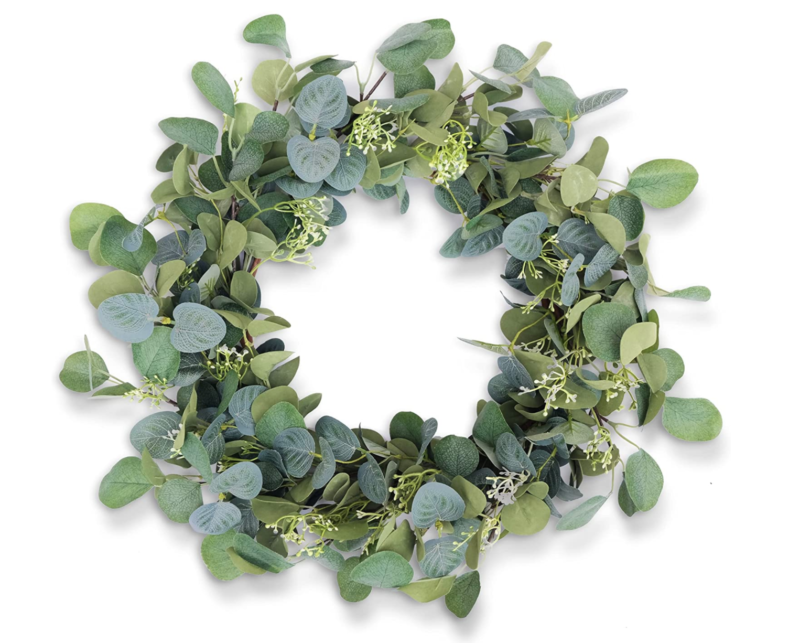 Another Amazon buy I ended up going with is this pretty wreath. I actually ordered two for our front doors. I knew I needed something around 22″ and I hadn't seen anything in the local stores that I loved. Or if I did, it was above what I wanted to spend (especially needing two). I will snap a photo soon to show you.
I had a similar ribbon to this at our last house and really love the preppy vibe so I ordered this to tie a bow on each wreath. While the inside of our home may be a complete, empty mess it will be nice to start on the curb appeal.
THINKING LONG TERM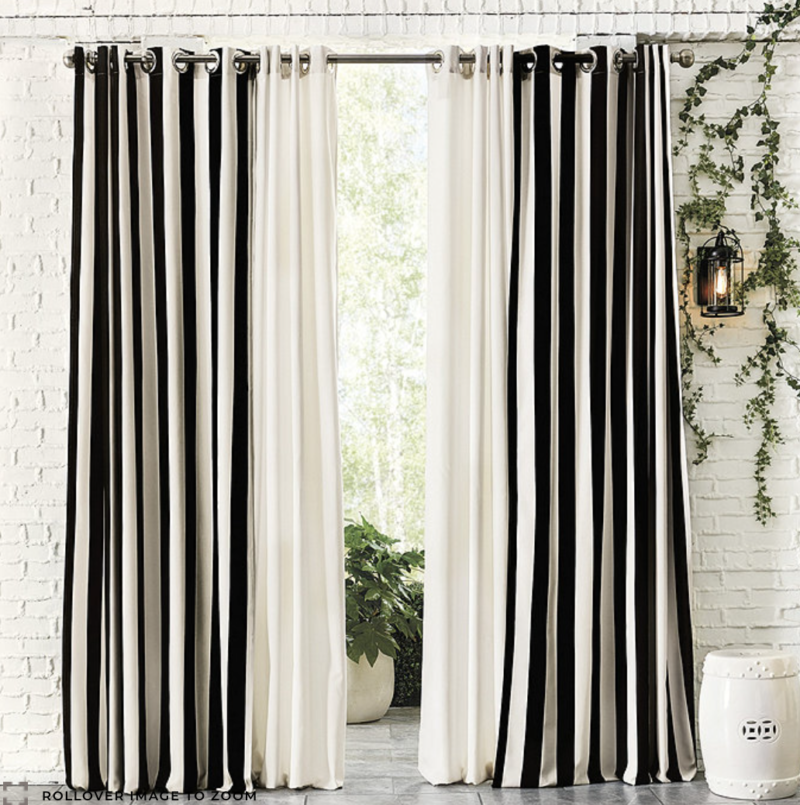 I did go big and order a white outdoor drapery panel. The black and white stripe was calling my name but didn't want to commit. I only needed one and looked high and low. In the end, I felt it was a good place to go for quality as it will be more resistant to the elements. They are also washable and have weighted corners. They had excellent reviews so I am hoping we are just as happy.
WHAT WE MISS MOST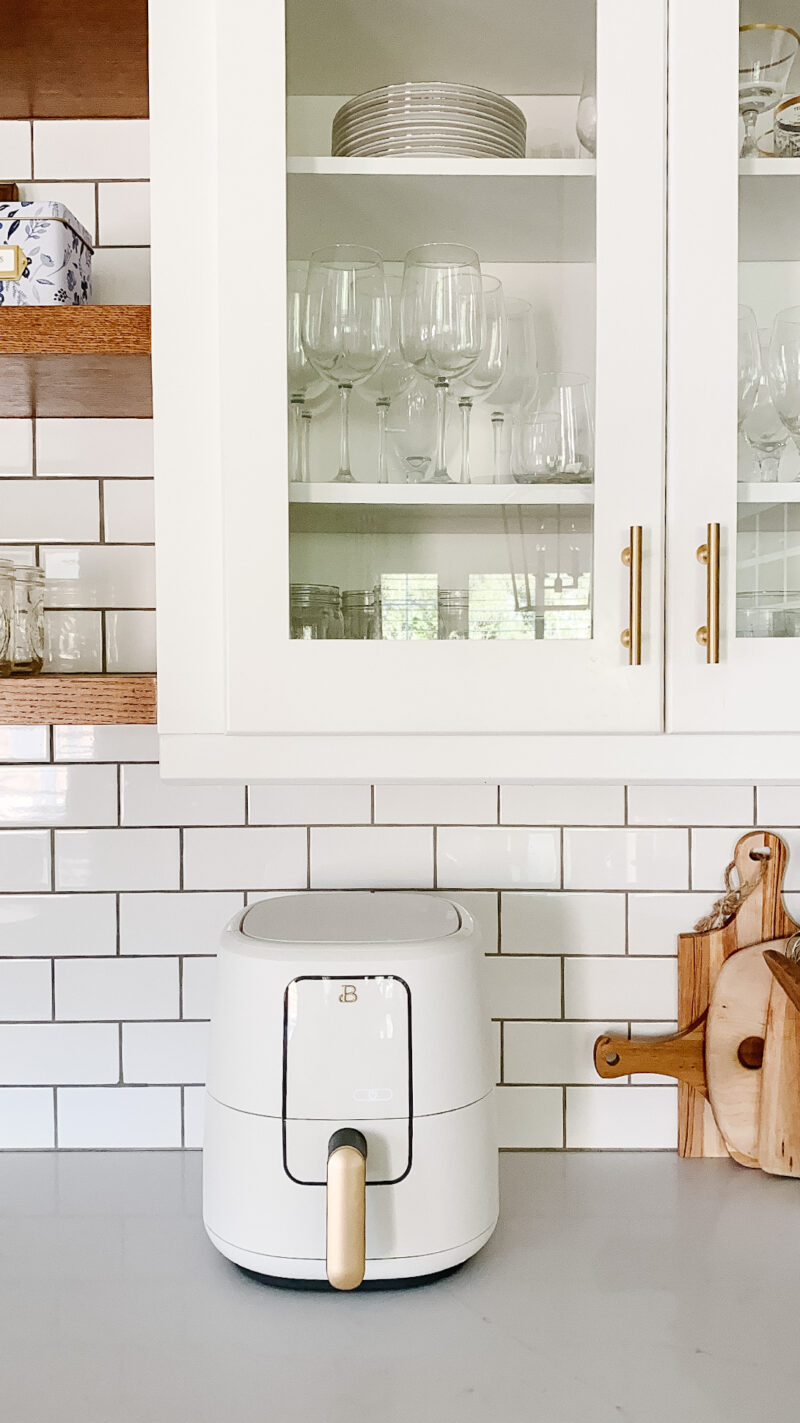 Being without out things hasn't been terrible. It teaches you how little we all really need. But on more than one occasion, we have all been super bummed not to have the air fryer with us. We've only had ours for about 6 months but use it on the daily. I appreciate how quickly it makes yummy roasted veggies (ten minutes) and so I eat them more often. The kids love how they can cook so many of their snacks in here. We will be happy to see this arrive off of the moving truck, that's for sure. There are tons of fancy ones out there and I just saw one at Costco. This was relatively inexpensive, works well and looks pretty out on the counter.
*You can see more of our kitchen from our previous home here.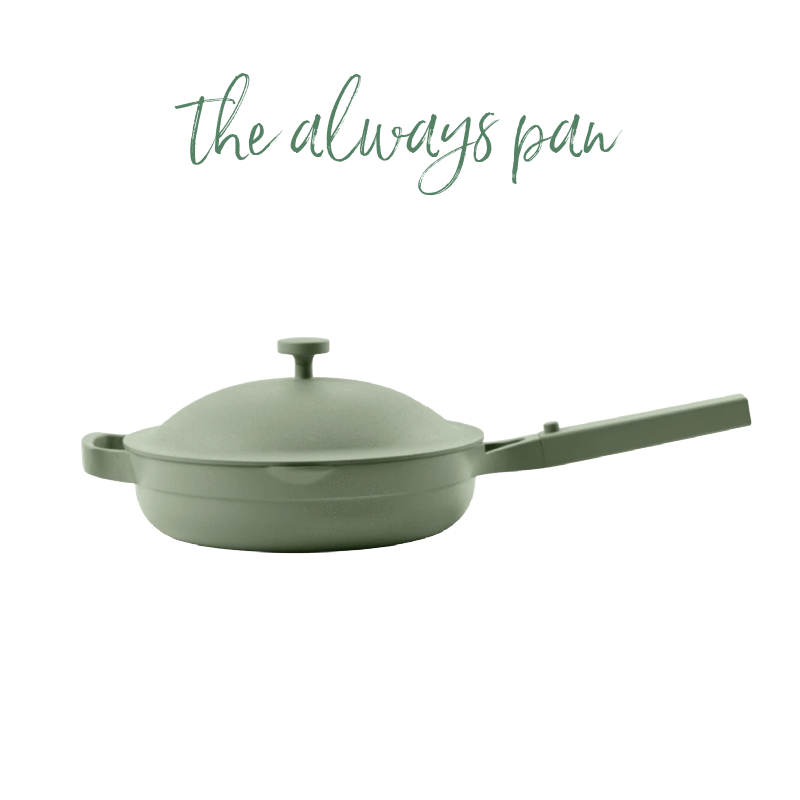 Hands down, without question what we my hubby and I miss most is the Always Pan. Who new. I am so bummed we didn't think to toss this in one of our cars (they arrived quickly). This pan is the best thing ever and now that we have gone without it we feel very confident in saying it is by far one of our best kitchen purchases since we've been married. I tried to make my homemade meat sauce in our little pan last night and it was a hot mess.
This pan is in use in our home at least three times a day. If you haven't already taken the plunge, I highly recommend. We both were joking last night that we should have labeled the box this pan went into with huge lettering, "OPEN FIRST!" We've offered up a prize to the family member that finds it first once the truck rolls in.
Why didn't I toss these measuring spoons in my suitcase? Another thing we really miss and have just been winging all of our measurements.
A GOOD NIGHT'S SLEEP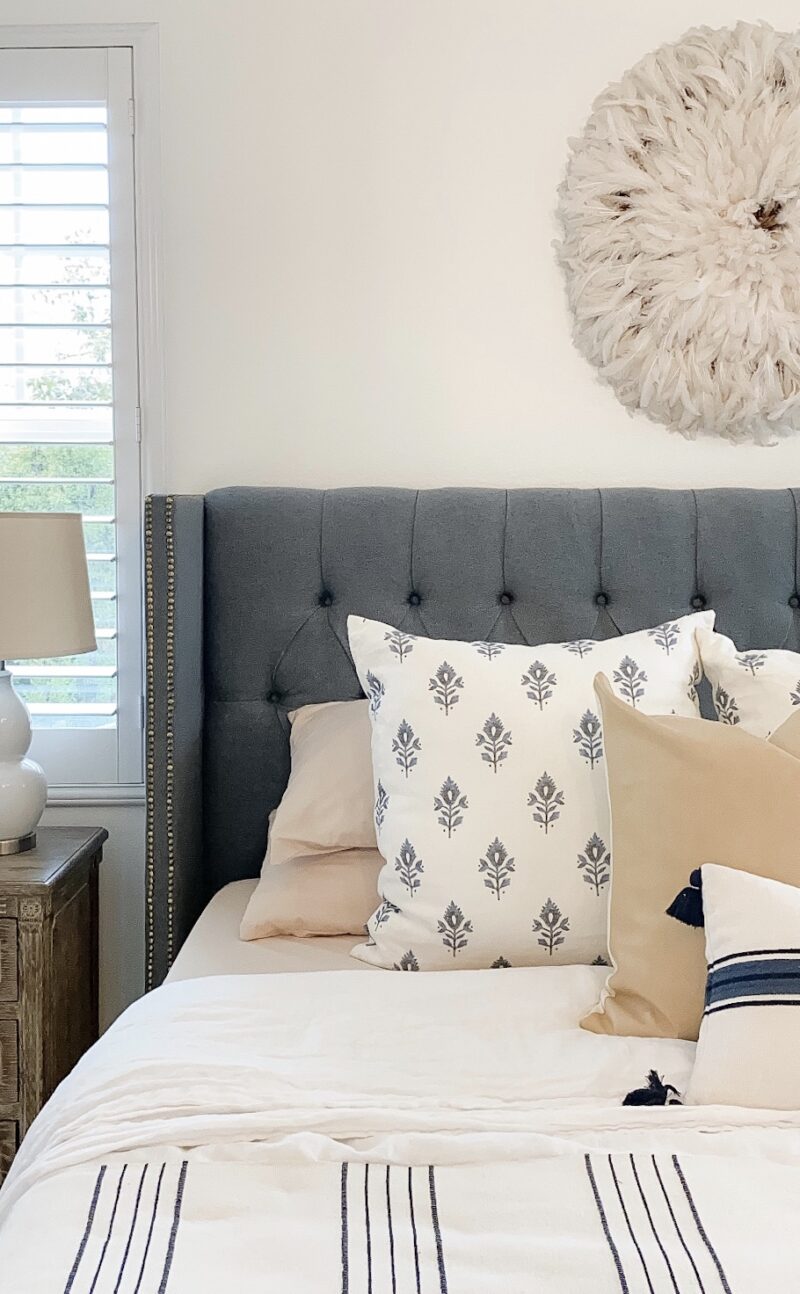 This is a shot from our previous bedroom, but I plant to recreate this look. I didn't want to reinvent the wheel in every room (not practical or budget friendly) so I am excited to bring this to life again.
We also can't wait to get these sheets on our mattress. Right now we have a different mattress on the floor (queen, not king) so these won't fit. I can already feel sliding into bed with these. In my book, they lived up to the hype. Also really missing our mattress (we have a Tempur-Pedic).
That's a bit of what we've bought for the new house and the things we can't wait to grab off of the truck. Rumor has it, that sucker arrives tomorrow. That will one darn good way to kick off the weekend. Sitting on a sofa sounds pretty luxurious right about now.
Have a great day, my friends. Thanks for stopping by.