Welcome! I'm thrilled to take you on a tour of our completed master bedroom. The overall goal was to keep it calm and neutral with accents of navy. Sources can be found throughout the post at the bottom of the post. I hope you enjoy the tour.
We have lived in our home for almost three years so we didn't exactly rush into it. Truth be told, we wanted to get our other spaces dialed in and ignored our own room. Until one day when my daughter said, "Mom. Your room is pretty bad." I suddenly looked at it through a new lens and realized she was right. More importantly, we realized it would be rather nice to have a room that welcomed us after a long day. Happy to say that is exactly how we feel now.
THE DESIGN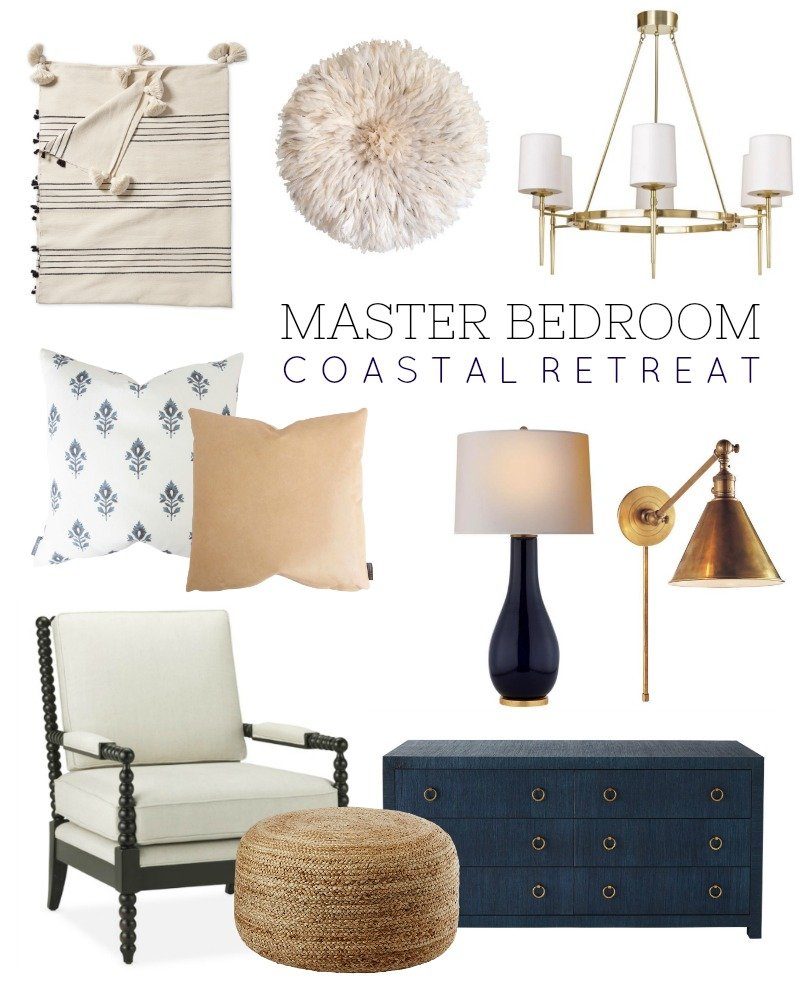 This was my original design board and I think I stuck to it pretty well. I highly recommend having a plan in place before you tackle a space. It's too easy to get off track when you see something pretty and shiny. I've been there!
BARGAIN FIND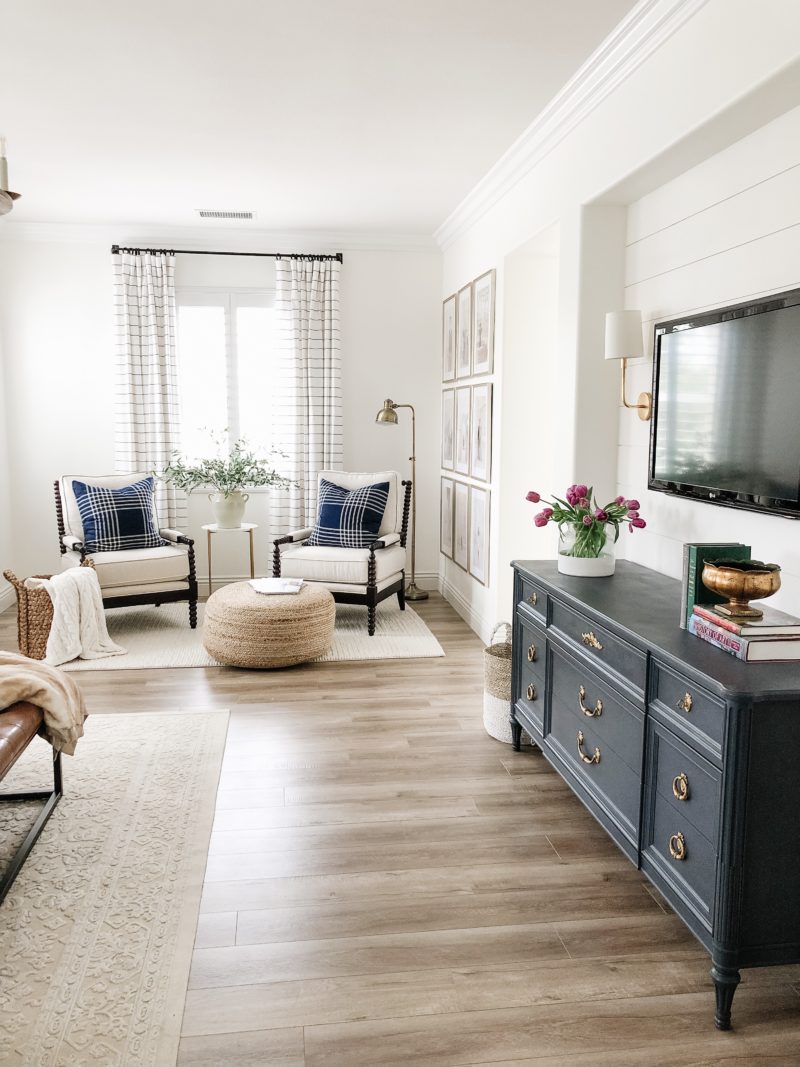 There are a few elements in the room layout that made it a bit tricky to design. The sitting area with two large windows and the inset on the right wall were both areas I wanted to make feel natural. You may remember my dresser search and how I scored a Henredon dresser on Craigslist.
While it was an amazing find, it was a ton of work. My husband ended up spending hours tripping it because there is so much detail. I took over for the painting process. In the end it was well worth it and our favorite piece in the room.
*Read more of my tips on finding a secondhand score here.
SHIPLAP DETAIL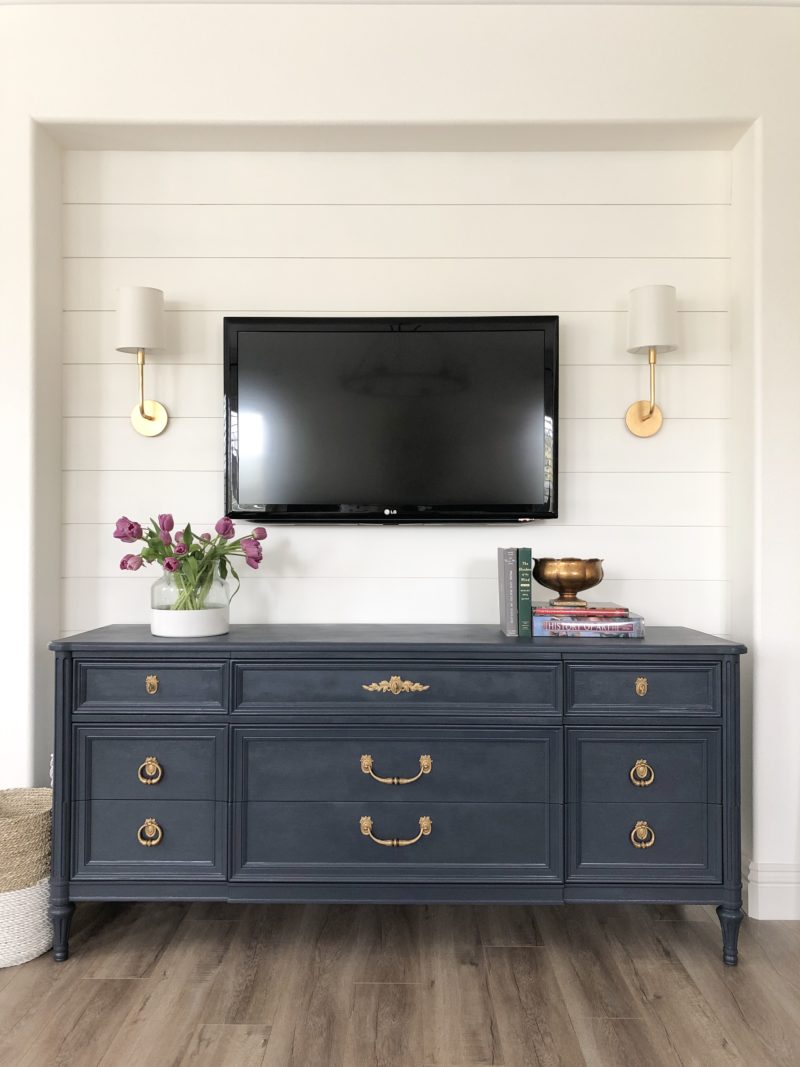 The shiplap was used as an architectural detail to make this wall more interesting. I think the sconces and tv would have looked so different hanging on the plain wall. In fact the combination of the navy dresser and the shiplap inspired our recent bathroom makeover. The gold bowl belonged to my parents so it feels nice to have a piece of them in this space.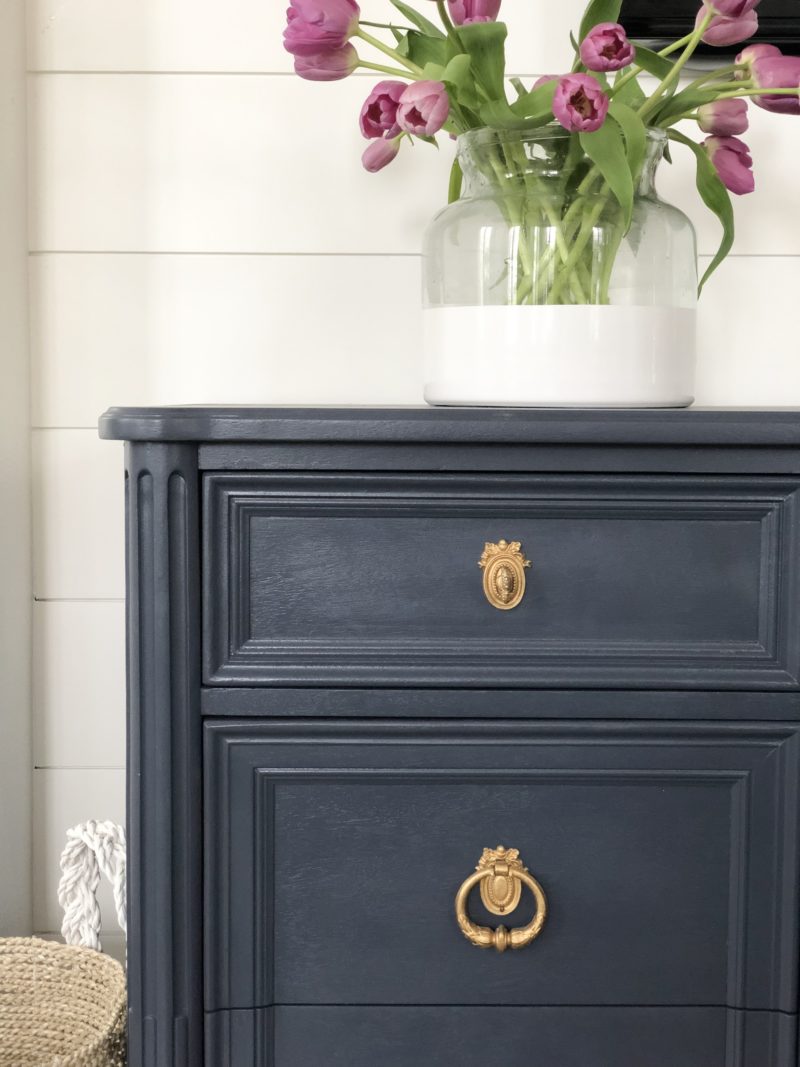 The hardware is original but I gave it a coat of rub n' buff gold paint.
LIGHTING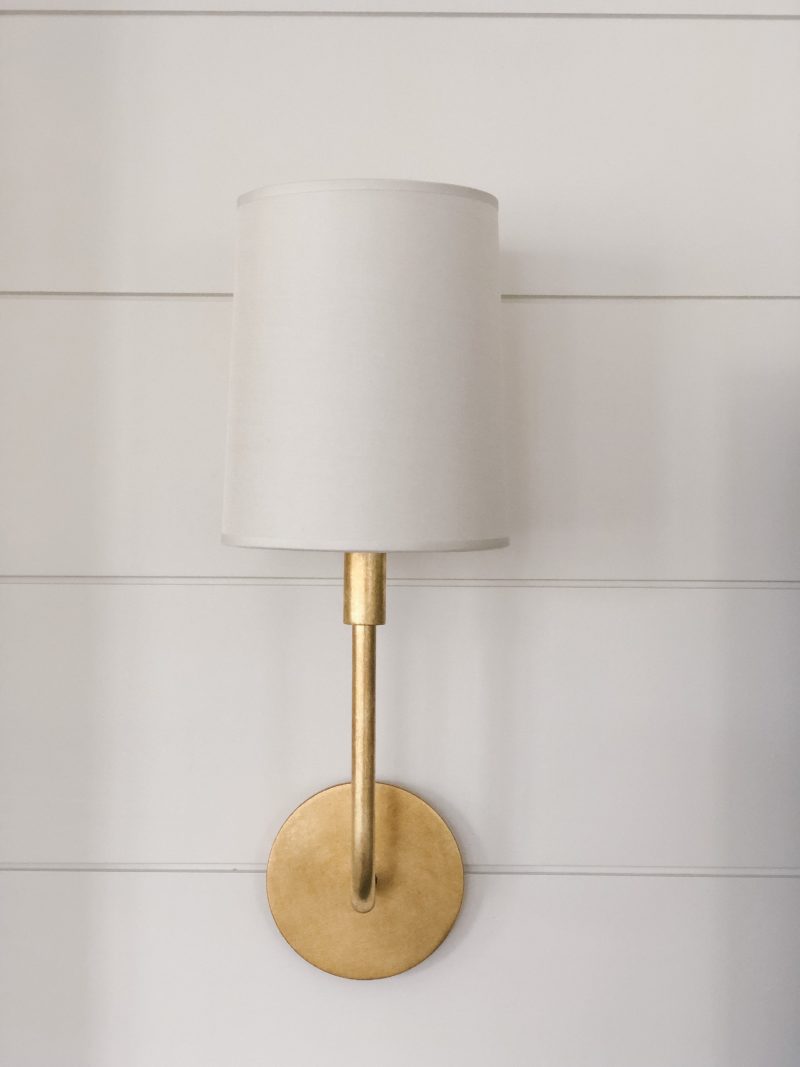 These sconces are my favorite. They are so beautiful at night. A huge thank you to my husband for figuring out the wiring on these. We installed a light switch just below the top of the dresser so it is easy to reach but out of sight.
THE SITTING AREA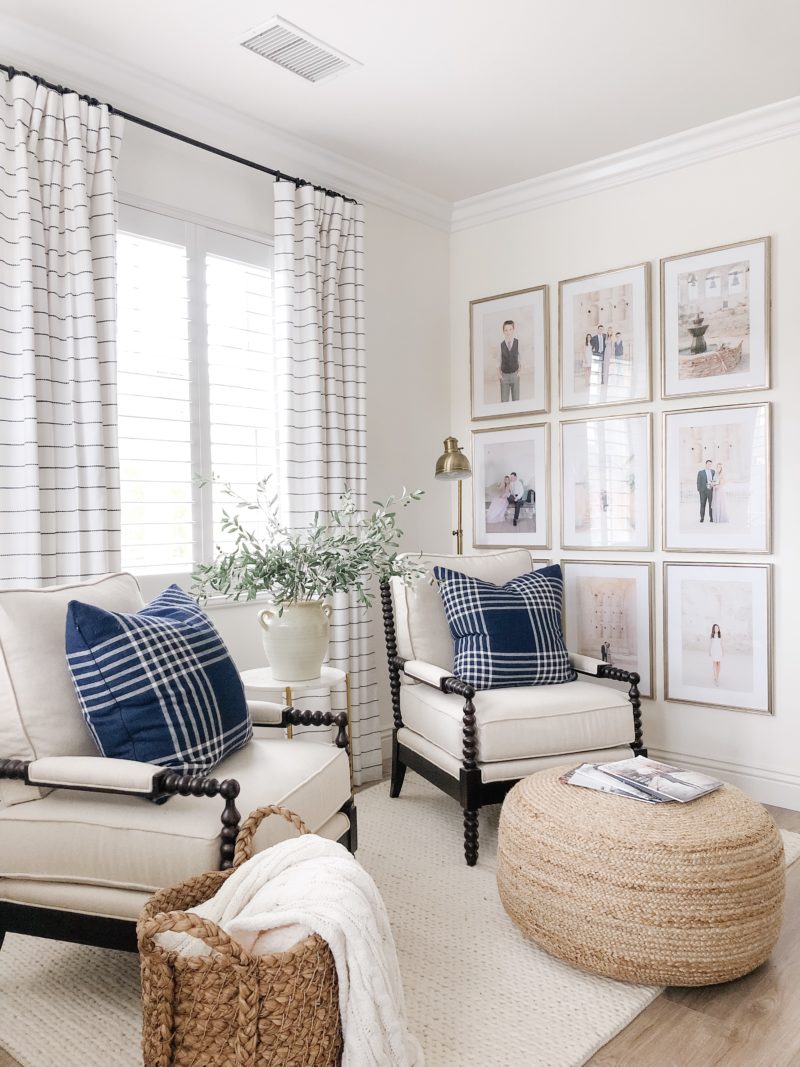 Nothing makes me happier than waking up in the morning and seeing this gallery wall. These photos were taken by my dear friend Elizabeth Johnson. After a very difficult year for our family, we honored our 15 year wedding anniversary by capturing our crew at this stage in our lives. The vase is filled with faux stems from Magnolia Farm.
NEW DRAPES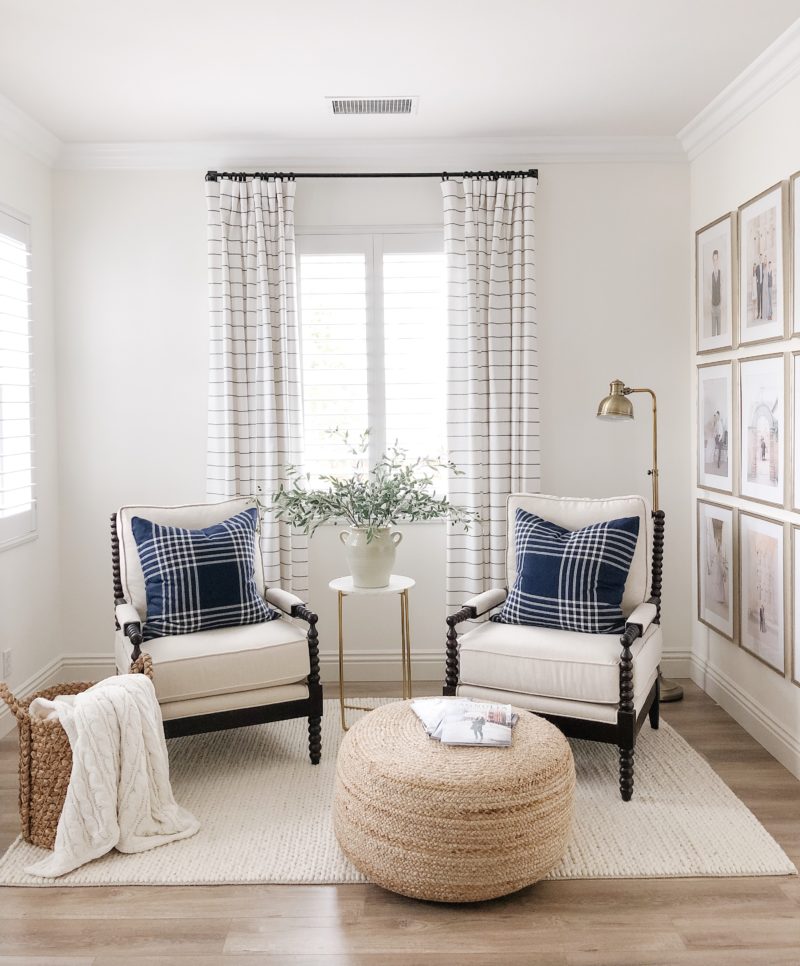 The drapery panels were custom made by Tonic Living. You've heard me talk about them before because they made the drapes in our dining room, too. They have the most beautiful fabrics and pillows. Their work is impeccable. All I had to do was give them measurements (they told me exactly what to measure).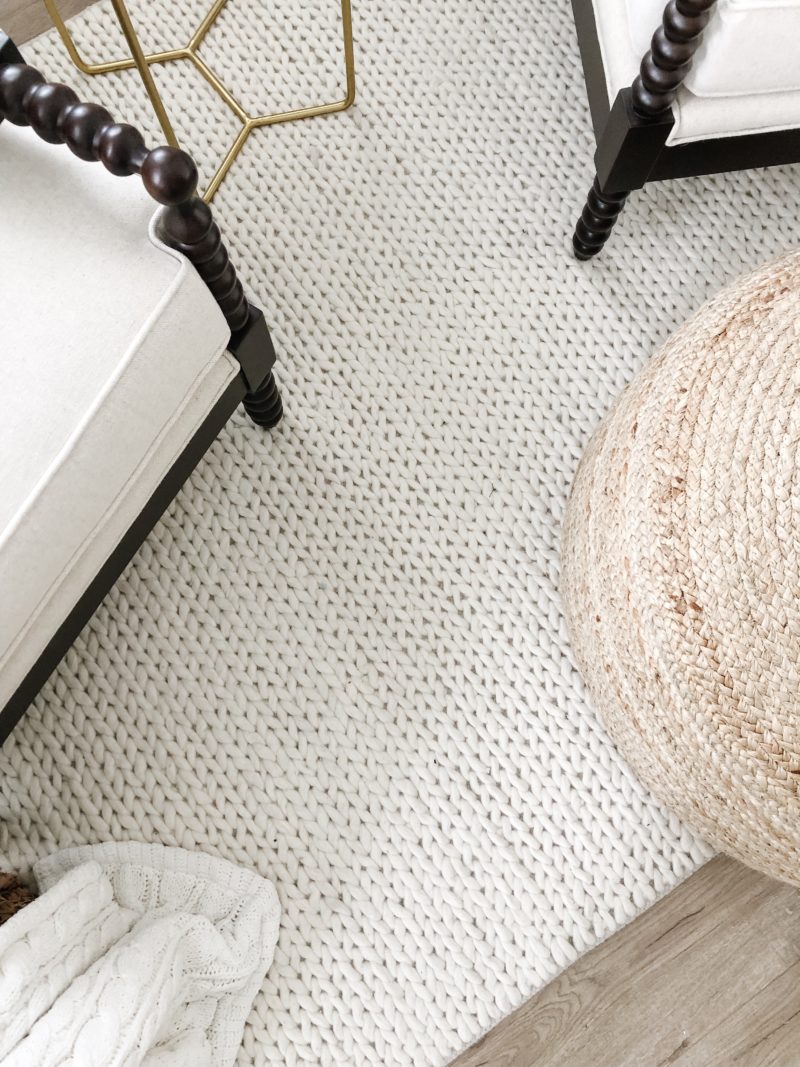 I think it's often hard to capture the textures in a space. But in the end, that's what gives a room interest and dimension. My exact chairs are from a West-coast store called Living Spaces. But these are very similar. I love the chunky look of the sweater rug. It pairs well with the printed one under the bed.
STRIPE LOVE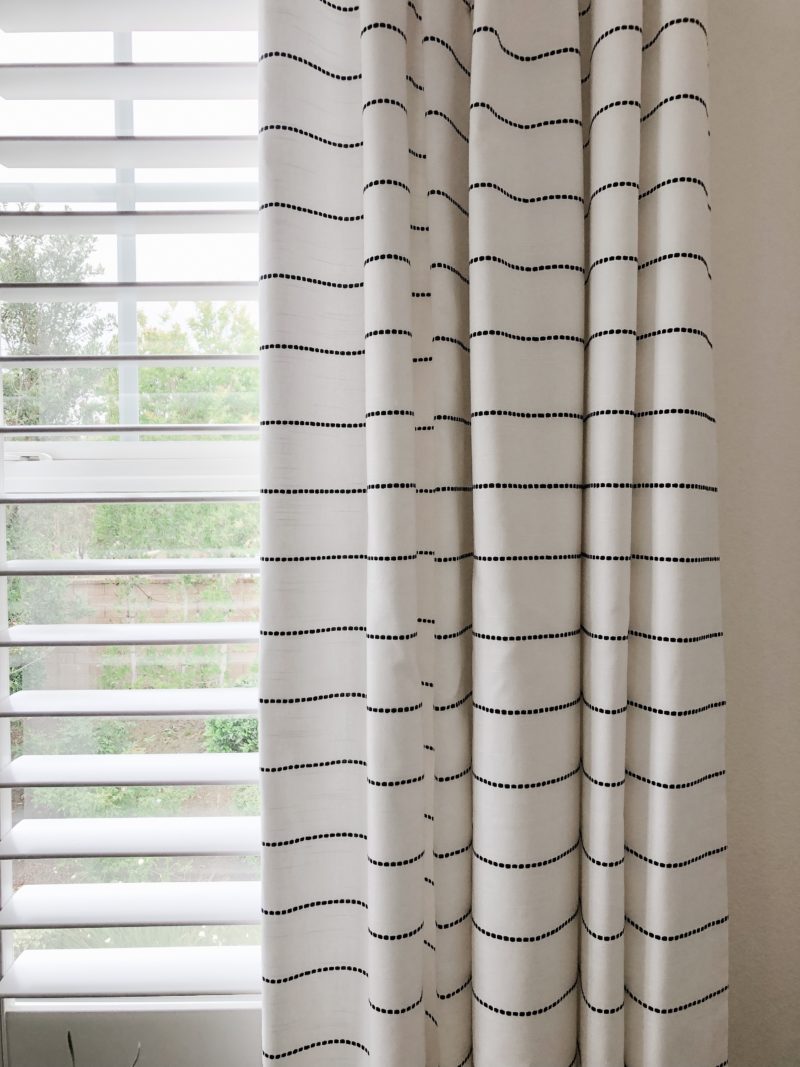 This is the Emile Stipe in Onyx. Our walls are painted Clear Moon by Behr. The fabric compliments this wall color so well.
MASCULINE TOUCH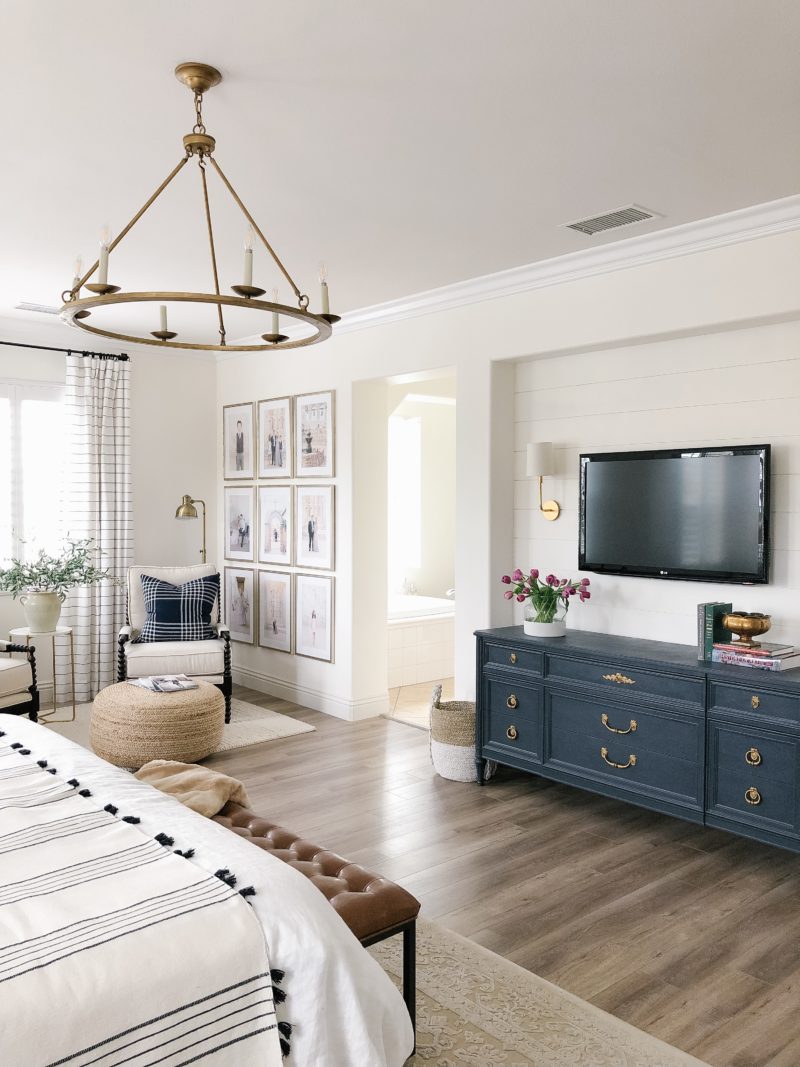 We added the leather bench at the foot of the bed for warmth and a masculine touch. It's also a great spot to toss whatever I need to take downstairs for the day while I am getting ready. Plus, you can't beat the price.
The laminate floors are by USA Top Flooring in Caramel Swirl.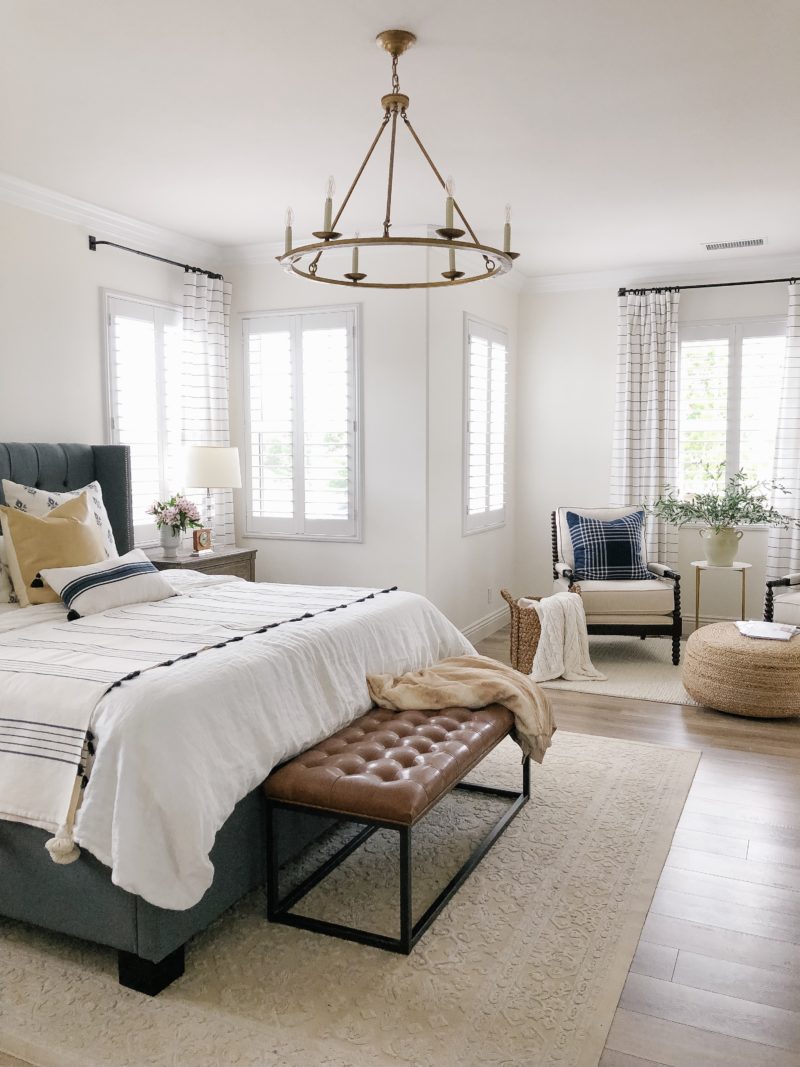 read about our chandelier project
This chandelier was another great bargain. I bought it for under $200 and then used rub n' buff on it to give it the gold color I was going for. It looks so much like the high-end version. While mine is sold out, this one is a lovely option and you do not have to DIY it!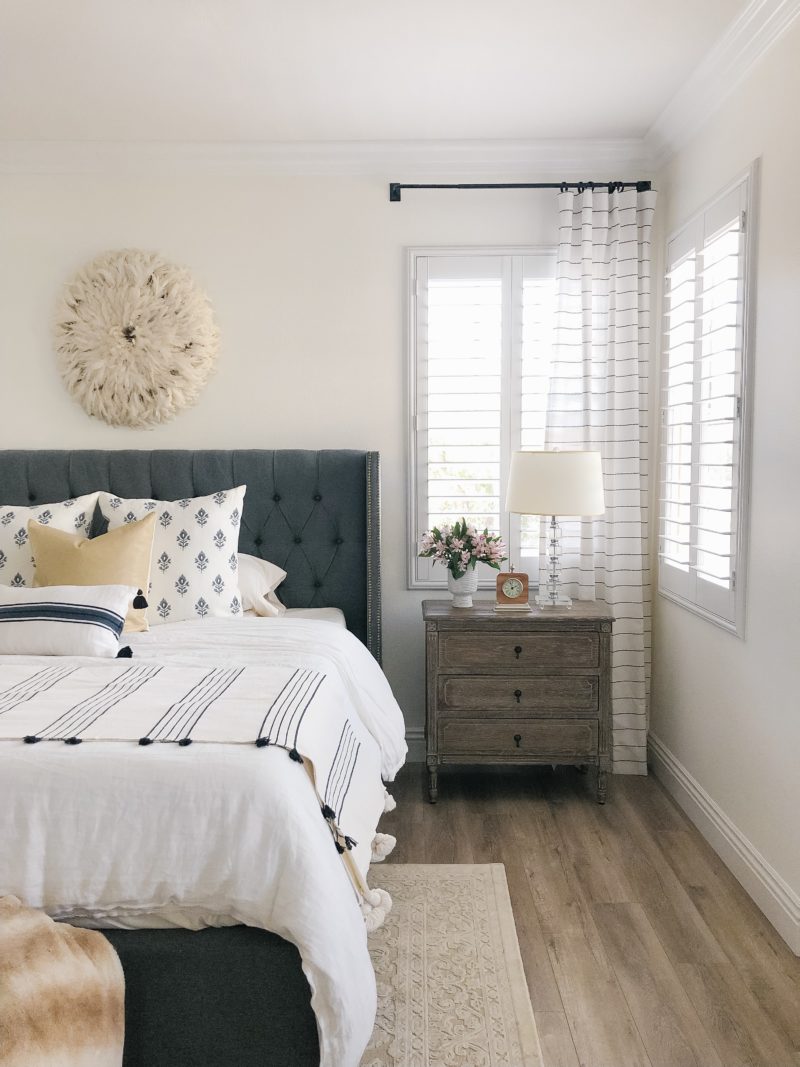 We opted for one drapery panel on each of the windows next to our bed. I didn't want to block too much of the light and it would have been a tight fit with the bed. The nightstands are from Restoration Hardware. The JuJu hat above the bed is from here.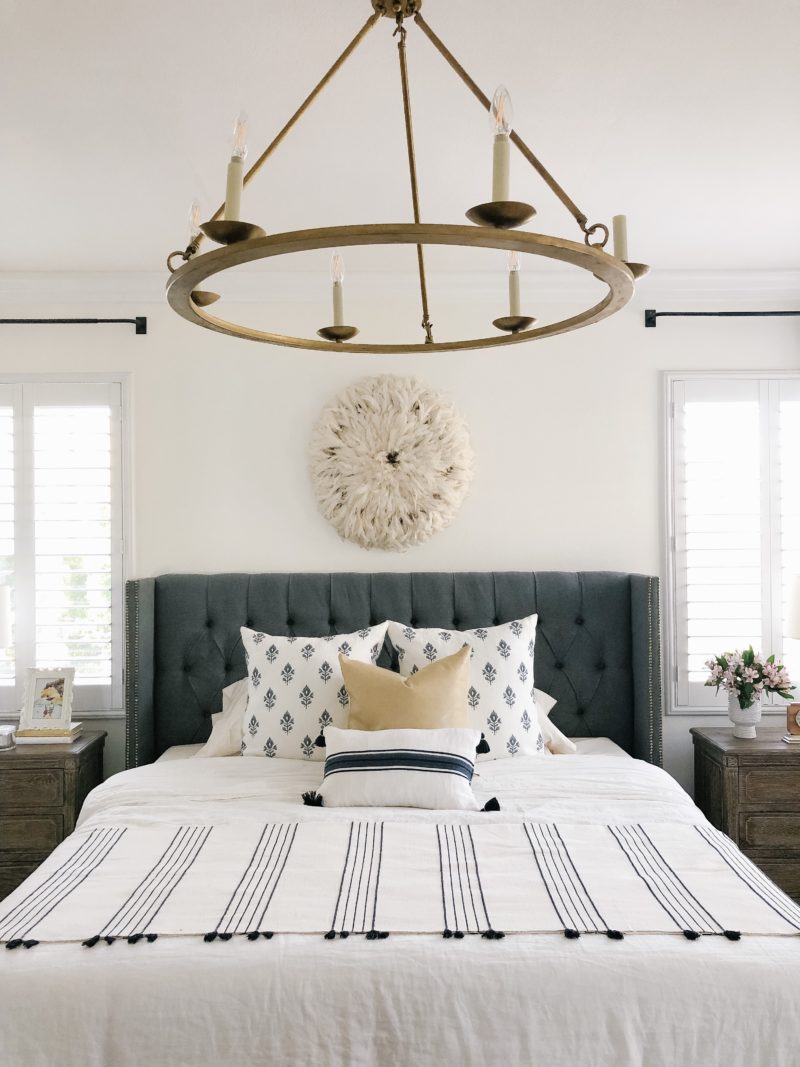 print pillow | leather pillow | striped pillow | throw | duvet

DETAILS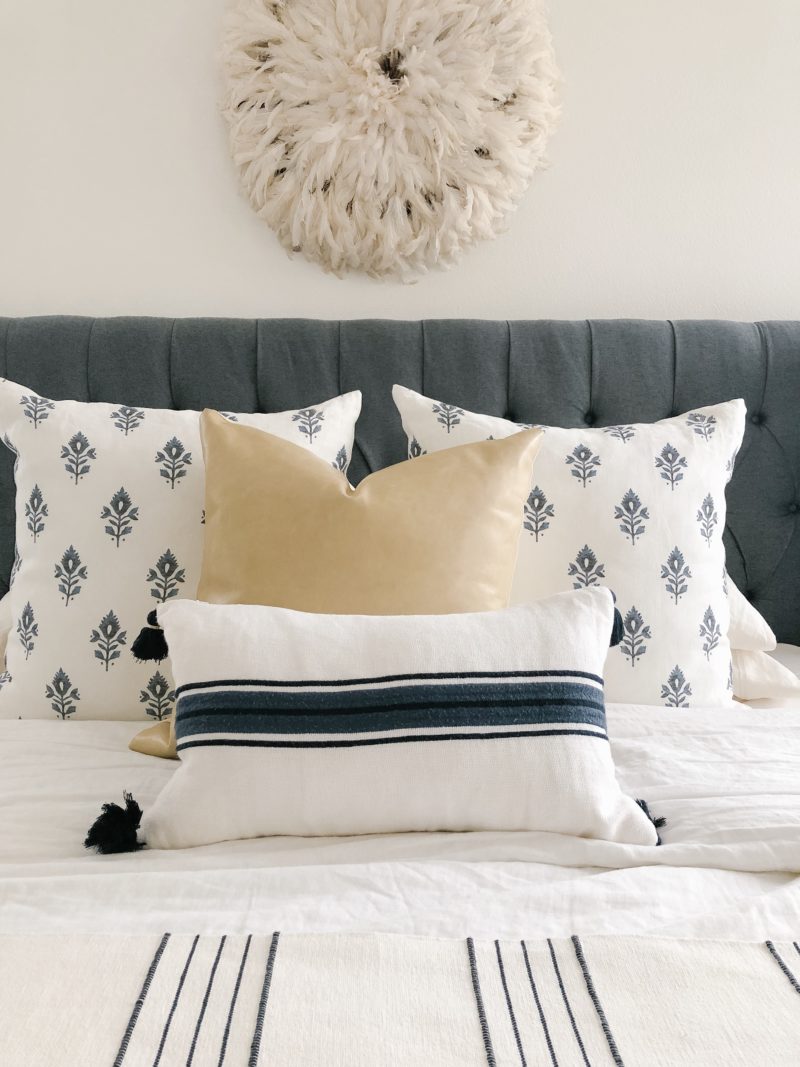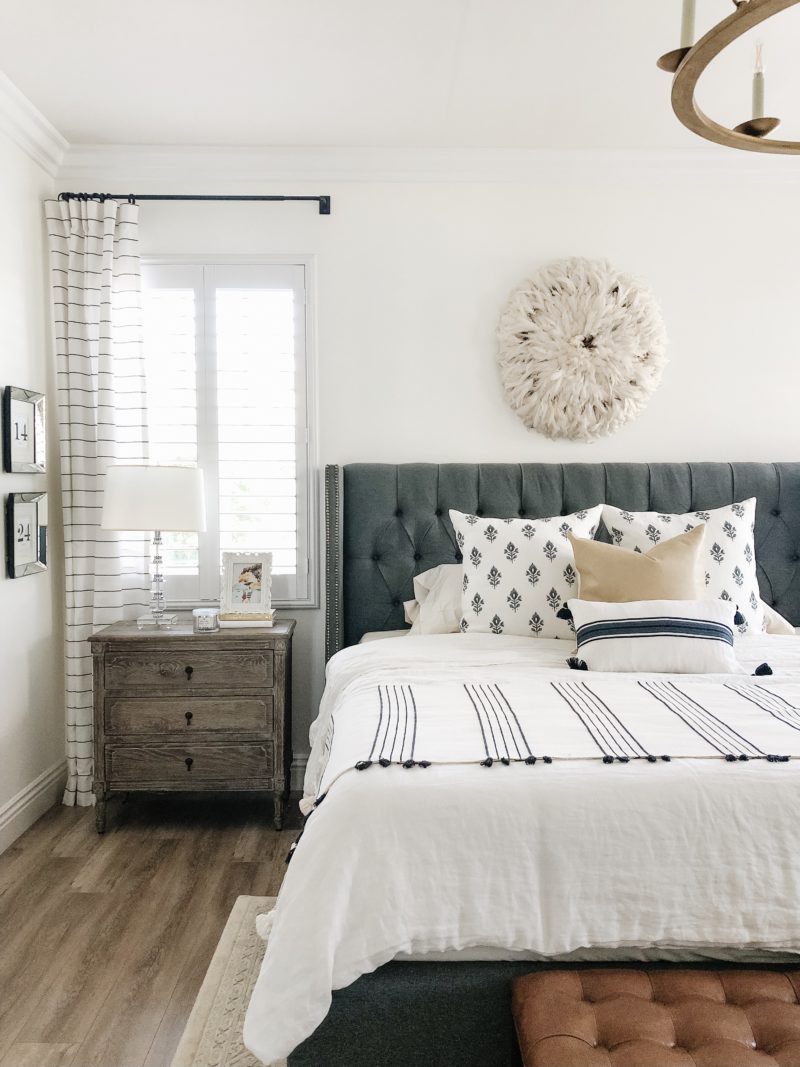 The two mirrored frames on the wall to the left have the dates of our children's birthdays. We have had those for years. The rug was also one that we brought from our previous home. We just got a new mattress which is HUGE for us. Sleeping so well.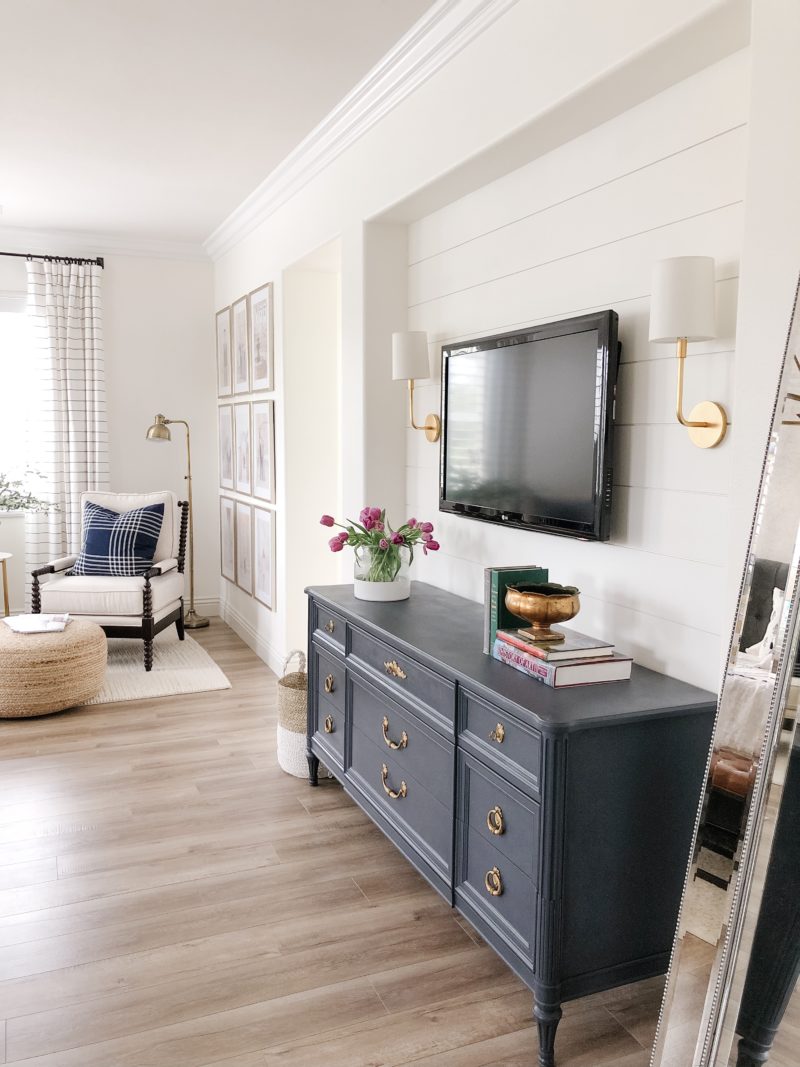 ottoman | standing lamp | sitting area rug | large rug | brass table
SHOP THIS ROOM

Thank you for coming along on the tour. You can find related posts below. Have a wonderful day. I have a sick one at home so the day just took a turn.
Wall Color: Clear Moon by Behr | Dresser: Hale Navy by Benjamin Moore
BATHROOM PROJECT