Good morning. Half of us were up at 4:30 am for an early hockey game. The other half was out the door by 7:00 am so we are destined for a late afternoon nap. That and some college football. What is on your agenda today? Thank you so much for the amazing comments on yesterday's post. I've so enjoyed reading through them. I popped into Loft this week and found some really darling finds. Plus they are all on sale.
LOFT TRY ON SESSION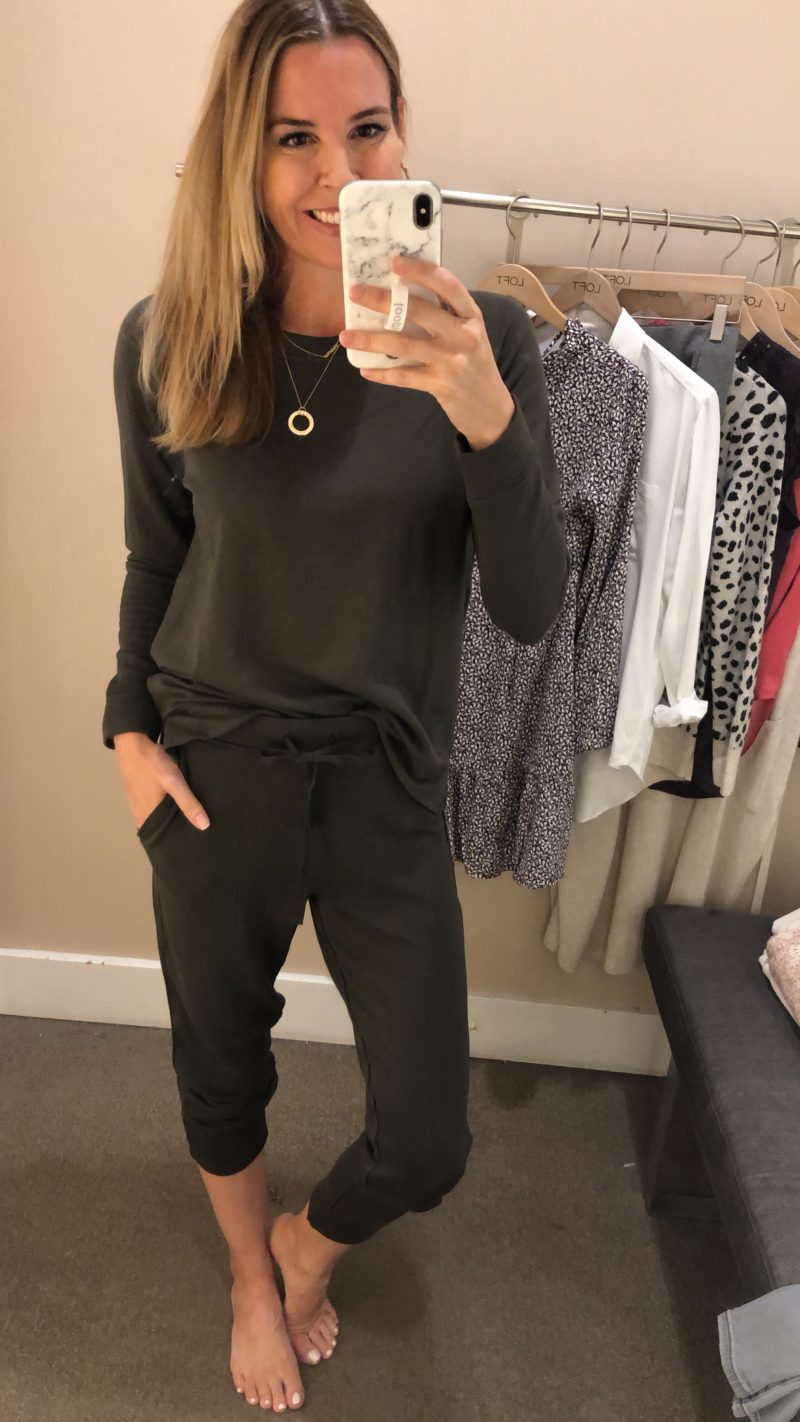 First up is the most comfy outfit of all. I have these in grey heather, but this olive green really caught my eye. This is hands down the softest lounge wear you will put on.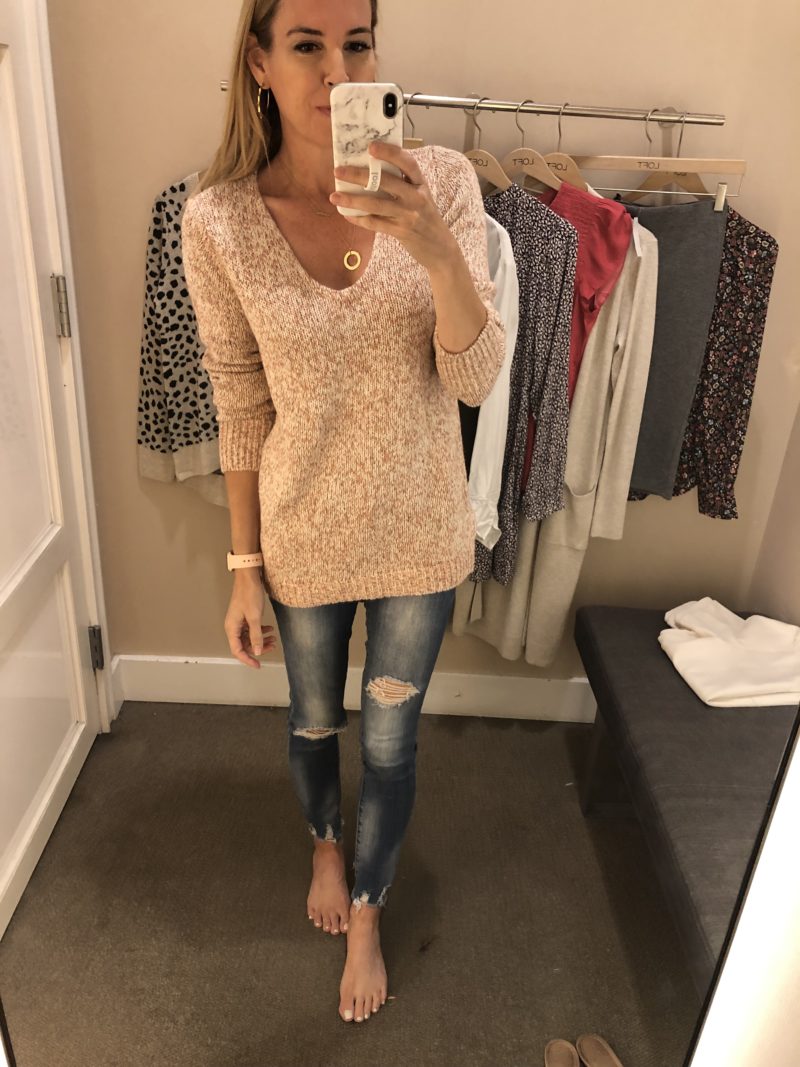 I've shown you this before but I was able to try it on and it's incredibly soft. Like I want to wear it all the time. But a word of warning . . . if you have babies I might avoid. It says the yarn it was made with is delicate so I wouldn't want little ones to be pulling at it.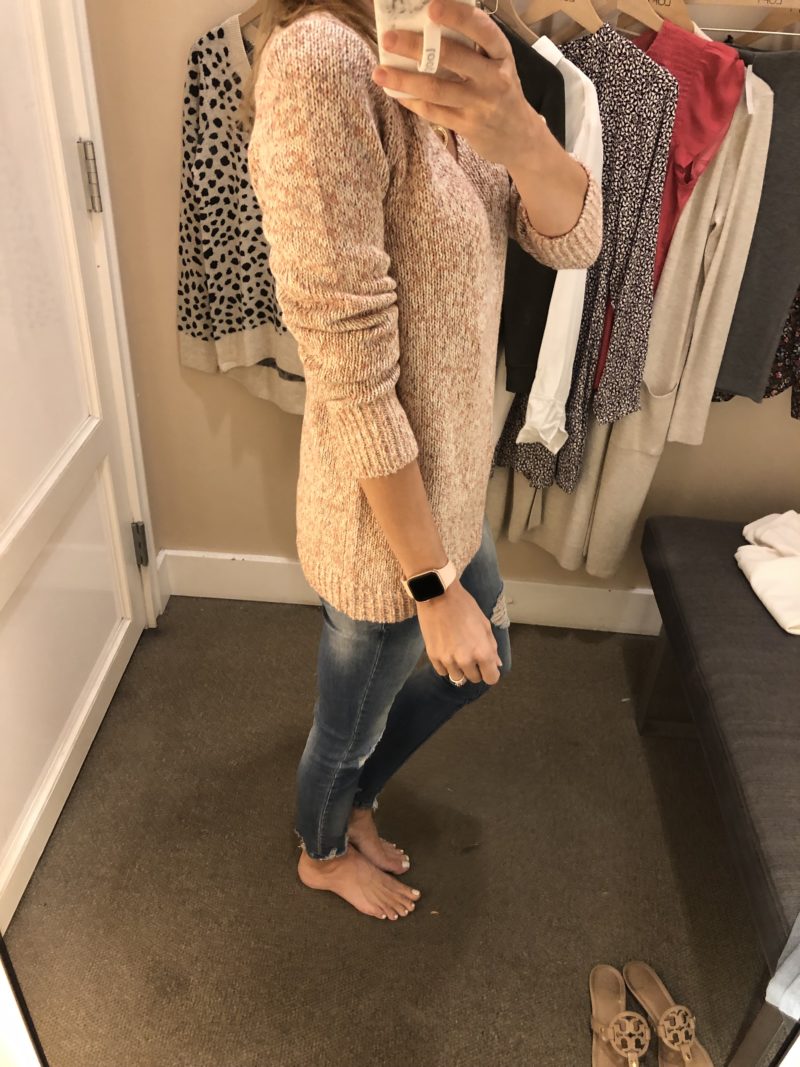 I love that the sweater has a nice slim profile. There is nothing worse than feeling like you are wearing a tent. It falls really nicely.
PERFECT WHITE BLOUSE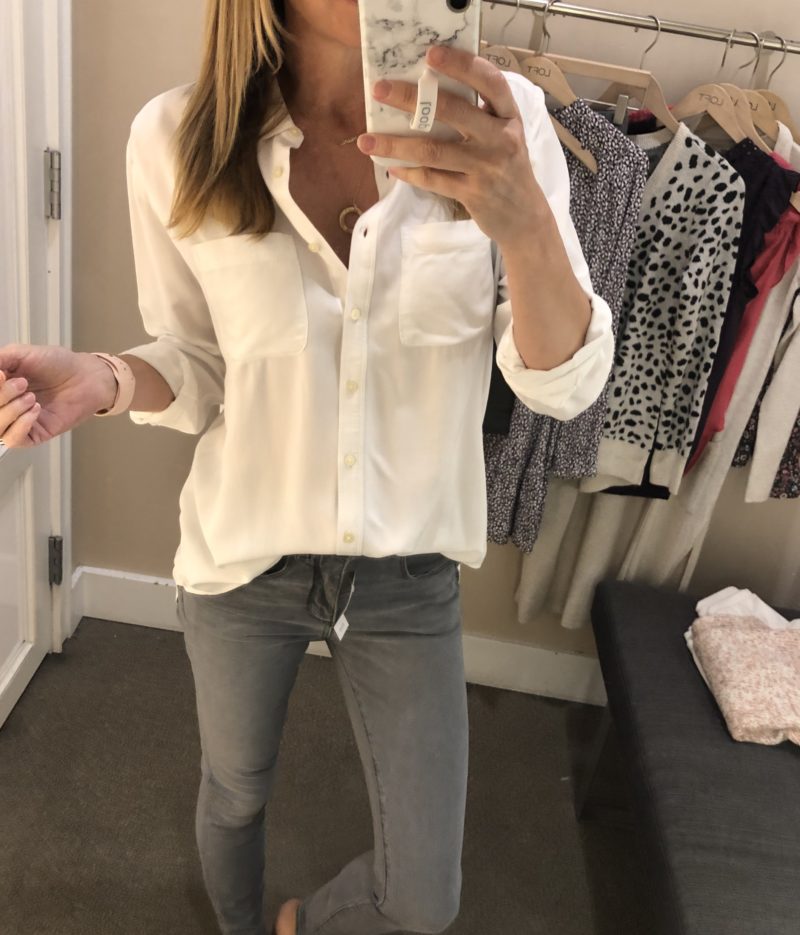 Ladies!!!! This button down is so good. I haven't liked or recommend a button down in quite some time. This one is so soft and drapes beautifully. It is far better in person that on the website. I really like it styled with these gray jeans (true to size). They are called washed black but definitely a charcoal gray. Great color!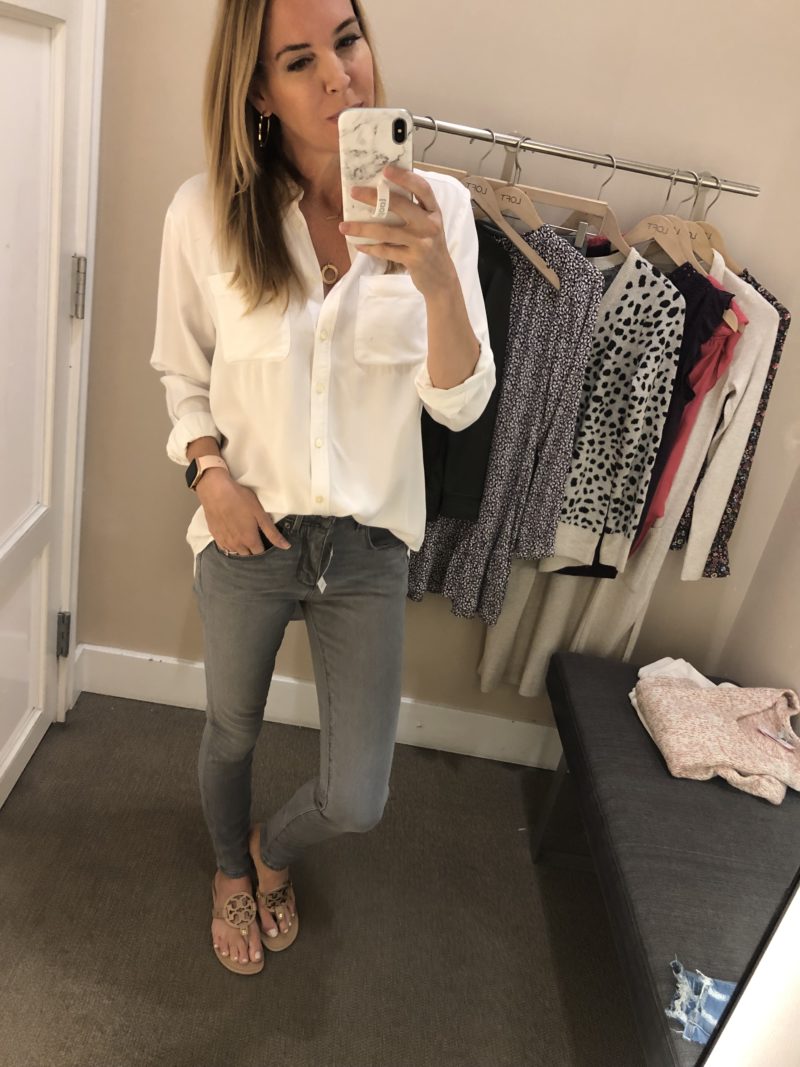 button down | washed black denim
Another fun sweater. Leopard is all the rage now and this sweater looks darling with the gray denim.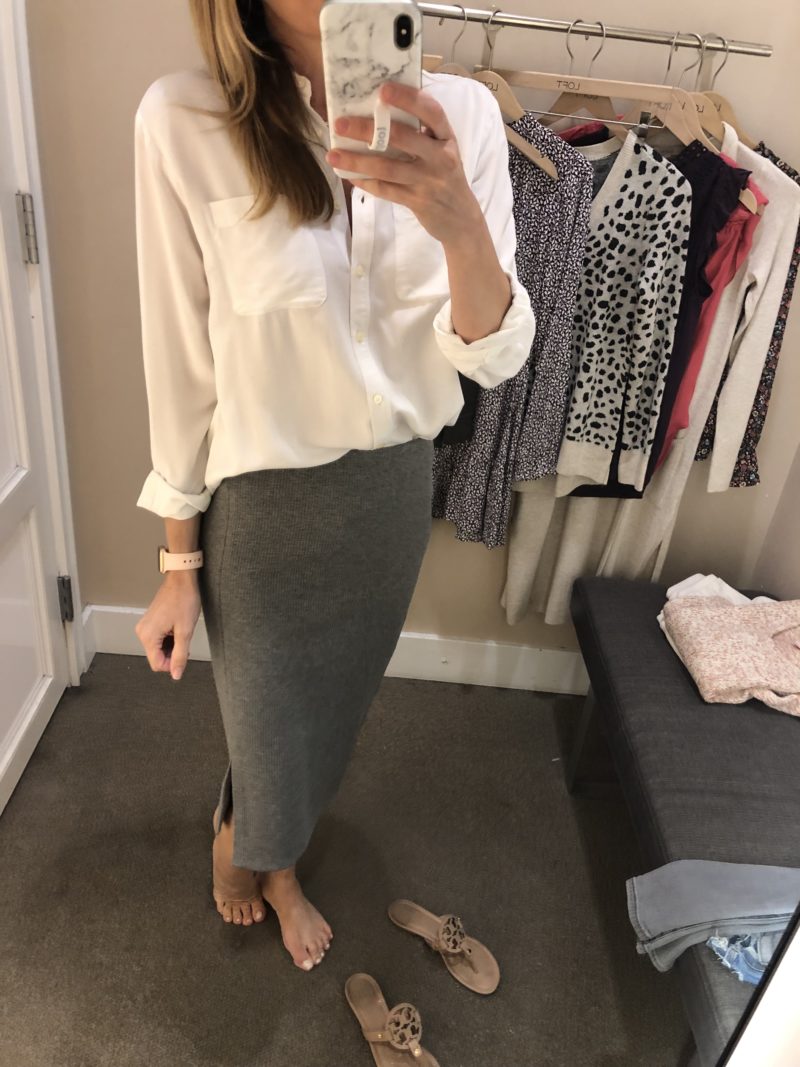 This white blouse also looks really cute dressed up a bit with this pencil skirt. If you work in an office, this is such a fun and classic look.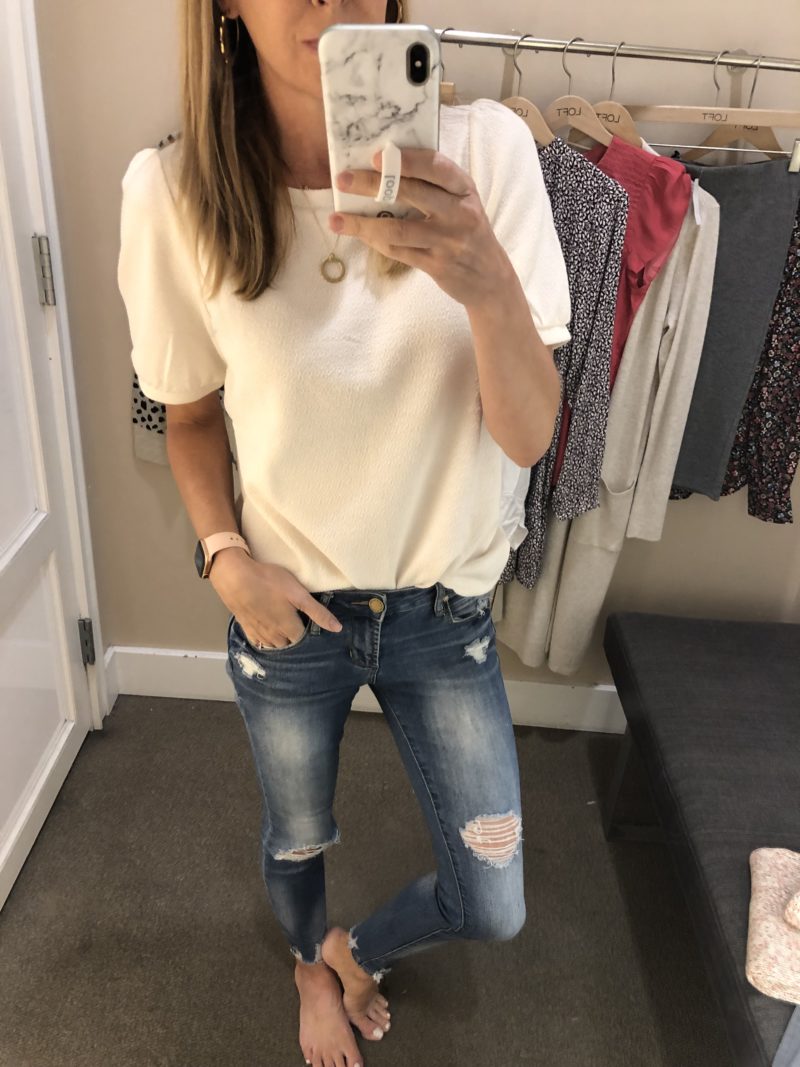 I shared this top on Instagram yesterday as I bought this in a size small. It has a textured fabric and is very soft. I really like the soft ivory color of it.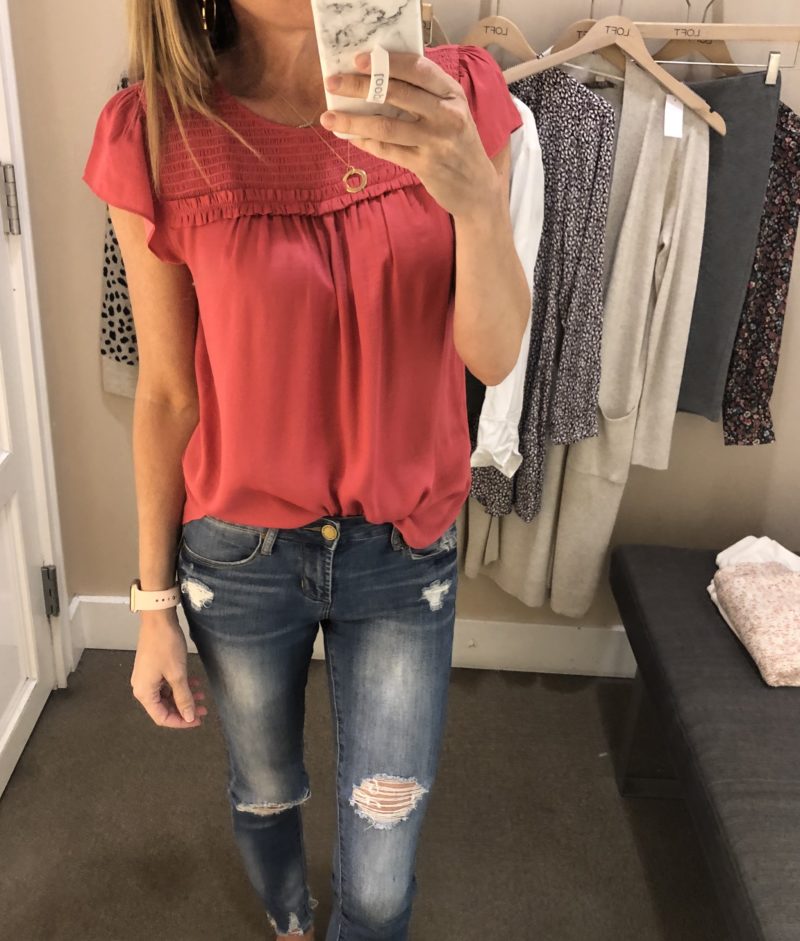 I have this pretty blouse in dark gray and now it is back in this gorgeous hue. Such a pretty top.
DUSTER CARDIGAN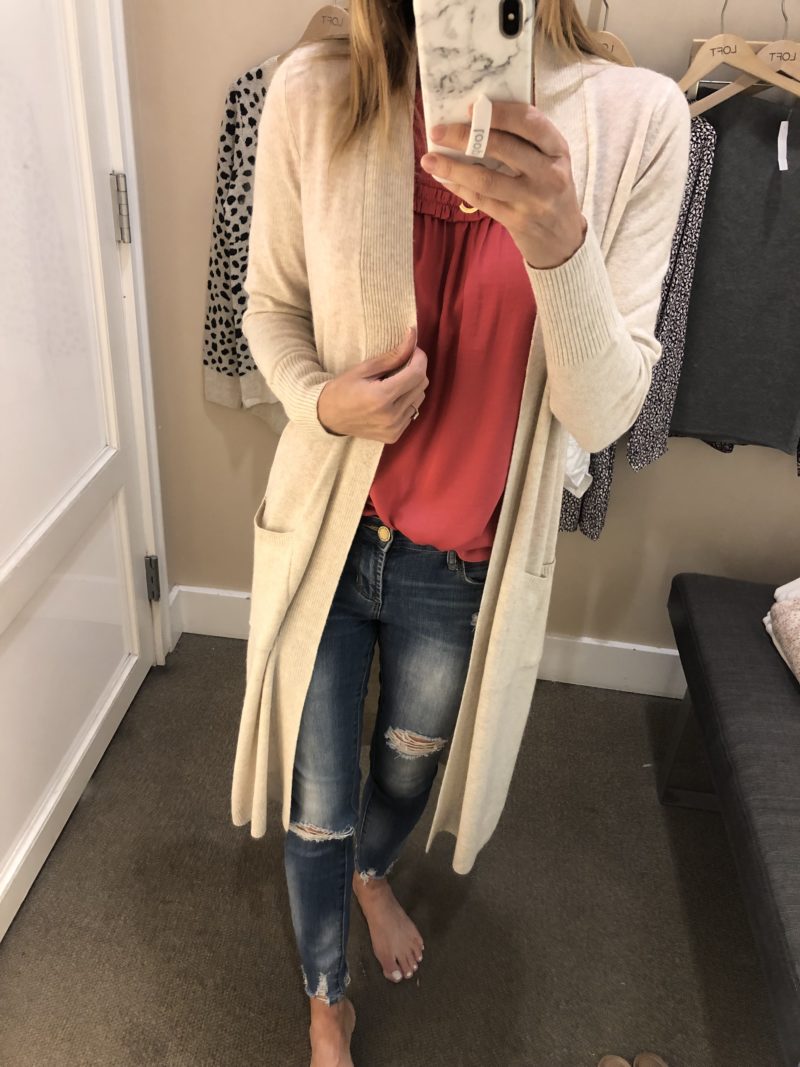 This duster comes in three colors and is now only $40. A great deal and really good piece for Fall and Winter.
PERFECT FALL DRESS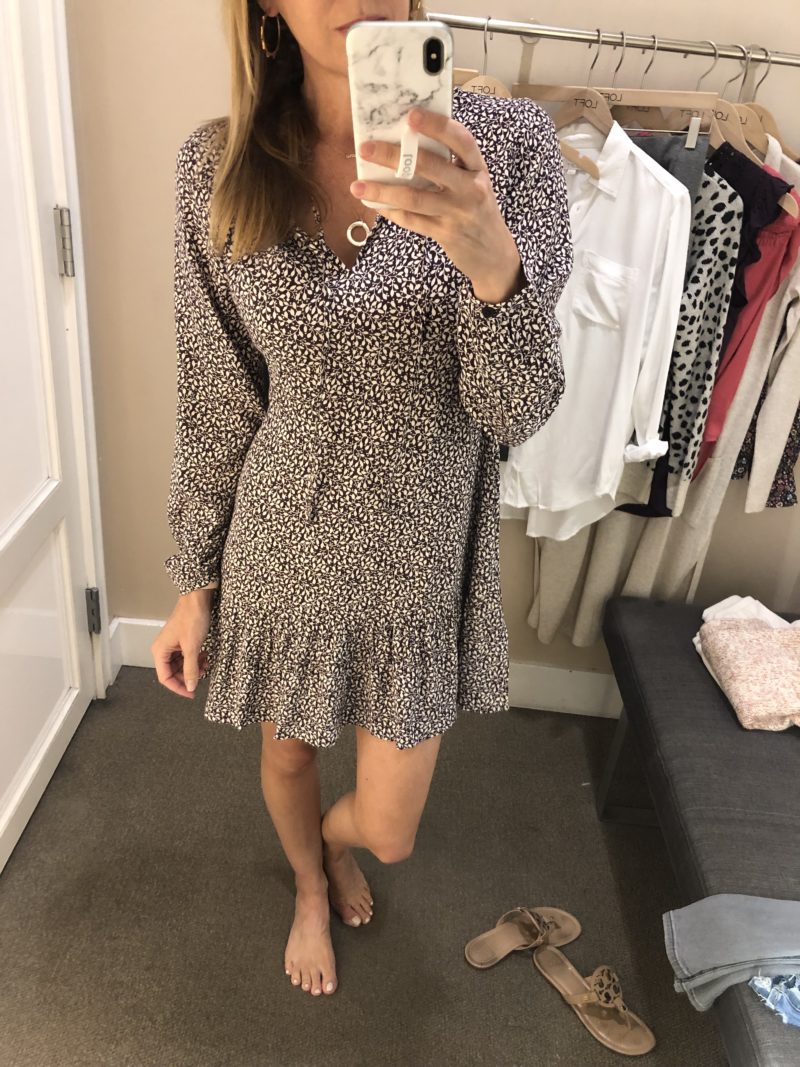 This Fall dress is 40% off. Girls, it's so cute! I wish I could attach a video here. It moves so well and is really flattering. It cinches in at the waist just a bit and is slightly longer in the back. I am wearing a size 0 so I would recommend going down one size.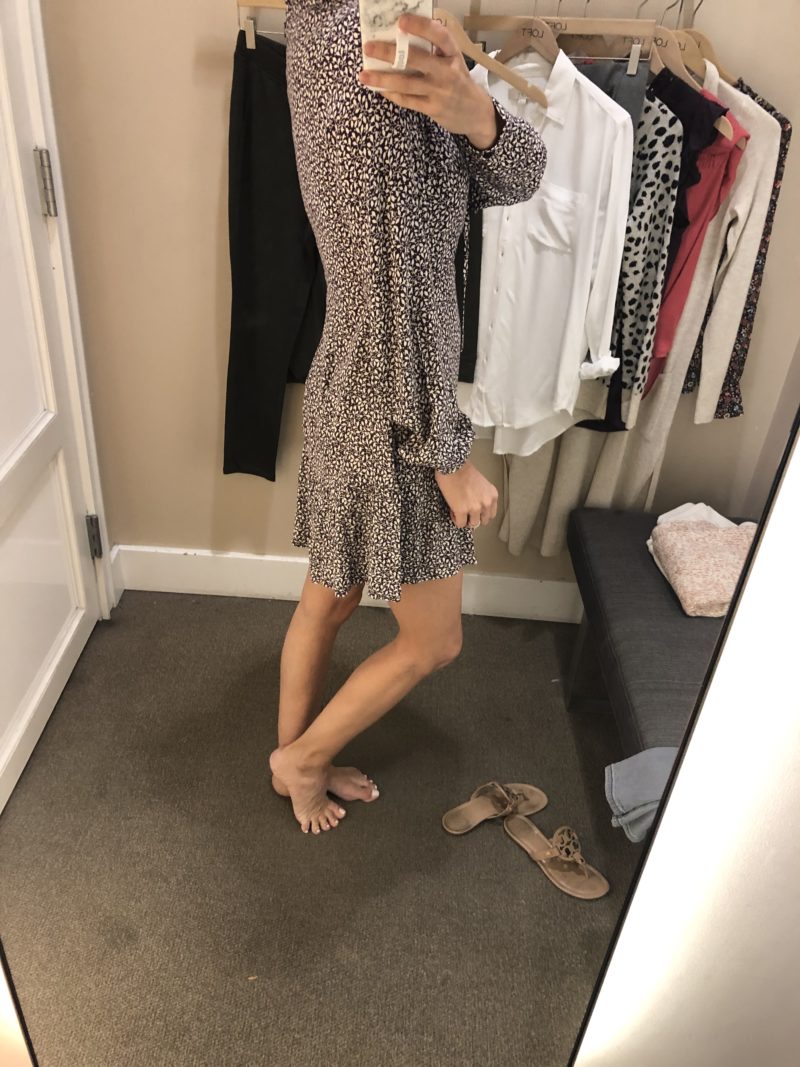 This is one of those pieces that is even cuter in person. I can't wait to where it with booties. It will also look darling with tights when the temperatures drop.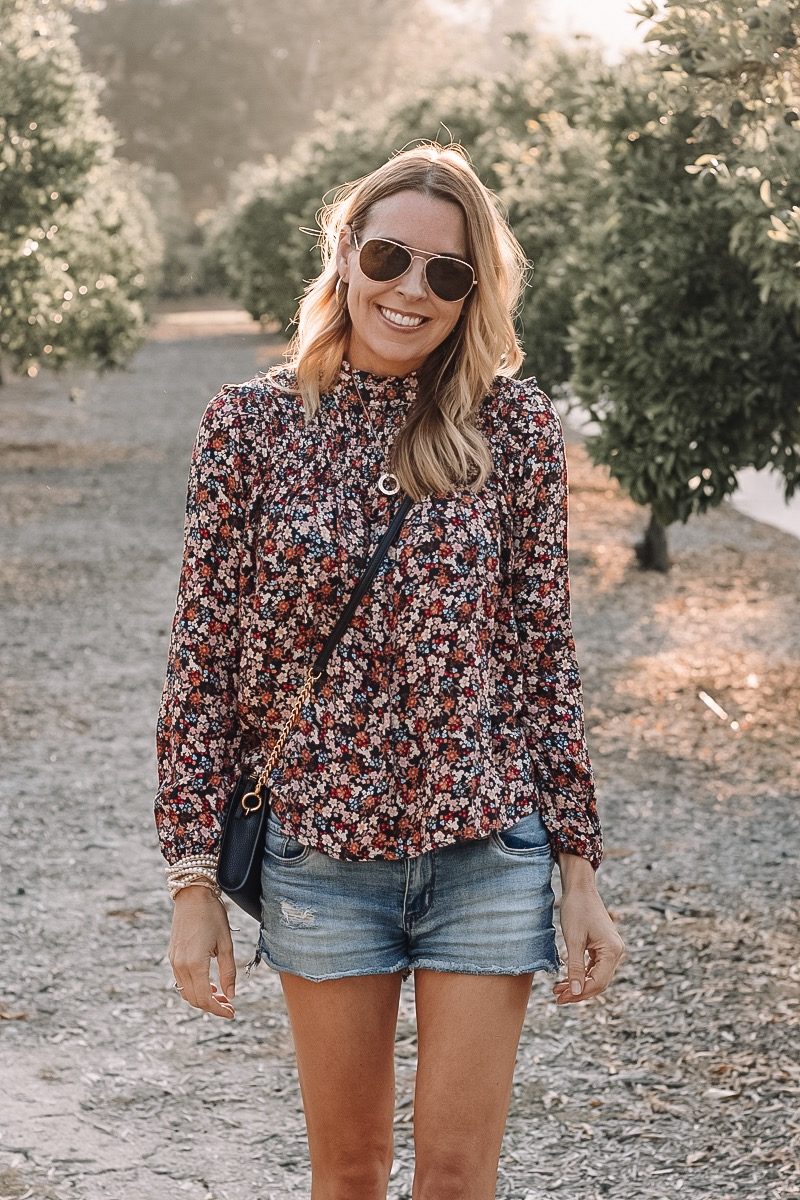 Do you all remember this top? I LOVE this top and wear it all the time. It sold out very quickly, though. Well, Loft now has one that is almost identical.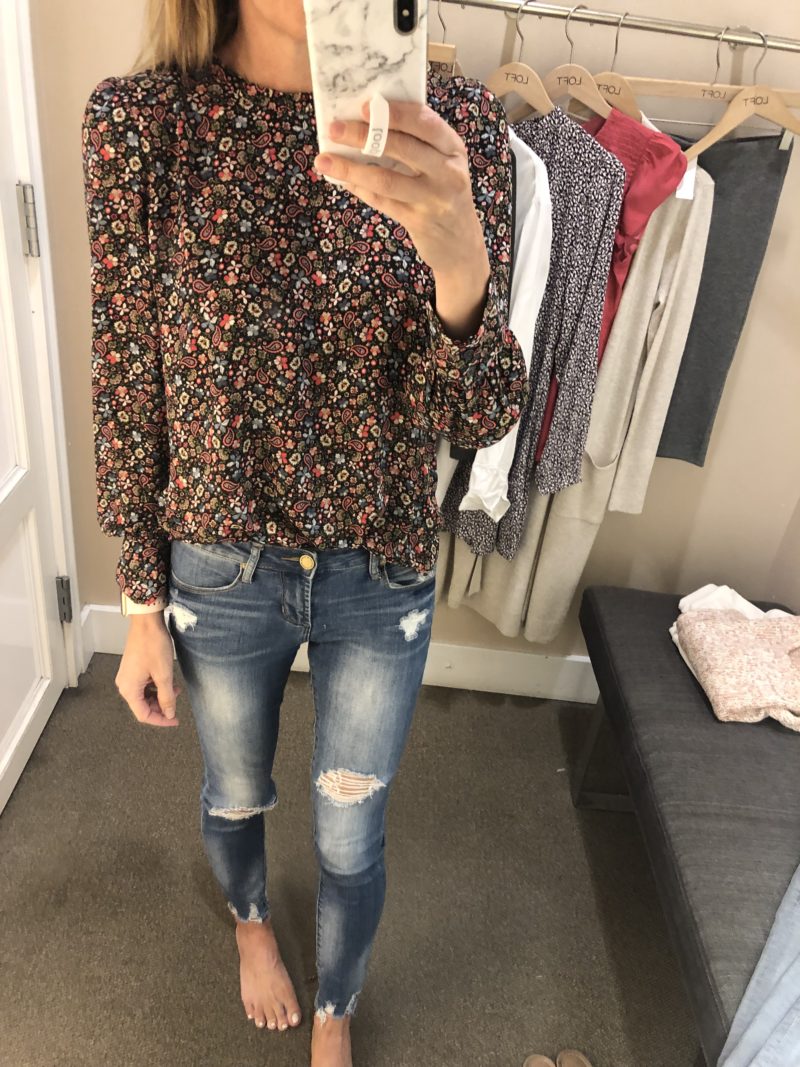 Look at this! Almost the exact blouse and so cute. So if you missed out on the other one, I highly recommend this one. I think the dark floral print is so pretty for Fall. It's feminine and pretty and now 50% off.
ANTHRO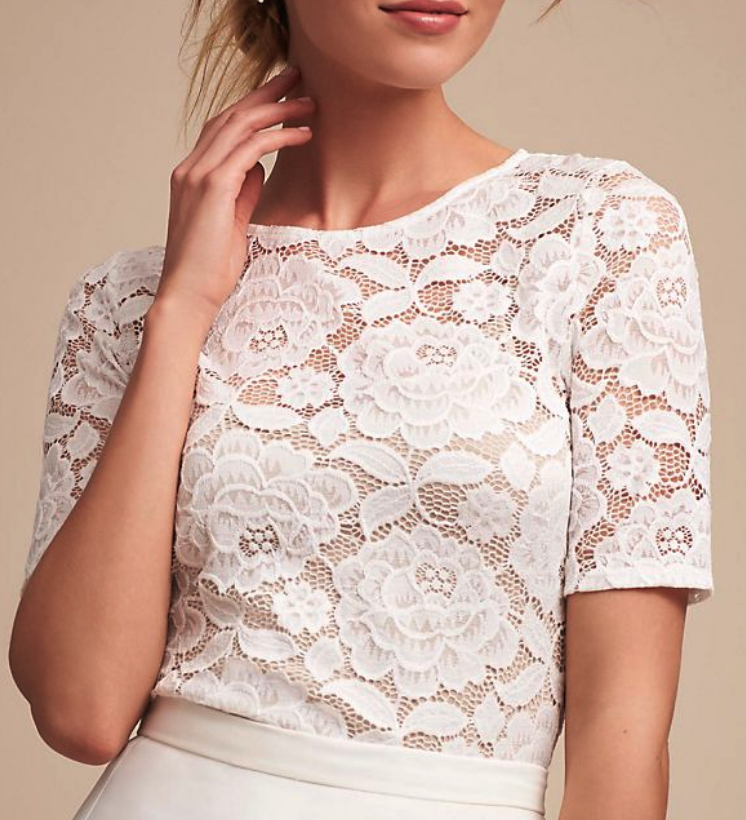 I adore this lace top for the holidays. Perfect with denim for a night out with the girls or dressed up with a pencil skirt for a holiday party. This is a good one and currently under $30.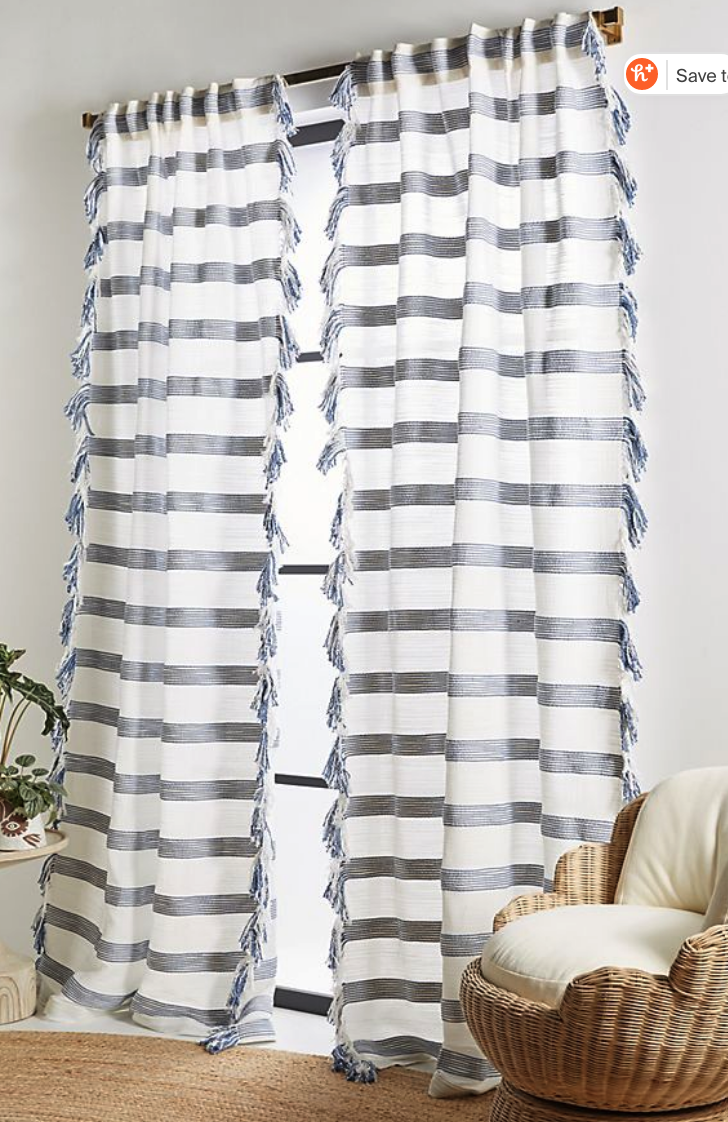 These drapery panels are so beautiful and a fantastic price. Plus they come in a length of 108″ which is awesome and not always easy to find.
NORDIES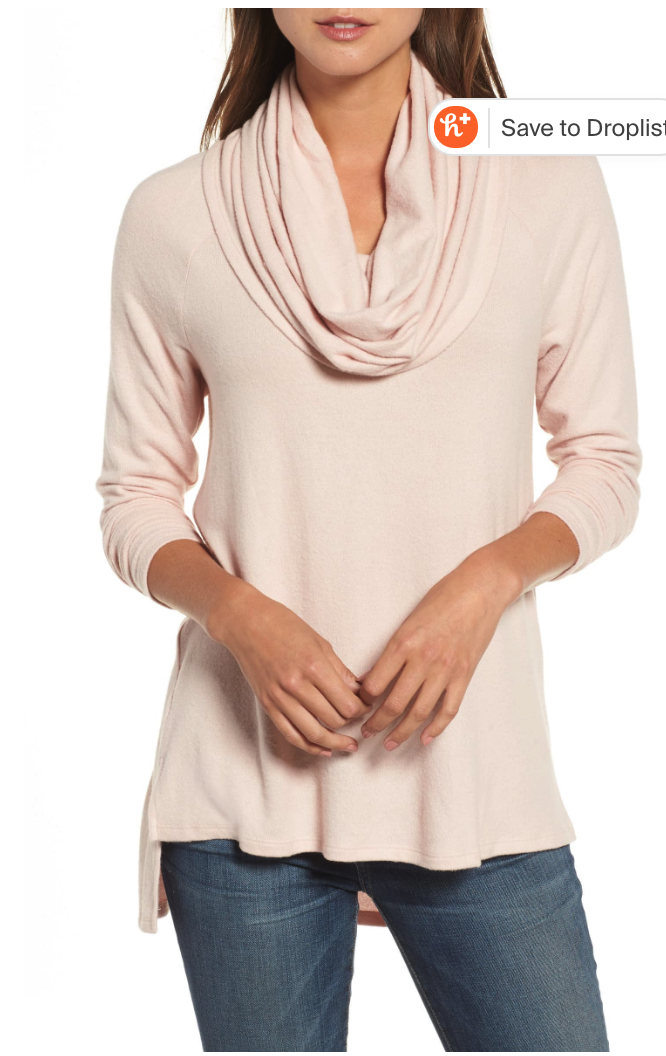 I have had this tunic forever and still love wearing it. Super soft and a beautiful color. It's marked down and a great price.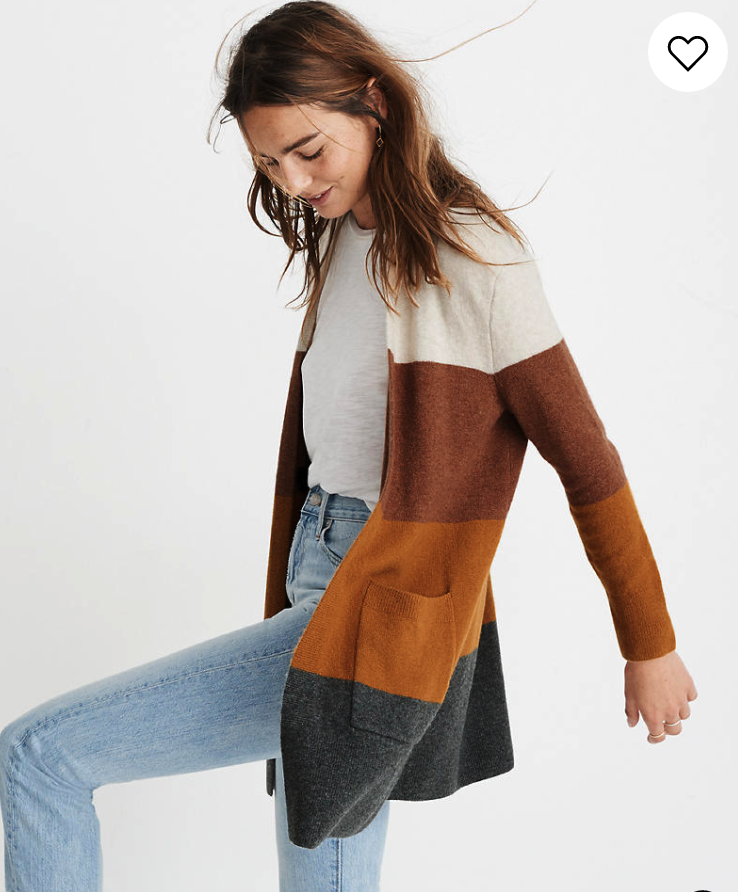 This striped Madewell sweater is price matched at Nordies. Such a good piece for Fall. You can also find it here.
AMAZON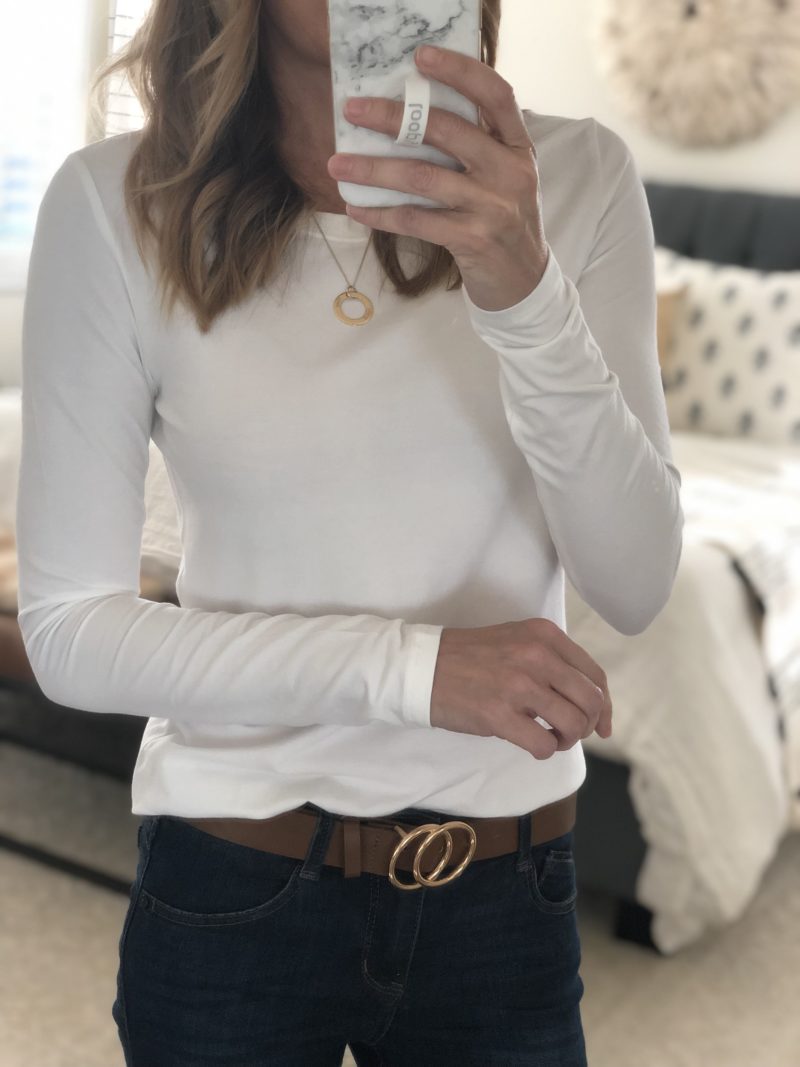 Literally wearing this long sleeve white t-shirt right now. So soft and I've been thrilled with the quality. I often wear it under this striped cardigan. The belts are on constant rotation, too.
HEADBOARD LOVE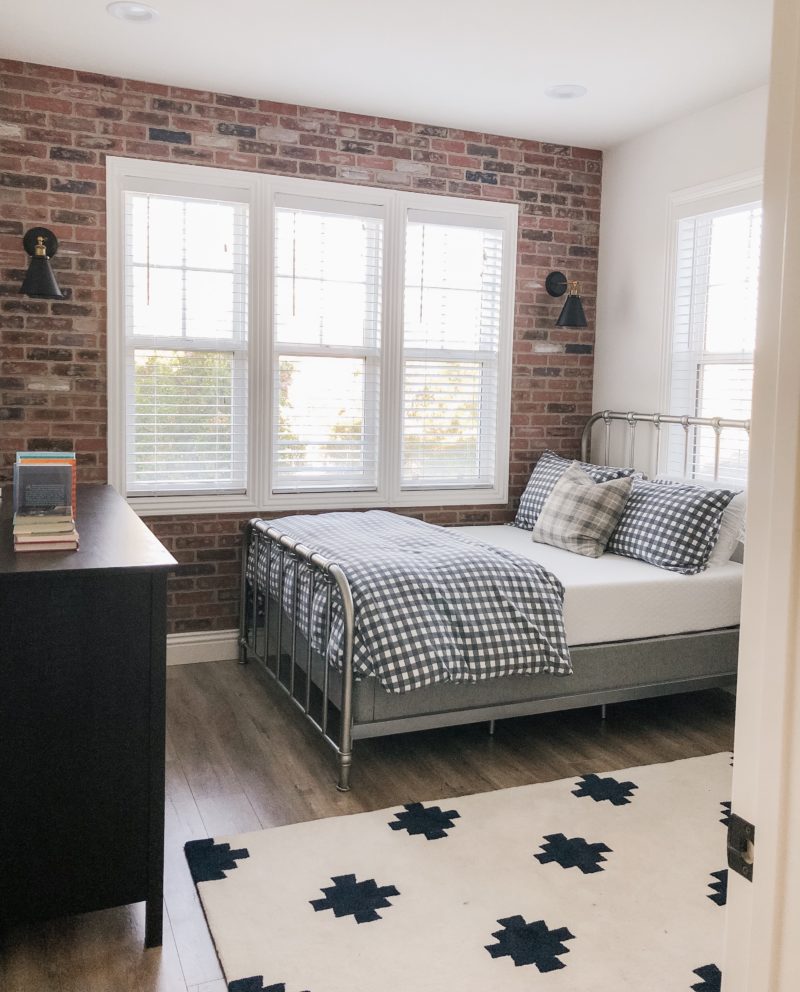 I shared this photo on IG and I had so many direct messages asking about the bedframe. We are beyond thrilled with it. We love the silver because it's a nice contrast with the darker furniture in his room. Having said that, you could easily paint it black or white depending on your situation. Such a steal and very happy with the quality. He also is obsessed with his duvet cover. It's crazy soft. Huge fans over here.
*The room had just been painted and we were moving everything back in when I snapped this quick photo with my phone. I will do a pull post with sources soon.
SERENA & LILY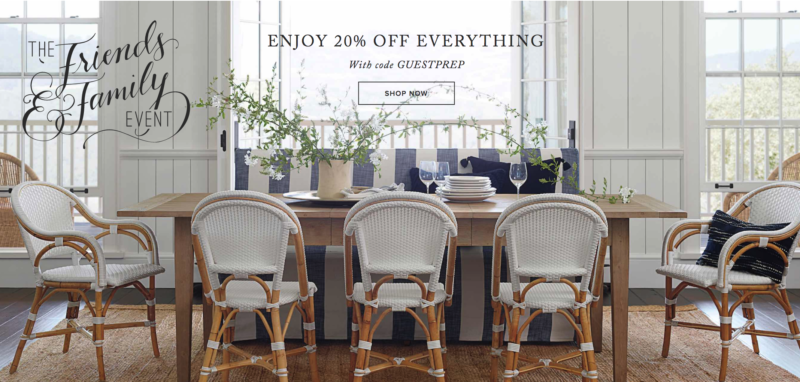 It's all on sale!!!! Everything. This is the time to splurge on something beautiful for your home if you have had your eye on it. Serena & Lily is hosting their Friends & Family sale and everything is 20% off. Use code GUESTPREP
The have the most beautiful counter stools. So many new ones added, too.
DSW HUGE SALE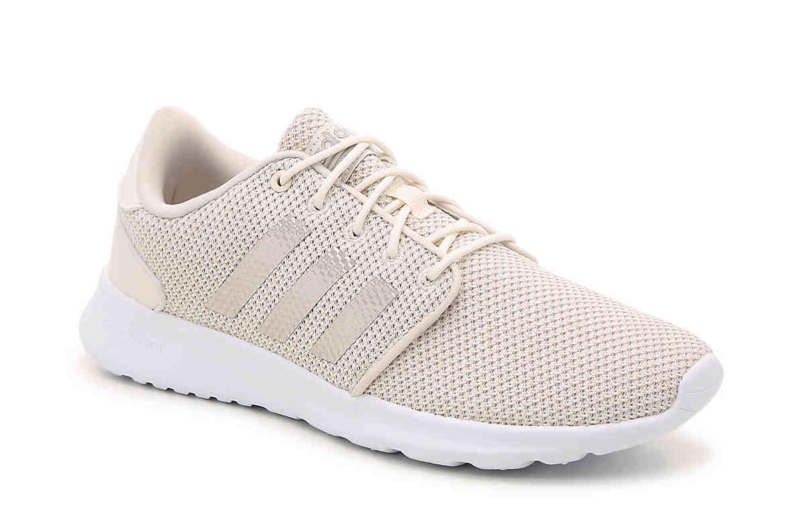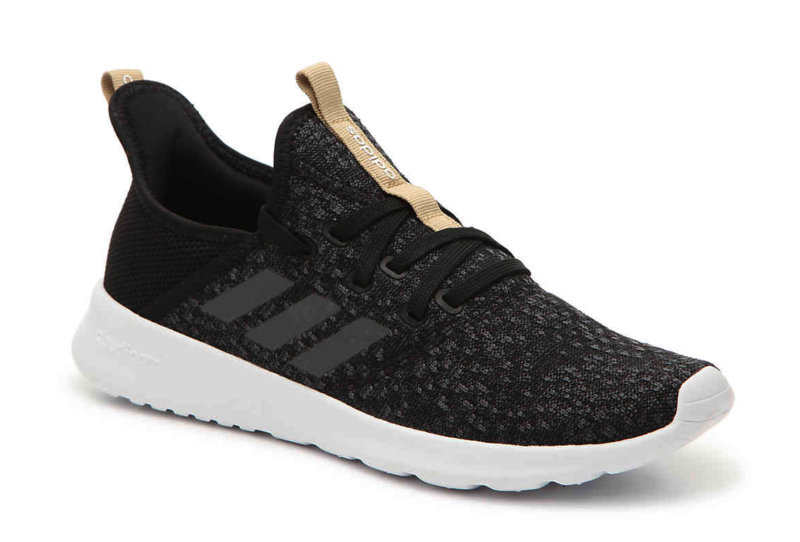 I almost always get my athletic shoes from DSW. I have three pairs of the same shoe (shhhh!). They feel so good on your feet. In fact I wore these for all of our excursions in Vail. Great to travel in. Right now, DSW is having a buy one get one half off sale.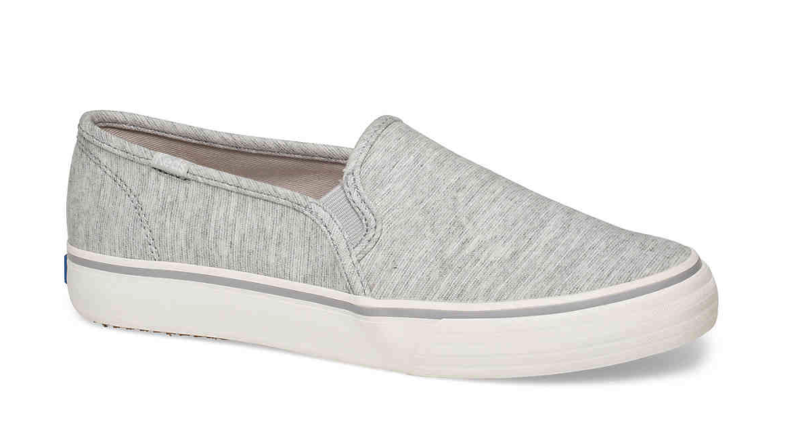 This is another pair of shoes I highly recommend. I love my KEDS. So comfy.
Enjoy your weekend. I hope you have some fun plans on the agenda. We are about to cheer on our favorite football team. See you all back here on Monday.