Good morning. I hope you had a great week. We are really thankful for the amazing weather we are having. The temps are starting to cool down and you can sense fall is right around the corner. And with the kids back in school I am determined to knock out a couple of projects we have been putting off. My procrastination has been at an all time high so it's time to turn the ship around. But for now, grab a cup of coffee or tea and let's do some Saturday shopping.
ADDING WARMTH AND TEXTURE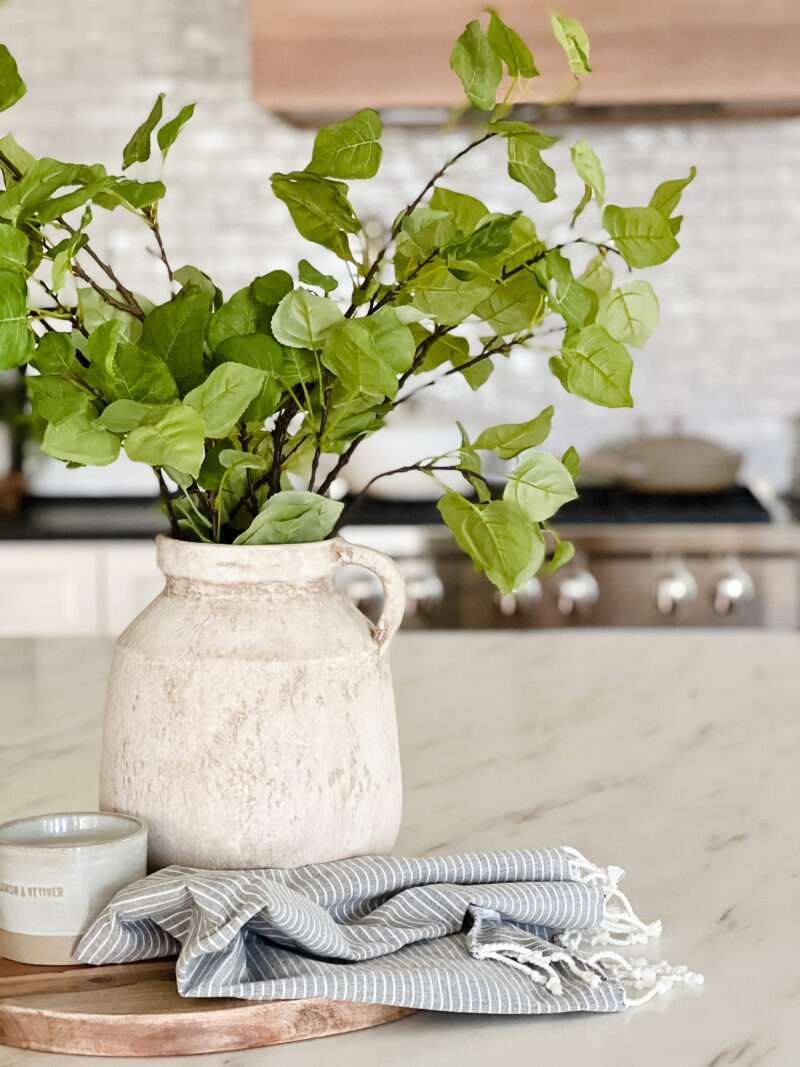 I looked high and low for a beautiful vase to put on our island. I wanted something with a lot of texture and interest. Something that looked like it has been around for years. I did have a gray vase I like, but it just didn't have the aged quality I was hoping for. When this terracotta jug arrived, I knew it would be perfect. I think it's an amazing price point (I've looked at so many that were ridiculous prices) and it's even prettier in person.
ORDERED FOR POWDER ROOM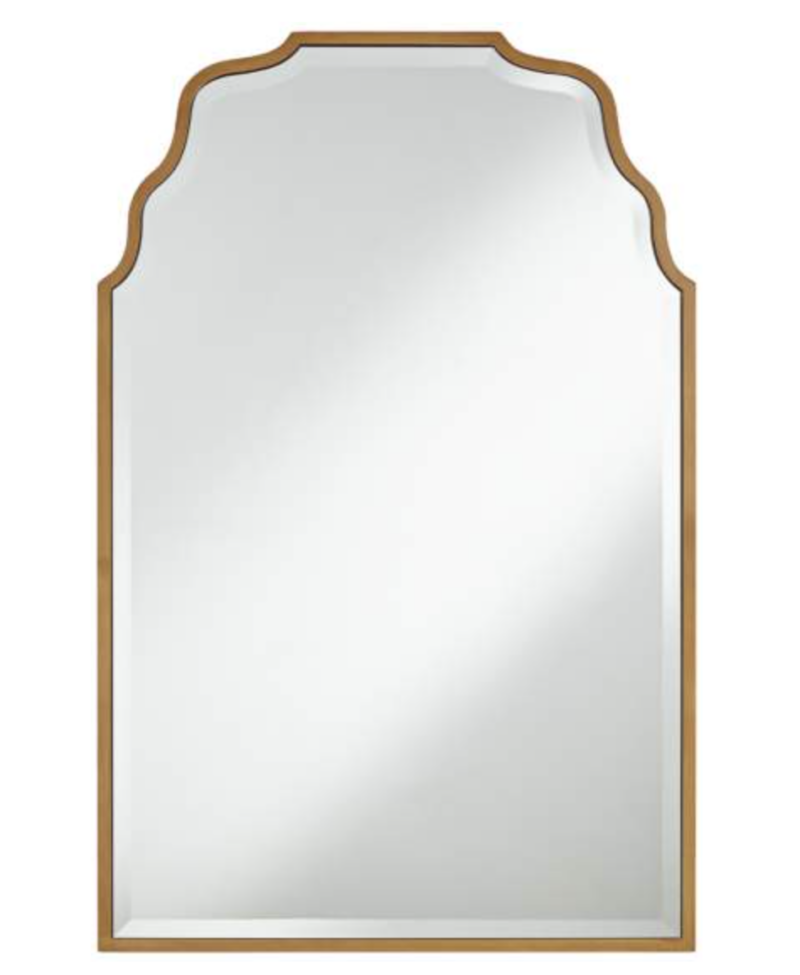 I've looked forever for a mirror for our powder room. I wanted something taller than the usual 36″ and something with a little bit of interest. This pretty mirror arrives this week and I can't wait. I am determined to get our powder room finished (only gutted it a year ago).
CAUGHT MY EYE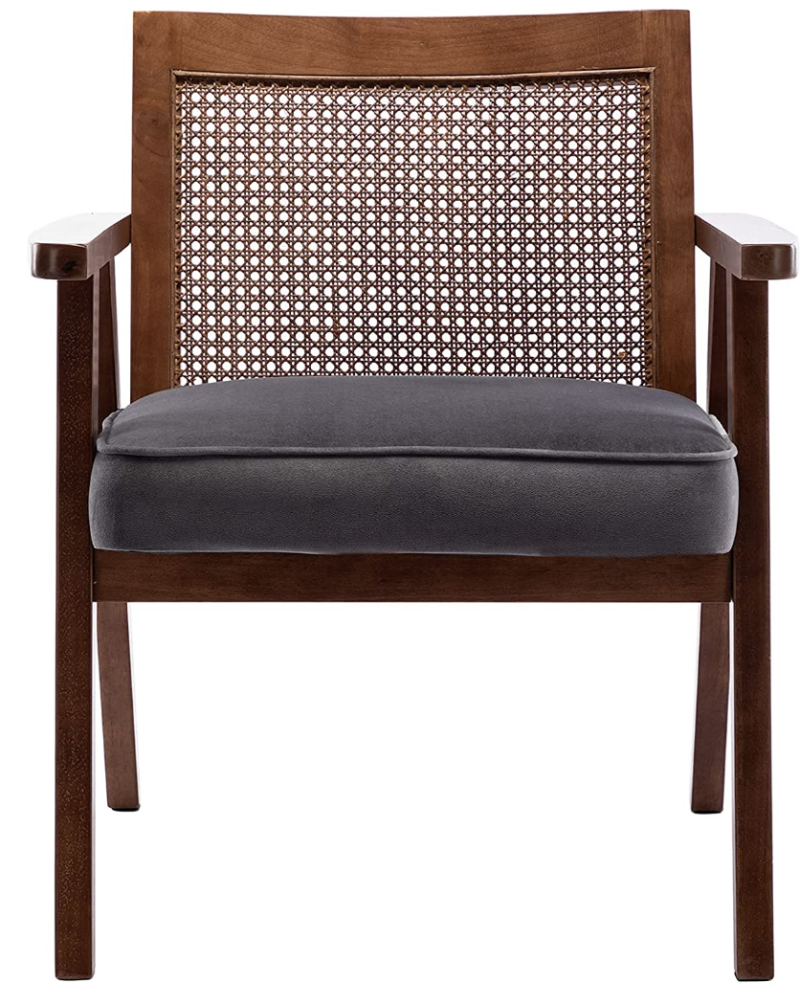 Gorgeous chair. I love everything about this look and feel. Really pretty with great reviews.
KITCHEN ACCESSORIES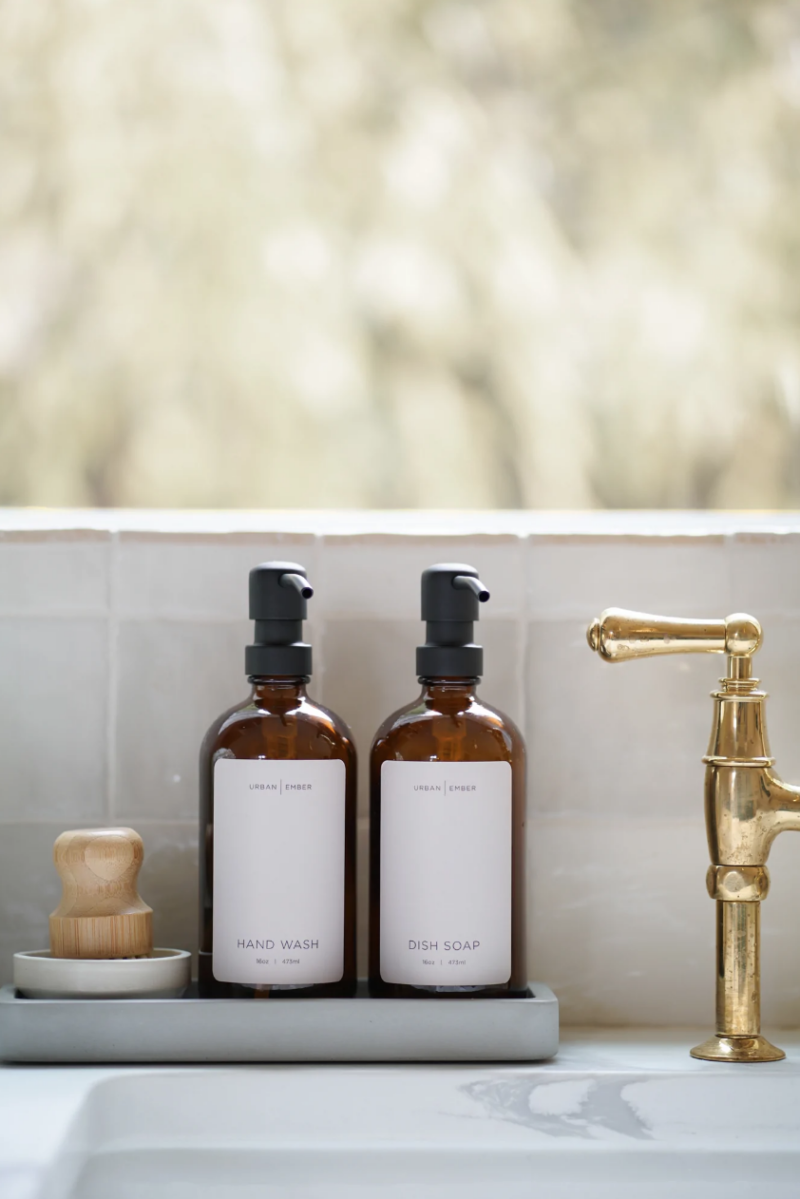 These beauties arrived and I love them. Even my husband comment on them. It was nice to clean up the mismatched clutter near my sink and have it look a bit more streamlined. I was thinking these would make a wonderful house warming gift, too.
AMAZON FIND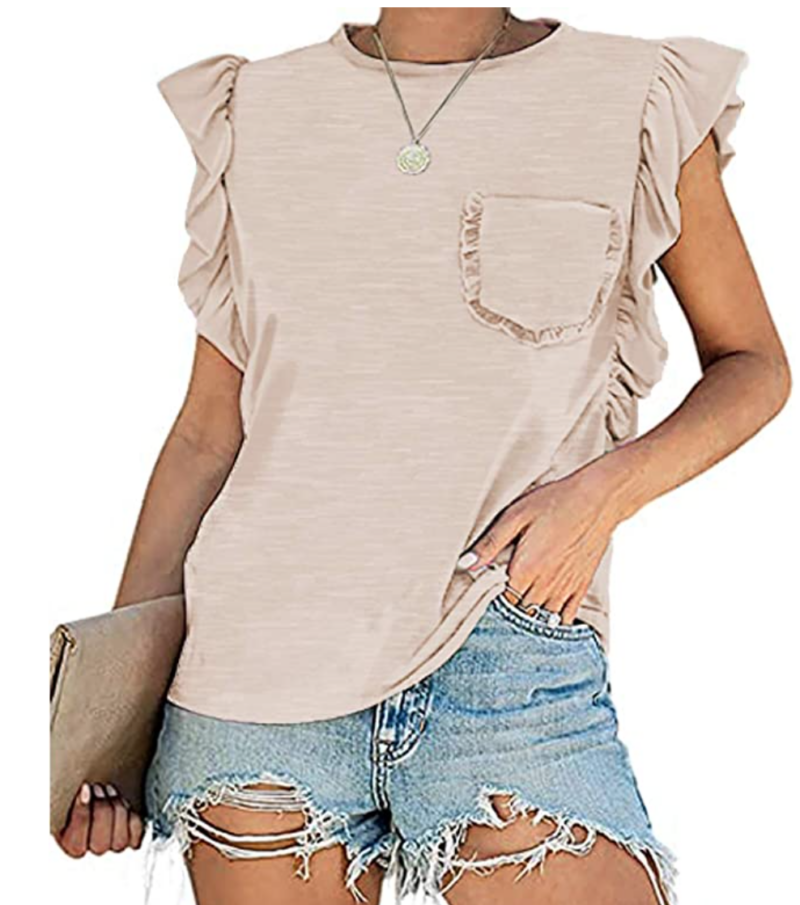 Happy to report this top arrived and its darling. I chose a small and it fits great. Such a pretty, feminine take on a simple t-shirt.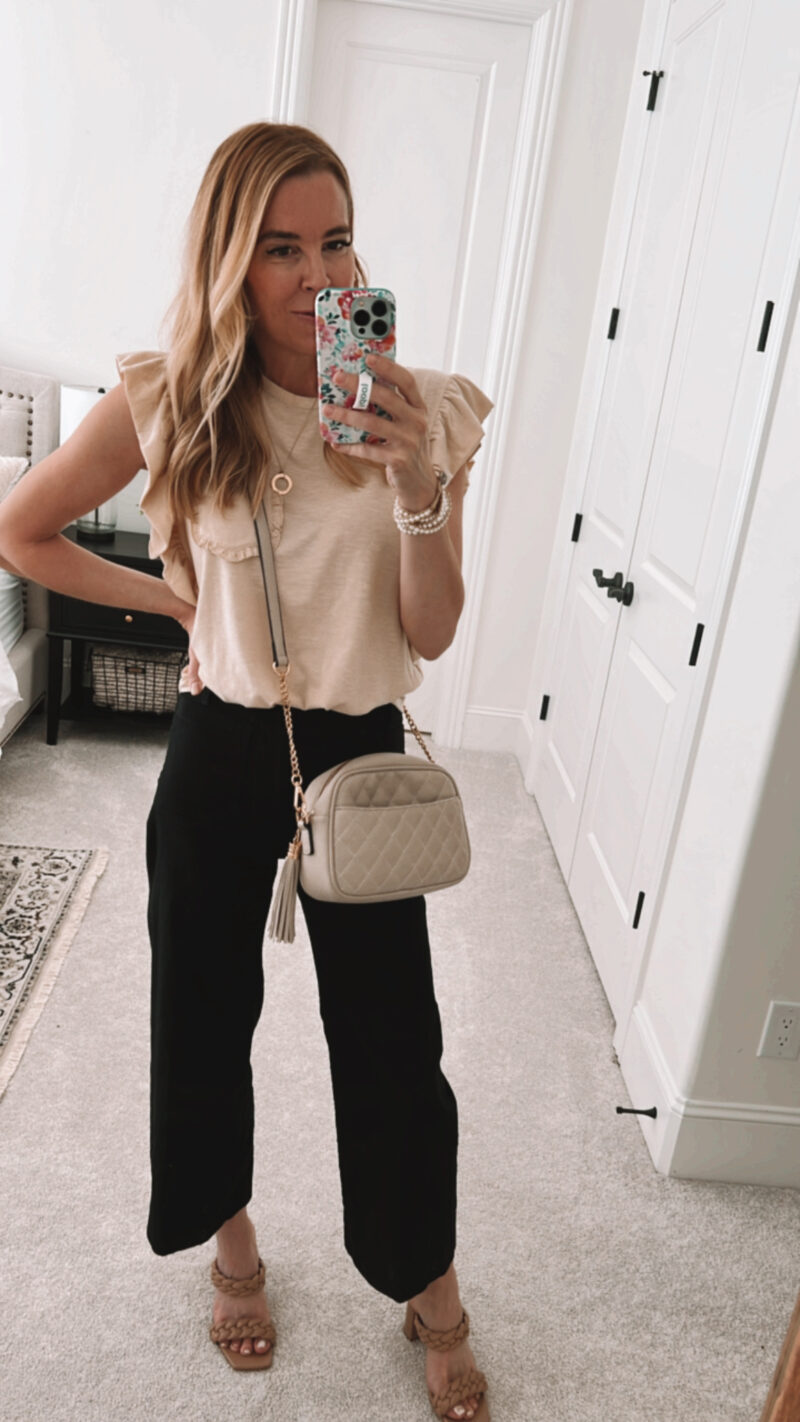 Recently paired the ruffle t-shirt with my favorite black pants. By the way, a sweet reader said the white corduroy version of these are rather see through. Just a heads up. But LOVE everything about these pants.
UNIQUE HOME PIECES
This table is fantastic. I love the caning on the bottom and the glass top. If you are looking for something to place beside a sofa or chair, this could be perfect. I also like that you can add books or interesting objects to the bottom shelf. And at $140 it's a nice price point.
GENIUS HEADBOARD
This headboard is genius!!!! What a way to save hundreds of dollars. Forget buying an overpriced bed and use this hanging headboard. I love the look and leather details. This will set you back $170 and gives such a high end look.
LOOK FOR LESS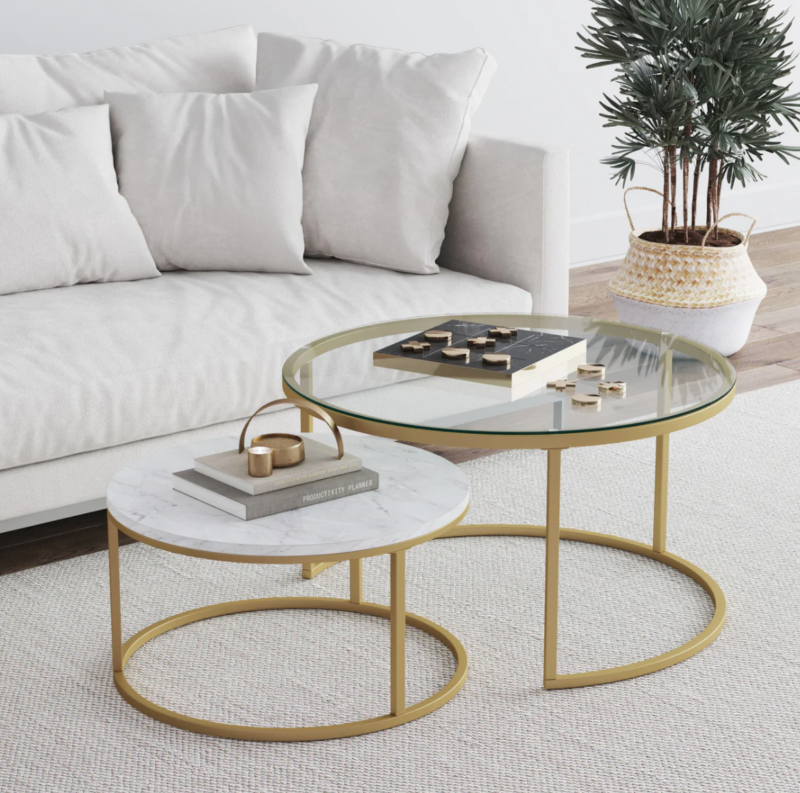 These nesting tables also give you a really high end look without breaking the bank.
We used nesting tables in this space. I wanted to visually take up a decent amount of space but not have a long rectangular coffee table. Our rug can be found here.
*See all of our rugs in this post.
AFFORDABLE OPTION
This coffee table is $130 and a great find. While it may not be high end quality, a coffee table is a nice place to save money because you rarely do anything but set things on it.
PAMPAS GRASS FOR FALL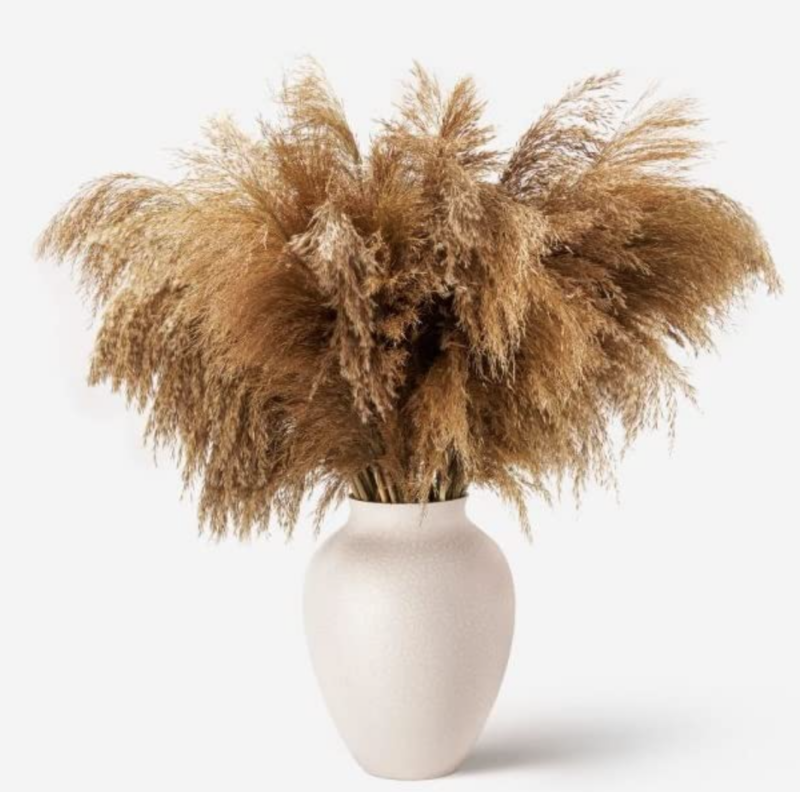 I want to apologize as this link was incorrect from the last post. These are a great way to bring in Fall and not spend a ton of money. Plus you can keep them year to year. I like how pampas grass gives you a lot of volume and interest.
ANTRHO SALE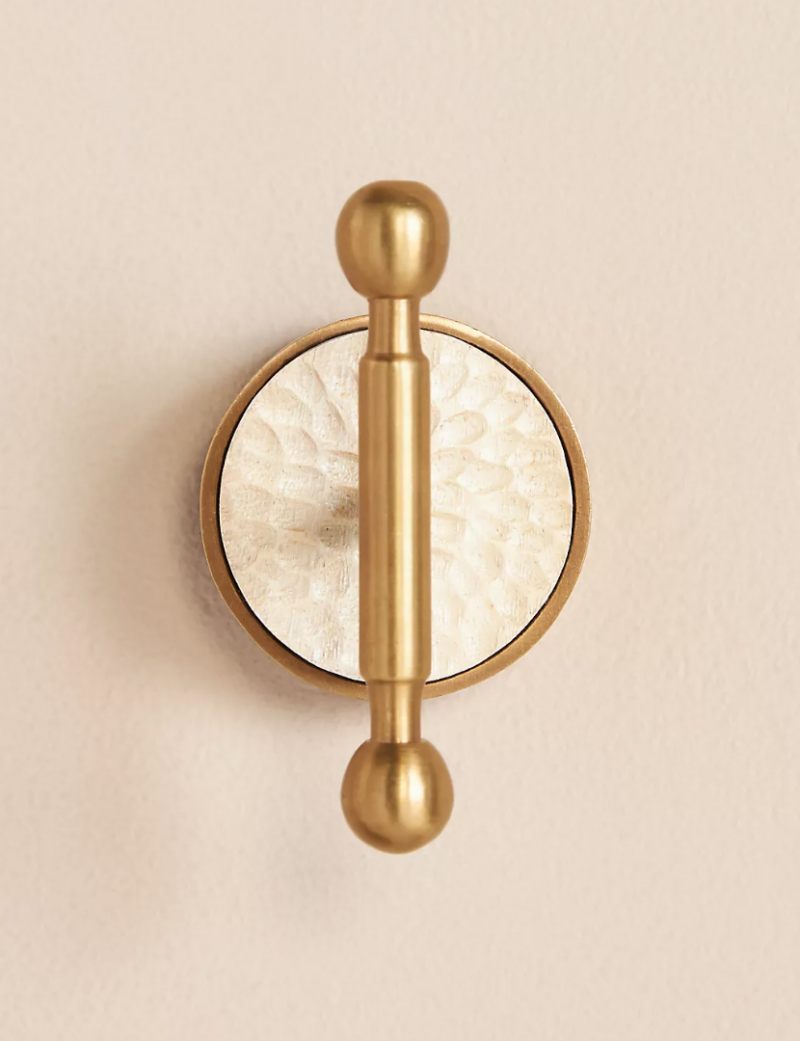 These towel hooks caught my eye and are on sale. So pretty and so different. Might have to put one in my daughter's bathroom (no, we still haven't finished her space).
*All bedding, rugs, and bath are 30% off at Anthro right now. Great time to browse.
SWITCH IT UP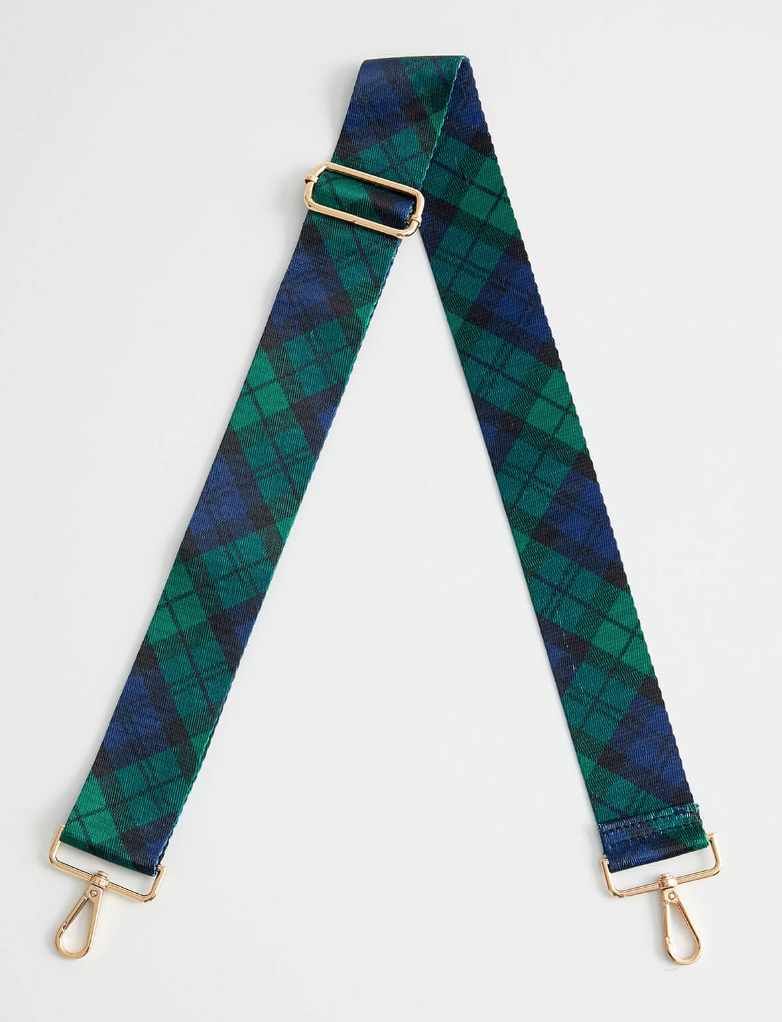 Do you have a handbag that allows you to switch up the strap? I love the idea of a plaid strap for Fall. Especially if you keep your wardrobe pretty simple, it's a fun way to add pattern and interest.
ONE OF MY FAVORITES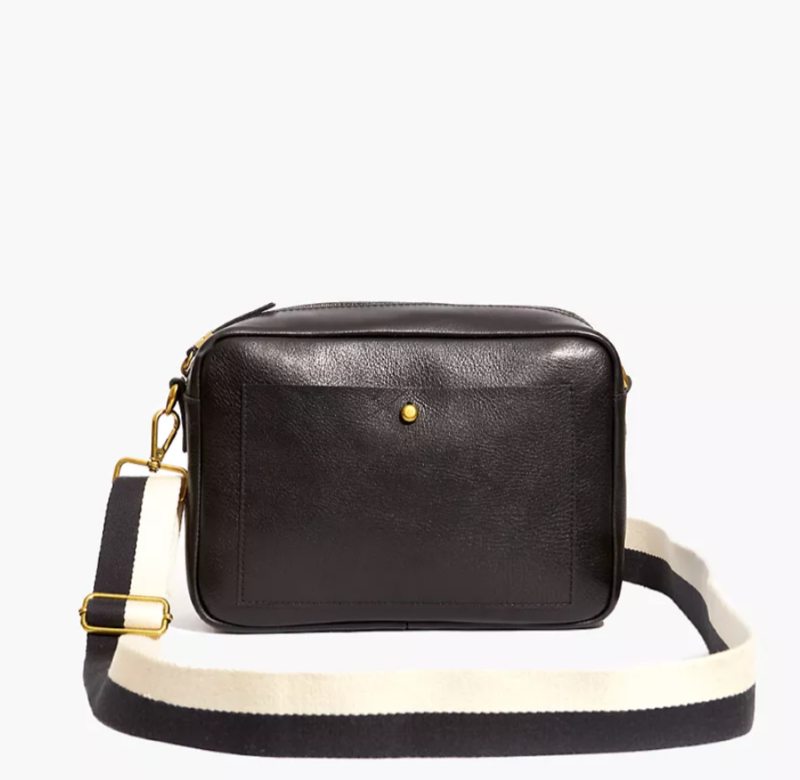 I have this Madewell bag and it's nice to swap out the strap. It is currently 30% off which is great.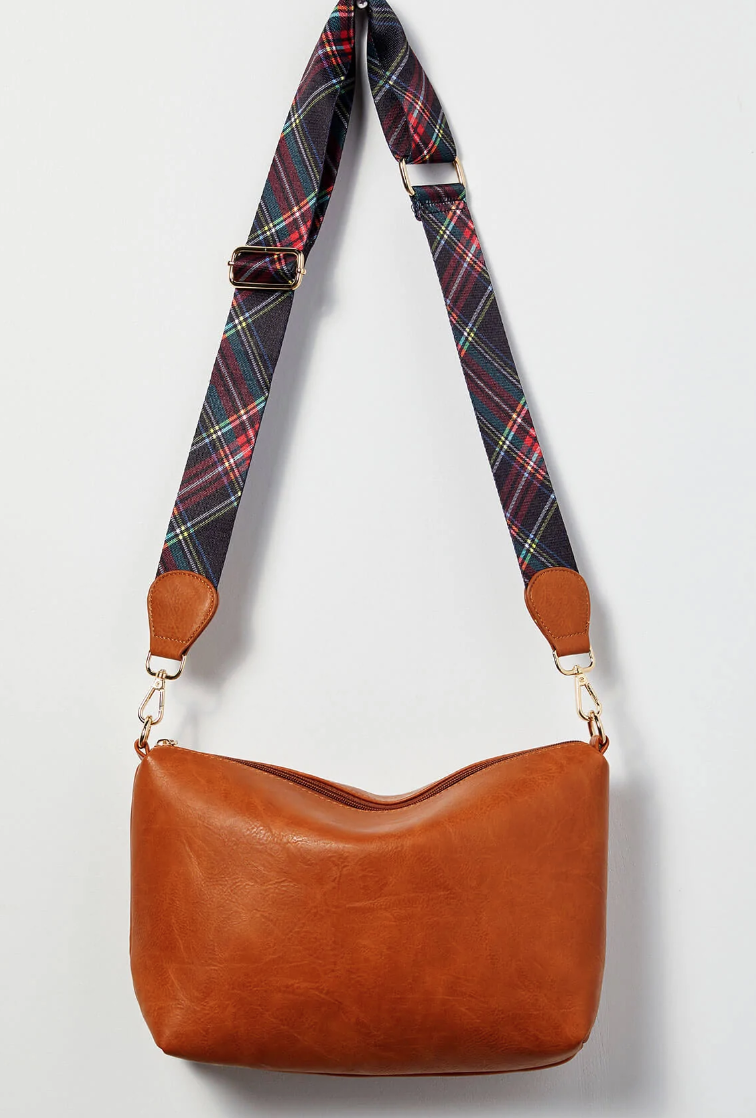 I definitely have a crush on this bag. So darn cute. And that plaid strap is so good!!!
CUTE TOPS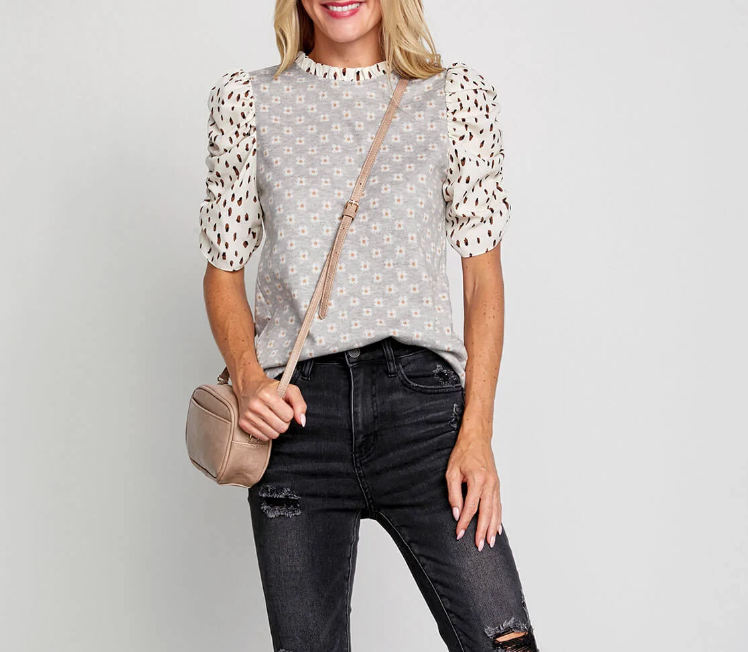 What a cute mixed media top. I like the combination of prints on this one.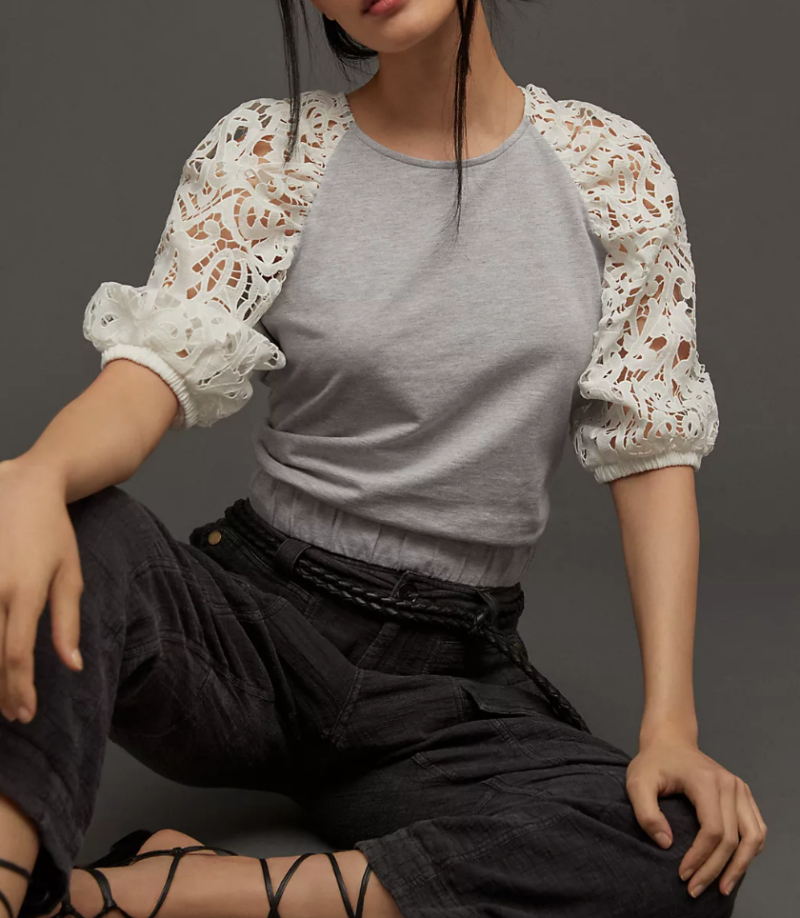 This top is darling. I ordered it the second I saw it which is unusual for me. It comes in a few colors, too.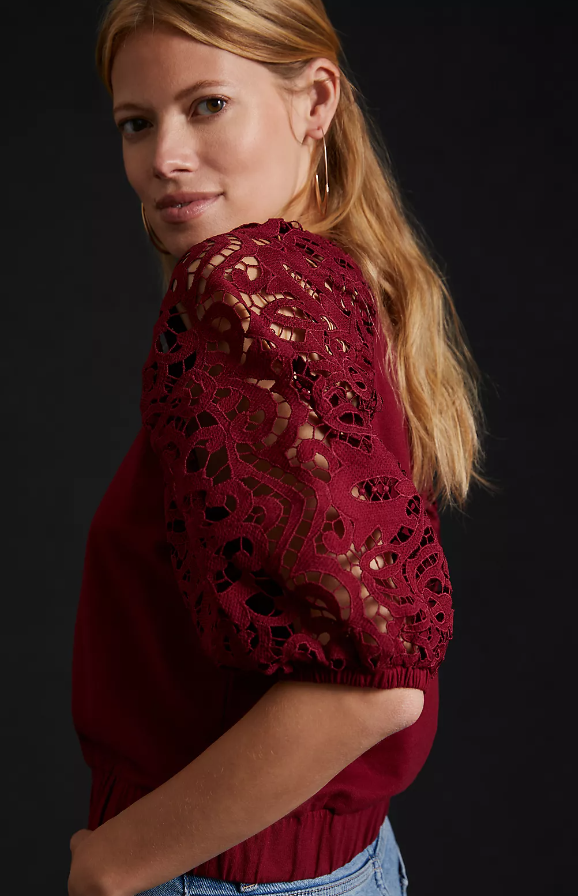 This wine color would be so beautiful around the holidays. It's currently on sale.
THIS DRESS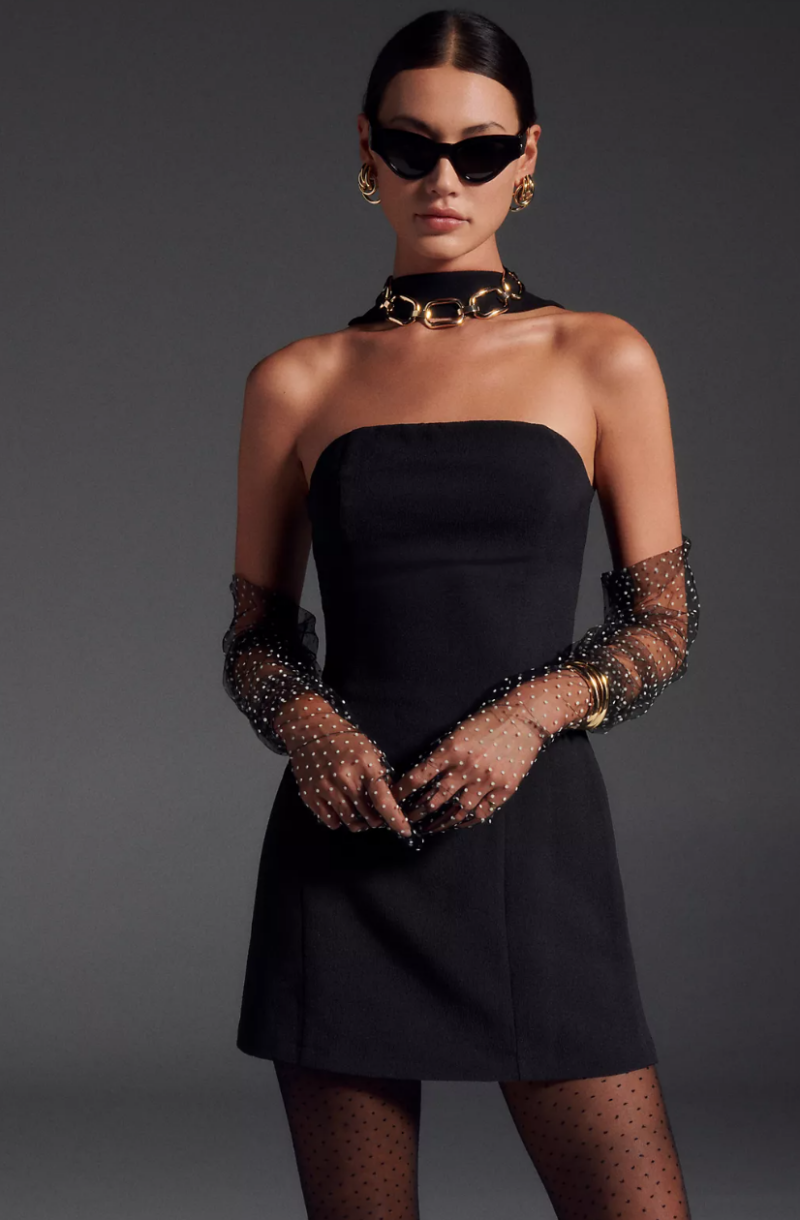 This dress!!! We were looking for a dress for my daughter and this is a more than we wanted to spend but it sure is beautiful. Wait until you see the back. This one is a steal!!! Holy cow.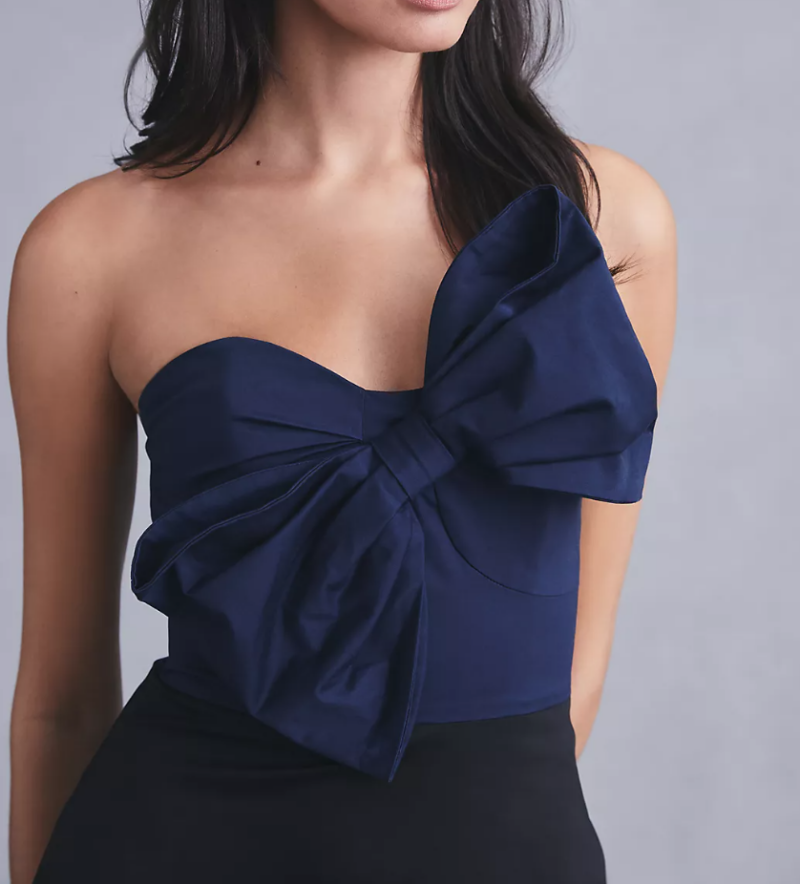 Did you watch the movie Look Both Ways? I loved Natalie's (was that her name?) dress when she tried to bust into the fancy party. This reminds me so much of it. This is a beautiful dress.
BEST SELLER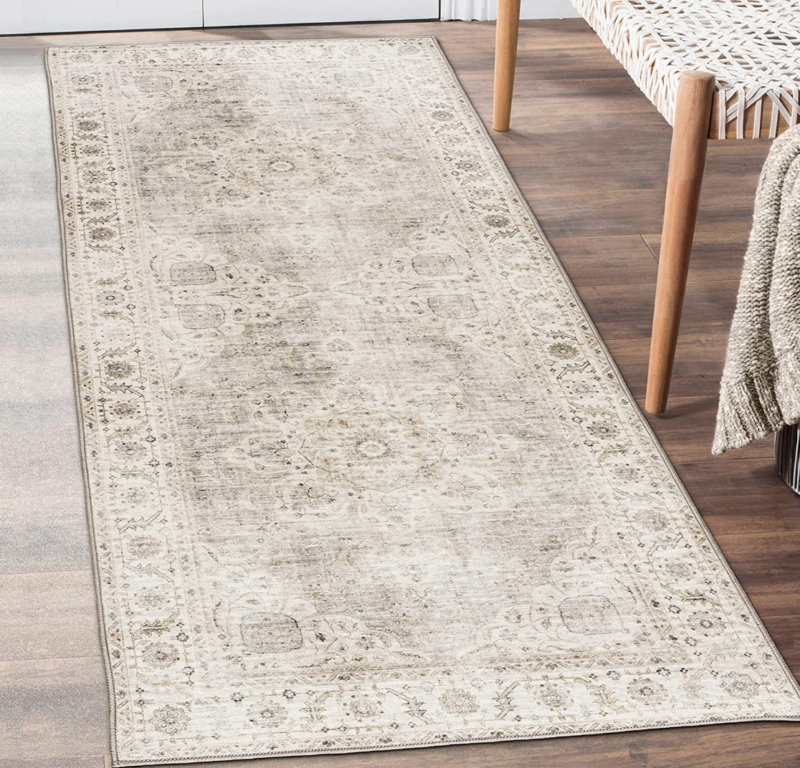 This was last week's best seller. I honestly think you can't go wrong with this rug. The colors are very much what you see here. Overall ivory with warm tones. It can go with pretty much anything, is remarkable soft and machine washable. I wish it came in larger size because it would be perfect for under our bed in our room.
SHOE RACK ON SALE
This inexpensive shoe rack is on sale. We honestly love it. There is one in our garage and I have two in a hall closet. It's sort of a pain to put together but for $21 the amount of organization it has provided has been fantastic. Plus you can wipe off the shelves. It comes in different heights for flexibility, too.
AMAZON HOME FINDS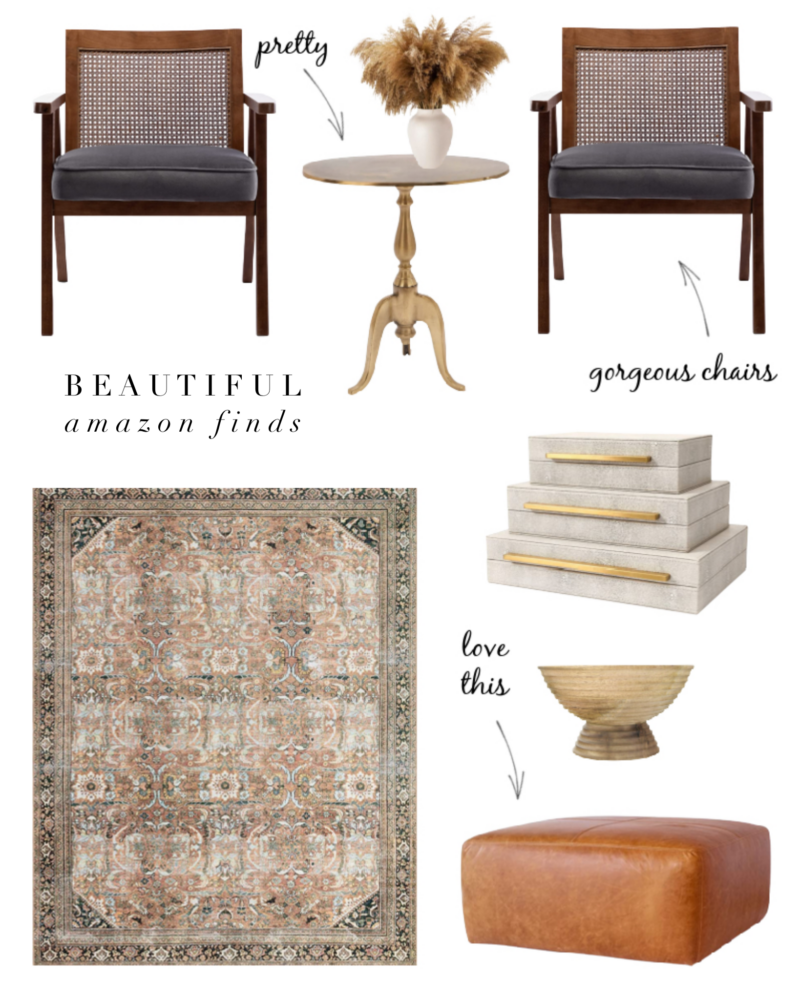 In case you missed it, I shared this pretty Amazon home finds earlier in the week.
What does your weekend hold? We are off to do a hike and then watch some hockey. Looking forward to time with dear friends as well. See you back here on Monday. Enjoy the weekend.