Our whole house is a buzz this morning because not only do we have a baseball game and a special First Communion today, but also a double digit birthday tomorrow! It's one of those special, jam-packed weekends that will hopefully yield lasting memories. I just can't believe how quickly our children are growing up. I know we are all in the same boat with time passing faster than we are comfortable with.
Today's Saturday Shopping edit is all about keeping it casual and cool for summer. I have shown you these pieces before and now I have paired them together for an all neutral look. These distressed pants are super comfy and I recommend going down one size. They are the same ones I showed you here.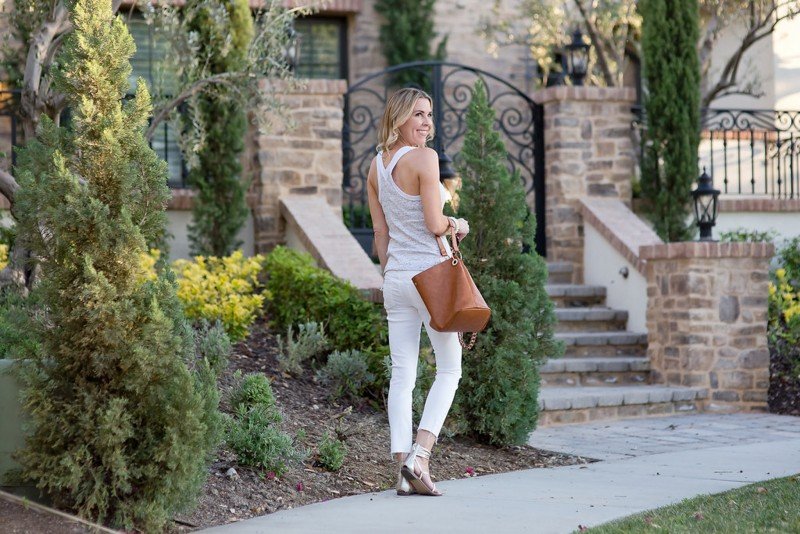 The cut on this tank top is one of my very favorites. I love the racerback cut and the way it is all trimmed out in white. I receive compliments on this each time I wear it. It comes in five different colors and they just came out with a cute navy combo.  For reference I am wearing a small with a racerback bra.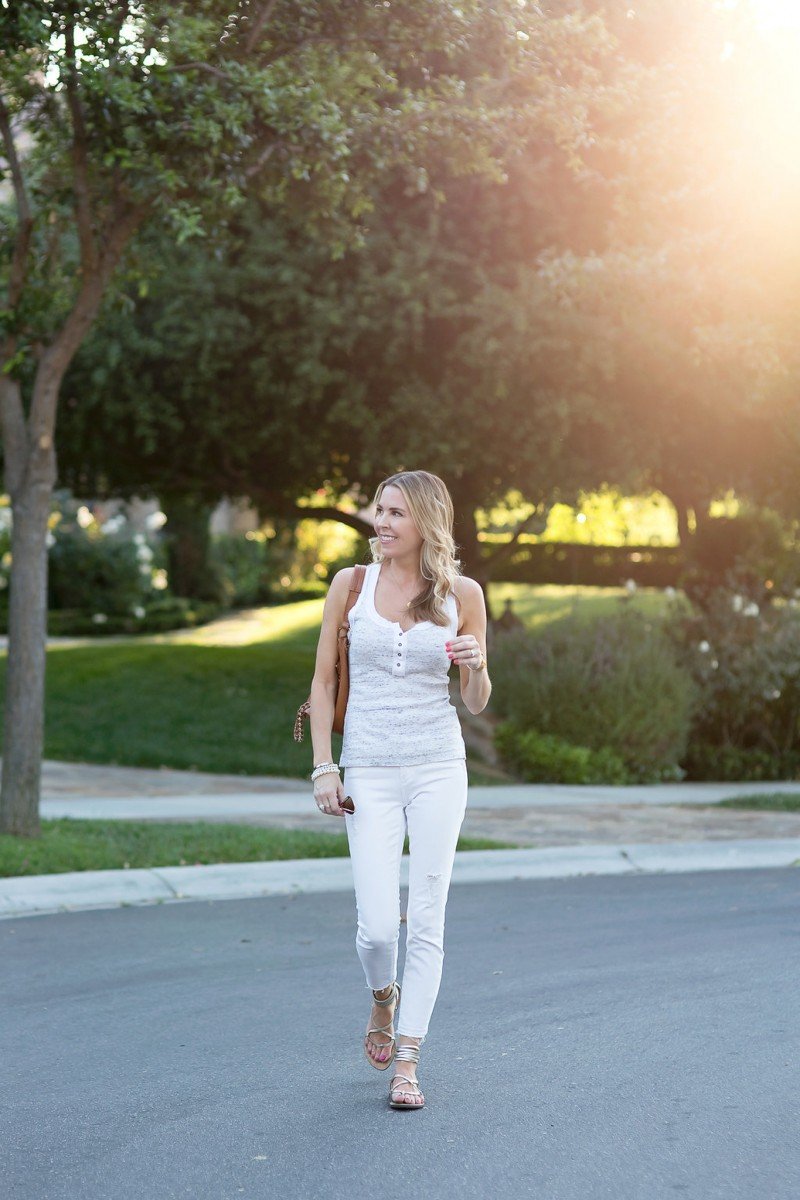 Sort of a funny story about this outfit. I help in my son's classroom with reading groups. The other day I went it at my usual time and I saw his teacher's eyes get a little big and noted my white outfit. Ummmm. Change of plans and it was time to paint volcanoes. Hilarious. Who wears all white to help second graders paint? Living on the edge! I did manage to escape without a drop of paint on me and the volcano paintings were top notch. But let's just say I don't recommend this outfit for the classroom.
Shop This Look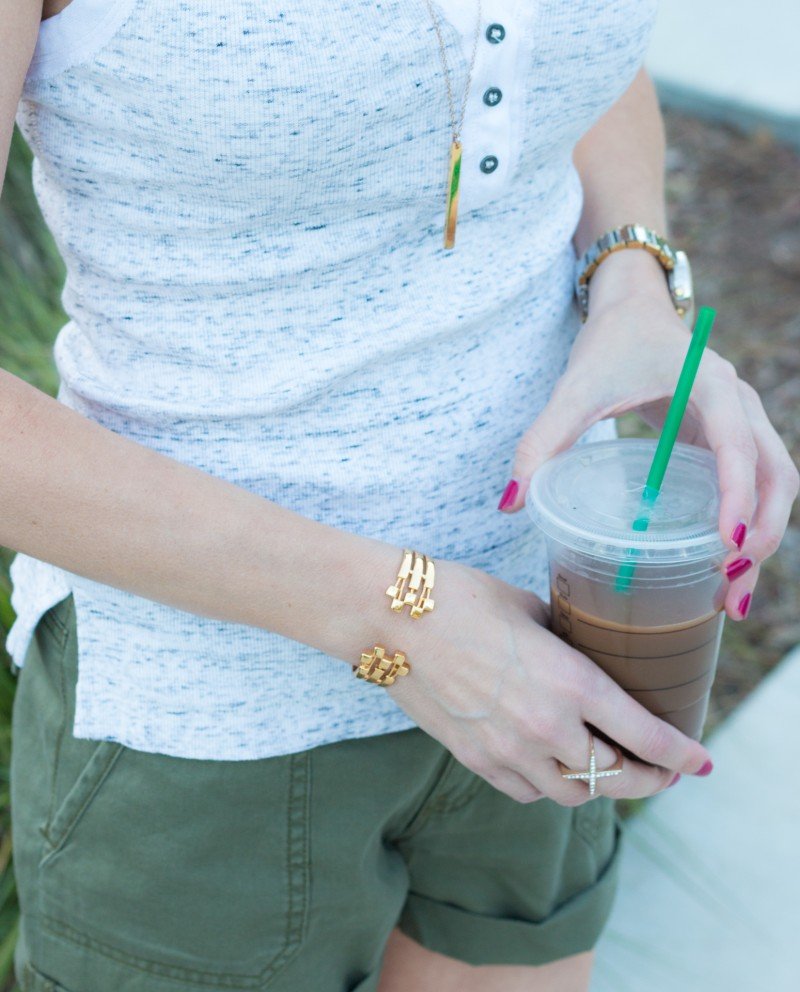 Not too long ago, I showed you this tank paired with the army green cargo shorts.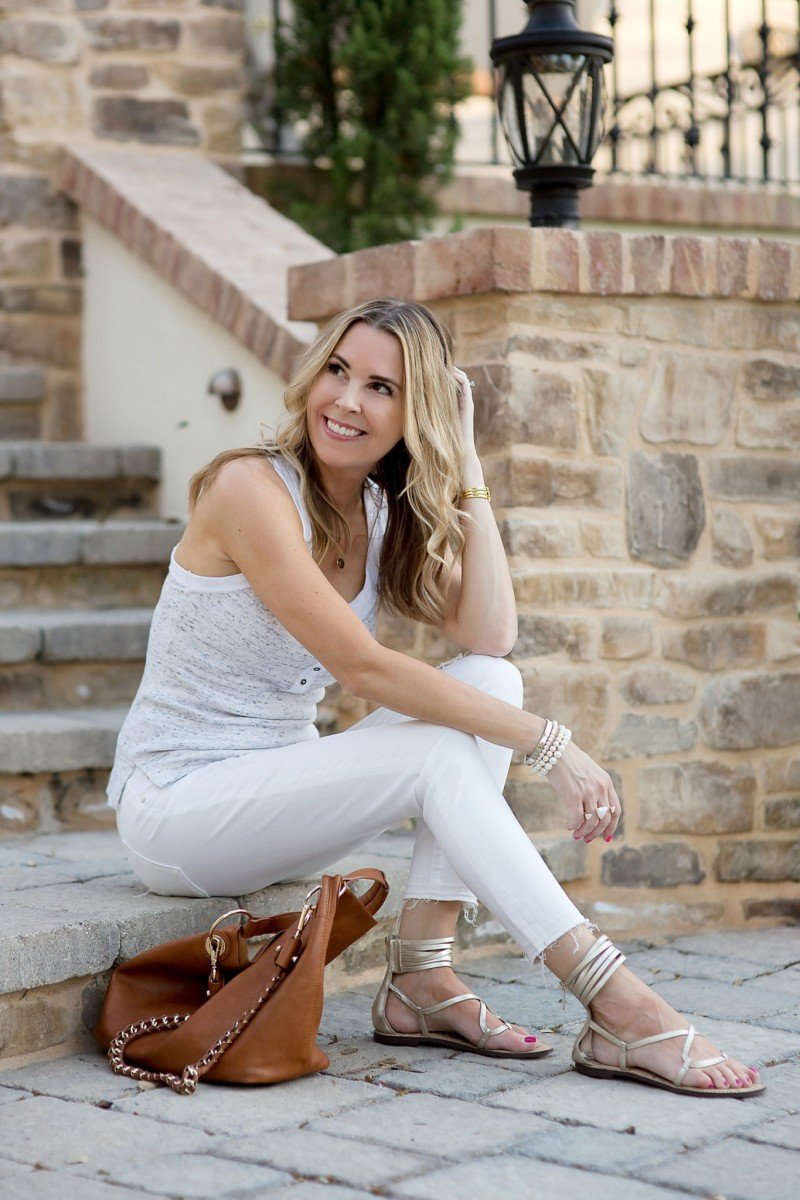 I have worn this Kendra Scott ring so many times and now it's on sale for a fantastic price. Would make a lovely Mother's Day gift!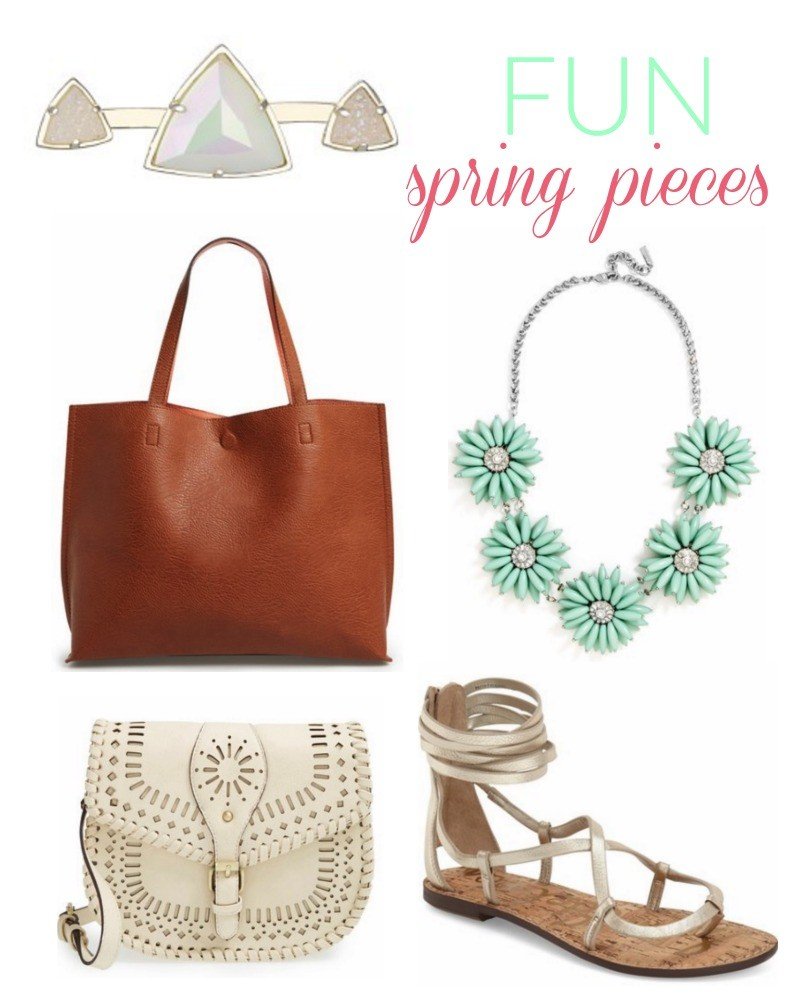 ring $110 $60| reversible tote | necklace | crossbody bag | sandals
I really love this mint statement necklace. I have worn it so many times with my denim shirt. You can see the whole look here. The tote is reversible and is always a great call. I have had one for the last couple of years. I think the cognac color always looks great.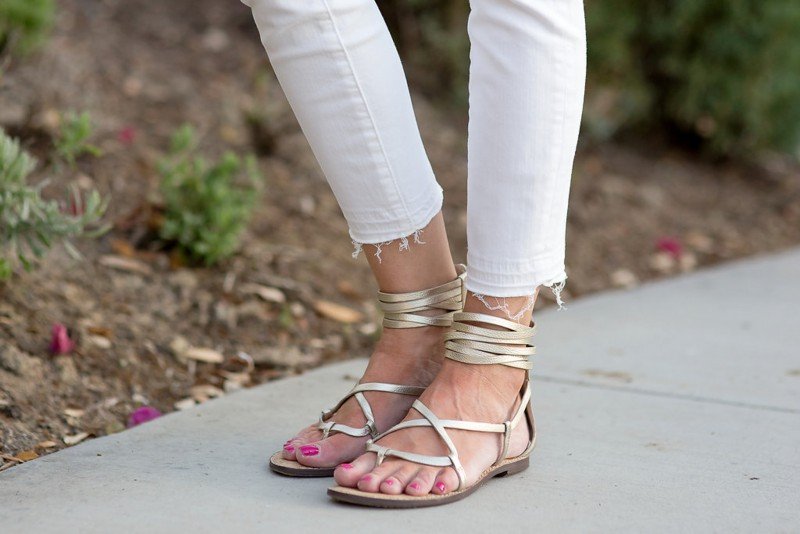 Can't say enough great things about these sandals. I have been wearing these or my tassel sandals on a daily basis. These have a nice soft sole which makes them comfy on the feet. I find them to be true to size.
Cute Summer Sandals

All such great styles for spring. These are being price matched and come in two colors.
Loving a cute romper lately and this one is adorable!!! Look at the cute scallops. I am also a sucker for a tie in the back. So so cute. I'll be showing this one on the blog soon! I also spotted this dress which is very cute.
Don't forget this robe is marked down and sooooo soft. I LOVE mine. And it would make a great Mother's Day gift. And the chemise is 40% off, too. It has such pretty detailing on the back. I have my eye on this suit. So cute in person but have not tried it on yet.
button down 65% off  |  favorite tank 30% off  |  off the shoulder 40% off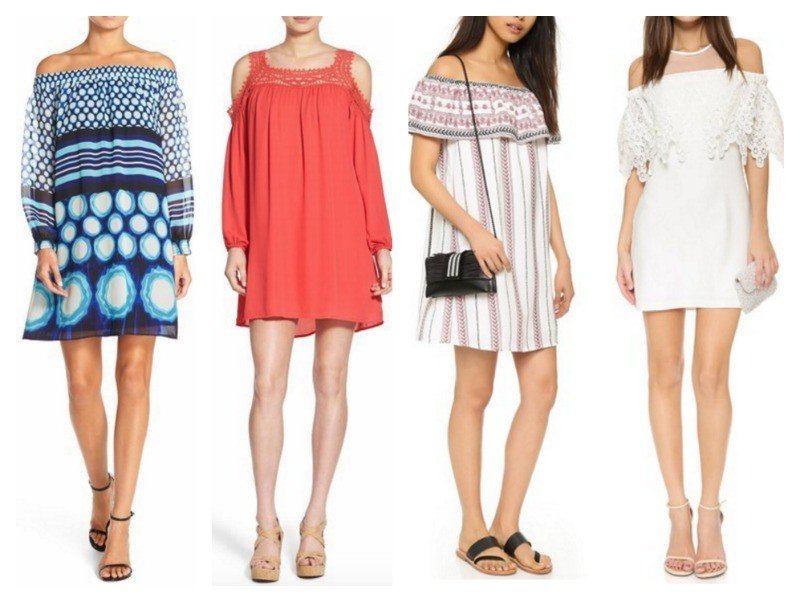 And with the off the shoulder trend so hot right now, these are all great buys. All under $100 and so cute.
Shop These Dresses

Other Sales Around Town:
Loft: Extra 60% off sale prices. That makes these shorts less than $15! And this beautiful dress is less than $40.
Anthropologie: Extra 25% off sale items.
Pottery Barn: 20% off bedding. Plus free shipping.
Sole Society: 30% off so many styles.This little clutch is only $12.
Gigi of New York: Receive 20% off with code: GIGISPRING I've been carrying this clutch a lot.
Enjoy your weekend! We are headed to the baseball field and then to celebrate our sons' First Communion. Special day for sure.
Photos via Gabi Wells
*affiliate links used