Good morning! I want to hug everyone who left such a nice comment yesterday. Plus I am over the moon about all of the photo storage ideas. I may even create a post with all of the great ideas. Today I am thrilled to bring you a Spring Ahead Style. It's neutral, feminine and perfect for transitioning into Spring months. Plus you can dress it up or down which is always a win.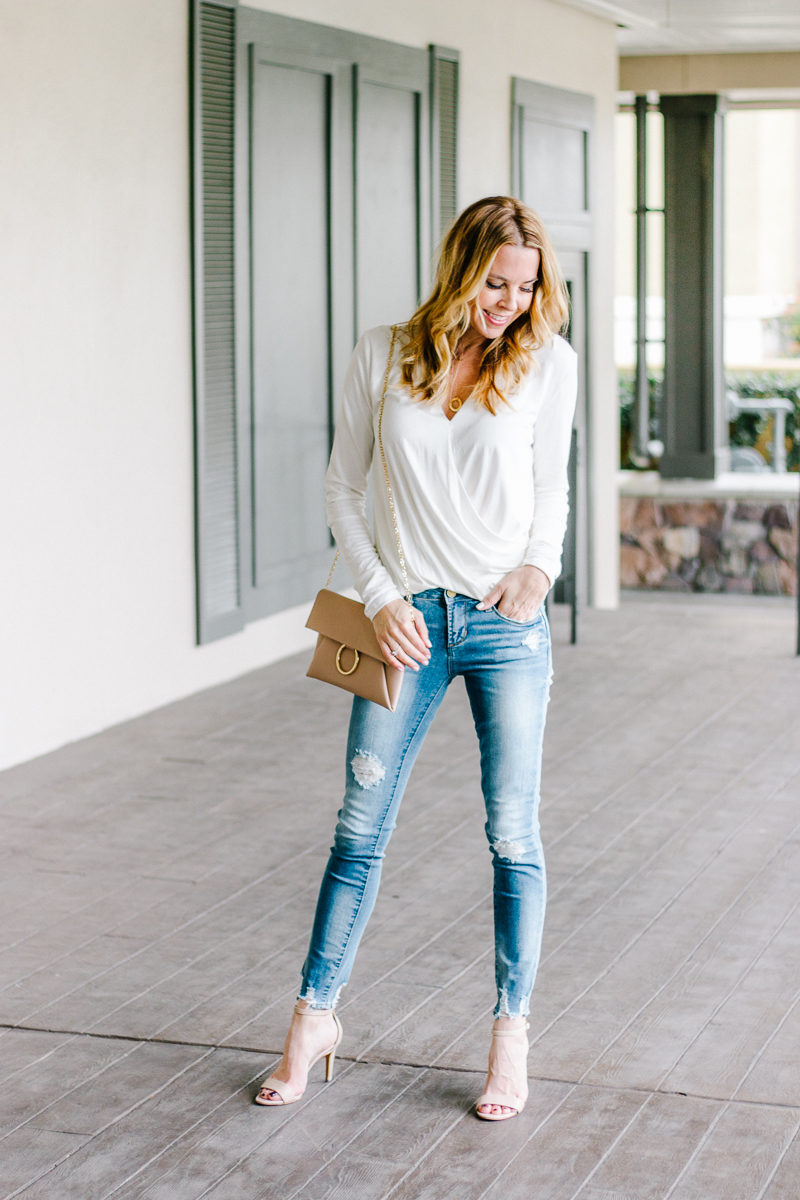 This is one of my favorite looks for a date night. Do you remember my gray top like this? I was so excited to see this style again this season. The brand is different and the fabric a bit dressier. Plus it's not too short in front which is awesome. I have a small bit of it tucked in but you can definitely wear it out. And ladies, let's be honest. Any time a top drapes in front it's very forgiving. It comes in a few colors, too. If you go with the ivory be sure to wear a nude bra under it.
FEMININE STYLE
When I saw these jeans online I wasn't sold but as soon as I tried them on I was hooked. Articles of Society always keeps the price down and the comfort level high. I have worn this brand for years and I am always happy with how they wash and dry. The ankle distressing adds something fun and keeps it edgy. They look super cute with heels or sneakers. I'll be wearing these a ton. They run true to size.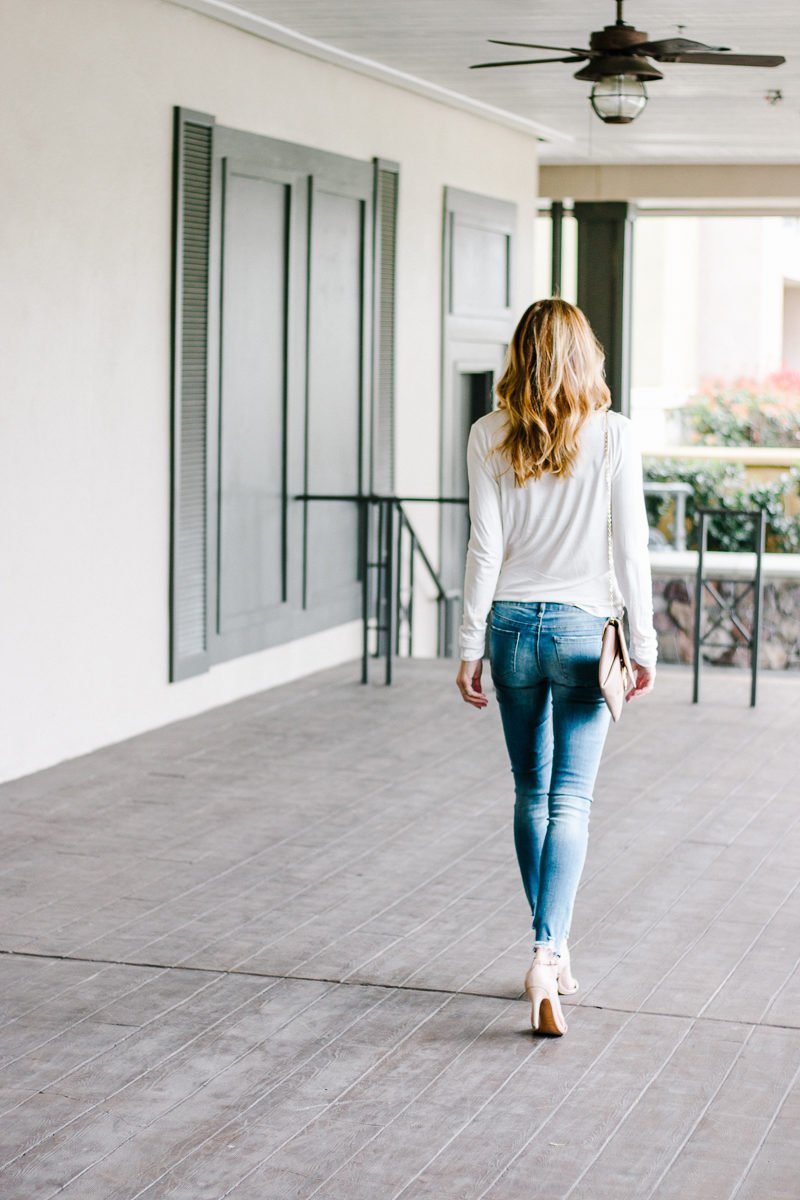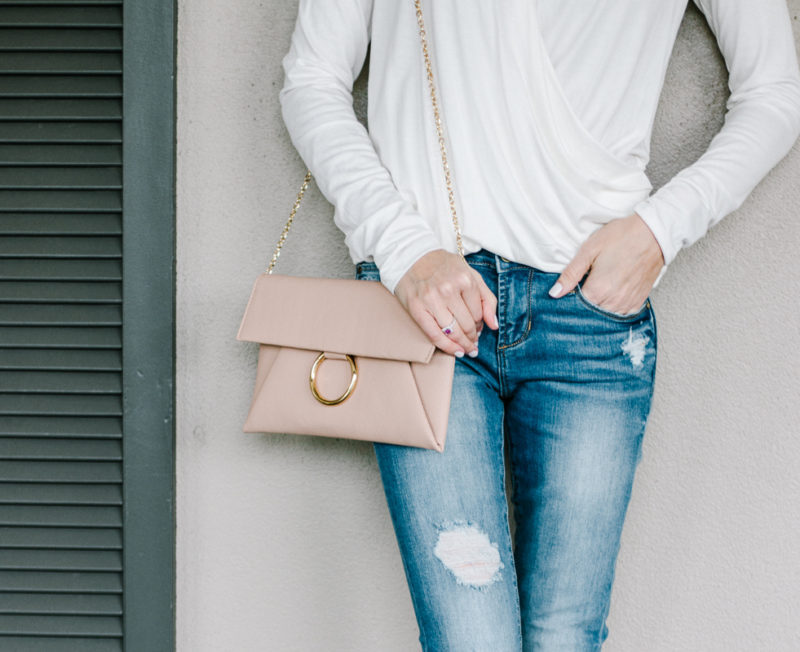 This handbag is so cute. As soon as I saw it in store I grabbed it. I don't have good neutral clutch that is a tad more dressy than my everyday leather one. I love that I can wear it with the gold chain or without. When it's only $29 that is even better.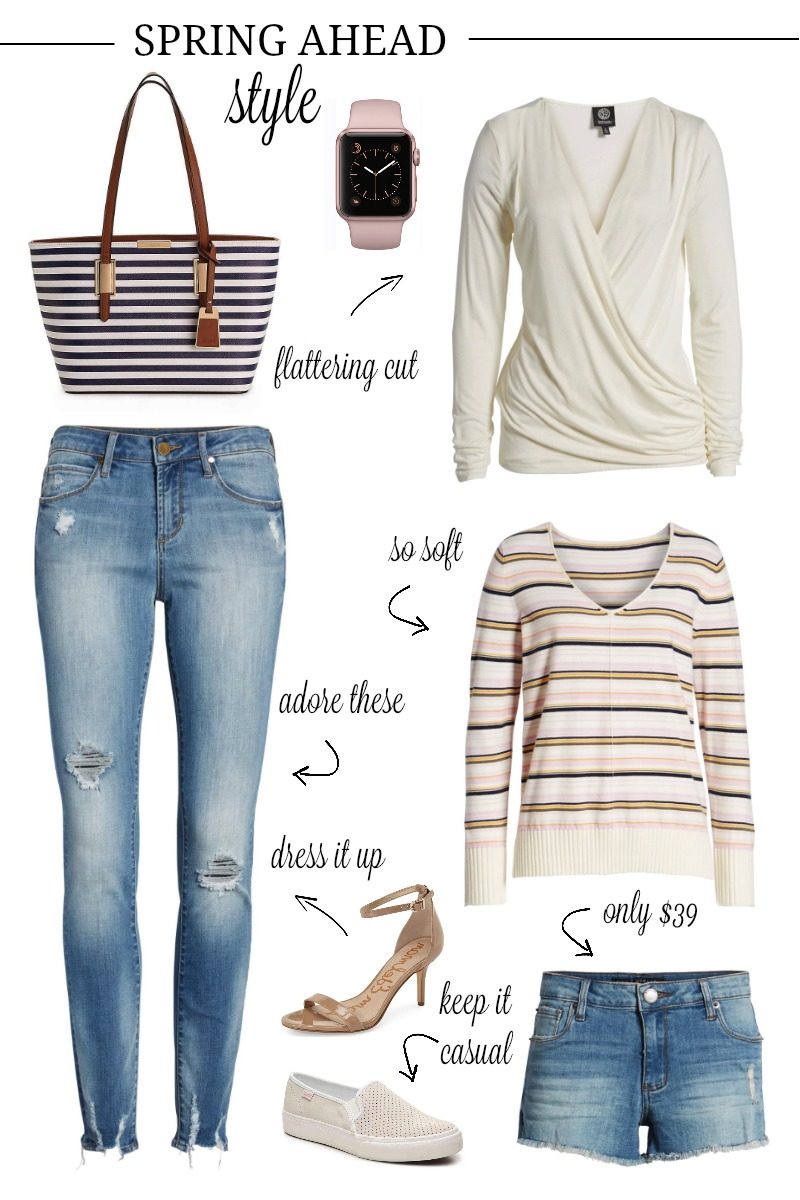 tote | watch | ivory top | jeans | striped top | heels | sneakers | shorts
Here is sneak peek of more styles coming your way. The sneakers are 100% comfortable. Is that even a thing? I put them on and told my husband I wish I had them when we walked all over Washington, D.C. They are that good. The navy and white striped tote reminds of my Barrington Gifts bag but is only $40! So cute for the warmer months. Carry that when you are wearing you white t-shirt and denim shorts and you instantly looked pulled together.
SIMILAR LOOK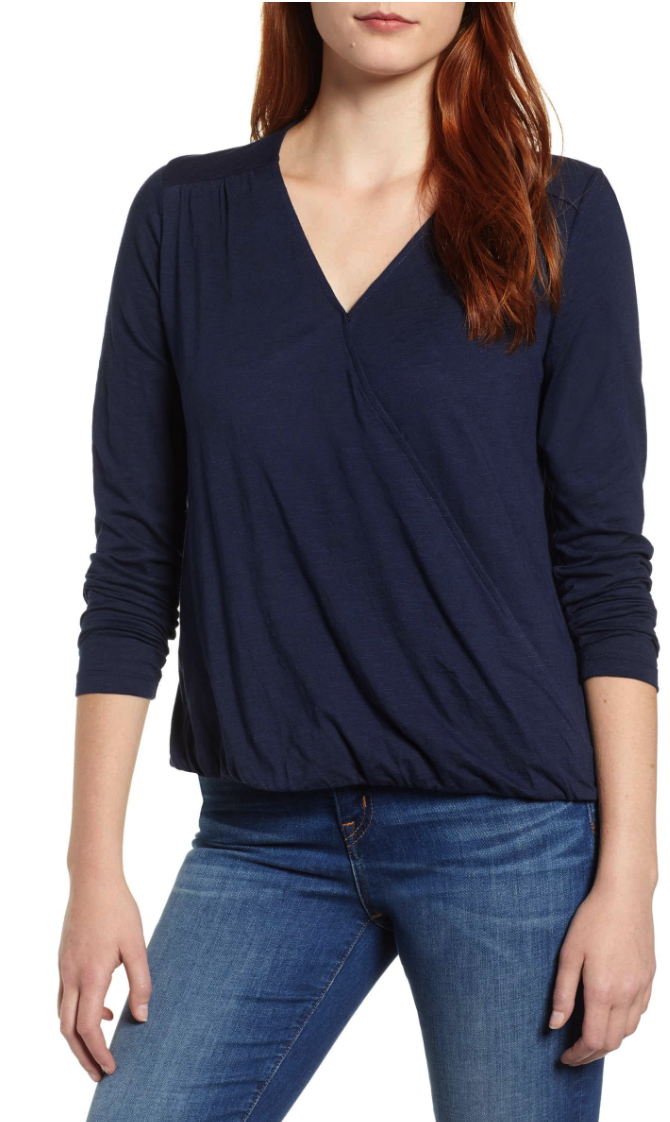 I noticed this top is on sale. Definitely more casual but a very similar look.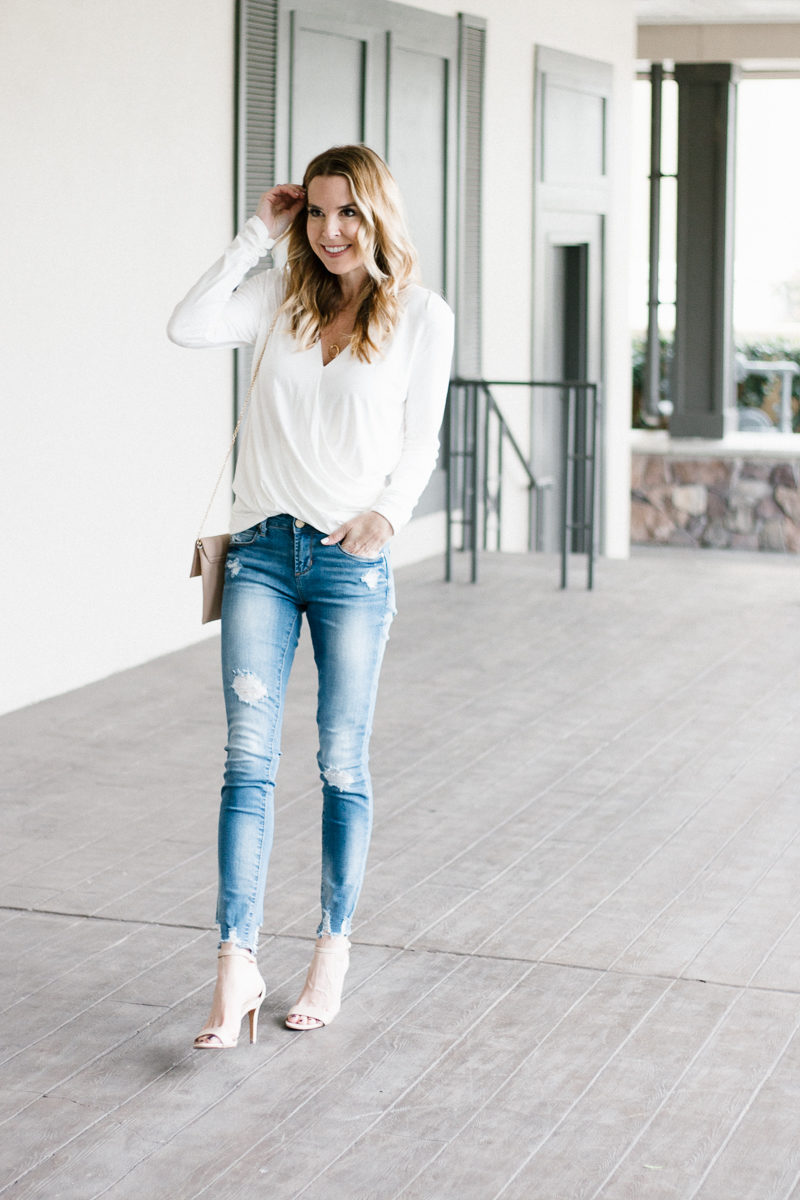 If you look closely, the wrists on this top have a ruching detail. I love unique feminine touches like that.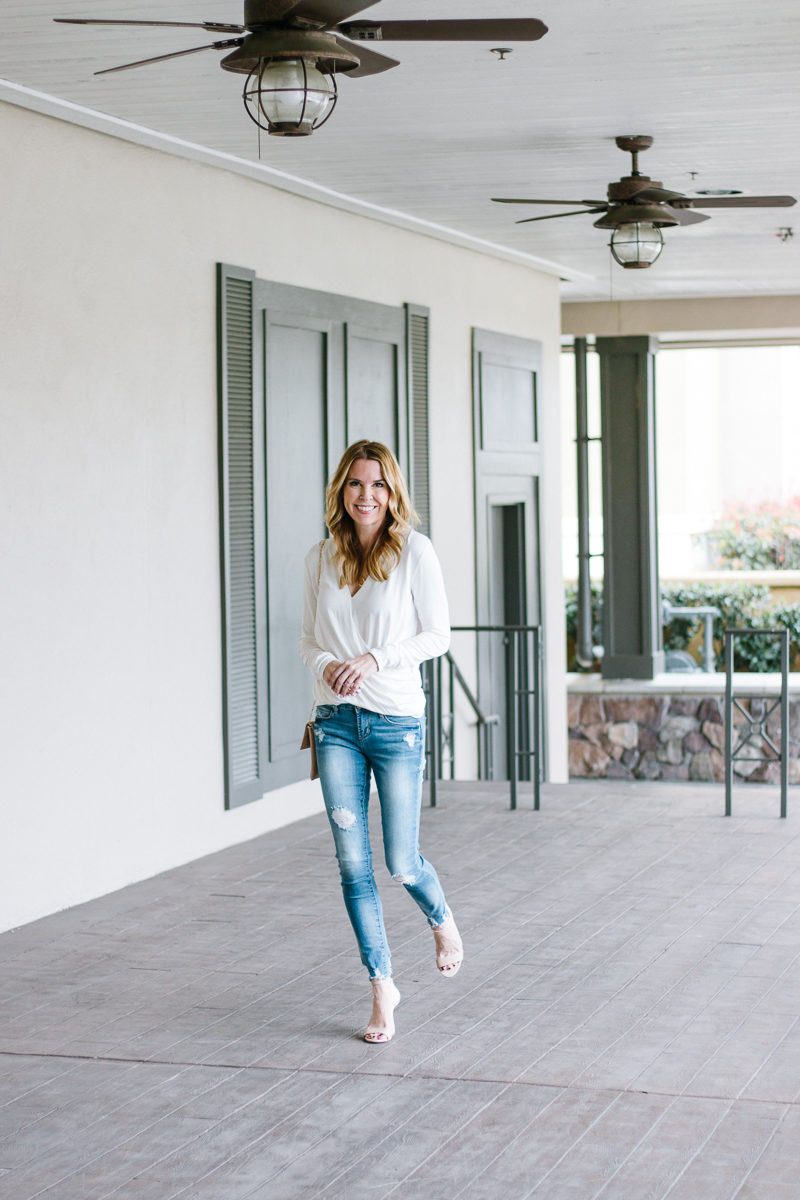 Did you all happen to catch this top from yesterday? Madewell tops are rarely price-matched so snatch it before it goes back up.
What's your plan for today? I am forcing myself to stay home and get things done. If you submitted your dining room and have not heard from me, you will today. I'll be seeing my mom tomorrow which means I can try to be very productive today.
Enjoy the day, my friends.