Good morning! So excited to share our trip to Vail with you. While we had been to Colorado before, we had never been to Vail. What a beautiful, beautiful place. Without question, one of our favorite places we have been. Here is a look back at our trip.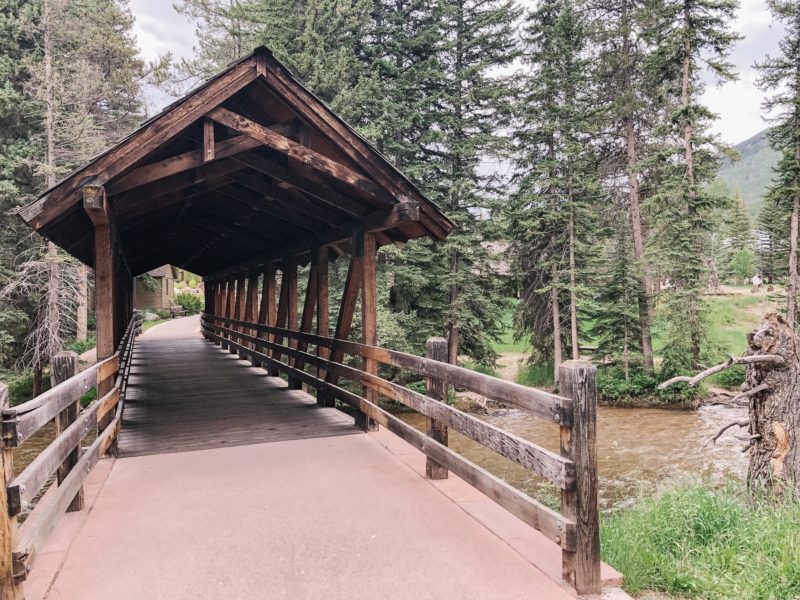 WHERE WE STAYED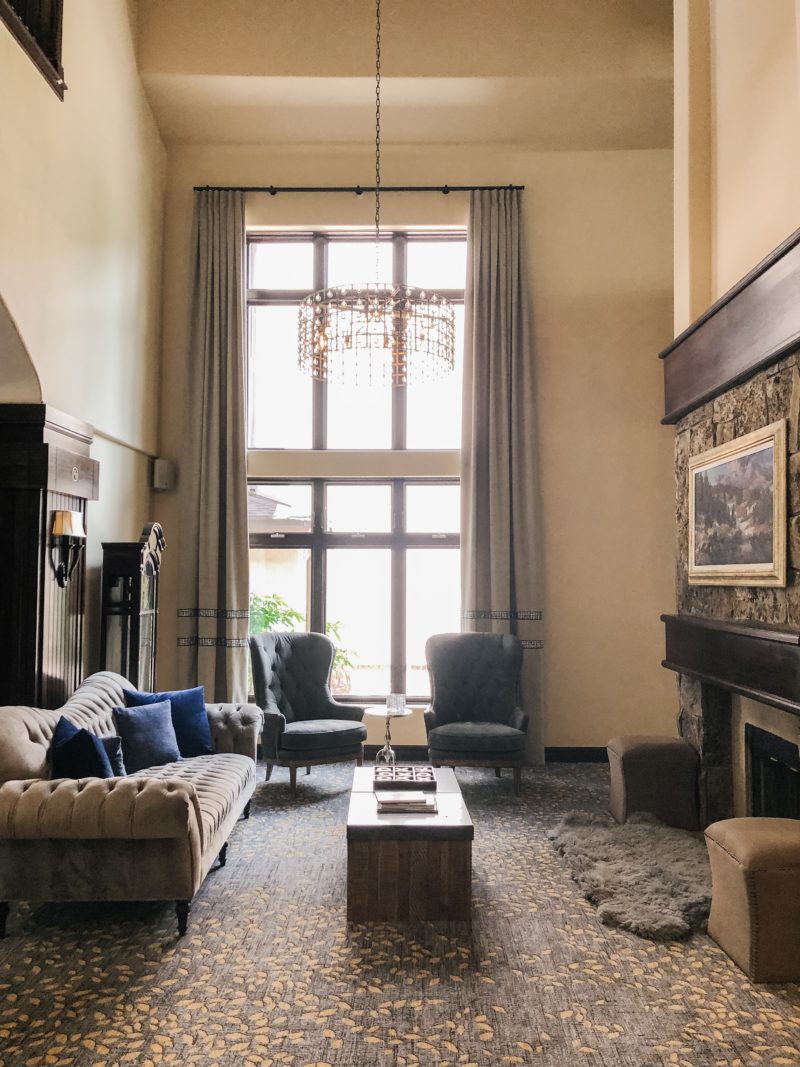 After landing in Denver, we used Epic Mountain Express to get to Vail. It was a two hour drive. We loved staying at Manor Vail Lodge. All of the condominiums are privately owned so each one is slightly different. It's located directly next to Chair 6 which puts you at the Back Bowls and Blue Sky Basin in no time. We loved that it has a free shuttle service to take you into town which makes it possible to do the trip without renting a car.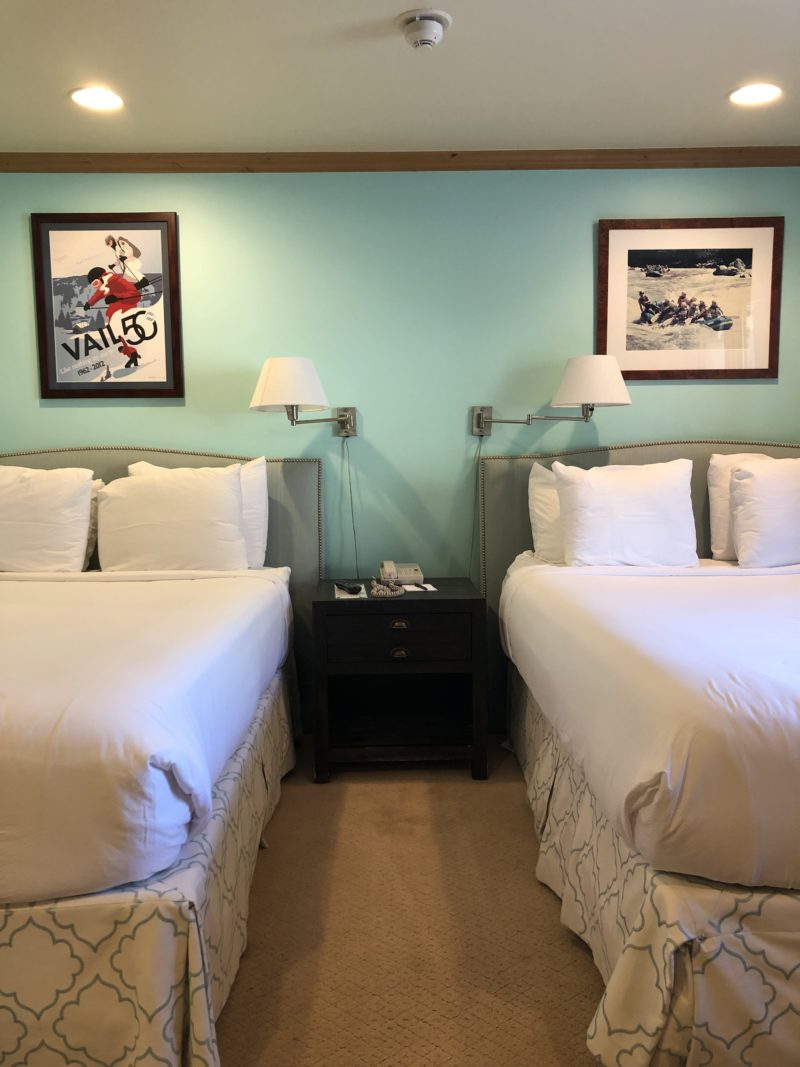 The rooms were spacious and really comfortable. The kids were in heaven with their own beds.
THE GROUNDS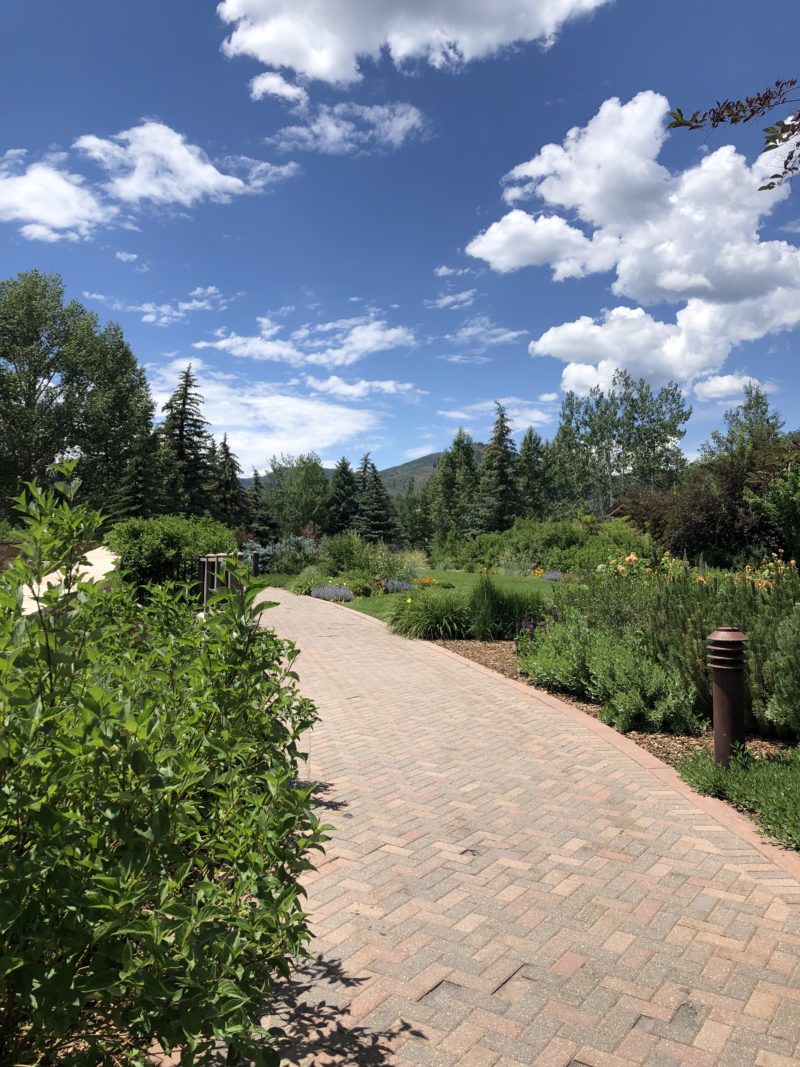 What makes Manor Vail Lodge absolutely amazing are the grounds. Everywhere you look you are greeted with greenery and flowers. Plus Ford Park and the Betty Ford Gardens.
WHY GO IN THE SUMMER?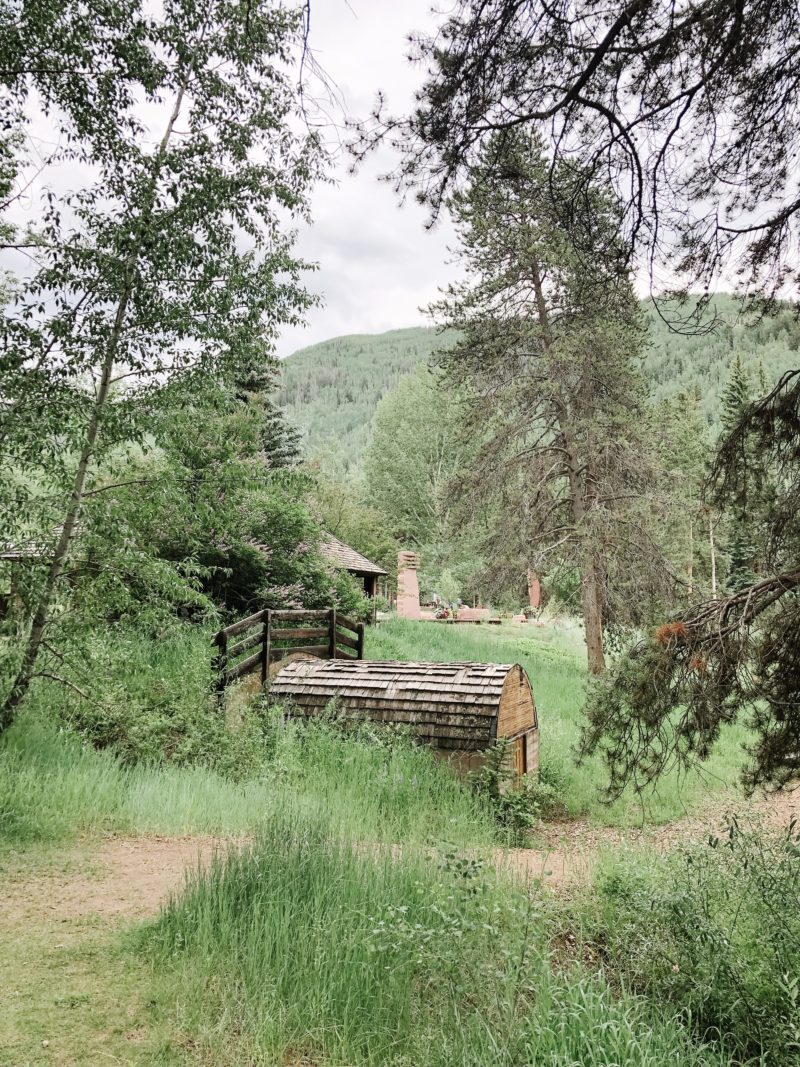 When we would mention to friends or family that we were headed to Vail, Colorado the response was almost always, "Oh. In summer? Is there still snow?" I think most people assume it's an incredible place to ski and that's it. Until we would talk with someone who had been there during the summer months and their faces lit up. There is so much to do it's incredible. Plus it's absolutely stunning.
WALK TO THE VILLAGE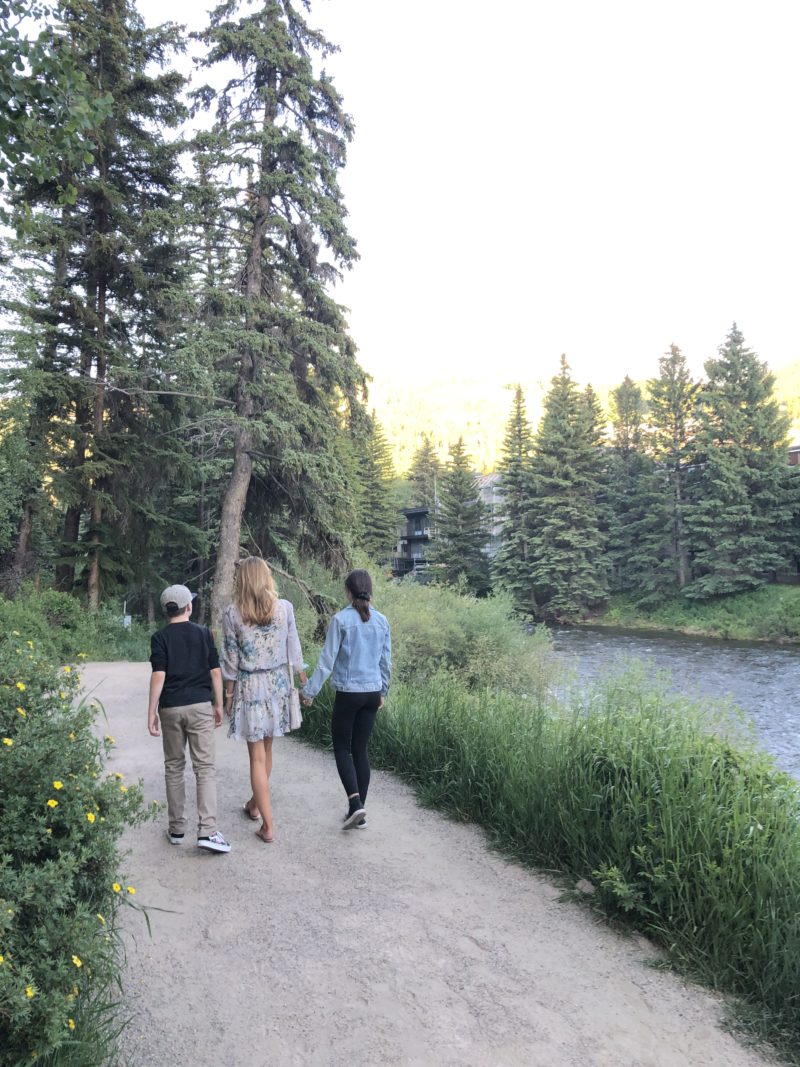 It was a quick 5-10 minute walk to Vail Village. It's lined with darling shops and fun restaurants. Plus Gore Creek runs through the Village making it so picturesque.
BŌL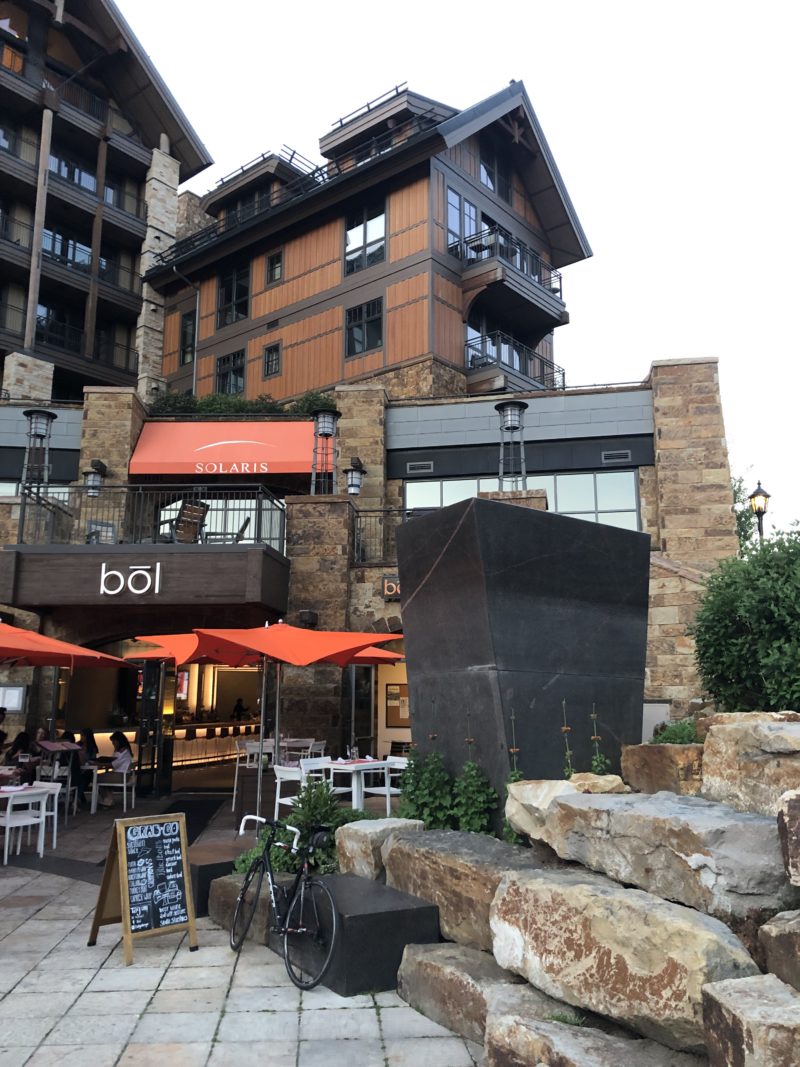 The Shops at Solaris is a great spot for the evening. Live music, restaurants and shops make it a great spot for families to hang out. The first night we went to Bōl for dinner. Great food with upscale bowling lanes.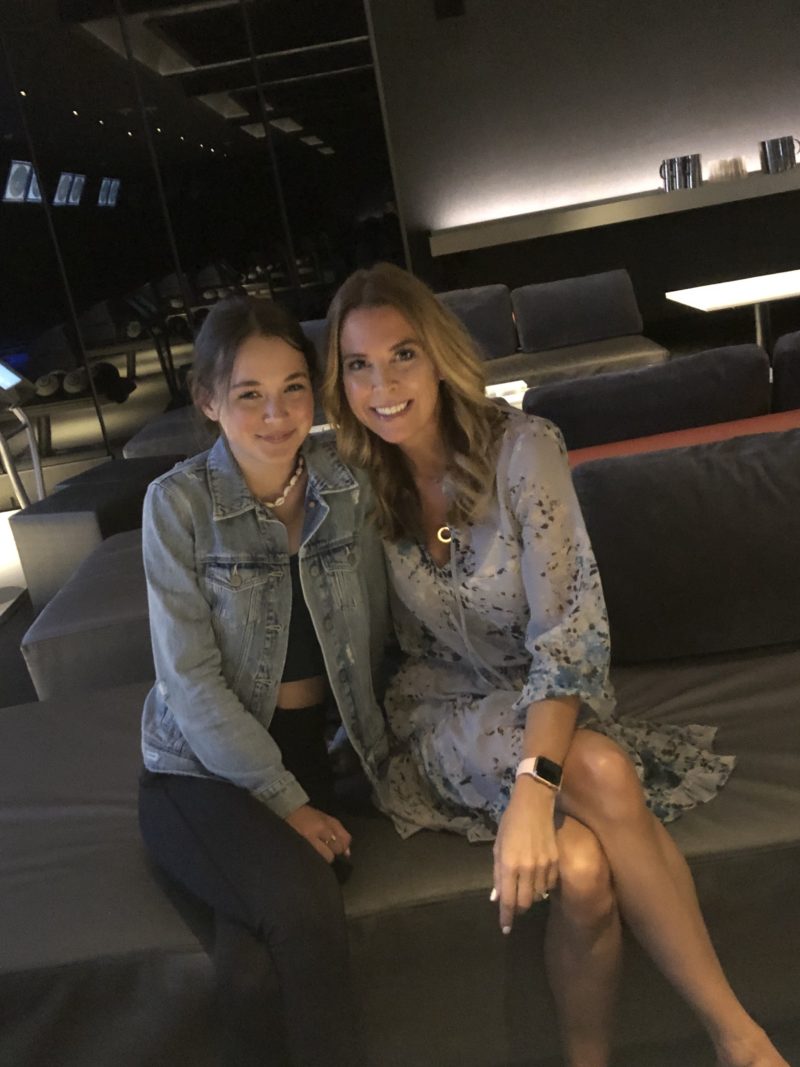 Love this girl and her adventurous spirit. We had so much fun exploring Vail and trying new things every day.
In the center of the shops their is a large open area to play Corn Hole and Ping Pong. It was a fun spot to meet other families and just spend time together.
ICE CREAM TREATS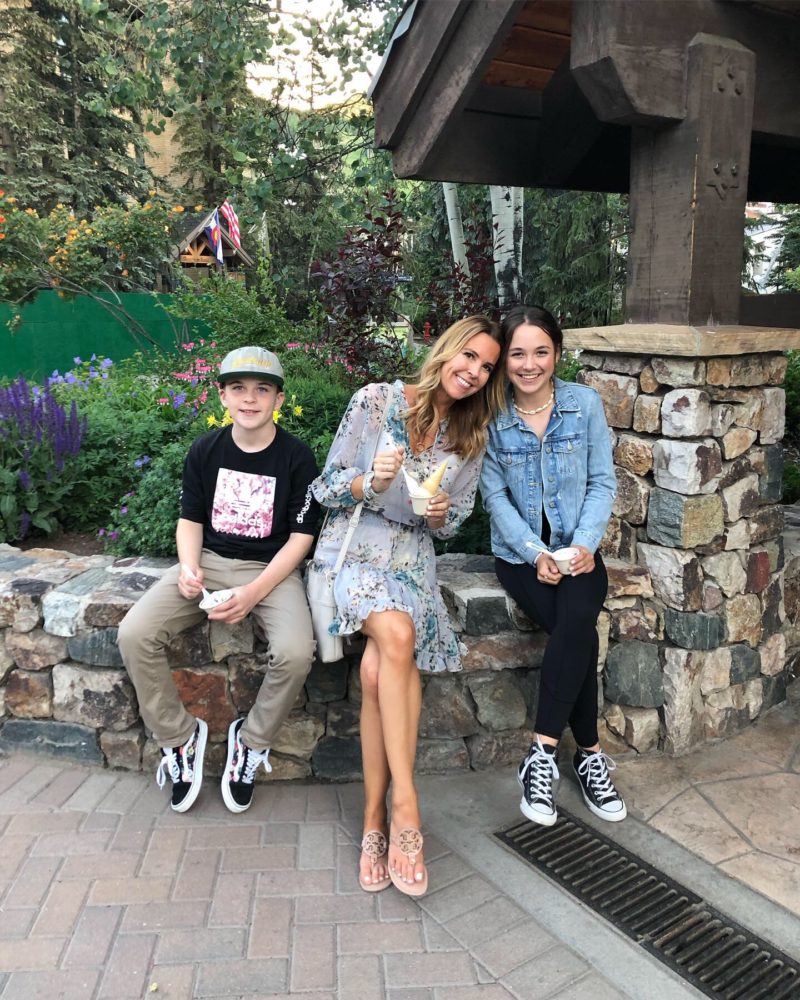 Of course ice cream is always a good idea and Sundae Ice Cream did not disappoint. The flavors are unique, different and beyond delicious.
EXPLORING THE VILLAGE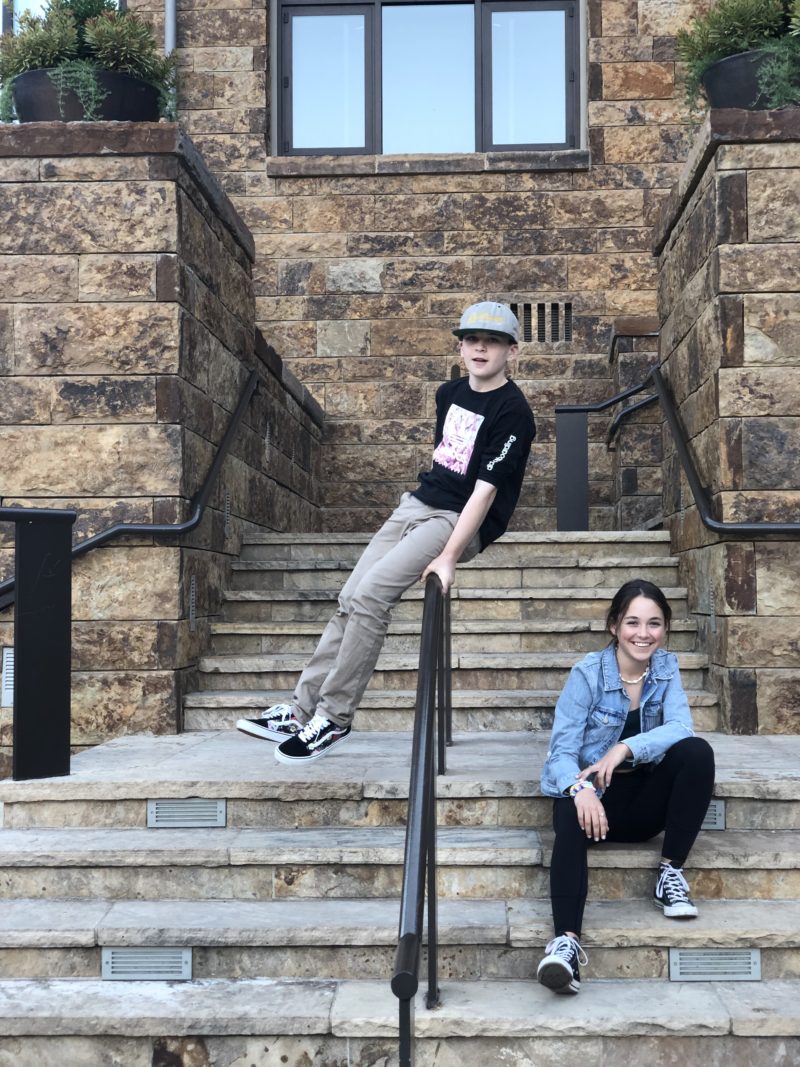 These two are at such fun ages for exploring new places. Plus they are old enough that they can walk around on their own a bit. Our kiddos have been through a lot over the last year or so and just running around being kids was what they needed.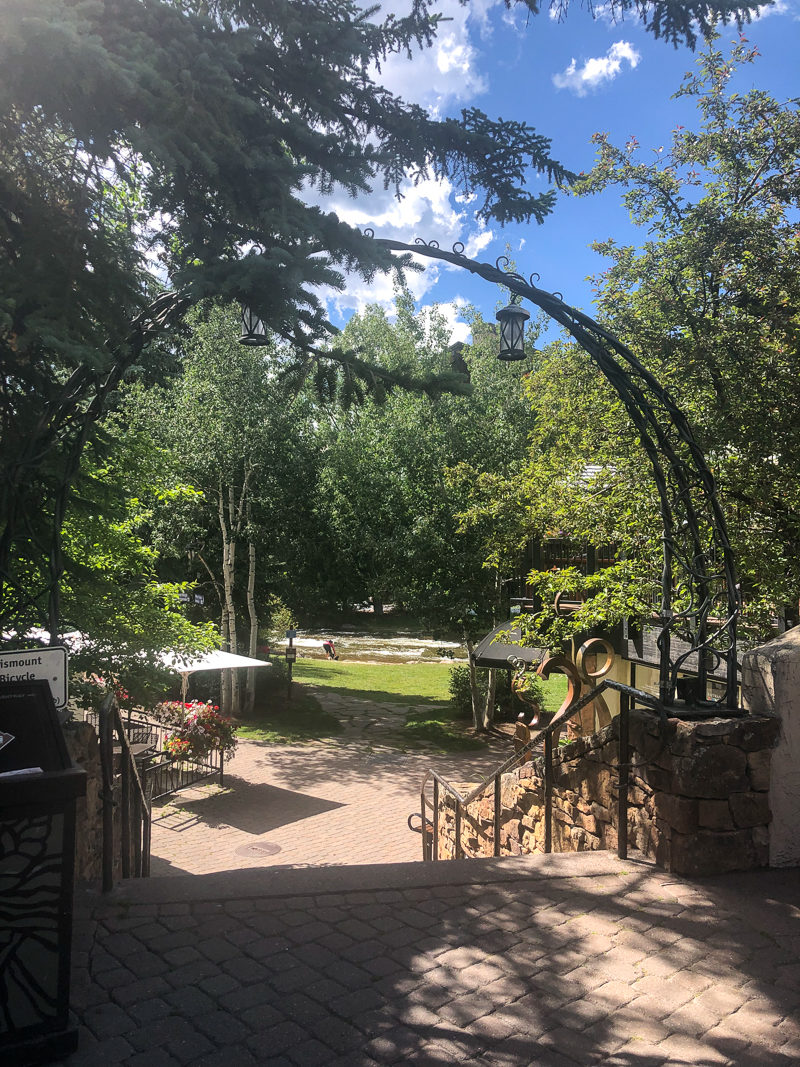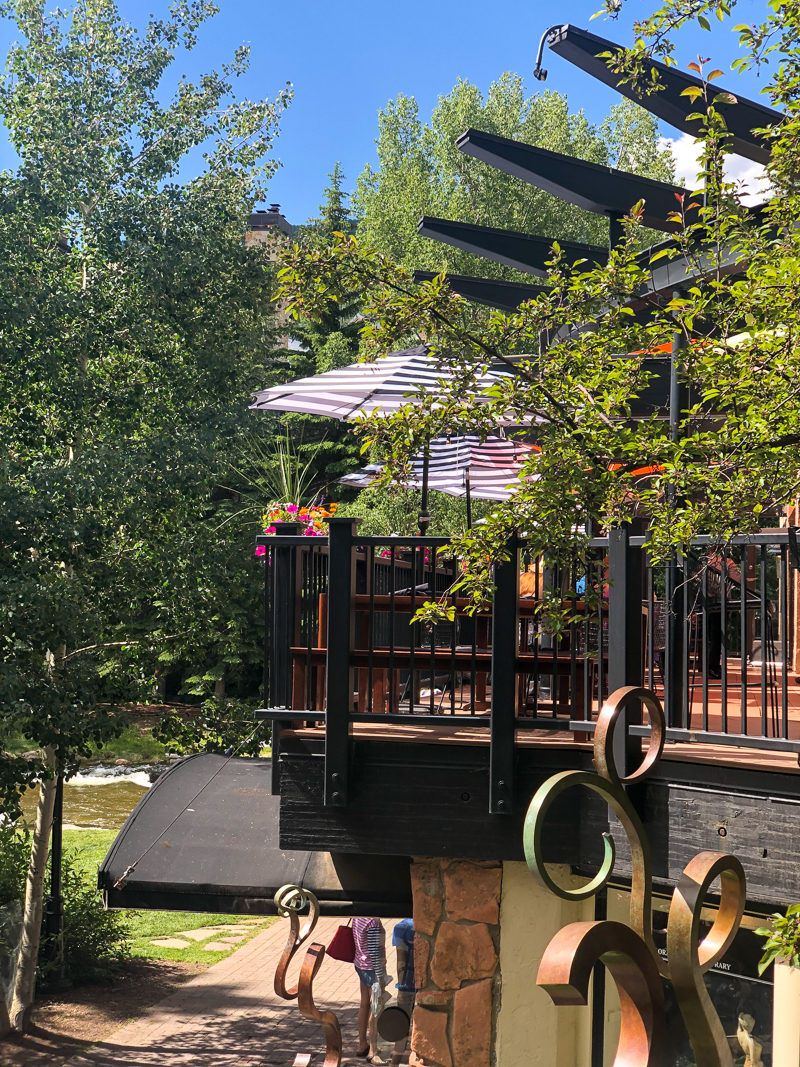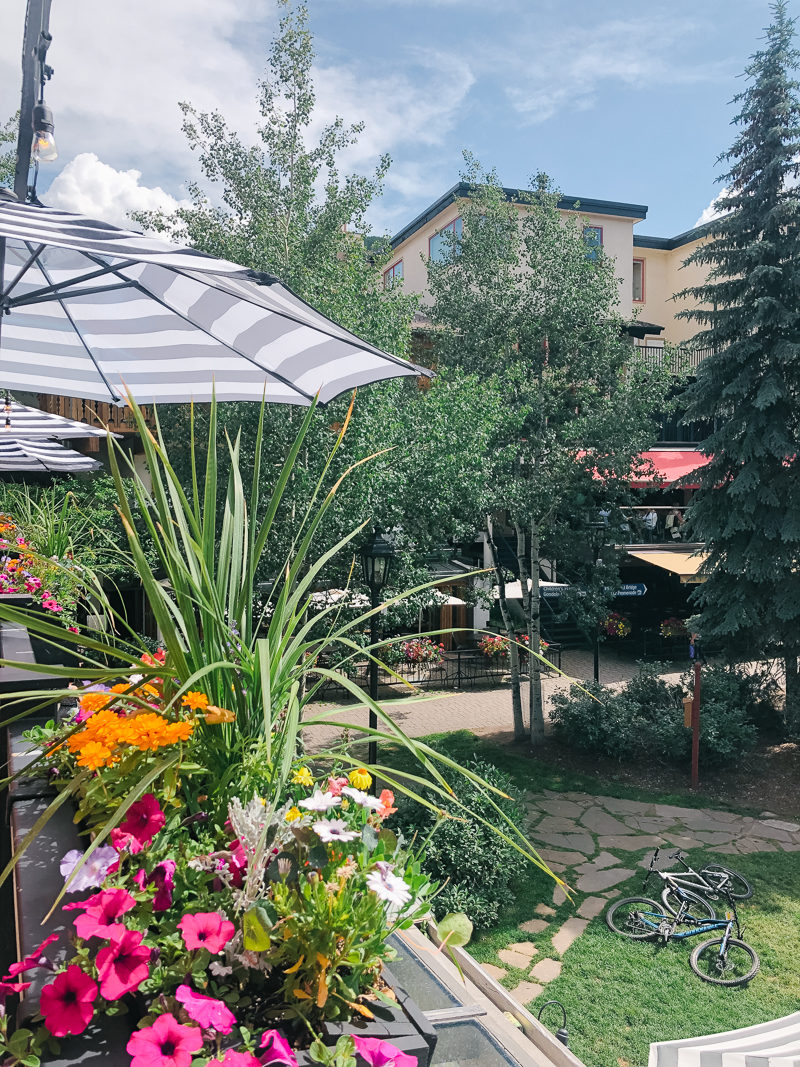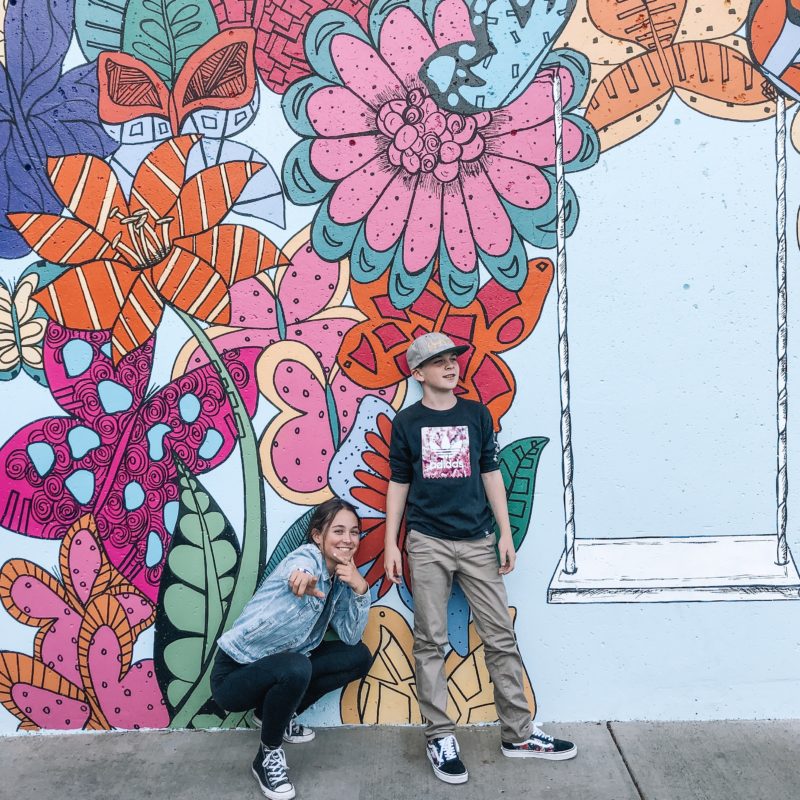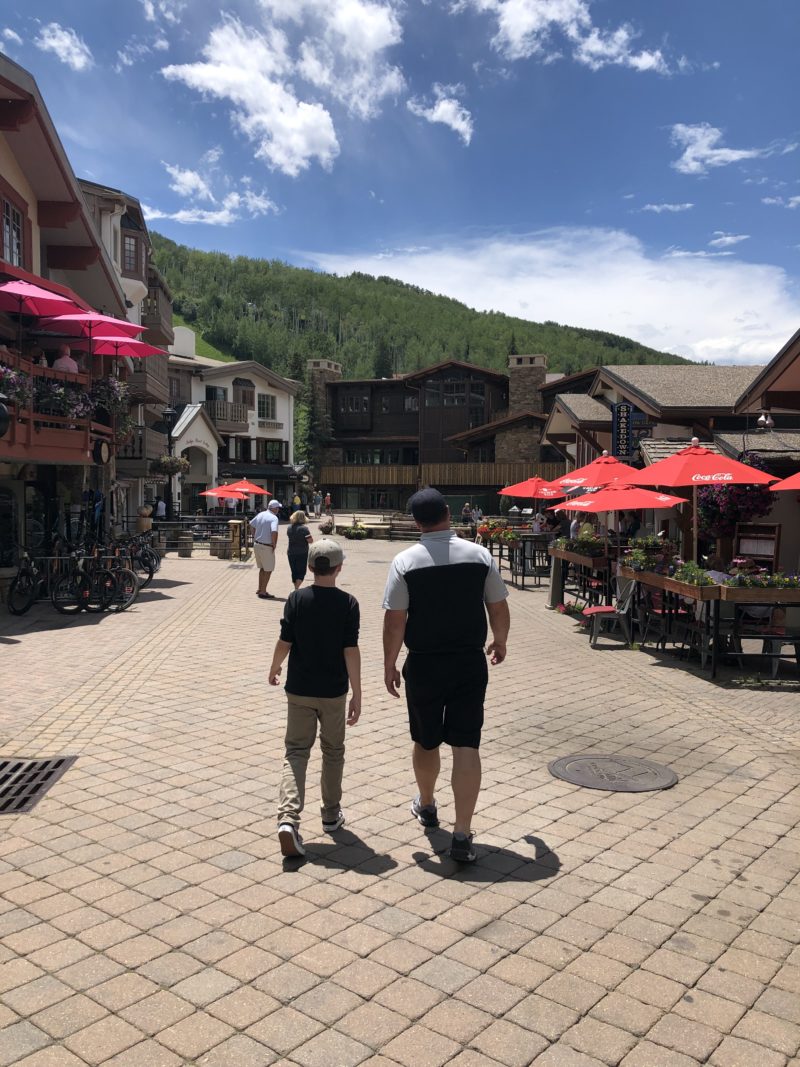 BEAUTIFUL NIGHTS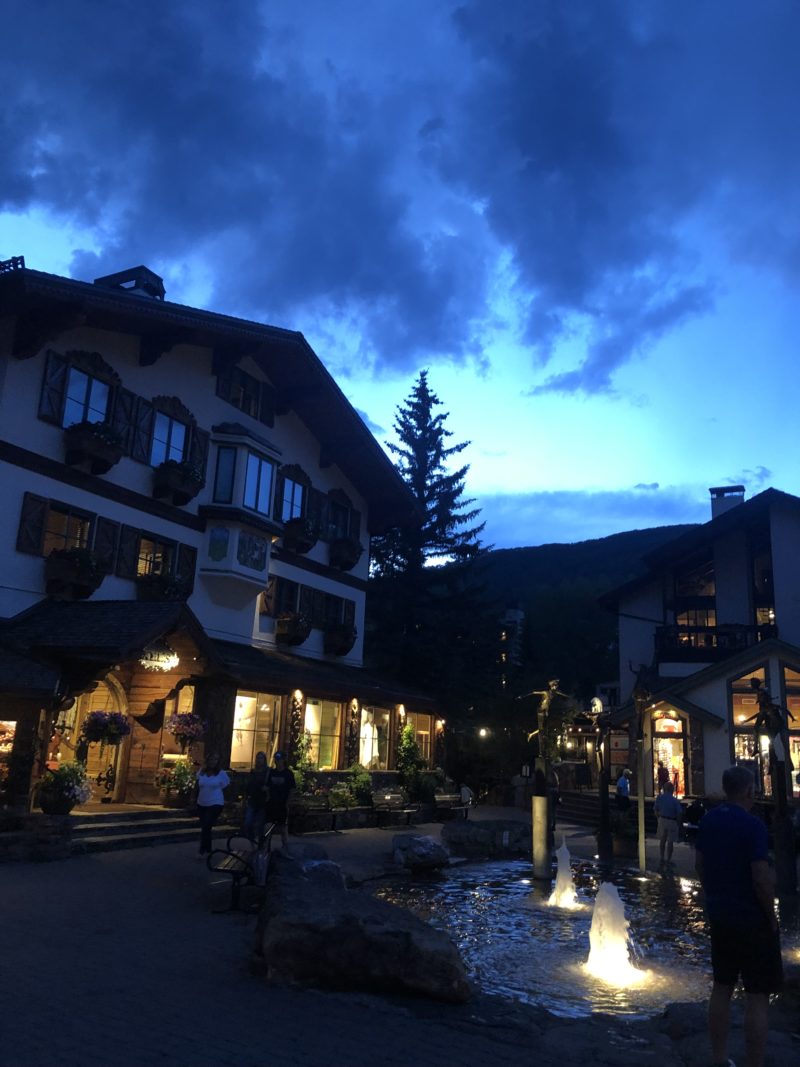 The summer evenings are beautiful. Perfect weather and the village is lively and fun.
EPIC DISCOVERY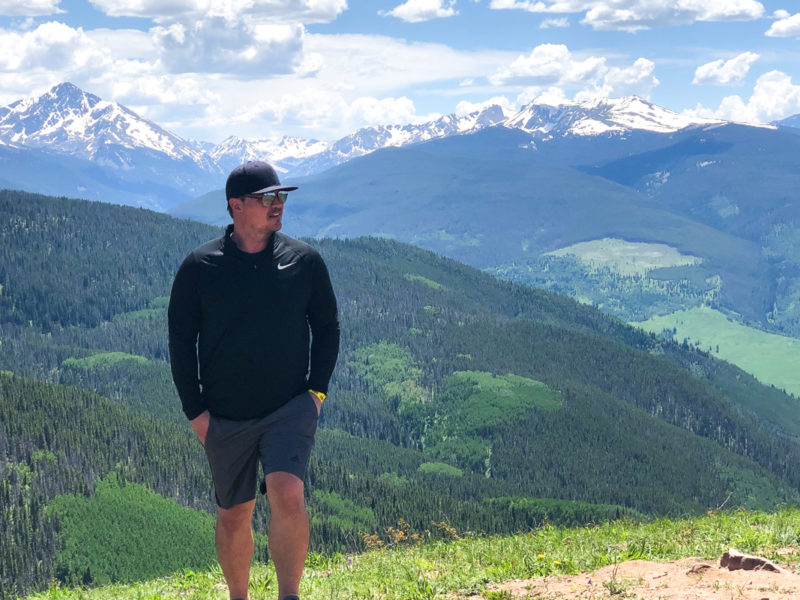 Time for adventure. Our first full day was spent Ziplining. None of us had done it before so it was definitely new territory. I could not have imagined it being as beautiful as it was. The forest floor paired with the snow-capped mountains was straight out of a painting.
ZIPLINING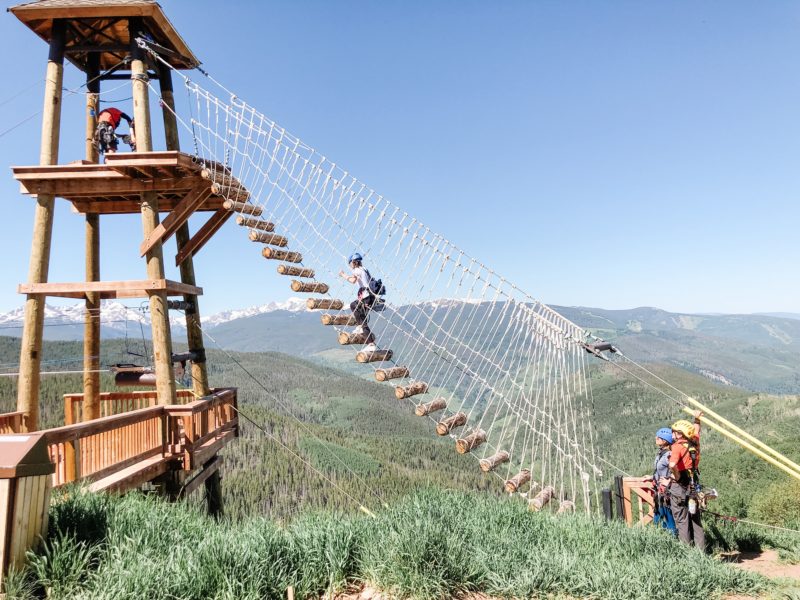 To get to the first tower we all had to climb this rope ladder. Not gonna lie. Definitely unnerving. Our guides were fantastic though. So thorough and encouraging. They worked hard to put us at ease.
OVERCOMING FEARS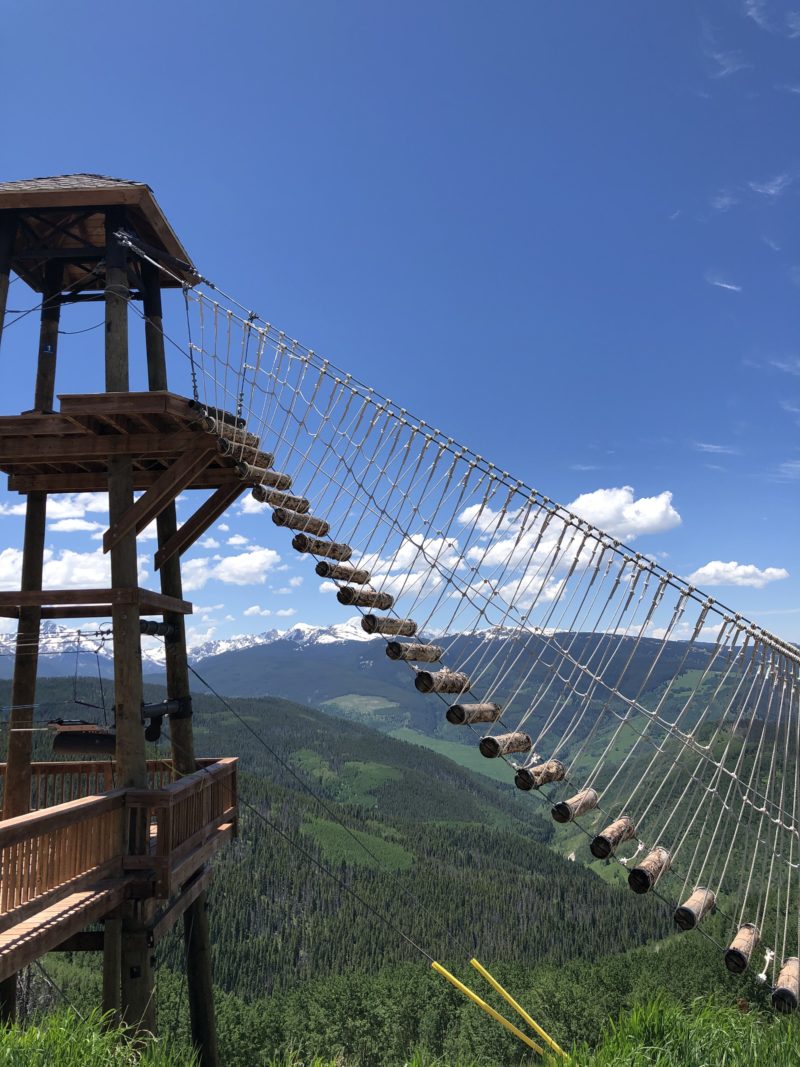 I have a fear of heights so this was well outside the box for me. But I wanted to do it and work past all of that. This was a morning I will never forget.
Our children LOVED it. In fact there biggest issue was waiting for Mom and Dad. Love to see them try new things and explore this beautiful world.
There is so much to do with Epic Discovery. There is a mountain coaster, tubing, bungee trampoline, adventures course and more. Great place to spend an afternoon.
FREEDOM TO ROAM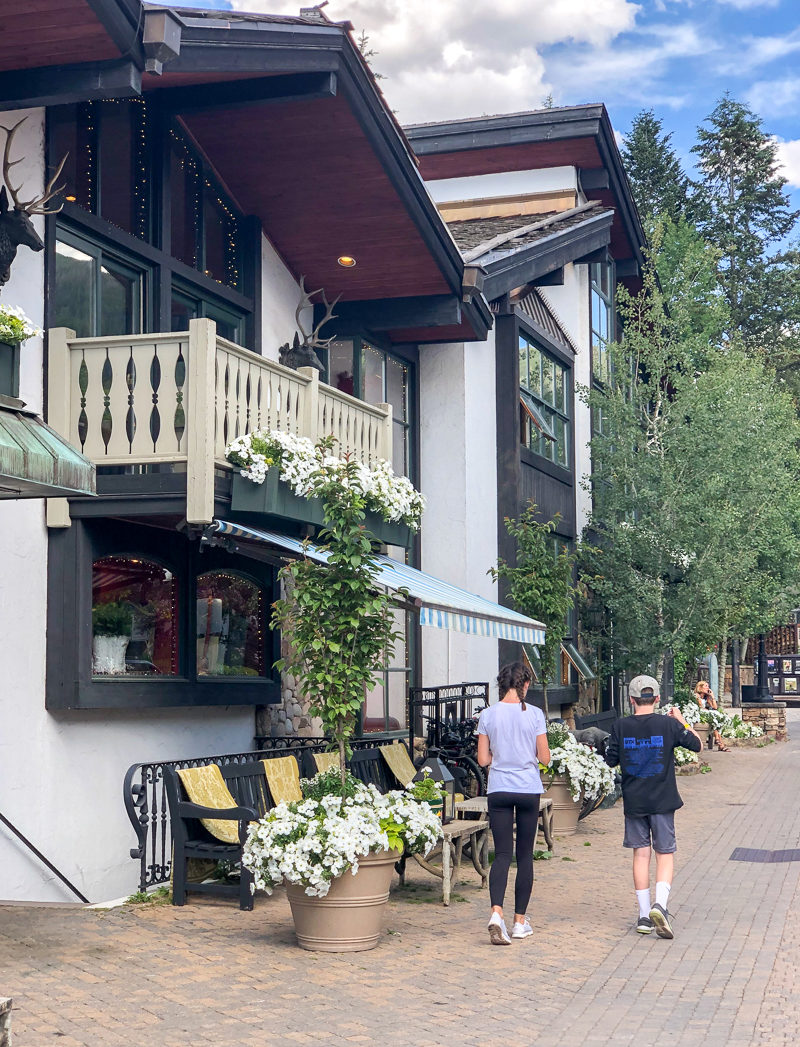 WHITE WATER RAFTING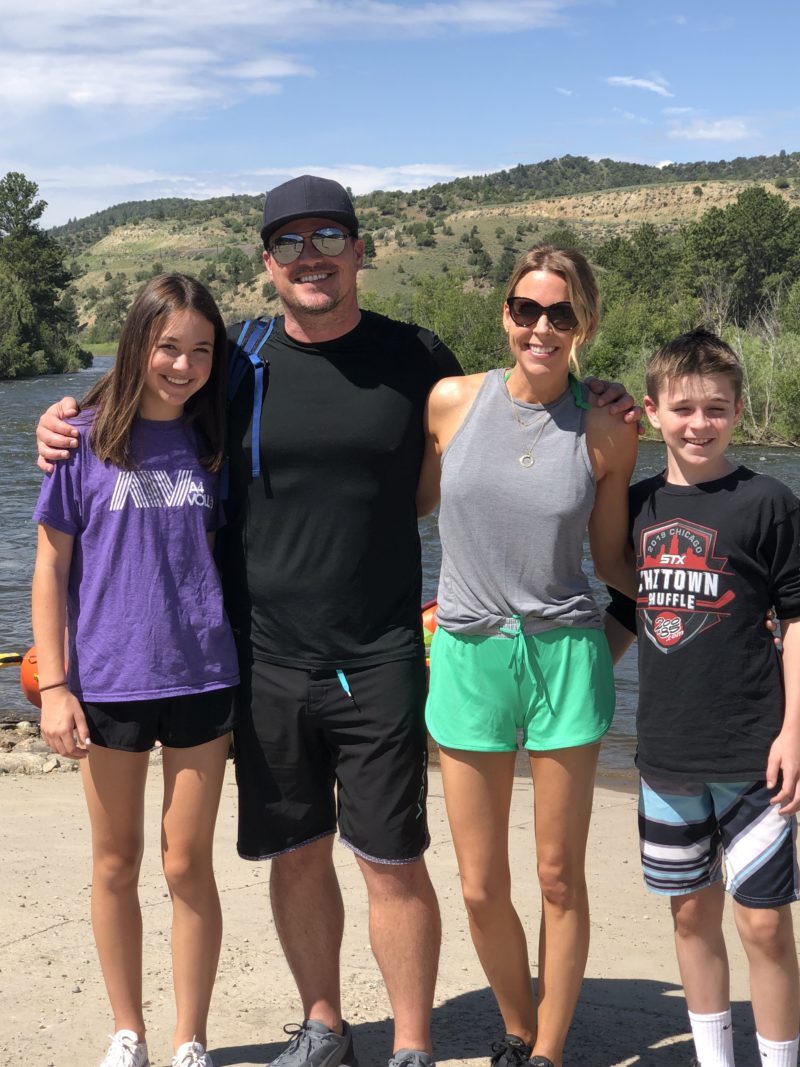 The second major adventure of our trip was white water rafting with Sage Outdoor Adventures. Our guide was fantastic. We loved being on the water and even experienced a glorious rainbow. The trip was planned to have class 2 and 3 rapids. It was super mellow with a few adventurous moments. Perfect!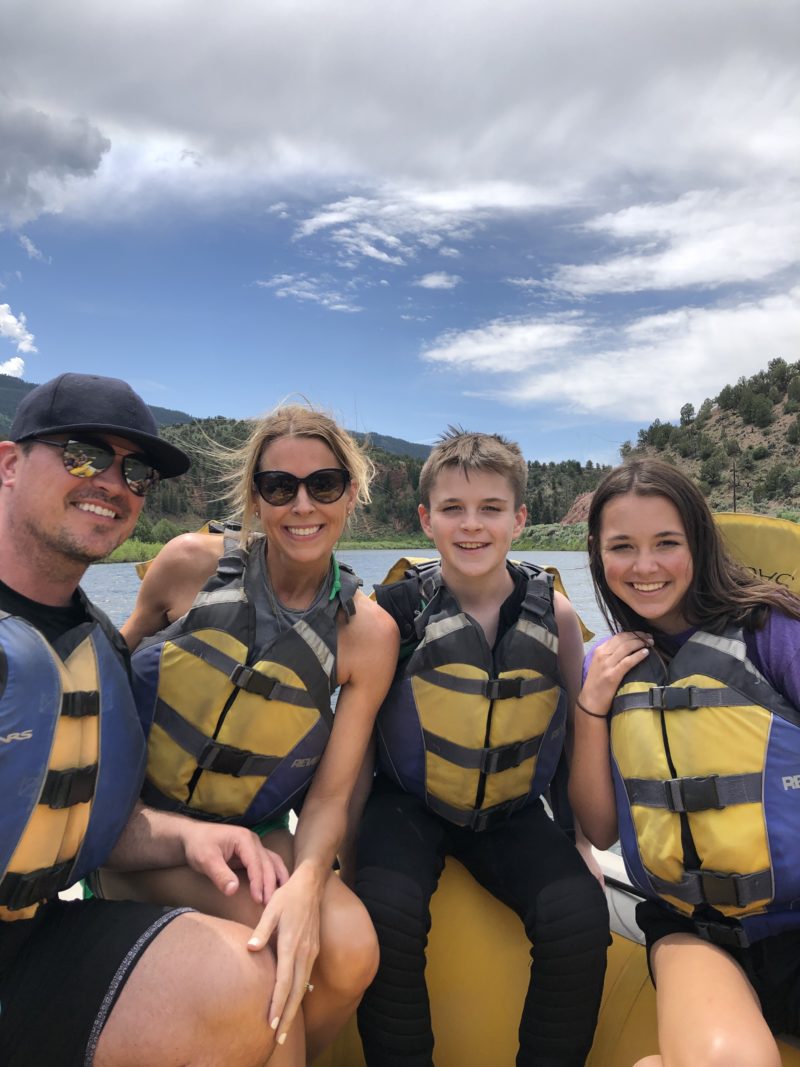 They are growing up so quickly. I want to freeze time right now. Thankful for this time just the four of us.
WHERE TO EAT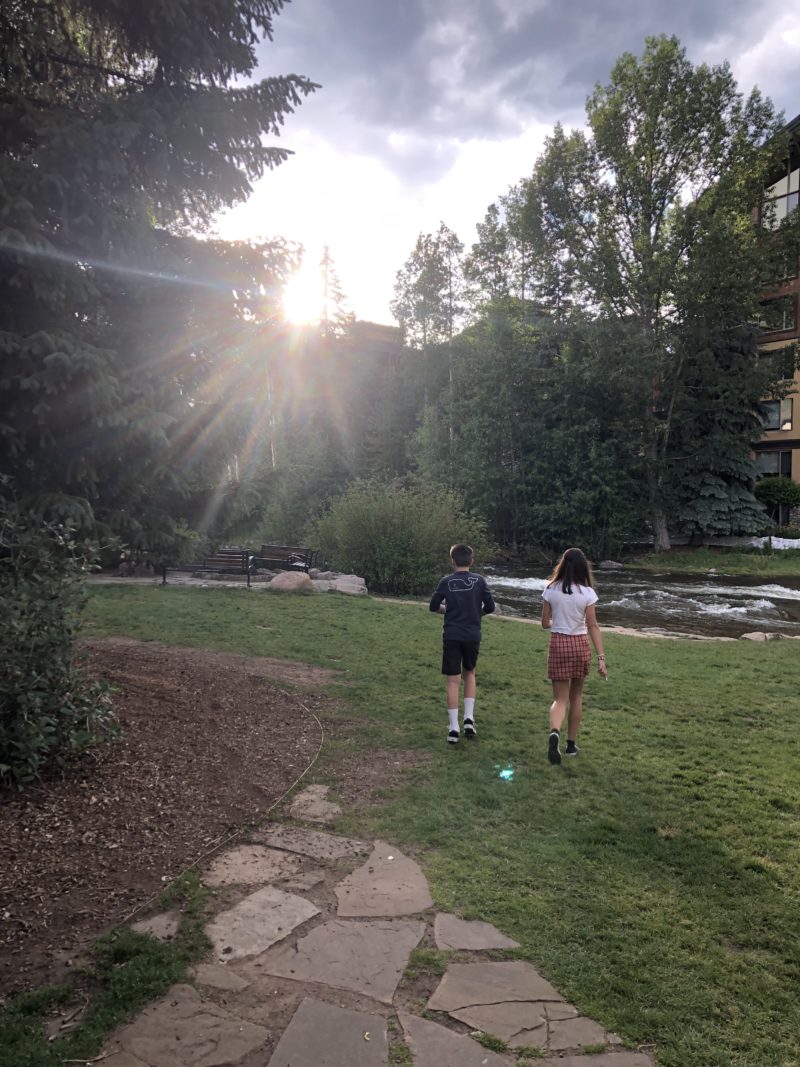 Mountain Standard
Sweet Basil
The Fitz at Manor Vail
Bōl
Amresi
Bully Ranch – casual on the patio
White Bison
La Cantina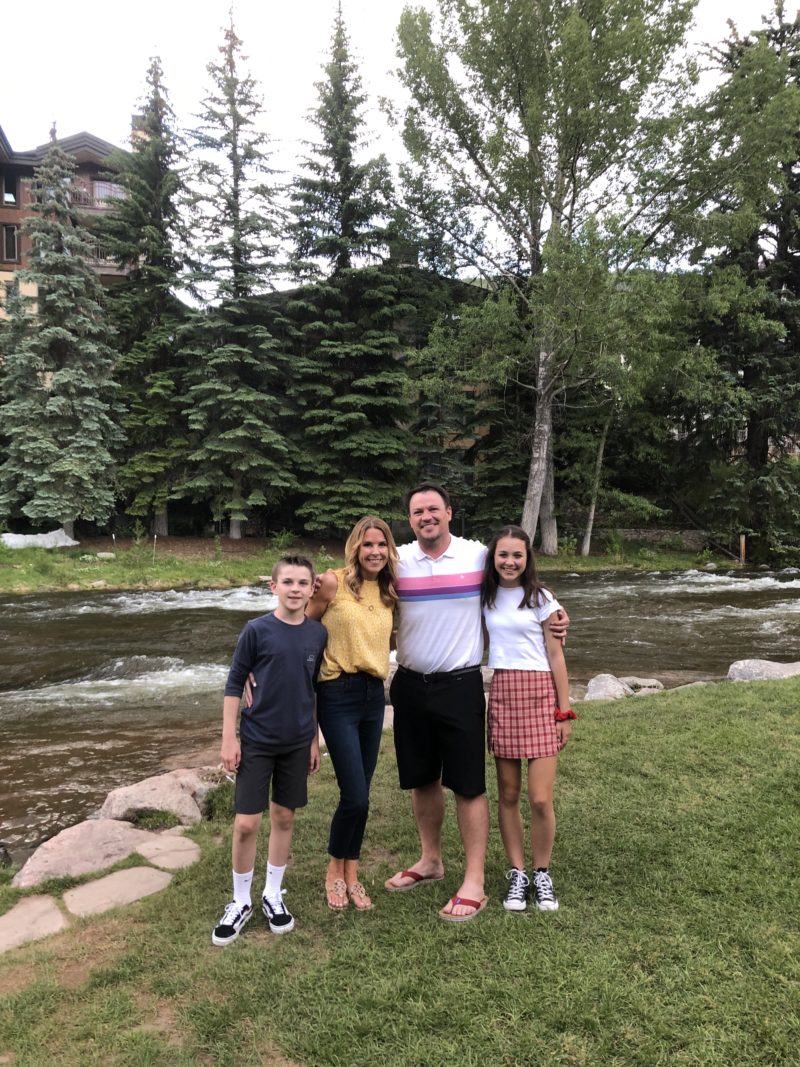 It's incredibly easy to walk around the village and stumble upon great places to eat. I do recommend a reservation if you want to go to one of the more popular spots, such as Mountain Standard. It's located right across from the Gore Creek which you see above. I highly recommend sitting on the patio.
MOUNTAIN STANDARD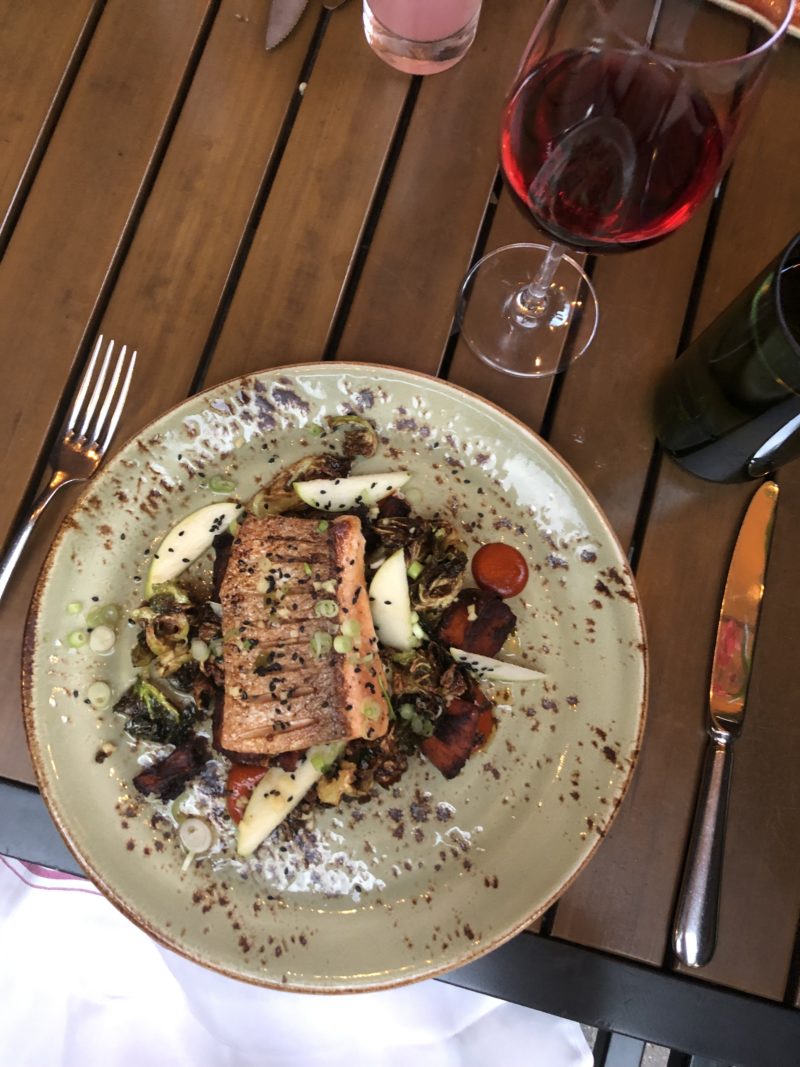 The salmon was fantastic. We all loved our dinners and the ambiance can't be beat.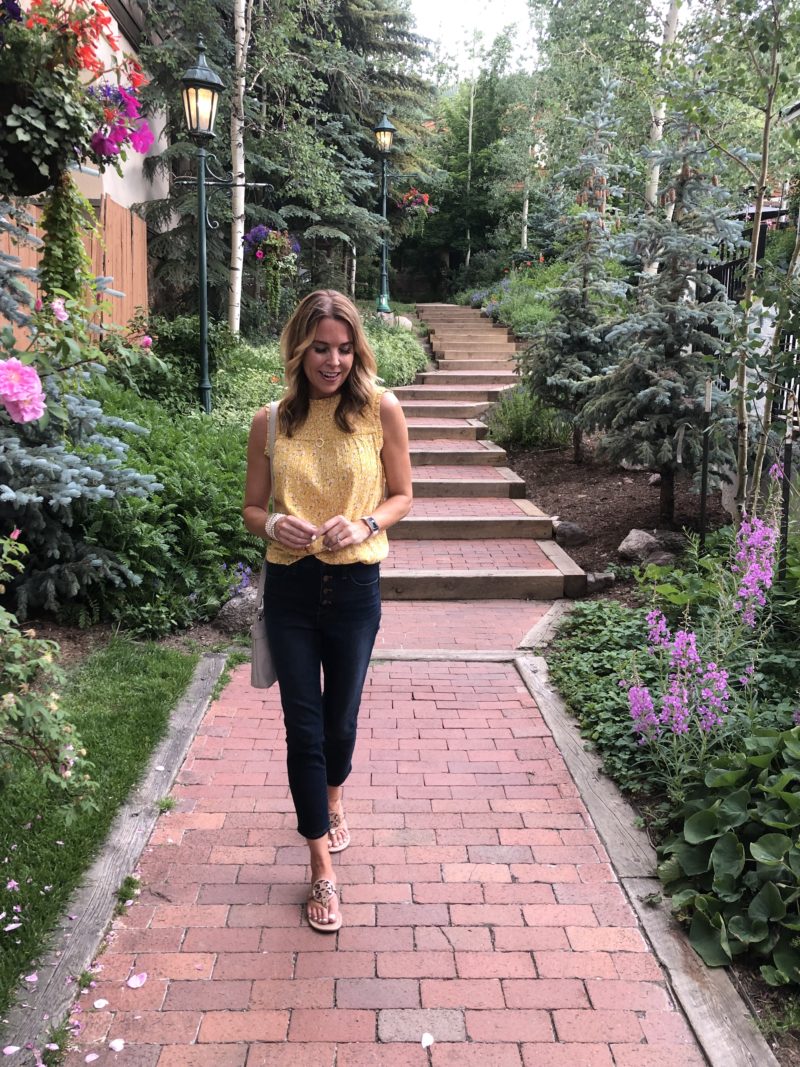 Part of Vail's appeal is it's beauty and charm. Every street is lined with gorgeous flowers and scenic pathways.
FLY FISHING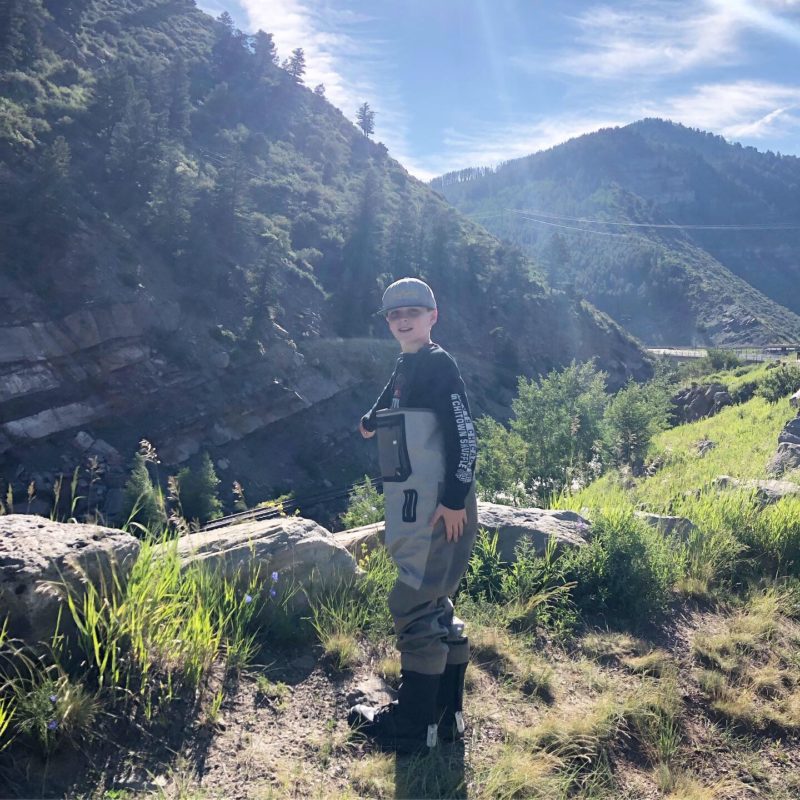 They boys were dying to try fly fishing and their dream came true thanks to Gore Creek Fly Fisherman. They outfitted us for a half day excursion. This kid is hooked ( no pun intended).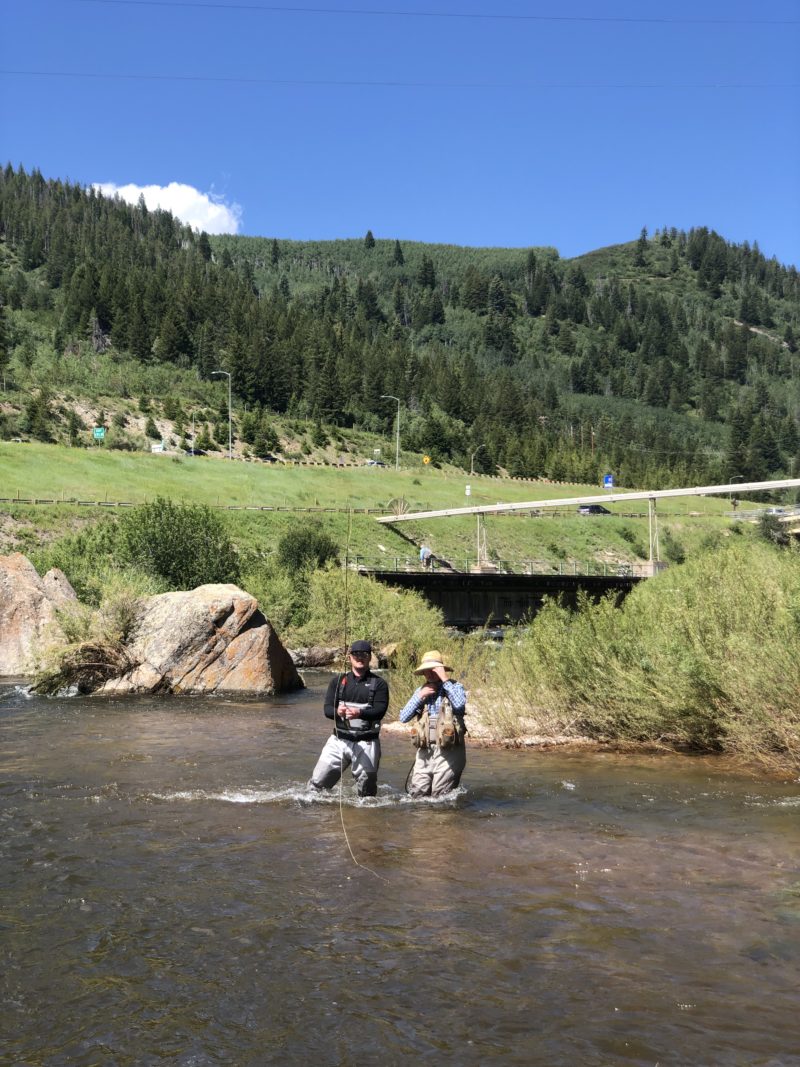 I tried it as well and quickly learned I make a better photographer than fisherman. But what a gorgeous spot to watch the boys try something new. As it turns out fly fishing is much more active than I ever imagined. It takes total concentration and catching a fish is pretty darn rewarding.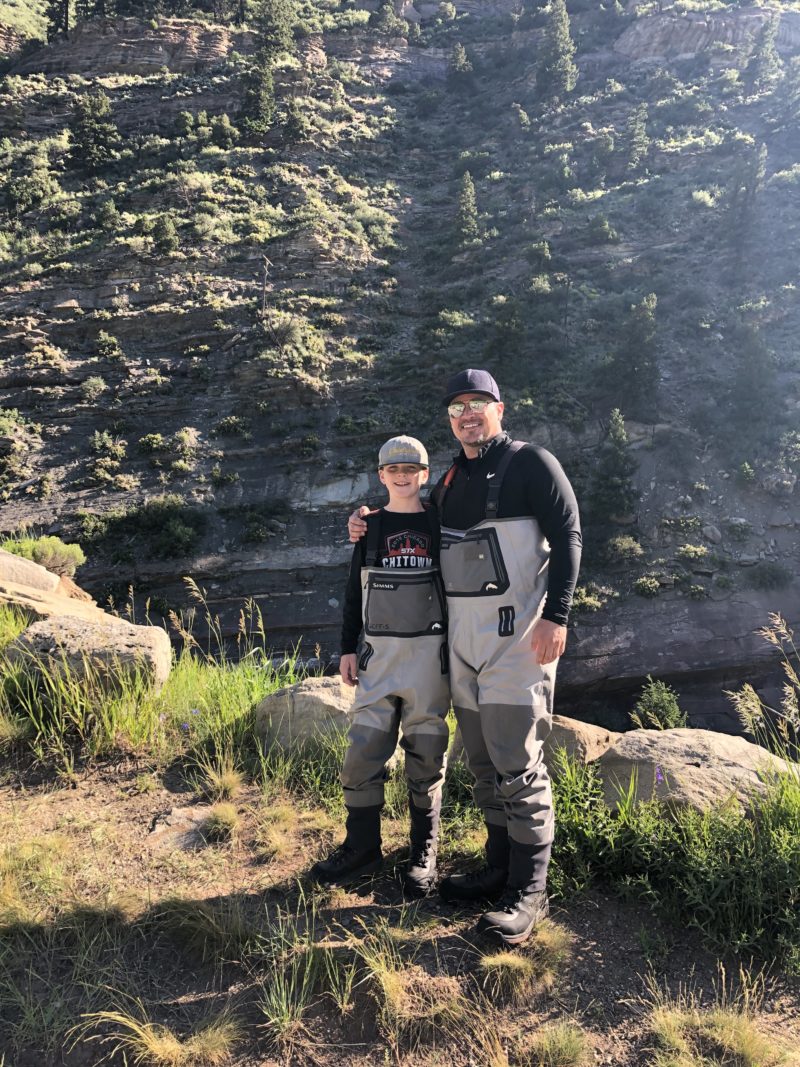 New adventures. That's what life is all about. Doing it with family creates memories and bonds that will last a lifetime.
SWEET MEMORIES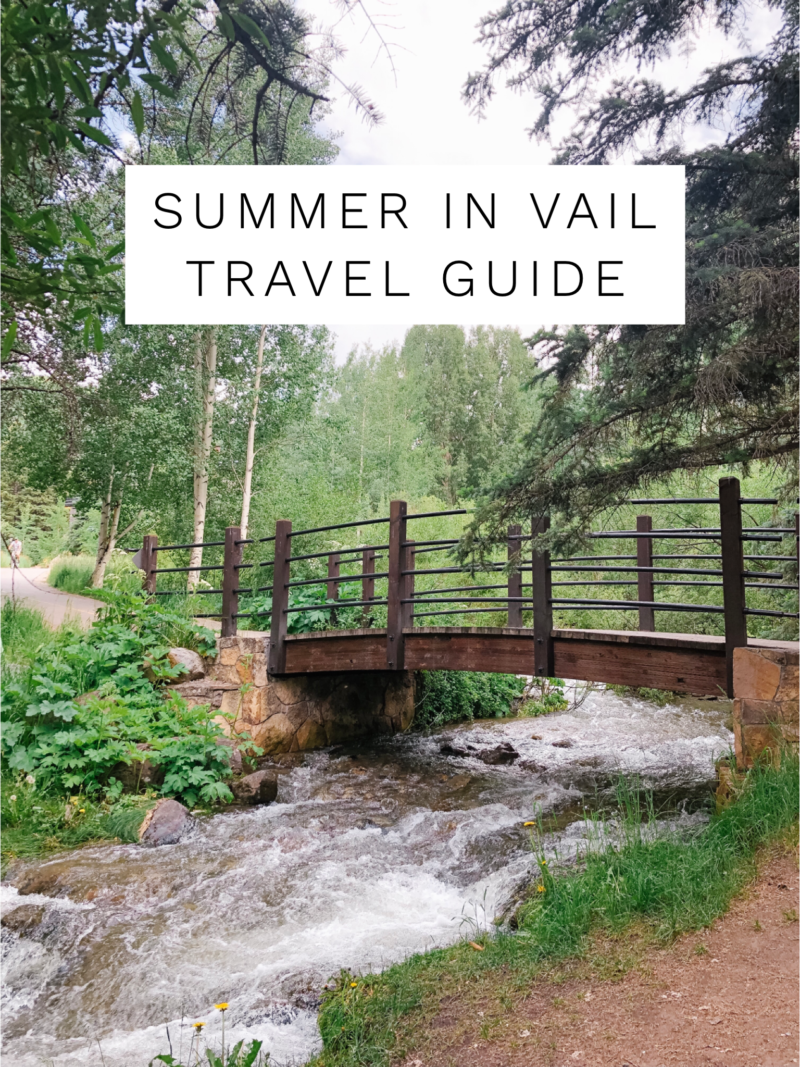 This trip to Vail came at the perfect time for us. We pushed ourselves to be more adventurous than ever and created memories that we will cherish forever. We absolutely needed a chance to exhale, process and enjoy a change of scenery. We felt my parents' presence with us the entire trip. I'm not sure I've ever been so grateful for family time or fresh air.
MORE OF OUR TRAVEL ADVENTURES