Good morning! First up, I need to thank everyone for such kind comments on my "postpourri" post. Your sentiments mean the world to me. So many of you have been following our journey for quite some time and I love that I can share what's on my mind. Today I am really excited to share a fun and colorful look for Summer. It includes and eye-catching bag I've been pining over.
Stripes and tassels are always a fun combination. Especially for summer. I had been eyeing this bag forever but it was too pricey. It went on sale (40% off ) and my husband knew it was the perfect birthday gift for me. He was so right. I adore the bright pink and fun tassels. It's different from anything I have and it puts a smile on my face.
What a soft and comfortable shirt. It feels more like pajamas. The ruffles and tie front had me at hello. I am wearing a size small. I suppose an XS also would have fit but I like the way this size falls on me.
These are my tired and true distressed white cropped jeans. I shared them in my Saturday Shopping Capsule Wardrobe post. I wear them non-stop in summer and like that they are slightly distressed but no skin shows through.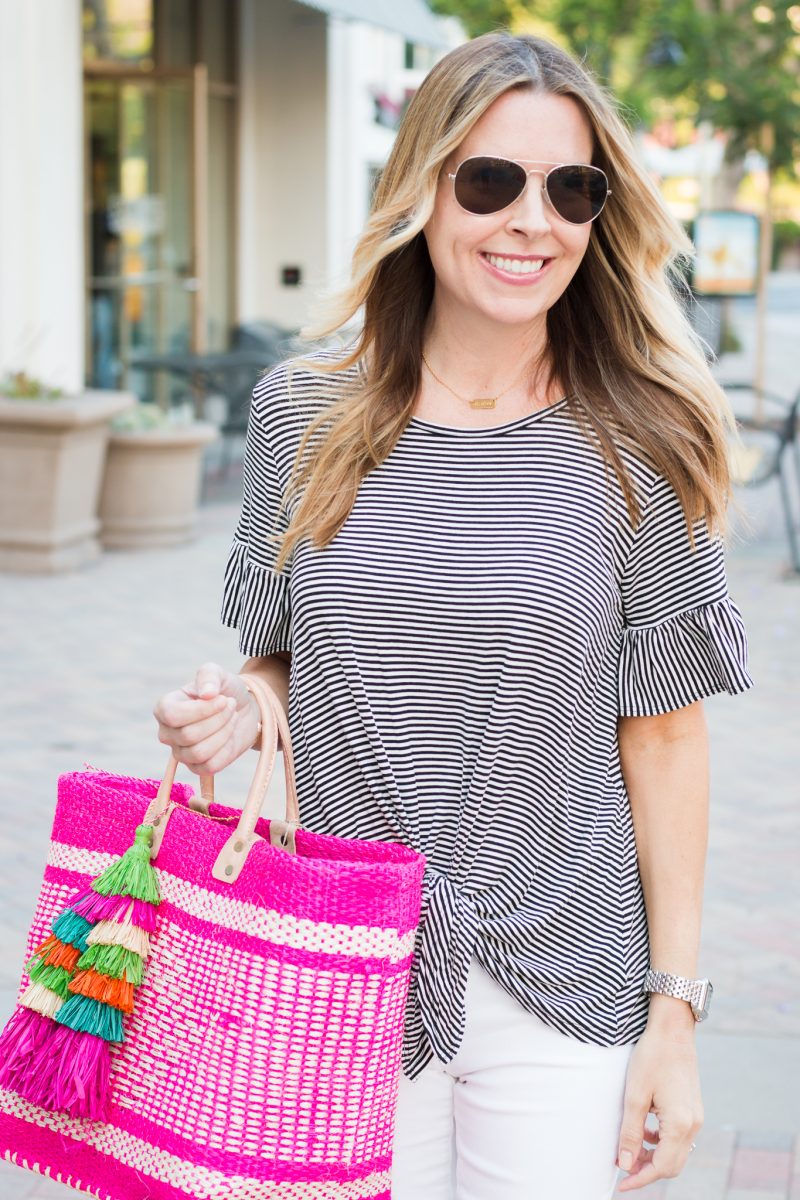 These sleeves. Feminine and fun, right?! This top comes in many other colors, too. A fun bag like this would make even a pair of cut-offs and white t-shirt look great.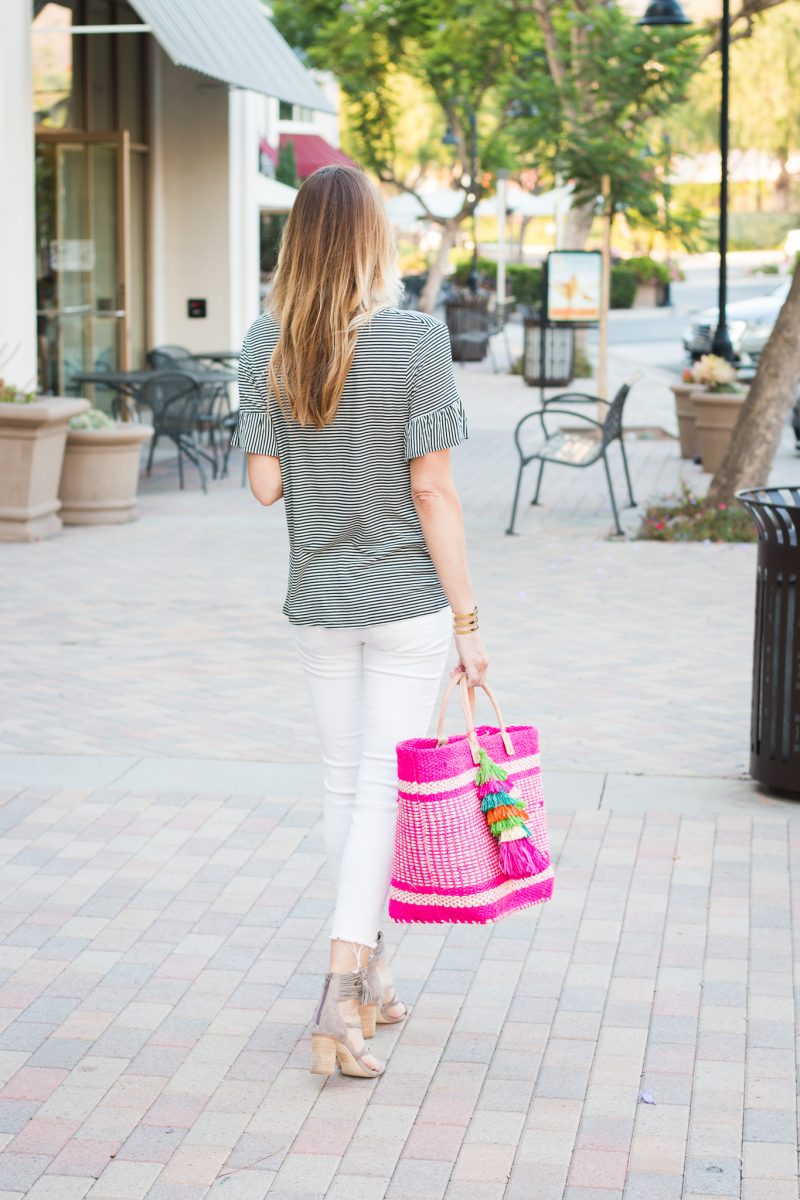 Just a quick shot from behind to show you how the shirt falls in the back.
These heels rank as one of my very favorite pairs ever. That is why you will see them on repeat. They are remarkably comfortable. If I were not to choose heels, I would wear these or these (on sale).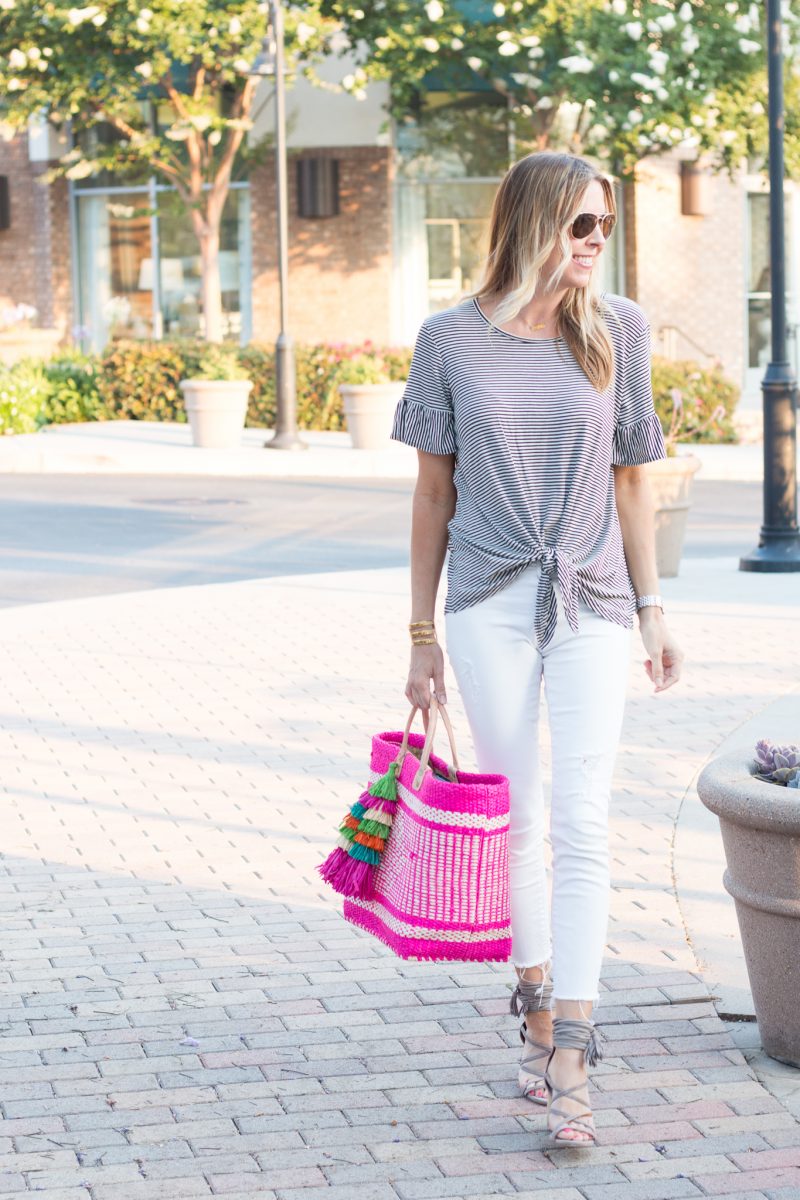 SHOP THIS LOOK

top | cropped pants | heels | straw tote  | sunglasses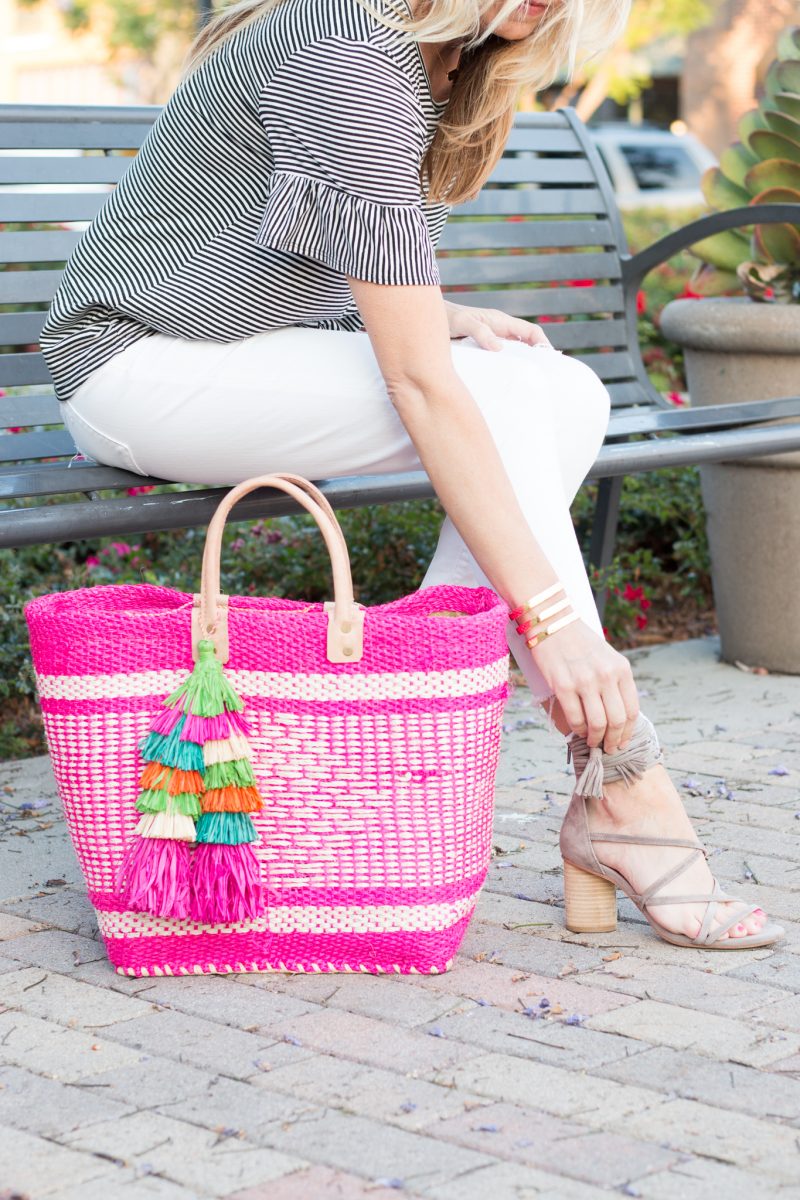 I am pretty smitten with this straw tote but if you are looking for something smaller, you are in luck. Are you familiar with Gray Monroe? 
This little straw clutch is hitting the site at 8 PM CST. It's so so cute. Only $40 and so cute for this time of year. I will tell you that things go so quickly on her site so if you are interested in this little number, I highly recommend setting your alarm.
In other striped news, I am loving this bold striped dress. It's on sale for a great price and is just darling. This one is a bit more but has a cute racerback detail. I just love all of these. That romper!!! You can shop all of these dresses below.
SUMMER STRIPES

Hope this post has inspired you to add a jolt of color or some classic stripes to your wardrobe. Loving both right now.
POTTERY BARN SALE
Just a heads up!!! Pottery Barn and all their sister stores are having a MAJOR sale. I am looking at dressers for out daughter and most are $200 off today. Even outdoor sectionals are 60% off. Sale ends in 11 hours. Fun! We always buy the kids lunch boxes from Pottery Barn Teen and they are so cute this year. All on sale!
In unrelated news, thankful to all of the firefighters that are working around the clock to put out the wildfires in California. One of them is quite close to home and we will be staying indoors to avoid the smell of smoke. But prayers are being said for all of those who put their lives on the line to save structures day in and day out.
Hope you have a really great day. Time for a fresh cup of coffee over here!