I've been excited to share this post with you because there are so many great Amazon finds that are keeping us organized around here. These top 10 products are things we use every single day. I hope it's a helpful list if you're craving more organization around the house.
1 | VERSATILE BASKET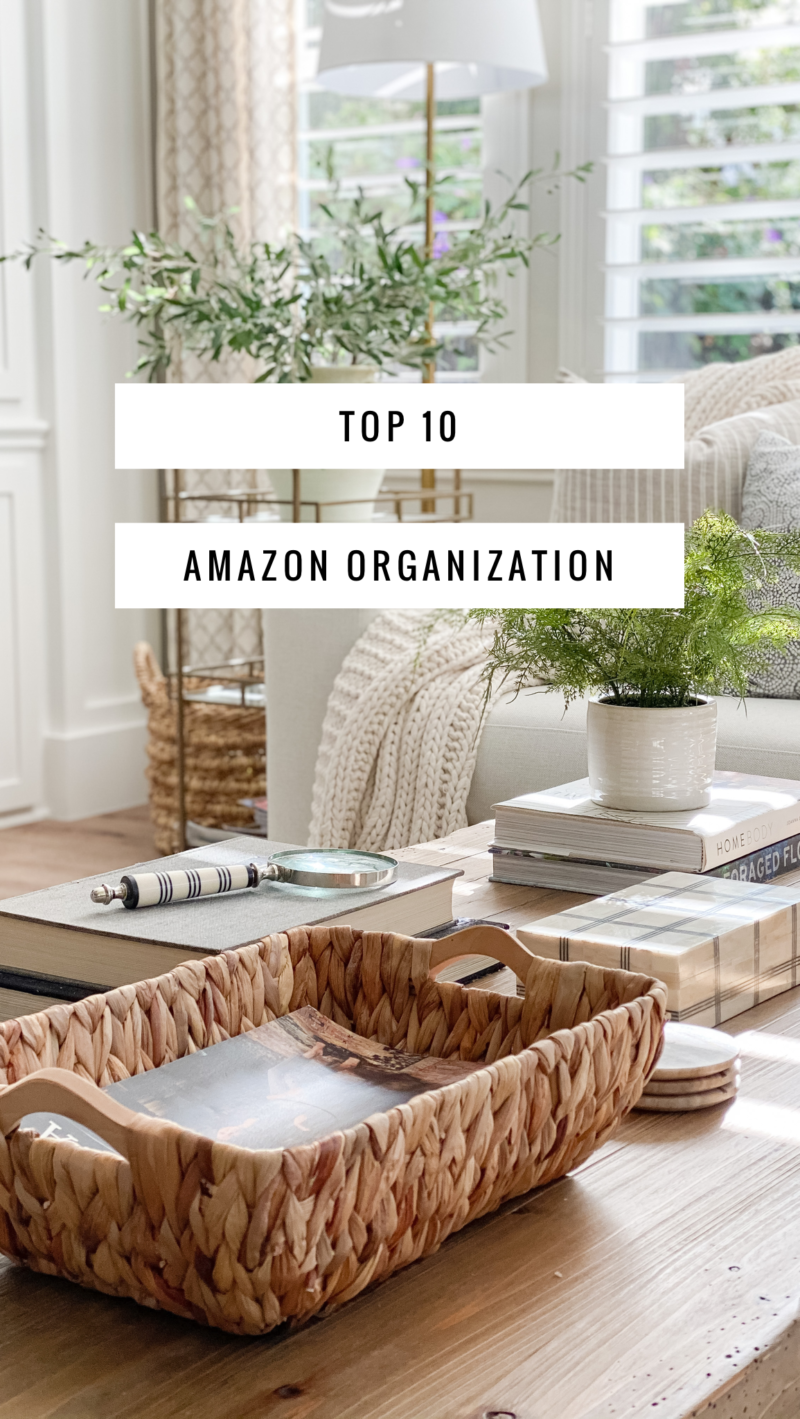 Could not love these baskets more. They come in a set of two and are so well made. My daughter thought I was nuts because I was going on and on about how they look great in any room. But they do! I had one on my kitchen counter with fruit and potatoes at one point. It's the perfect size for a stack of magazines. Also a nice spot to toss the remotes and clutter from a coffee table.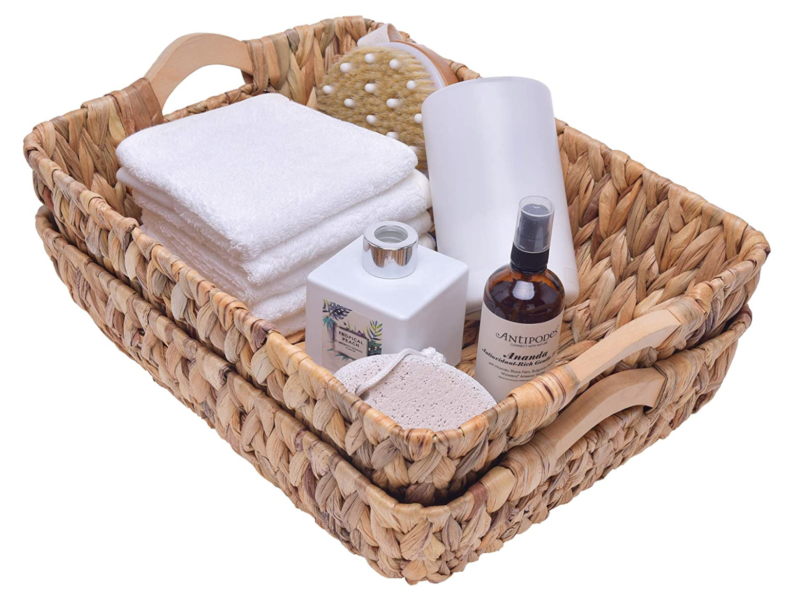 I also love having one on a bathroom counter for lotions, wash cloths and beauty products. Or if you have a guest room, this is an ideal basket to fill with welcome goodies. They are extremely sturdy and I really like the color.
2 | SUNGLASSES & READERS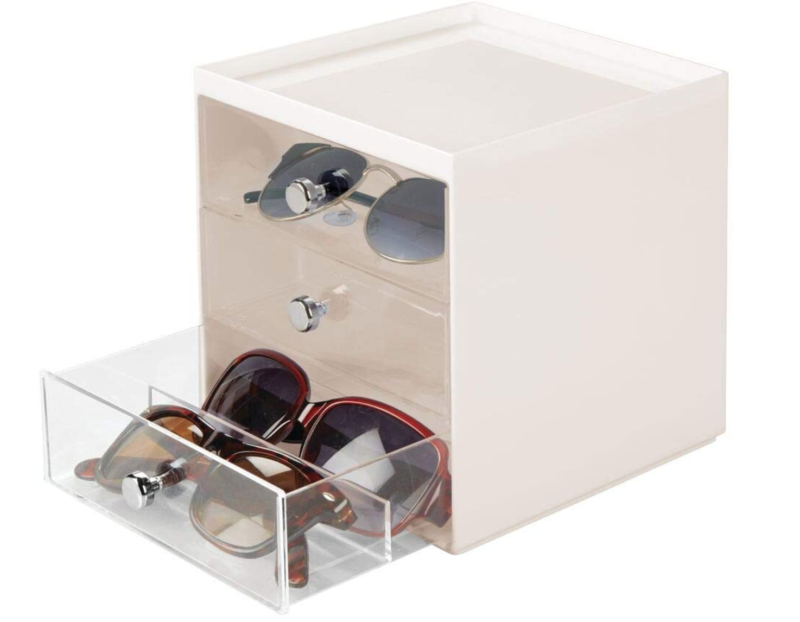 We continue to use this drawer set every single day. We have this inside a cabinet near our back door and store all of our sunglasses and readers in it. It's been a game changer over here. Especially for me because I tend to lose my reading glasses ten times a day . . . this has helped so much.
3 | PERFECT SIZE BASKET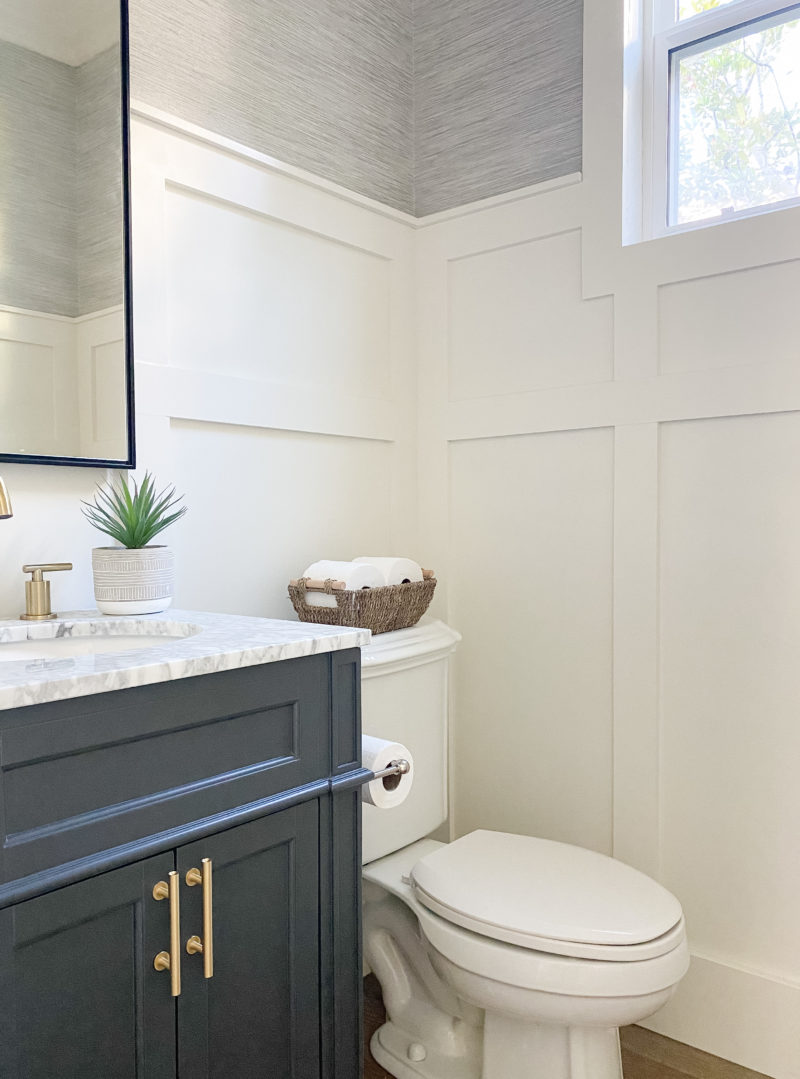 This basket also comes as a set of two. It's the perfect size for two rolls of toilet paper or a nice stack of washcloths. this would also be nice in a child's room to collect the small toys.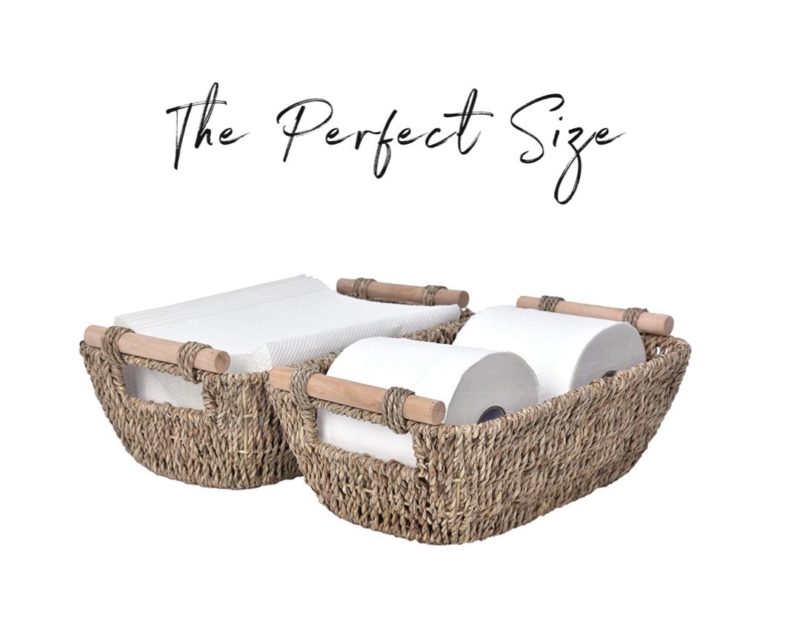 But I could also see these baskets working in a pantry for snacks or dry goods. Another good set of baskets.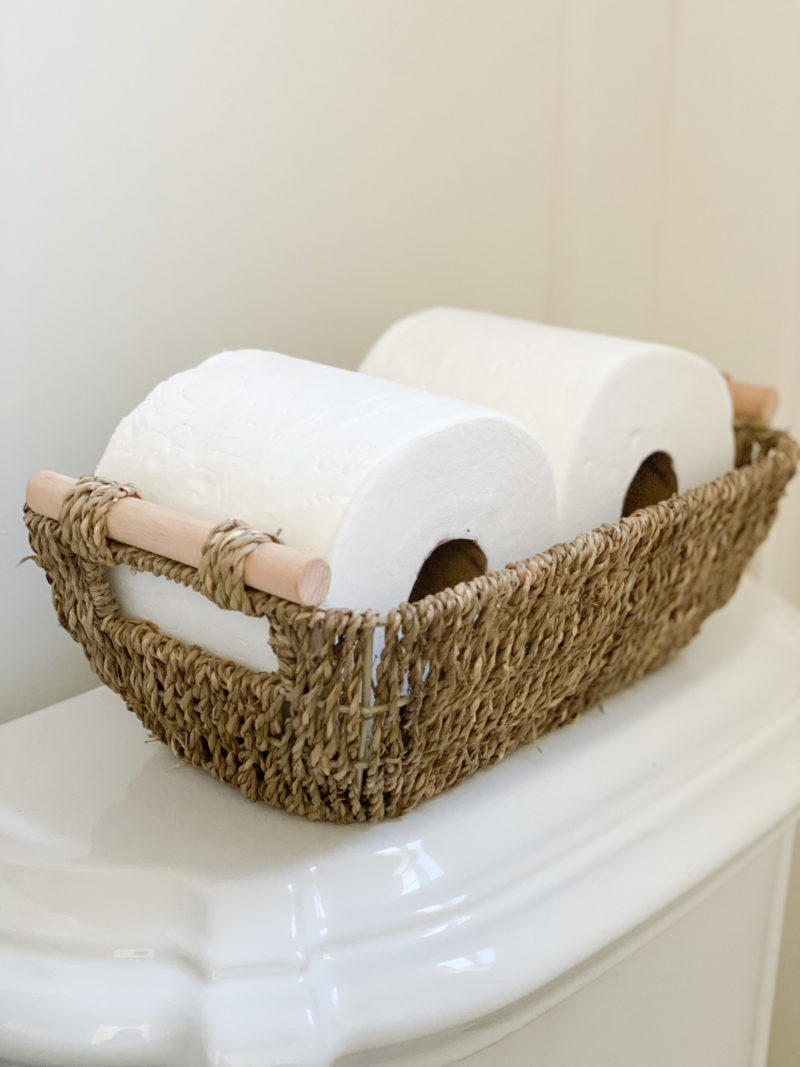 4 | BEAUTY PRODUCT STORAGE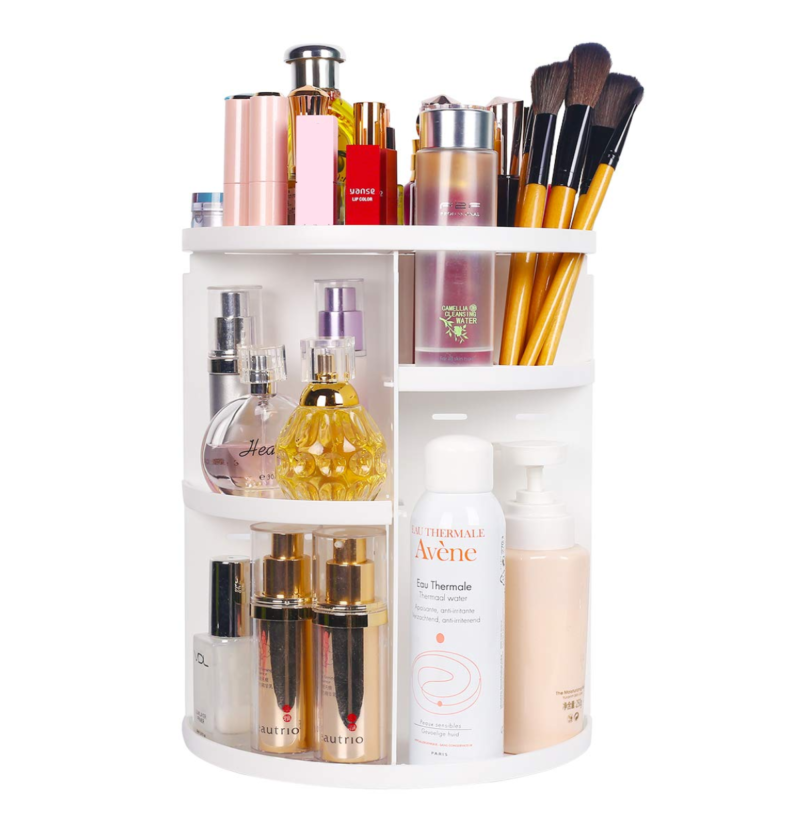 My daughter gives this spinning makeup caddy a five star rating. She actually found it and ordered it herself. It'a a dream when it comes to organizing her skincare products and makeup. Plus the lotions and creams that teens love. Her bathroom is very short on storage and this has been incredible. I am considering one for under my sink. Major score.
5 | UNDER CABINET STORAGE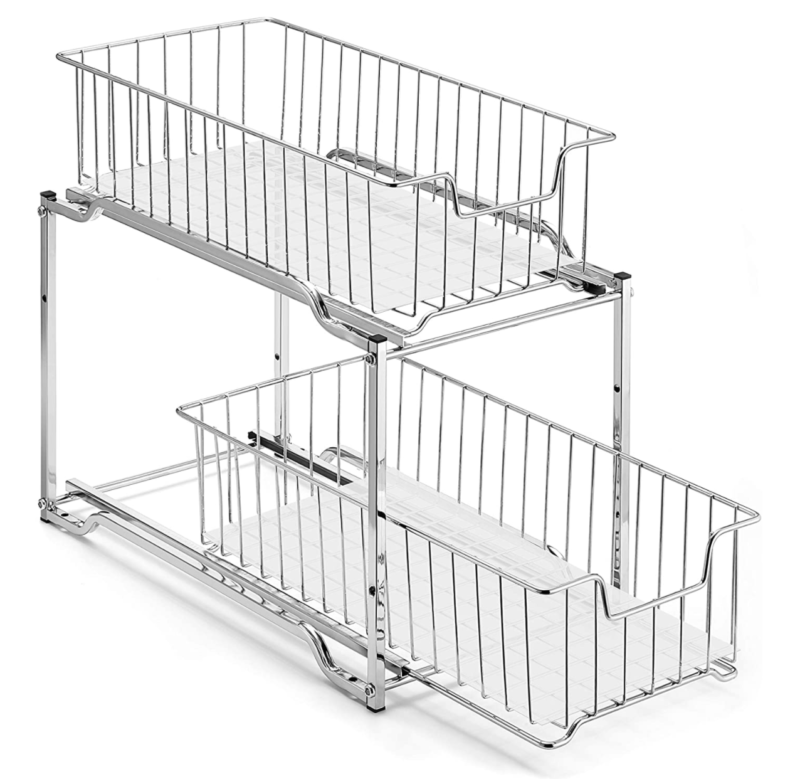 We also put this metal rack under her sink and it's been fantastic. Just be sure you measure your space and check the dimensions before doing something like that. I might put one under out kitchen sink for extra sponges and supplies.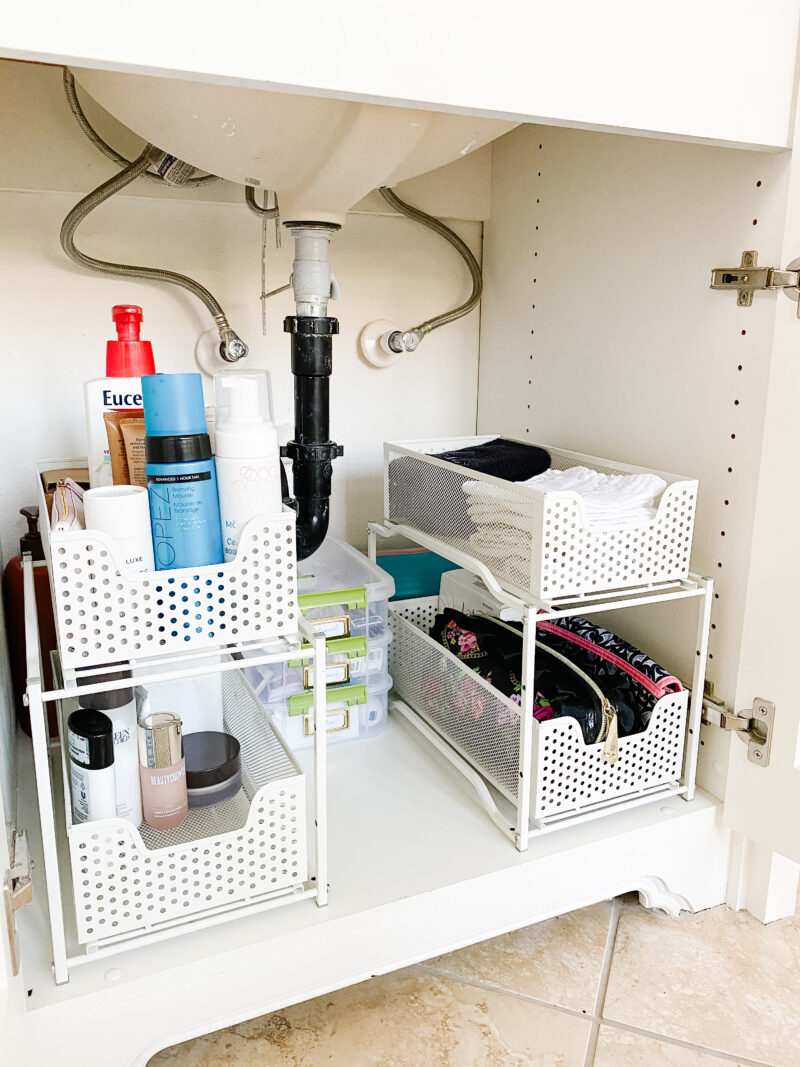 We know have these drawers in three bathrooms and under our laundry room sink. Absolutely LOVE how much they hold. They have transformed our messy bathroom areas.
6 | RECIPE BOX (SORT OF)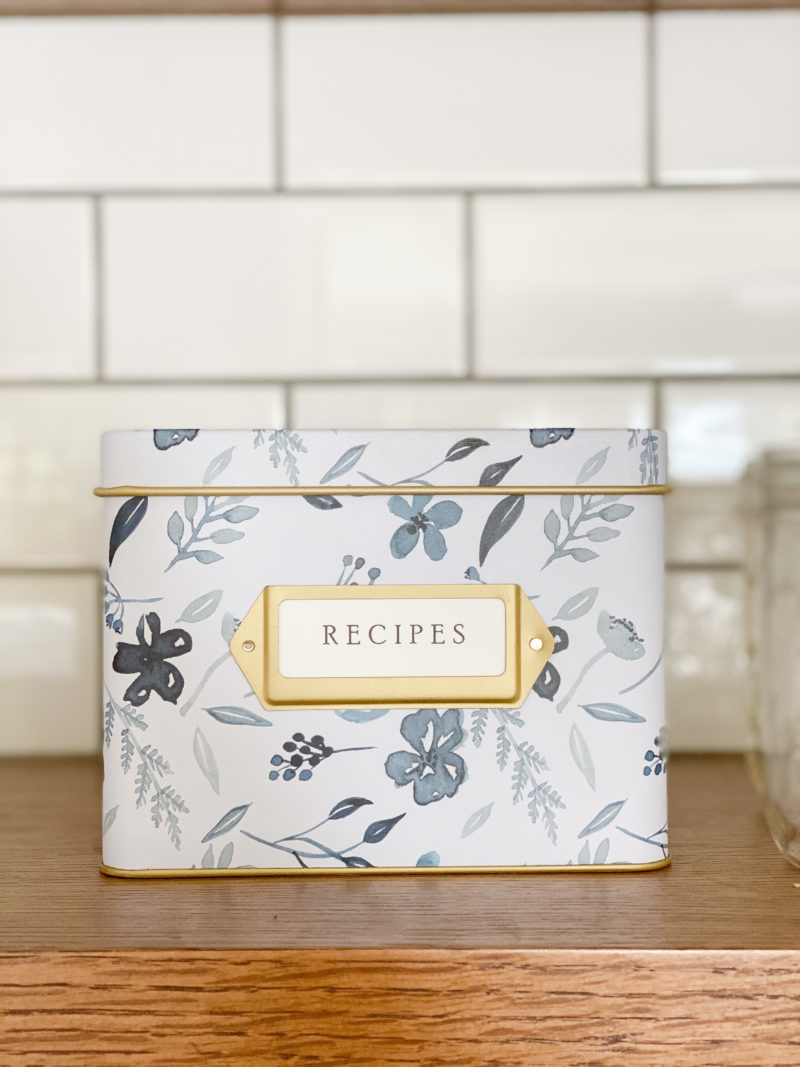 Not too long ago, I shared this cute recipe box from Amazon. But I wanted to update you on how I am using it. It sits on our open shelving and of course is a great spot for recipe cards. Having said that, most of my recipes are in a binder so I am using this for some special mementos from my mom. I love that they are in here and close to my every day but still organized. Often times we don't know where to put those little keepsakes. My mom loved to cook and had tins and tins of recipes (actually old lunch boxes) so it seems fitting to fill my recipe tin with memories of her.
7 | FOOD STORAGE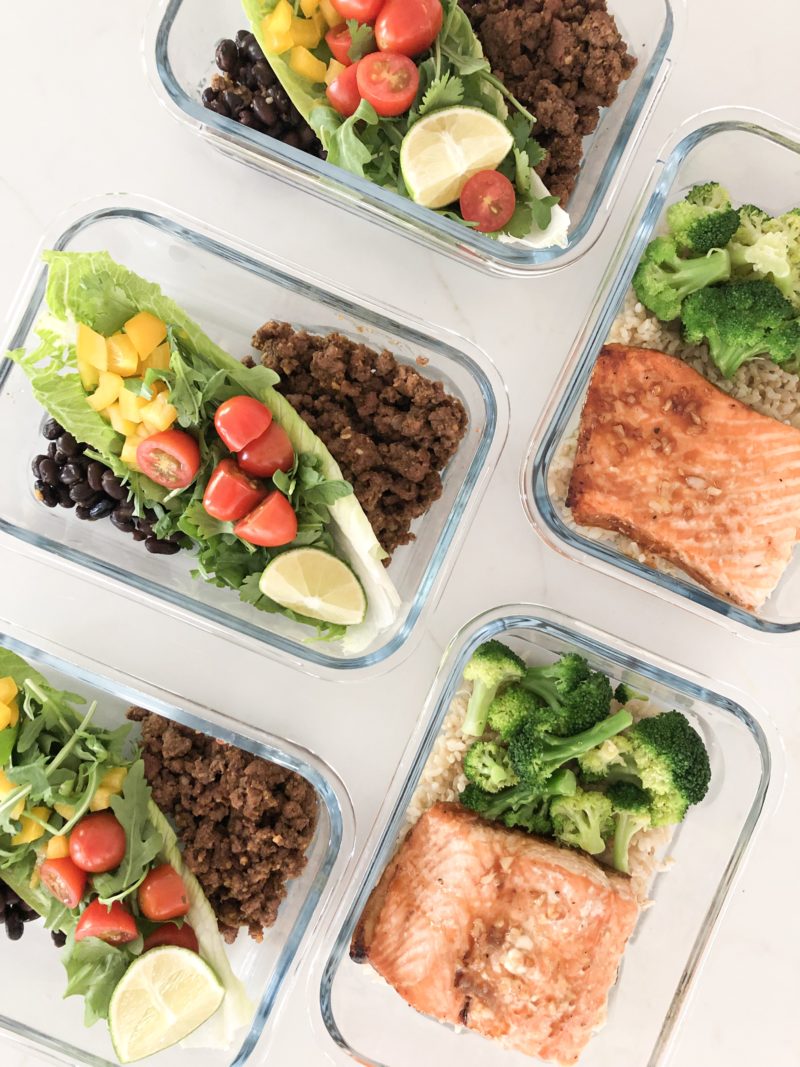 A heck yes to these glass containers. I use them for meal prep (more on that here) but we also use them on a daily basis for leftovers. They are BPA free and leak proof. I love that I can toss them in the dishwasher ( I choose to hand wash the lids).
My daughter made homemade chocolate cookies the other day and the extra ones all went in here. We love these glass containers.
8 | CEREAL CONTAINERS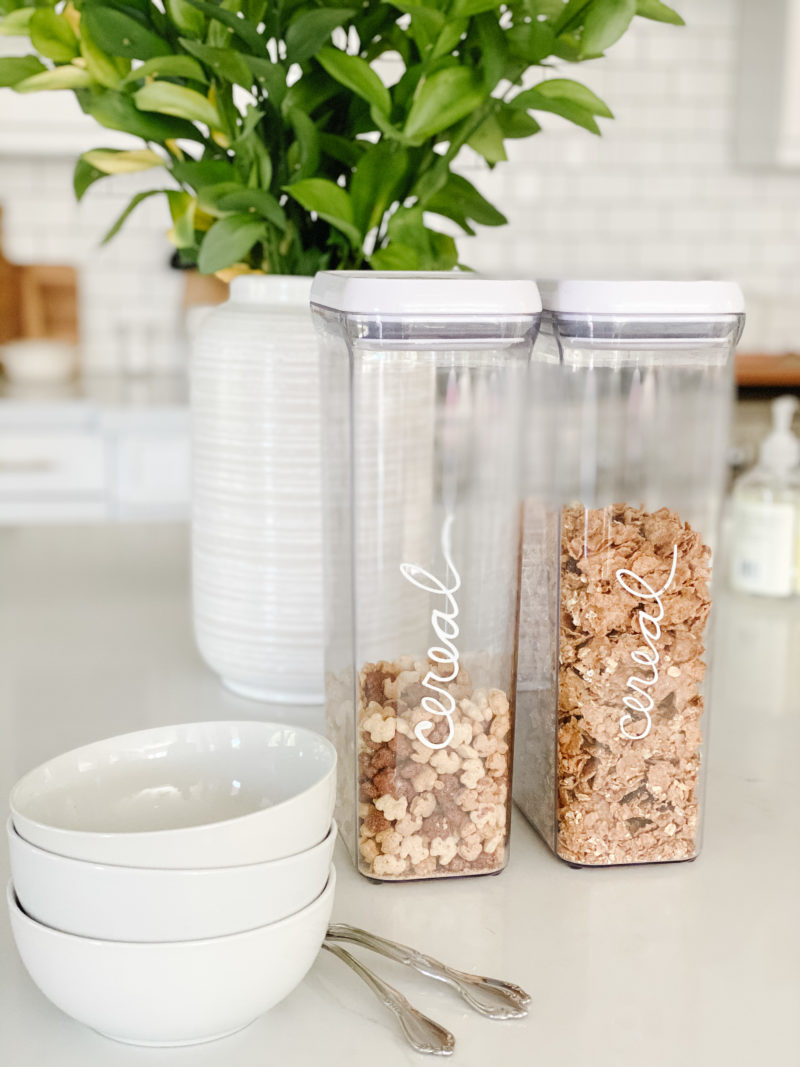 Gosh we have been using these OXO containers for years and years (over 3,000 great reviews). Not only have they held up well, but they are perfect for making the cereal a little bit more attractive. We ditch the cardboard box and pour the cereal in here. It keeps it fresh (especially because my kids plow through cereal) and neat on the shelves. Plus it's easier for them to pour out of and no need to worry about them rolling the plastic bag correctly to keep the cereal fresh (moms, you know what I mean). When the kids have sleepovers it's so nice to grab these and the bowls and put them out before bed.
9 | SMALL STORAGE BINS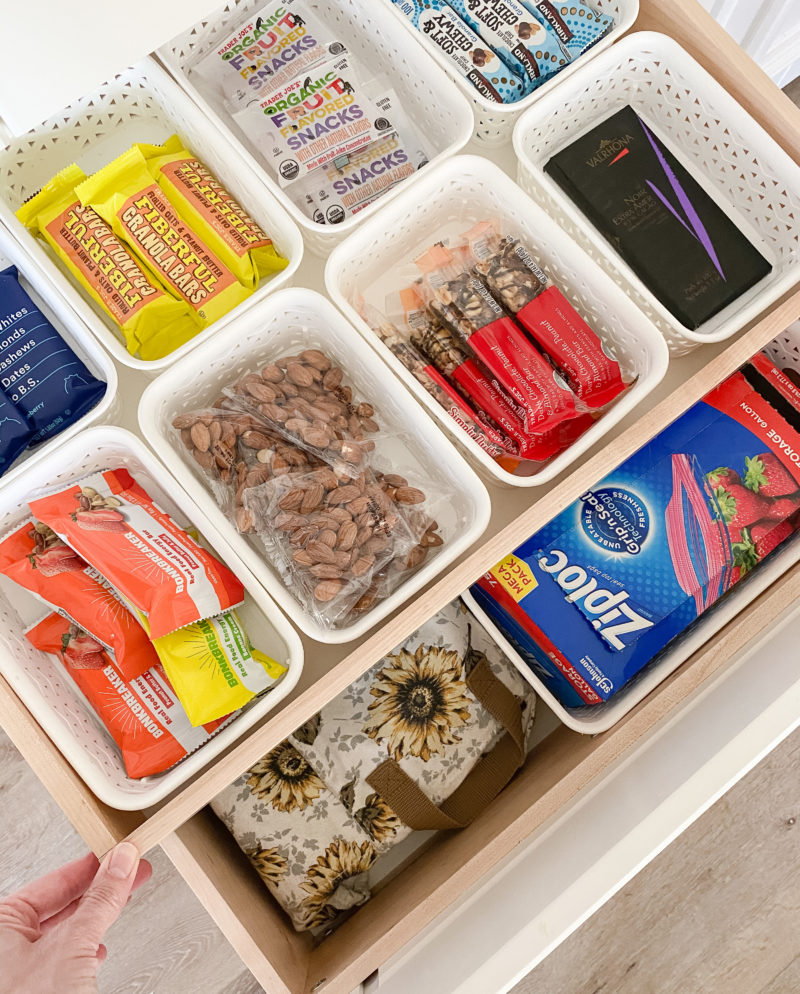 These are hard working bins in our home, too. While my specific ones can be found here from Target, I found some available on Amazon as well. We use these for all of the snack foods the family likes. So easy to stay organized and see what we are out of.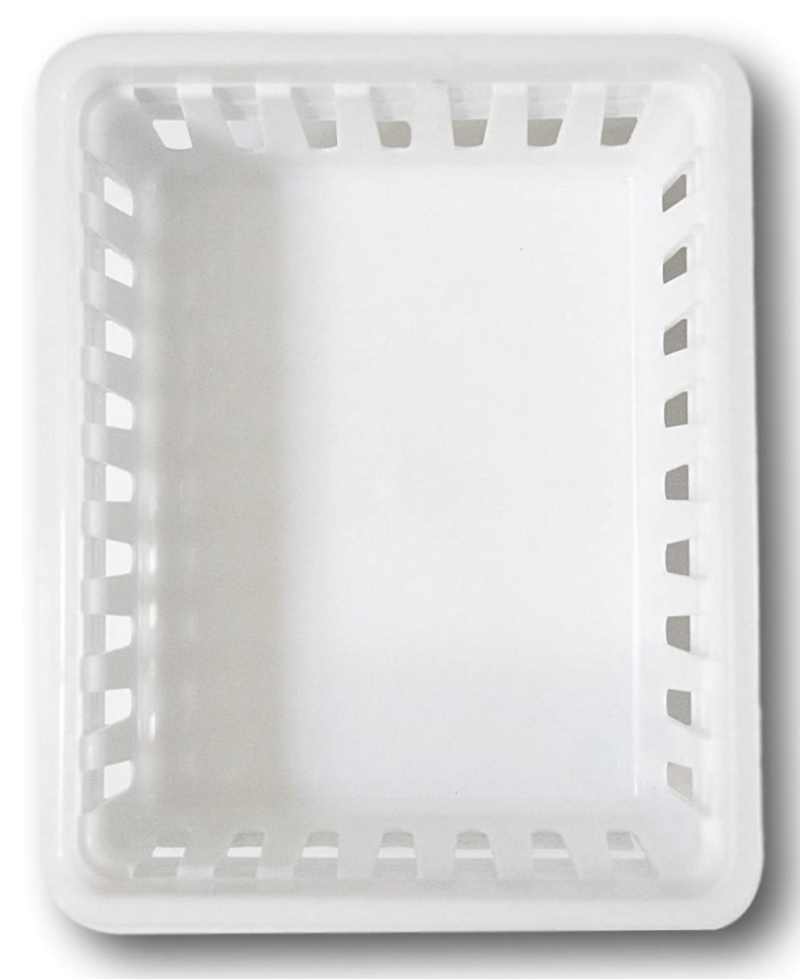 10 | MESH UTENSIL CADDY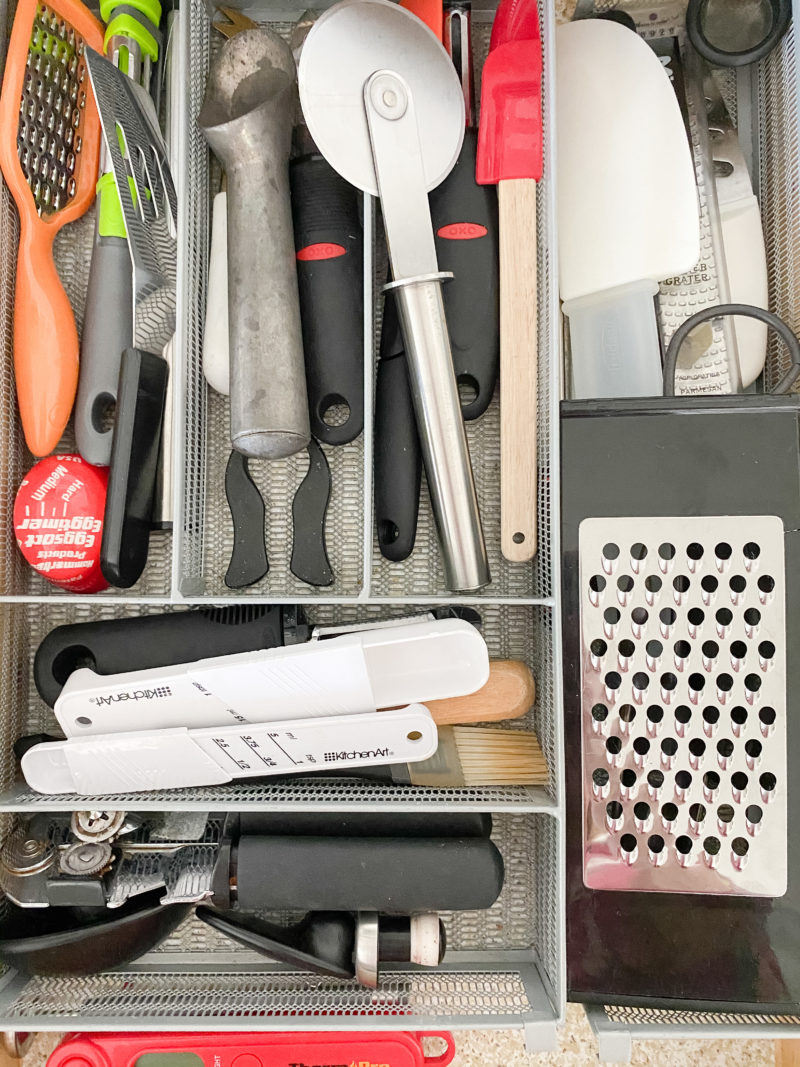 Lastly, our mesh utensil caddy has been wonderful. It keeps all of those oddly shaped items in their spot and the fact that it is expandable means it will fit any drawer.
Check out Kitchen Organization 101 and see inside all of our drawers and cabinets.
Would love to know of you are using any of these in your own home. While we are far from perfectly organized, these ten items have definitely helped in that department.