Back when I was teaching, my best friend would always say, "Tell me everything about your day. I want to know what it looks like." I thought that was so sweet. She was truly interested and wanted to better understand what a typical day looked like for me. Being a full time blogger can certainly look different for everyone. I've teamed up with Colleen Rothschild to give you a peek into what a typical day looks like for me.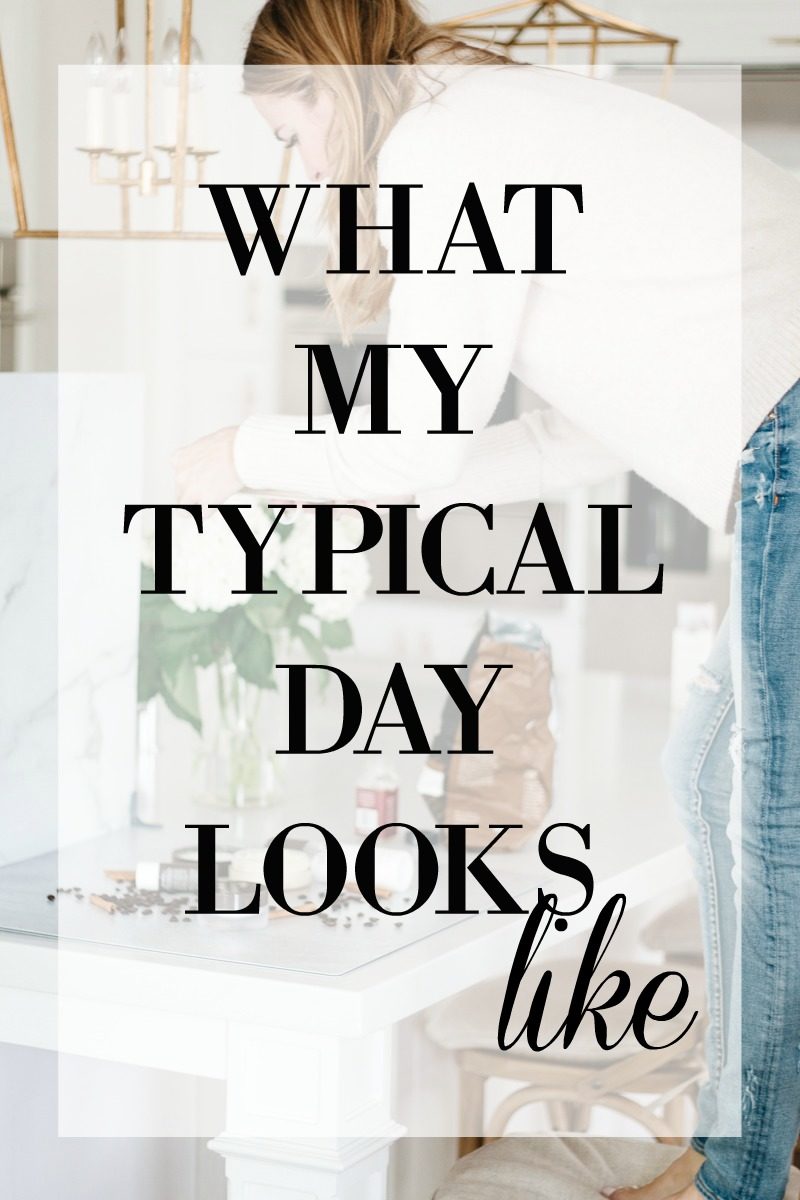 6:30 am Everyone is awake. My husband is the early riser in the household and always up before 6:00 am. I am not the blogger that will be raving about waking up at 5:00 am for an early morning work-out before the kids get up. If it's one thing I know about myself, I need my sleep. So 6:30/6:45 am it is. Before my feet hit the floor I spend a few minutes thinking about what I am grateful for, how I envision the day, and prayer. This is a daily ritual I picked up after listening to a podcast back when we were caring for my mom. And I never pick up my phone until I have done that.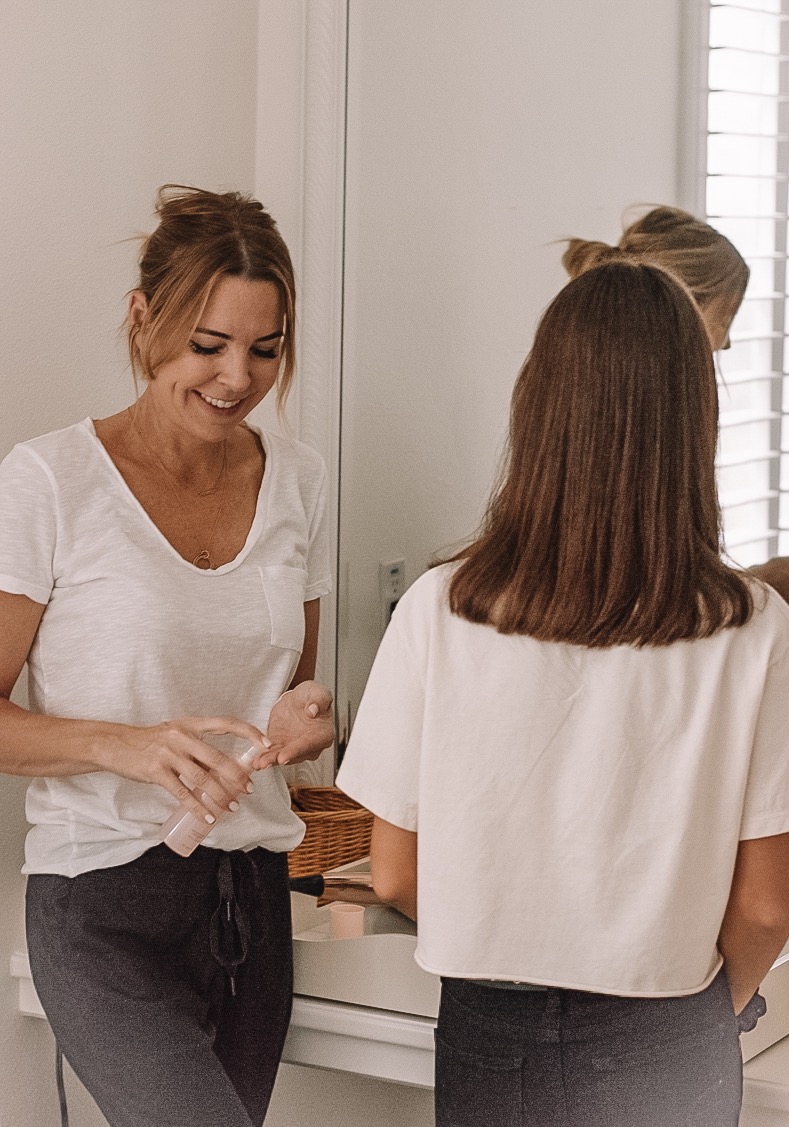 7:00 am The morning hustle. I usually help my daughter with steaming her outfit or styling her hair. Other than that, the kids are very self-sufficient. Because my two kiddos are also early birds, mornings have never been too much of a struggle.
7:35 am My husband drives the kids to school (it's just five minutes away) and I open my laptop to put final touches on my blog post and answer emails. I also use this time to plan my work day, household responsibilities and the after-school schedule.
I get so much accomplished for work between 7:30-9:00. Then I work out.
9:00 am Workout. I usually go out for a hike or brisk walk. I incorporate HIT training (running stairs, lunges, sprints, etc.). Often times my husband and I work out together before he heads to work (or he works from home).
9:45 am Back home to make my protein drink and hit the shower.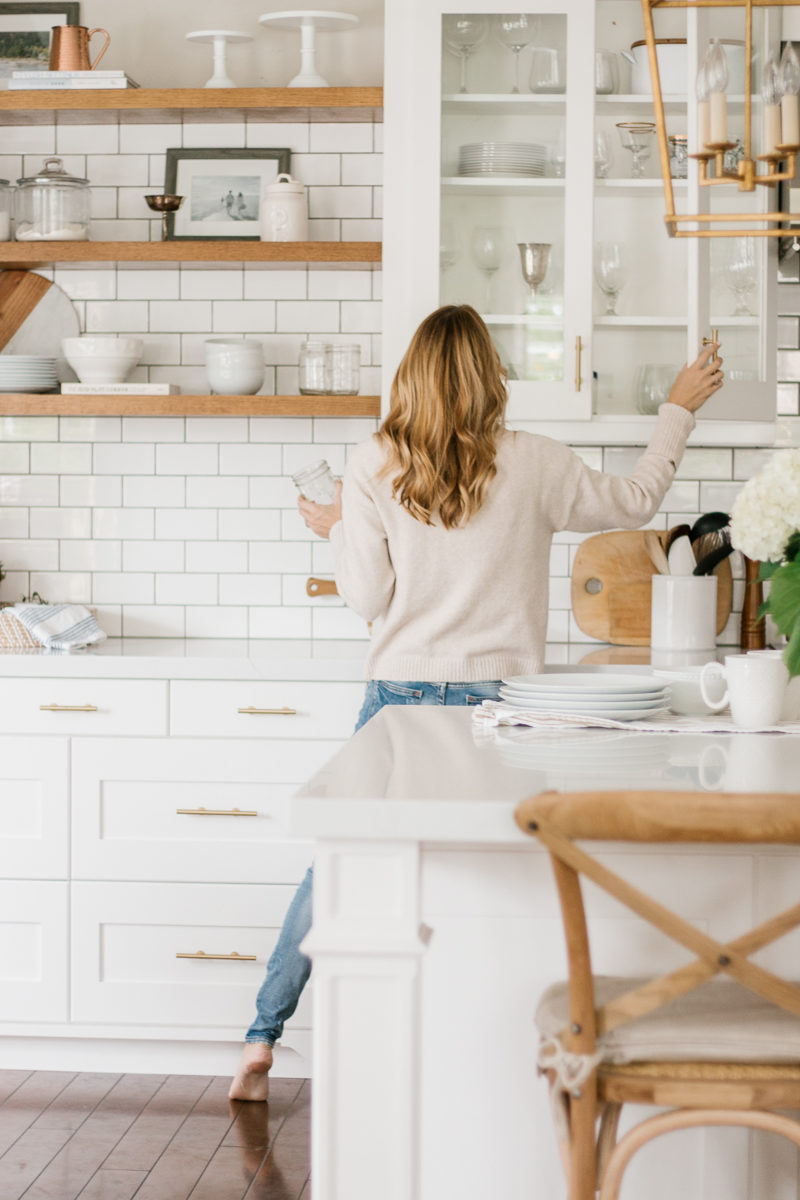 10:30 am Showered and dressed for the day. Empty the dishwasher and clean up the kitchen from the breakfast hour. I have to have a clean kitchen for the day. It's often where I shoot blog material and I love for it to be picked up and neat.
10:45 Back to work. I head upstairs and throw a load of laundry in on the way to my work space. If I have any conference calls this is the time I schedule them.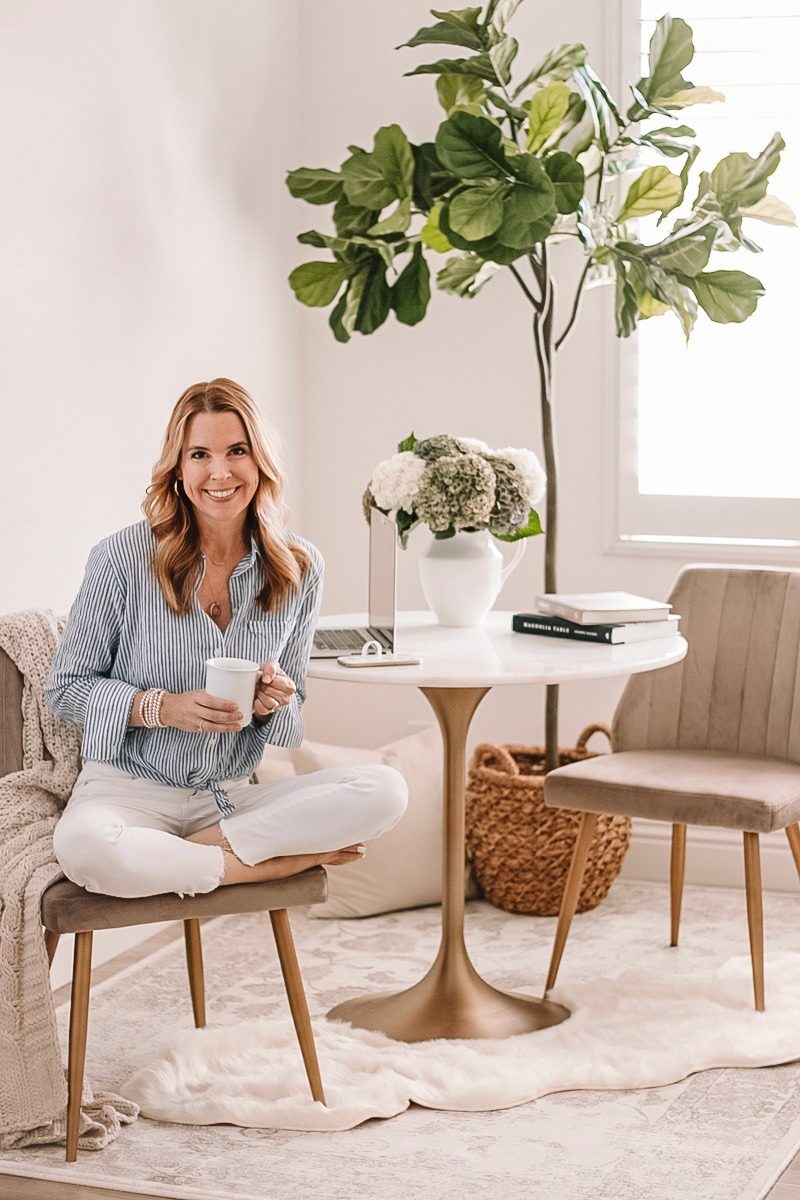 striped top | white pants | table | chairs
I will either work on the computer drafting content, interacting with brands or head out and run errands.
12:15 pm Lunch Break. I usually make myself lunch and get caught up on the news. I am trying to be better about scheduling lunches with friends. Working alone all day can become very isolating.
12:45 pm Back to work. Creating content, working on the back end of my blog, trouble shooting, editing photos, wrapping up contracts with brands, or planning future content.
2:00 pm Usually break out the camera to shoot photos for the blog. I turn up the music and enjoy the process. This is my happy place. I feel creative and inspired when I am creating something pretty or useful for the blog. Lately, food photography has my heart.
2:50 pm Realize it's almost time to pick up the children and frantically clean up the mess I made shooting projects.
3:00 pm Pick up the kids from school.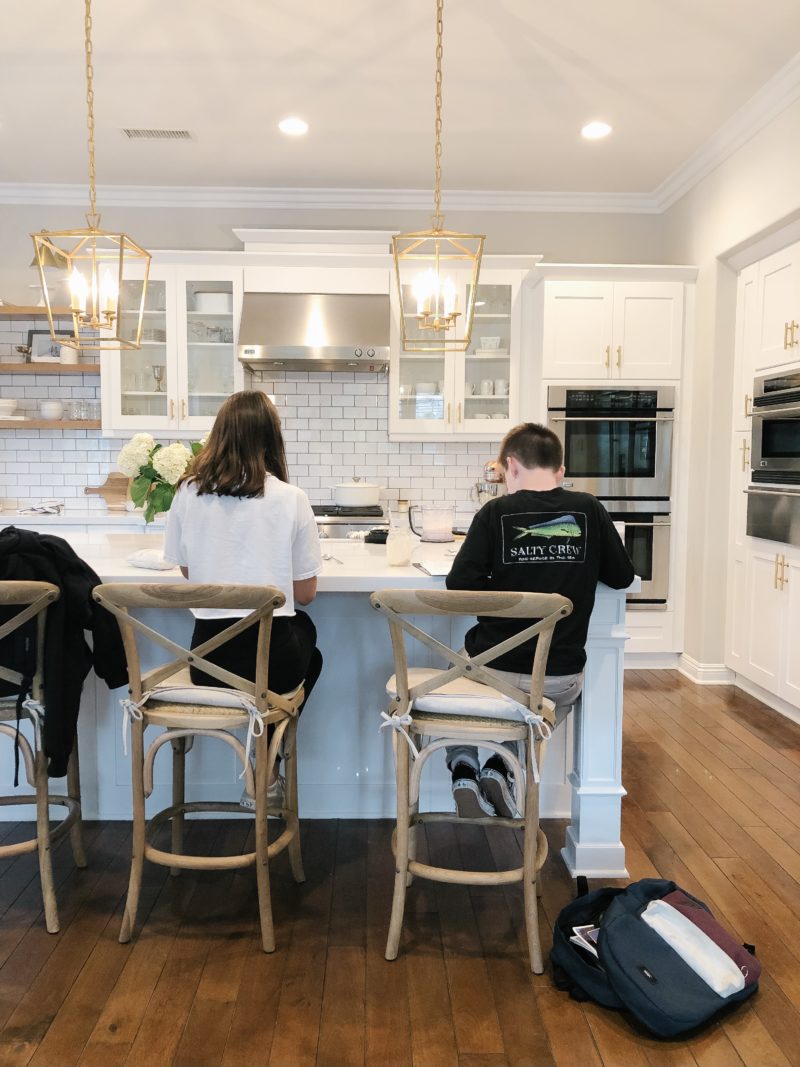 3:15 pm Favorite time of the day. This is when I make the kids a snack (usually a full meal) and they do their homework at the island. They have been in the routine of doing homework right after school since kindergarten. With sports and after school activities it just works well for them to get the school work out of the way. Some days it's as smooth as can be and they get along beautifully. Some days it's a major bickering session. All part of family life, right?
This is also when we talk, catch up, hear about what is going on at school, and I answer any questions regarding homework. Although I don't know how much longer that will last. Math these days is no joke. I really do work my tail off during the day so that when they get home from school I can be fully present and engaged.
EVENING ROUTINE
5:00 pm Sadly, homework is at least two hours. My son is normally off to hockey with my husband by now (he gets home in time to take him) and my daughter and I get some quality time together (unless she has volleyball). I love chatting with her. Some of our best conversations are during these evening hours. I also use this time to finish up laundry.
6:30 pm Start cooking dinner. We used to always eat at 6:30 but hockey practices are later so we have pushed dinner back. I turn on Pandora and get in the zone. I also use this time to work on blog items in between cooking.
quick & easy chicken noodle soup
7:30 pm Eat dinner as a family. This is something my parents instilled in us. We LOVE sitting down together and talking about our days. It may be rushed some days but it's still a priority for us. Right after dinner, showers and pajamas happen. My husband and I do the dishes and clean the kitchen counters.
BEDTIME ROUTINE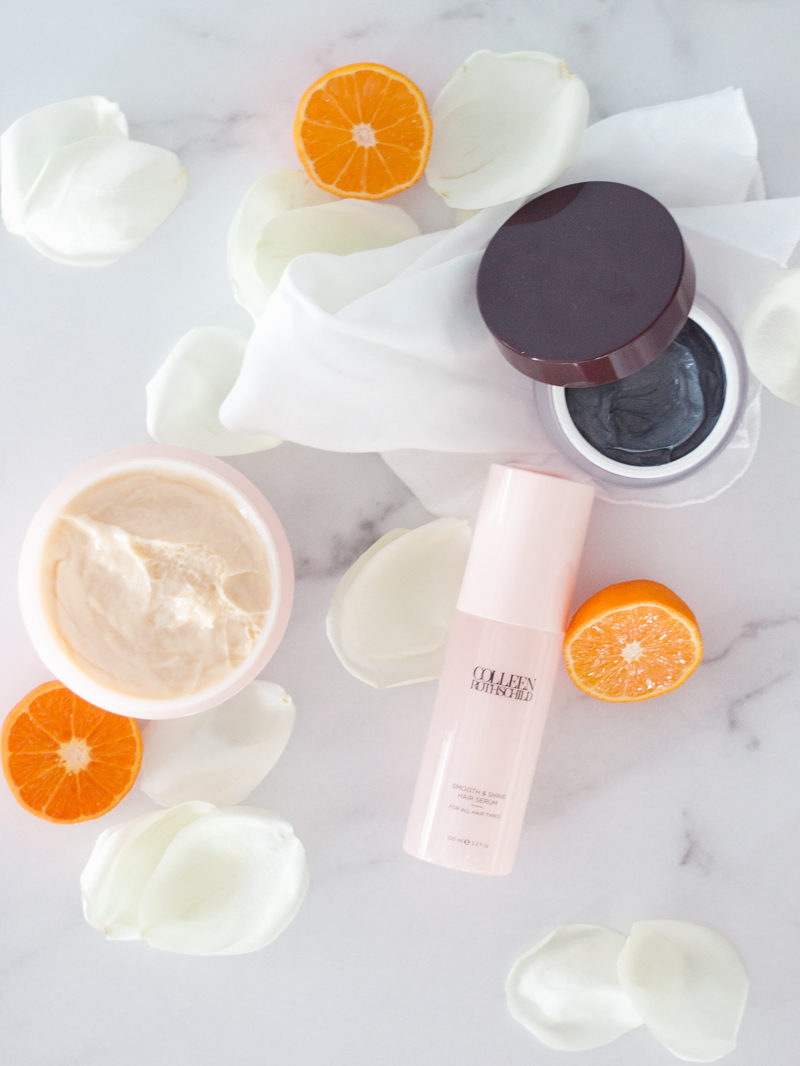 8:00 pm The kids get ready for bed and so do I! This is when I remove my makeup and wash my face. I think it's so important to take care of your skin before you are too tired. I swear by this Radiant Cleansing Balm and always use the muslin cloths. I just bought them for my daughter, too. I've been using Colleen Rothschild products for years now and adore them. It's her big birthday sale so it's a nice time to stock up of your favorites, too.
MY GO-TO FAVORITES

If you are looking to test out a few products, I highly recommend this kit. In fact, this is what I travel with.
HAIR CARE PRODUCTS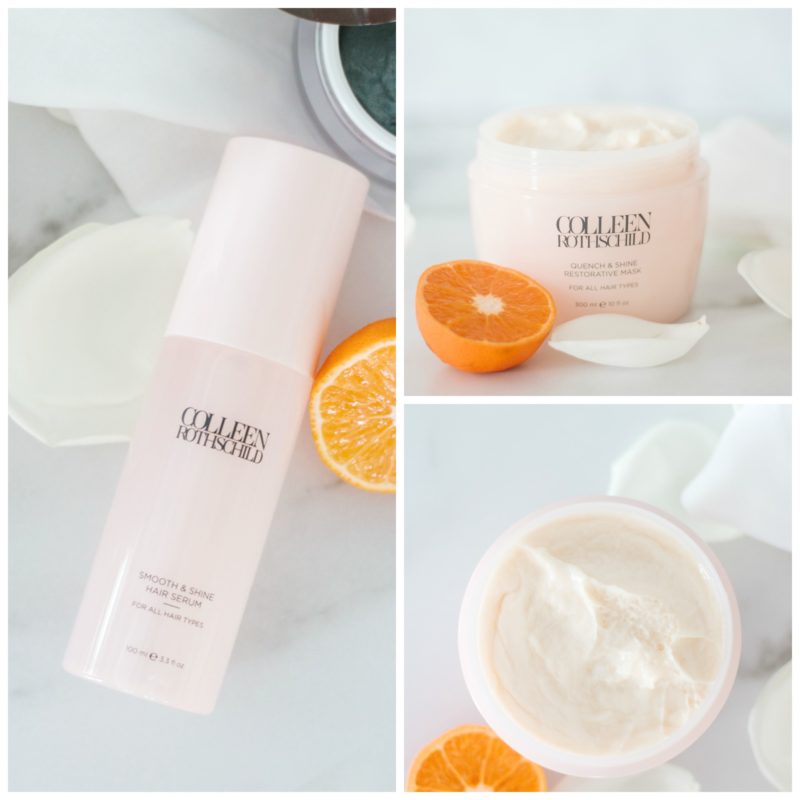 smooth & shine hair serum | restorative hair mask
Riley and I are both excited about these new hair products. We are both loving this smoothing serum. It's especially great after we've braided her hair and want to keep the flyaways at bay.
TIME TO RELAX
8:15 pm We don't have the TV on after school (they really don't have time) so this is the time that we curl up and watch something together. It's usually The Voice or America's Got Talent. The kids love to snuggle and just decompress for 30 minutes.
8:45 pm Kids head upstairs. They can read in bed but unless someone has a very late sports practice, this is when we say goodnight. While my daughter will stay up later reading, my son is out like a light. He trains hard and is ready for sleep.
ALONE TIME
My husband and I cherish our quiet time together. We usually sit on the sofa and watch a show but end up pausing it thirty million times so we can talk and catch up. Sometimes we sit out on the front porch. It just depends on our mood. Always a nice way to wrap up our day.
10:15 pm We head upstairs to go to bed. Thankful for another day.
And that's a wrap on a typical day around here. Of course they are all slightly different depending on what we have going on. Let me know if you like reading posts like these. Always happy to share.
And don't forget about the big Birthday Bash going on for Colleen Rothschild. It's a great time to replenish your products and save money.