There use to be a "rule" about no white after Labor Day. While I do think it's antiquated at this point, I certainly break it every year. White is my favorite color to wear and I actually think it is most beautiful during the winter. Anyone else in favor of year-round white? Sharing a few ways to incorporate it into your Fall wardrobe.
WHITE DENIM FOREVER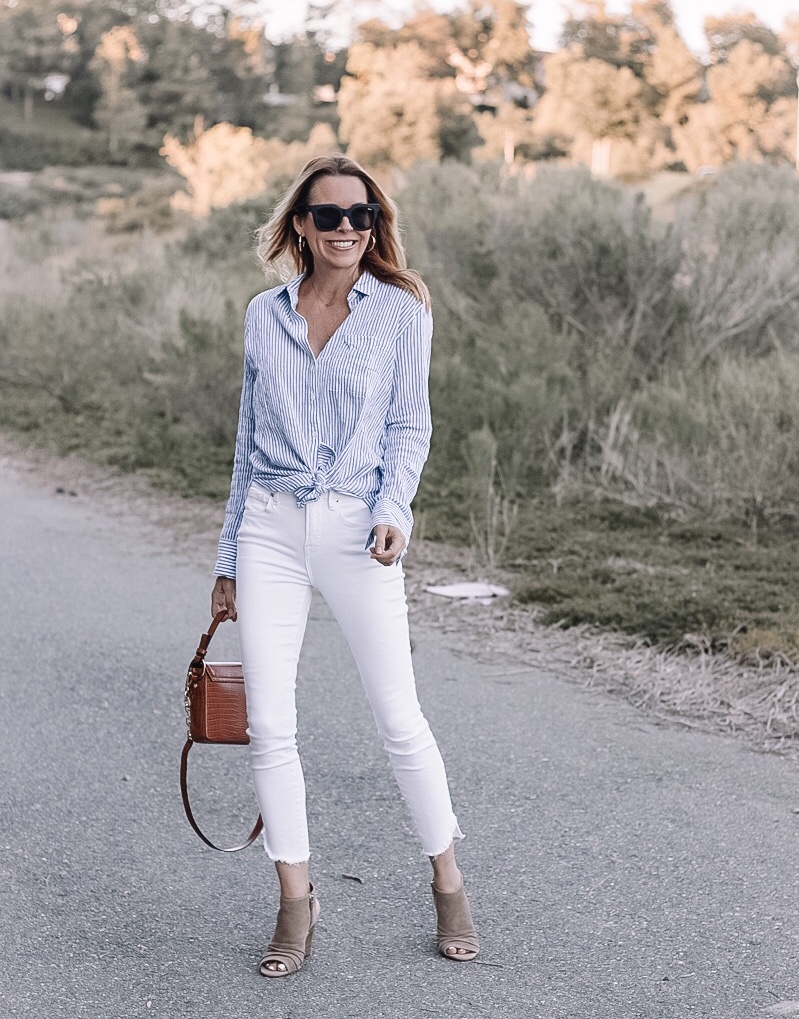 When the temps are still hot, hot, hot, white jeans are a nice way to transition into Fall. I love the hem on this pair of high-rise denim. They are incredibly comfortable and not at all see through.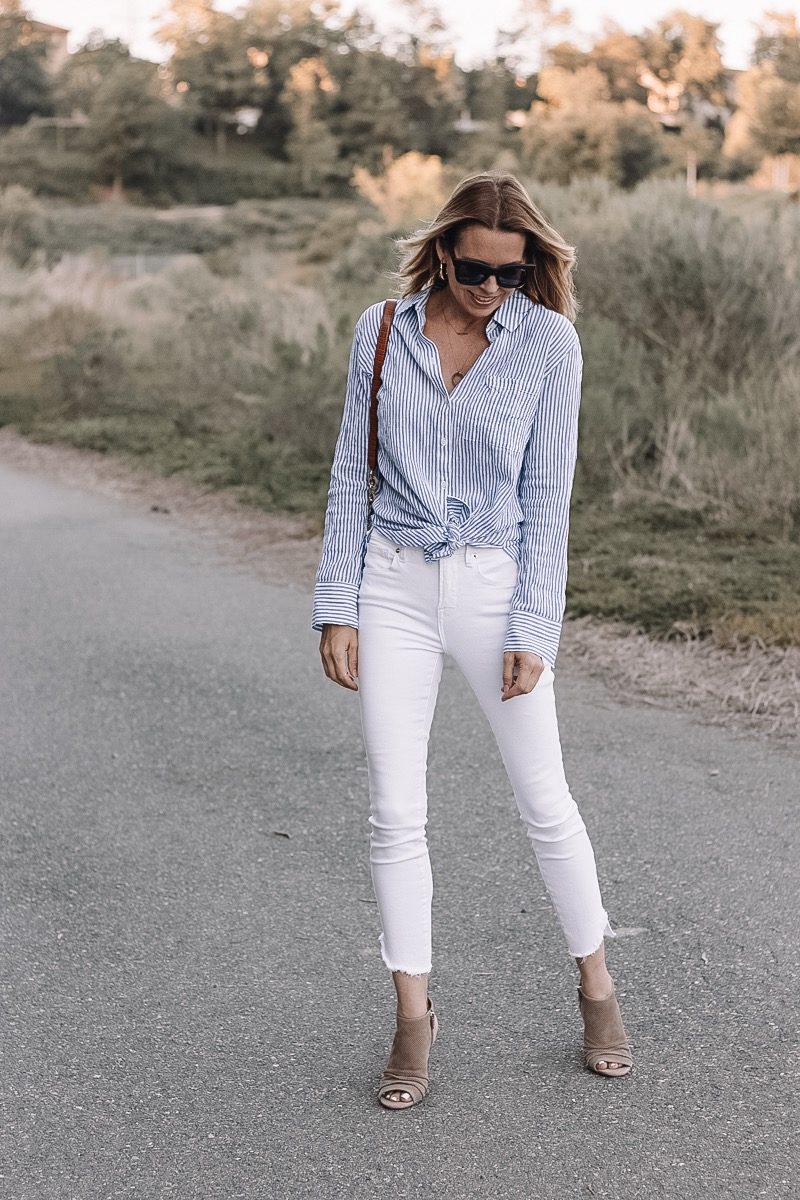 white denim | blouse | booties | sunglasses | handbag | hoops
This button down is a nice breezy fabric so it's perfect for the warmer parts of Fall. It's classic and will never go out of style. If you don't button the cuffs, they flare out a bit which I really like. Even if it is tied at the waist, the shirt can be worn long in back to cover your booty.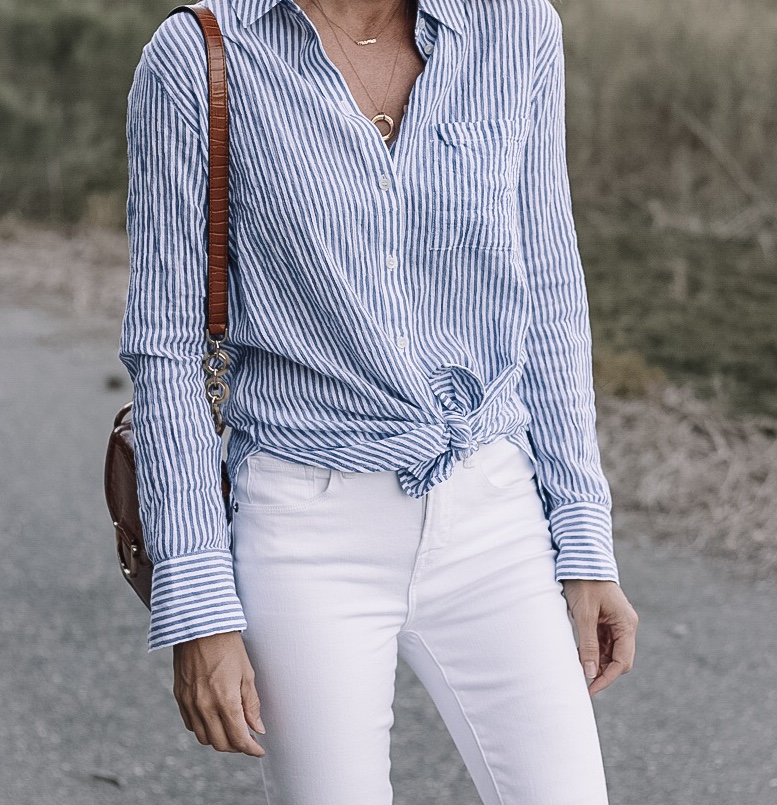 mama necklace | circle pendnat | earrings
THE DETAILS
Still wearing my layered necklaces every single day. One has my children's names and a family saying on it and the other one reads, "Mama." I treasure it even more after losing my mama.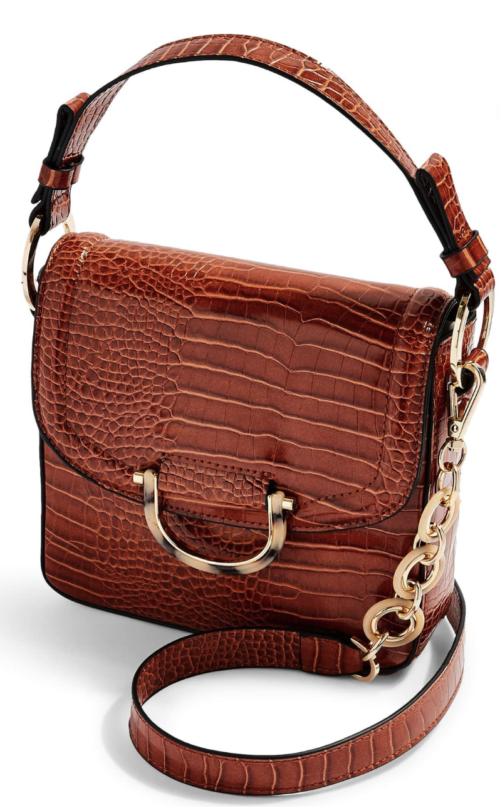 The handbag is inexpensive and a really fun one to add to your wardrobe. You can carry it over the shoulder or just with the little handle. The gold detail on it gives it really striking look.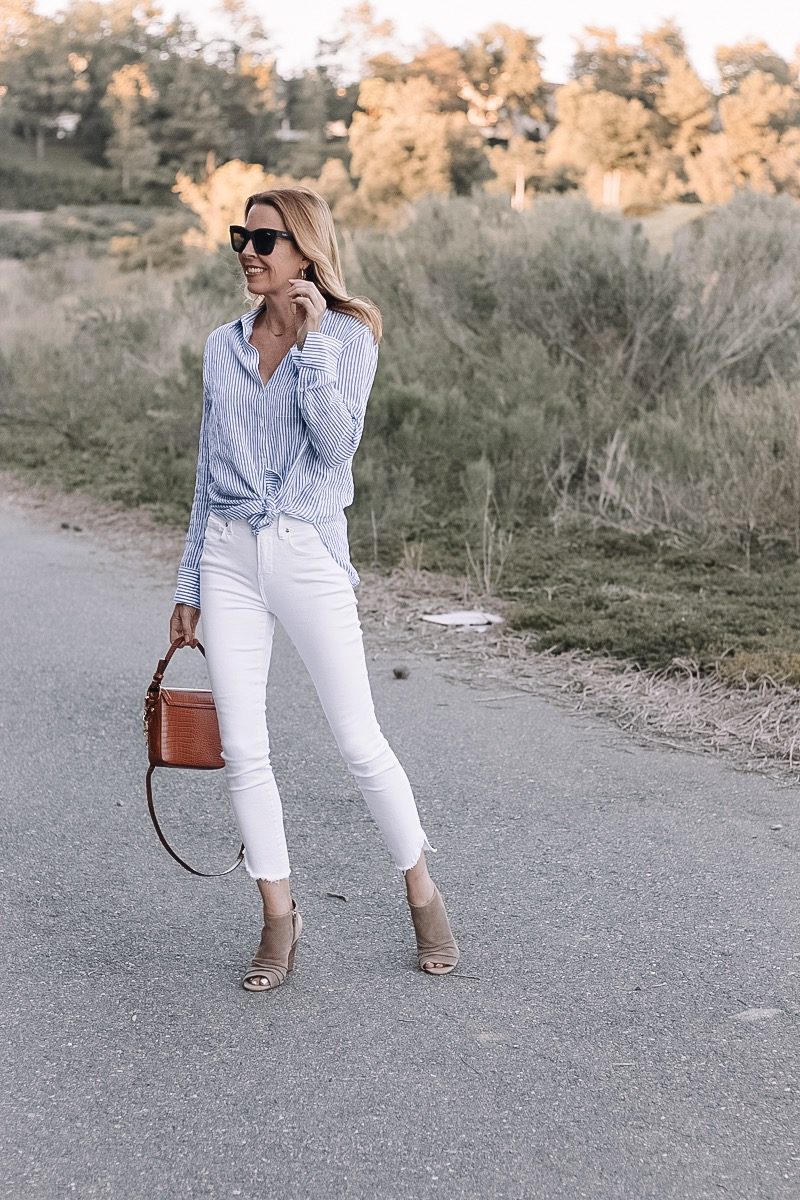 If you need a comfortable and versatile bootie, this pair has been good to me. I reach for them all the time. It gives your outfit more of a Fall look but the open toe works for warmer days. They look fantastic with skirts and dresses, too. Definitely one of my all-time favorite purchases.
This is also a beautiful choice.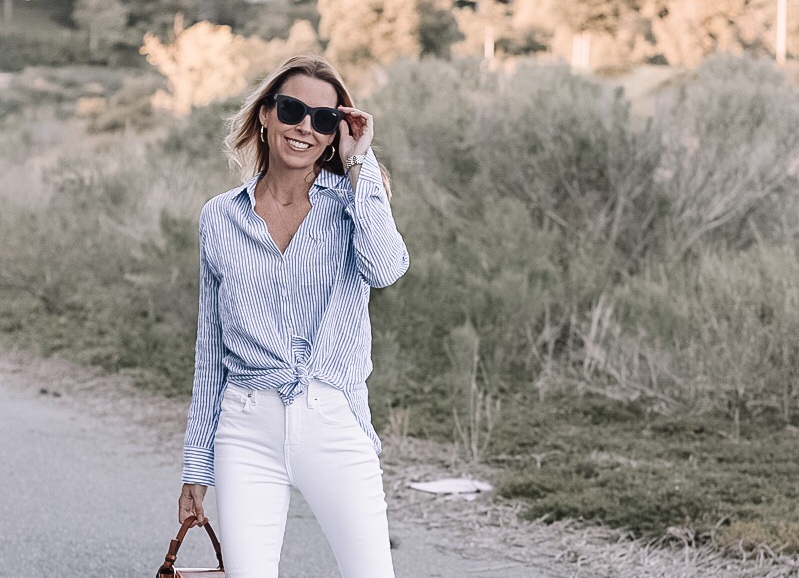 FIT: I went down one size in the blouse and am wearing the XS. I really like the way it fits. In the denim, I am wearing a size 2.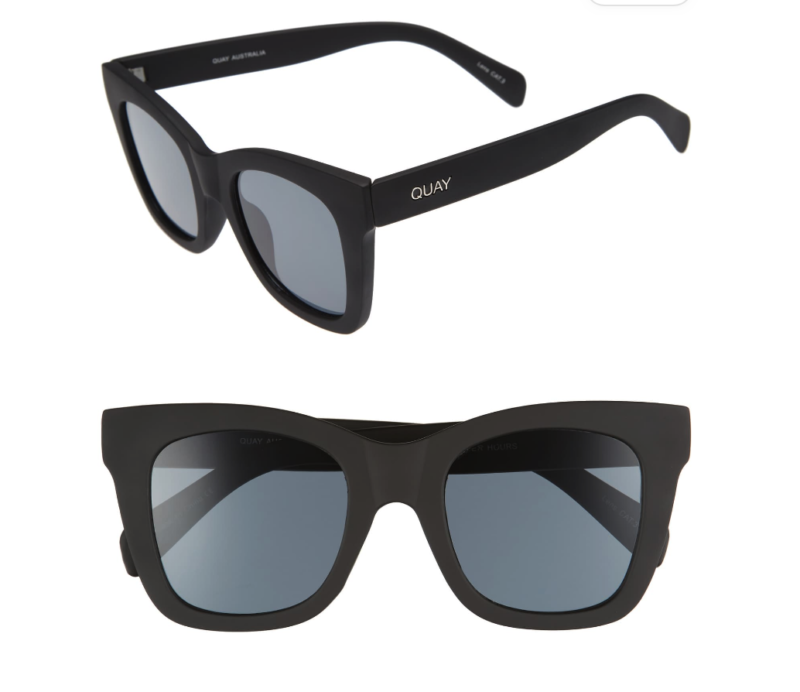 Pretty obsessed with these. They are oversized and a matte black finish. They look great with any outfit and I LOVE them. They also come in a tortoise shell which I may have to snatch up. They are a great price, too.
My husband even commented how much he loves these and he's not one to really notice sunglasses. These are fun ones, girls.
CLEAN AND CLASSIC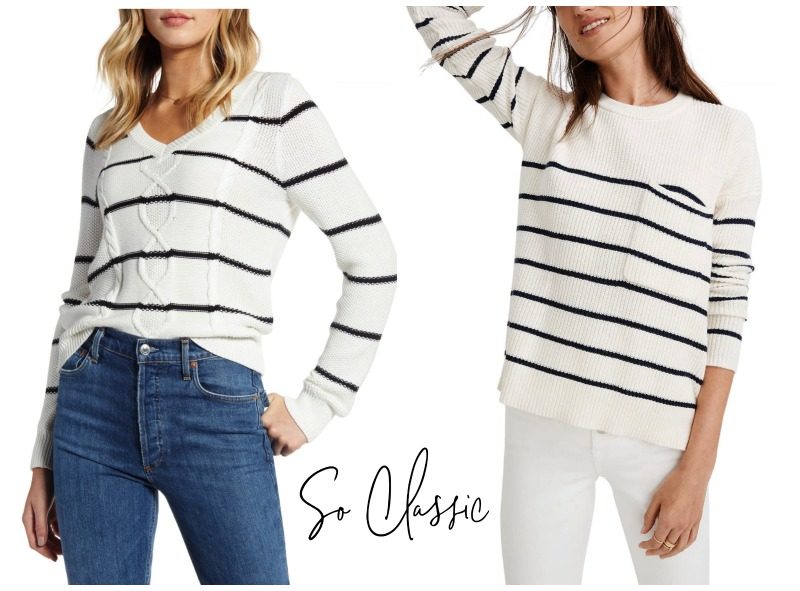 Both of these, please. So classic and perfect to add some white after Labor Day. I am always a sucker for cable knit. Something so effortless about it. Number two is currently price-matched at 40% off! That's awesome.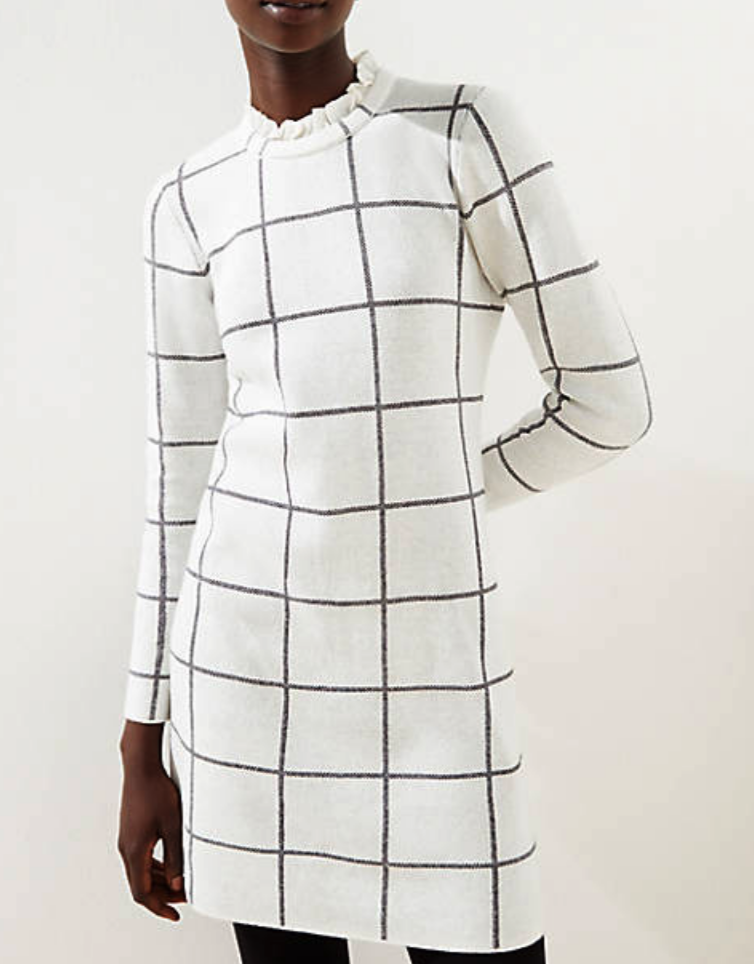 Oh my goodness. This dress is on sale and I think it's adorable! The ruffle around the neck is so feminine and pretty. This would be so beautiful during the holidays.
The sleeves on this are so pretty. This kind of lightweight sweater looks so perfect with denim or dressed up with white pants during winter. I also love this type of sweater with a pencil skirt.
ONE LAST LOOK
white denim | blouse | booties | sunglasses | handbag | hoops
So where are you on the idea of white after Labor Day? Do you also love to break the rule and keep the white going? Would love to hear your thoughts.
If you need me I will be digging my way out from under all of the boxes. We packed up a three rooms prior to the renovation and have yet to touch a single one. Time to crank up Pandora and get to work. Hope you all have a wonderful Tuesday.