Not exactly the post you want to be reading, right? Even the title might make you uncomfortable. But here is the deal. Death is very much a part of life and yet it's rarely spoken about. Death and dying are uncomfortable topics for most. Our society tends to shy away from the concept altogether or wishes to move past it as quickly as possible. If you have ever lost someone you may have experienced just that.
My hope is that this blog will always serve as a soft place to land if you are experiencing grief, a sudden and unexpected loss, or a long goodbye. Without question, death is a tender topic and none of us know exactly how to broach the subject. But the important thing is to know that there are absolutely things you can do to help a friend who has lost someone special.
Although I have lost three of my immediate family members, many people my age have yet to experience loss. And while it has been a significant part of my journey thus far, I STILL struggle when others lose someone special. My sister and I are amazed with how wonderful our friends and family have been and it helps us grieve and assimilate into the losses. We've learned so much from them. I also reached out to friends who have experienced loss to ask what was most helpful for them. I was a bit surprised to find that their list was almost identical to the one I had composed. With so many common threads, it really gave me the confidence to know that the following list is pertinent through so many different types of loss.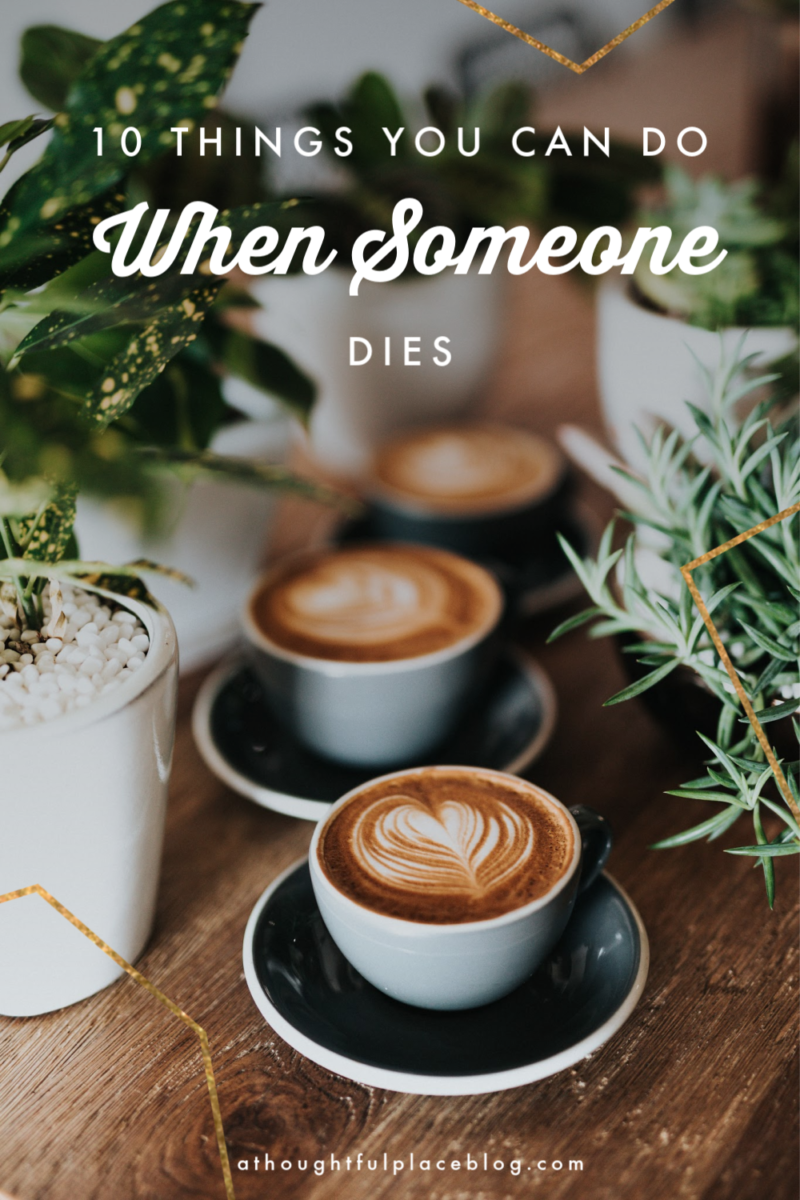 This post is merely a way of opening the conversation. And perhaps when you hear the devastating news that someone is gone, this might be a resource when you feel stuck. For those moments when you second guess yourself or think, "I don't know what to do or say." Here is what you can do.
1 | SHOW UP
That's the most important thing you can do. Just show up. Don't be afraid of saying the perfect thing. No one expects you to take away the pain or make it all better. A friend just needs a friend. Plain and simple. By showing up you have already been a wonderful friend.
2 | TEXT
Grab your phone and send a text. Easy. "I'm thinking about you right now. I love you. I am here for you." Or ask how they are doing that day. When the grief is extremely raw, a simple adjustment in how you ask will make all the difference in the world. I've heard this from so many people. Asking the general question, "How are you doing?" can be deflating. Because what your friend really wants to say is, "I'm devastated." or "I don't know, I can't even wrap my head around that question. . . my world is falling apart." But "How are you this very minute?" is something that can be answered. It's manageable inside their head that is undoubtedly spinning.
3 | LEAVE A MESSAGE
Pick up the phone and call. More likely than not, you will reach their voicemail. A short and sweet loving message is wonderful. "You've been on my mind all morning and I just want you to know that I am grieving with you." or "Please know I am here and just a phone call away day or night." If they answer the phone boy was that a sign that you were meant to call and they need to talk. Jackpot.
4 | FIVE SECOND RULE
Are you aware of the five second rule? That if you don't physically act on a thought within five seconds, your brain will kill it. I think this is so pertinent when it comes to being there for someone else. If you think of your friend, act. Send the text, make the call, drop by for a hug. I believe those thoughts come into our heads for a reason. And you never know, it may be exactly what that person needs at that very moment.
5 | BE UNDERSTANDING
Be understanding. Grief looks different for all. Just because someone is grieving doesn't mean that won't still be smiling and fully present one day and lost and withdrawn the next. And being happy and joyful doesn't mean they are over it. There is no getting over it. There is getting through it. A loss is forever. Holidays, anniversaries, . . . they can all be especially painful and complicated. Just know that there is no expiration date on grief.
6 | LISTEN
Listen. It's absolutely ok if you don't know what to say. Just be there to listen. Let them know you are not going anywhere. Loss breeds insecurity. An insecurity about people not being there. Let them know you'll be there.
7 | DROP OFF DINNER
Drop off dinner. Often times friends start meal trains or something similar. That is awesome. But what else is awesome is just texting and saying, "I am bringing dinner today. Pop it in the freezer if you don't need it." It's absolutely ok to be lovingly assertive. It's hard for people to admit they need the help. And quite frankly, loss often makes you want to curl up in a ball so when friends are a bit pushy it's fantastic.
8 | STATEMENT OVER QUESTION
This goes along with number seven. It is human nature to ask a question rather than make a statement. It is of course more polite and it gives the recipient an out, right?! That is what we are taught. In a situation where someone is grieving and it is raw, that goes out the window. When asked a question your friend is most likely going to say, "Oh no. You don't need to. Don't worry about it." No one wants to feel like they are a burden or perceived as needing a favor. In the time of raw grief the statements below are the saving graces in your day.
"I'm going to pick up the kids after school and take them for ice cream. I'll drop them off at 4:30."
"Stay in you jammies tomorrow morning. I will drive the kids to school."
"I'm dropping a coffee on your front porch in an hour."
"I left something fun for the kids to do in your mailbox."
"Drop the kids of on Saturday for two hours so you can have some alone time."
These are just some examples and all situations are different but don't be afraid to drop the question mark and let them know you are jumping in to help.
9 | RUN THE ERRAND
Errands are so easy when you are fully functioning. When someone is grieving a simple errand feels like climbing a mountain. Plus it is very hard to be out in public just after a loss. Are you heading to Costco or target? Text your friend. "I'm headed to Target, send me a list of what you need." Or it might be, "What phone calls can I make for you?" Beyond the loss, there are oftentimes a million logistical things that need to happen behind the scenes. Asking if you can take one or two off of their plate is so helpful.
10 | Share a Story
Share a story or anecdote. This is the number one thing that actually transforms the pain into love and warmth. My sister and I are immensely grateful for the people that sent texts, cards, or emails sharing how my mom, dad, or our brother impacted their lives. It's like food for the soul. It's almost impossible to explain but hearing a story or a memory of how they remember that person allows them to live on. It begins that legacy that is so very important.
And something to remember is that just because you reach out and try one of these things on any given day and it is not met with acceptance, that certainly does not mean you can't try again. Keep trying. Keep showing up. It's remarkable what small things can really do to help someone through the process.
I would love nothing more than to fill the comment section with more ideas on what you appreciated when you lost someone special. Let's keep the dialogue going and empower one another so that when a friend needs us we think, "Ok. I got this. I am here."
MORE OF OUR STORY
Alzheimer's Journey
My Superhero
Learning to Love the Patina
Lessons Learned from Grief