Hello, my friends. I know many of you are in the throes of updating your spaces. Just last week I shared a handful of Amazon home finds with you but I wanted to give you an idea of how they look styled in our home. I am really excited about these pieces and hope that they are helpful if you are looking to refresh a couple of your own spaces. It can be time consuming to sort though and find quality decor so I hope this takes some of the guess work out of it.
BLACK & WHITE PILLOW COVERS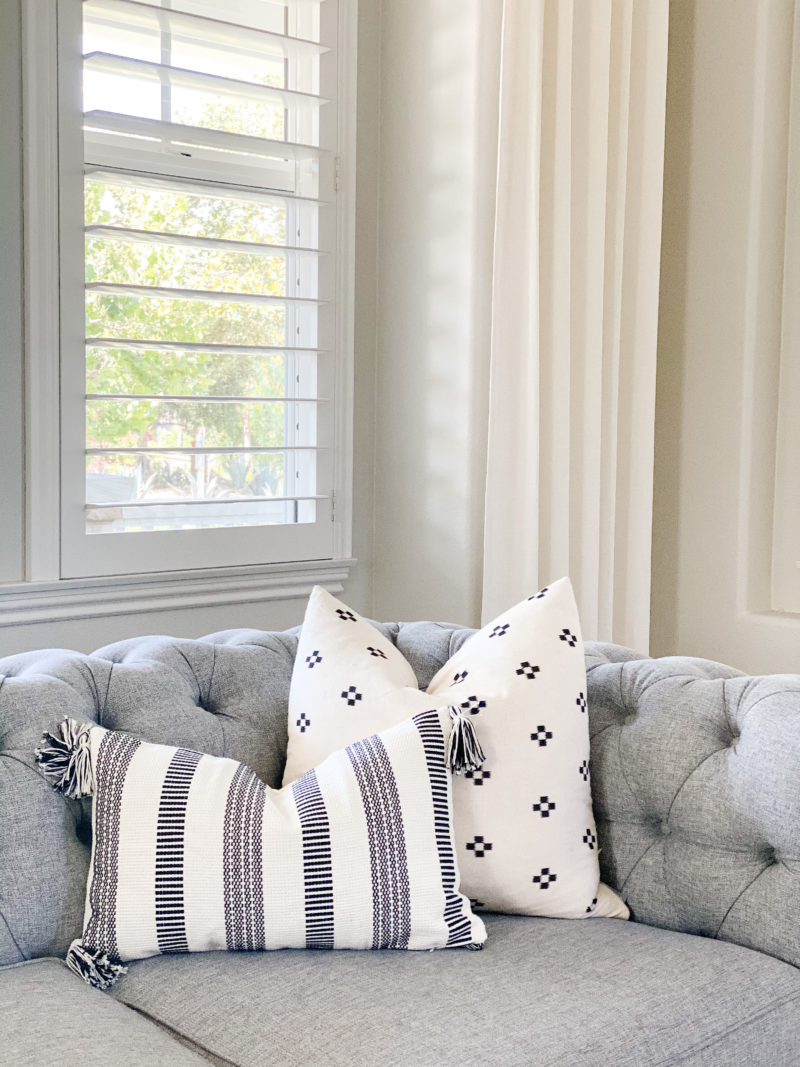 First up is this set of two pillows. I ordered them in the 12 x 20 size (pack of two for $26). I am extremely impressed. And they look great paired with my McGee & Co. pillows in our living room.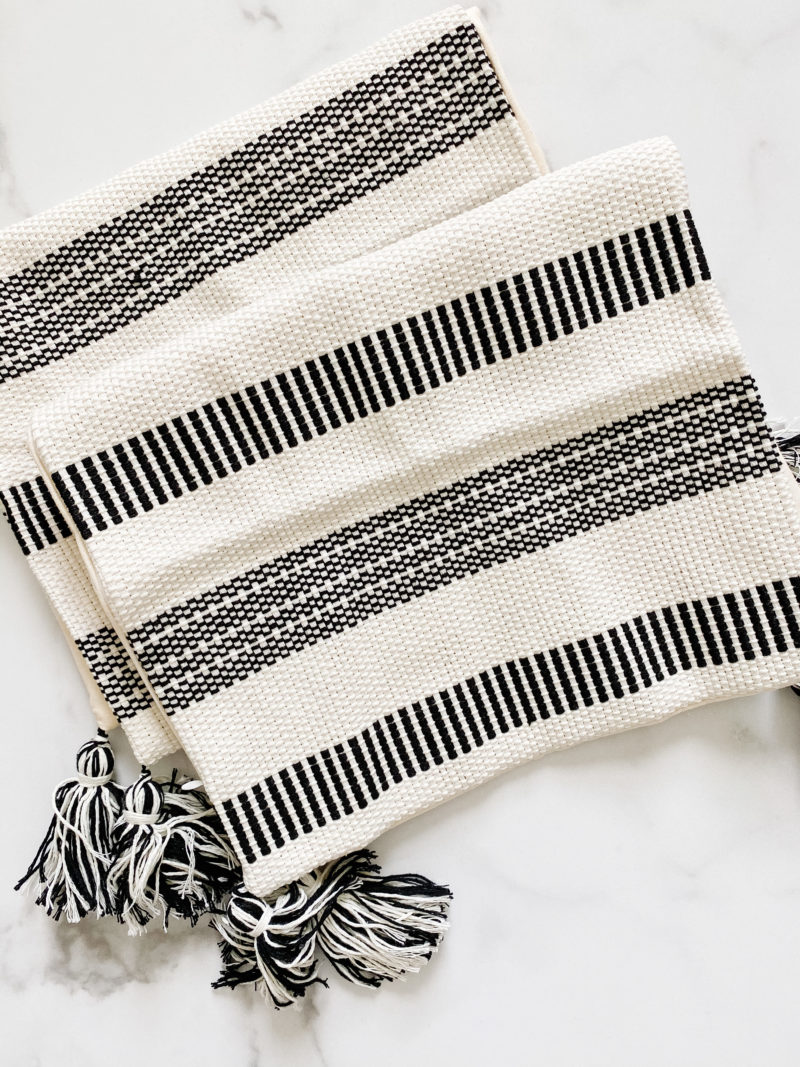 I wanted you to see the nice texture. This is a very real image of the true colors. They are definitely cream with the black design. I love how think the material is. It does not feel inexpensive at all. The hidden zippers are well done, too. While I had inserts already, these are the ones I always buy. These pillows also come in 18″ and 20″ squares.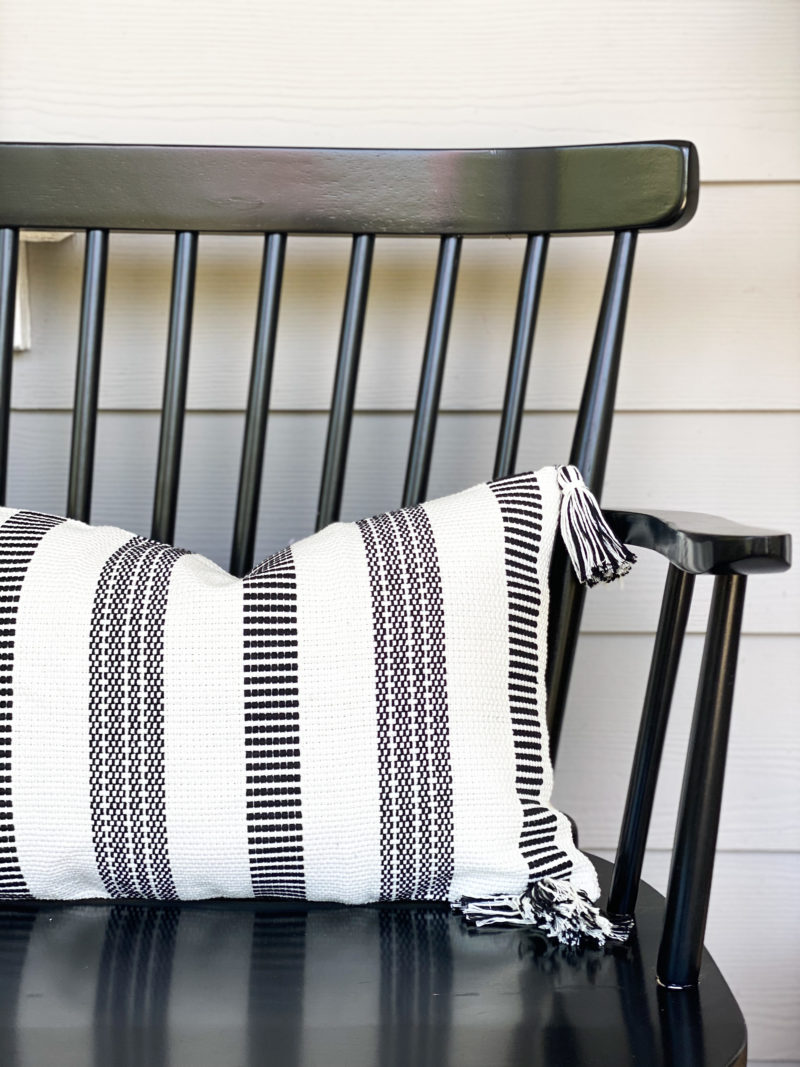 I thought I loved them in the living room, but they may have found a new home on my porch. The pillow works so well on this black bench.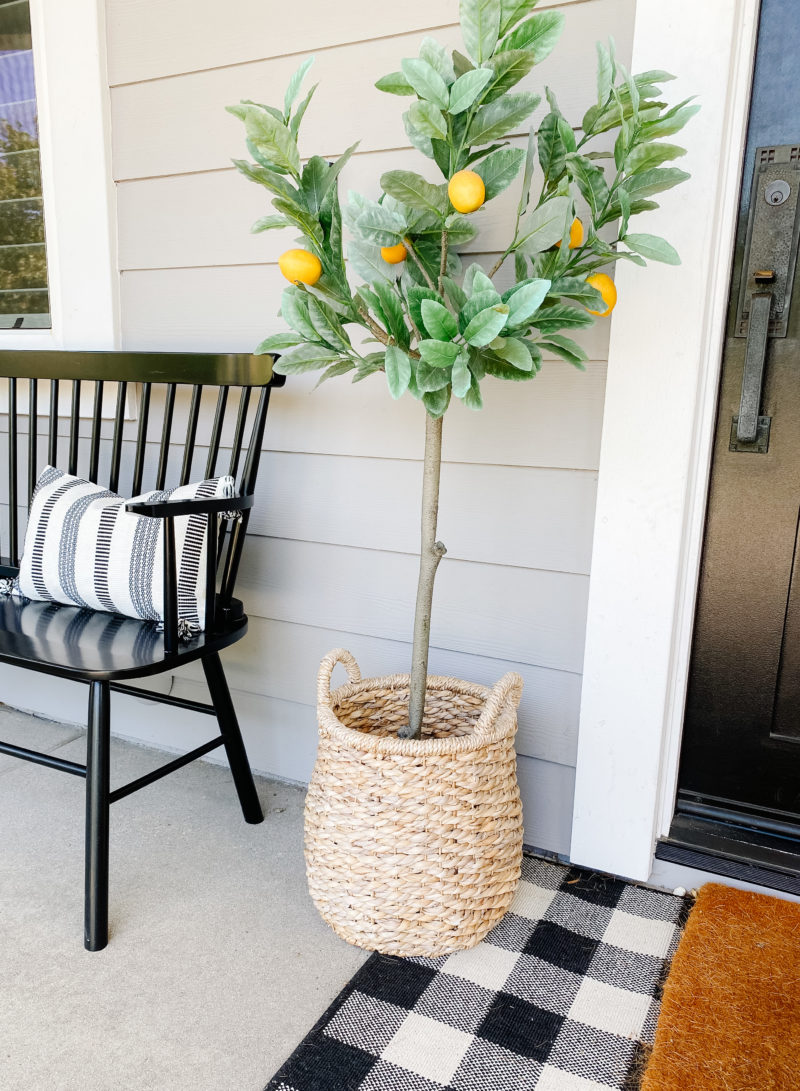 pillow | bench | buffalo check rug | doormat | basket | lemon tree
My black and white checked rug (indoor/outdoor) is currently on sale.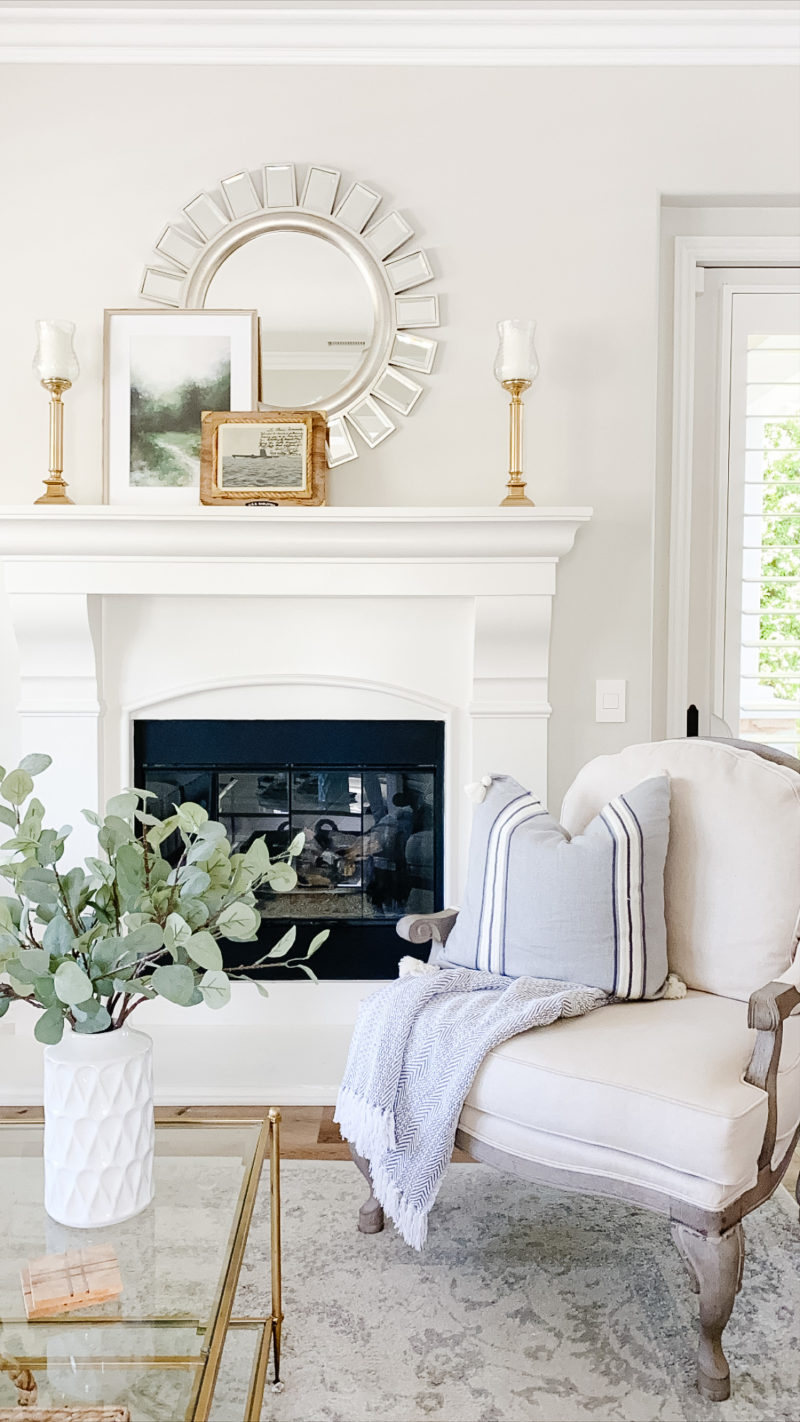 faux eucalyptus stems | herringbone throw | very similar rug
This pretty herringbone throw is also a thumbs up. It is a really nice weight and looks more high-end than it is.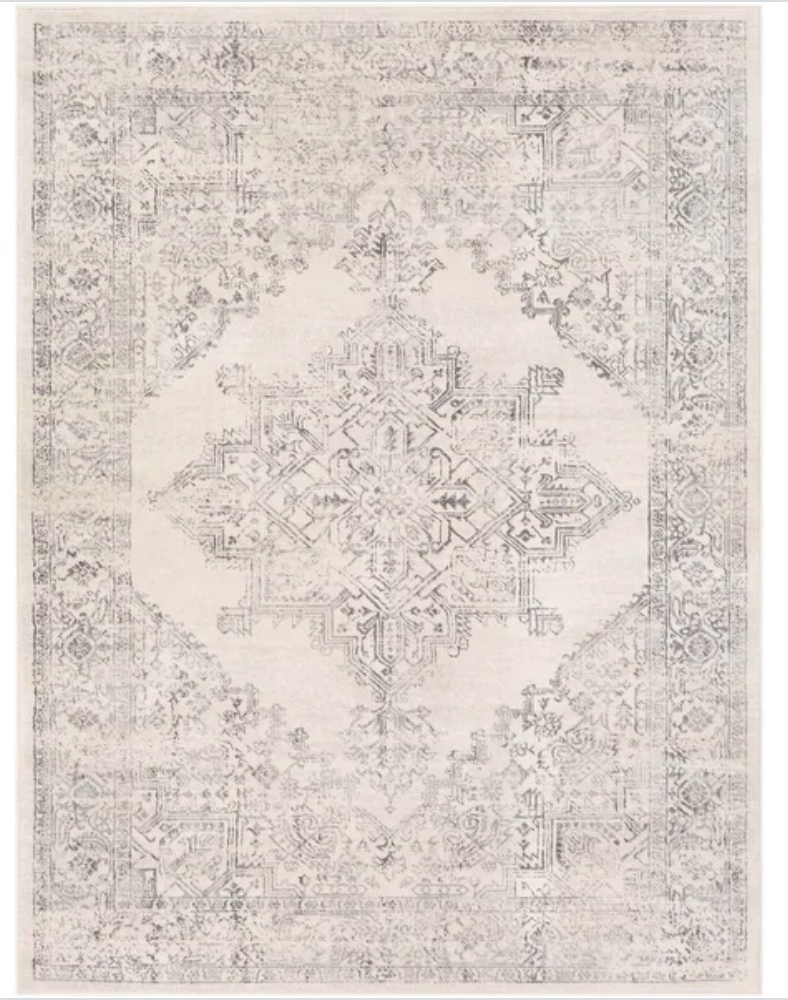 While it's not from Amazon, this rug is so similar to mine (which is sold out) and the price is amazing. Plus, it gets rave reviews. You can snag the 7 x 10 for $139.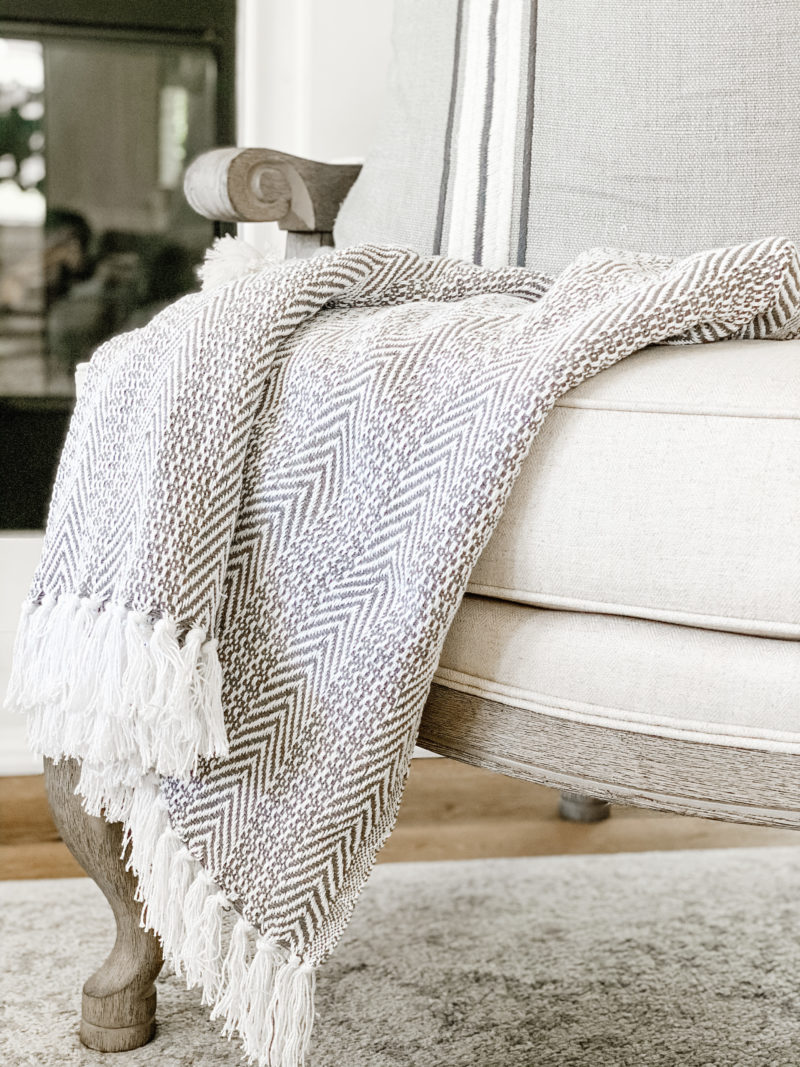 It is a true gray and white so be sure that works in your space. It actually reads too white for most of my rooms because we have so much ivory. But I am planning to use this throw outside on our porch.
STRIPED PILLOW COVERS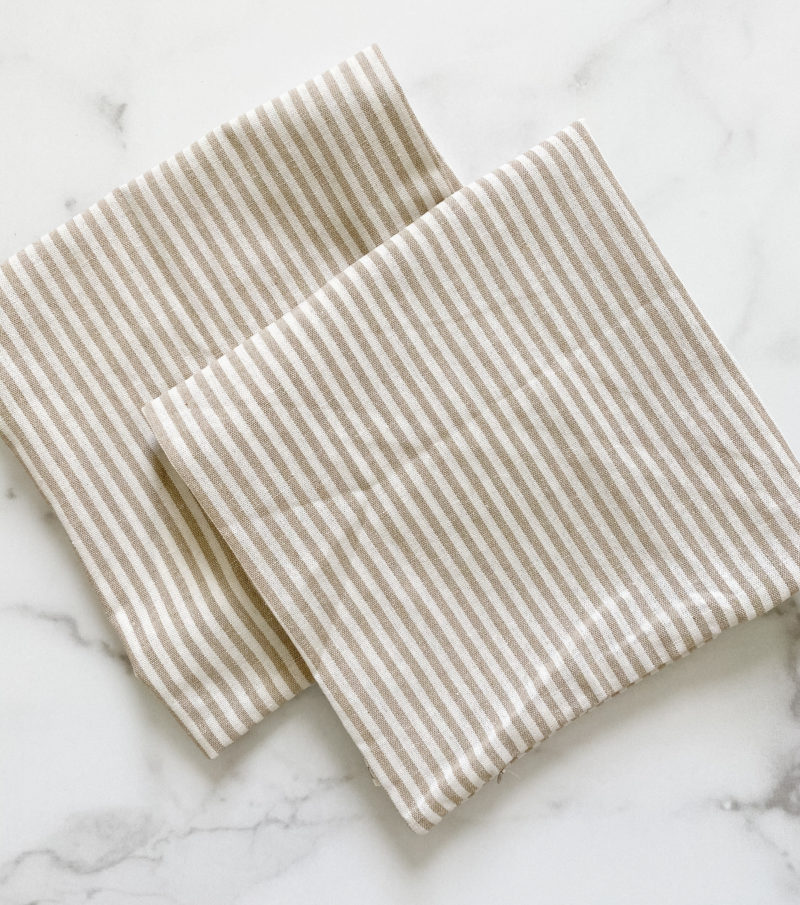 Yes, yes, yes!!! Ladies, these striped pillow covers are so good. I have a designer pillow from Danielle Oakey (which I adore) and this looks so similar. They are smaller but so darn good. They come two in a pack and are only $13 (for both). I bought the 18″ set.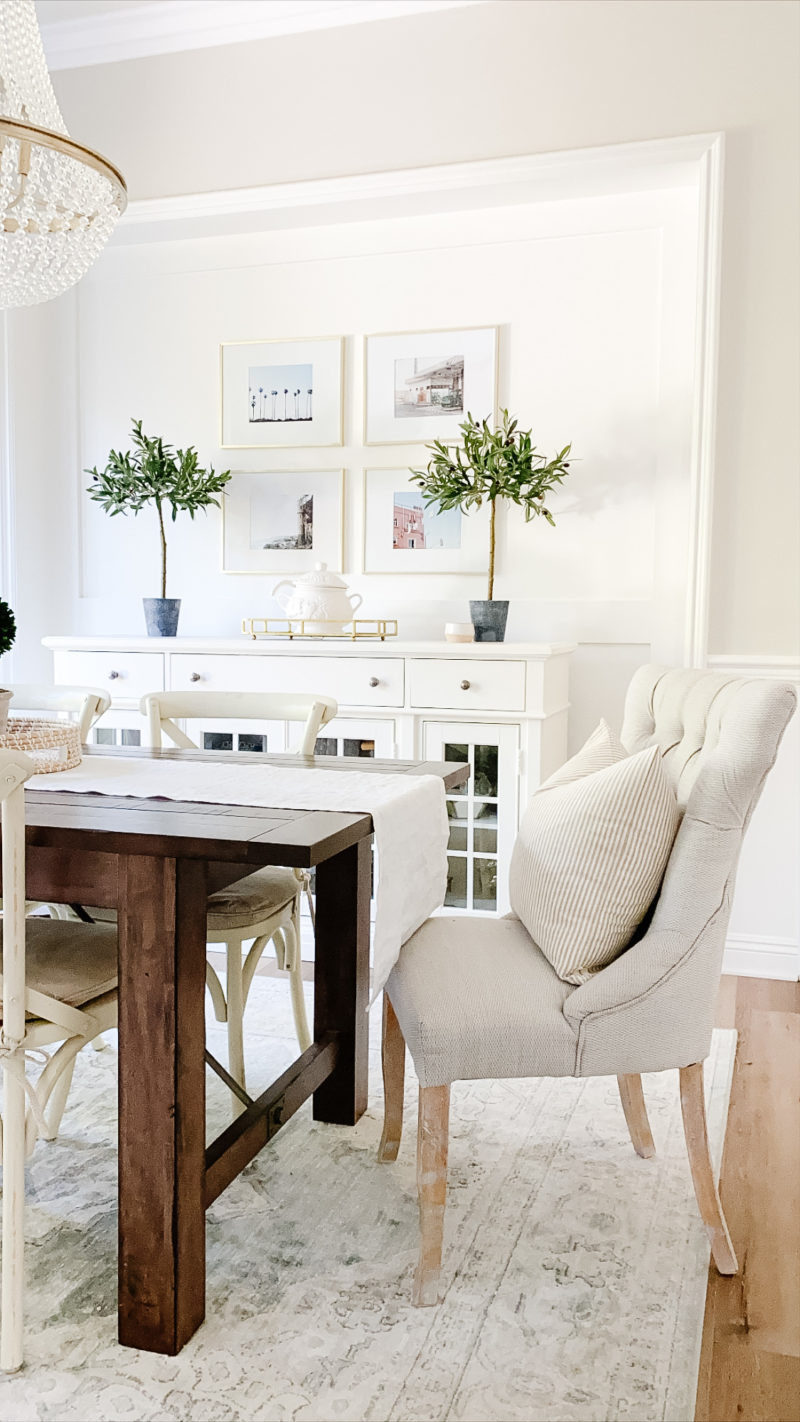 They are perfect on my dining room chairs. Previously, I had light taupe velvet pillows, but I swapped out the covers for these. So much lighter for Summer.
And they look great mixed with other prints (from Danielle Oakey Shop)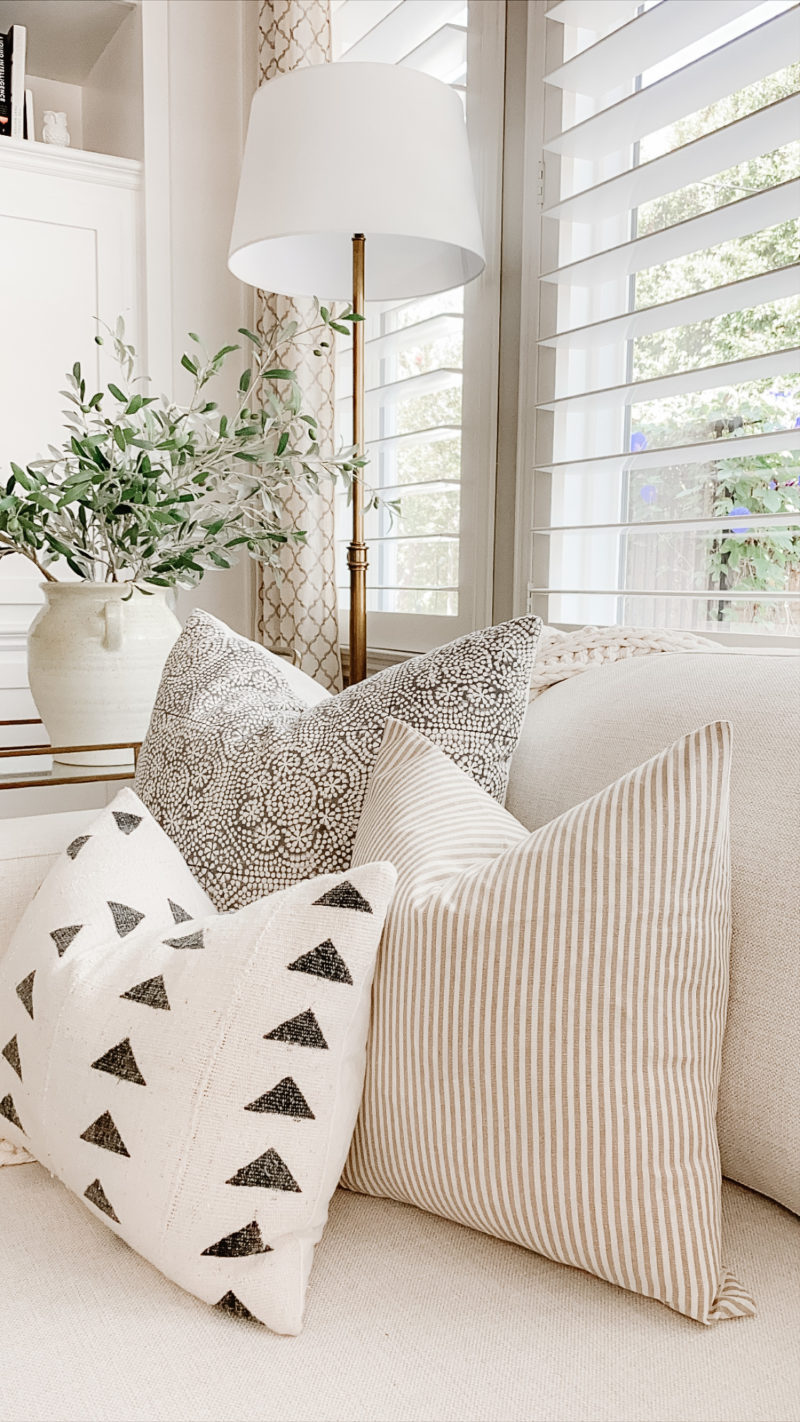 The trick is to always buy an insert larger than your pillow cover. If your pillow cover is 18″, you should be looking at inserts that are 20″. That gives your pillow a higher end look. You'll get a designer look for a fraction of the cost. Two pillow covers for $13 is great.
PILLOW INSERTS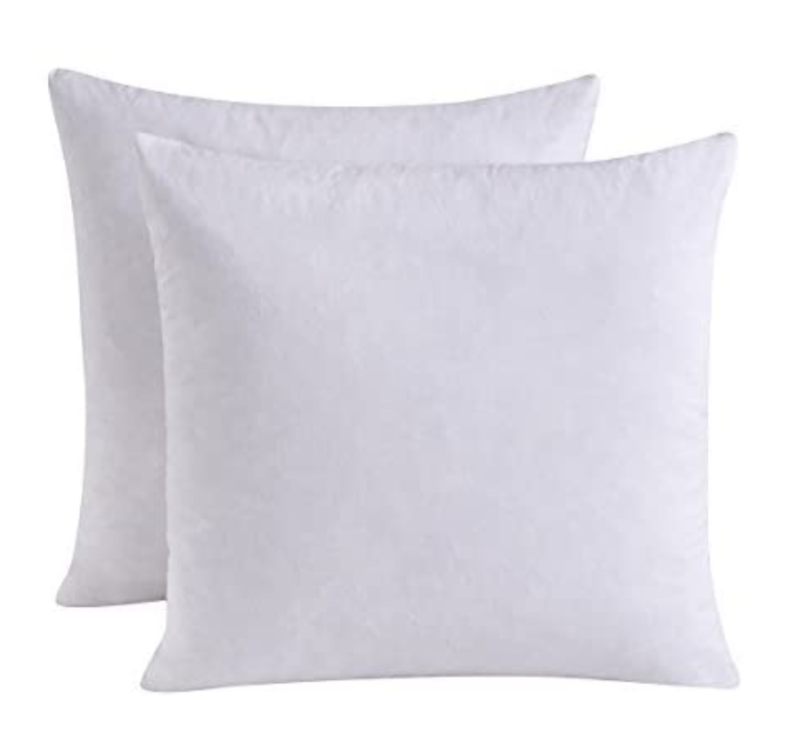 If you need pillow inserts, I have been using these for a very long time and have always been happy. They are a nice weight and a two pack will cost around $30 (depending on the size). Once I have these inserts, I rarely buy a pillow but only look for pillow covers when I want to change things up. It makes it so much easier storage wise. A folded pillow cover stacks nicely in the closet where as extra pillows take up way too much space.
RECIPE BOX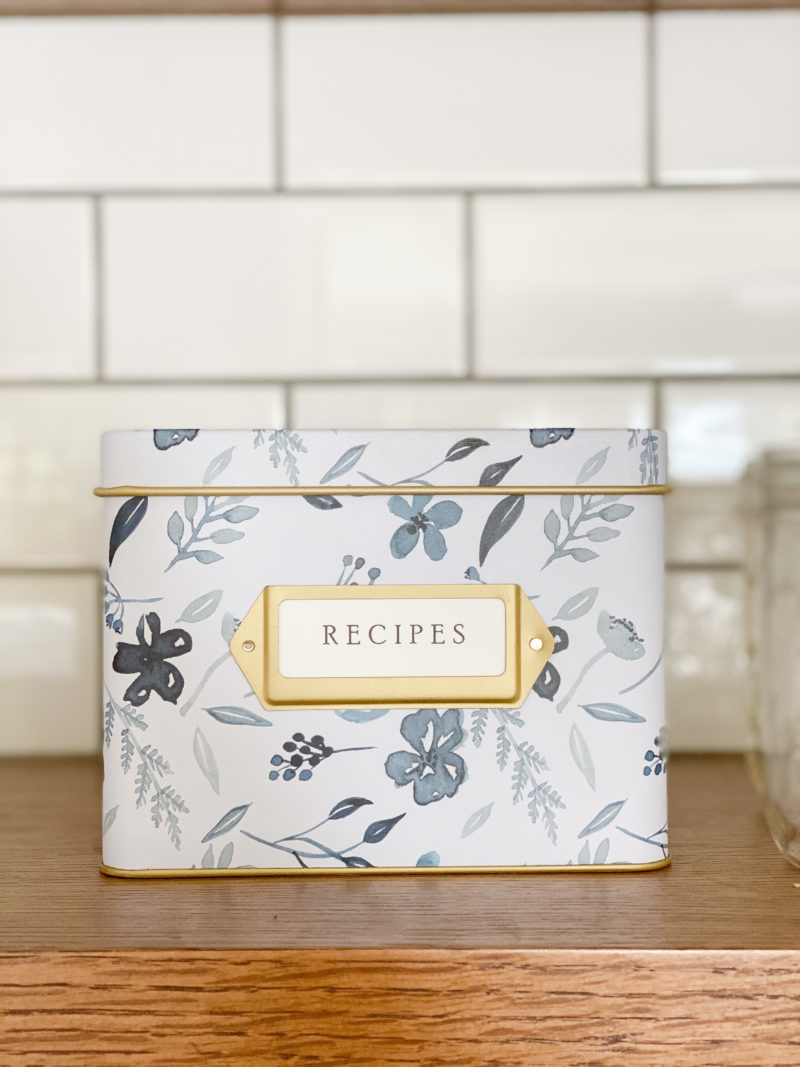 This recipe box arrived and it's so pretty. I love the soft blues. However, I wrongly assumed that the box came with cards. I apologize if you thought the same. But I found this cute set online as well as these. If you are giving the boxes as gifts, you can split up the set because it comes with over 100 recipe cards!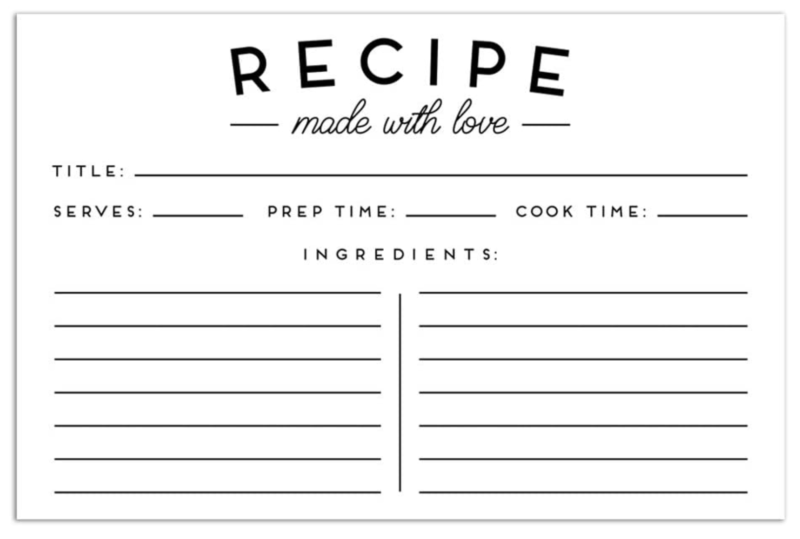 Thought this lemon set was absolutely adorable.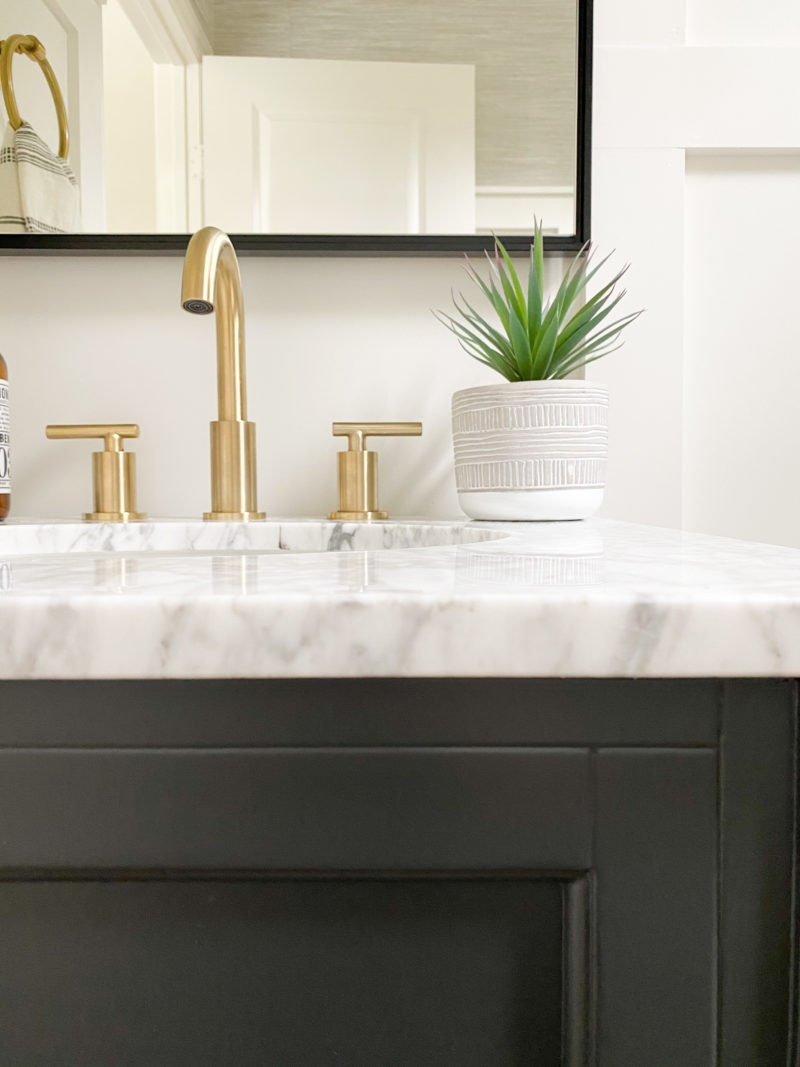 This cutie pie faux plant is the number one best seller. You all have great taste because it's a good one. It works in so many places and is extremely realistic looking.
ORGANIZATION EDITION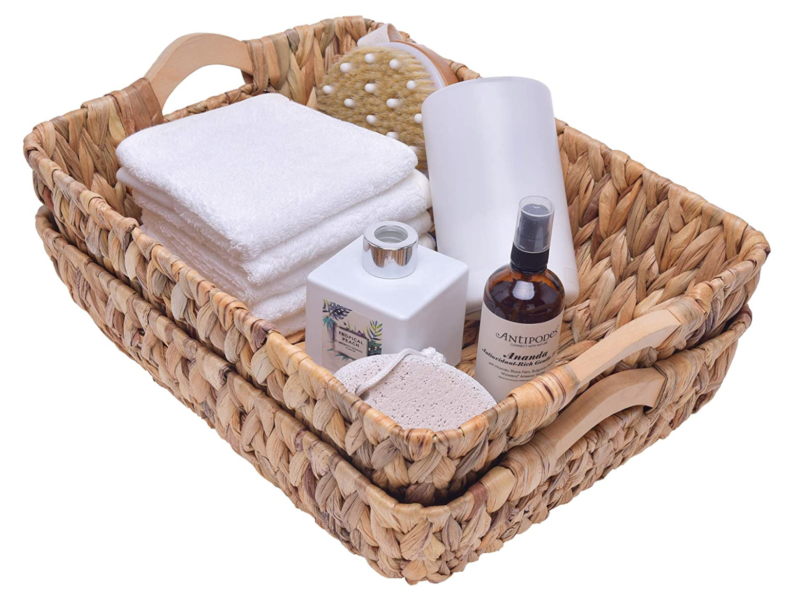 I'm excited about next week's organization edition. So many of you loved this set of baskets. I found this set of two which is great for magazines, grouping products on the bathroom counter or in a pantry. They receive excellent reviews. Next week I will share a round up of my favorite products that keep us fairly organized (we are a work in progress).
See you back here tomorrow with a super simple recipe my whole family loves.