It's almost 2016! Can you believe it? Are you hosting a party or going somewhere on Thursday? Or maybe you are curling up to watch football on Friday and need a new yummy snack. This appetizer was a huge hit on Christmas day. I found the recipe on Epicurious and it's fantastic. Would be a great one to take to a party as it is served at room temperature! Not always easy to find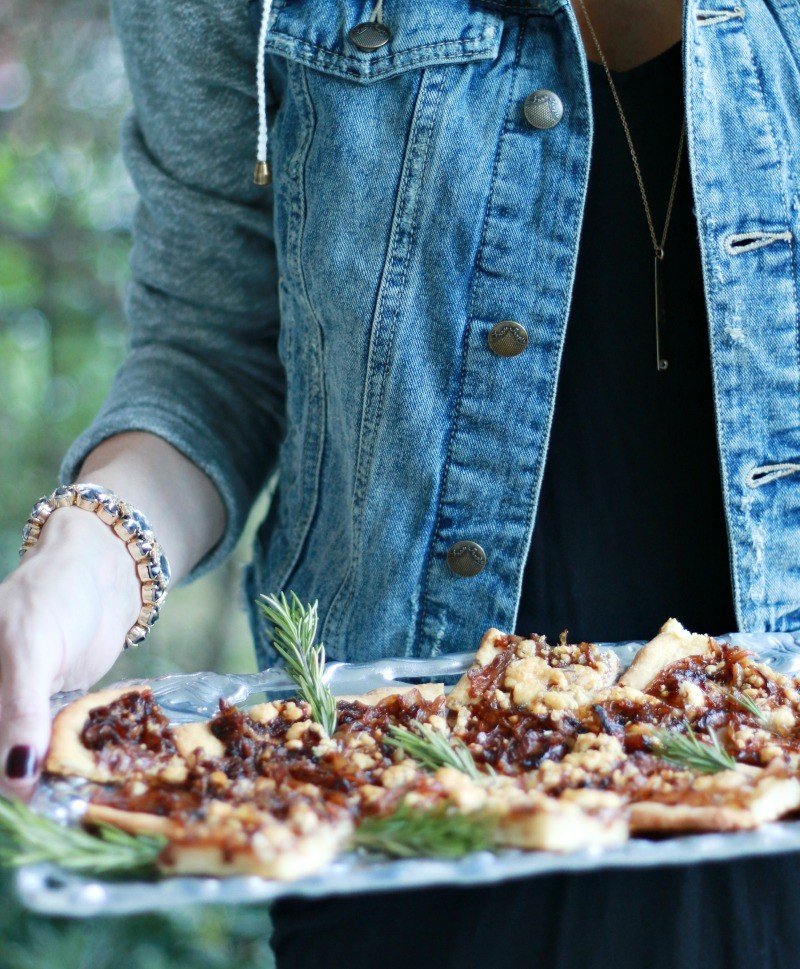 Makes about 40 Squares
INGREDIENTS:
Crust
2 cups all purpose flour
2 teaspoons baking powder
3/4 teaspoon salt
3/4 cup whole milk
1/4 cup olive oil
2 tablespoons (1/4 stick) unsalted butter, melted
Topping
2 tablespoons (1/4 stick) unsalted butter
2 tablespoons olive oil
3 large onions (about 2 pounds), halved, thinly sliced
1 tablespoon finely chopped fresh rosemary
1 teaspoon sugar
1/2 teaspoon salt
1 1/2 cups (about 6 ounces) crumbled blue cheese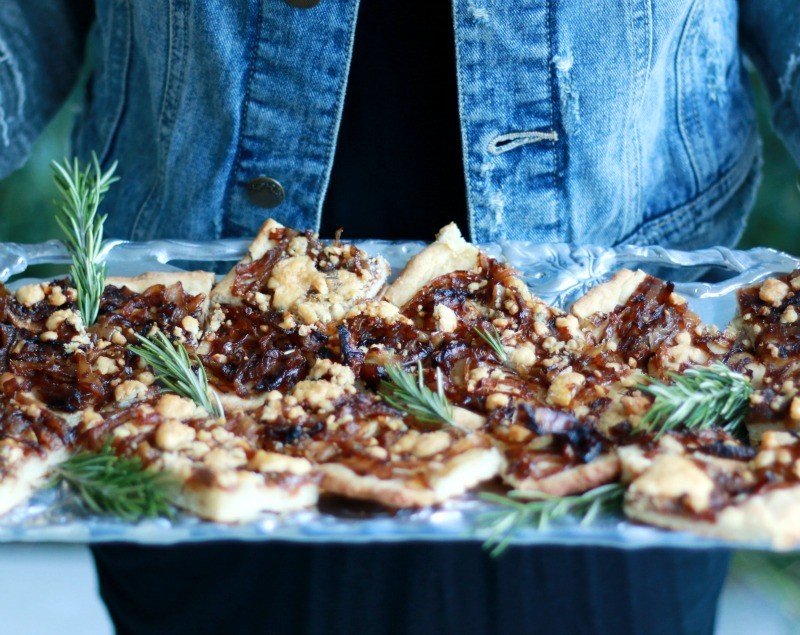 DIRECTIONS:
Crust:
Preheat oven to 425°F. Mix flour, baking powder, and salt in medium bowl to blend. Make well in center of dry ingredients. Whisk milk, olive oil, and melted butter in liquid measuring cup to blend. Slowly pour milk mixture into well in dry ingredients, stirring until just blended and smooth. Roll out dough on lightly floured surface to 10×13-inch rectangle. Transfer dough to rimmed baking sheet. Re-form dough into 10×13-inch rectangle (dough will shrink when moved). Pierce dough all over with fork. Let dough rest while preparing topping.
Topping:
Melt butter with oil in large skillet over high heat. Add onions. Cook until onions are soft and beginning to brown, stirring frequently, about 10 minutes. Add rosemary, sugar, and salt. Season onions to taste with pepper. Reduce heat to medium. Continue to cook until onions are soft and dark brown, stirring frequently, about 20 minutes; cool.
Spread onion mixture evenly over dough. Sprinkle with cheese. Bake until crust is golden and cheese is bubbling, about 20 minutes. Let cool. Cut into squares and serve.
Recipe via Epicurious
*I would use this crust recipe anytime. You could really use any toppings you want. I did not change the recipe at all and loved the way it came out. These squares disappeared on Christmas. The original reviews mentioned that they are not pretty but delicious. Totally agree. I added fresh rosemary to the tray to make them look a bit prettier. Looks aside, amazing app I will add to my rotation. And I will be making them on New Year's Eve for sure.
More Scrumptious Dishes
Classic Chicken and Dumplings Soup
Chicken & Vegetable Lettuce Wraps
Meat and Cheese Platter {with how to video}