This carrot cake is a crowd pleaser for sure. Topped with cream cheese frosting, it's a delicious blend of sugar and spice. My daughter made this just the other night and knocked it out of the ballpark. It's because of her that I now love carrot cake.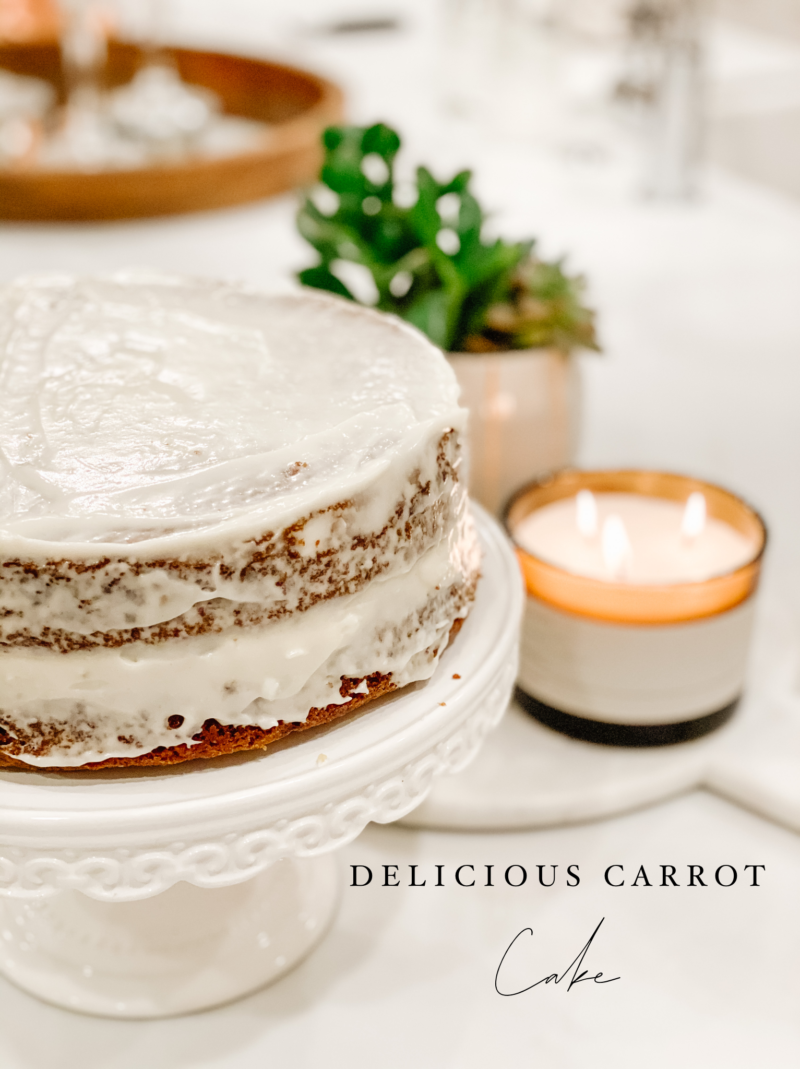 When we packed up my parents' home, my daughter took one of my mom's cookbooks. They shared a love of sweets. It was actually given to my mom by my aunt so it's that much more special. Every couple of weeks she tries out a new recipe. It makes me so happy to see her baking in the kitchen and learning new skills. I have never made a carrot cake so this was all new to me, too.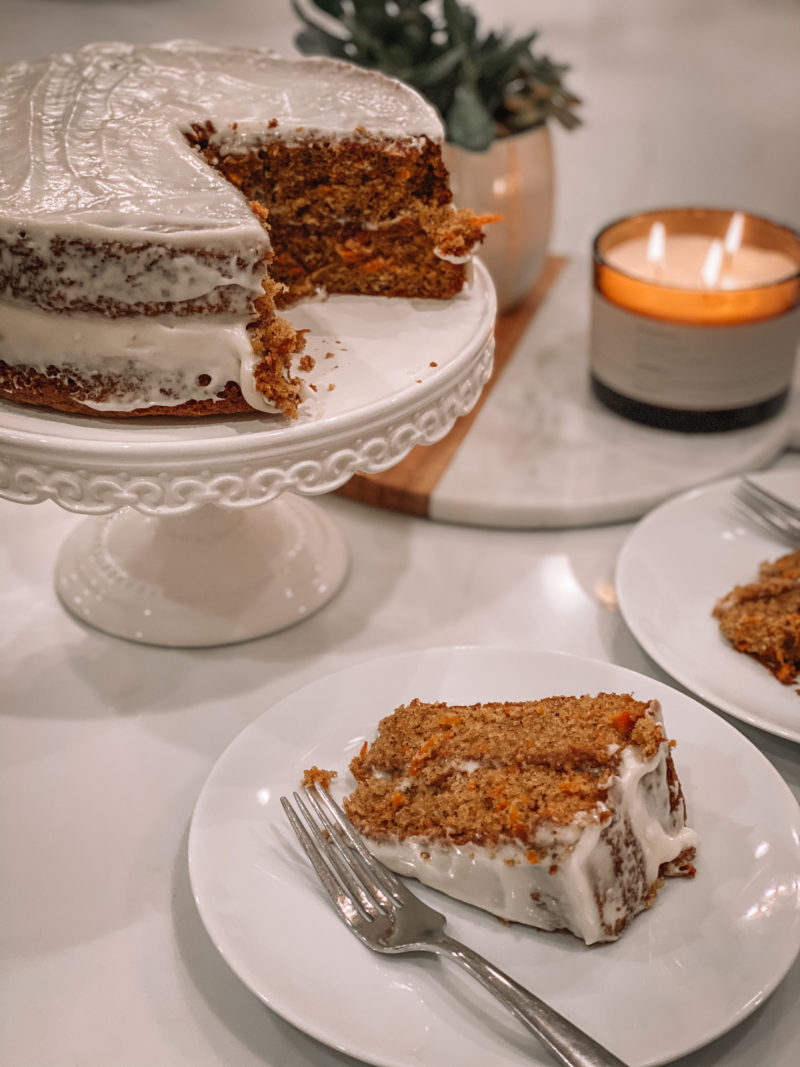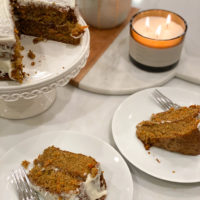 Delicious Carrot Cake with Cream Cheese Frosting
adapted from Mary Engelbreit's Sweet Treats Dessert Cookbook
Ingredients
1 3/4

cup

all-purpose flour

2

tsp

baking powder

1

tsp

baking soda

1

tsp

cinnamon

1/2

tsp

ground ginger

1/2

tsp

ground allspice

1

tsp

salt

4

large

eggs, room temperature

1

cup

sugar

1

cup

lightly packed brown sugar

1

cup

olive oil + 2 tbsp of olive oil

chose to substitute for vegetable oil

2

tsp

vanilla extract

4

cups

grated or shredded carrots (about 1 pound)

1

cup

coarsely chopped walnuts
Cream Cheese Frosting
8

oz

cream cheese, room temperature

1/4

cup

unsalted butter, room temperature

1 1/2

tsp

vanilla extract

2 1/2

cups

confectioners' sugar
Instructions
Preheat over to 350°. Grease two 9-inch round cake pans. Line the pans with parchment paper. Lightly grease and flour.

In a medium bowl, whisk together flour, baking powder, baking soda, cinnamon, ginger, allspice, and salt. Set aside.

In a large bowl, beat the eggs with an electric mixer until frothy. Gradually beat in the granulated and brown sugars. Beat in the oil and vanilla until thoroughly blended.

On low speed, beat in the flour mixture. With a large spoon, stir in the carrots and walnuts. Pour the batter into the prepared pans.

Bake the layers for 33 minutes or until the toothpick comes out clean. *Original recipe called for baking them much longer but we found 33 minutes to be the magic number. Keep an eye on them and use the toothpick test.

Let the cakes cool on a wire rack for 15 minutes. Remover the layers from the pan and let cool completely.

Make the frosting. In a medium bowl, beat the cream cheese and butter with an electric mixer until light and fluffy. Beat in vanilla. Gradually beat in the confectioners' sugar until shiny and smooth.

Place on layer on a serving plate and spread a thin layer of frosting over the top. Place the second layer on top and frost the top and sides of the cake. Refrigerate until serving.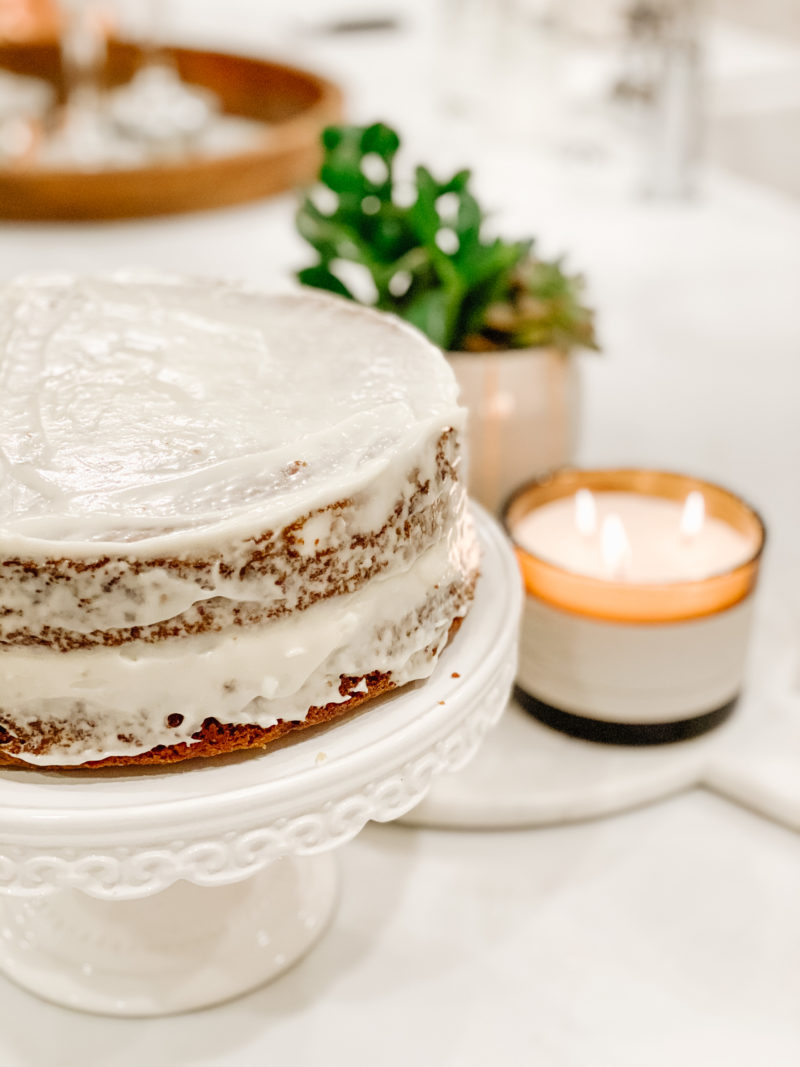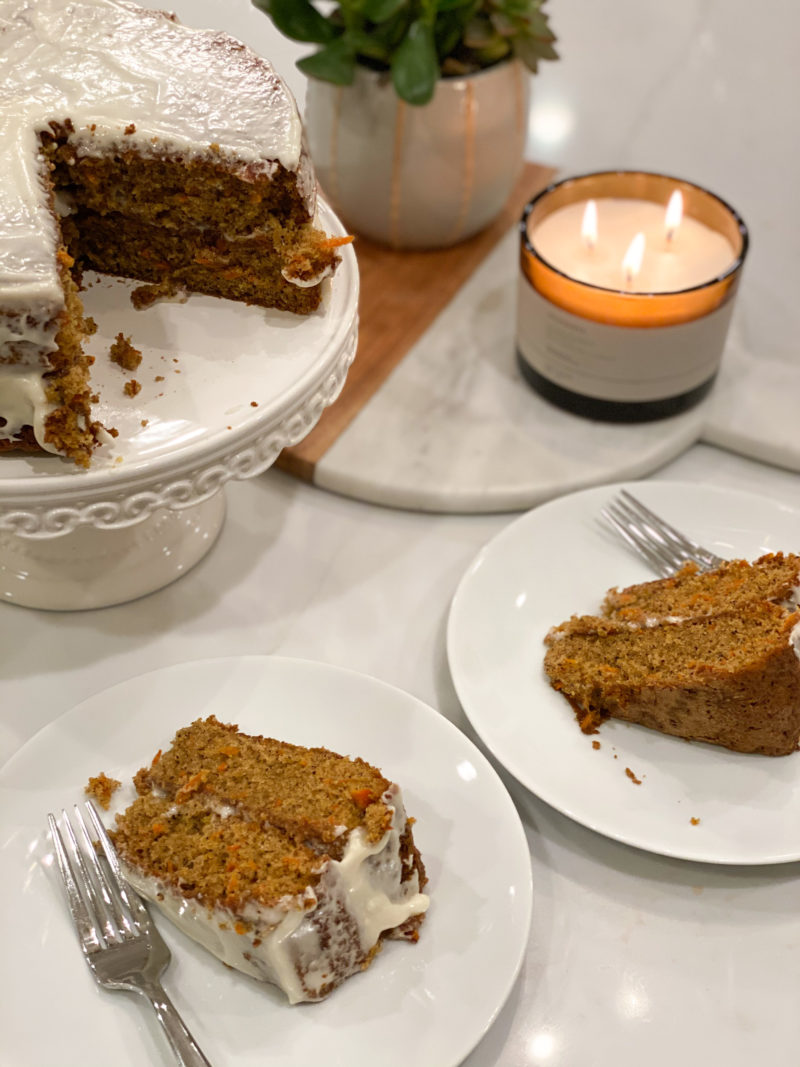 All the credit goes to my daughter on this one. The whole family loved the cake. My son even said that tasted like something he would order in a fancy restaurant. Love that.
We are headed into six straight days of rain. Not exactly sure how I feel about that. Thinking I should not have put off my grocery shopping, that's for sure. No matter what your day holds, I hope it's a great one.
MORE SWEET TREATS
Shop the Post