Good morning! For those of you who are new to my blog, welcome to the 2016 Fall Tour. I have been a part of Marty's tour for some time now and she was gracious enough to let me be a part of it this Fall despite having just moved to a new home. So bear with me as we have yet to complete a single room. Because I don't have full rooms to show you, I thought I would think about what Fall means to me. Fall begins the time when I start to hibernate in our home. Do you do that? Temps start to drop and with the kids back in school I begin to nest a bit more and it's all about being cozy. It's also a time that I invite others into our home to enjoy. It can be as simple as a coffee date or a cocktail in the evening. So here are images that were inspired by inviting others in to enjoy the coziness of the Fall season.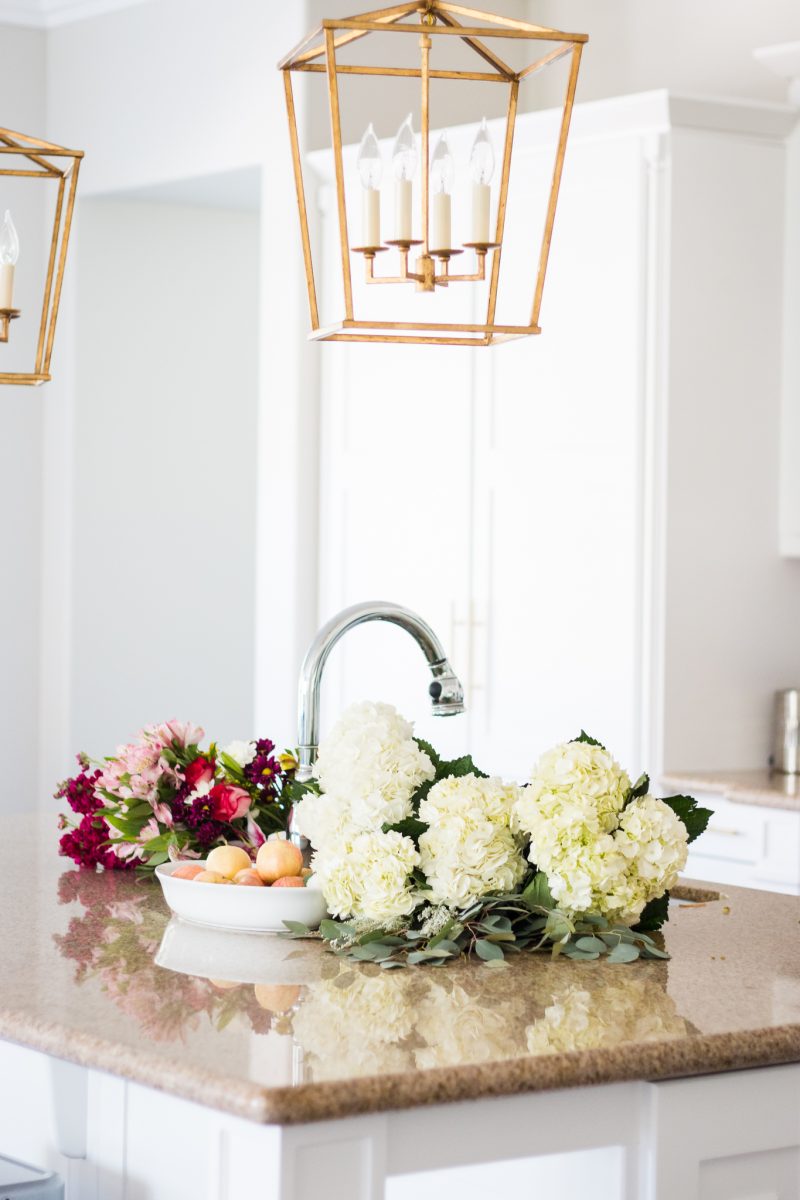 Those of you that know me know that I would much rather have fresh flowers in the house than any other type of treat. I love the saturated colors that come with Fall and hydrangeas are one of my all time favorite flowers. They look so beautiful in a simple white pitcher. Recently I wrote about trading in girls' night out for a more intimate coffee date when possible. Whether it's during the week or on the weekend, Fall is such a wonderful time to entertain simply and easily. Cozy throw blankets, something warm to drink, a few fresh flowers and suddenly it's a really welcoming atmosphere.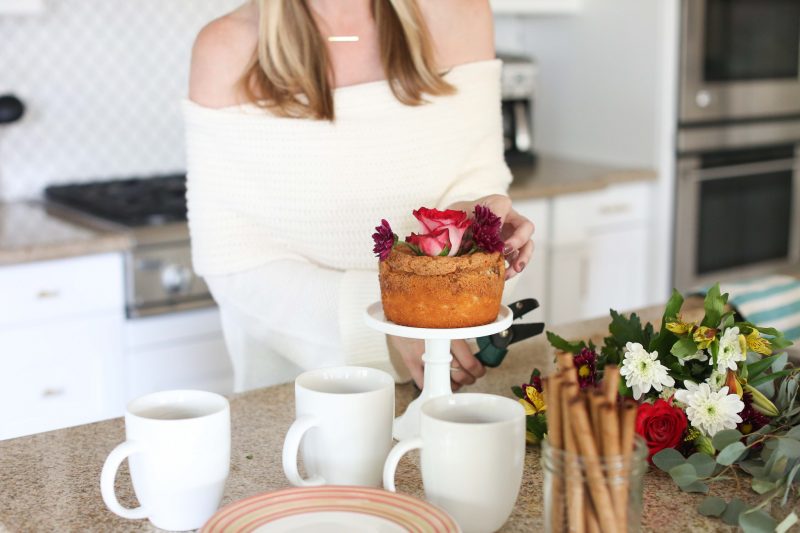 I like to use naked cakes during Fall because the warm tones are so pretty. That is just a cake without frosting. This happens to be a cinnamon coffee cake from Trader Joes which makes inviting someone over very easy. No excuses!!! Just add some pretty florals and your all set.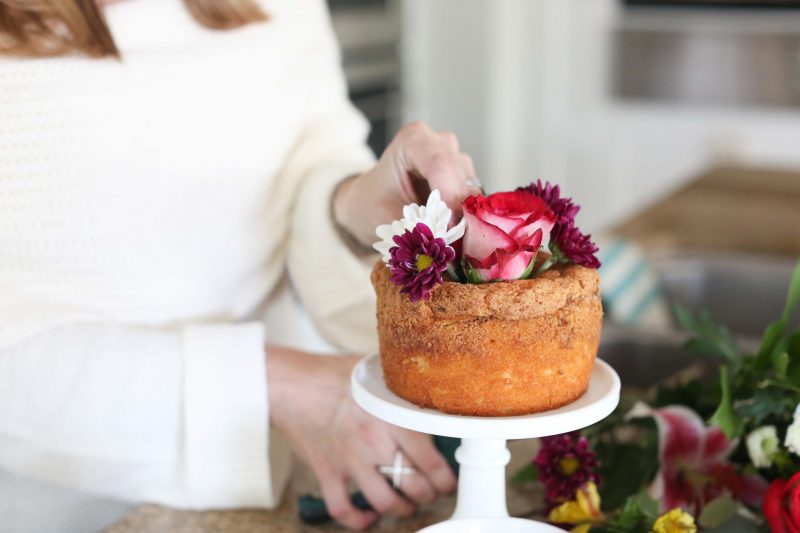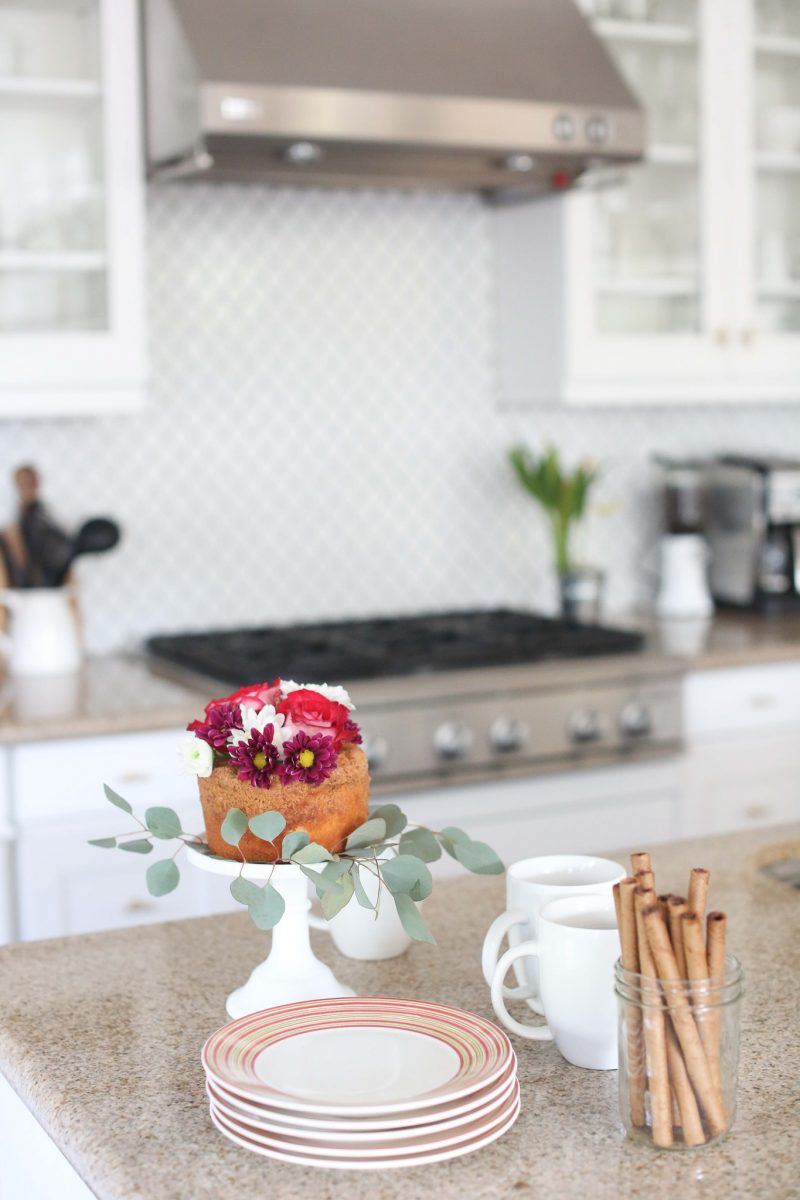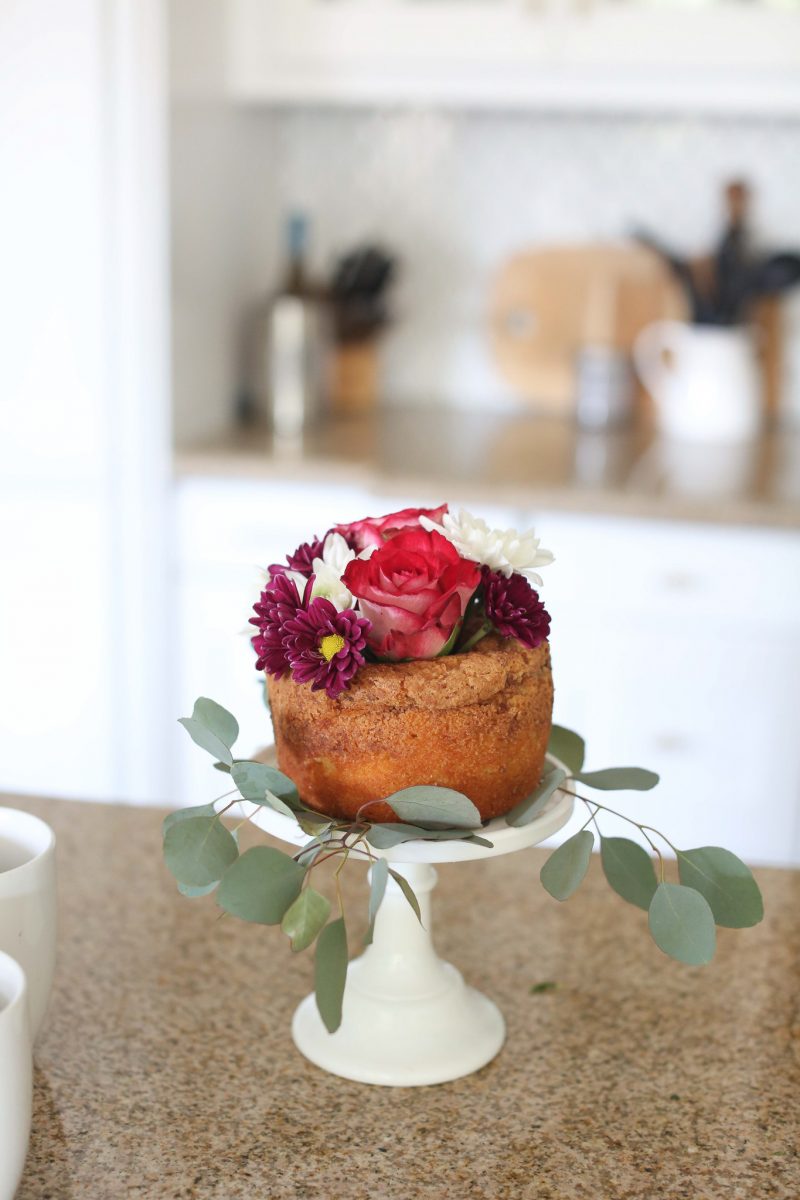 kitchen before | kitchen after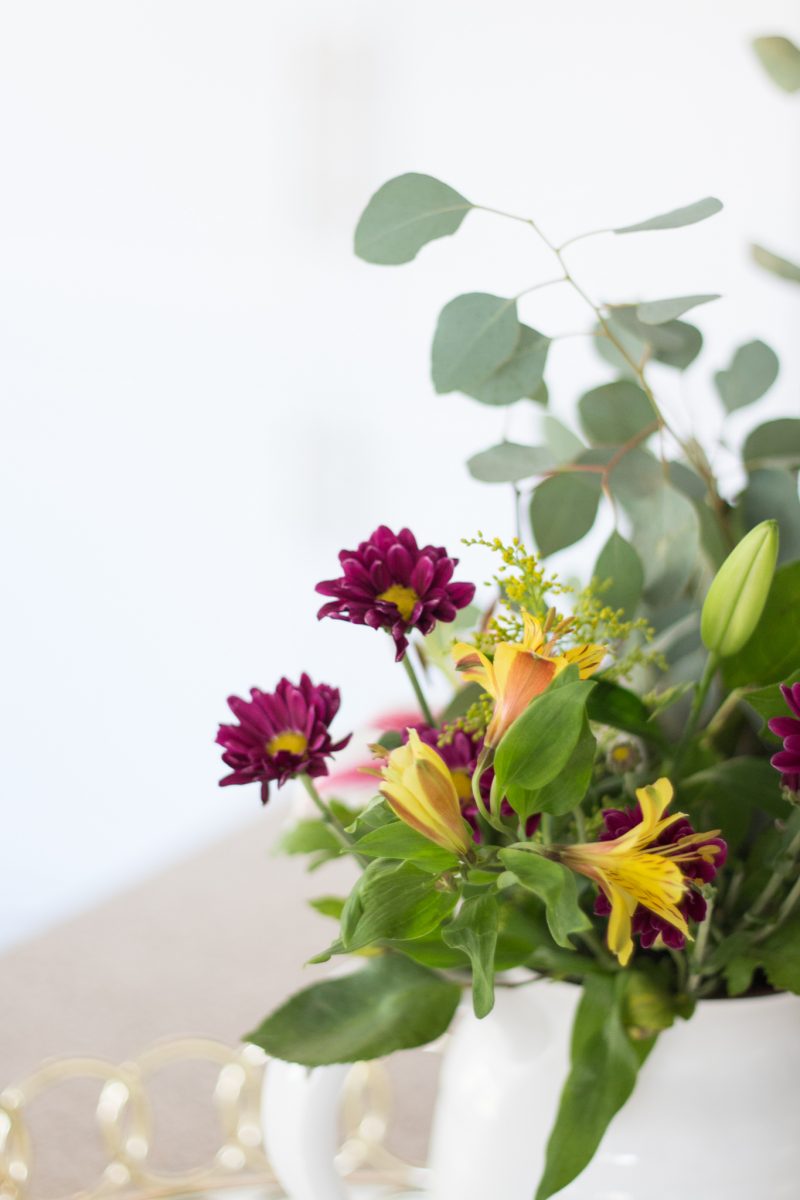 These deep saturated colors are so perfect for Fall. You can't go wrong with inexpensive bouquets from Trader Joes.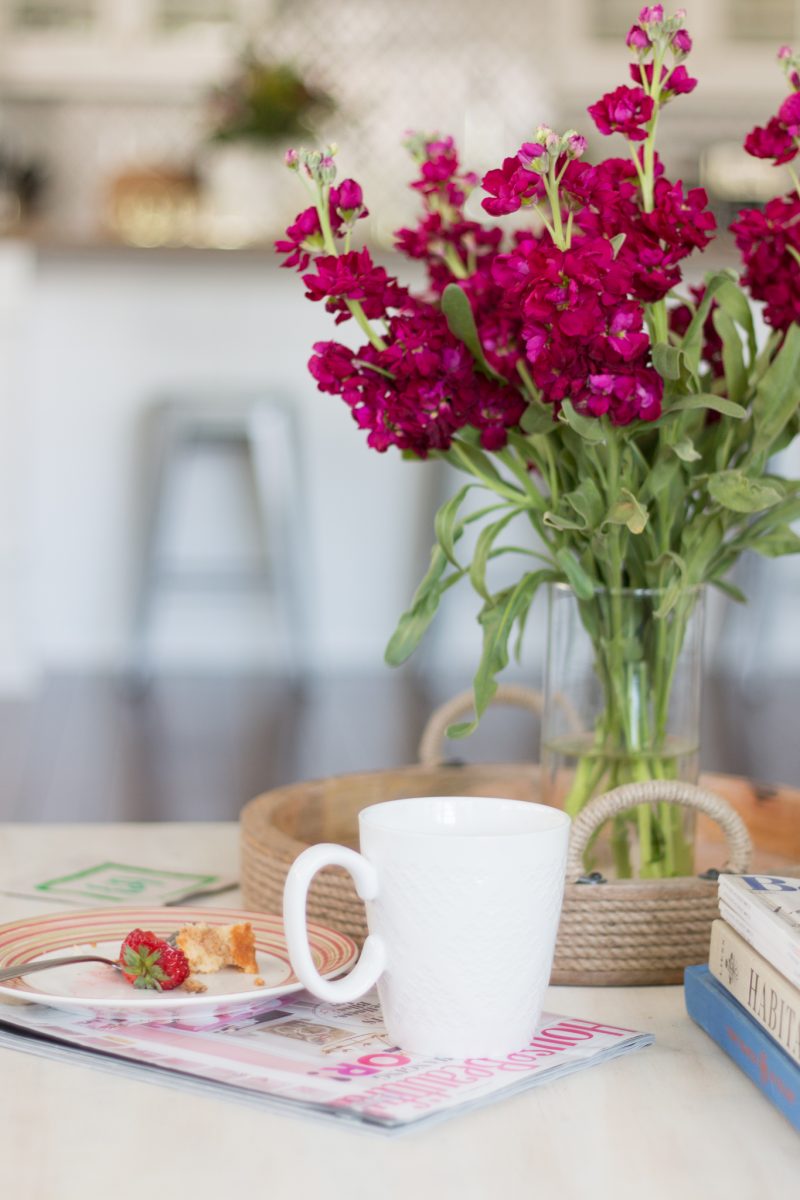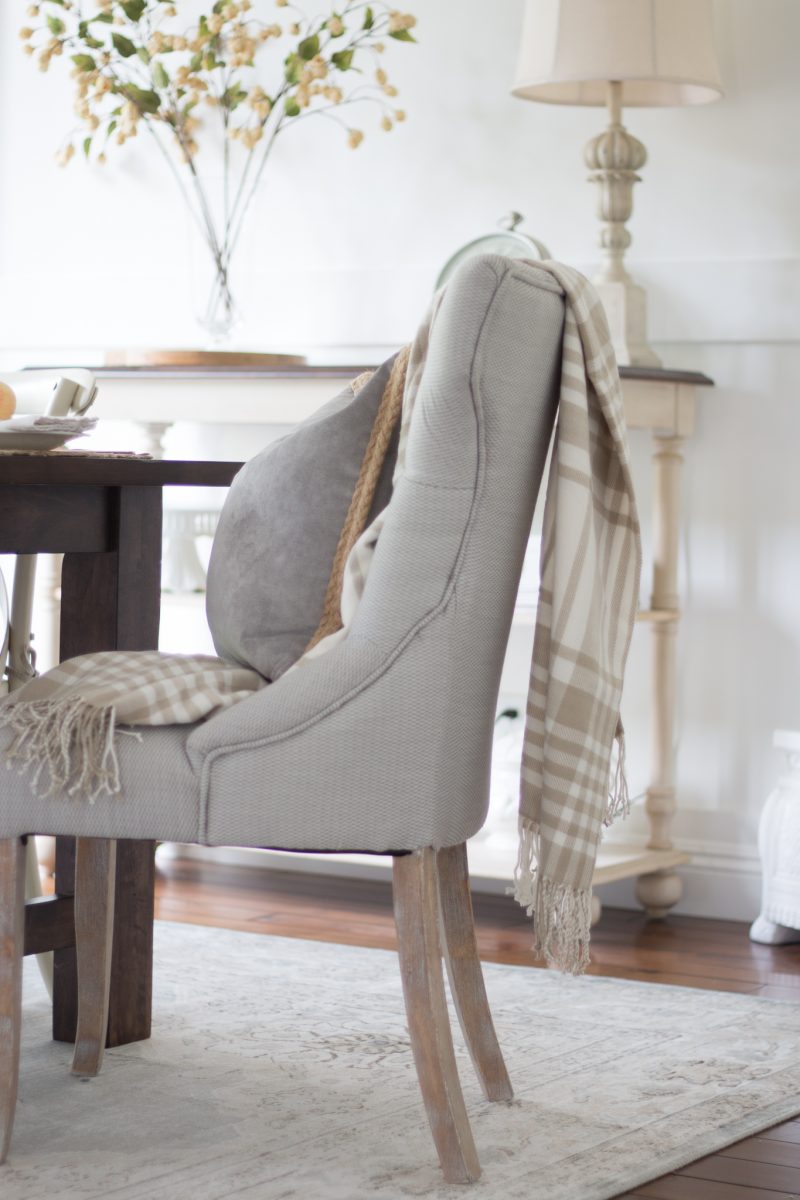 Our dining room is very reminisent of our last home. It is almost the exact same layout. We are no longer using the bench since this is not our everyday table and instead went with captain's chairs on either end. I found them at HomeGoods and they are really comfy. Each time we have people over our kiddos beg to sit in them. I added a few fall stems to the sideboard as well as a pillow and blanket just to make things looks cozy. I am sticking with a soft, neutral palette in here.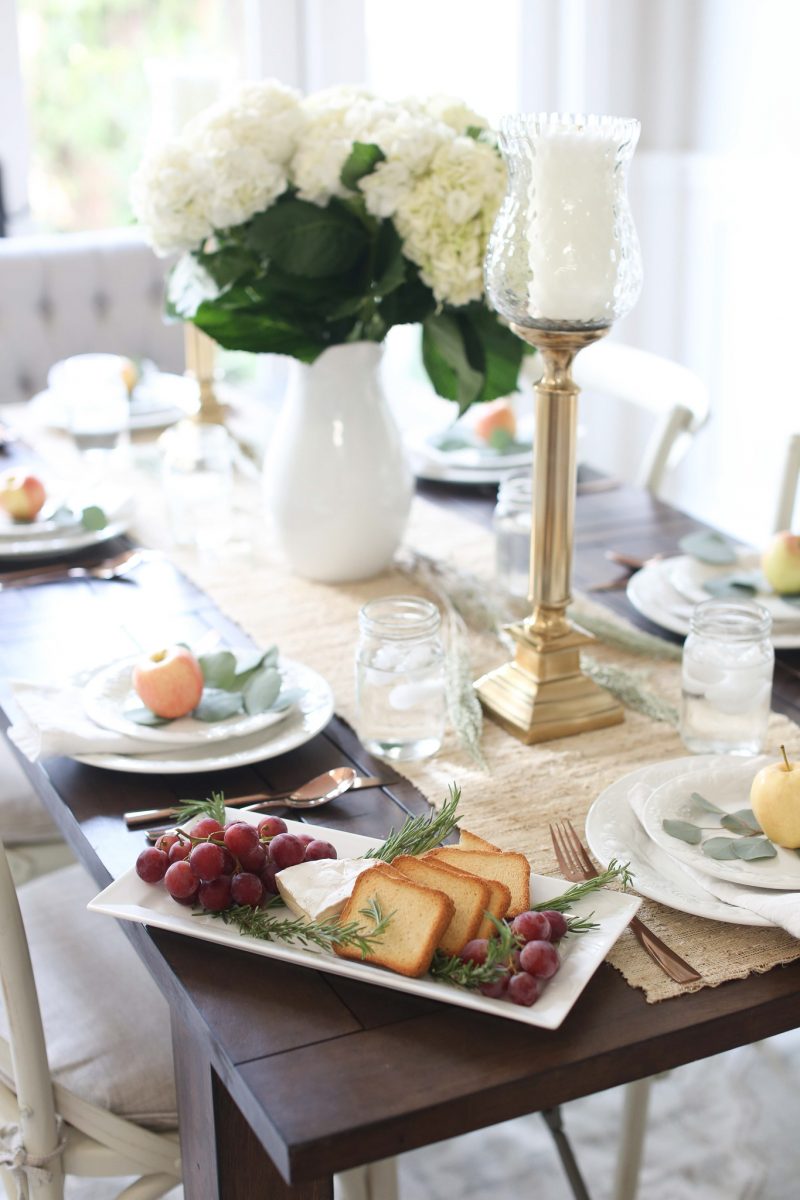 When we gather people together, we keep it very simple. It still can be elegant and pretty but it doesn't have to look overly fancy. We use our everyday mason jars for water and our chipped white dishes. Yep. They are chipped and I am ok with that. I also find that fresh rosemary instantly makes a platter look more Fall like. It also smells phenomenal.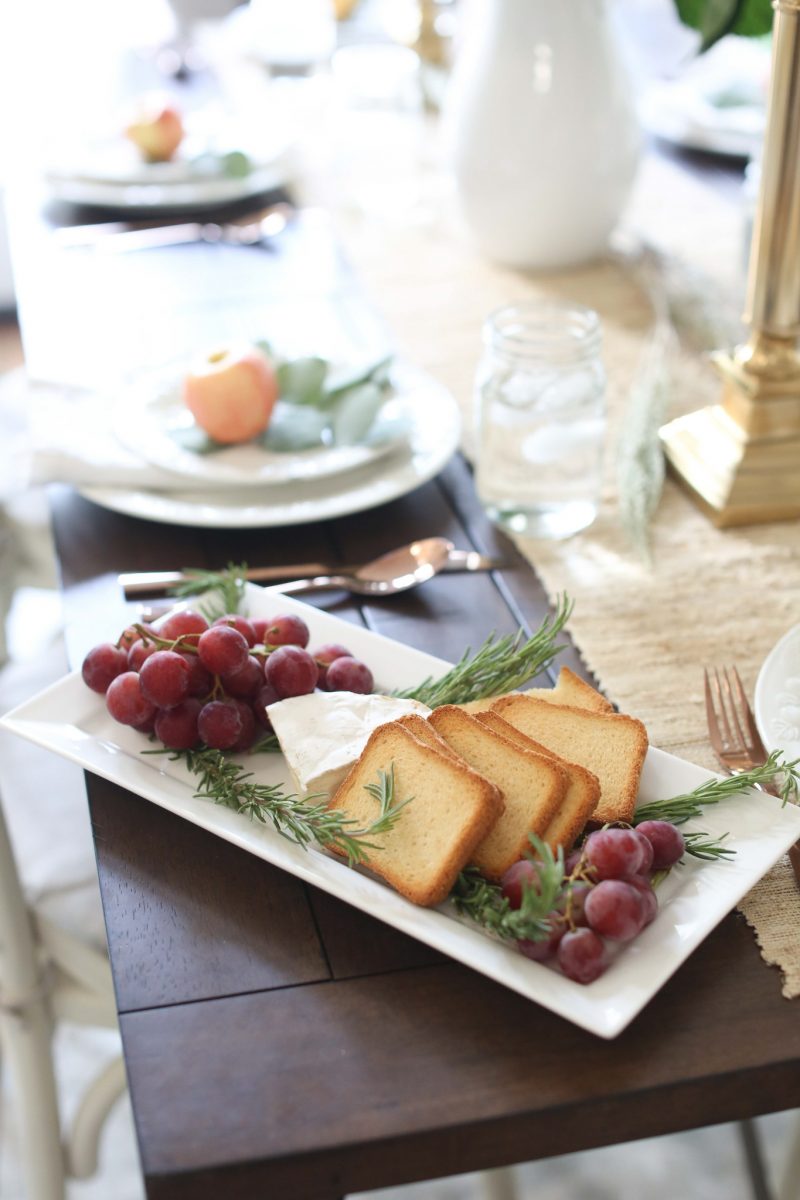 If you do invite your girlfriends over for wine or a night-in, you can still sit around the table even if you are not serving a full meal. I have come to realize that with just some appetizers the ritual of sitting around a table together leads to some really great conversations. This is the same farmhouse style table we had in our former eating area.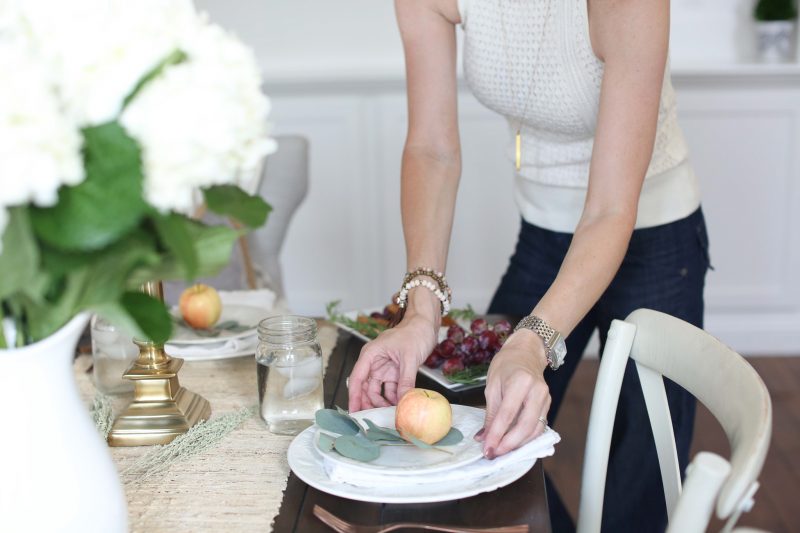 table (sale) | burlap runner (sale) | chairs  (50% off) | white pitcher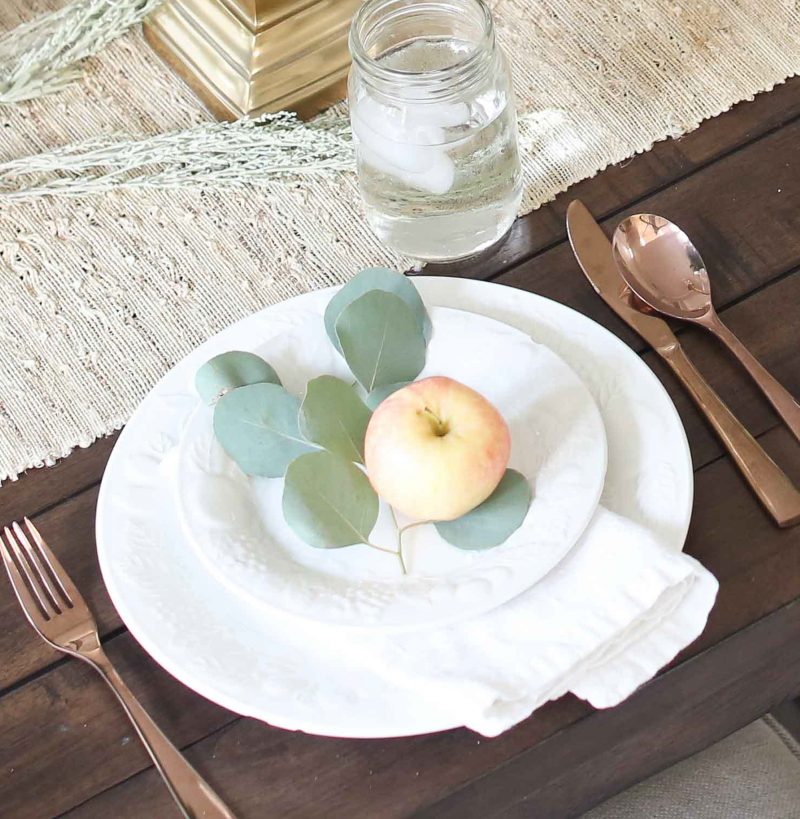 There is something about the combination of eucalyptus and apples. The colors are so soft and pretty.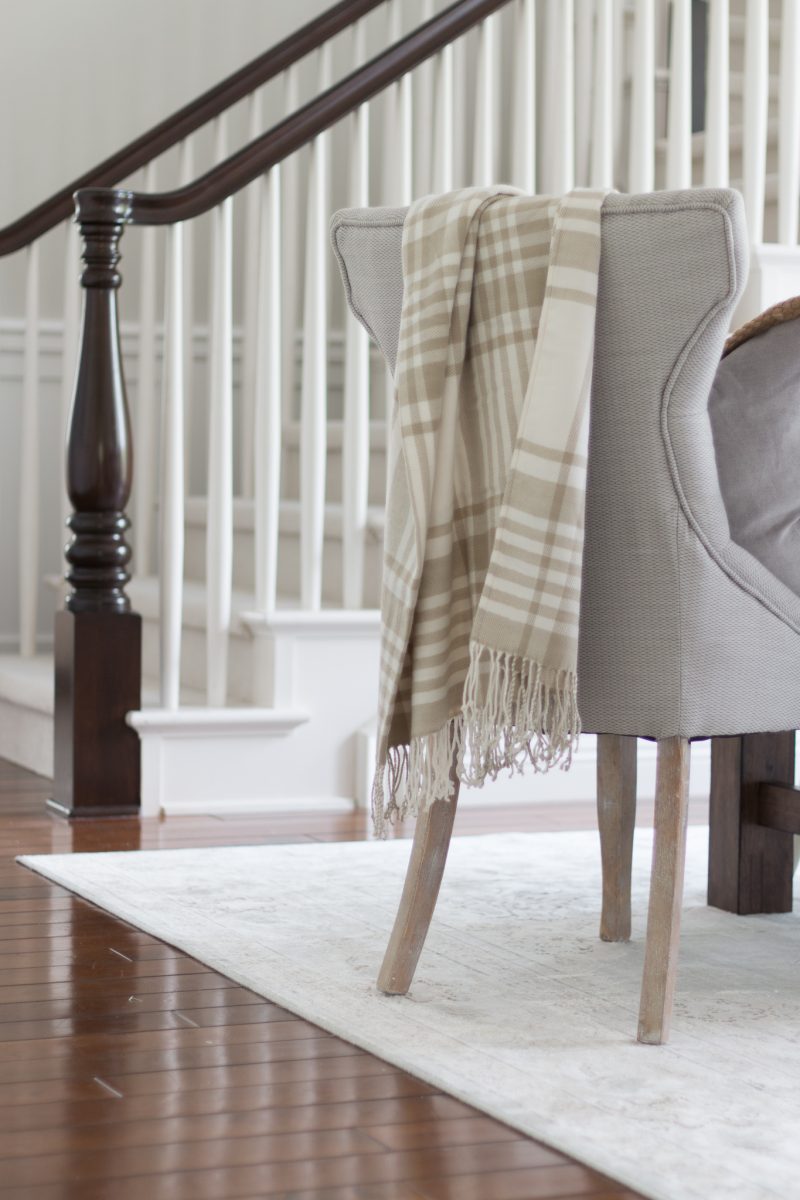 I stumbled upon this pretty plaid throw at HomeGoods. I really like how soft and neutral it is.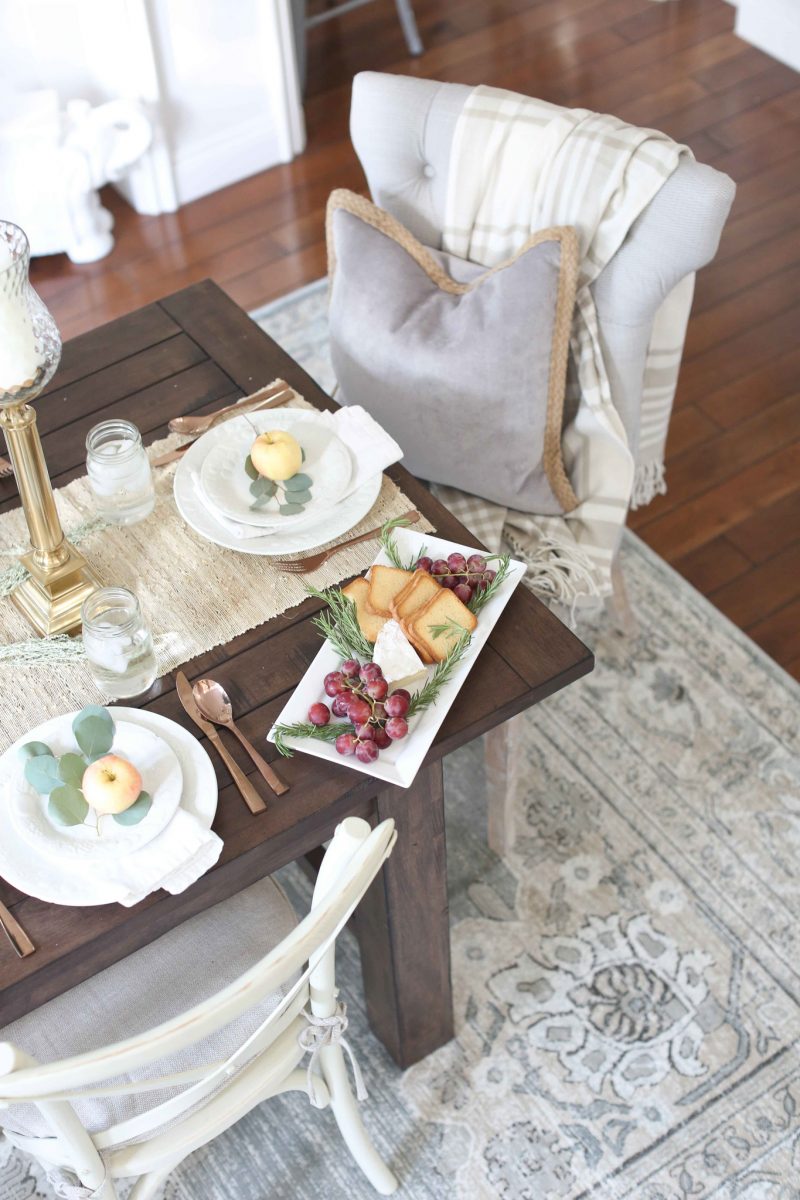 Thank you for letting me share just snippets of how we begin to welcome Fall in our home. It's really about carving out time to spend with family and friends and doing it in a cozy and welcoming way. I promise to share more of our rooms once we actually finish one!
And if you are popping over from Laura's blog, Duke Manor Farm, thanks for joining me. She is so talented and her farmhouse is truly gorgeous. Next up on the tour is Jenna from Rain on a Tin Roof!!! You'll love her saturated, pretty colors for Fall.
Last year's Fall tour can be seen here. Get caught up on all of the other tours below. I will continue to update them.
Monday – A Stroll Thru Life | My Uncommon Slice of Suburbia | Remodelando La Casa | Cuckoo4Design  | 21 Rosemary Lane | Decor To Adore
Tuesday – Haneens Haven | Pink Peppermint Design | Lynzy & Co. | Thrifty and Chic | The House of Silver Lining | Hymns & Verses
Wednesday –Life on Virginia Street | Decorating Delirium | Bliss @ Home | Simple Details | Duke Manor Farms
Thursdsay – Rain On A Tin Roof | Setting For Four | Dimples & Tangles | Nesting With Grace | Life and Home @ 2102 | Refresh Restyle
Friday – Simple Stylings | Our Fifth House | Making Home Base | It All Started With Paint | The Chronicles of Home | Our Southern Home
*Photos via Taylor Cole