It's Fixer Upper | The Takeaways day! If you are new to this series, I share photos from an episode of Fixer Upper and dish on the takeaways that we can all incorporate into our own homes. I was so touched when the couple was unexpectedly shown a home that used to belong to the wife's grandmother. The 70s ranch needed a ton of work and of course Joanna and Chip worked their magic to make it absolutely beautiful. I was especially drawn to this makeover because I love a fresh, coastal vibe and this house has just that. From the charm on the facade to the meaningful music room, it was a beautiful way to keep a home in the family.
I absolutely love the outside of this home. So gorgeous. What a beautiful porch. Those chairs can be found at Ikea and are an inexpensive option for adding a cute seating area to your outdoor (or indoor) spaces.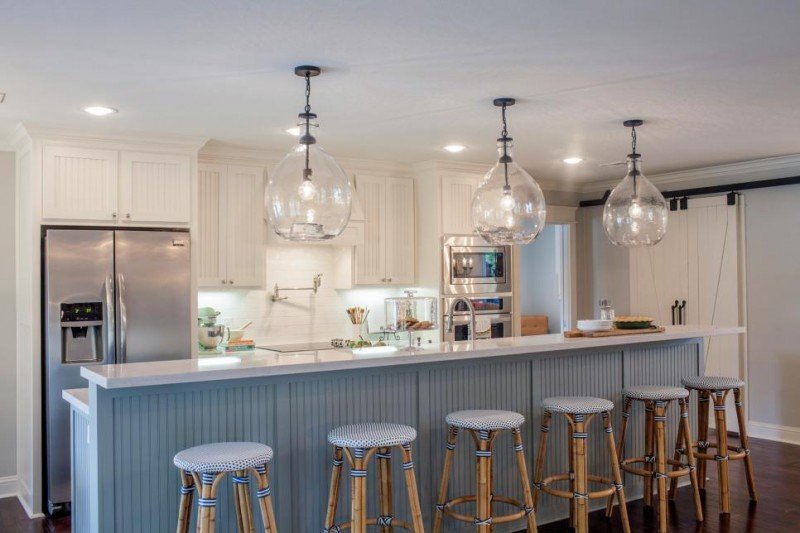 Takeaway #1: Use Backless Barstools
I love the idea of using backless barstools because they read far less heavy. I think they are great for children as long as they are not too young (don't want anyone falling). These are gorgeous and such a statement in the room. This is one of those times where a splurge makes a huge impact. Great choice, Joanna.
Takeaway #2: Consider Using a Barn Door
If you like the farmhouse style, these doors are not as difficult to use in a home as they used to be. Many online stores (even Lowes) are selling the hardware to hang them. Such a charming look to close off an office, a closet or even a pantry. I would love one for our laundry room, honey. Are you reading?!
Takeaway #3: Use Statement Lighting
No surprise that Joanna went bold again with the lighting in this house. I adore the glass lighting as your eye can travel right through it and they don't take up visual space.
Similar Lighting

Takeaway #4: Paint the Island or bottom Cabinets a Contrasting Color
Yes, yes, yes on contrasting paint colors. If I had an island I would paint it a different color. Can you give your kitchen a facelift with just some  paint? Nice idea to add charm for very little cost.
Takeaway #5: Hang Interesting Art Pieces
Anything with texture is so great for the walls. And it doesn't always have to pack a punch color wise. Keeping art neutral allows you to play with color on your table for various occasions and season.
Takeaway #6: Use a White Table for the Win
I love when Joanna uses a round white table. Inviting and looks so great against all different flooring options. Love these chairs and they are a wonderful price for a set of two. I actually am thinking about using them in our playroom.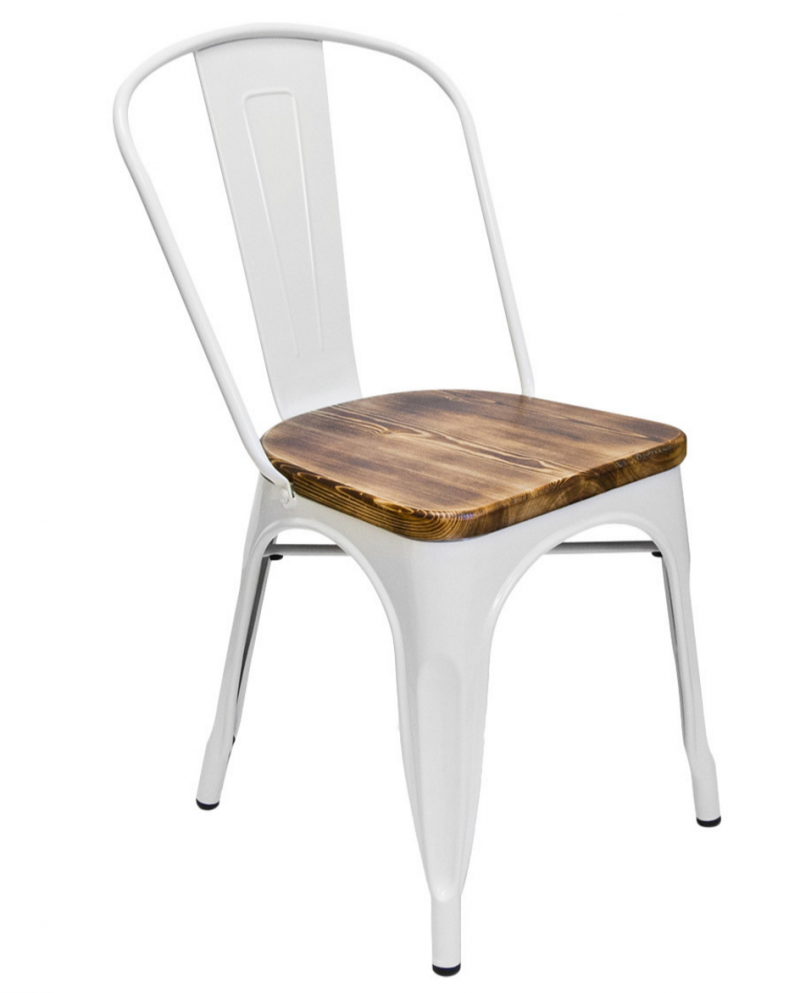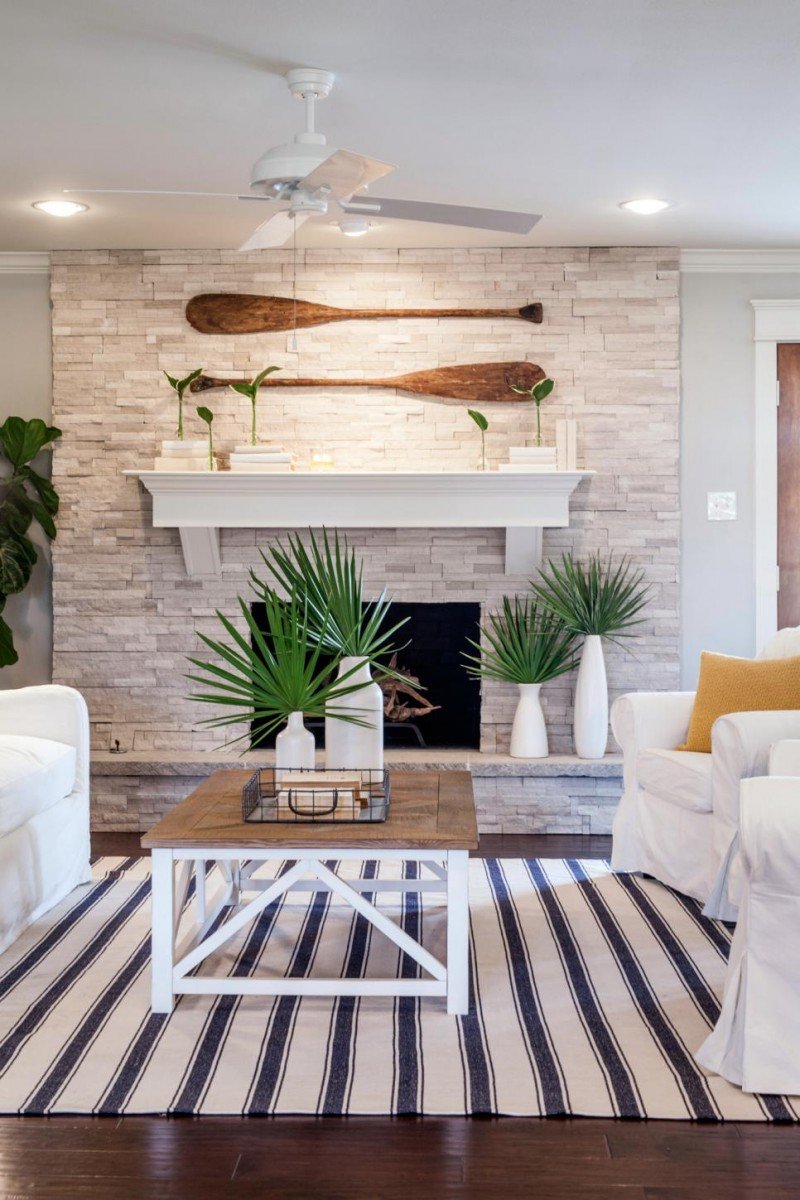 Takeaway #7: Add a Bold Striped Rug
Nothing makes a nice bold statement like a striped rug. So coastal with the navy and white. Love the look of this.
Takeaway #8: Repeat Clean Elements for Balance
Such great vases in this space. I love how Joanna repeated the same look throughout the room to really tie it all together and create balance. Don't forget Michaels has awesome faux stems right now for 50% off which is nice.
Takeaway #9: Think Outside of the Box for above the Mantel
The oars really spoke to me! We just hung an oar that belonged to my brother on ours son's gallery wall. Makes me smile each time I see it. And genius to hang two of them like this above the mantel. These are often sold at HomeGoods during this time of the year. Don't forget you can paint them out if they aren't the look you are going for.
DIY BIG IDEA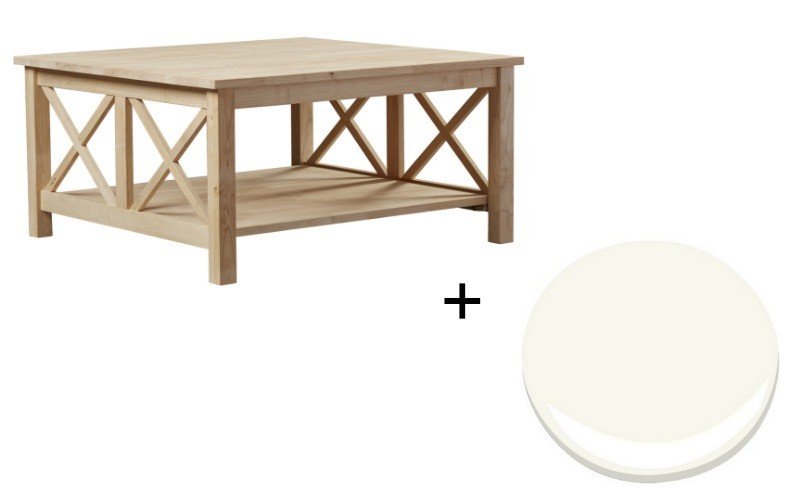 For just about $200 you could easily replicate a table that Joanna used in the room. I love the lines on this and the sides. If you are up for a DIY you could paint the table white and either leave the top as is or stain it a darker color. Not bad for a couple of hundred dollars.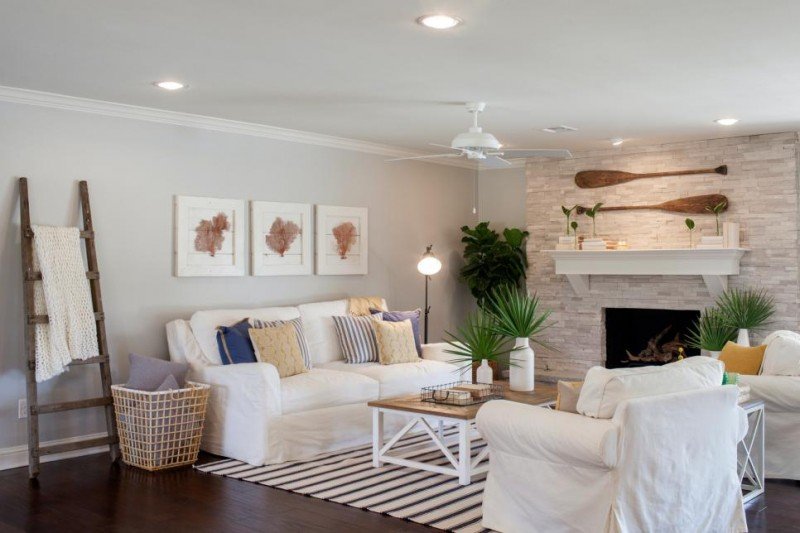 Takeaway #10: Be Brave with White Slipcovers
This isn't the first time we have seen the white slipcovered furniture. Such a pretty look and if you are brave enough, they are a great way to go to keep things fresh in your space.
Takeaway #11: Floor Lamps Save on Space
If you have a smaller room, forget the end tables next to everything and stick with a floor lamp. The one I found below is so similar to the one I have in our master bedroom and LOVE it. Awesome price, too.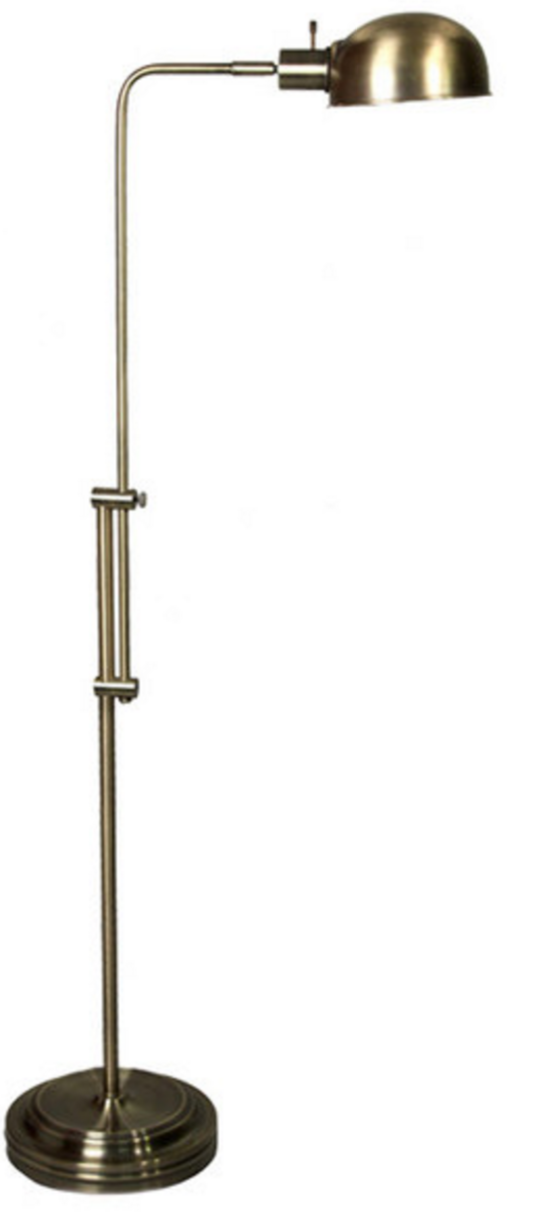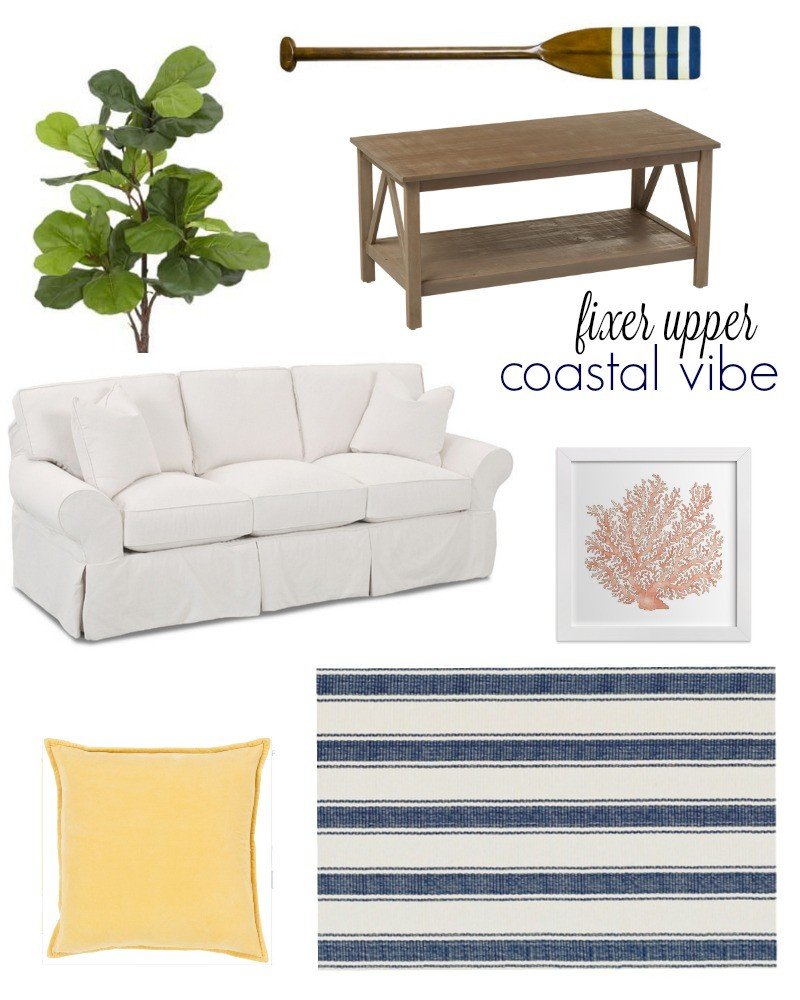 Shop This Room

Fairly certain this is the exact chandelier installed in this space. So pretty.
Takeaway #12: Mix Weighty Chairs with a Streamlined Table
I like how the chairs that fill so much visual space are paired with a table that is the opposite. Such great balance.
Takeaway #13: Shiplap or Textured Wallpaper
If you aren't up for adding shiplap to the walls or if your DIY skills just aren't there (yet), don't under estimate the power of textured wallpaper. You can pick up a grasscloth pre pasted paper for not very much money at places like Lowes. I love the dimension the texture on the wall creates.
Shop This Room

Takeaway #14: Pay Attention to your own Needs
What I love is that Joanna and Chip really paid attention to the homeowner's needs. This was a garage! Can you believe it. He needed a music room and they created such a gorgeous "mancave."
Takeaway #15: Incorporate Passion into Artwork
Due to the homeowner being passionate about music, Joanna incorporated the guitars as artwork. So great. Use what you love. What makes you happy and feel passionate? Use that in your home. It creates so much more of a personalized space.
Opening Shelving Ideas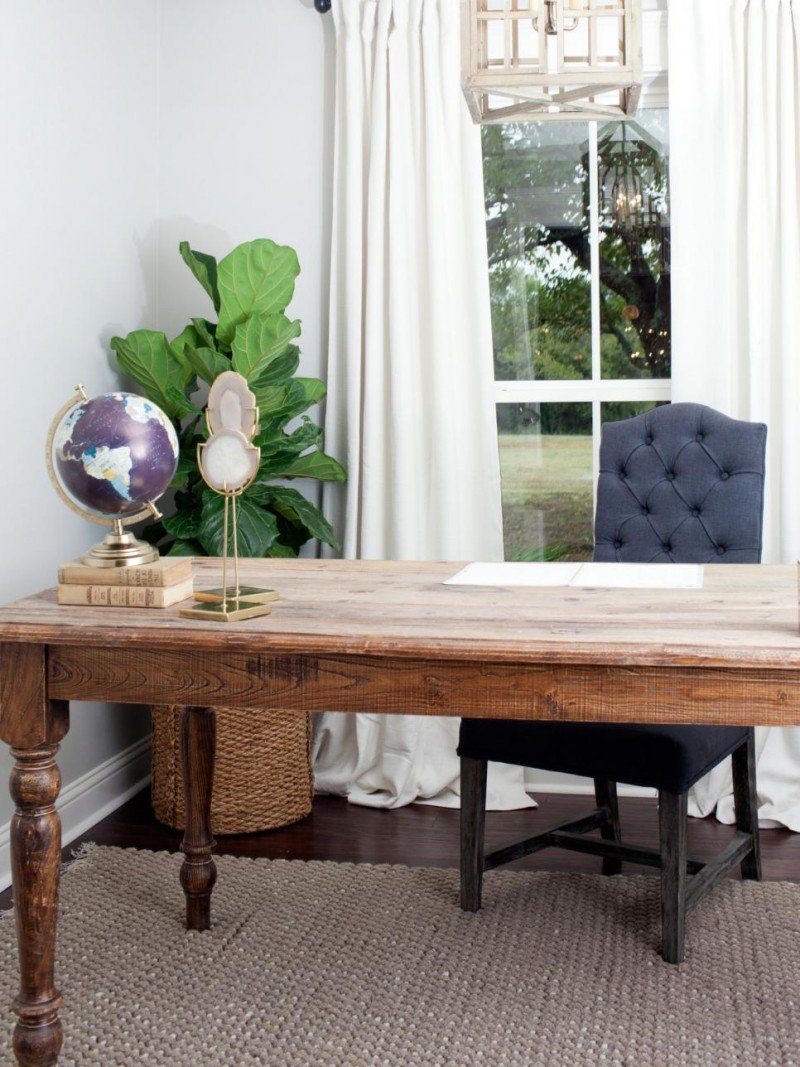 rug (on sale) | desk idea | chair | fiddle leaf | globe  | light
Takeaway #16: Consider a Dining Table for a Desk
I really like the idea of rethinking furniture. It reads so much lighter than a big heavy desk that can impose on a small space. Do you have an old dining table in the family or one you don't use anymore? Maybe Craigslist? This one is a great raw table that you could stain any color.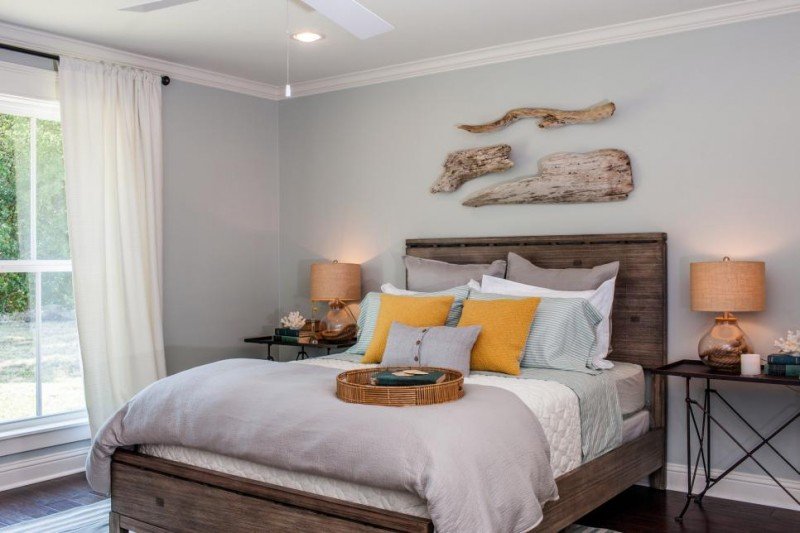 Takeaway #17: Keep Your Bedroom Neutral with a Dose of Color
Always love a bedroom that reads neural overall. Such pretty texture with the layered bedding and the white linen drapes. The heavy bed is nicely juxtaposed with the more lightweight bedside tables. Love that mix. The metal also works beautifully against the wood of the bed.
Shop This Room

Takeaway #18: Use Greenery, Candles and Books
This is a calling card of Joanna and it always works. So gorgeous. I have been impressed with the faux stems at Michaels lately and that would be perfect for this. Here is a very similar dresser.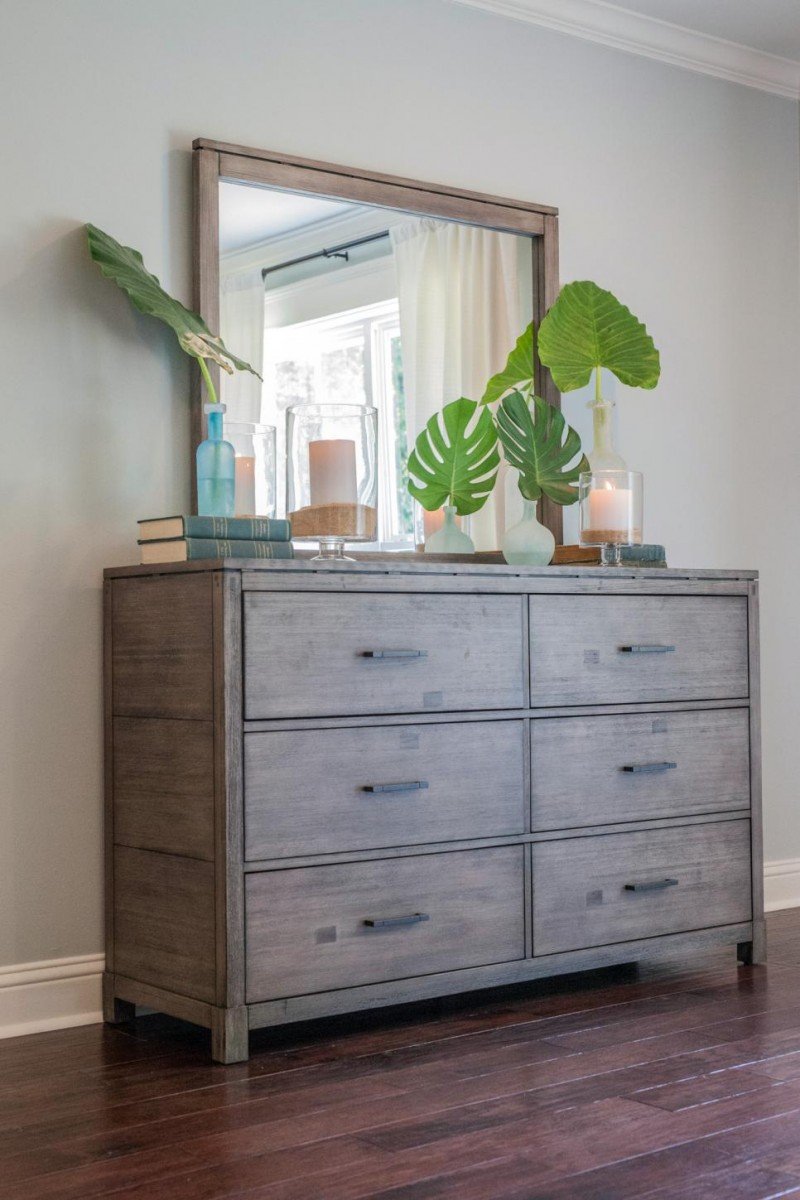 Photos By: Jennifer Boomer/Getty Images via HGTV
Hope this inspires you to channel your inner Joanna Gaines to create a home or space you truly love. Always love watching not only their talent but their devotion to one another on the show. Such good people.
Enjoy the day all.
Shop the Post