I'm so excited to be sharing another installment of Fixer Upper The Takeaways. I took a break for a bit when I was under the weather and was so excited when I viewed the latest episode! I wanted to jump through the screen and tour the home myself. I adore what Chip and Joanna created in this darling house. For those of you who are new readers, I am a huge fan of the show Fixer Upper and having realized that the majority of my readers are as well. I thought it would be fun to break down the gorgeous makeovers that Chip and Joanna implement by chatting about the takeaways we can all benefit from. You can get caught up anytime on the sidebar of my blog. Here we go!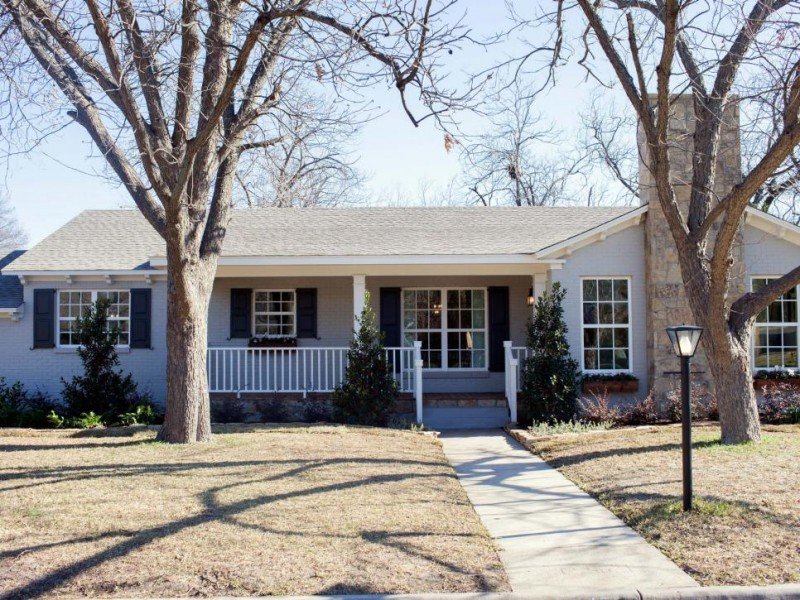 You really need to see the before of this house to fully appreciate the amazing job they did on the outside. So charming and welcoming now.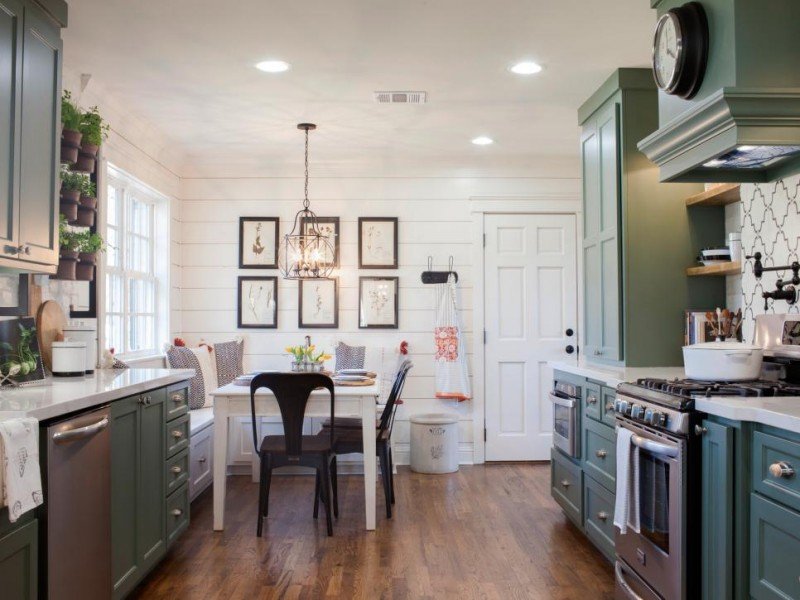 Takeaway #1: Go Bold or go Home
Why not go for a color in the kitchen that really wows? I love how this is not a trendy color but one that is classic and timeless. Green has always been a neutral in my book and I love how it pops off of the white shiplap walls.
Takeaway #2: Consider Using a Banquette
Do you have a smaller dining space? Can you put a banquette to work for you? And with proper planning you can have the entire thing be lift up storage. What I wouldn't give to have an entire banquette filled with my linens. Entertaining? No problem! Just lift up the seat and grab what you need. That would be ideal. And adding cute textiles to the seating area would be pretty fun as well. With so many indoor/outdoor fabrics available it could be as kid friendly as necessary. Or you can leave it bare as they did in this house. Just add throw pillows for comfort.
And you know I love a great botanical wall. Check out this gorgeous set of Magnolia prints below: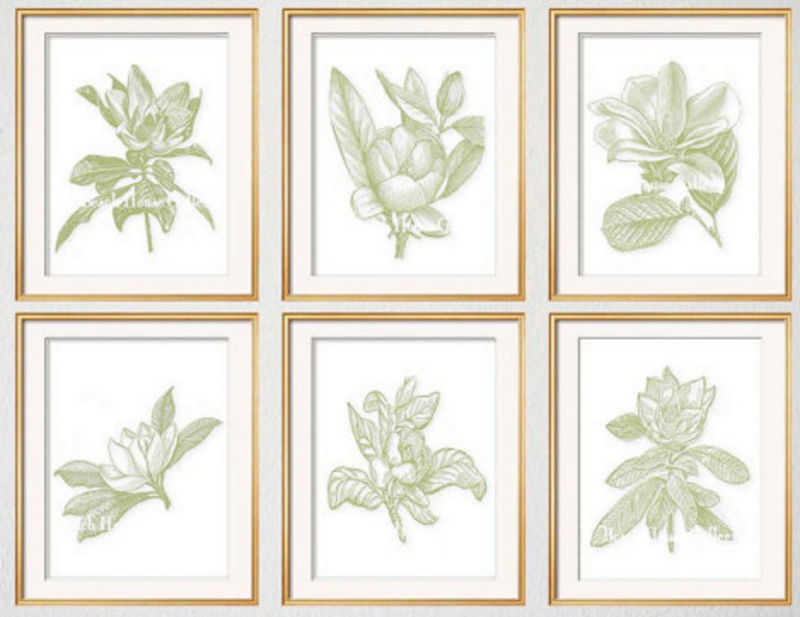 Takeaway #3: Bring Nature Inside
How amazing is the herb garden? And truly so simple. If you don't have all of that space, you could do something simple like this. I love the idea of bringing nature inside and there is nothing like cooking with fresh herbs. I can always smell the cilantro from here!
Takeaway #4: Let Lighting be the Jewelry
This is no surprise. Joanna knows how to nail the lighting. A great light is the crown jewel to any room. We went for a striped and brass light in our children's bathroom and a large pendant over our dining table. Two pieces I have never regretted. Thinking through great lighting can really elevate a space as well as update it.
Gorgeous Lighting Options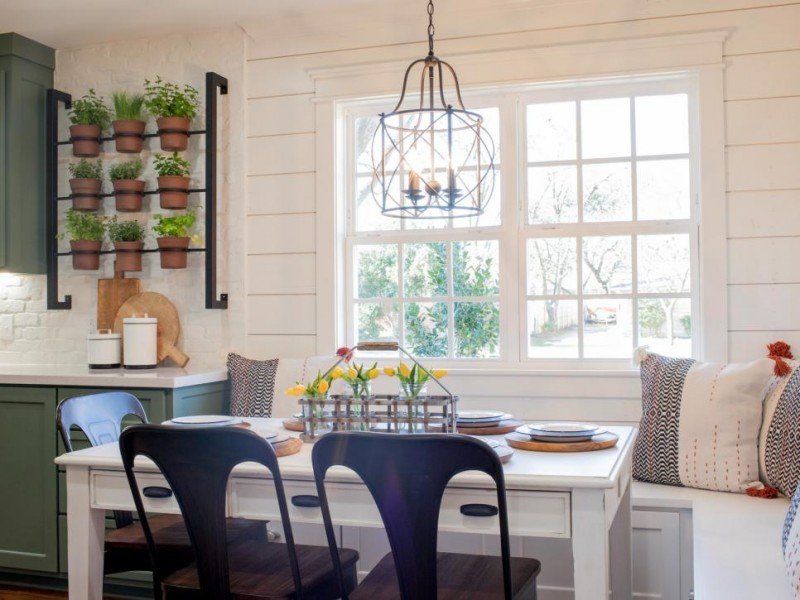 Takeaway #5: Chairs and Table Should Contrast
This is seen in pretty much every house the Gaines design. Ditch the matching set and use contrasting colors. And I love these metal chairs. Such easy clean up when you have young ones, too. Pretty sure this is the exact light used over this table.
Shop These Spaces

Takeaway #6: Use Sliding Barn Doors in Unexpected Places
This. Piece. Amazing. I have such envy over this card catalog/ hutch with sliding doors. But it got me thinking. Not all of us have a spot where sliding barn doors truly work. What if you could add them to a hutch? Or to a bookcase. Yes, it needs to be a wide piece, but thinking outside of the box, this may open up new possibilities for implementing the look of barn doors.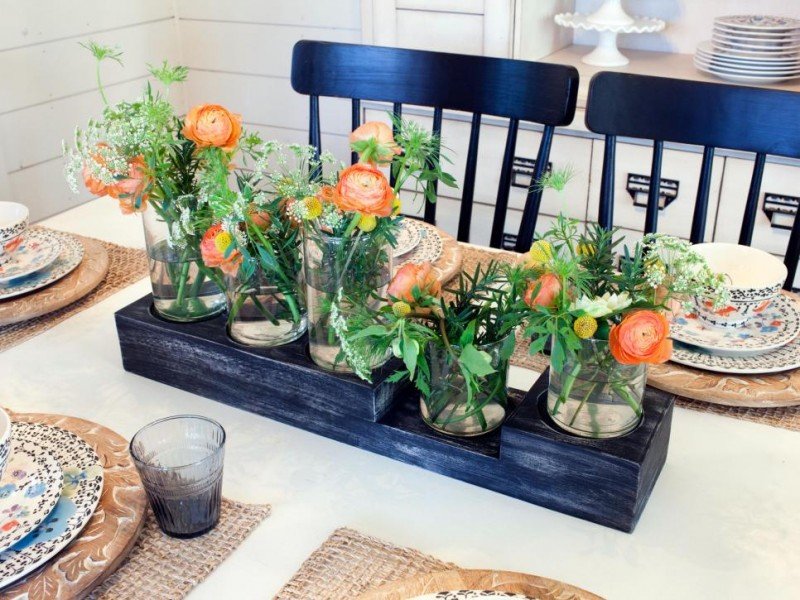 Takeaway # 7: Consider a DIY Centerpiece
I almost asked my hubby to make me this wood stand but haven't quite gotten up the nerve yet. Seems simple enough though, right?! Even if you didn't drill the impressions I am loving the dark distressed piece paired with the bright summer flowers. So pretty. You could do something similar with a block of wood and mason jars.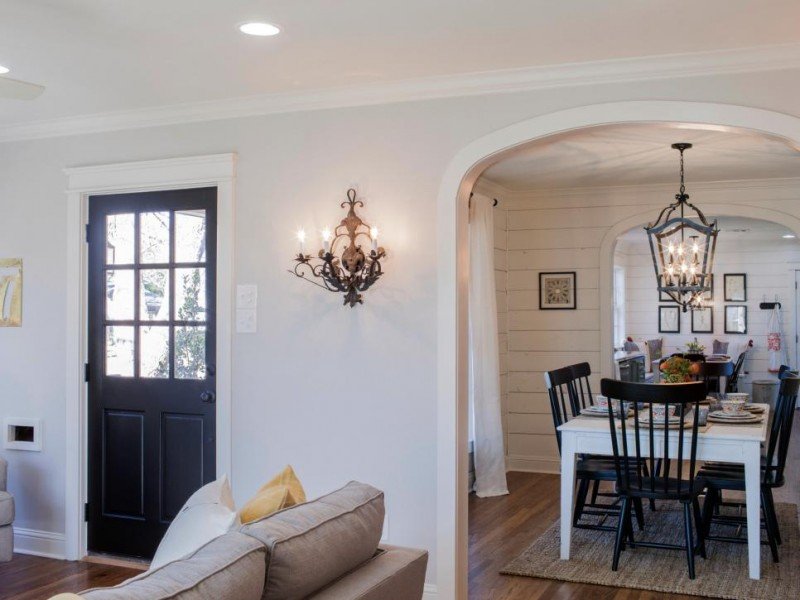 Takeaway #8: Paint Interiors Door Black
I'm sure you have seen this trend in blog land. Many people have embraced painting interior doors a deeper shade and I really like it. The black is such a nice contrast and works well when you have very light walls. I wouldn't recommend this if your walls are already saturated with color.
Takeaway #9: Add Interesting Sconces as Artwork
I feel like I am seeing more and more pieces like this. They were on trend back when I had my first apartment. In fact I remember my sister giving me a pair of iron sconces very similar. It's a nice way to add a three-dimensional object to the wall and add light to a space that is normally quite dim.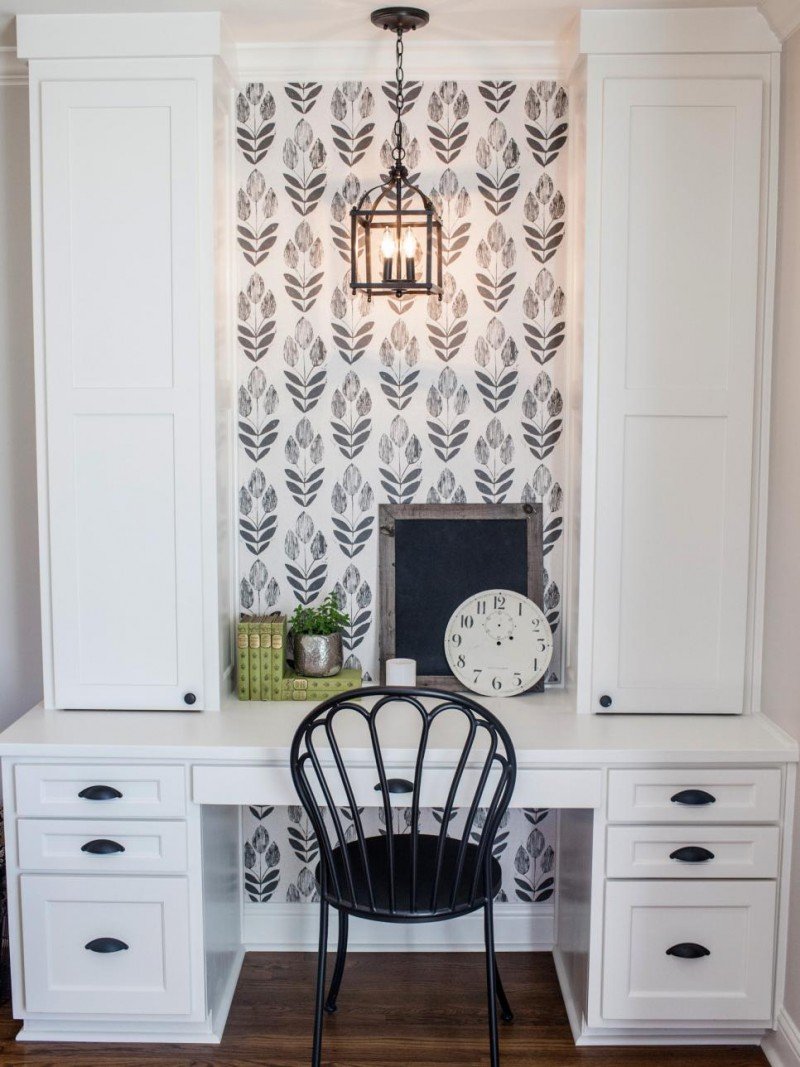 Takeaway #10: Carve Out a Work Space
Well isn't this the cutest little office space ever. Do you have a need for a spot like this? Maybe it's not even in your kitchen but you do have a desk area. Can you add a bold wall like this? Can you create more drama with an overhead pendant? And the hardware is an easy easy swap out. Bin pulls like this are everywhere now. You can get them at your local Lowes or Home Depot. I love how the stack of books offers the only pop of color. So good. If you're in need of a desk, I really like this option over at Pottery Barn Teen.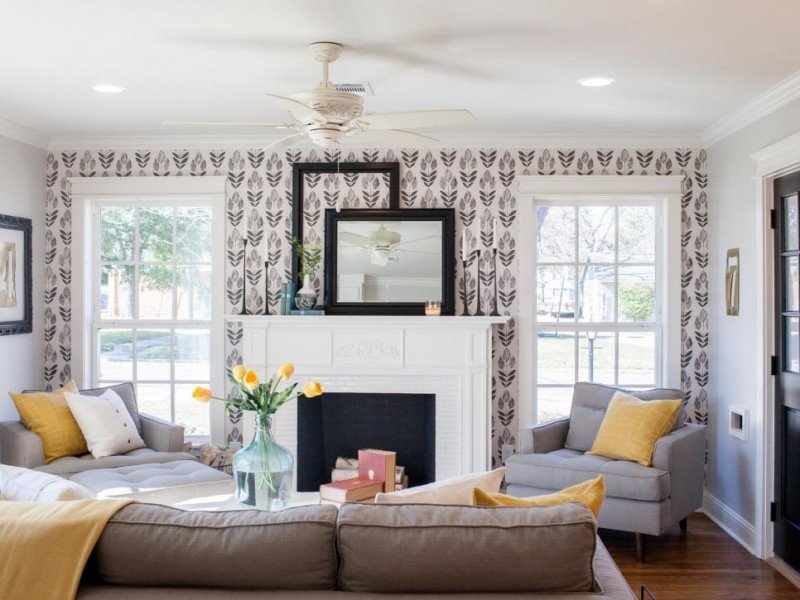 Shop This Room

Takeaway #11: Create a Patterned Focal Wall
Heck, yes!!!!!!! LOVE this wall. I am trying to track down the paper. But this could easily be stenciled as well. A few days of sweat equity and you could have an amazing focal wall. I really like the black and white, too. It's bold but with all of the natural light pouring in it works so darn well. Update: Wallpaper found here.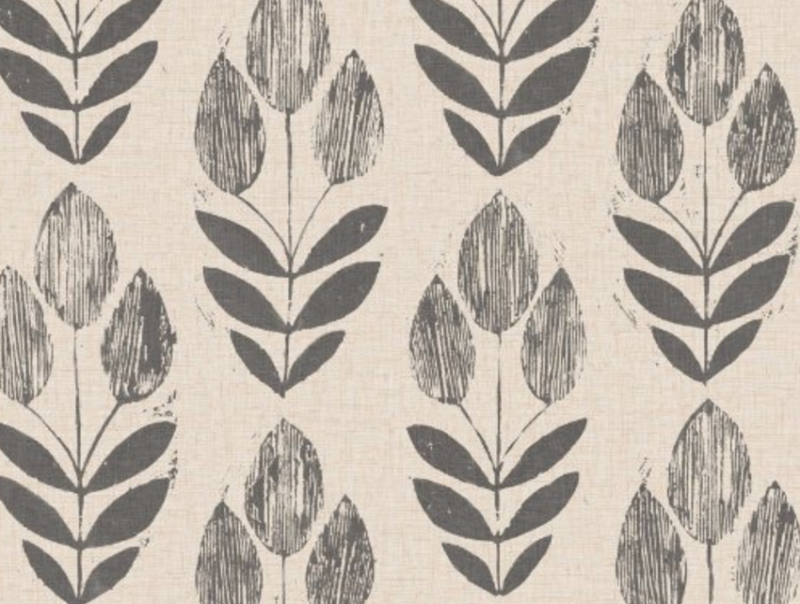 Takeaway #12: Combine an Empty Frame + Mirror
I have always been in love with the empty frame. We have one in our gallery wall going up the stairs. I really like the combination of the empty frame paired with a mirror. Great look and having the frames match gives it continuity without being too busy.
Takeaway #13: Choose a Seasonal Pop of Color
The yellow works so well in here. But picture removing the throw, pillows, and tulips and it's a blank slate once again. How nice! Now during the holidays you could swap it out for red or a pretty ivory. The options are wide open when the overall room reads neutral. A similar sofa can be configured at West Elm.
Takeaway #14: Wood + Wire
Firewood and a wire basket. doesn't get any easier than that. But so simple and adds a touch of warmth. Do you have an empty corner or a spot near your fireplace where you can add this?
Takeaway #15: Frame Significant Numbers
Goodness knows I like me some framed numbers! We have important numbers framed in our bedroom. Love the idea of framing out the metal number to create more drama and fill more visual space. So good. That number alone would feel lost next to the charming ladder.
Takeaway #16: Don't Shy Away from Faux
Faux stems, my friends. Look. We all love fresh flowers and in a perfect world we would have them filling vases in all of our rooms. But don't under-estimate the use of faux stems to add drama and color to a corner or coffee table. If you are entertaining, sure swap out for real. But on a day-to-day basis a little bit of faux color gets the job done.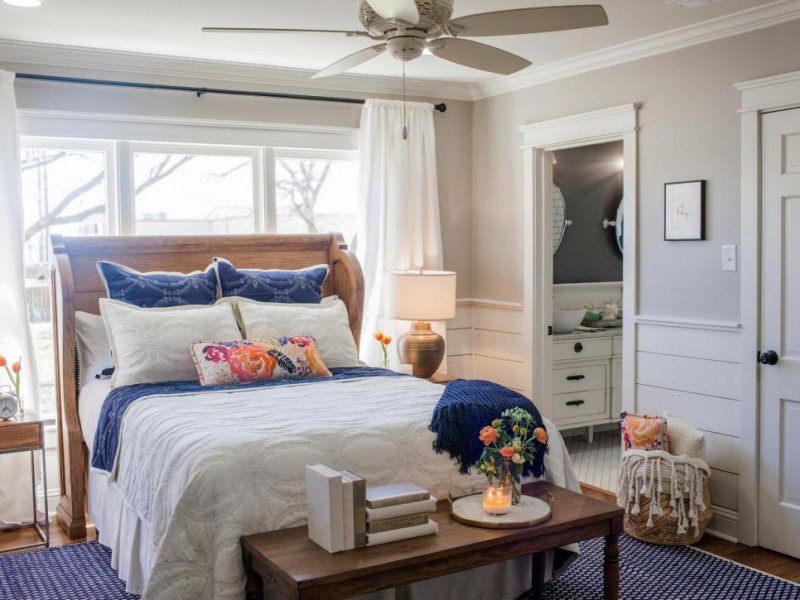 Oh so pretty. When I started sourcing this room I fell in love with some of the beautiful textiles I came across. Makes me want to add navy to my room.  And this floral pillow is so striking.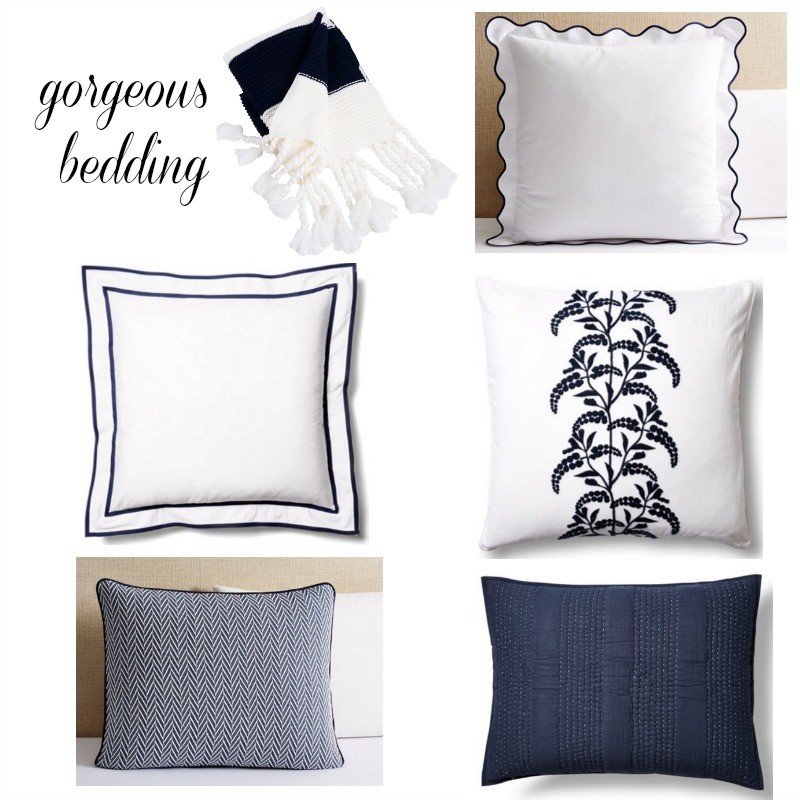 Shop This Room

Takeaway #17: Embrace a Bold Blue
This blue is so beautiful in this space. I love it. What a vibrant color and it looks so good with the oranges in there. And love it against the white coverlet. Here is a similar one at an awesome price. Adds such great texture to a bed.
I absolutely adore this rug and think it's the exact one they used. Such a pretty statement piece but not so busy that it ties you into a crazy pattern.
Takeaway #18: Add a Bench for the Win
I don't know why I have never looked at dining benches before. I suppose I have always looked at upholstered benches (that is what we have at the foot of our bed) but these are so much more practical. And for the record, I have never sat on my bench. But I do set things on it or style it from time to time. Really love the one below (also great for extra seating at the table). Nice to store a bench like this at the foot of the bed and if you extend your dining table you can take it to the table when you entertain. Also something that has not occurred to me before now.

Great Benches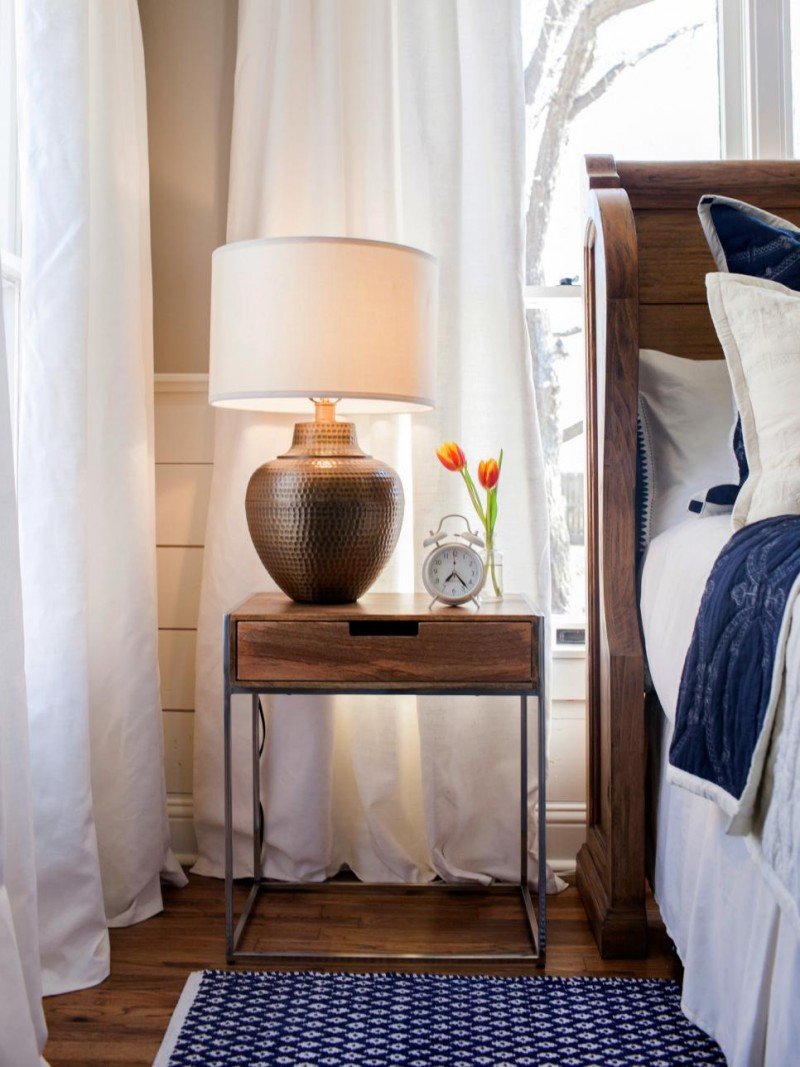 I really like the wingback style of this bed. I didn't find anything just like it but rounded up a great selection of wingback headboards below.
Shop Wingback Headboards

Takeaway #19: Keep Your Side Table Simple
Just because you have a side table next to your bed, you don't have to pile it high with junk. Now I am a realist and now that you need to have certain things next to the bed (books, notepads, magazines, etc) but maybe coral them in a basket or use the drawer for that. It's so nice to have a clean and simple bedside table. When I let mine get junked up it totally affects my mood when I go to bed at night. I love  fresh flowers and a beautiful clean surface.
Takeaway #20: Incorporate Hammered Metal
These lamps add so much warmth and dimension. The texture of hammered metal is so beautiful. I also love the drum shades on these. Similar lamps can be found here.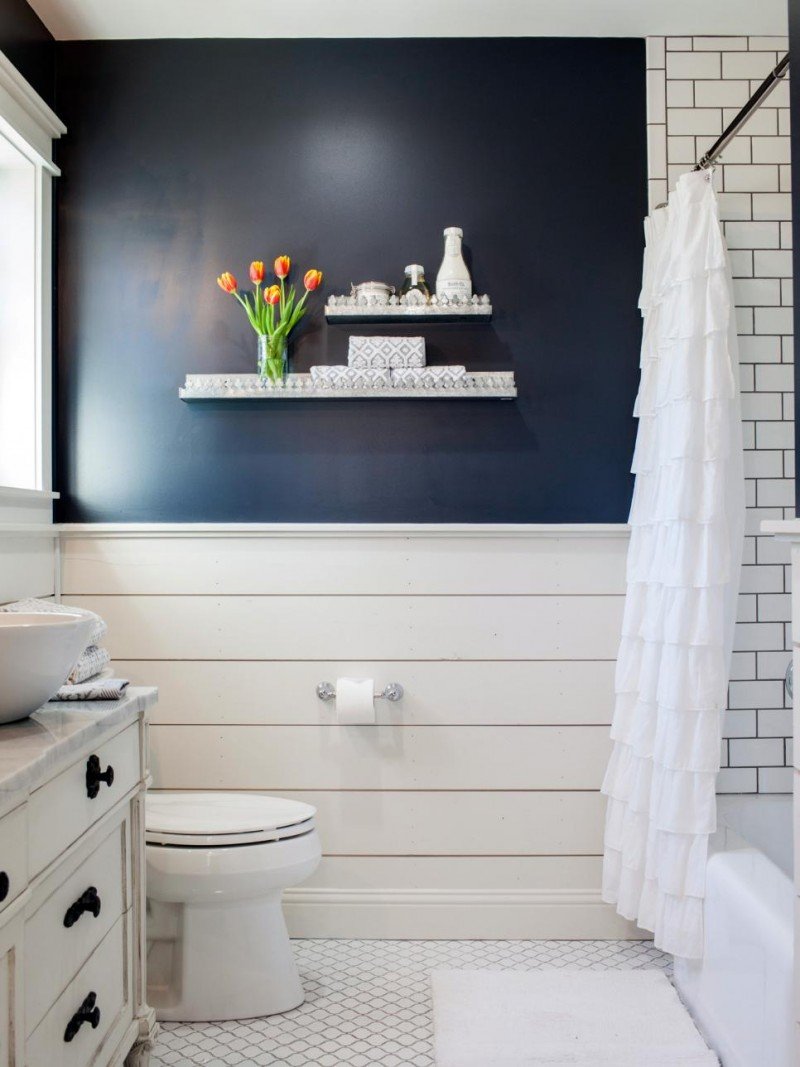 Takeaway #21: Add a Dark Color to an all White Bathroom
What a fantastic bathroom. So classic and charming and the navy blue against the white is stunning. Do you have a room where you can go a bit more bold. It really ties in so well with the blue accents in the bedroom. Beautiful. This color looks similar to       Hale Navy by Benjamin Moore and I love the ruffled shower curtain. We used a similar one in our children's bathroom. You can find one here.
Takeaway #22: Mount Simple Shelves to Fill a Wall
Forget artwork and add a couple of shelves. I like how the top one is shorter. Great design. Simple way to fill a wall and add relevant bathroom goodies.
Photos by Jennifer Boomer/Getty Images via HGTV and Fixer Upper
Takeaway #23: Always Look at Your Spouse this Way!
Right?! I mean how cute are these two? Such talent. Such devotion. Such teamwork. Such love.
To get caught up on past installments of this series, you can read below.
The Takeaways #1 | The Takeaways #2 | The Takeaways #3 | The Takeaways #4 |The Takeaways #5 | The Takeaways #6 
*Affiliate links used