Good morning! Half of us slept in and half of us ran off to hockey practice. I am sure you can guess who stayed home. We forced ourselves to go to bed at 9:30 last night and I am so thankful we did. Sometimes you just need a solid night of sleep. I'm thrilled to know that so many of you are happy to see the return of Friday Eye Candy. I will keep that going because I love all of the inspiration, too. Today I am sharing some great finds I found when I hit the mall. Now that the children are back in school I have more time to look around. Welcome to Saturday Shopping.
IN THE DRESSING ROOM
First up is this darling top. It's a bit hard to see but the bottom of this sweet top has lace detailing in green. It's so pretty. I really like the cut and the flattering way that it falls. I am wearing an XS.
Let's talk about these pants. I LOVE them. They fit so well and feel so good. And they aren't too baggy in the booty which Loft pants can be sometimes. I am in size 0. I never wear a 0 in any other store so they definitely run large. For reference I am 5'7″ and usually a 2/4.
STYLE TIP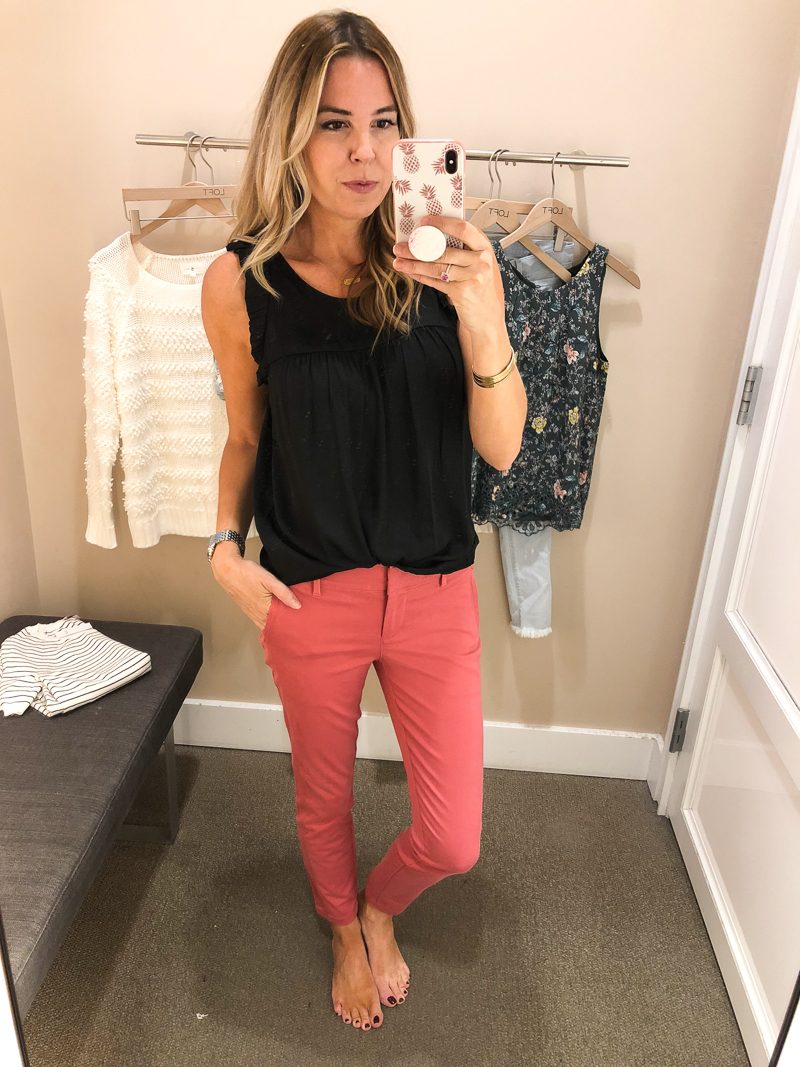 This is my favorite cut for a top and this one is so soft and pretty. It's great alone or under a blazer or cardigan for work. In this top I am in a small.
Style Tip: If a blouse falls too low or looks a bit frumpy, tighten it around your waist as if you are in the 80's and going to tie it. Instead of tying it, take a bit of the extra material and tuck it in the front. Let the rest of it fall naturally and it will give the outfit more interest and shape.
FLORAL ON SALE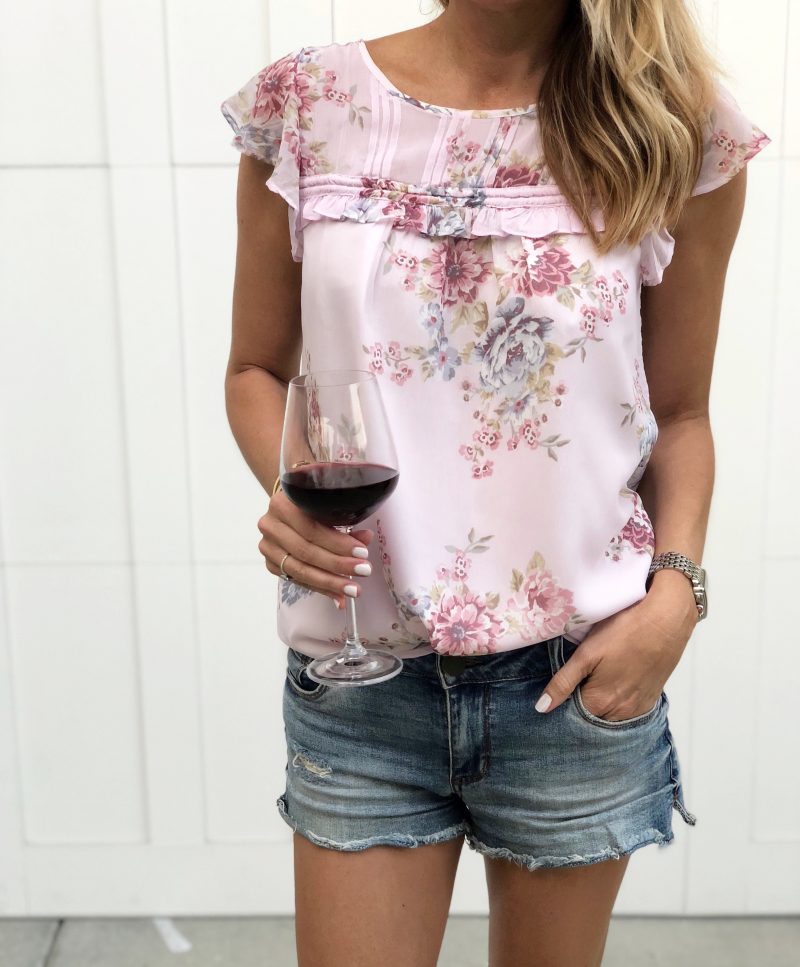 This has been super popular with all of you. It's currently 40% off. 
DETAILS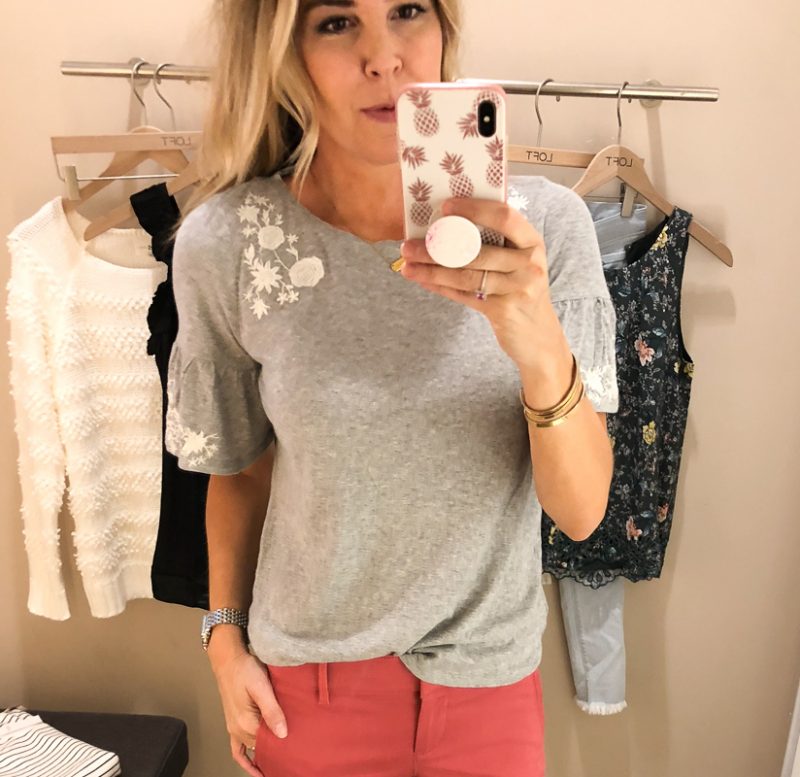 Such a fun top. The embroidered gives it the something special I look for in my clothes. It is currently 40% off, too! This is an XS but I need a size S. This was too snug under my arms.
DRESS LOVE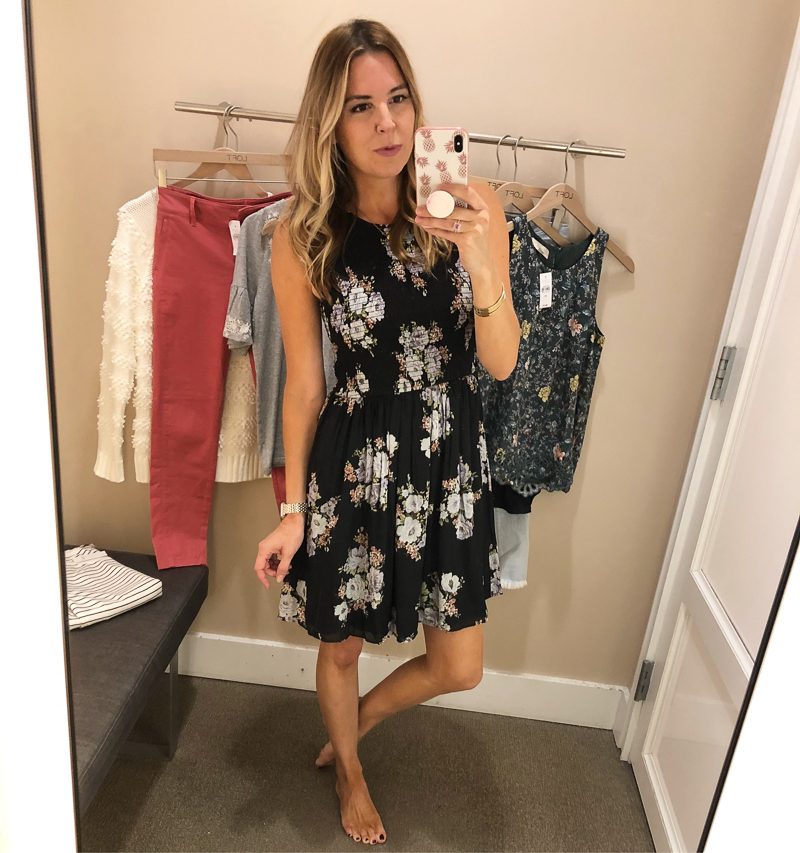 Head over heels for this dress. It's so much cuter in person than this photo shows. It's smocked up top and falls so nicely. I have to have this dress. This was a size 2 and felt too tight under my arms (but I have broad shoulders). I am planning to order the 4. It falls a few inches above my knees but is not too short. A couple of readers saw this on IG and suggested pairing it with a denim jacket or moto jacket. Yes to both. Really versatile and can be styled so many ways. In fact, I sense a post coming up!
YES TO STRIPES
This is a 100% yes. I had been eyeing this top lately but wanted to try it on. It's super super soft and I love the short sleeves. It's very flattering. It can hang low or you can tuck in a tiny part of it to lift it up a bit. I am wearing a size small. My jeans are on repeat lately. They are so comfortable and I really like the raw hem. They run big so size down.
The cute white sweater in the background is going to be one of my top Fall picks. I predict it sells out quickly. It's not available online yet but I will let you know when it is. It's a so good.
ANTHRO DAY!!
You know one of my all time favorite stores is Anthropologie. Well it's 20% off everything time!!! That's a good day. Be sure to join Anthro Perks (no card necessary) as a way to get free shipping and savings. A few darling pieces caught my eye.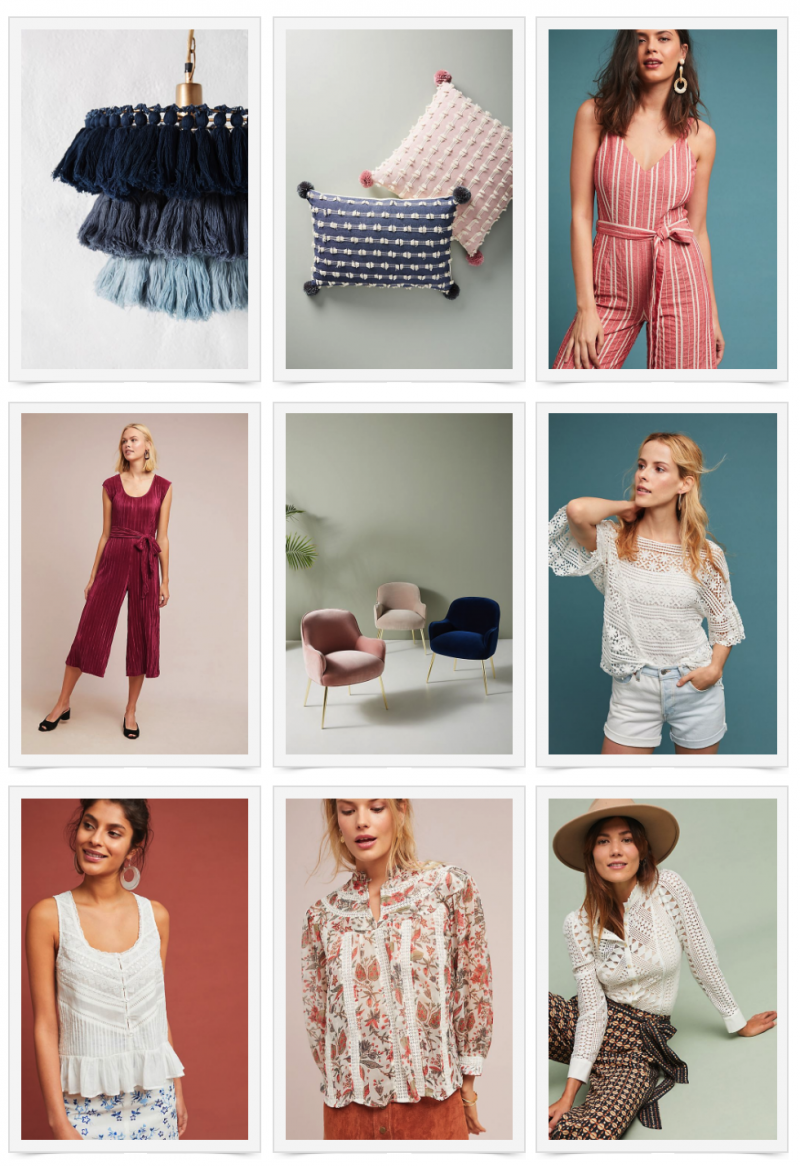 These are all so cute. Anthro just gets it right. And that chandelier! It's so good in person. I love the ivory version of it, too. I thought the cranberry jumpsuit would be perfect for the upcoming holiday season. Really pretty.
Shop Anthro Finds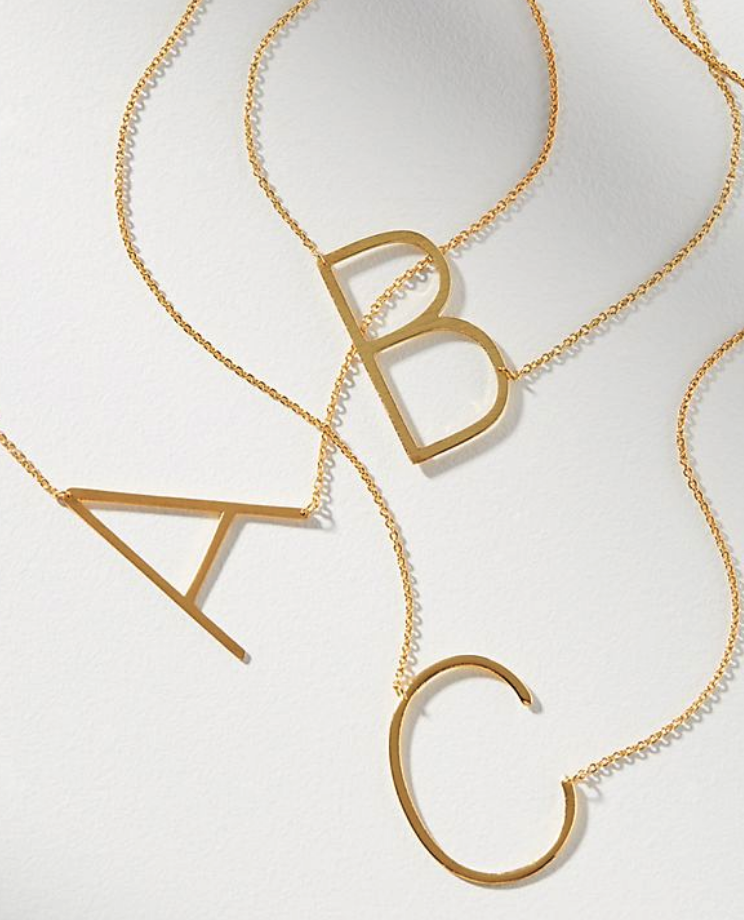 This popular necklace is such a great deal to begin with. But now with 20% off it's only $30.
If you have had your eye on drapery panels or cute wallpaper, today is the day to snatch that up. My friend just ordered this paper for her daughter and I can't wait to see it installed. It has always been a favorite of mine.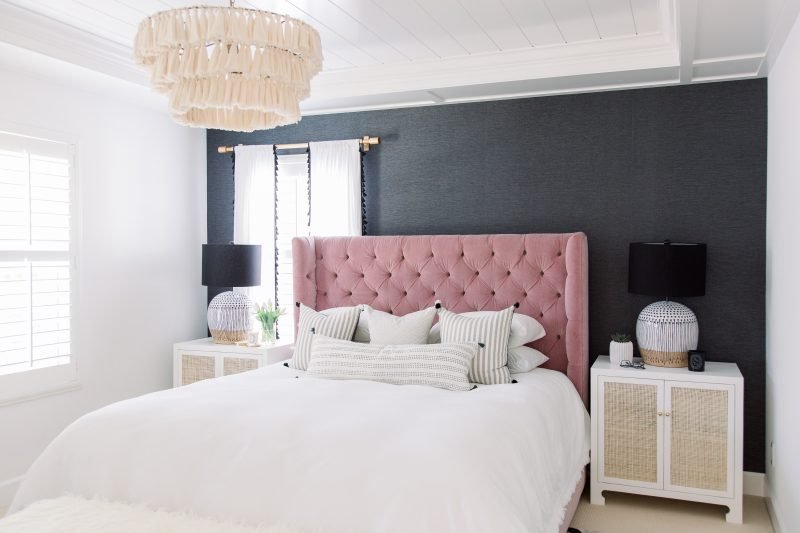 Look how great the chandelier looks styled in Missy's room! I seriously love it. And with the 20% off it's under $100!
SALES AROUND TOWN
You can get 20-30% off of most items right now! I have so many of their statement earrings and love. They are lightweight and so cute.
Colleen is offering up to 50% off for the end of summer sale. You can shop those items here. To read about my favorites, check out this post.
Today is the day to shop from Pottery Barn, PB Teen, Williams-Sonoma, West Elm, Rejuvenation or PB Kids.  It's the Premier One Day event with items marked down 70%. Plus you can get 20% off any one item and free shipping. So if you have your eye on a big ticket item now is the time. To make it easier to shop, I've listed the top deals from the stores below. That will take you to the page where you can see the great deals.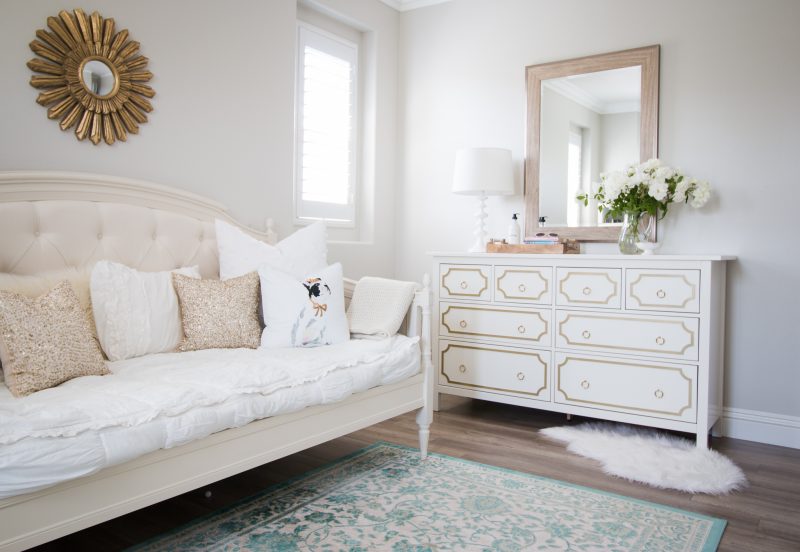 My daughter's bed is part of premier day in case you are on the hunt for your own daughter. You can see how we created her glam dresser here. 
HOUSE KEEPING
In house keeping news, I am trying to make things easier for you. If you head to my menu bar and choose "Shop" you can now shop from my favorite stores and from my Instagram. I will update this with tabs as I go. Let me know if this is helpful.
Ok, my friends. We are off and running. I hope you have a fantastic weekend. See you back here on Monday. xo