That is definitely the hot question these days. When I asked if you had any questions about the moving process, this was one of the most asked. If you are planning to move, do you sell your furniture or pay to move it? While this is certainly something we grappled with, it is not cut and dry and has so many different facets. I thought I would walk you through our thought process and share a few factors that today's climate add to the mix. Of course, everyone's situation is entirely different. But because you asked, I wanted to answer how we handled this with our move.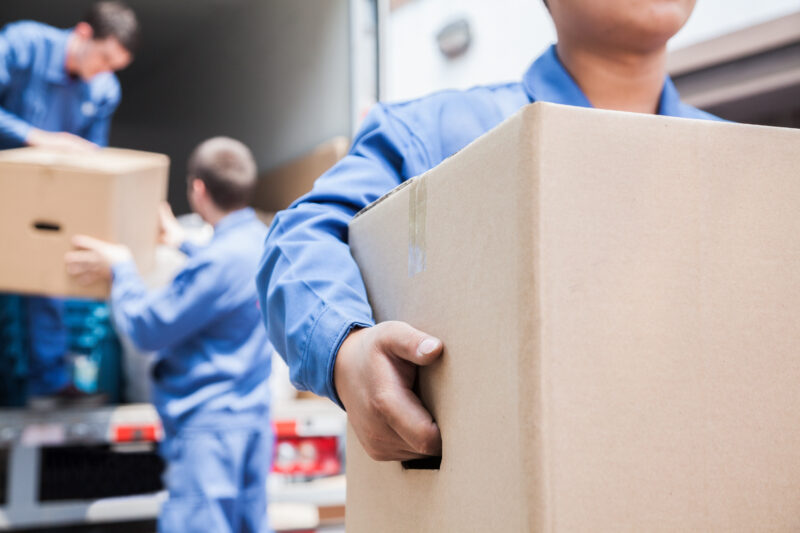 How much does it cost to move?
Bottom line, the rumors you hear are true. While there are many ways to move things, including doing it yourself, if you hire a moving company to load your belongings, drive them, and unload them, it will cost roughly $1 per pound. Some companies will be more and some will be less. When they come to take inventory of your belongings, they will estimate how many pounds you have.
I kept hearing, "Don't pay to move your stuff! Sell it all!" That advice coupled with the potential expense helped us figure out our game plan. There is no doubt that moving costs money. It just does. Of course if you work for a company and they are relocating you, that is a different story. But if you are paying out of pocket, it may be time to bust out a spread sheet, take a close look at what you own, and start crunching the numbers.
Do your homework. Really figure out what exactly "expensive" means and weigh that against the expenses you may incur on the other end. Start making phone calls. That is what I did. I picked up the phone one day and called three moving companies and two pod services (where you load your own things into a portable storage container). Once you start gathering information and quotes, things will seem more clear. Summer is the WORST time to move as far as expenses. Just a warning. It's their "busy" season and it makes things a bit more challenging. Here are some options to look into:
moving van lines (ask people who have moved who they used)
renting a large truck, such as Penske, and driving yourself (could hire professionals to load)
portable storage containers like Pods
price out help with packing some of the difficult areas like the kitchen, there are many professional packing services but I recommend word of mouth recommendations
For reference, when I called a storage container company, their fee to move three pods (no loading or unloading) was almost the same price as a professional moving company. Yikes! There is no question, companies are taking advantage of all of the moving going on so please do your homework and make the phone calls.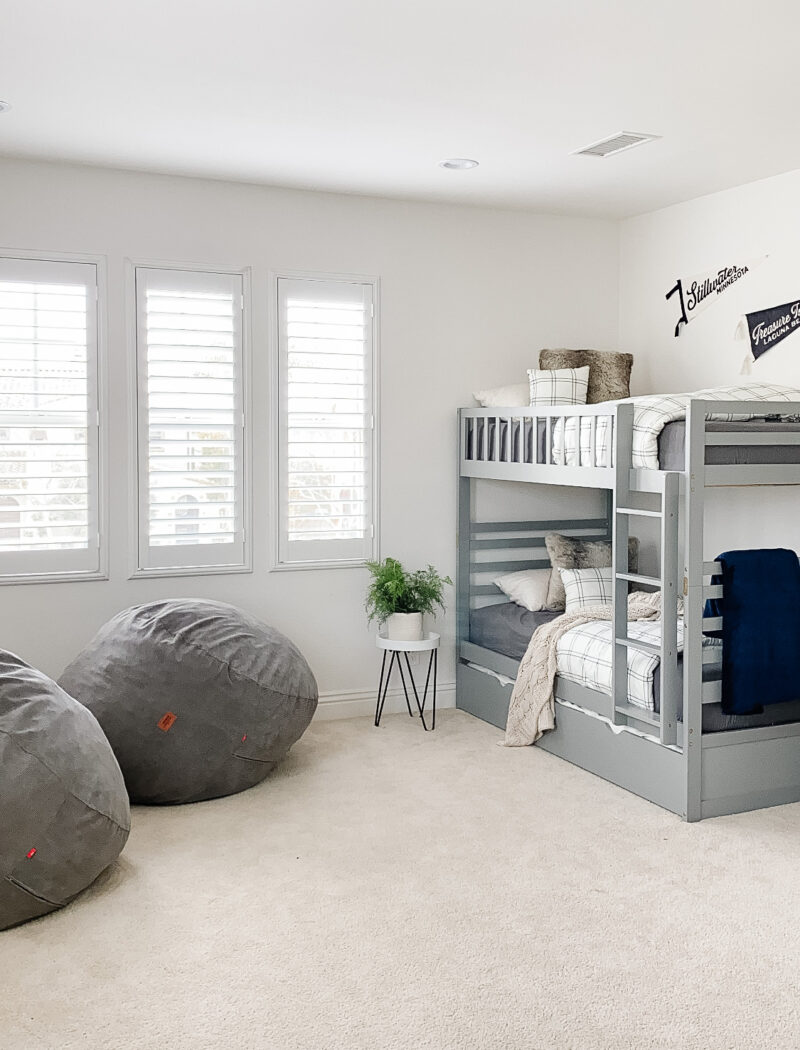 Do I have to take it apart?
It may sound silly, but you need to think about that, too. For instance, to move these recently purchase bunk beds we would have had to disassemble them and with everything we had going on, that was not fitting into the plan. Something like this is great to offer to the new home owners. We did of course bring our favorite pennants.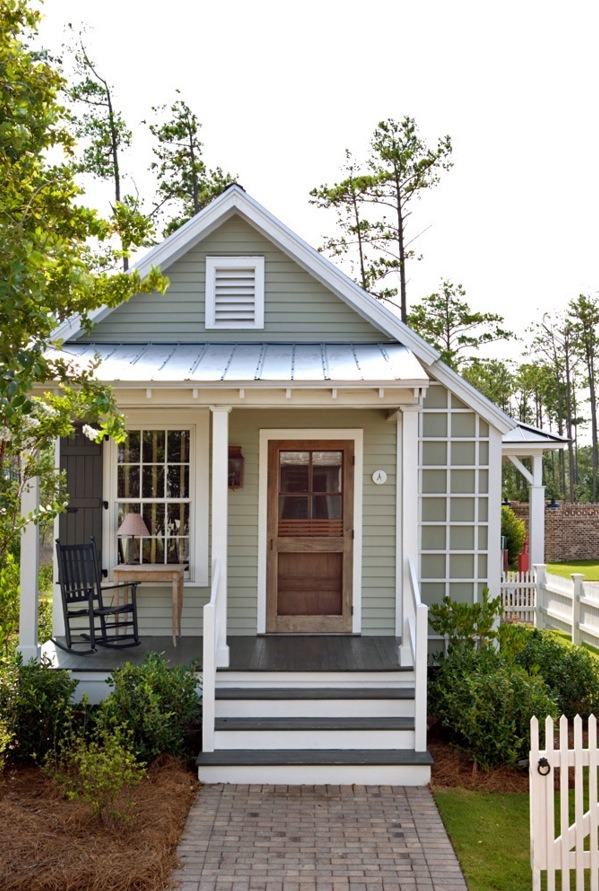 Are you downsizing?
If you are down sizing, selling furniture makes so much sense. You may not have room for it your new abode or the scale may be too large. Or maybe you don't particularly care for what you currently own. You can make decent money selling your items on your local neighborhood site or through Facebook Marketplace. Or you may even want to consider selling to the new owners. Sometimes its best to sell the home and then negotiate the furniture after. Your agent can best help you with that game plan.
Having said all of that, a bed is still a bed no matter the size of the new home. Consider keeping some of those items that will save your sanity on the other end. What could you put to use right away? These are things you need to really consider. Yes, moving is pricey but so is replacing perfectly good furniture.
Not downsizing?
Here is where it gets a bit tricky. If you are moving to a similar sized home, or larger, you may want to rethink the, "Just sell it all!" mentality that was once very popular and give it some serious thought. The climate in which we are living is drastically different than even one year ago. Here are some things to consider:
lead times on furniture can be anywhere from 2-6 months (some much much longer . . .up to a year)
items that you order often turn up missing or damaged (speaking from experience)
even places like Ikea have tried and true pieces you can't get right now
supply chains are backed up and you have no control over that
the quality of new furniture, even in the last couple of years, has taken a downward turn
What is it worth to you?
This is where you need to really take inventory of what you have. If moving (with professional movers) will cost you $1/lb, look at your pieces with that information. If you have a really heavy marble coffee table that weighs 100 pounds, it will cost about $100 to move it. But how much will it cost you to replace it? Hundreds and it will most likely take months if you can even get it.
When we started taking into account the availability of potential new pieces, our answer became very clear. I wanted to be able to furnish some of the key rooms in our home right away. I wanted to be able to sit on a sofa and set a cup of coffee down on a table. It may sound silly, but when you are in an empty home, furniture really does make a huge difference. We lived in ours without anything for about two weeks straight and boy were we happy to see that truck pull up.
Will it fit?
Ok, so if you think you want to keep your sectional or your dining room table, will it fit? By all means do your due diligence and measure the new spaces. Be sure what you pay to bring will work. Now having said that, it doesn't need to be perfect if you plan to swap it out down the line. Let me share an example. We brought our white oval kitchen table (it was the first piece of furniture we ever bought together) and it's currently in our new kitchen/dining space. It looks a bit ridiculous because the scales is too small. BUT it works and we are so happy to have a table.
I have been searching everywhere for a new dining room table and can not find anything that I love. If I do love it, I find out it may take six months. But I have bought myself some time and we are grateful to have a table around which to gather. We also brought all of our master bedroom furniture. First and foremost, I loved that room but I also wanted to feel settled and not have another space to worry about.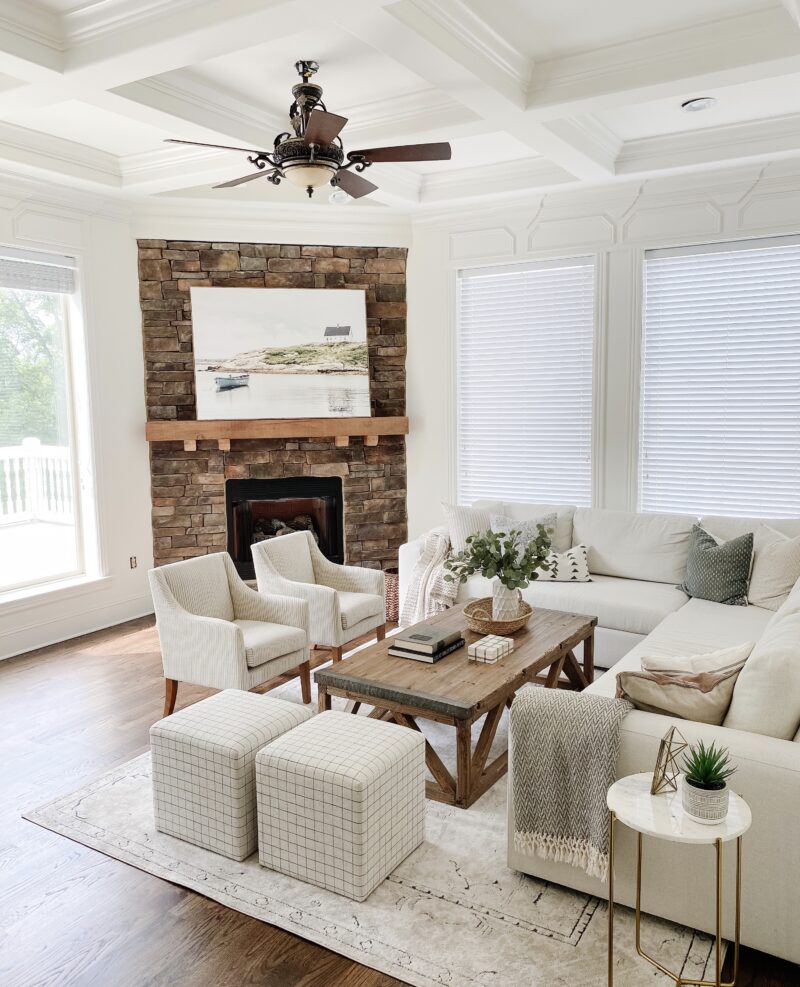 our work in progress family room (rug is on sale)
Only you know what is best
At the end of the day, only you know what is best for you and your family. I knew my family would appreciate having some of our belongings from our previous home. I know it's just "stuff" but I also know that that "stuff" can bring comfort and a feeling of familiarity. Being able to set up our family room rather quickly was a huge blessing to us. That is not to say it isn't fun to start over and with a blank slate, because it is. If you are moving to a familiar environment, maybe having your things isn't as important. If you are uprooting and starting over, a sofa or two that evoke special memories and create a sense of comfort might be worth moving.
Purge like there is no tomorrow
One more tip, purge like crazy. And then purge again. My dear friends know that I made a list of every space in our home and I worked my way through it. I donated and sold so much prior to moving. This was my thought process . . . will I be excited to open this on the other end? It really changes the way you look at things. I paired down my table linens and when I opened that box I was so excited. It was just the things I really love. I don't regret any of the purging I did.
Last two cents
The last thing I will say, now that I have experienced this, is that this is an odd time to be furnishing and decorating a home. Not being able to get the things you want can lead to settling on things that are just available. You don't want to do that. So no matter what you choose to do, just know that on the other end it will take a whole new level of patience. And so we adjust and pivot. A skill we are all honing.
I hope this gave you a bit of insight into the great furniture moving debate. I know there are one million factors that go into each move, but I hope sharing our thought process helped a bit. Let me know if you have any questions below.