Good morning. Welcome to the Great Sectional Debate. It's gotten a bit heated in our home. Which to be honest, I NEVER thought would happen. So I thought I would lay it all out there and see what you all think. Before I jump in, I want to make it very clear that I love both options and have had styled rooms in my home with sofas and sectionals. Both can look amazing in a space. Here are some beautiful examples.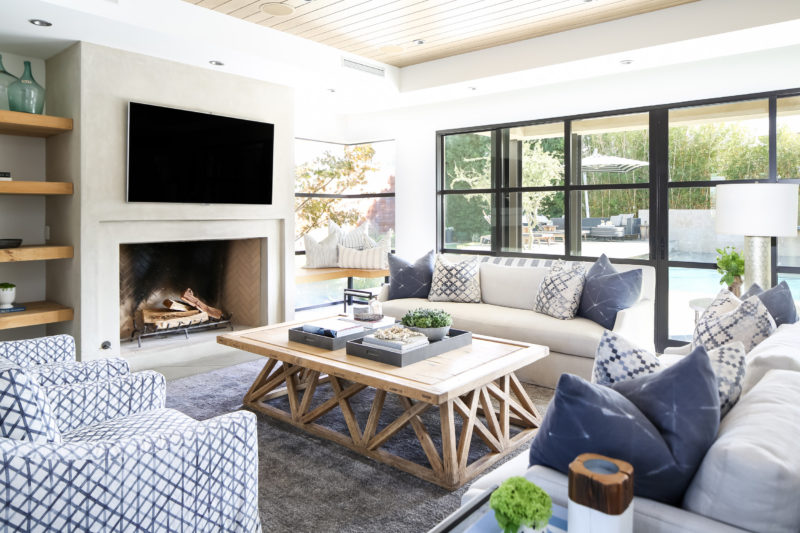 Brooke Wagner is one of my very favorite designers. This room is beautiful styled with two matching sofas and chairs. I love the wood tones in the room and how the pillows tie it all together.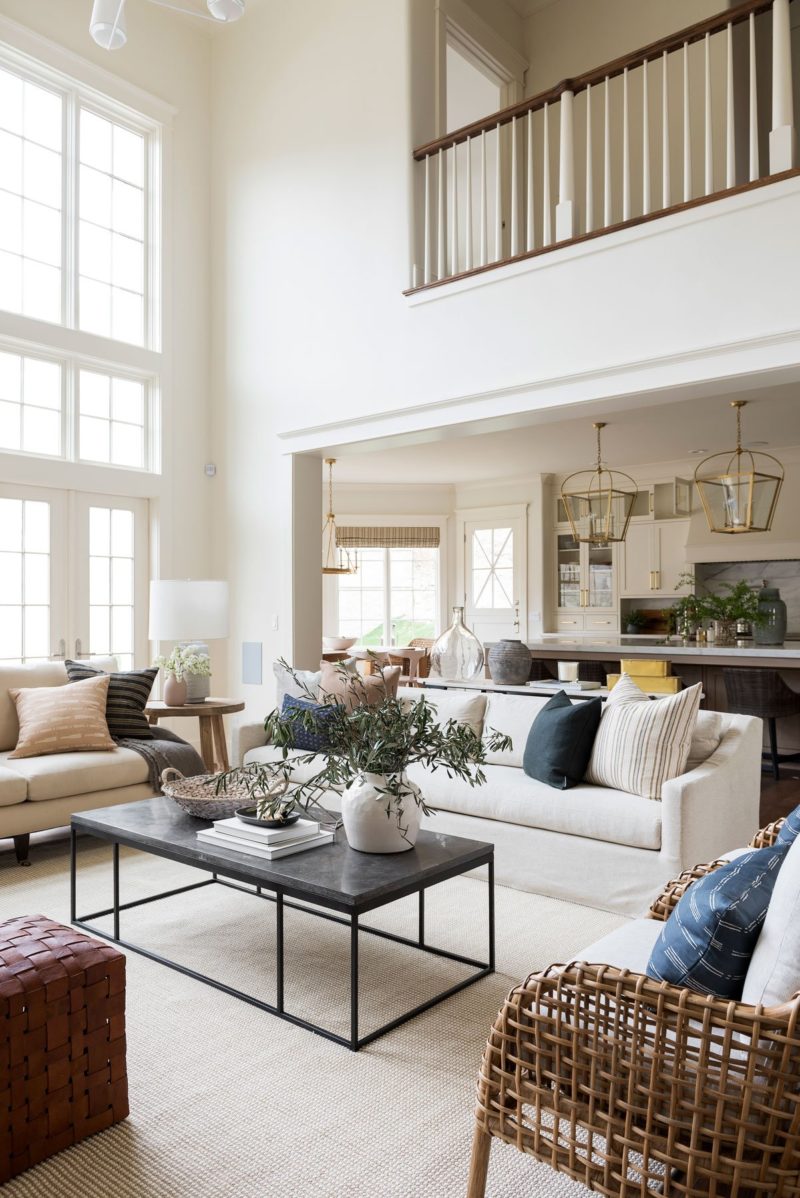 This gorgeous room by Studio McGee is a really pretty example incorporating two different sofas and chairs. There is plenty of room to walk around but the room has plenty of seating.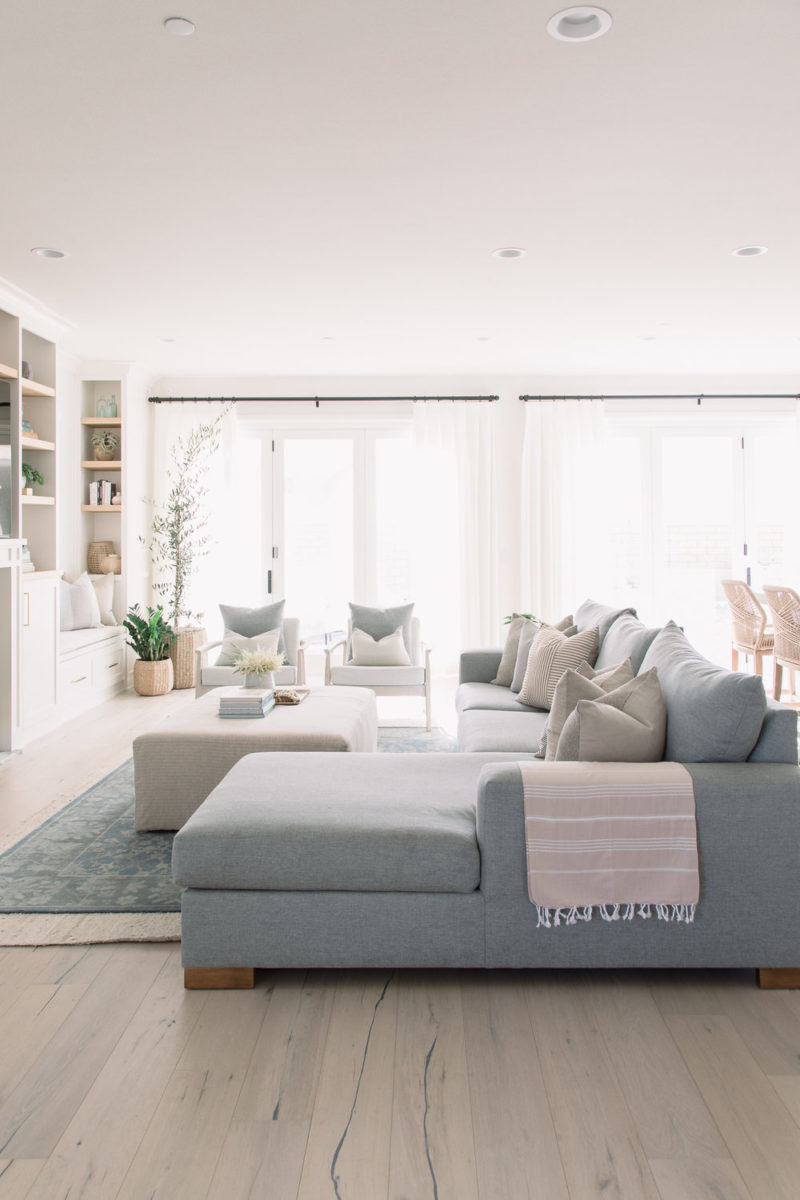 This pretty great room is easy on the eyes. Such pretty soft tones and I want to curl up on that sectional.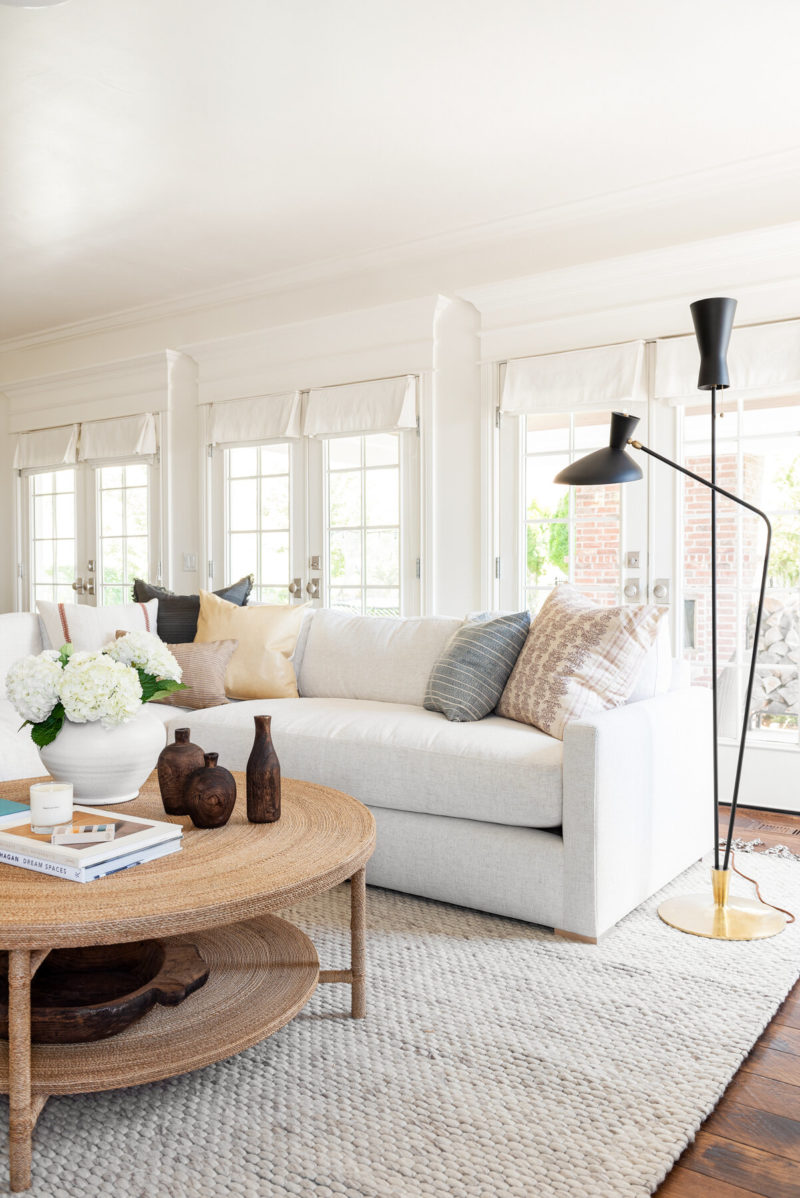 Studio McGee just launched a video yesterday about styling sectionals. Perfect timing in light of what we are thinking about over here. I love the light tone of this sofa and how the pillows take center stage. So beautiful.
OUR FAMILY ROOM
In our previous home, we had a sectional for over ten years. We LOVED it. It was a very small space and having the sofa custom-made worked really well. When we moved into this home, the larger footprint lent itself to varying the seating and having two different sofas. It's a look I have always really liked. The minute I found this blue sofa I was hooked. It's actually everyone's favorite spot to sit because it is that comfortable.
Here is another view. When we gather together to watch football or a movie, we obviously all spread out on these sofas and chairs. Entertaining has always been very comfortable because there are plenty of places to sit.
HOW IT ALL CONNECTS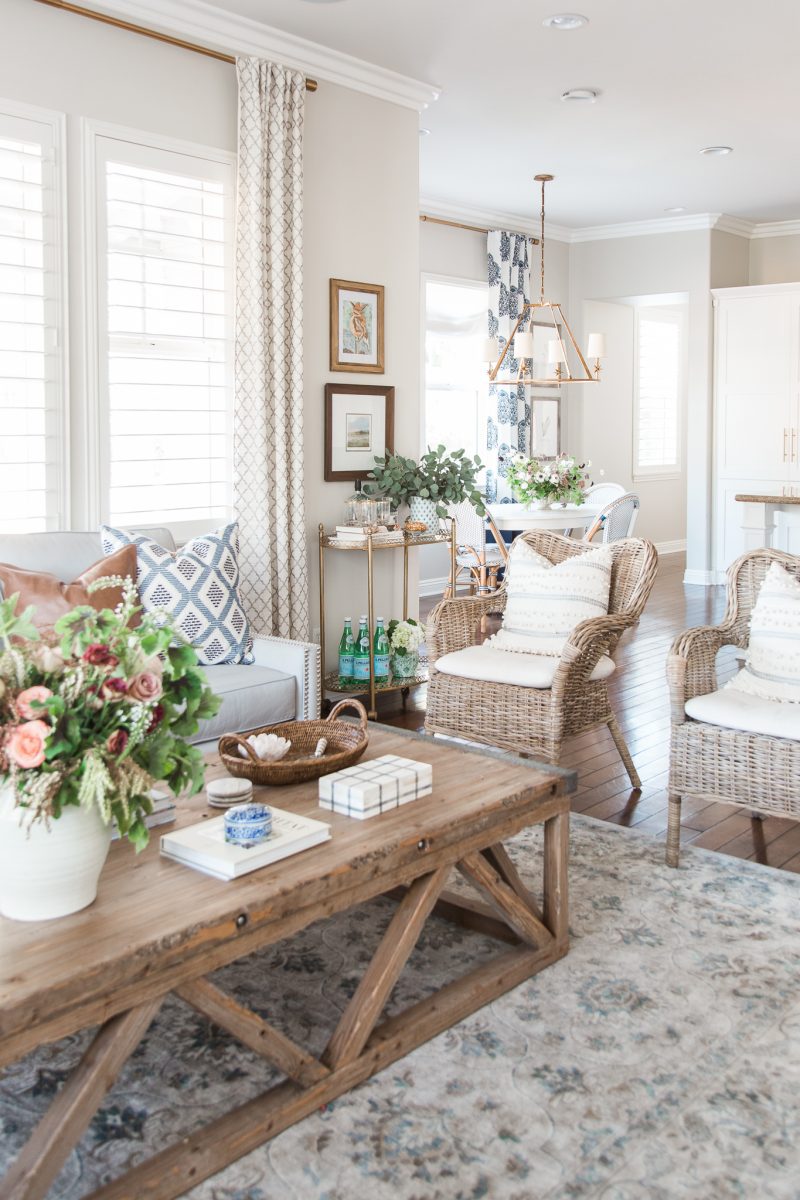 This shows you the flow of our great room. It all opens directly into the kitchen and breakfast nook.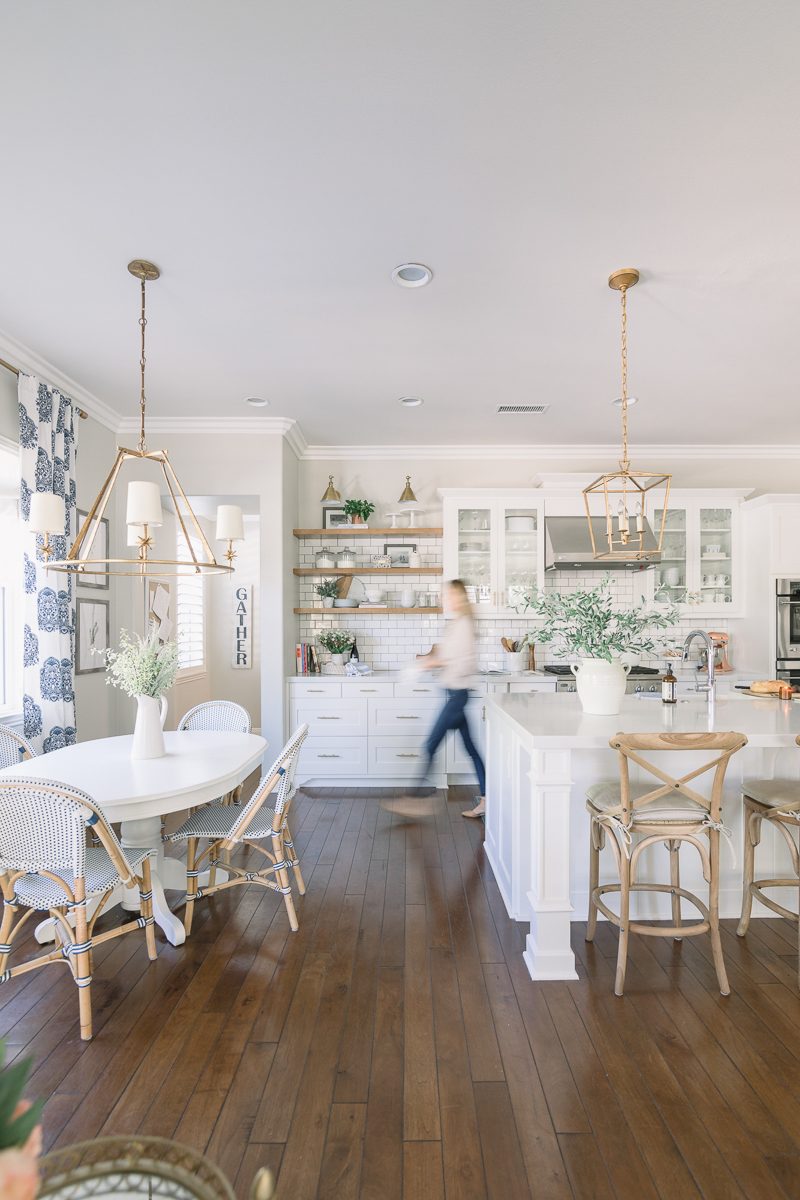 WHAT'S THE DEBATE
So why am I brining this all of this up? Well, mama wants a sectional. I miss the days of everyone flopping down on one couch and cuddling. Am I crazy? I also miss being able to switch up my pillows. Even for the holidays. It is much more challenging when you are dealing with patterns and two different color sofas. Here is a list of pros and cons.
PROS
More cuddling – easier to be connected with a sectional
One color unifies the room
Much easier to switch up pillows for the seasons. A blue sofa locks us in to many design decisions.
Straight up more comfortable.
CONS
I would need to sell these sofas to make it all feasible
My family LOVES the blue sofa. Who knew they would be that passionate about a HomeGoods couch?
Scared of making the wrong decision when choosing a new sectional.
Can appear like a very large piece of furniture in a space.
While the debate continues in our household, I am starting to keep my eyes open at my options.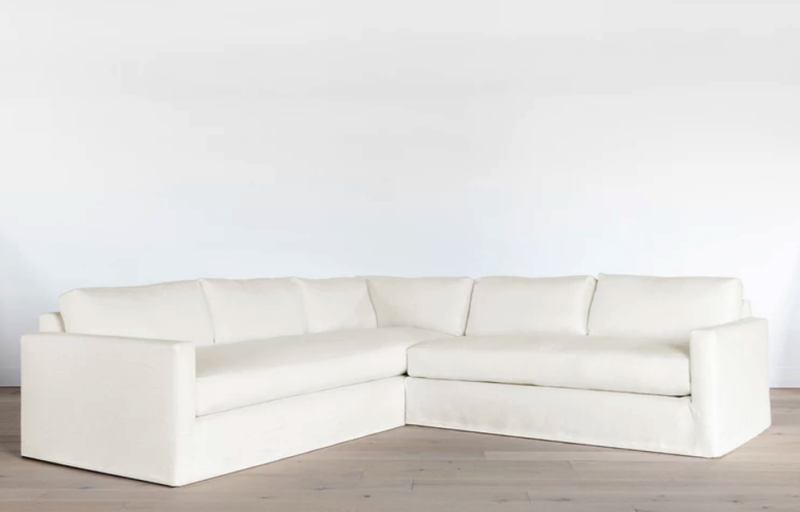 This beauty is stunning. Out of our budget, but stunning. I am already dreaming about choosing throw pillows for this baby.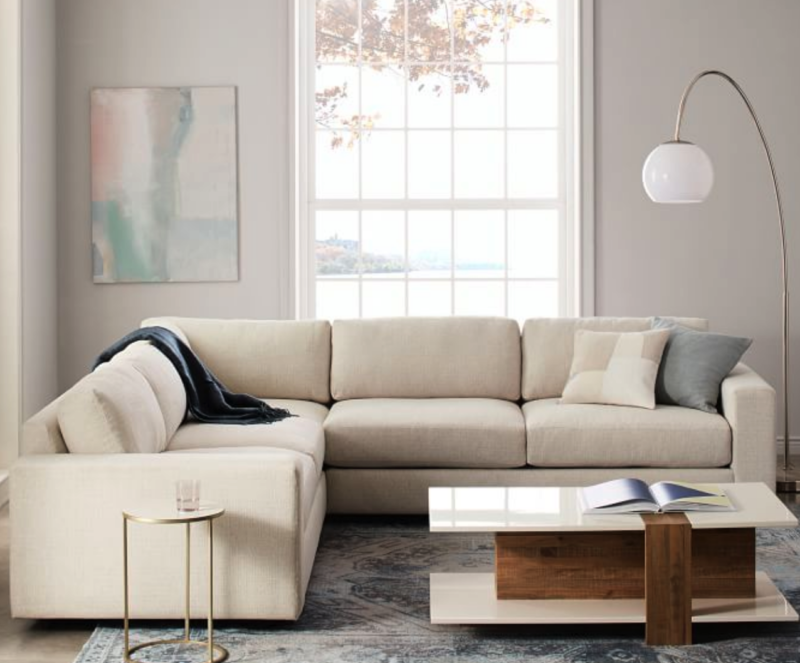 This is a pretty style and it is currently on sale. I like the clean lines but it still looks so comfy.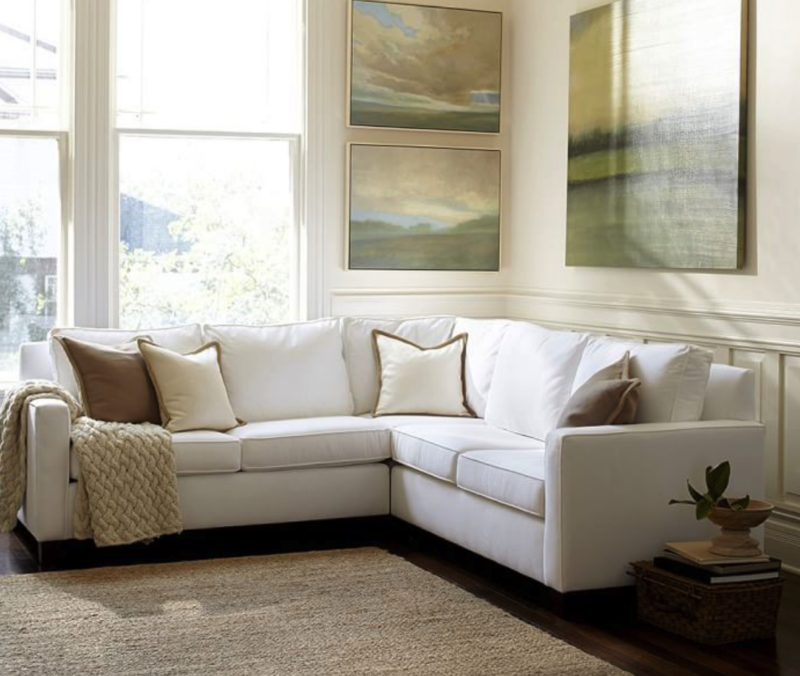 With a more casual, feel this sectional is a classic. Although I don't think it's large enough for our space.
If you are team sectional, can you leave a comment below on why you love it so much. Mama needs some back up! Of course I am happy to hear why a sectional isn't a great choice, too. I really want to make the right decision for our family.
In renovation news, it has been a minute since I've update you all. That's largely because we are at a standstill. Our painter swooped in at the last minute to paint our teen space today. He is saving the day as the carpet is being installed next week. I'll share a bit on stories very soon. Have a great day.