One of the number one questions we get asked is, "Where is that rug from?" I thought I would put together a post where you can see all of them in one spot. Most of them are still available and I am happy to answer any questions you may have. Grab a cup of coffee and come on in.
OUR FRONT DOOR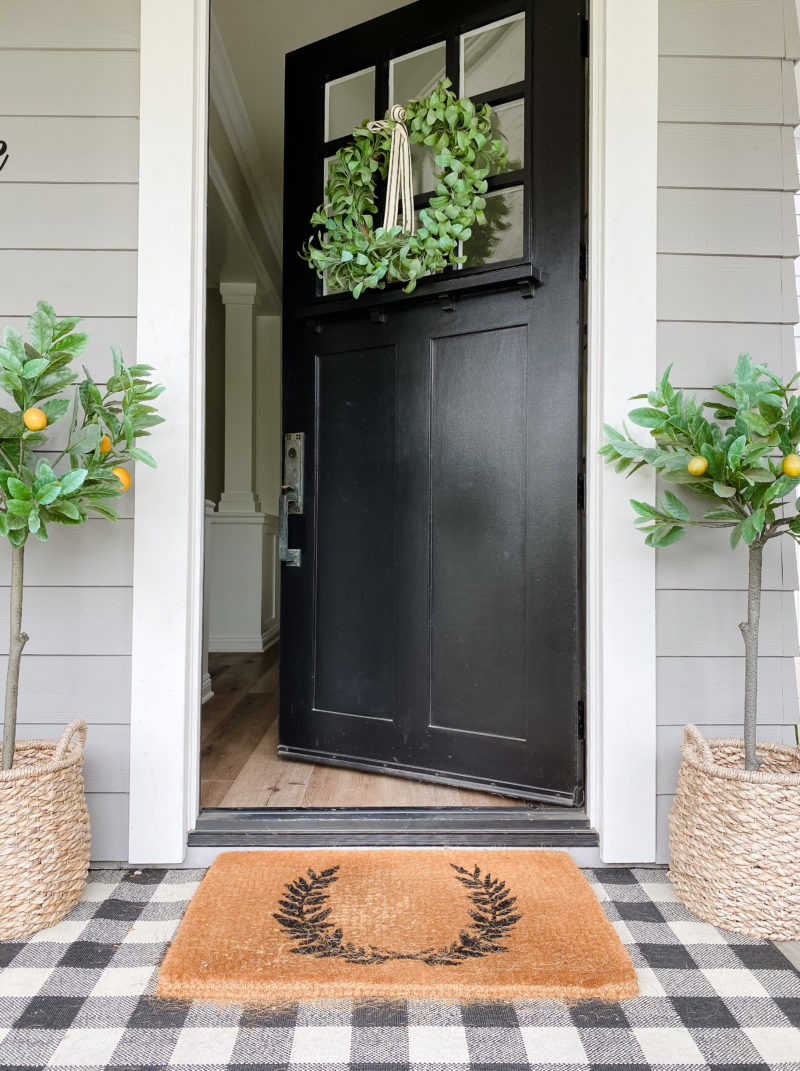 Let's start from the very beginning. Walking into our home I have two rugs layered. You can go much larger under your doormat to give it a more inviting look.
The black and white rug is just over 3 x 5 and has held up really well. Because it is an indoor/outdoor rug, you can easily hose is down when necessary. If you are looking for more sizes, I did find it here.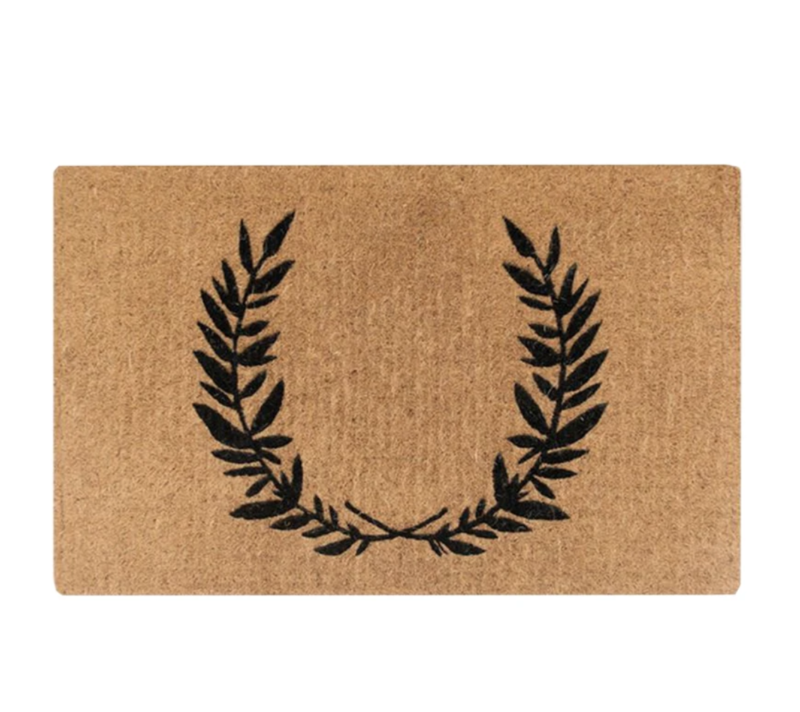 The simplicity of this doormat is what drew me to it. It does shed a bit but we just sweep it away. Although to be honest, this one is looking pretty good to me these days!
THE ENTRYWAY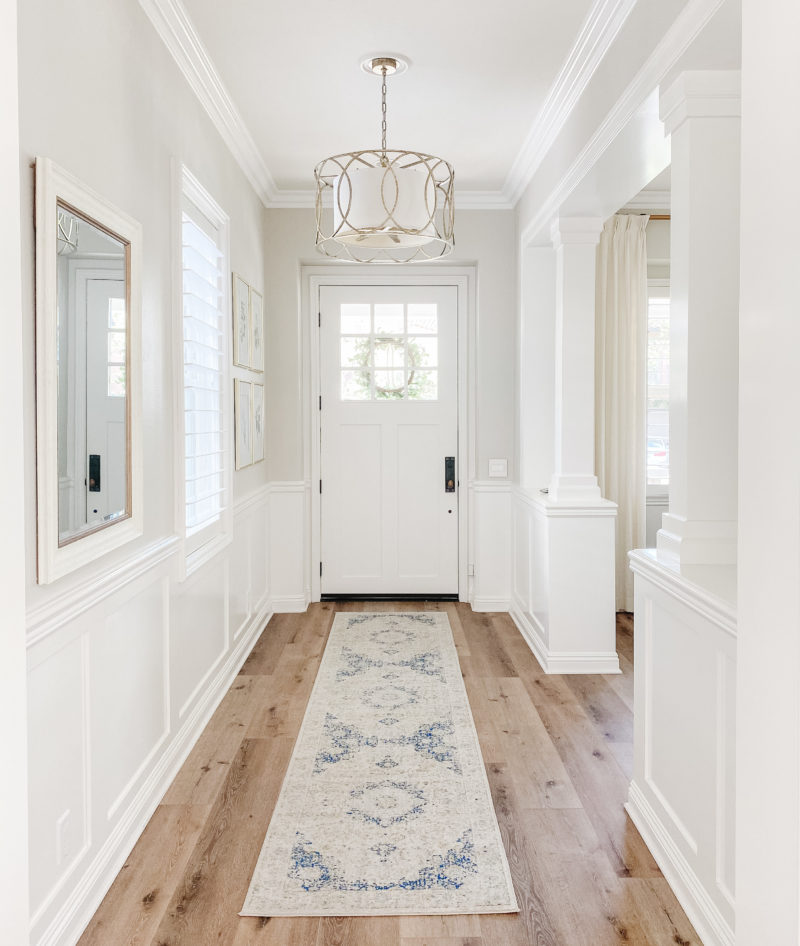 Our entry runner has been great. It's comes in an extra long length which was key for us. Plus it doesn't show any dirt. Another win. It is definitely blue, yellow and ivory.
This up close shot gives you a very accurate depiction of the colors.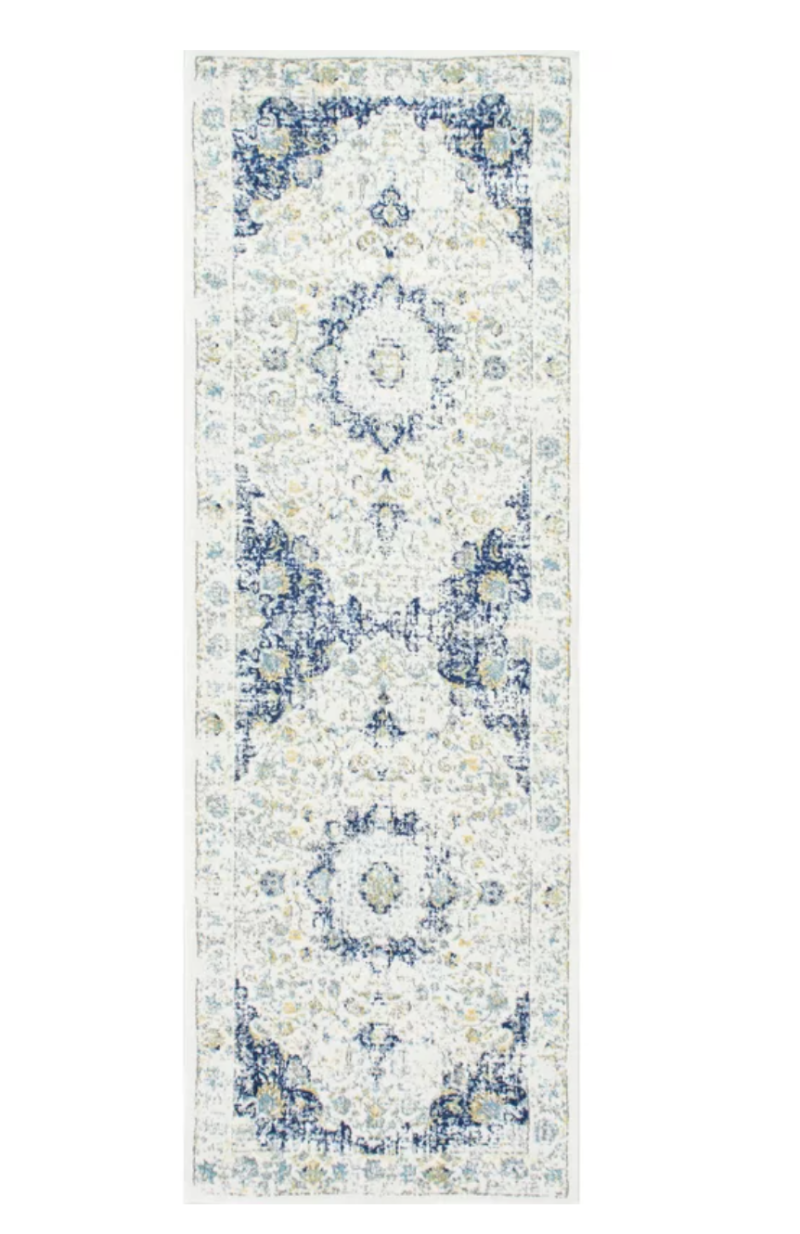 I noticed it is available on Amazon but they do not carry all of the sizes, so you can find more here.
LIVING ROOM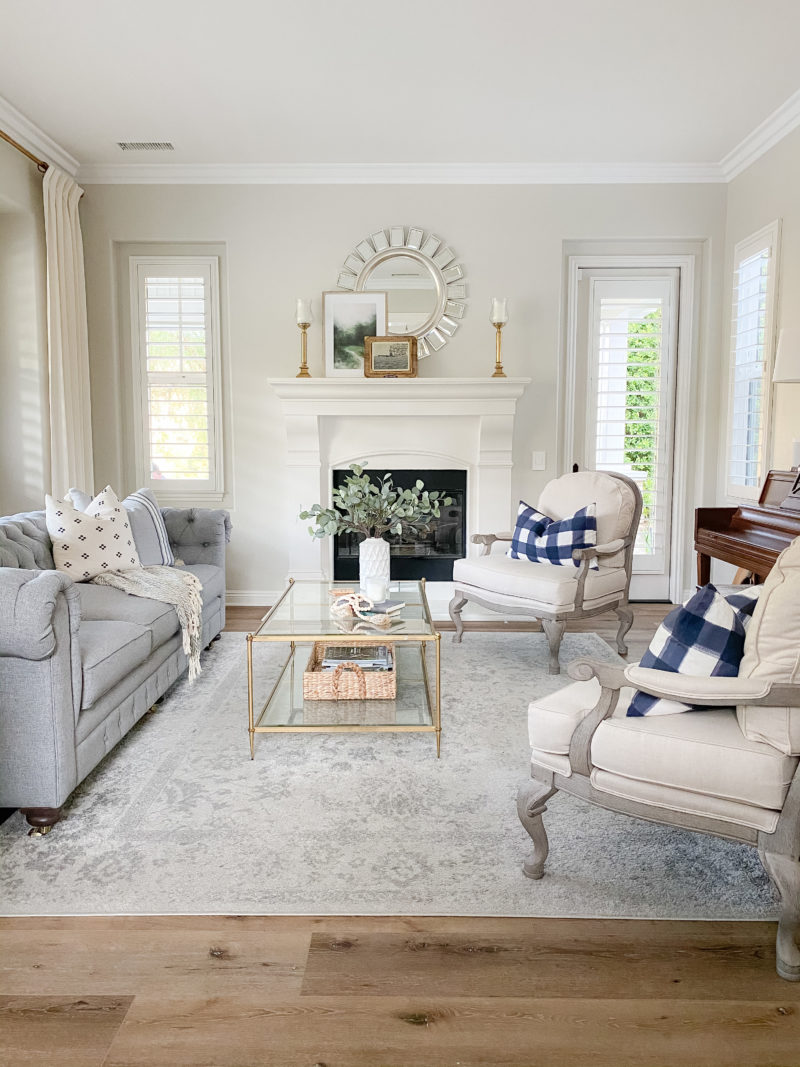 This has been a great neutral rug and this photo accurately depicts the colors. There is a bit of a longer shag to this ivory and gray rug and it goes with everything.
DINING ROOM
Unfortunately this rug was a HomeGoods find four years ago and I have searched high and low. I can't find it anywhere. It is a very light rug with touches of sage green. If anyone ever comes across something similar, please let us know.
FAMILY ROOM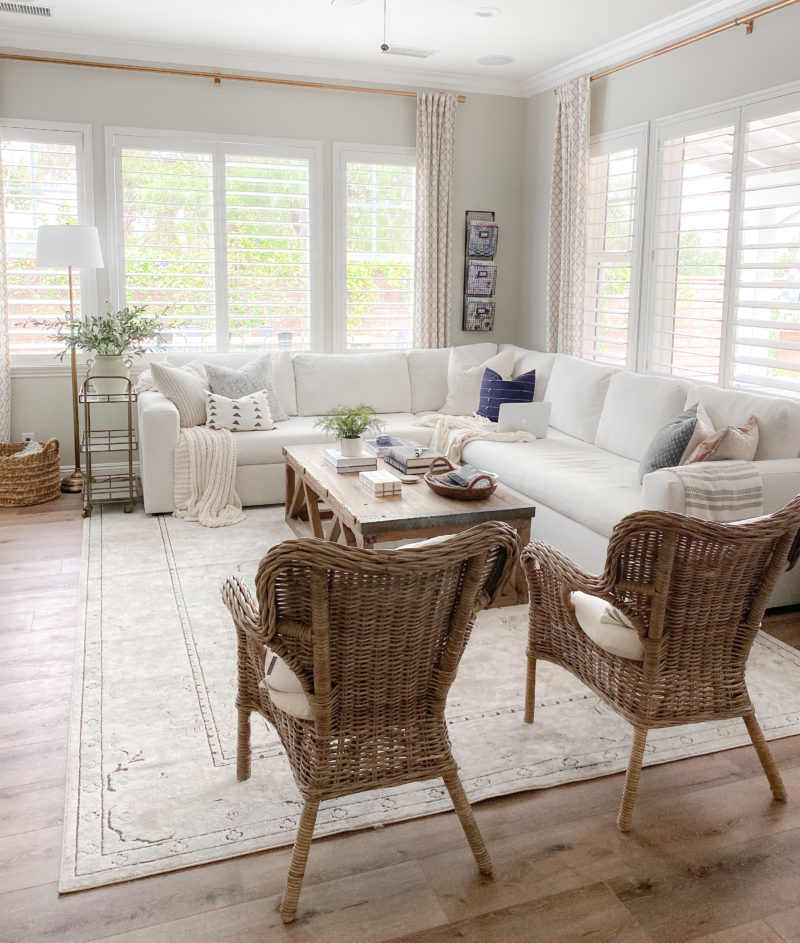 We recently swapped out our family room rugs because the one I had from HomeGoods faded like nobody's business. Well actually, only half faded so it was quite the look. This one was an absolute steal, especially because I need a large size in this space.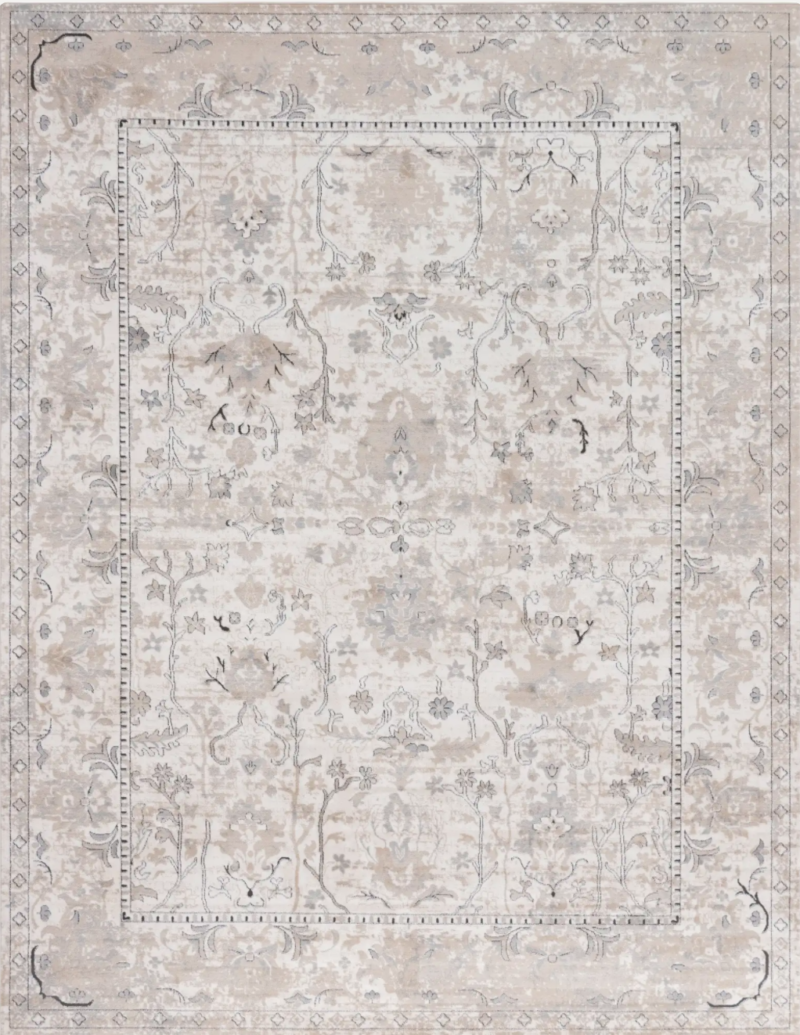 To be honest, I don't like this online depiction of the rug at all. I think it is a major misrepresentation. Below you can see a more accurate look.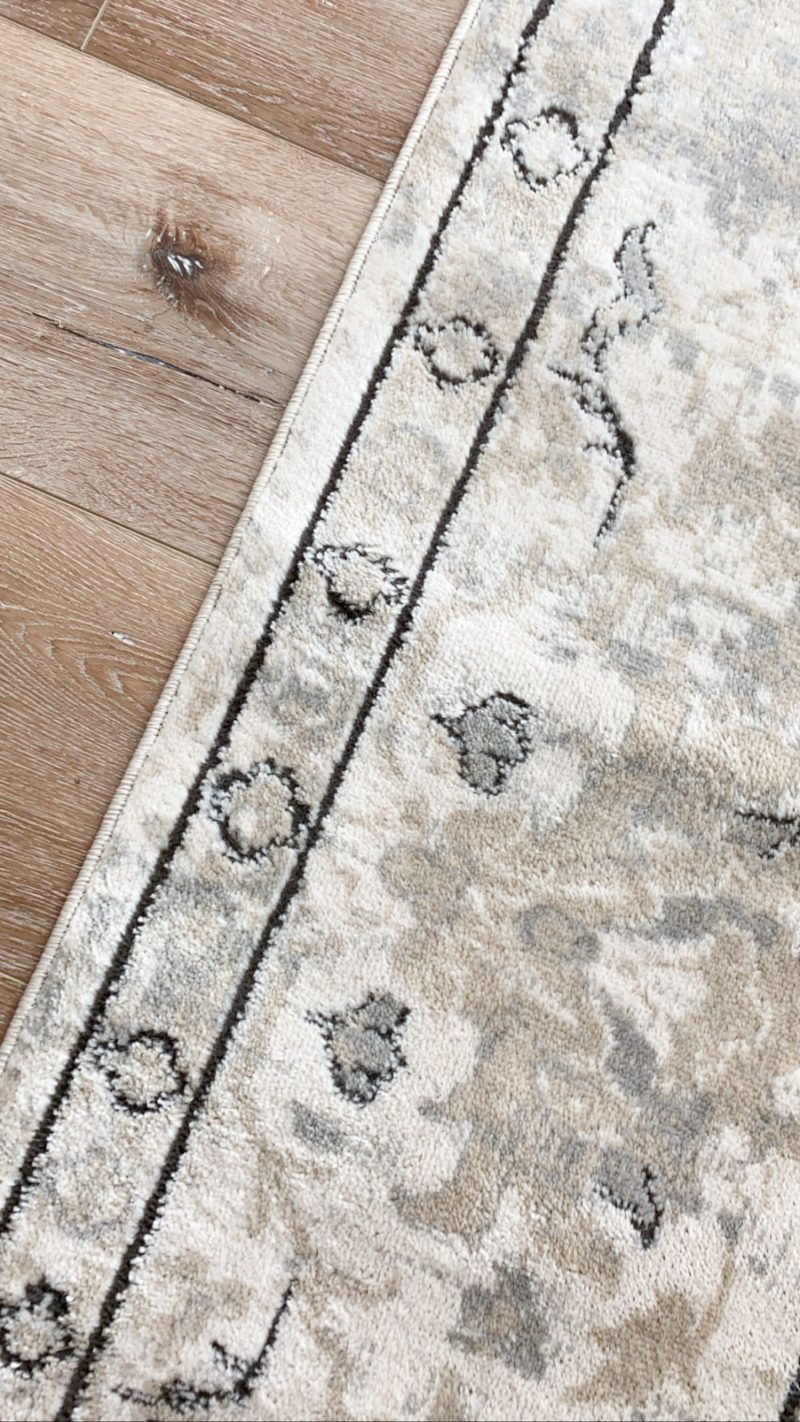 This is exactly what the rug looks like overhead. It's extremely soft and cozy. I love the neutral color combination. It definitely reads lighter when you step back and look at the rug in the whole room.
MASTER BEDROOM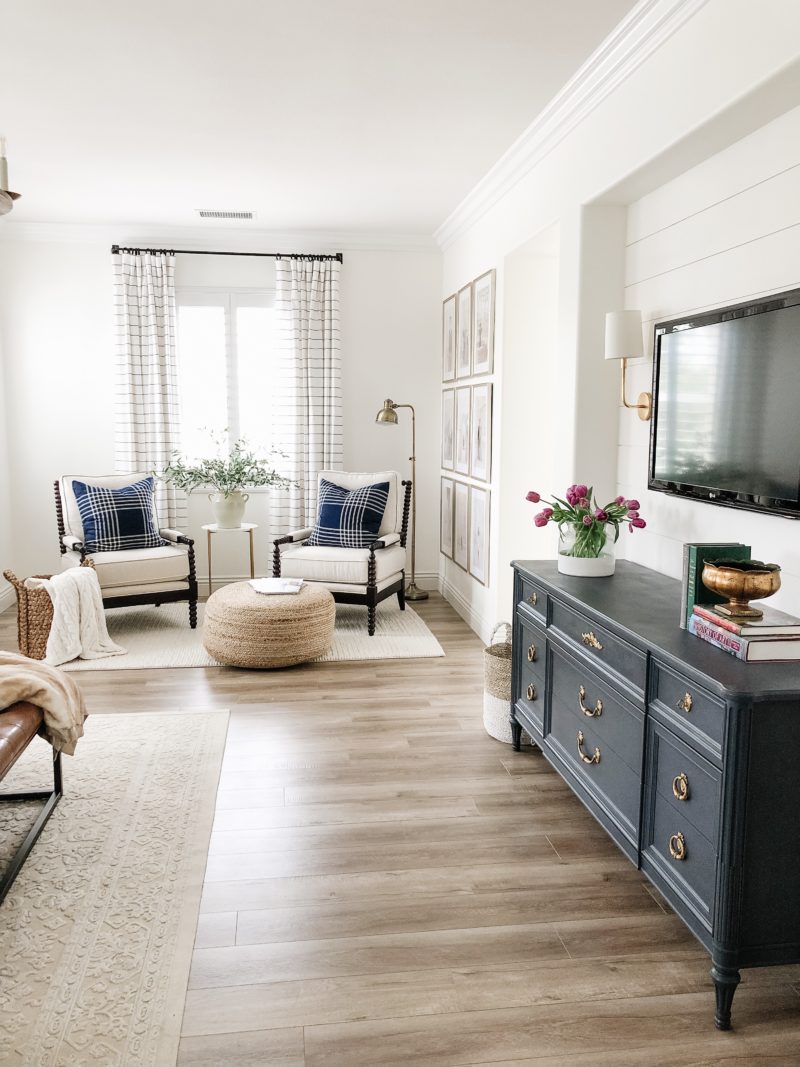 We still get asked about these rugs all the time. The larger one came with us from our previous home and I still love it to this day. If you need a neutral rug, this one is so good.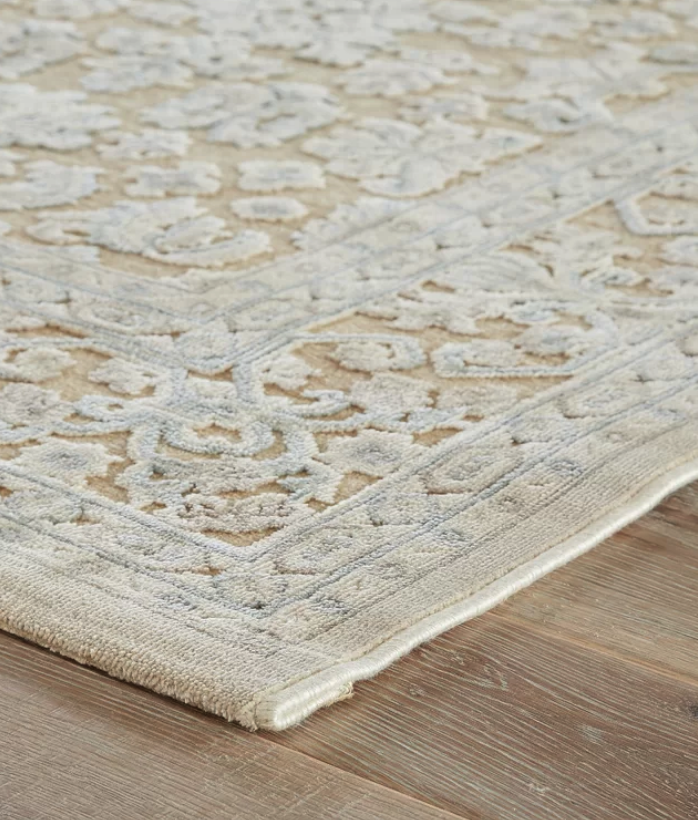 Overall this pretty rug reads taupe and cream but there is a subtle silvery/blue pattern to it. Nothing too overwhelming.
SITTING AREA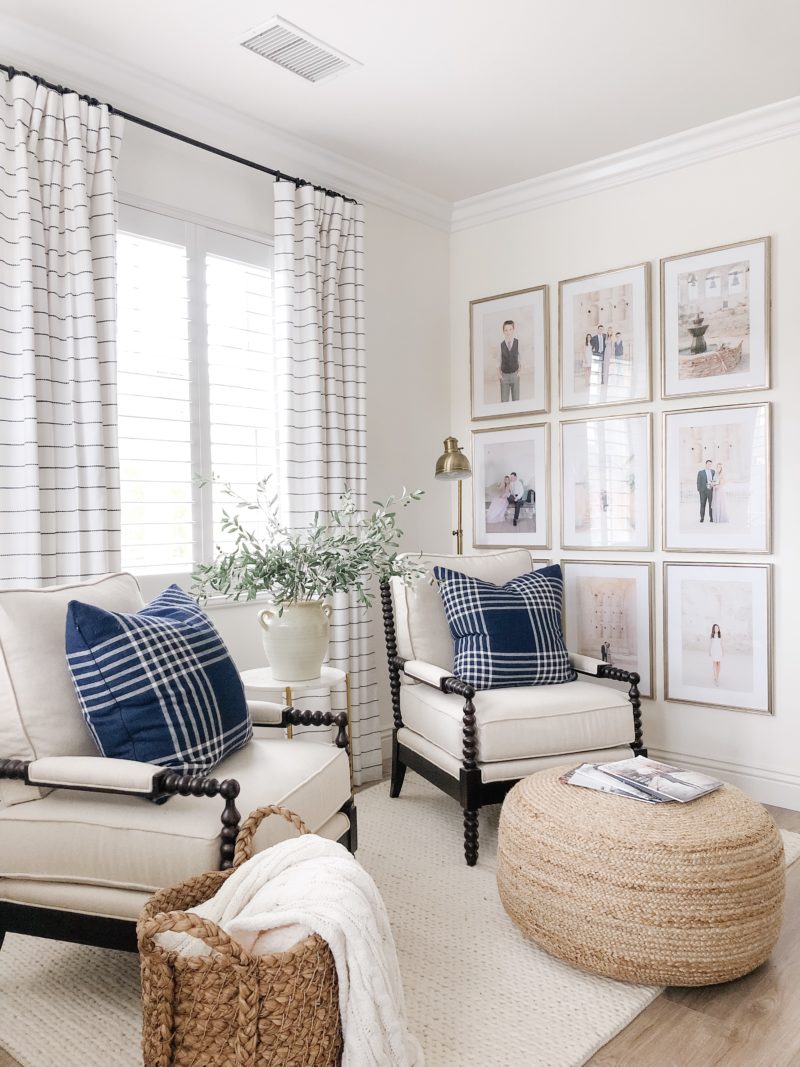 This rug is so snuggly looking. You can see the rest of the room sources in this master bedroom post.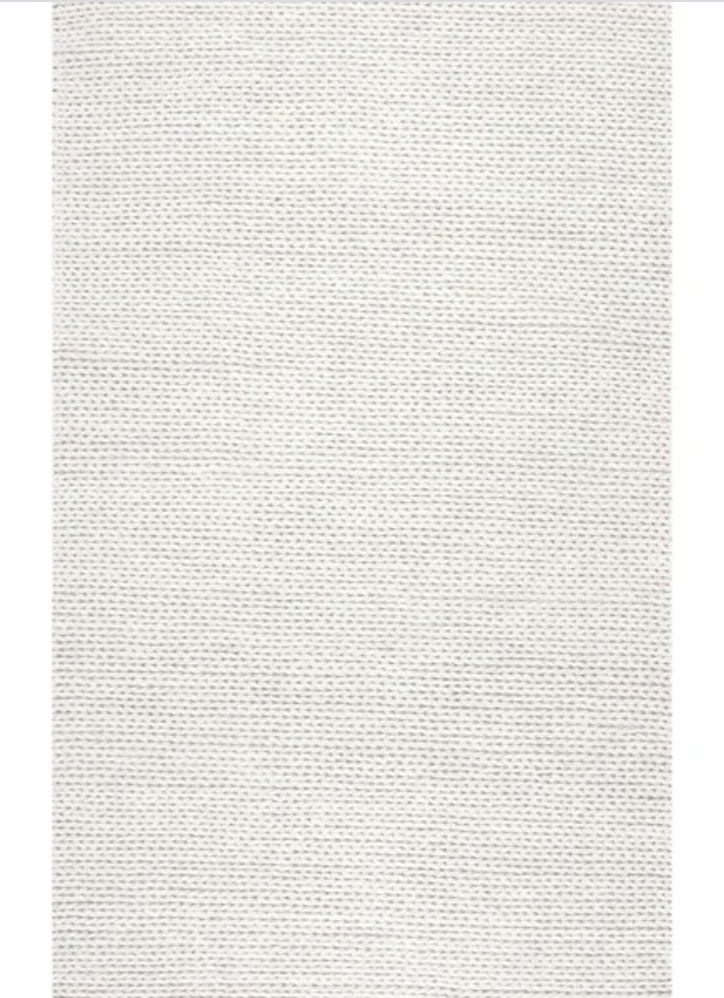 This is the rug in our sitting area. It has beautiful texture. I wouldn't say it's particularly soft underfoot but it's not uncomfortable. It looks like a cozy warm sweater in person. I especially like it if you have a space that has two rugs. It adds warmth without competing with another pattern. That is why I chose it for our master bedroom sitting area.
UPSTAIRS HALLWAY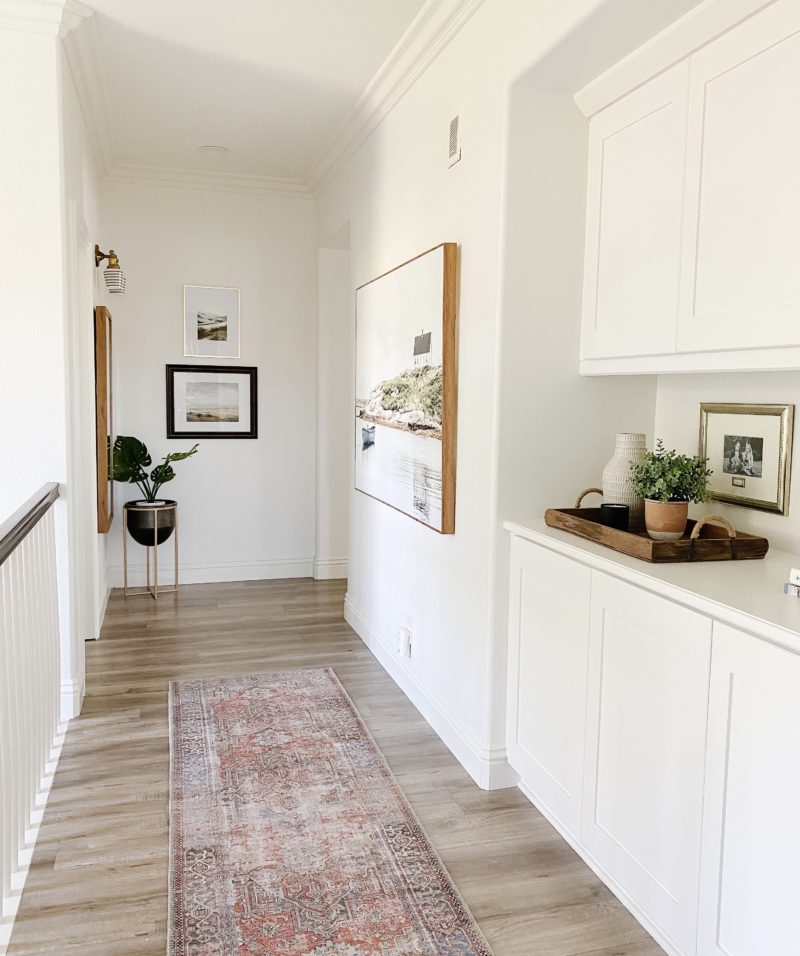 Our upstairs runner is my favorite. Such pretty colors. It's a blend of terracottas, blues and grays. There is just something about the combination that I really love.
This is, without question, one of my favorite rugs of all time. Highly recommend this pretty rug.
OUR SON'S ROOM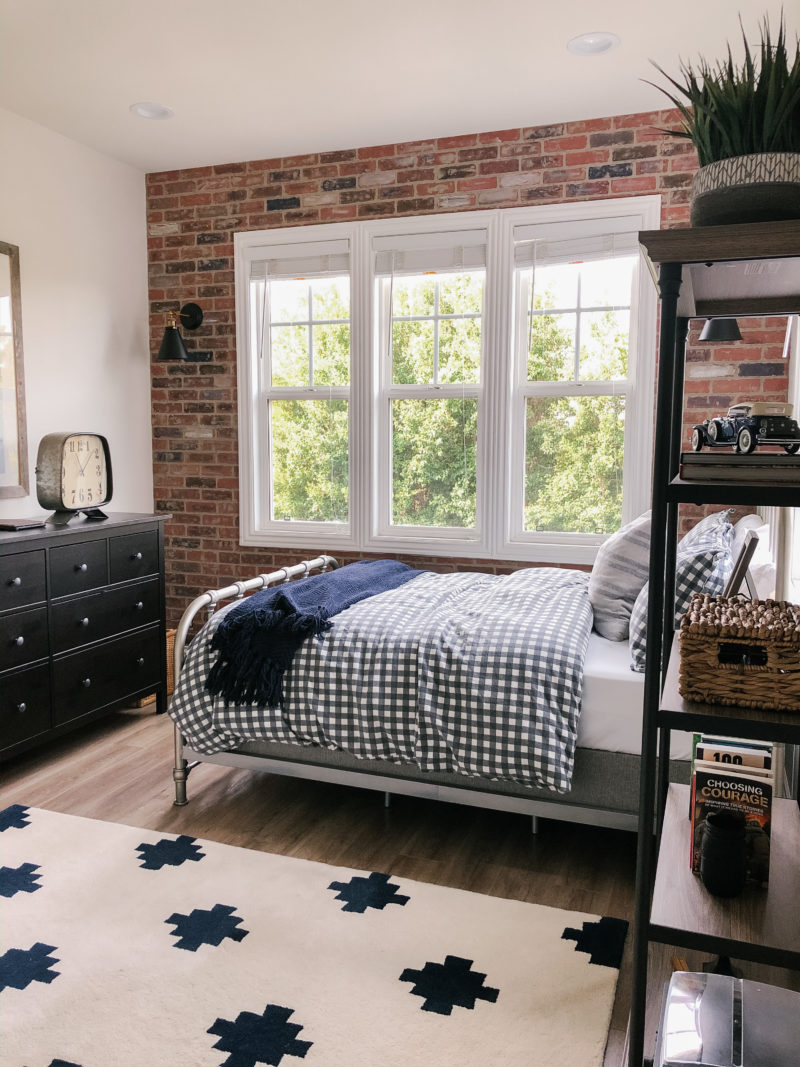 confetti rug | another version | brick room reveal
Years ago, when I had more energy, I participated in the One Room Challenge and we completed a room for our son. We used this rug and then it followed us to this home because we love it so much. You can snag this one that is almost identical but for less.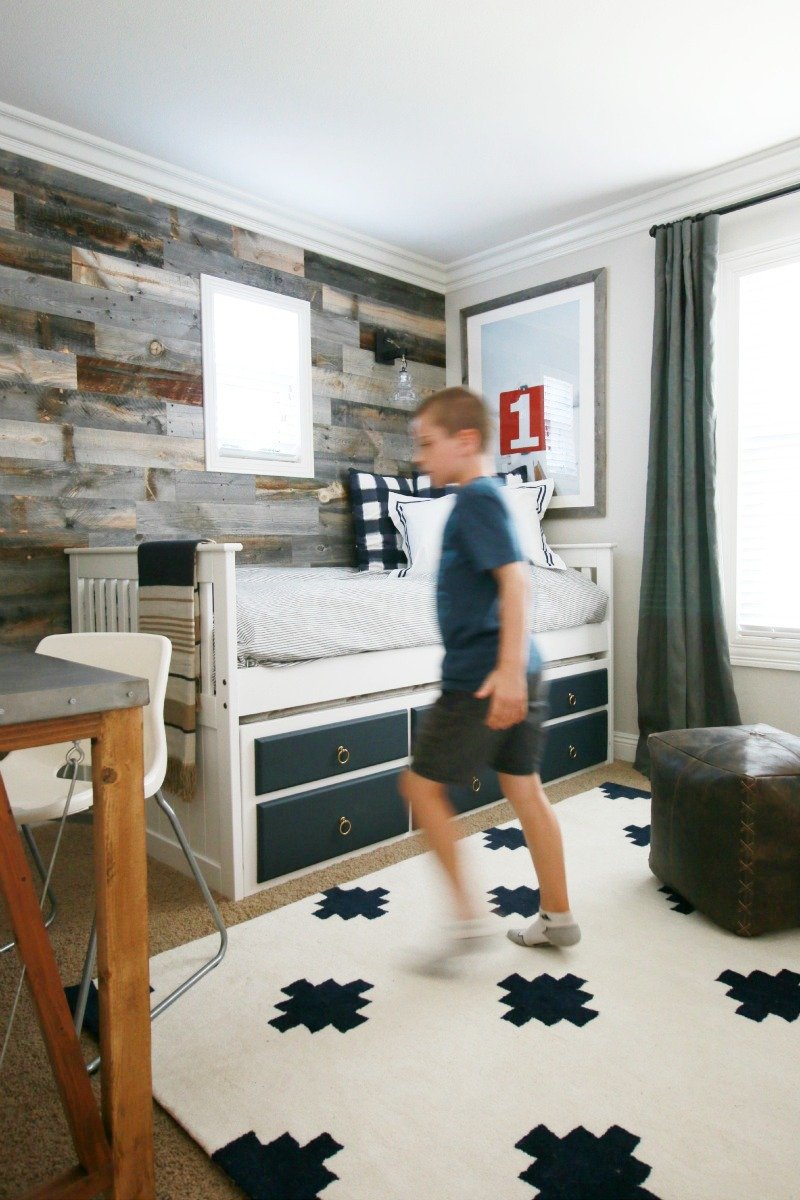 This was such a fun space to work on. And I have to say that minus a spot or two, the rug still looks exactly the same.
OUR SON'S BATHROOM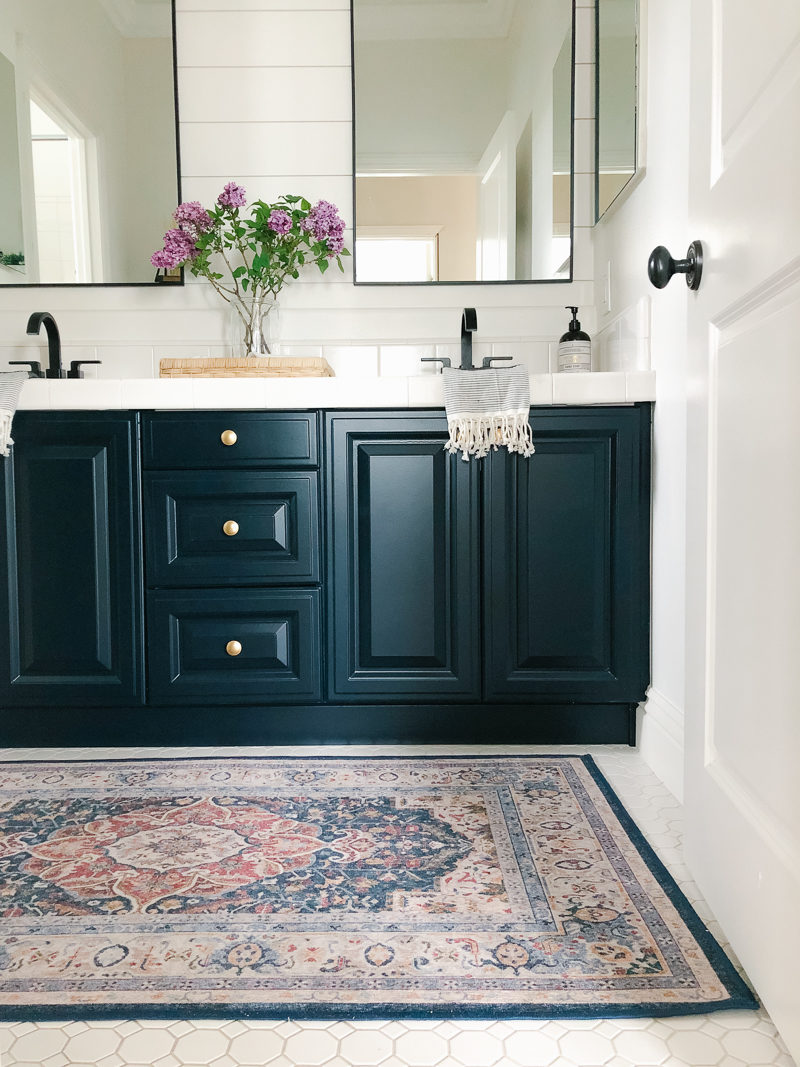 This was by far one of our best purchases. We redid our son's bathroom on a very strict budget (you can see all of that here). I'm so happy we bought this rug. It's completely washable and has held up beautifully. It's thin enough so that it doesn't cause an issue with the door but still stays in place thanks to the detachable mat.
I hope this is helpful if you are on the hunt for a rug for your own home. Feel free to leave any questions in the comments below. Have a wonderful day.