We thought it would be fun to post about decisions, projects or purchases we've made and let you know our thoughts after living with them for quite some time.  Occasionally we change our minds or wish we could have a do-over. It's all part of home ownership. Then there are times where we actually get it right and wouldn't change a thing. Today we are sharing five major choices we'v made and whether we nailed it or should have gone a different direction. Here's what we really think!
OUTDOOR FURNITURE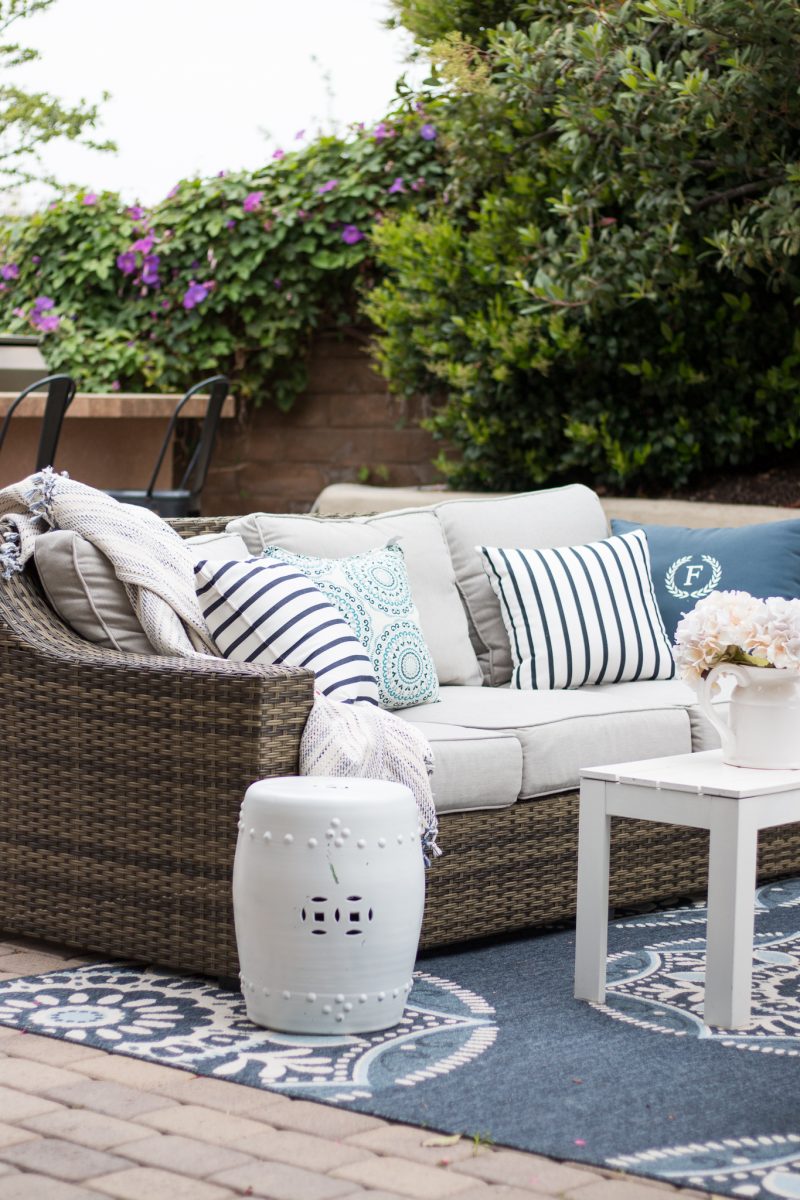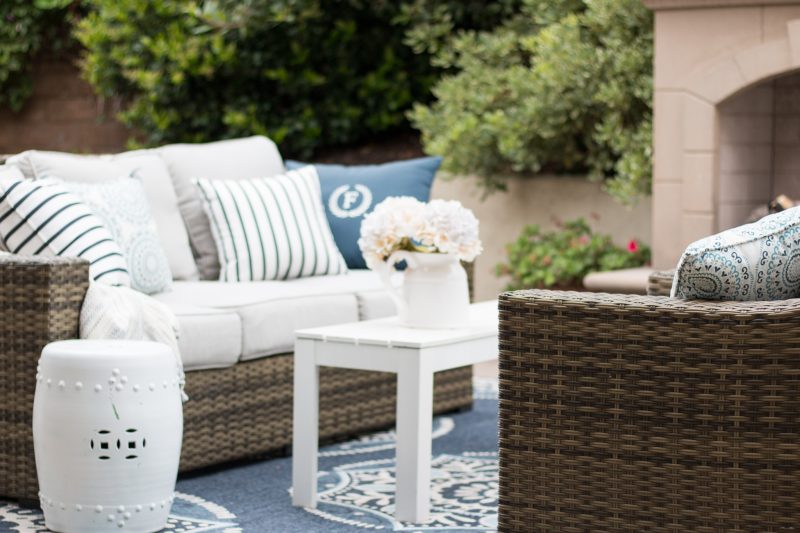 monogram pillow  |  striped pillows
We've had our outdoor patio furniture for well over a year now. It's hands down one of our favorite purchases. So affordable and fantastic quality. It feels very substantial. Not only is it extremely comfortable but it has held up really well. I am often asked how we clean it. If there is rain coming, we take the cushions off and store them. Other than that, we just brush it off with a clean towel. The fabric is amazing. We once had a party and a glass of red wine was spilled all over the sofa. All it took was a bit of soda water and it looked like new. This is one purchase we can definitely say was a good one. For reference it is the Aventura collection from Living Spaces.
*The table was originally a gray outdoor bench from Ikea that I sprayed white. 
LAMINATE FLOORING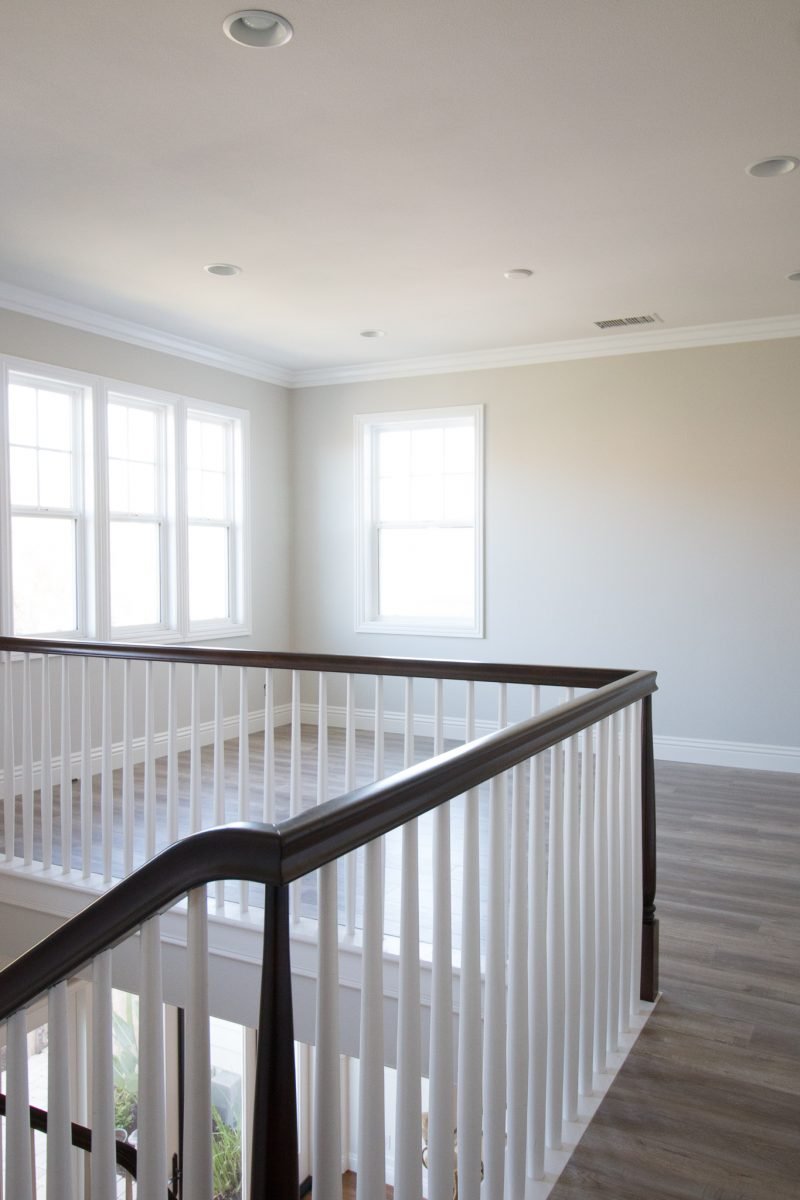 Alright. I have to admit. I made a mistake. Listen, I am not in any way shape or form saying laminate floors can't be a fantastic choice. But right now I am regretting our decision to put them in upstairs. We had intended to put in hardwood floors. Somewhere along the line we were talked into laminate. It was actually the wood people who did the convincing. Go figure. Plus saving money was important to us because we had just purchased our new home and there were a few projects we wanted to check off the list prior to moving in.
So here's the deal. I love they way they look. They are really pretty. However, they are just too loud for my liking. I can't quite explain it but it drives me nuts. It may have to do with the fact that they are on the second floor. Having said that, I love not having carpet in the kids rooms. I feel like they are so much easier to keep clean and dust free. They floors have also afforded my son to play hockey upstairs because they are indestructible. And we truly live hard in our home. We always have. So while there are definite perks, I wish I could have a do-over. There, I said it. So just be sure to weigh all of your options heavily and do your research.
SERENA & LILY CHAIRS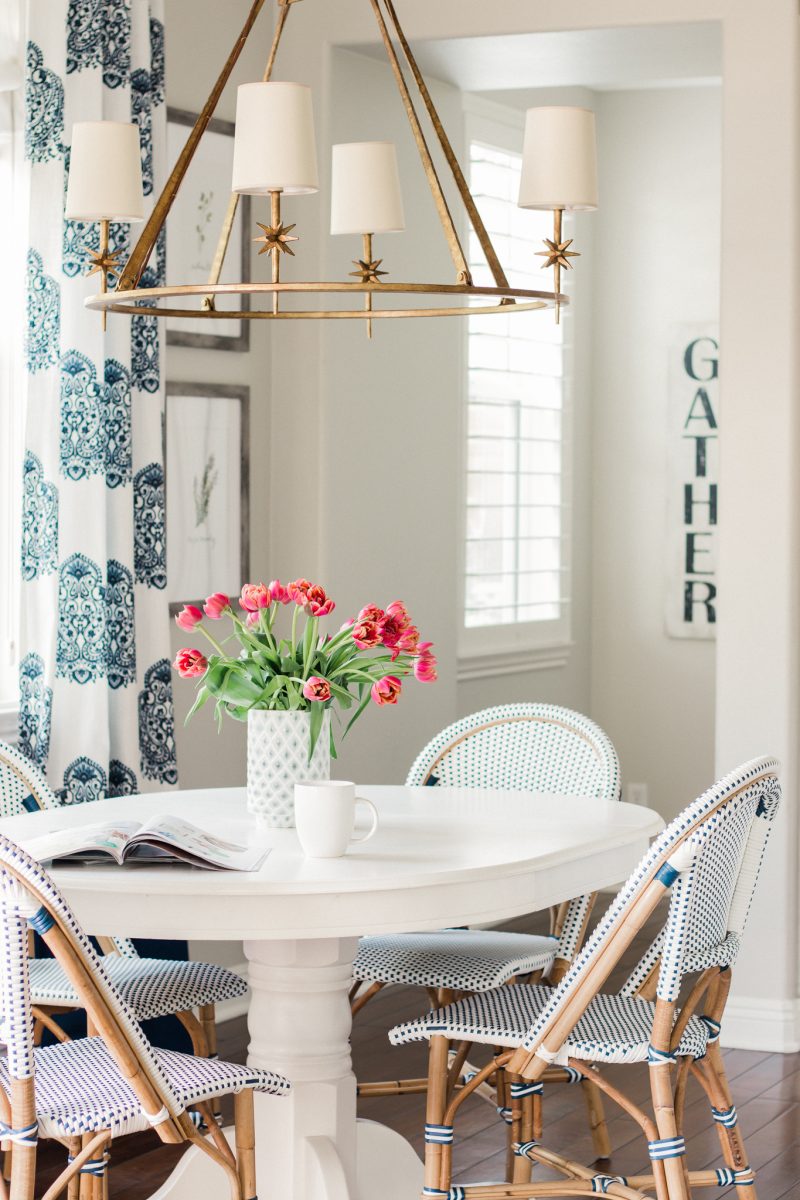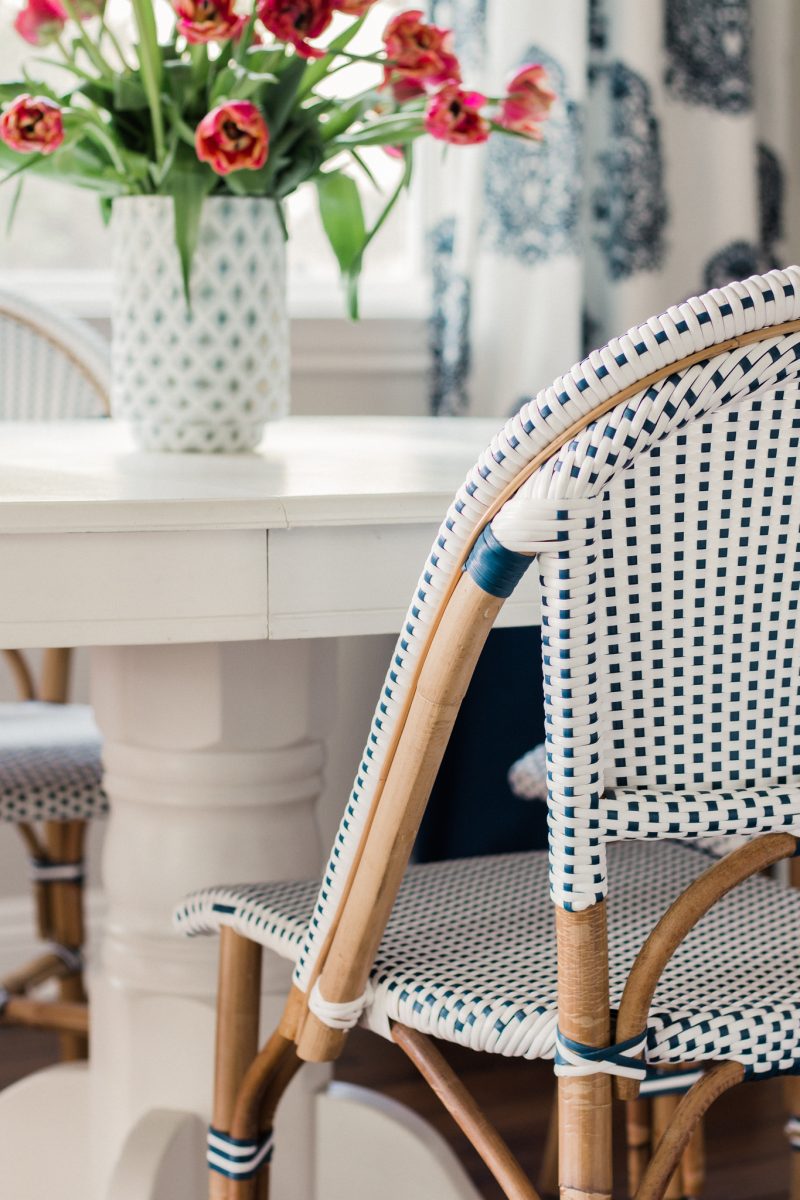 chairs | table | chandelier | gather sign
After not heeding my own advice, I went and bought these chairs before we even moved in. So that means we have had them for almost two years. Worth every penny. They are light weight and so easy to clean. If we have a house full of little ones over to play, I never have to worry about spills at the table. They are very comfortable and I've always loved the charm that they bring to the space. Serena & Lily is currently offering free shipping which is a bonus.
OUTLET PLACEMENT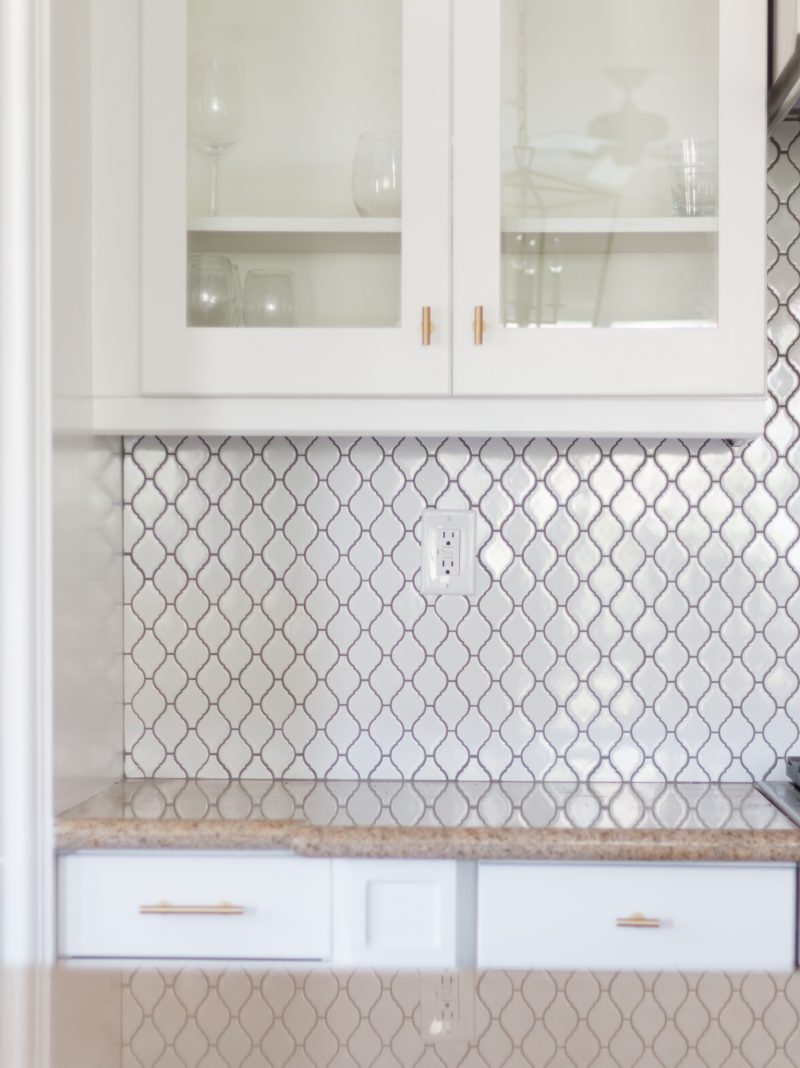 When we moved in, we did a few changes to the kitchen. You can see the before and after photos here. While we installed a new backsplash, we did not think to move the outlets. I have learned my lesson. I think outlets should ether be hidden above (for very infrequent use) or installed 4″ above the countertops so they are not seen and easily hidden behind a cutting board or coffee maker. No need to interrupt the backsplash or have them show. So if you are thinking of redoing an area of your kitchen be sure to think about what you use on a daily basis and where you want those outlets to be placed.  With so many more options to conceal things like that, it's worth taking the time to think it through.
COFFEE TABLE DELAY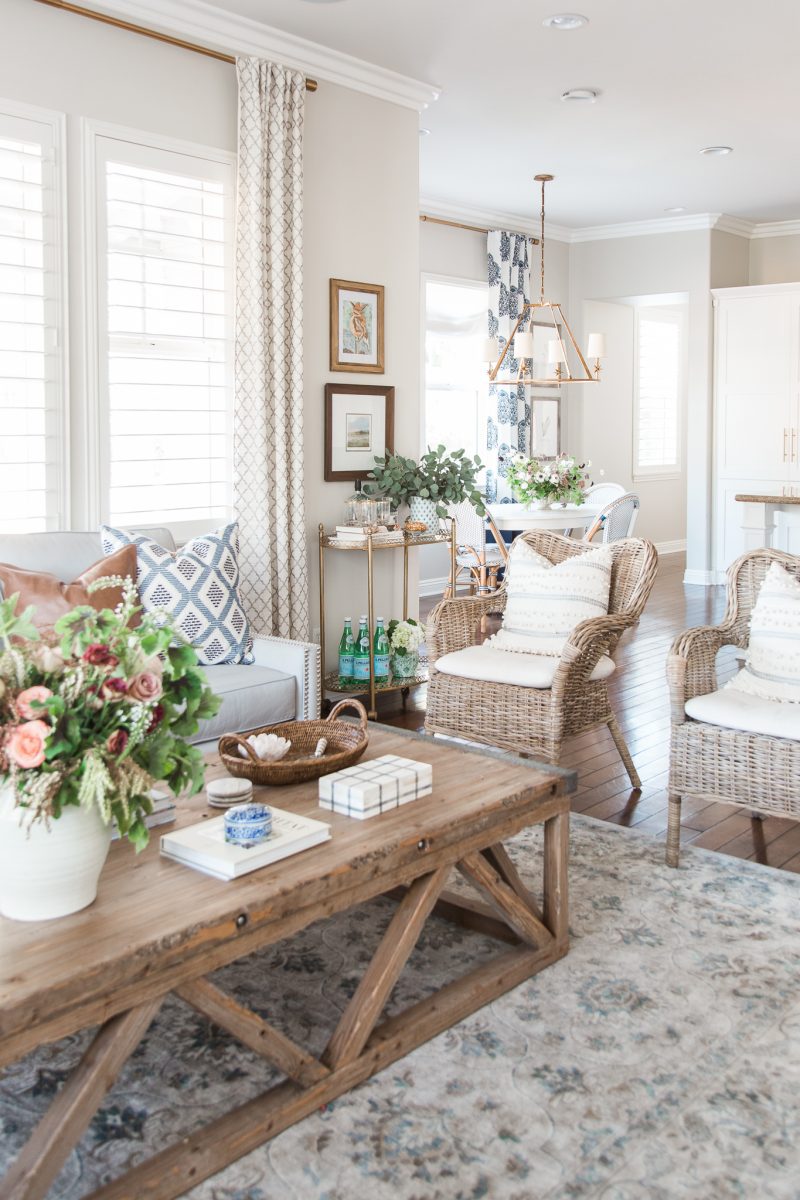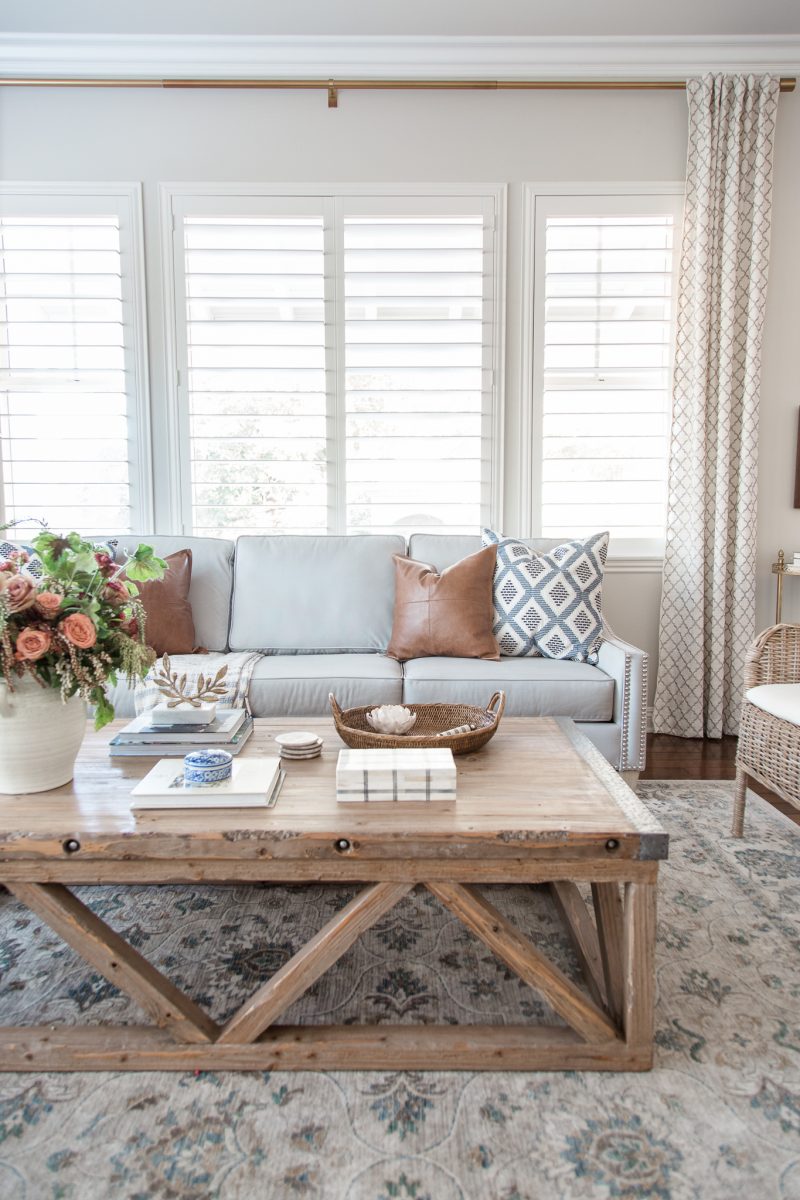 coffee table | similar sofa | grid box | vase basket
It was so so hard to wait almost two years for a coffee table. We entertain a ton and I always hated having a coffee table that was much too small for our space. It honestly looked ridiculous in the room. It pretty much killed the whole aesthetic I was going for. But I am sooooooo happy we waited for this particular coffee table. Patience pays off. We honestly waited almost two years because I never found anything I loved. It was either the wrong scale or the wrong color. So if you are in a similar position and are living with something you don't love, try to make the best of it until the right piece comes along. Now I can honestly say that waiting was absolutely the best decision for us.
On a smaller note, one of my favorite items in the grid box on our coffee table. It fits our two remotes perfectly and makes me happy every day. Sometimes, it's the little things. See more of our family room reveal here. 
I hope sharing some of our hits and misses helps you when you are faced with a major decision or purchase. Let me know if you would like to see more of these posts.
Off to enjoy a day with my mom. Make it a good day, friends.