How's your week going? Ours has been packed with end of the year activities and music concerts. As you know, last week we took our children to Universal Studios in Hollywood and while we were there I kept coming across things that I wish I had known. Or just ideas that were super helpful. I must admit. I am not the biggest fan of theme parks. There I said it. I know. I am unusual but crowds, long lines, and the sun for long extended periods of time take a toll no matter how "happy" the park may be. So I thought I would round up my top 12 tips for surviving amusement parks. We really did have the best day and I am happy to pass along anything we learned to make a long day as smooth as possible.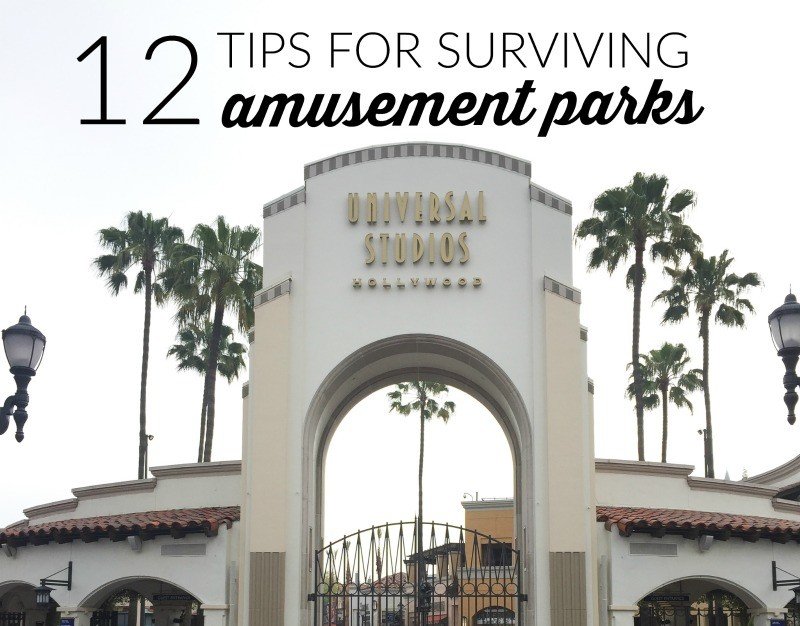 Tip #1: Check Traffic
If you are planning to visit this theme park, I must say that Universal Studios does it right. They truly do. The drive into Hollywood can be long so do your homework on traffic trends depending on where you are coming from. And using the Waze app can be extremely beneficial. Have you used that before? It will tell you the shortest route and give you real time detours to avoid traffic congestion due to accidents or construction. We drove from Orange County and it took us 90 minutes leaving at 6:30 am. Early day! But that leads me to the next tip.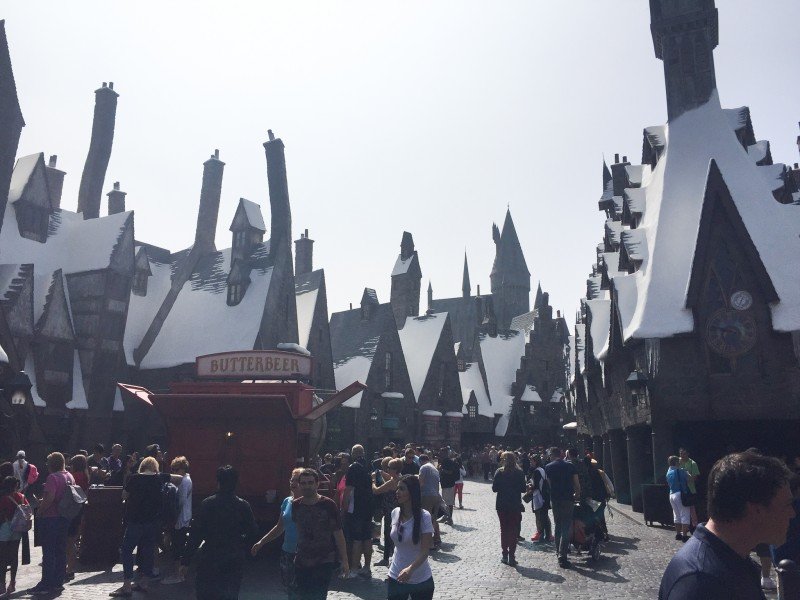 photo of Harry Potter World. It's fantastic in person!
Tip #2: Purchase Tickets Online
Go onto the website for the park you are visiting and check to see if you can purchase tickets online. I waited until the night before just in case any one got sick the week before and couldn't go. The cheaper ticket is the one where you pick a specific date. And buying online saved us a total of $40. Also, we were able to get into the park an hour early (8:00 am) which made all the difference in the world. It is so worth it to be the first group into the park. We were able to go directly onto the major Harry Potter ride which was phenomenal. It surpassed my expectations. Having said that I am not down with waiting an hour for a ride no matter how fun it is so going early to experience things without lines is key.
Tip #3: Don't Skimp on Parking
Remember how I said buying tickets online saved $40? Well that money was used for parking. Actually it was $35 (rather than $25 a bit further away) to park right at the front gate. Ummm? Yes please! And I will tell you why. First and foremost, it's nice not extending the looooong car ride with another tram ride. Also, you literally park right at the entrance and there is even a cart with little bottled waters and fruit snacks for everyone. We popped those into the back pack and pulled them out during the day when someone needed a quick drink or sugar pick me up. And walking out of the park and a few yards away to your car at the end of the day when you have exhausted children is priceless. Spend the money on the parking!!!!
Tip #4: Yes to the Survey
I don't know if other parks offer this, but Universal had people standing at the gates when we entered asking if we would fill out a five minute survey. My husband, being the nice man he is, said, "Sure!" Well, in doing so we were handed a pass to be first in line for the hour long Studio Tour. Score. So we saved that for the end of the day when we were getting tired and we knew the long line wouldn't matter. That pass saved us over an hour of wait time and the tour is really fantastic. I will say that there are couple of things on the tour (movie dialogue, etc) that are not awesome for really young ears.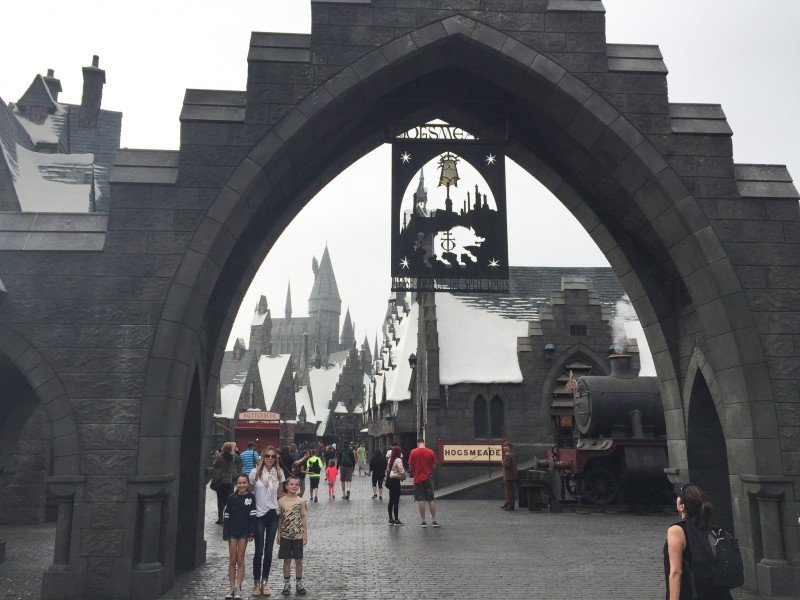 Tip #5: What to Wear
This may seem silly, but what you wear is key. Here is why. Southern California is freezing in the morning, hot during the day and cold again once the sun goes down. So it makes it really difficult to dress for an amusement park. I have found the perfect little combination which never fails me so I thought I would share. I start out with my favorite skinny jeans, a t-shirt, scarf and a cross body bag. I love having my hands free.  I do carry a light weight pullover in a backpack for each family member (even though my boys never get cold). I also had jeans for my daughter in our bag just in case. I was soooo happy I had jeans on in the morning. It was really chilly. And a lightweight scarf doubled around the neck really does keep your chest warm. Don't forget sunglasses, too. I stick with bringing my trusty $12 pair just in case I were to lose them.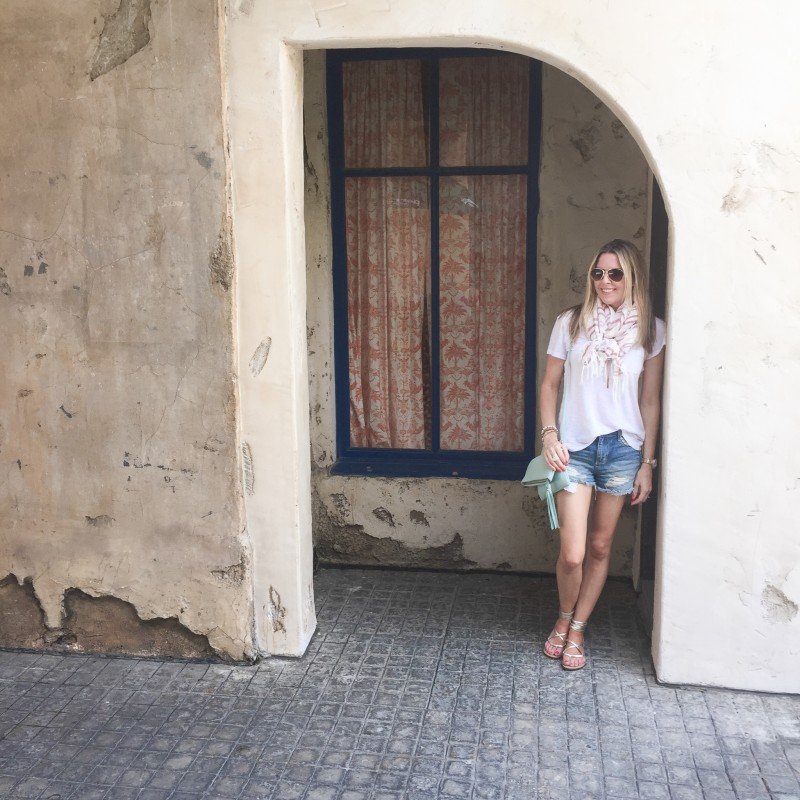 crossbody bag | sandals | white t-shirt | sunglasses | scarf | bangles | similar shorts
As the day warmed up, I took the scarf off. As the sun was blazing at noon I slipped into one of the bathrooms (which are very nice in the Wizarding World) and swapped jeans for jean shorts (jean shorts may not be your thing but I highly recommend having a pair of shorts to change into). I was so thankful as it really does get toasty. And as the breeze came and went I could easily toss the scarf back on (love this scarf by they way). And if you stay until the sun goes down, you definitely want to be prepared. It gets really cold, my friends.
Tip #6: What to Take
Highly recommend a backpack. My husband always offers to carry it and it's life saving. For the major Harry Potter ride, they do not allow you to take it on but there are free lockers and you can stash the bag for up to 3 hours. That's fantastic. We always take bandaids, sunscreen, pullovers and a few snack bars. There are plenty of places to eat, but it's nice to grab a quick snack.
Tip #7: Considering Buying a Wand
So this tip is only for people thinking of going to Harry Potter World but let me tell you, the park did it up right. There is a wand fitting experience that is so much fun. Luckily, our son was chosen as it was his birthday. Once fitted for his wand (such a magical moment) you are able to go into Olivanders and purchase the wand or any other wand. Now my son had asked for a wand for his birthday so we were prepared to buy that for him and we split the cost with our daughter (trying to teach them to save for special things). The wands are $50 each. What?! I almost fell over but here is the thing  . . . my children are obsessed with Harry Potter and the books and this was their moment. The park has interactive store fronts all throughout the wizarding world where you can use your wand to cast spells and see magic happen. It really is well thought out and special. Perhaps even just doing one wand for your family is well worth it. But indeed a heads up as that is a pricey little wand. Seeing the expression on my son's face throughout the day made it so worth it.
Tip #8: Better Place to Buy Butterbeer
Butterbeer is a non-alcoholic delicious drink served in the wizarding world. It's sooooo good. There is a red cart that serves it and the line was always 30 people deep. But just off to the side there is a restaurant and if you duck in there, there is zero wait at the bar and you can order that and any regular beer you want. Your welcome.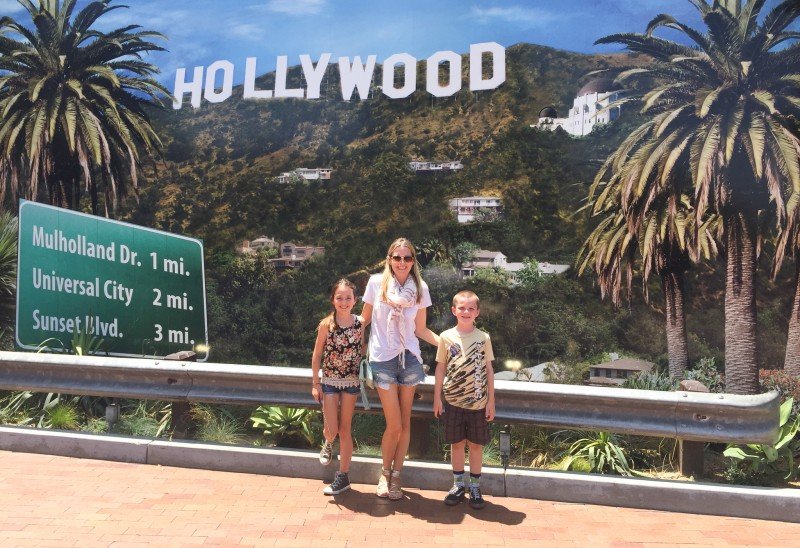 Tip #9: Great Photo Ops
If you do the Studio Tour (takes you around the lots where movies and shows are filmed. . fun to see the Desperate Housewives Street) it drops you off here with this great backdrop. Throughout the park there are so many fun spots to take photos. Be sure you have your phone handy.
Tip #10: What if it gets Too Hot? 
We were so impressed with the cool zones throughout the park. They have giant fans blowing cool water and they really are awesome to cool yourself down. It's little things like that that really do make a difference in the quality of the day.
Tip #11: Consider Single Rider
Just before leaving, I decided to sit out a ride and the hubby and kiddos went to get in line for the Jurassic Park ride. Well they discovered the single rider line was only a five minute wait. My children were totally comfortable doing this. They were able to go on the ride twice with no wait and each time they all rode on the same boat but behind one another rather than directly next to each other. If your children are old enough and comfortable with that, it's the way to go!!!!
HINT: I thought this was so great. For the major 3D Harry Potter Ride there is a "Kid Swap" area. Sounds odd, I know but it's brilliant. It's located just outside where you board the ride. If you have a little one that is not tall enough you can leave one parent with that child in that room and then swap when your spouse comes off of the ride. Or if you have an uneven number of children and need to wait with one you can swap when the other sibling comes off of the ride. Really well though out!!!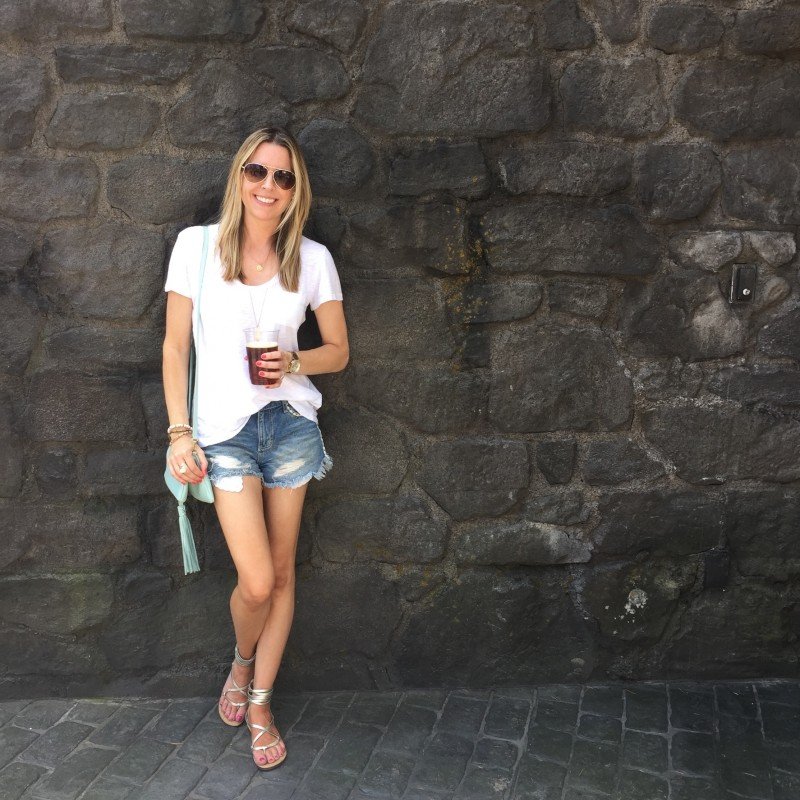 By the end of the afternoon, we were all pretty beat. We stayed until about 3:30 which worked well for us. But what an incredible day. I hope some of these tips help you if you decide to visit Universal Studios or any other amusement park. Always do your homework and see what tips are out there.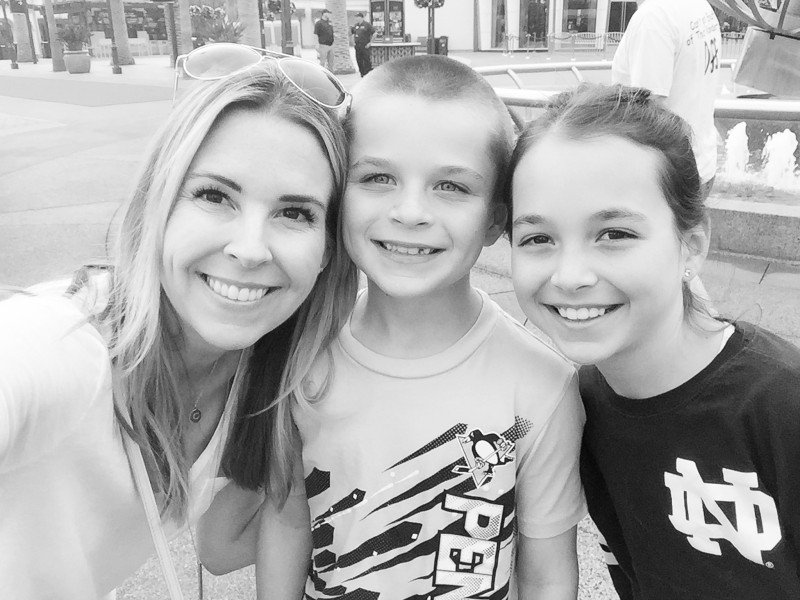 Tip #12: Soak it In
The day was a blast and I am so thankful that our little man wanted to spend his birthday here in lieu of a party. It was a great experience for all of us. We really did enjoy it and were quite relaxed despite the fact that there were mobs of people around. And we are always big on ending on a high note. We tend to walk away before the melt downs, not after. Always nice to get in the car as tired, happy people instead of tired frustrated ones. Don't you agree?!
I do wish I had thought to put a cooler in the car with waters and snacks for the drive home. It would have been helpful as we all could have used a little water and snack rather than stopping somewhere. So learn from my mistake! Plan ahead for the drive home.
Have you hit up any amusement parks lately? Do you have a love/hate relationship with them like I do? If you have tips for our readers feel free to share below!
Like to travel? Here are more tips and tricks for places we have been:
Tropical Vacation Packing Tips
Enjoy your day. xo