This is a topic I get asked about frequently. How do you know when to DIY a project or when is it best to hire out? Now if you lack any type of DIY skills or interest, of course you are "Team Hire!" I have many friends who fall into this category and it works great for their families. We fall into both categories and I thought it would be helpful to shed some light on how we decide for our projects.
CAN YOU DO THE BASICS?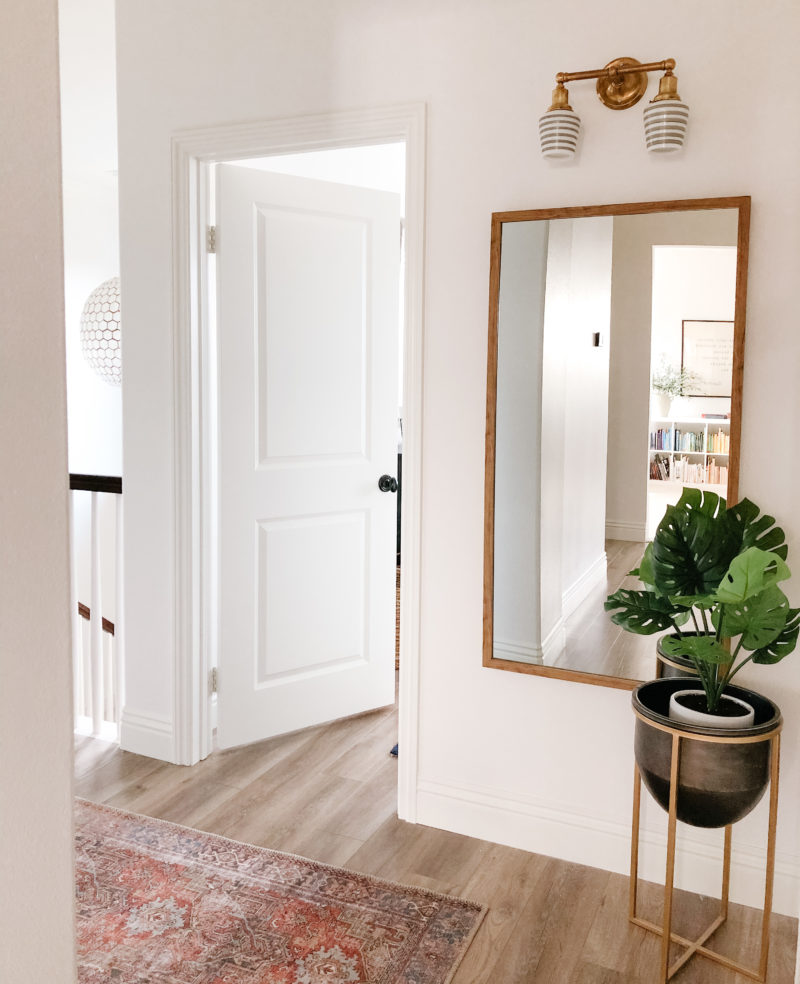 battery operated sconce trick | sconce | rug | planter | mirror
Learning how to do simple tasks like hanging mirrors or lights (this one was not electrical) is really such a value add. You can save hundreds of dollars in handyman fees. Over time, that adds up to thousands. I'll never forget the tool kit my dad gave my when I went off to college. It was called the, "Do it Herself" kit. Mine was blue and I still have a few of the tools from it. I started hanging things my freshman year and have never stopped.
CAN YOU DO THE PROJECT SAFELY?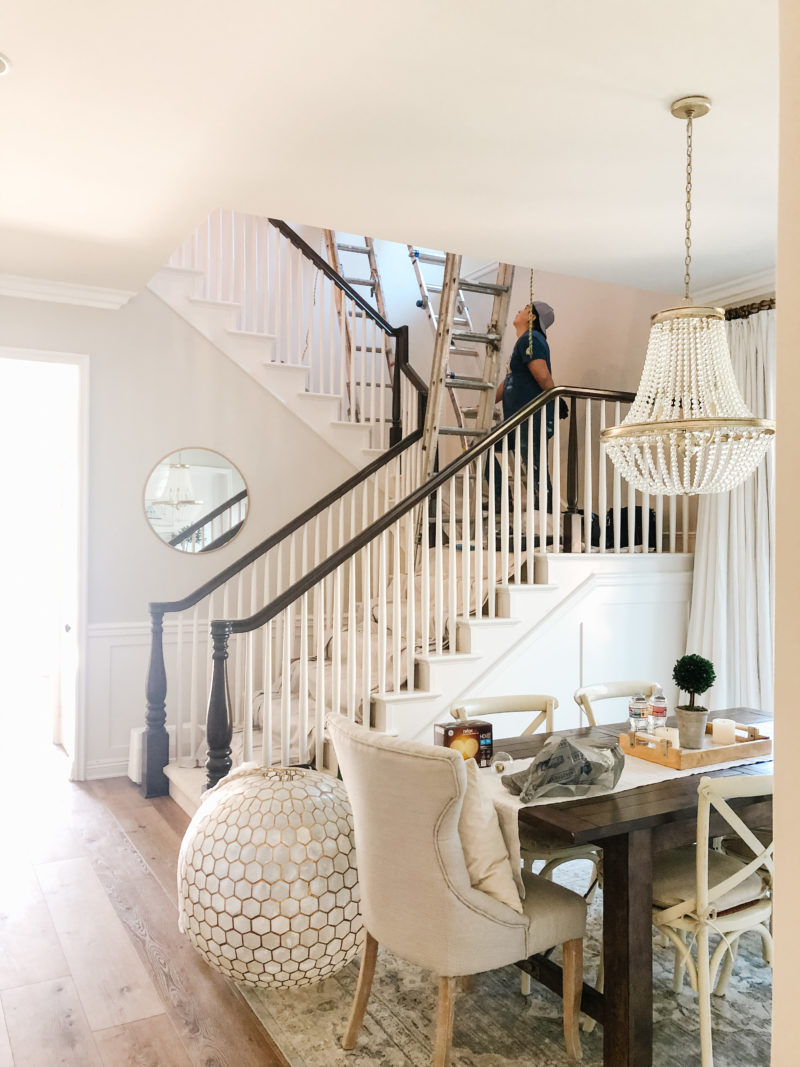 Electrical. That is definitely one spot you want to call in a pro. My husband is able to swap out lights and do basic jobs. He learned it all from his grandfather. They basically flipped an apartment building when he was young and he benefited from learning so many basic skills. In this case, we needed to add electrical to the center of the ceiling and it was difficult to access. Definitely time for the pros.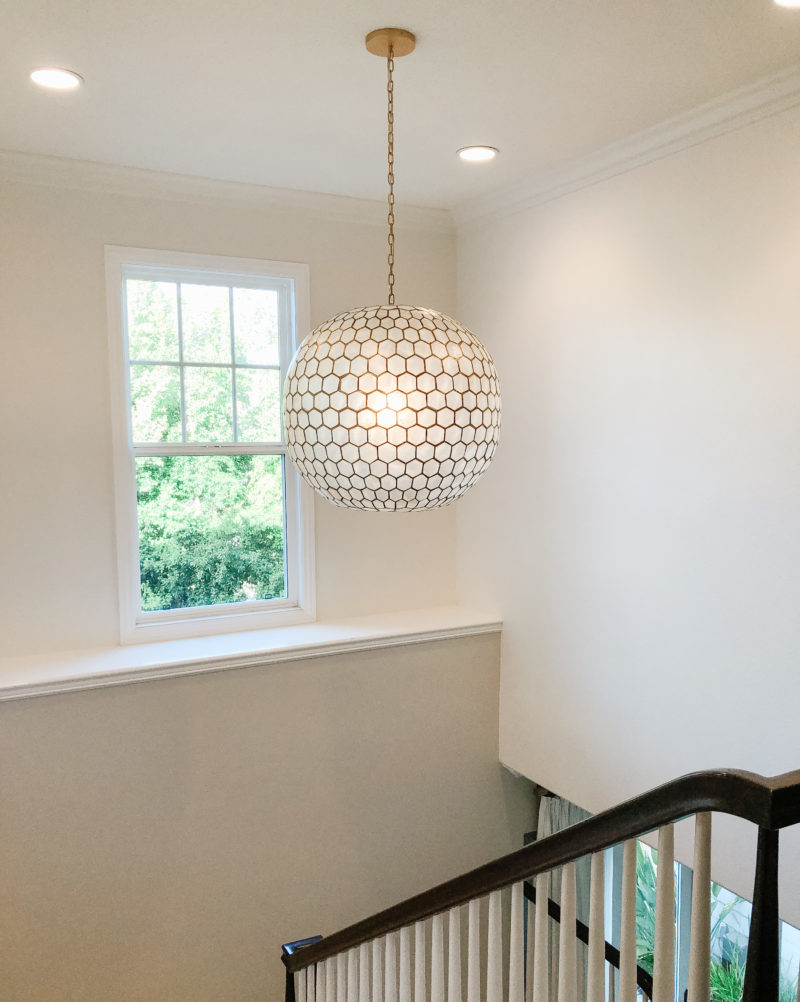 Things like this are not inexpensive. Be sure to do your homework when you are considering adding any type of electrical change to your home and have to call in an electrician. Having said that, it can definitely add value to your home.
WILL YOU LEARN A VALUABLE SKILL IF YOU TACKLE IT YOURSELF?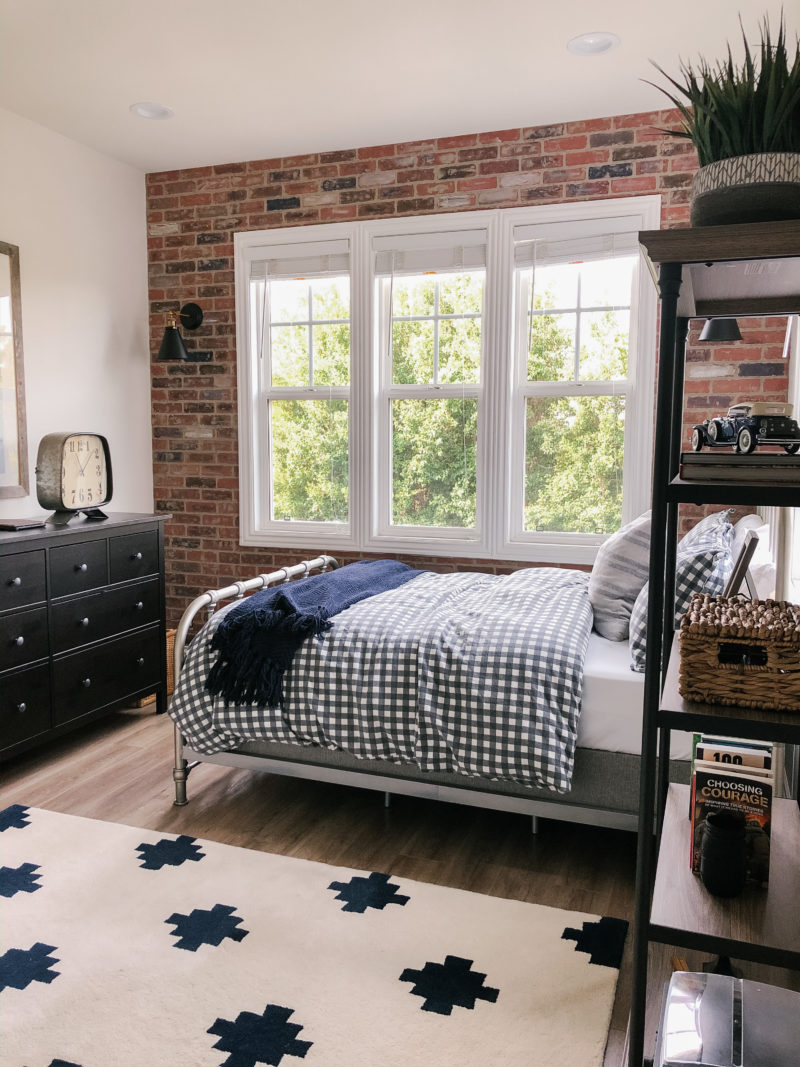 son's bedroom reveal | rug | duvet | bookshelf | bed
Learning to use a saw and a nail gun can also save you thousands of dollars. Whether it's a shiplap wall or a faux brick one, it's the nail gun that saves the day.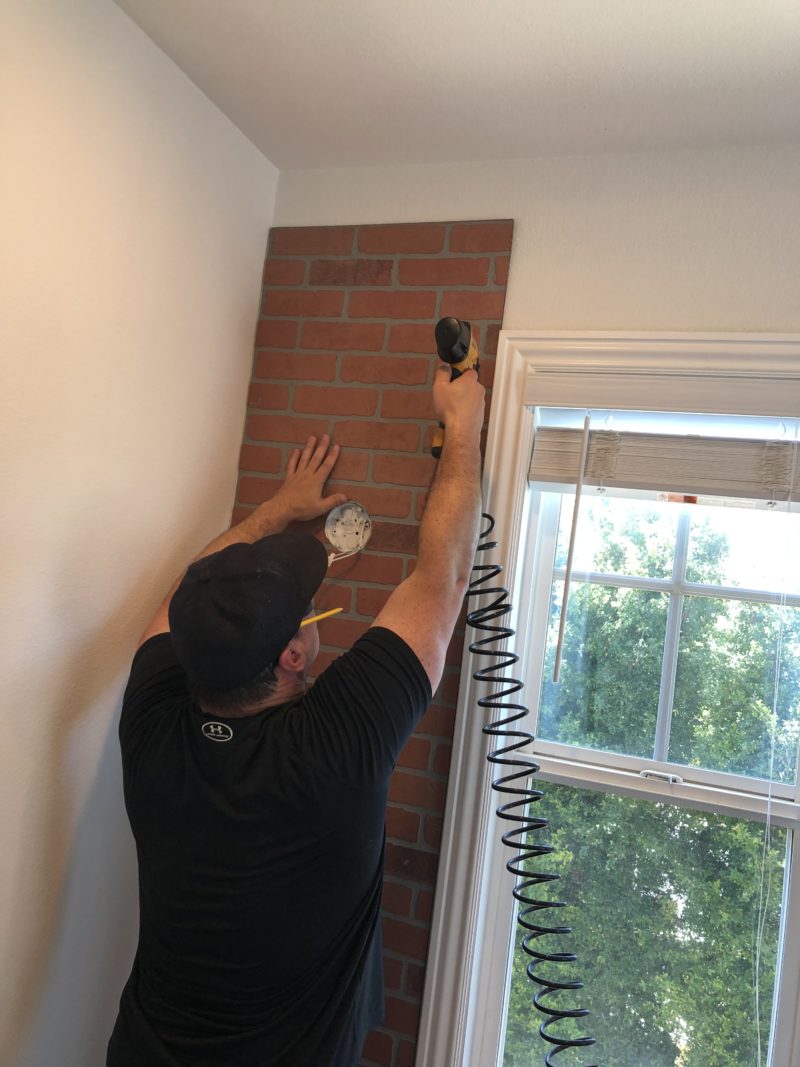 To be honest, the nail gun scares the life out of me so I let my husband handle that one. If you can set your fear aside, there really is nothing to using it. We love projects like this and would always prefer to do them ourselves. For the most part they take less than a day and we can knock it out faster than we could get people in here for a quote.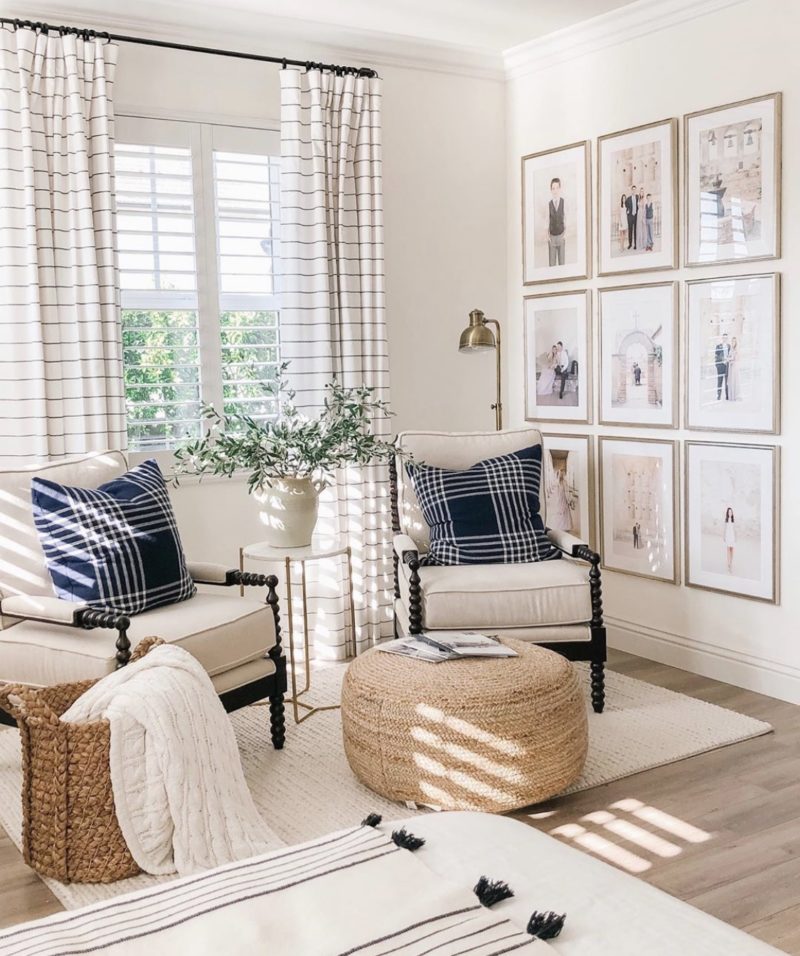 A skill I learned back in 6th grade stuck with me. Sewing. I actually fell in love with it and have always enjoyed being able to do some simple projects. While I made our drapery panels in our family room but chose to order these from Tonic Living. There was no way I could compete with their level of craftsmanship and it was important to me to have these be a true statement piece.
WHAT DOES IT MEAN TO YOU?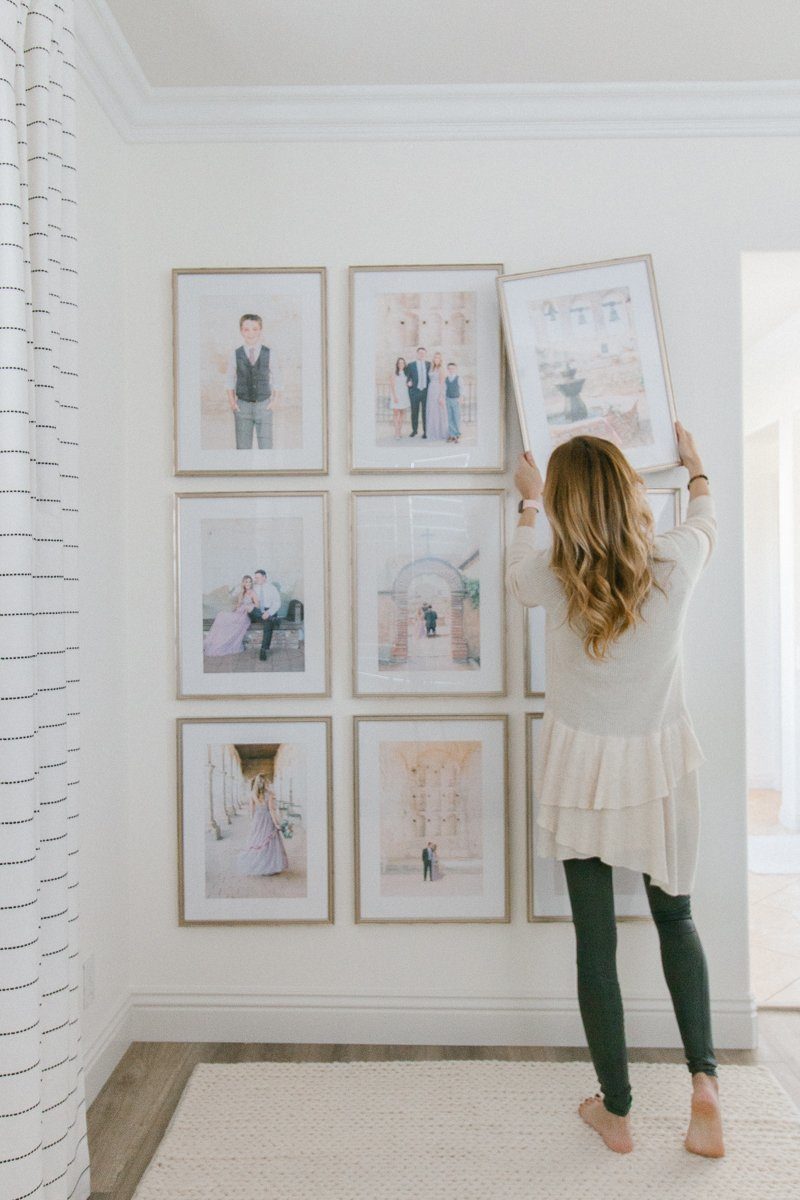 I usually frame all of my photos myself but when it came to this gallery wall, I handed it over to the pros. My friend Elizabeth Johnson took these as a way to celebrate our 15th wedding anniversary. Life had gotten pretty difficult and we just wanted to capture the love and commitment to family. Framebridge did a beautiful job. It's an investment so something I would replicate myself in other parts of our home. But this gallery wall brings us such joy every single day.
DO YOU HAVE THE SKILL SET?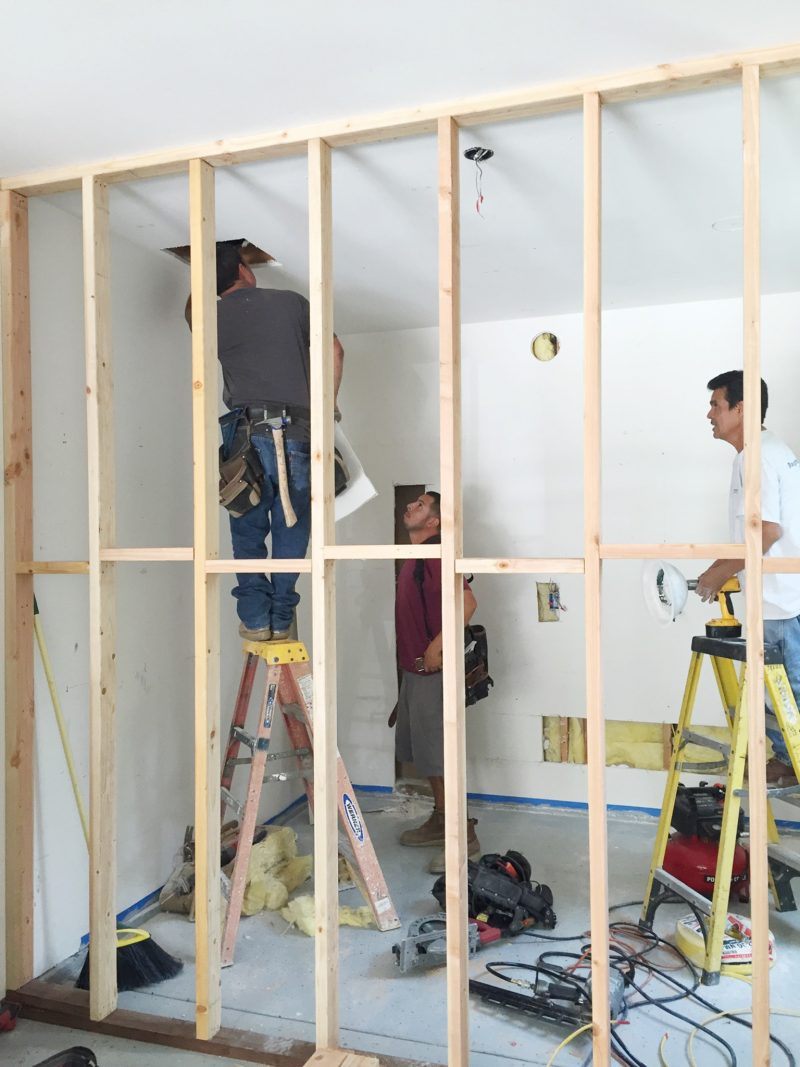 Do you know what you are doing? In the case of transforming part of our garage into a new room for a walk-in butler's pantry was well beyond our scope. Having said that, prior to hiring, we do our homework. We walk our space one million times. We stare and calculate and think it through. You really want an idea of what you want so you can communicate that. Otherwise you need to hire a designer to help with all of that.
WHAT DOES YOUR BUDGET ALLOW?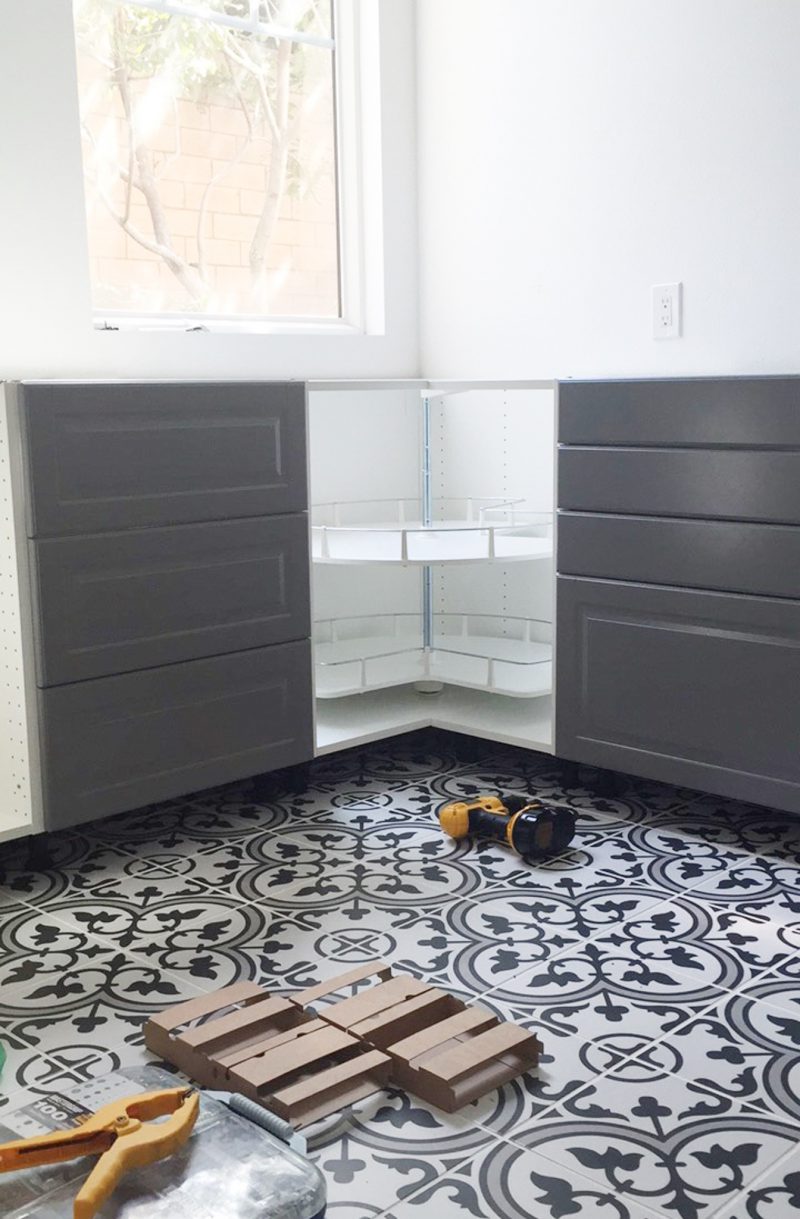 This of course is a huge question to ask yourself. Do you have the money? I'm sure everyone can relate to the fact that unexpected costs always arise. That's just the name of the game so be sure to budget for that as well.
IF YOU DIY, CAN YOU USE THE MONEY ELSEWHERE?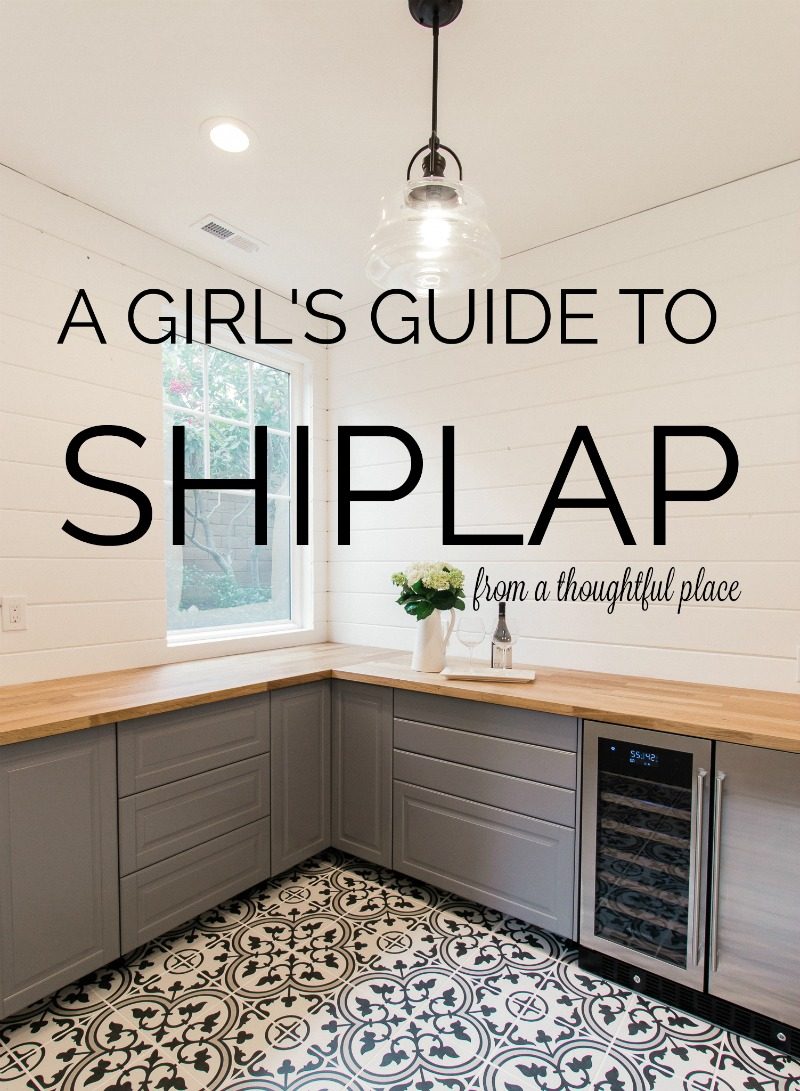 This often drives our decisions. We have many projects on our list and I often think, "Well, if we do this ourselves, I can save thousands of dollars that I would rather spend on our master bathroom one day!" A little sweat equity could mean putting money into an account that will support the home improvement plans that are outside your skillset.
WHAT IS THE TIMELINE?
Another very important question to consider is whether or not you have the time to DIY. Is it worth your time? But people often assumer hiring will be quicker. Not always the case. Sometimes it can takes weeks to months to get your quotes and get someone hired to actually begin a project. That can be really frustrating.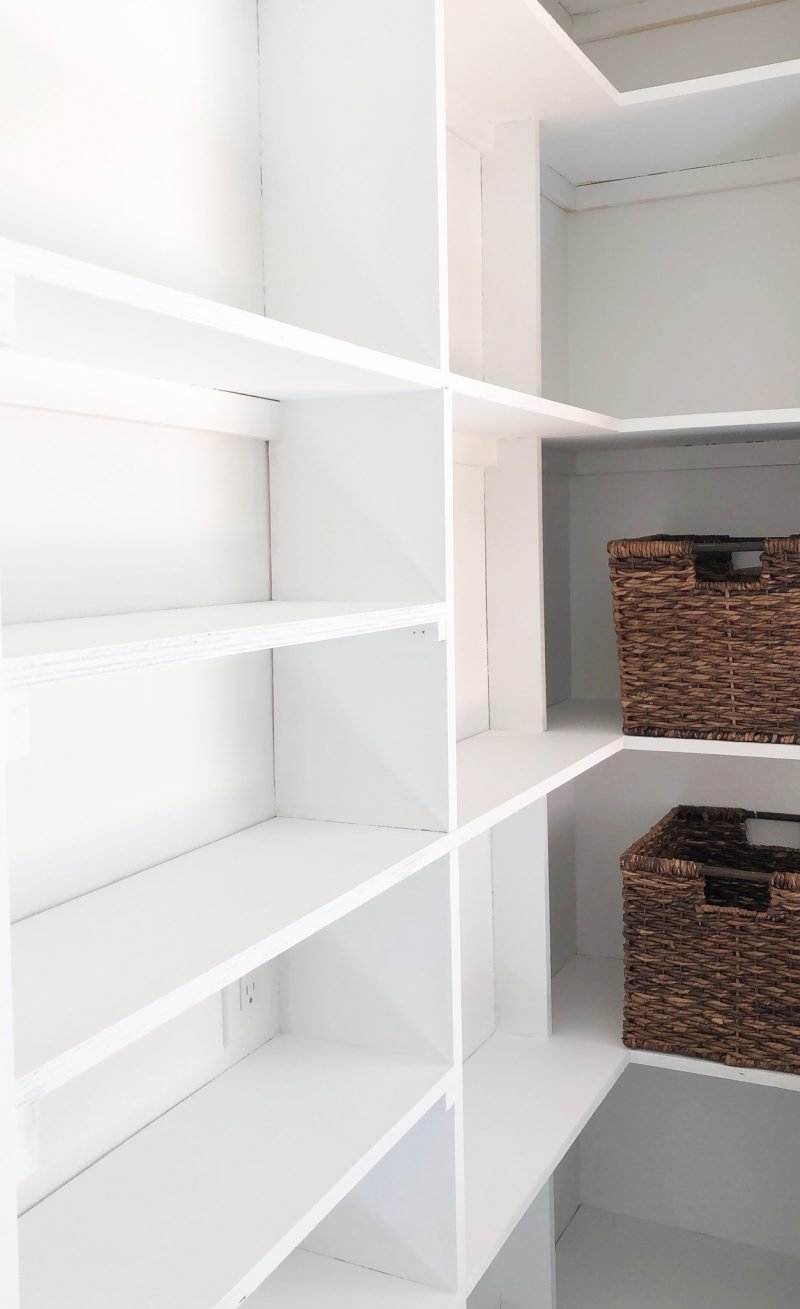 In the case of our pantry, while we didn't have the skill set to transform the garage into a new room, we did have the skills to design and build out the pantry. Furthermore, we had the time. And boy did it take some time. From putting together Ikea cabinets to building these shelves ( a mathematical challenge I loved), it's many many hours of hard work.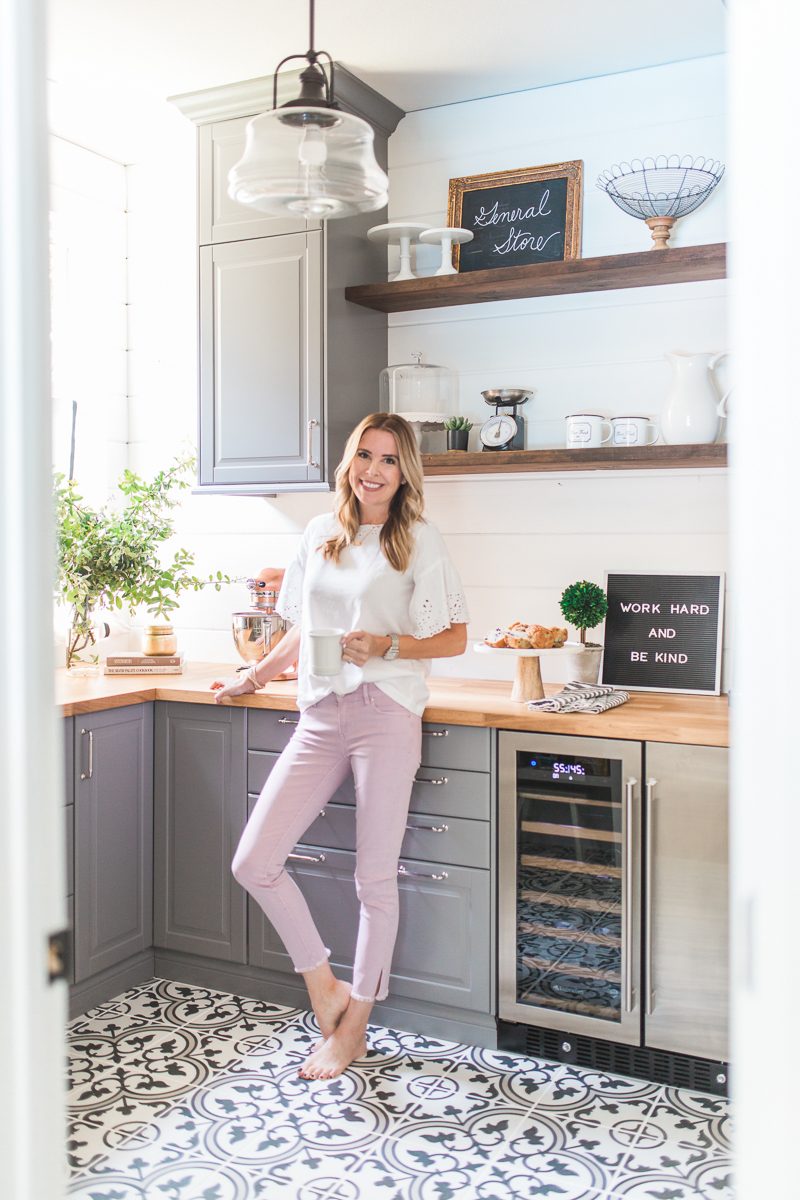 But in the end, it turned out exactly how we wanted it to and we loved working on this room. We could live without these space and it wasn't affecting the rest of the home so it was easier for it to drag out. If you are working on the main hub of your room, that may be a different story.
CONSIDER THE VALUE ADD. IS IT WORTH IT?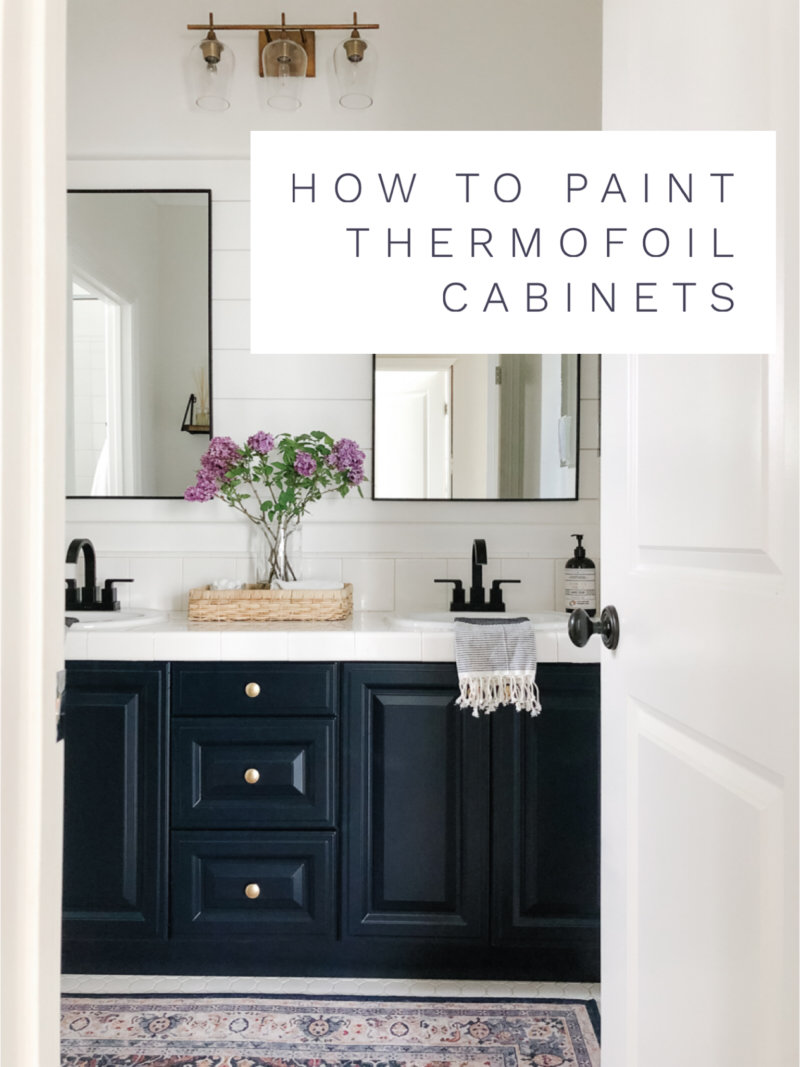 If you are considering large projects, you need to really break it down and consider the value add to the home. Typically bathrooms and kitchens always add value to a home. But I also like to take a step back and think about the big picture. We make decisions based on our family's needs but of course I also like to consider resale at some point. Most likely a family buying this house will have children and I don't believe that parents expect a children's bathroom to be super high-end. Would it be nice, sure! Would it prevent a sale? I don't believe so. Now a master bathroom is a different story.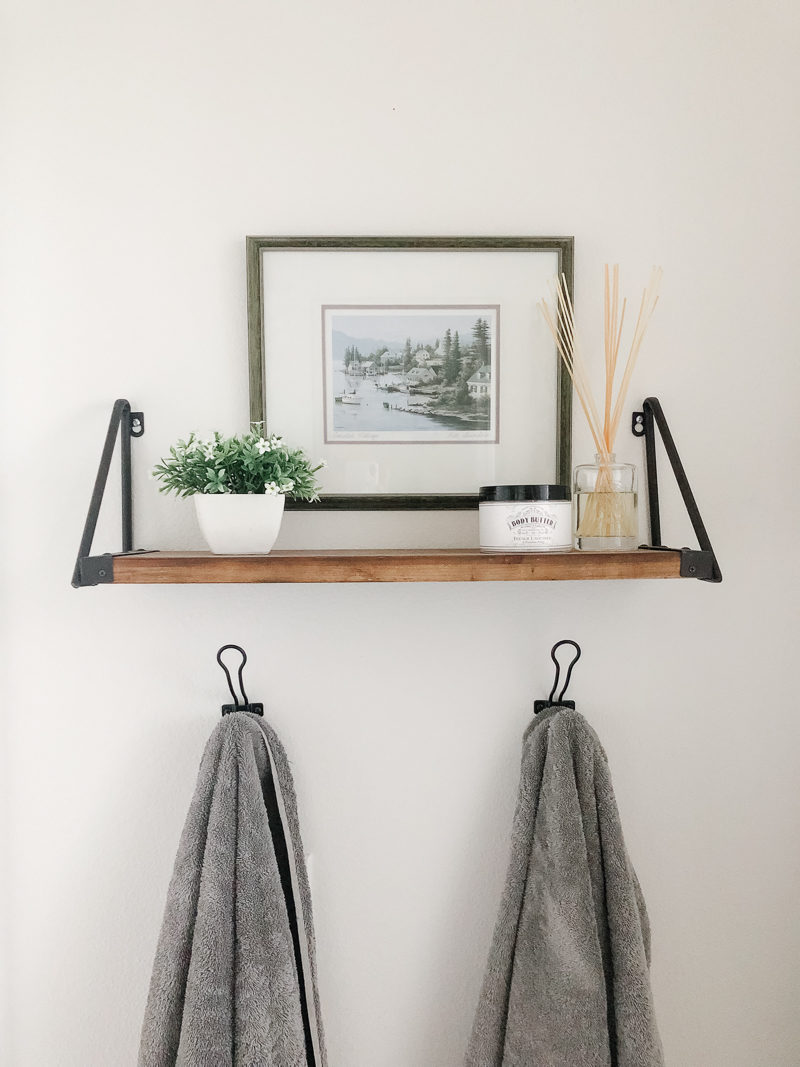 In this case, we spent $1000 to give this bathroom an update look and we are thrilled. Just the other day, our shower was out of commission so my husband and were using our son's bathroom. I honestly LOVED it. It's a happy space and I'm so happy we didn't go overboard with this space. Money that can go towards our master bathroom project down the road.
DIY VS. HIRE: MORE EXAMPLES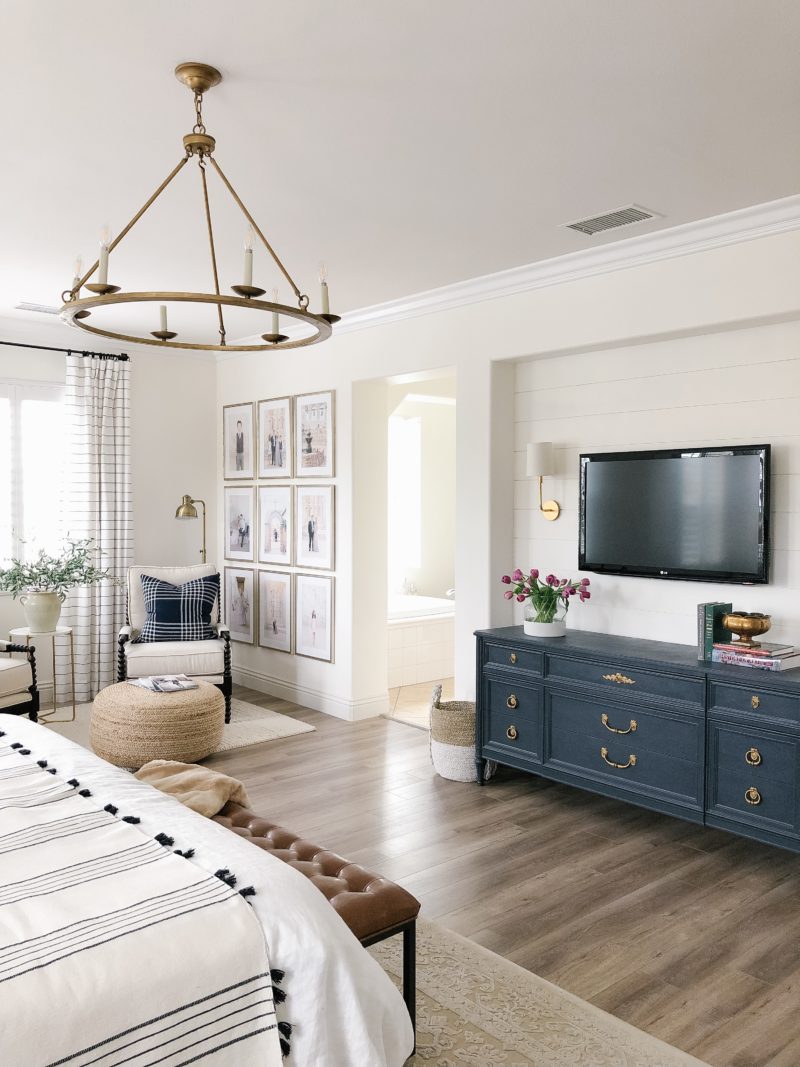 This dresser makeover was another example of choosing to save money and in the end, have a better quality piece. I found this Henredon dresser on Craigslist for a steal and we put in the sweat equity to give it a new look. While it was quite a time-consuming project, the quality of the dresser is beautiful and hard to find these days. I also appreciate the character it brings to our room.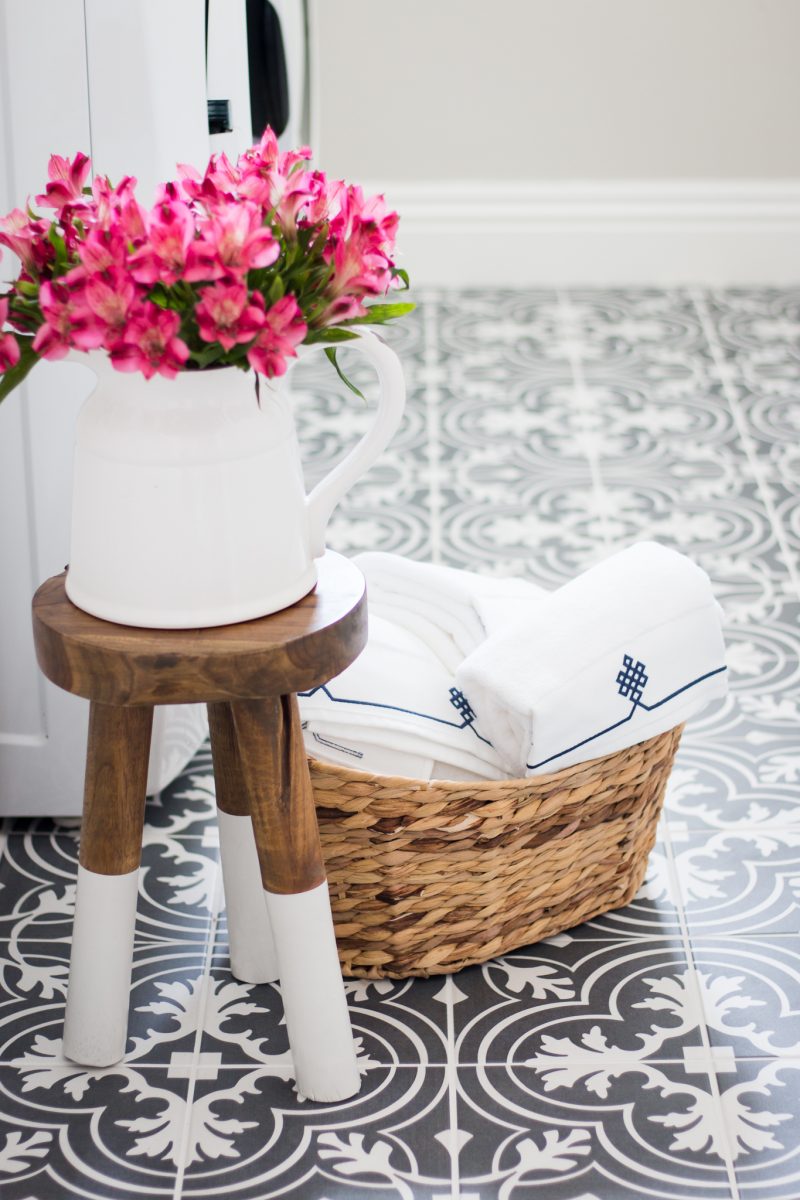 Another area where we know our limits is tiling. While my husband did tile our children's bathroom a few years back, he still feels that it's best to call in a pro. We would love to add this to our skillset but for now it make more sense for us to pay someone to get it done quickly and perfectly. One day we may even finish our laundry room. Maybe.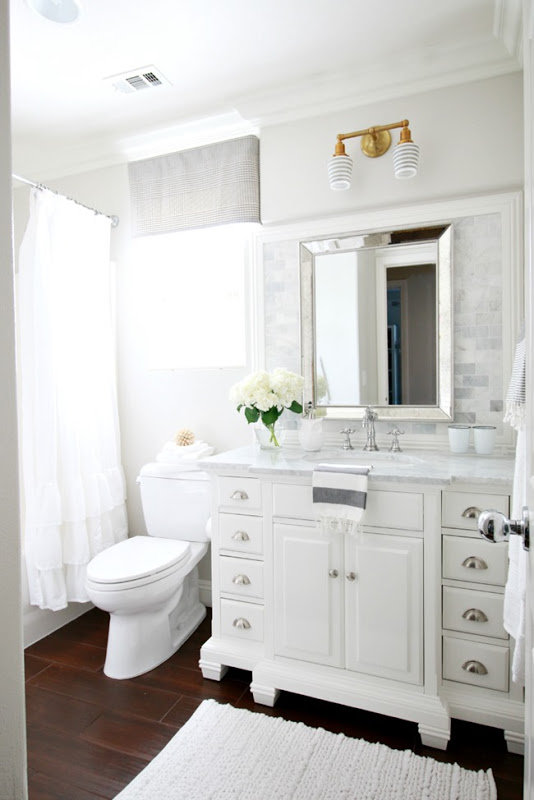 This is the bathroom where he tiled the floor and the wall behind the mirror. You can see more of this space here.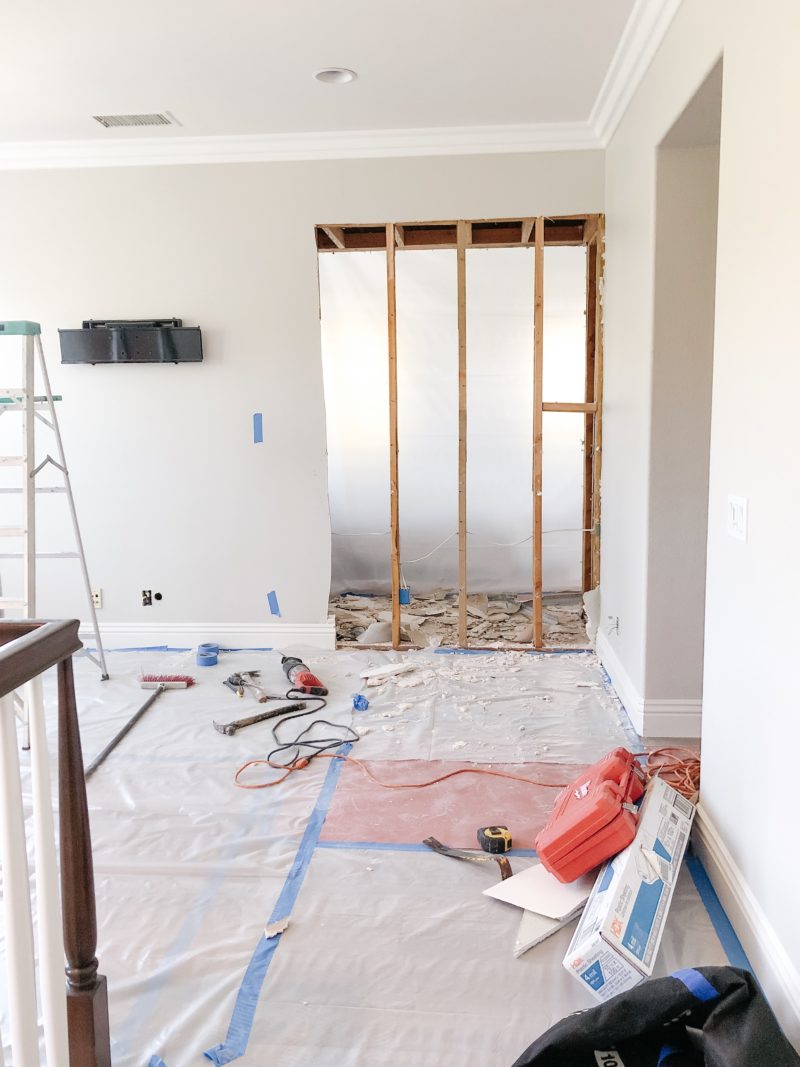 Our upstairs renovation was definitely not a DIY for us. Building walls, tearing down walls, installing pocket doors and all of the electrical needs were better met by people who are trained and competent. But you pay for that professionalism and knowledge. And things like this are not inexpensive. I recommend getting 3-4 quotes long before you jump in to see what your need to budget for.
This was a celebratory glass of wine because the framing was complete. This was way outside of our scope and had to be done by professionals. I did, however, come up with the floorplan and the layout for the contractors. Putting those math skills to work all the time! The beauty of hiring out is how quickly things get done (if you stay on top of it).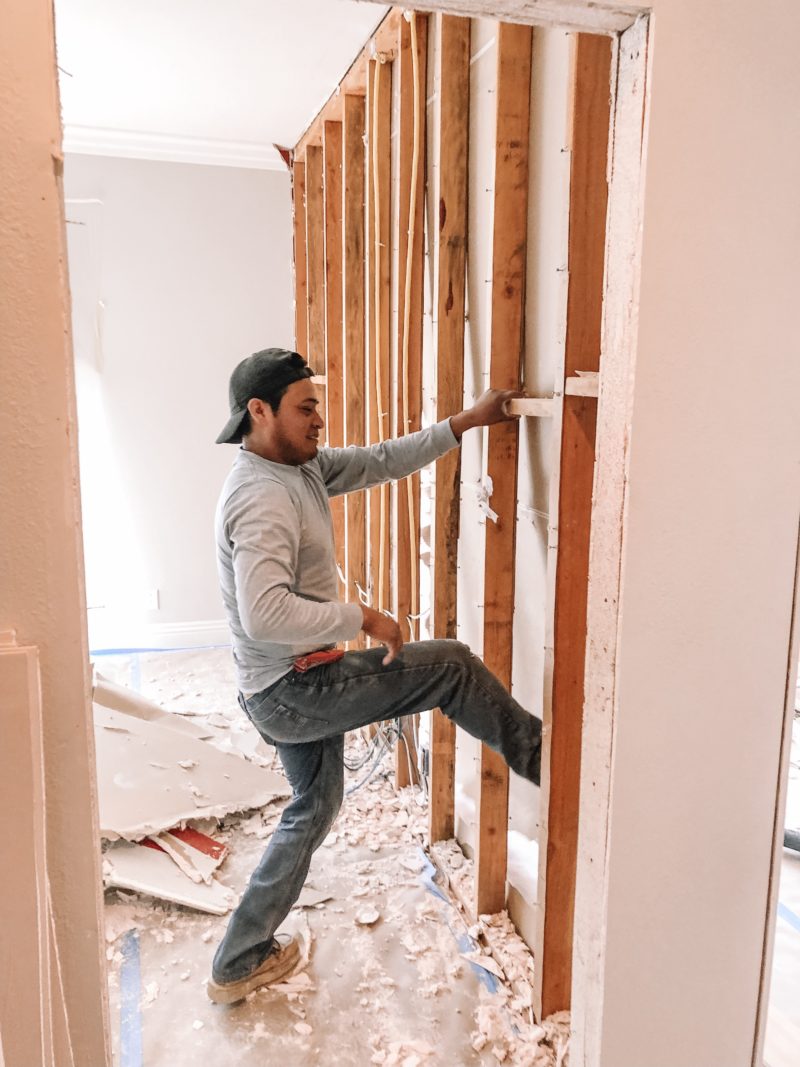 Demolition of the wall between the guest room and our son's room was also a job for the professionals.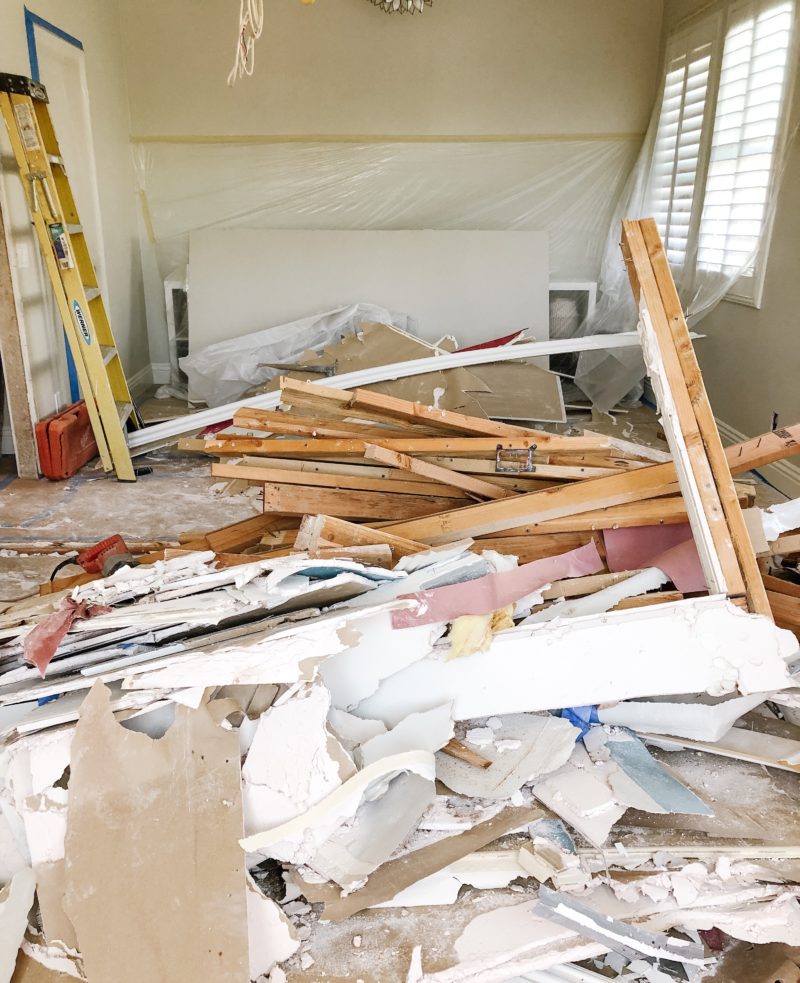 Thank goodness we didn't try and tackle demo of this space ourselves. We had no idea what a mess it would cause. Even hauling this away was a major job. In an upcoming post I will break down things to ask when hiring someone. We have learned so much over the years and are happy to share from our hits and misses.
FINISHING TOUCHES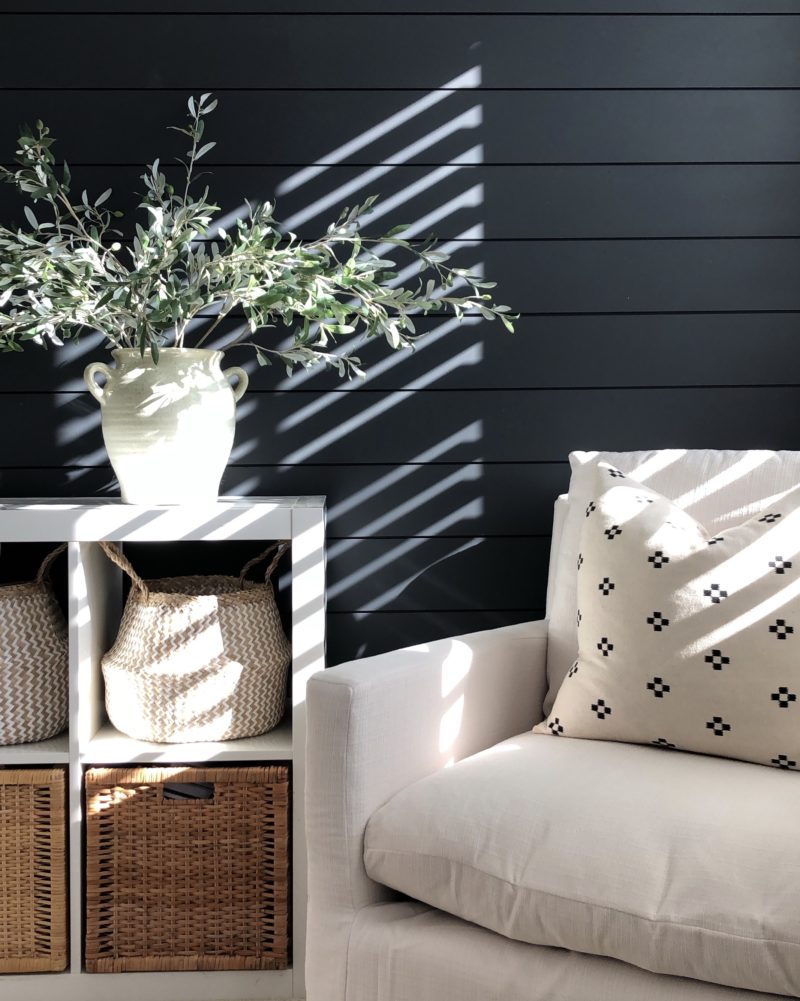 swivel chair | pillow | chevron baskets
For me, the fun part comes in with the finishing details that make it unique and custom. This wall was an easy one for my husband because he had already honed his shiplap skills in three other areas of our home. I paint and plan and he installs. It's a system we have down now. Although judging by our current project (our powder room) we may just end up hiring out.
We've hit curve balls left and right (currently shown on my stories in Instagram) so we are trying to just roll with the punches. That's the DIY challenge should you choose to accept it.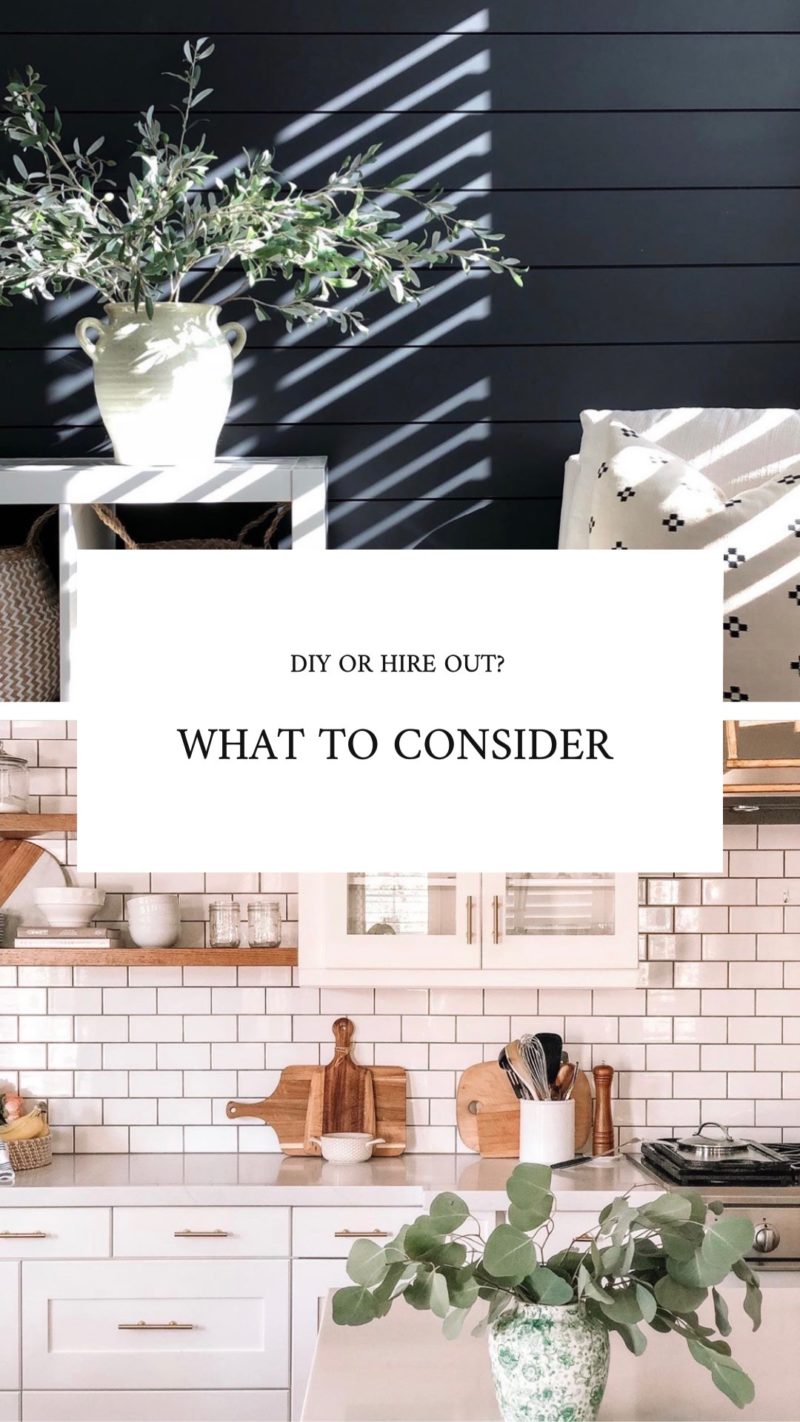 I hope this was helpful with understanding a bit more about how we decide when to hire out or tackle a project ourselves. There really are so many factors that go into it but asking yourself the right questions might help you determine the best path for your next home improvement project.
Shop the Post