Que the drum roll!!!! I am so so excited to present you with the Just Four Things Bedroom Reveal. I know it's been a while but I said from the onset that this would not be a sprint. Just when you are tackling a space, real life gets in the way, drapery gets back ordered . . . the list goes on and on. But the beauty in being patient is that you end up with a room you really love. If you are new to my blog, I have done a series called Just Four Things where I try to show readers just how much you can really transform a space with very little. This gives my client a huge jumping off point to run with the rest of the room. Without further ado, here is Meredith and Mick's new master bedroom.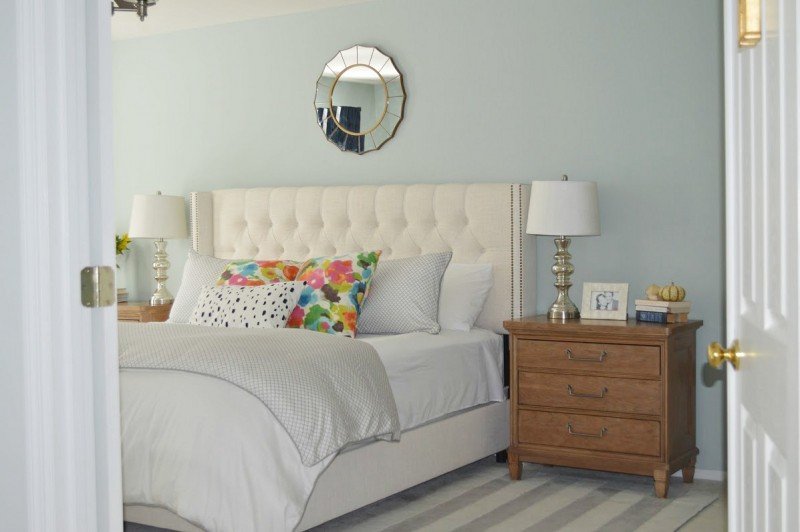 As we peek into the room, it's important to remember where we started. When I came on the scene, Meredith and her husband had chosen a paint color and a bed (on sale here), but were at a lost for how to pull the room together without going crazy. Here are some photos to refresh your memory.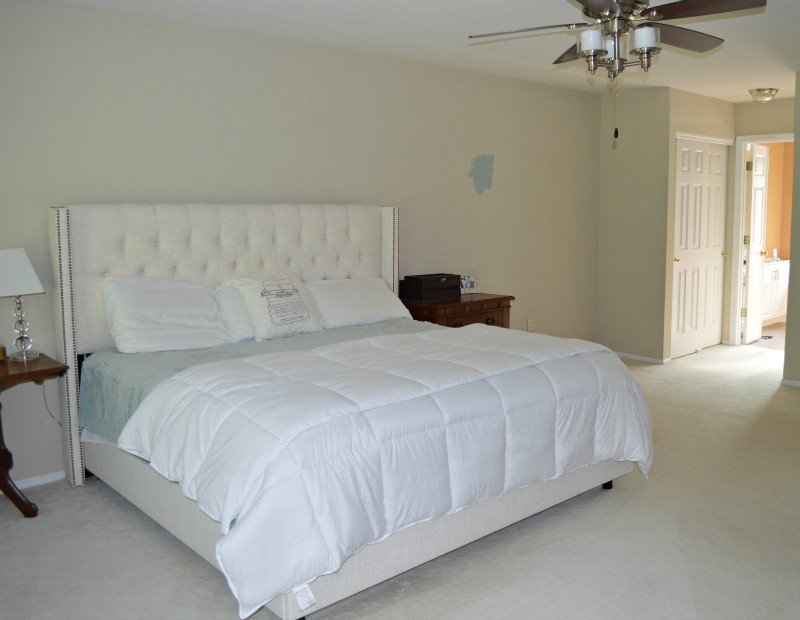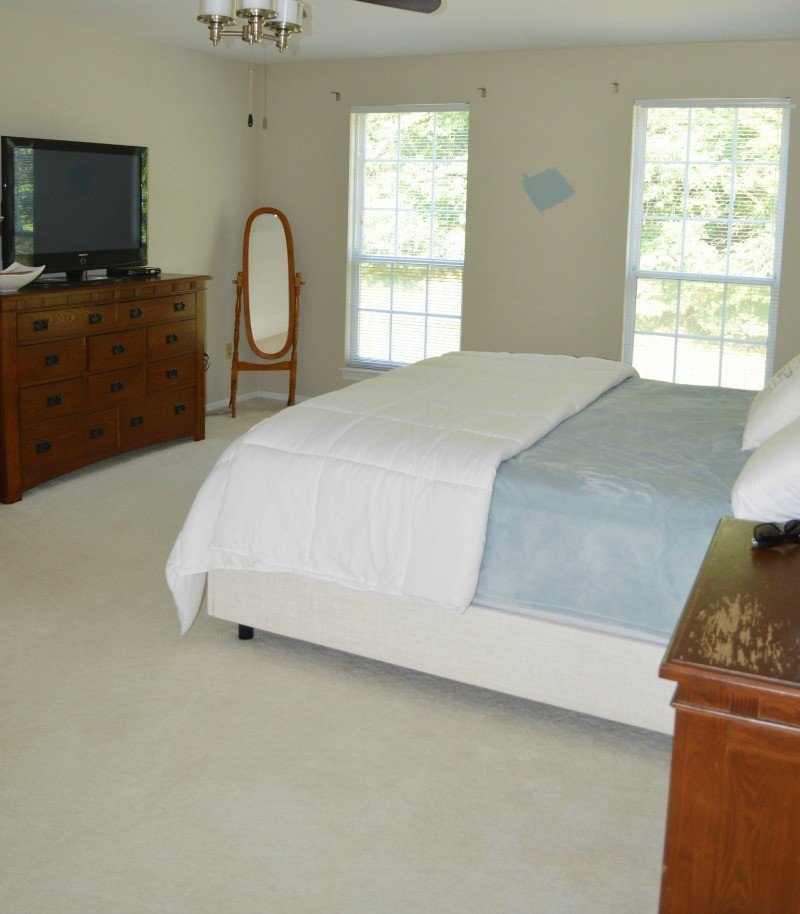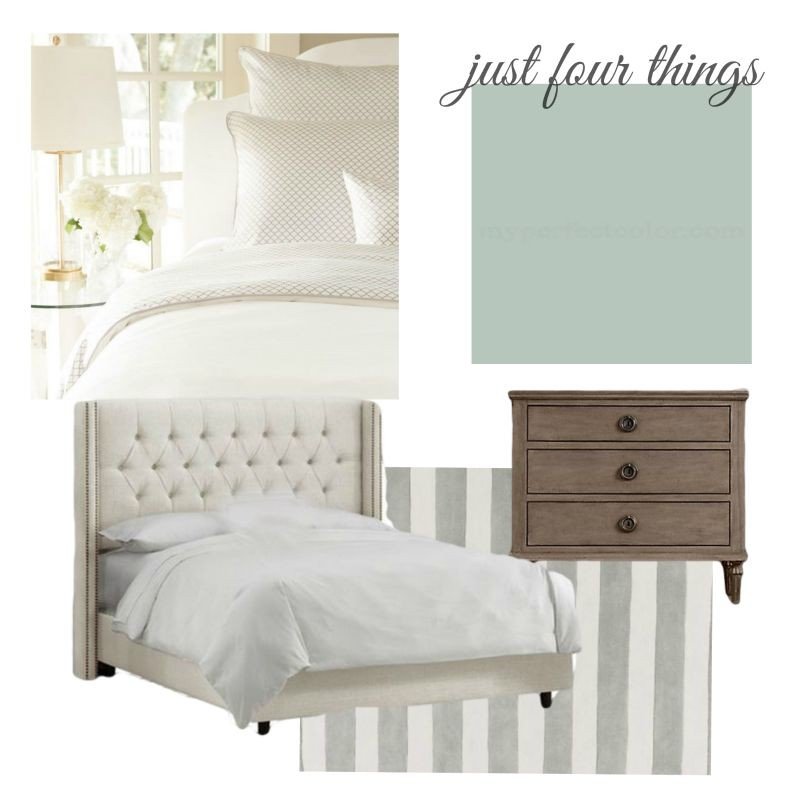 The client and I came up with a plan to add bedding, a bold rug, side tables and drapery. You can see from the basic plan above that it is when you bring in the textiles such as drapery and pillows that a room really comes to life.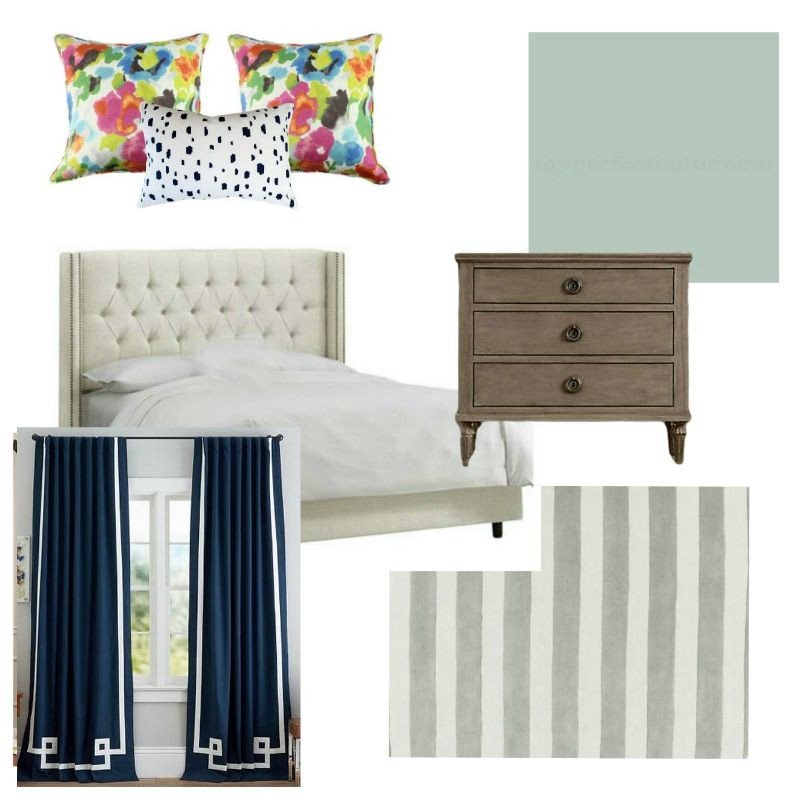 I think people often under-estimate the power of a great set of drapes. I adore they navy ones Meredith chose. I think they add a nice sophistication to the room and help ground the space. I may or may not be looking around my house to see where these can go!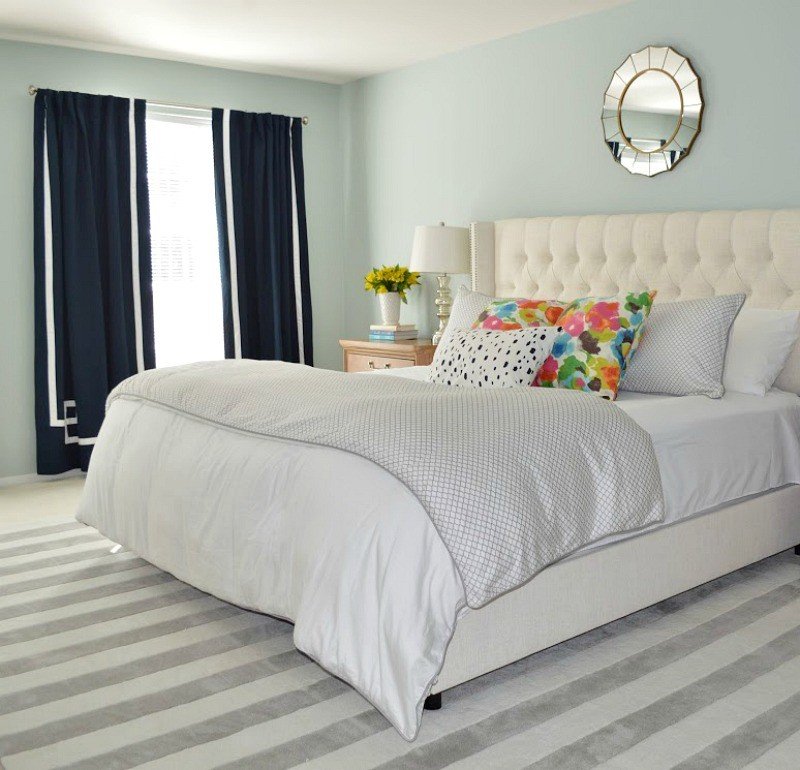 The pretty duvet is reversible but I love that it allows you to fold it down and see a subtle graphic print.  Any time you can mix in another print it adds dimension to your room. The duvet is by Crane & Canopy (same brand as the ones I have on my bed). And shall we chat about the rug. Swoon. I honestly love this rug so so much. Lulu & Georgia never disappoints.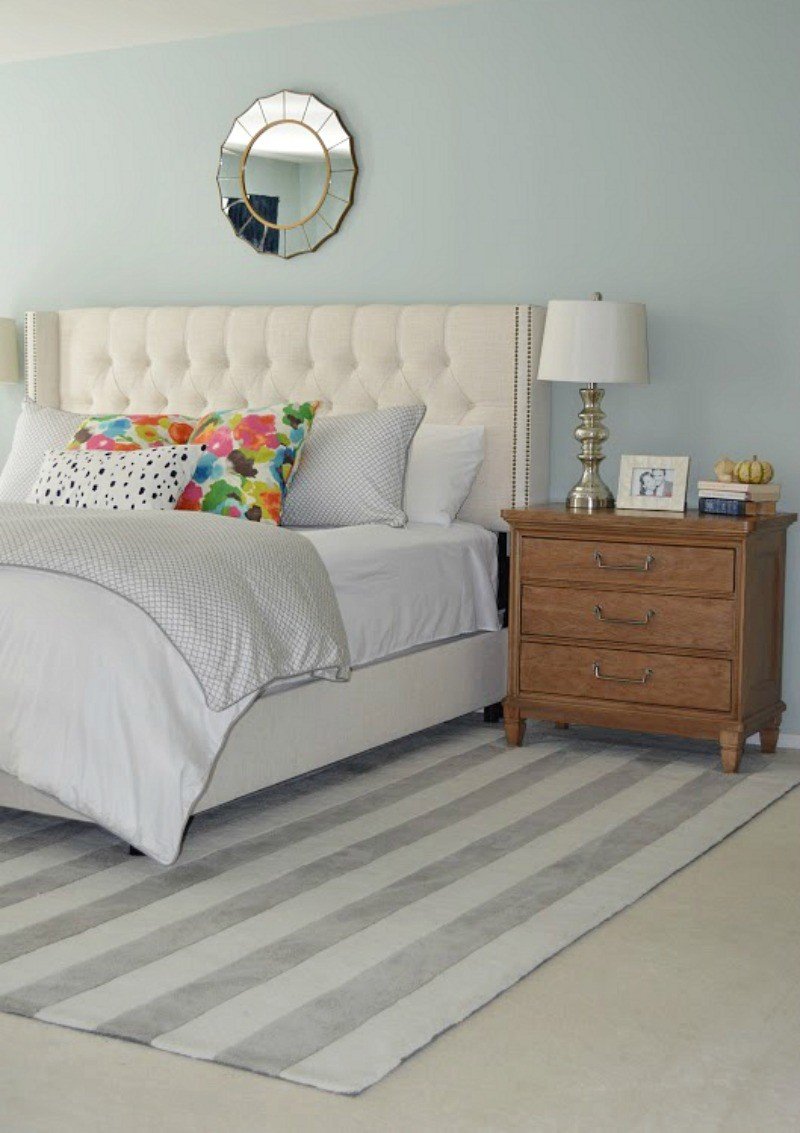 The client ended up going with small dressers next to each side of the bed that they found at a local store. I love the lines, the storage they offer, and the warmth of the wood. With such a light colors throughout the design, the pretty wood tones really have a nice impact.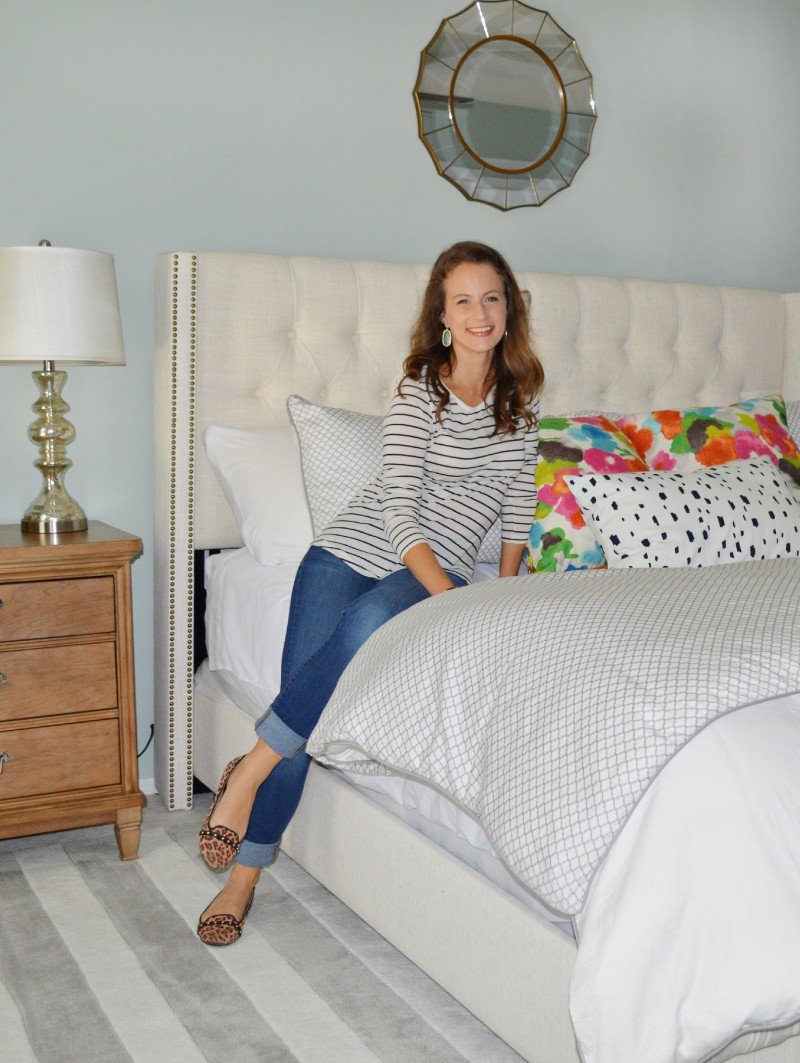 And how adorable is Meredith? I love her. She has the best personality and was up for this entire process. She even was able to pull all of this together despite a crazy crazy work schedule as of late. Kudos, Meredith. You can learn more about her in this post. She tackled finding a mirror and the lamps on her own realizing how pretty some bling would be in the space. She was right. The touch of glamour and shimmer is such a great addition to the other elements in the room.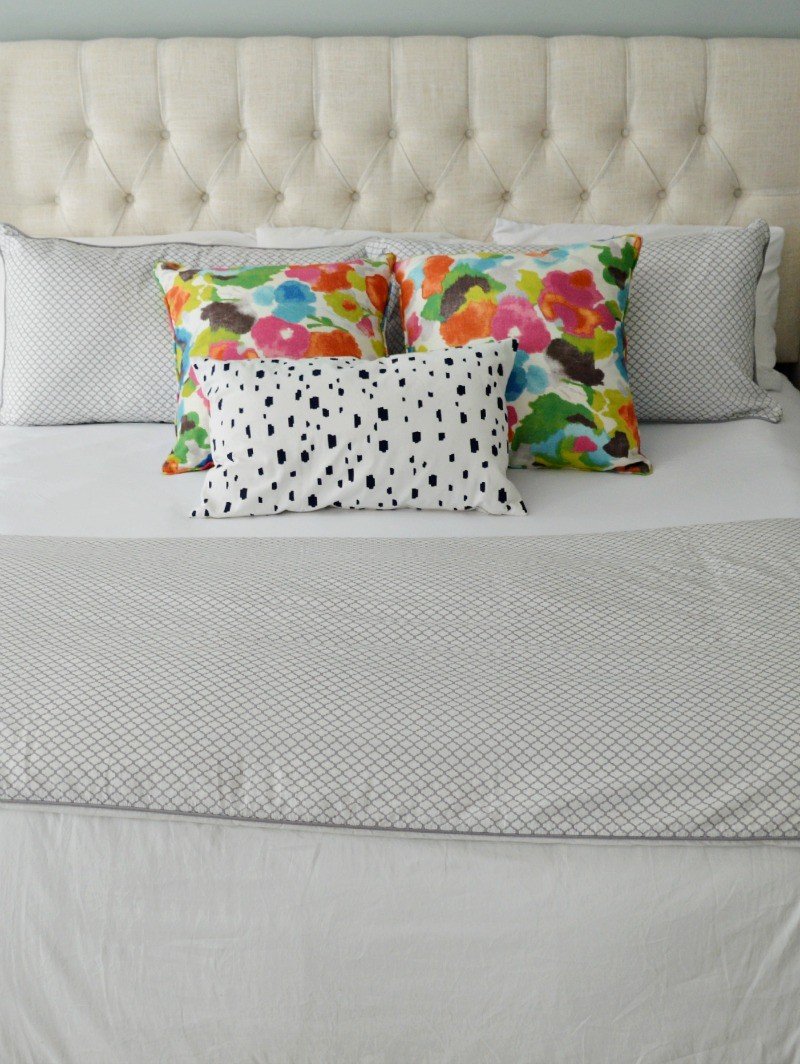 When we talked about pillow options, this was actually a combination of two choices (a few of you thought this would be the best way to go and you called it!). I love the gorgeous watercolor print paired with the edgier dot print.
drapes (sale) | rug | bed | duvet | fleurish | spotted pillow | similar side table 
I just love knowing that Meredith and Mick have a really pretty place to retreat to after a long day. And I hope you have sen the power of Just Four Things and how a space can really take on a whole new look with a few key elements.
Did you miss any of this series? If so you can see the various steps in the process below.
Past Just Four Things Posts
 Announcement | Meet the Client
Thank you to all of my readers for being so patient as Meredith and I worked out this space. I loved having you follow along. We are so happy we took our time and made it just how they wanted it. As they add things to the room and tackle the TV wall,  I will be sure to update you. Hopefully this has encouraged you to look at your own home and see if Just Four Things might make a huge difference for you, too!
*paint color: Benjamin Moore Sylvan Mist / affiliate links used