Good morning, friends! So excited to share a bit of our Palm Springs getaway with you and where we stayed. For us, Palm Springs is less than two hours away so it is the perfect spot for a quick getaway without long travel days. We stayed in the most amazing mid-century modern home and soaked in the sun.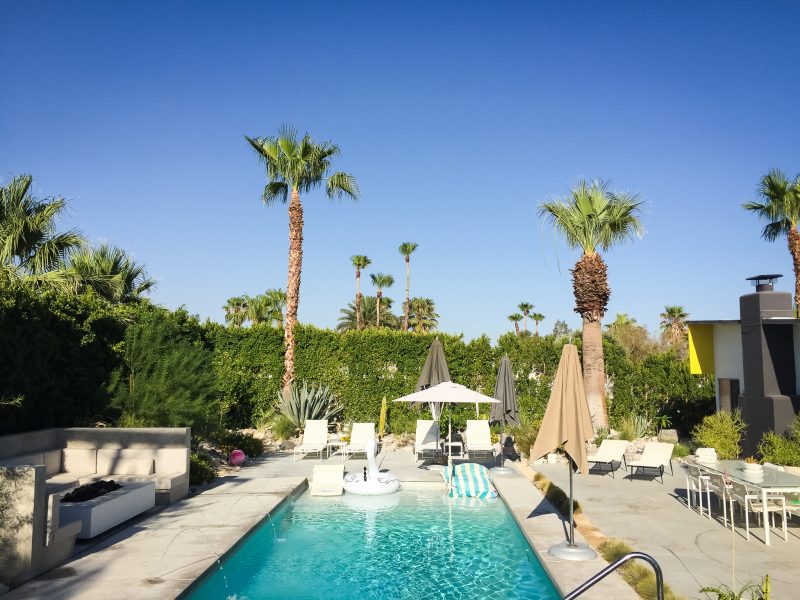 WHERE WE STAYED
It's easy to see how this backyard oasis drew us in. In fact when I look at these photos I just want to be transported back to this gorgeous home called The Butterfly House. The spacious backyard makes this a dreamy property and we spent 95% of our time right here. I loved that despite being in the desert, the landscaping was still so lush and beautiful.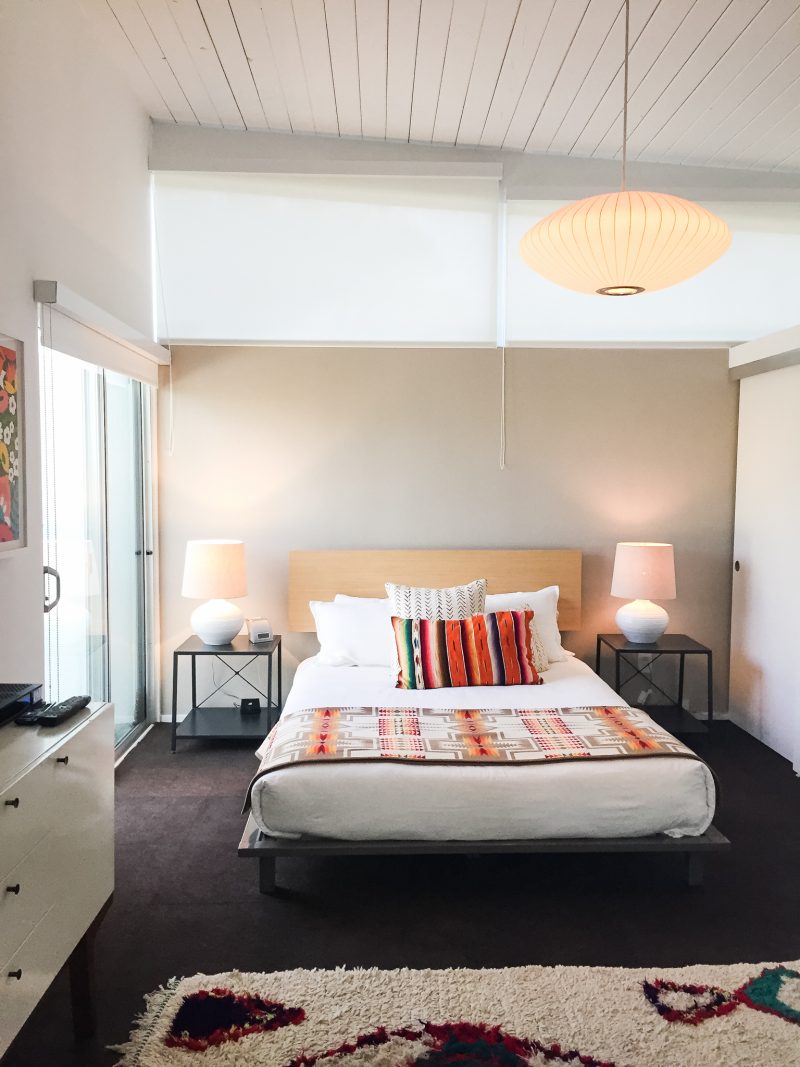 I wanted to share a quick tour of the inside. It's extremely well done and in keeping with the mid-century modern style. This is the master bedroom which is equipped with its own bathroom. It also has a nice patio right outside the sliding doors. You can tell the owners spend time here and take pride in their home. It definitely shows.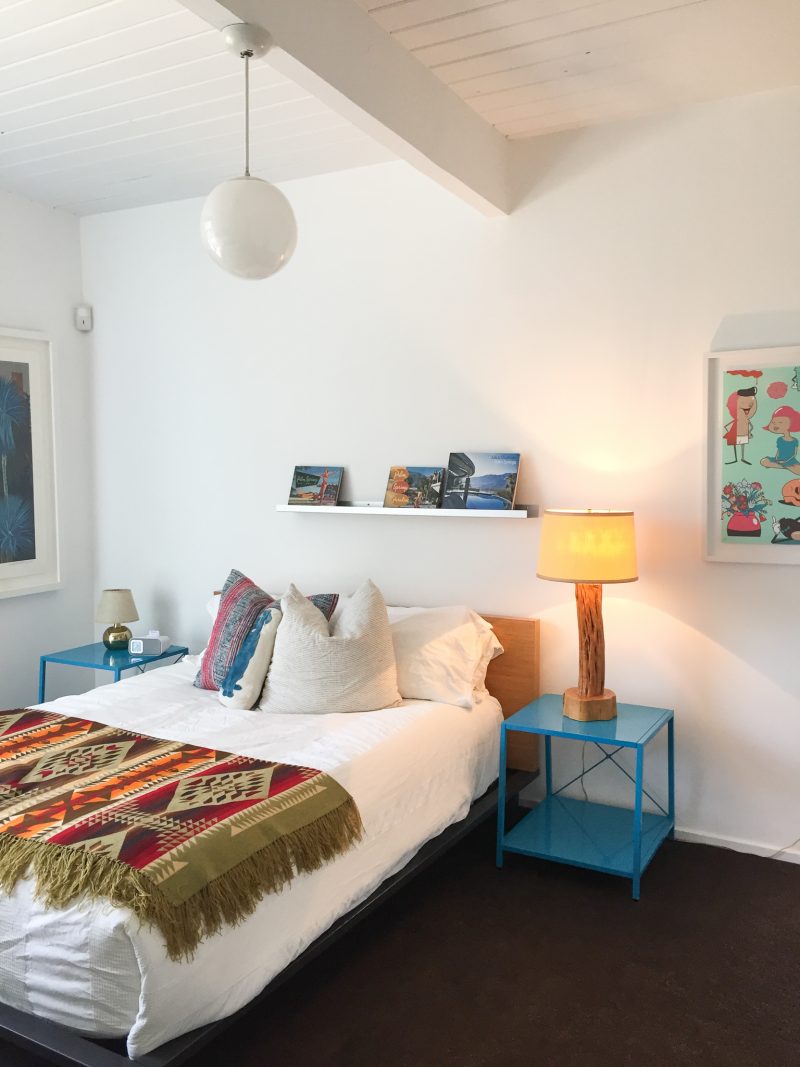 There are two other bedrooms in the home that share a nice hallway bathroom. Both are light and bright with generous size closets and comfortable beds.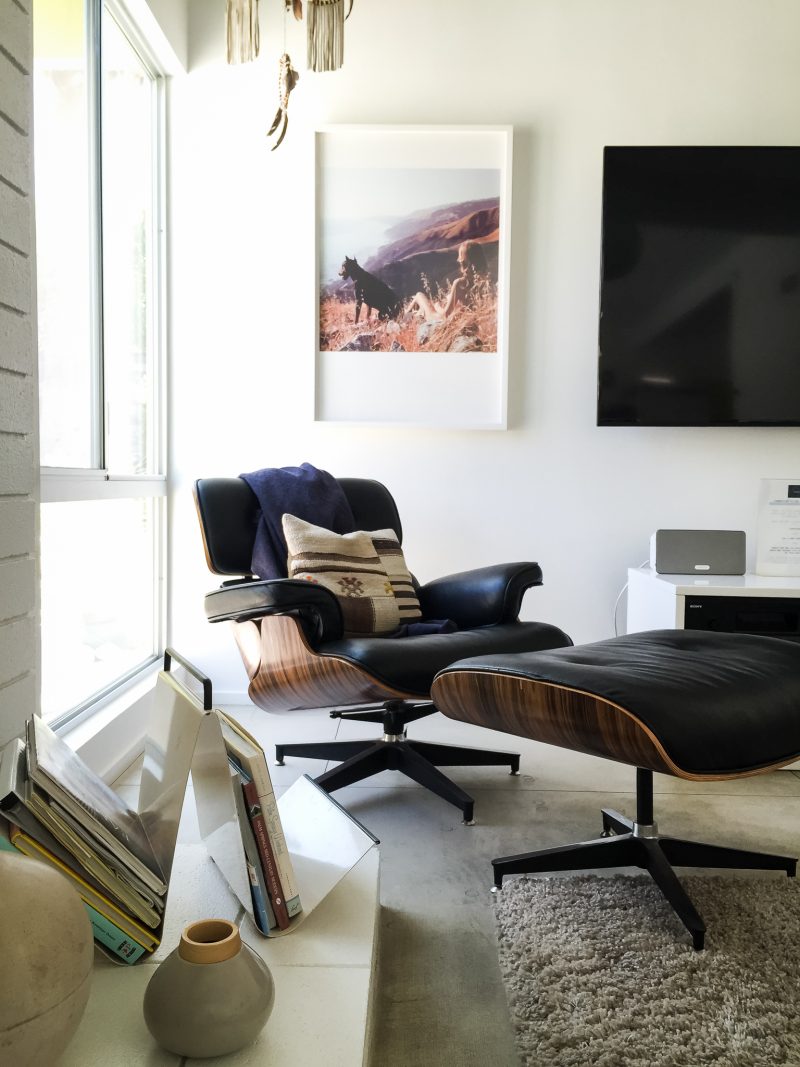 I may or may not have been dying over this Eames chair. So beautiful and perfect for this home.
CHIC SHIPPING CONTAINER
While the home boasts three bedrooms and two bathrooms, the shipping container casita outside steals the show. My son was in love with this little hideaway space. This tiny house guestroom is so much fun and has the most modern, beautiful bathroom.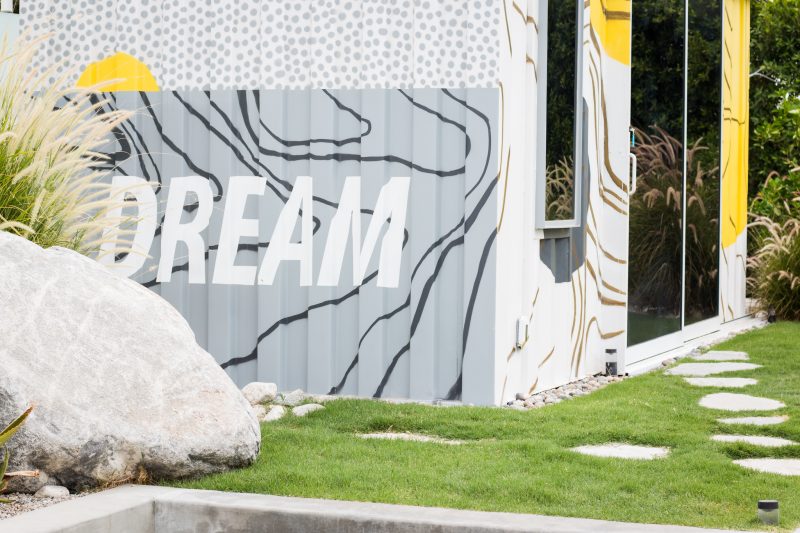 THE BACKYARD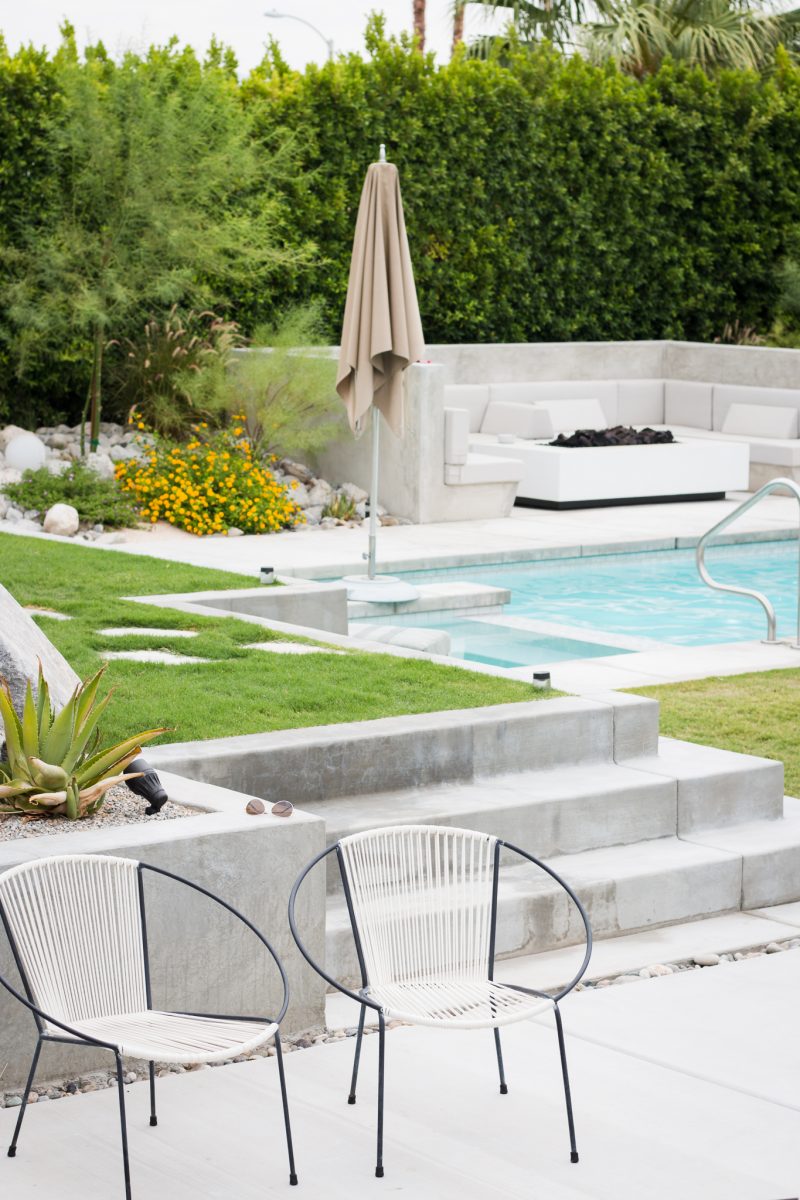 I'll let the photos do the talking, but with the multiple entertaining spaces, pool, spa, fire pit and lounge areas, this backyard has it all.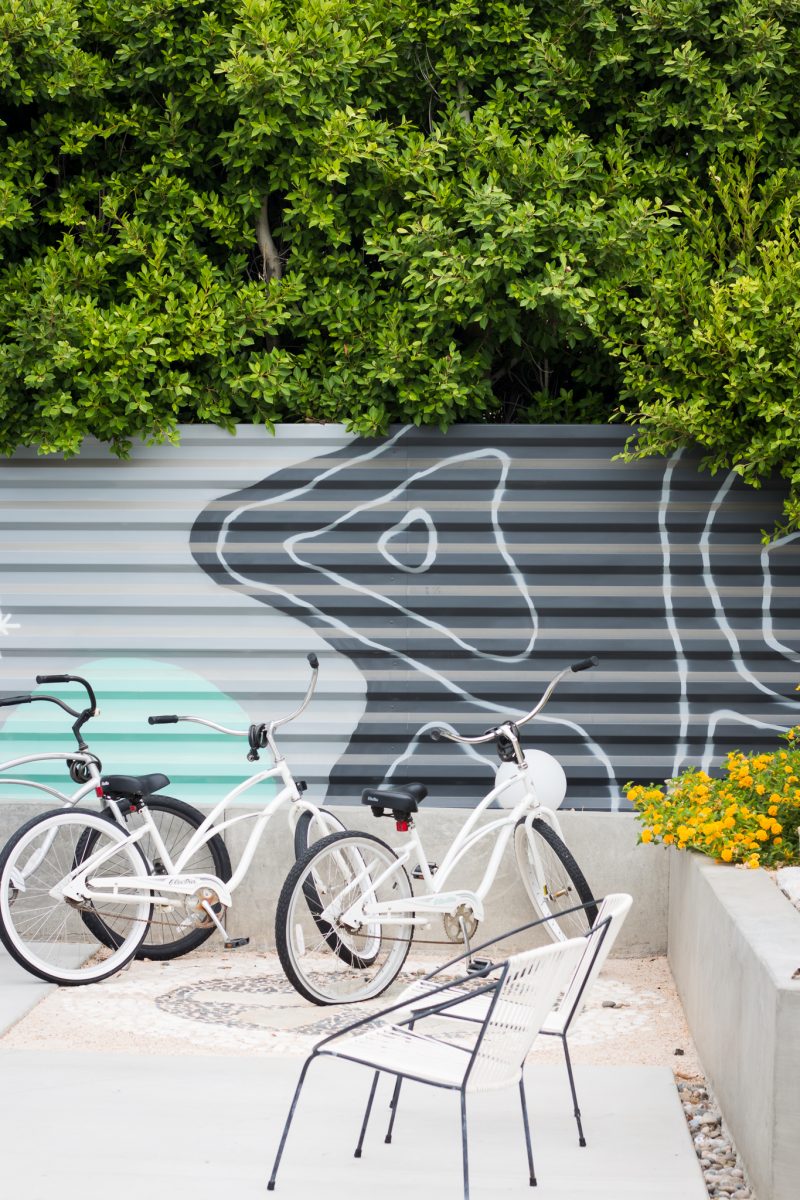 There are also three bikes available should you want to take them for a spin. We would have needed one more so these went unused but they sure are cute.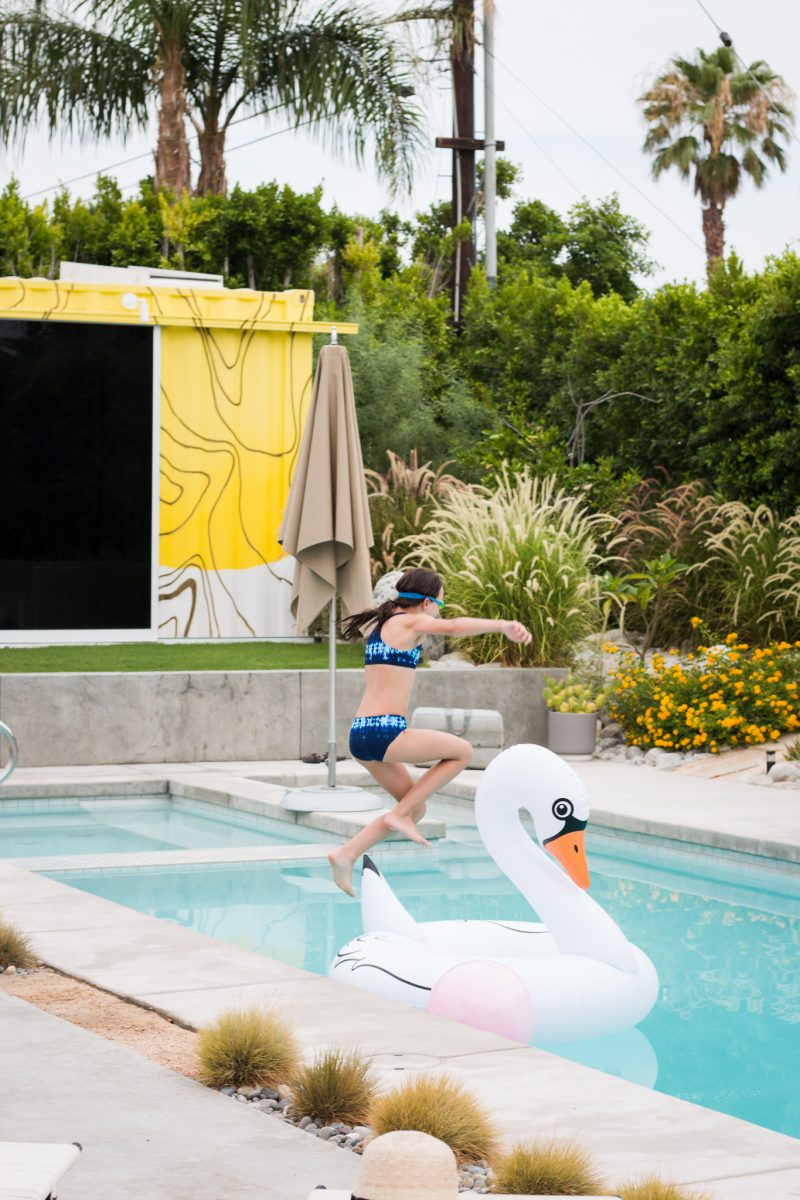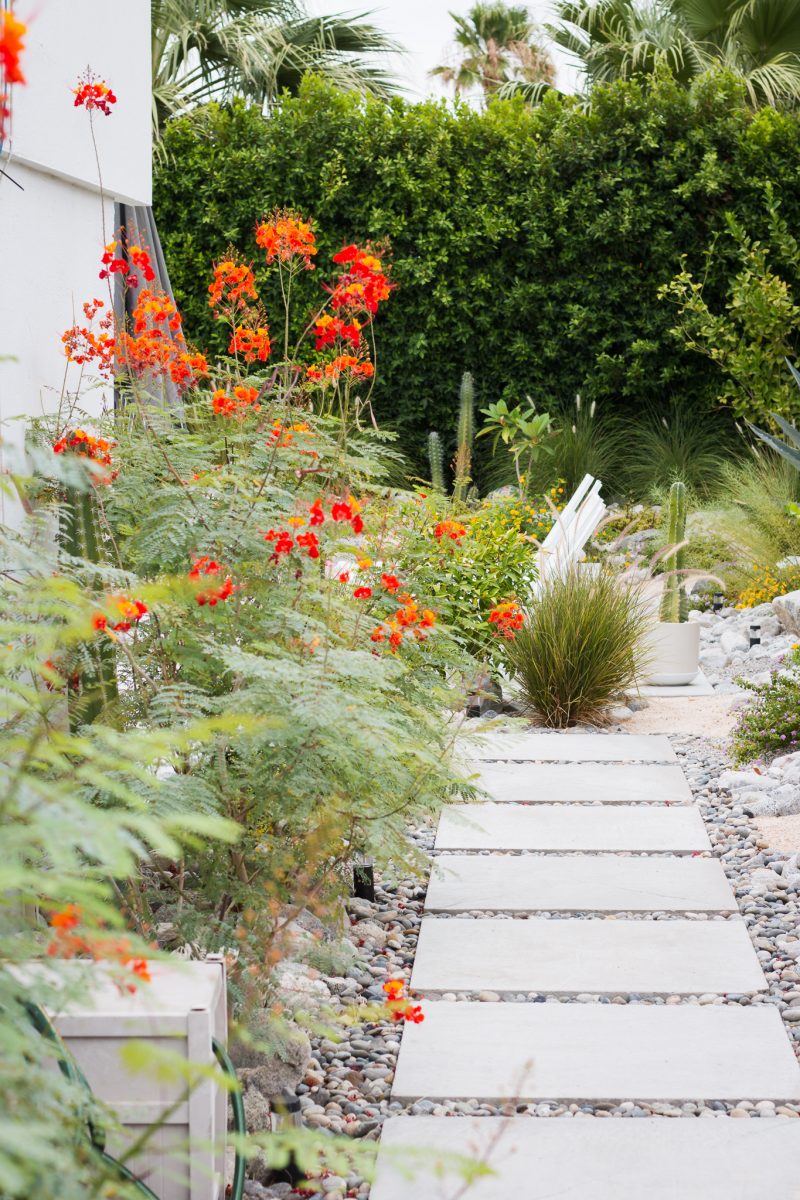 This gives you a good idea of how lush and pretty the landscaping is. This pathway is from the master bedroom back to the yard.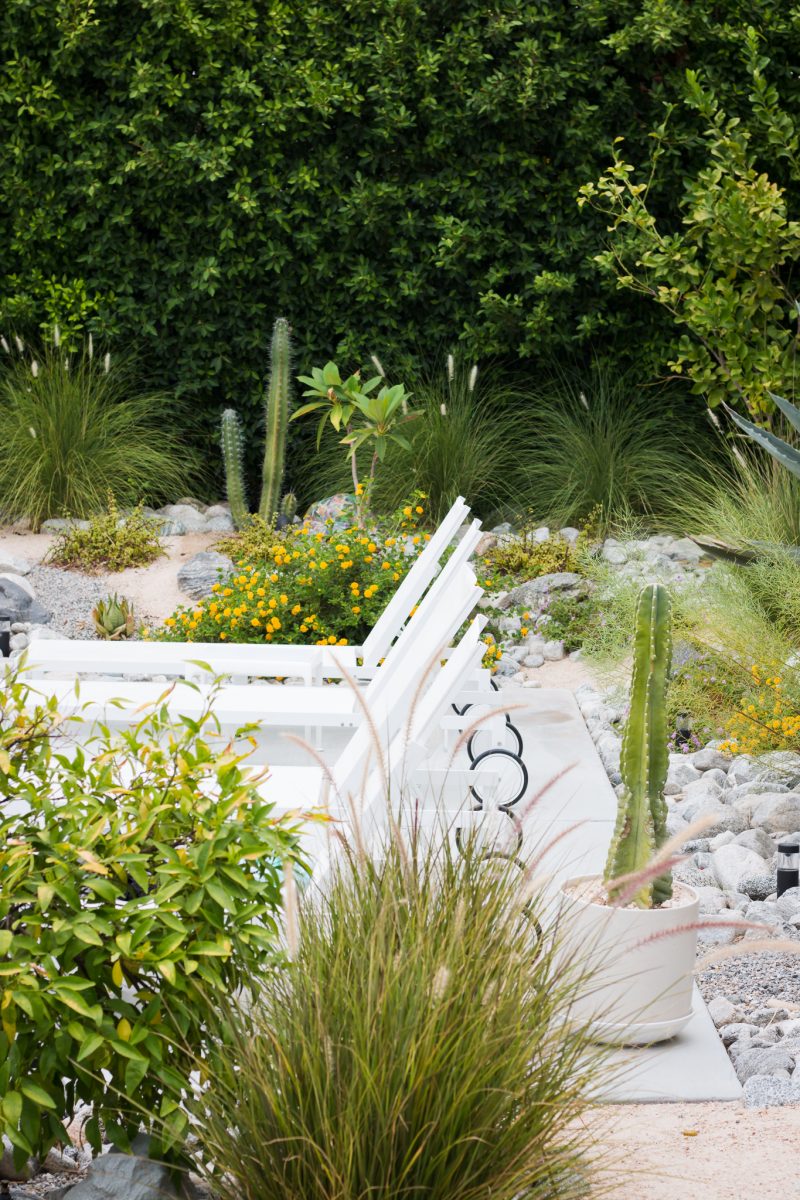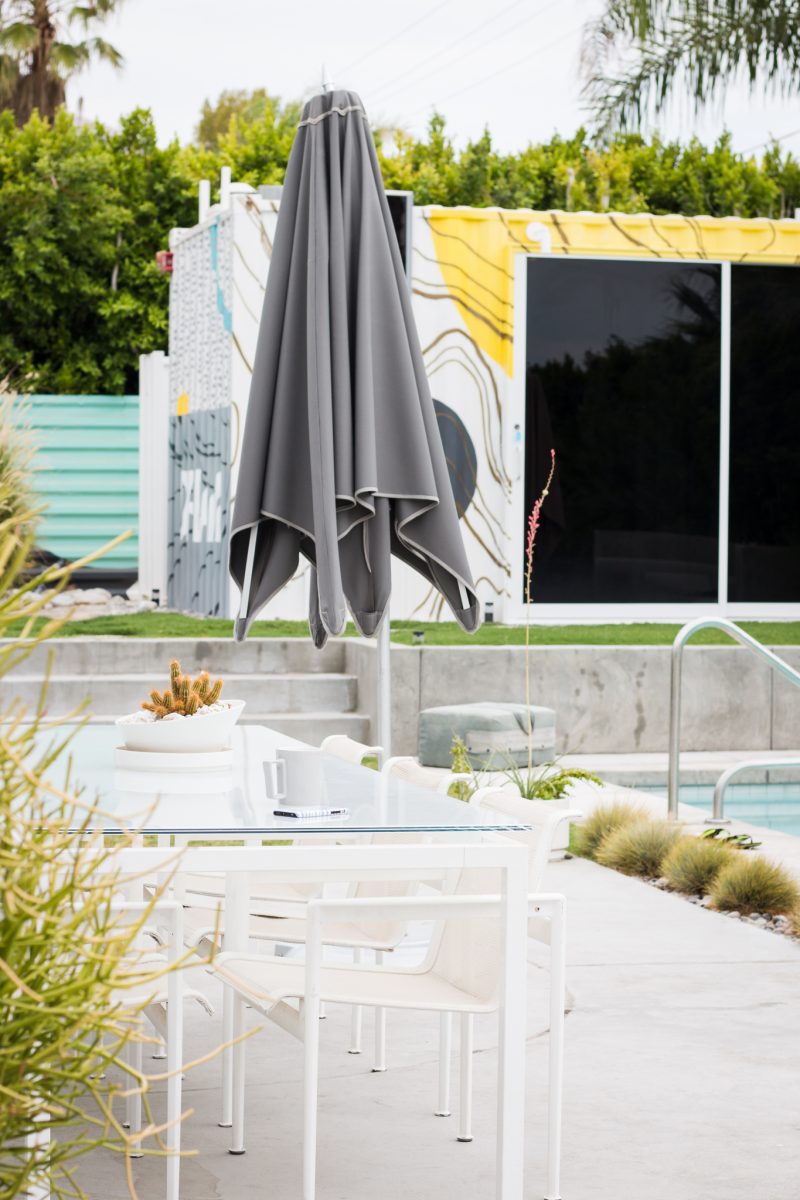 We used the BBQ one night and ate outside at this table. Such pretty views for sunset.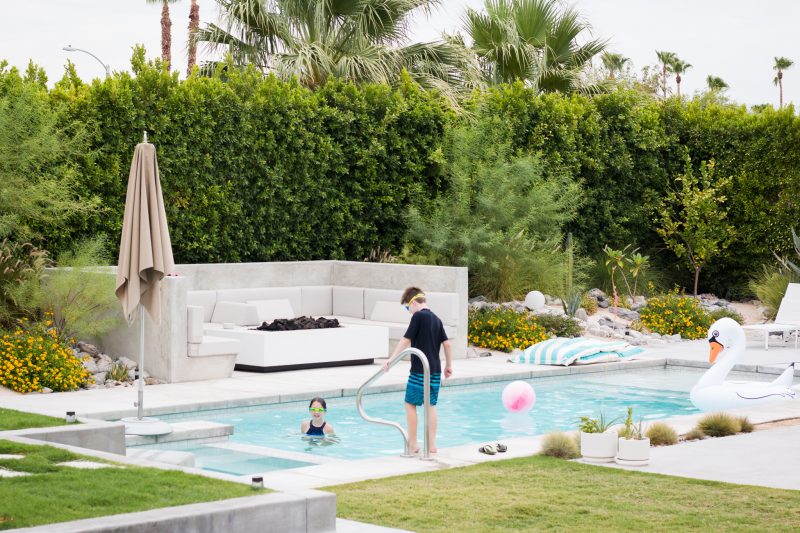 It's safe to say that from the time they woke up until the time they went to bed, these two were in the pool. Actually, all four of us were! The temps were crazy hot but the dry heat lends itself to handling it and being in the water.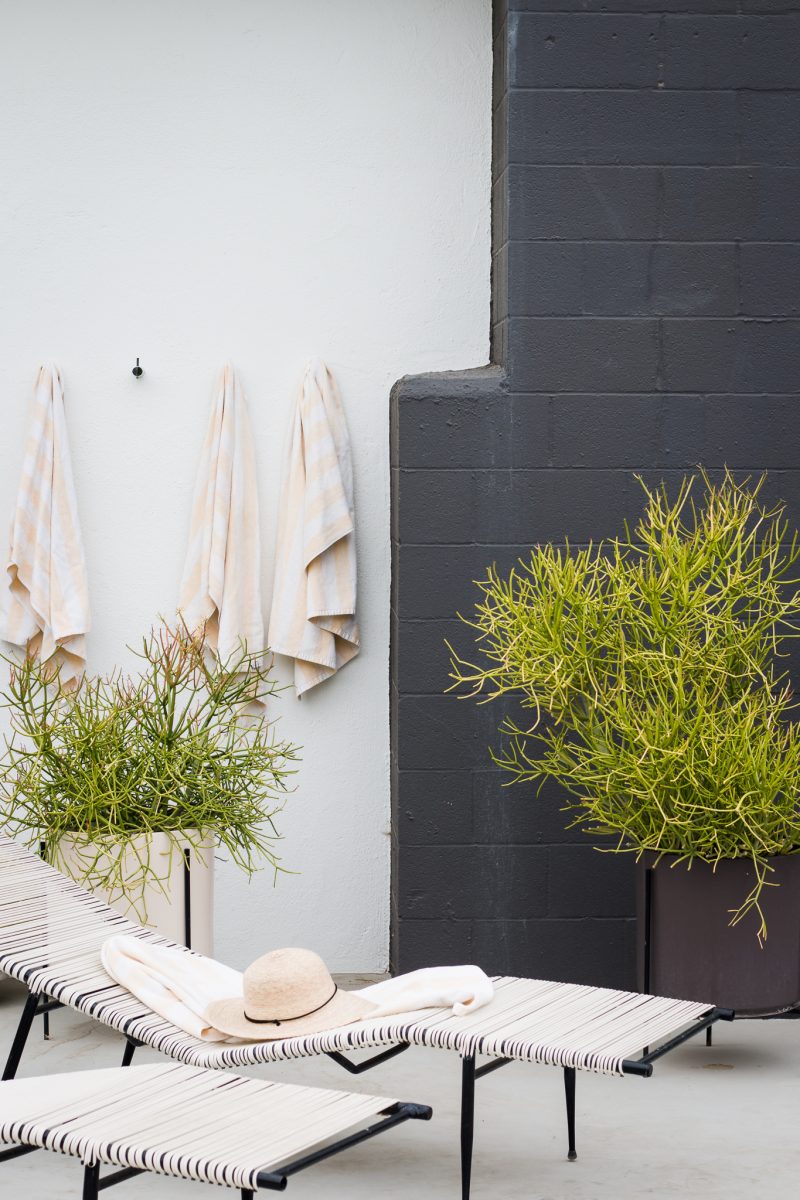 WHY RENT A HOUSE?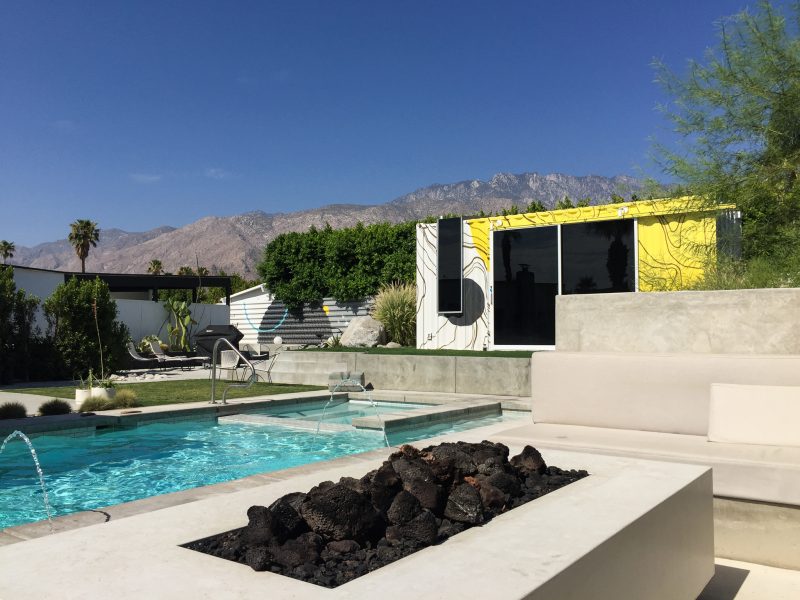 I had many friends ask if we would rent a house again or if the conveniences of a hotel or resort were missed. It is a resounding, yes. We would 100% rent a home again and I am happy to tell you why. First of all, we love not having to eat out for every meal. Quite honestly, when it's really hot outside our appetites seem to go down and being able to grab a quick healthy snack from the fridge was fantastic. The grocery store is literally two minutes away so we stocked up and could easily run back for forgotten items. It was so nice for our early risers to be able to bounce out of bed and make themselves a bowl of cereal.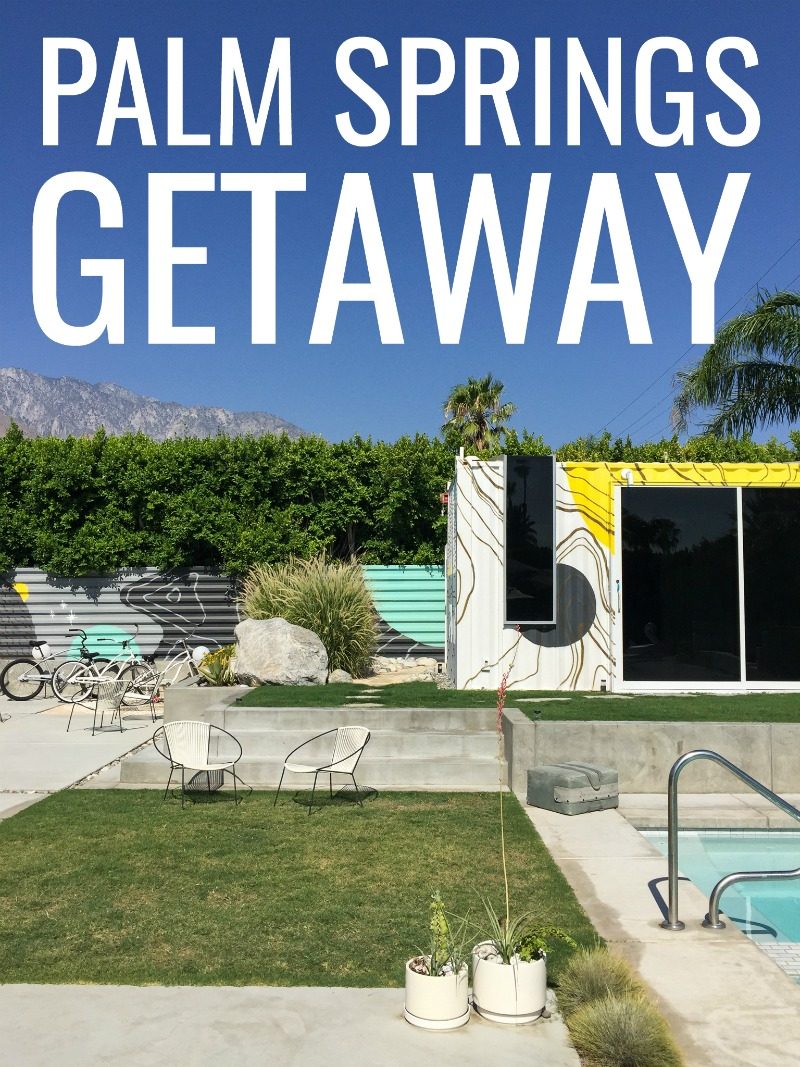 The other reason we love staying in a home is that this backyard was all for us. All four of us enjoyed swimming non stop and the privacy aspect was wonderful. Not to mention it makes for such great family time when it's just our squad.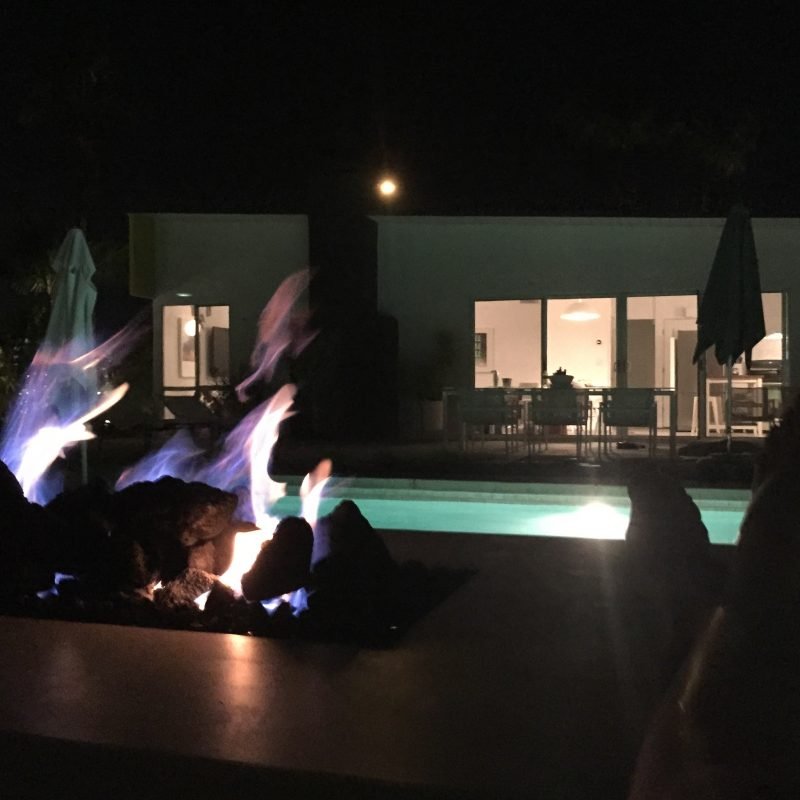 Here is another reason we are pro-house over hotel. The kids go to bed! Unlike being stuck in a hotel room and tip toeing around, we were able to relax and enjoy the backyard. We had a couple of hours to ourselves in this gorgeous space while the kids were sound asleep inside. That is a huge perk and really makes you feel like your on vacation.
ANNIVERSARY NIGHT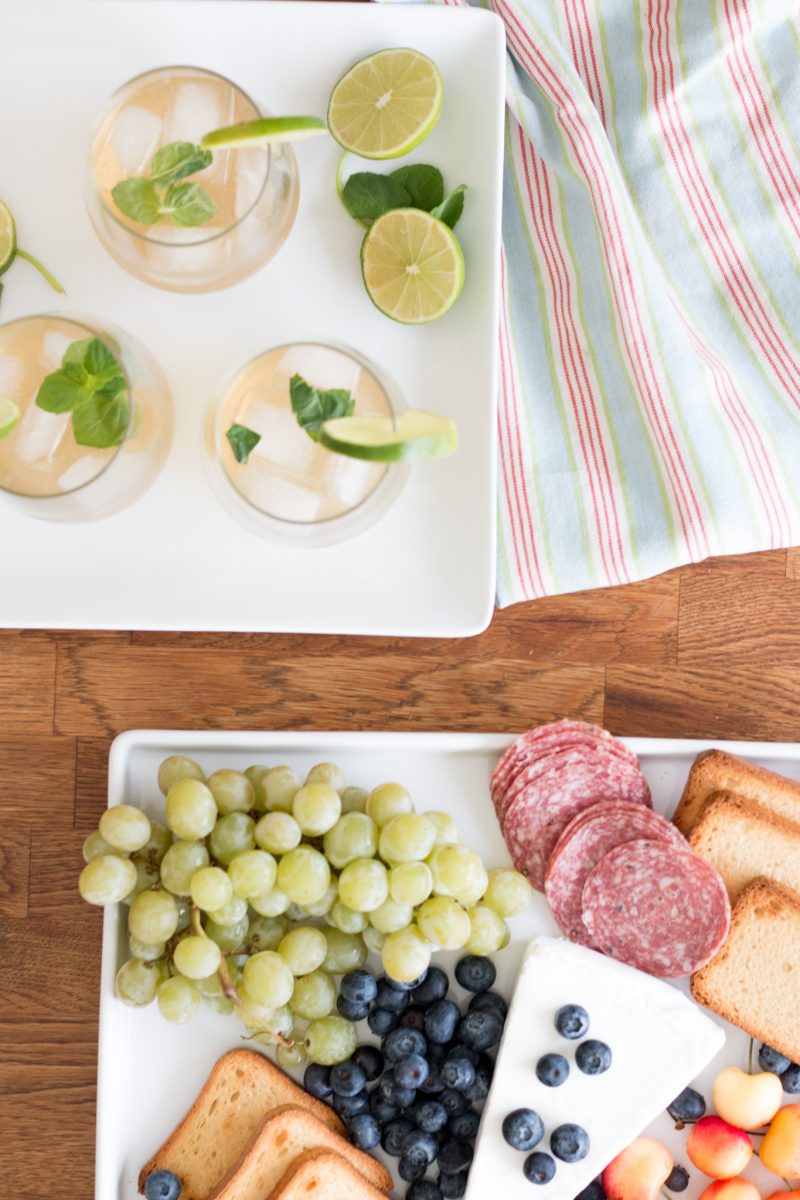 While we were there, we celebrated 14 years of marriage and it was really special doing that with our children. We made fun cocktails (recipe here) and put out appetizers so we could all enjoy them once we showered and got ready for dinner.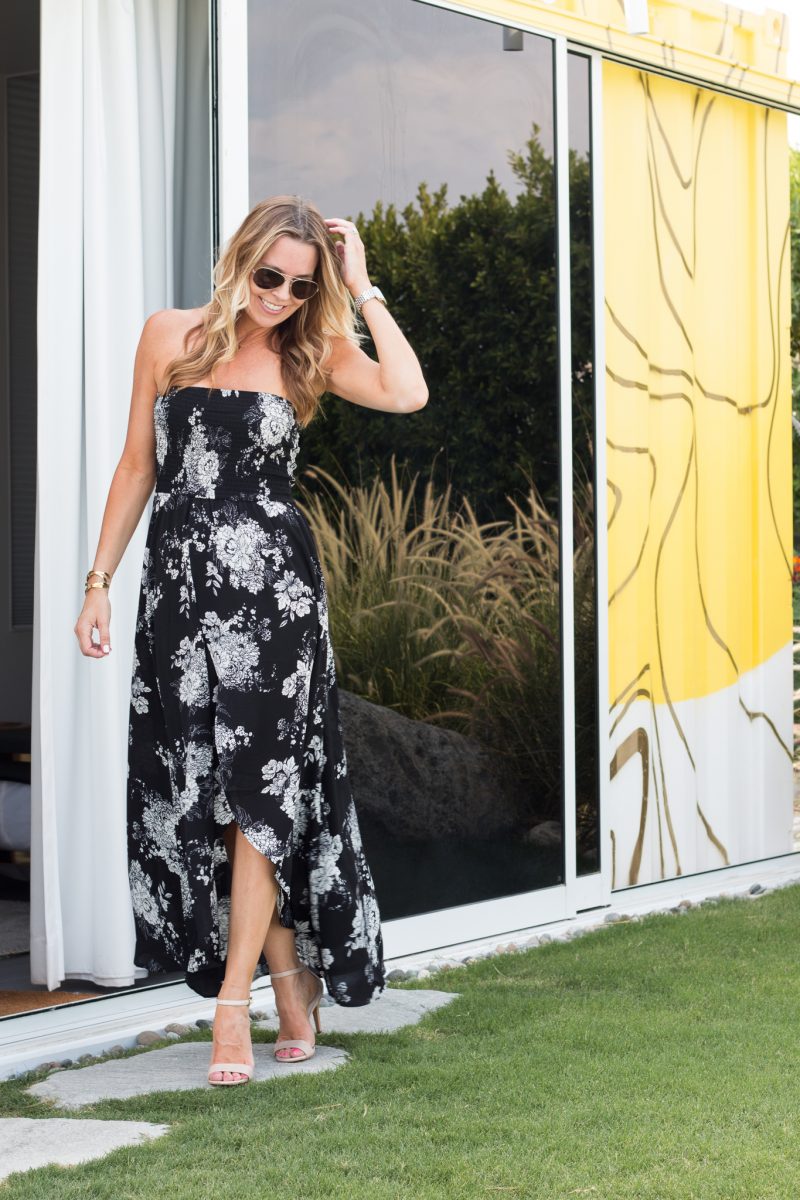 This may be one of my favorite dresses of all time. I have it in the mustard color, too. It was a great dress to take on vacation. And how do you not snap photos in front of this darling shipping container?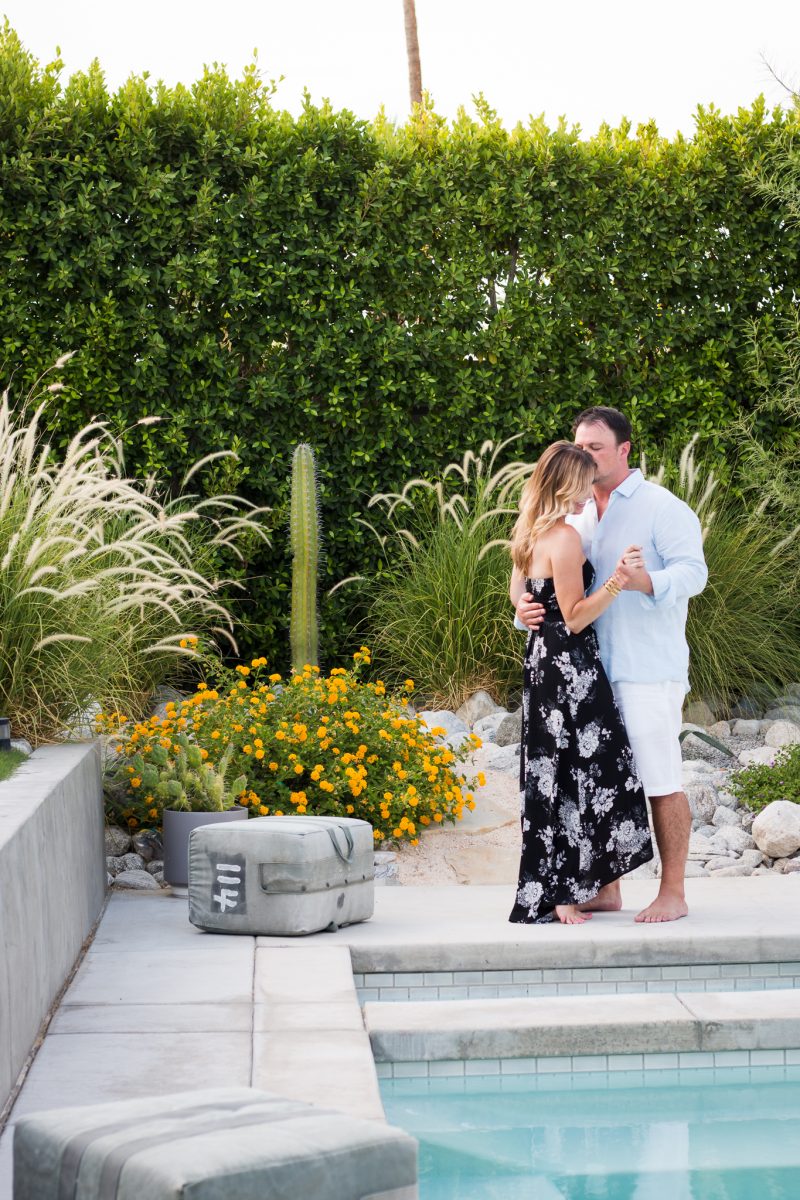 So very thankful for this rock in my life. Our sweet son snapped this photo and we are so grateful.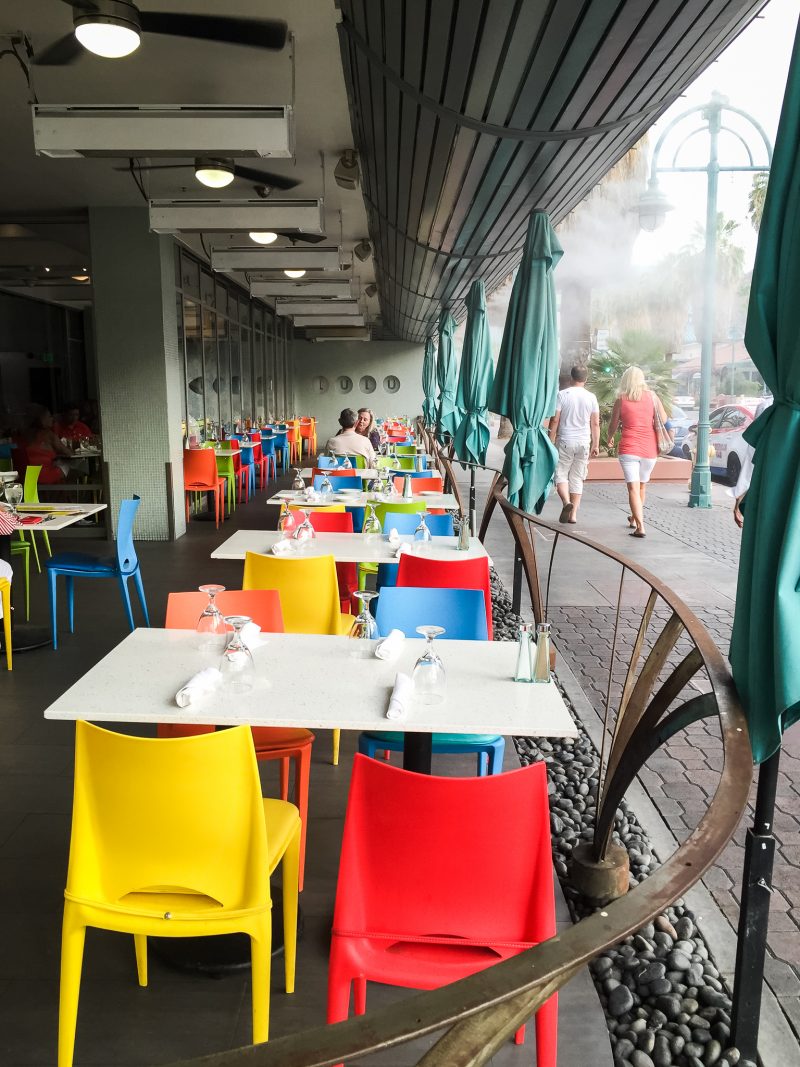 After enjoying apps, we headed out to Lulu California Bistro.  It has a colorful outdoor patio but with the heat we were all about sitting inside. It has a very festive environment and is great for big parties. The menu is HUGE so there is something for everyone. While I wouldn't say this was my favorite spot, it worked well for the occasion. And I have to credit my 9 year old son who after dinner told us he brought his own money to buy us a piece of cake for our anniversary. Sigh.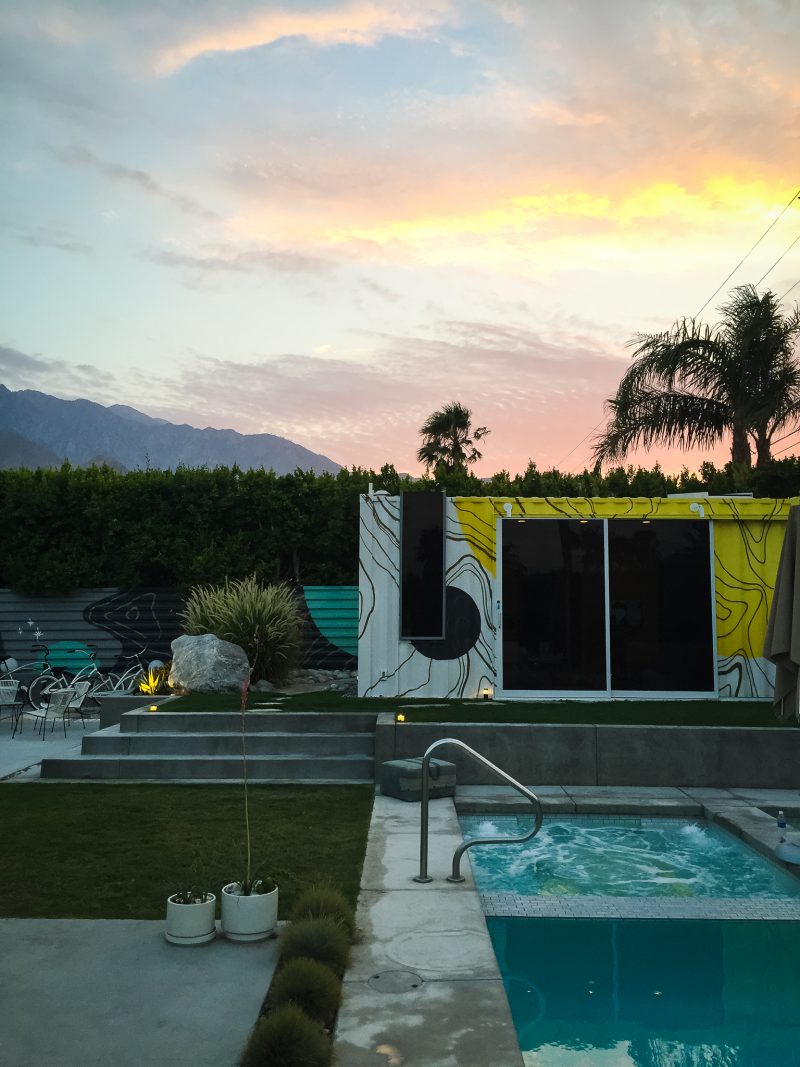 Another perk to staying in a home is coming back to this view after dinner. Not bad, right?!
PALM SPRINGS TRAM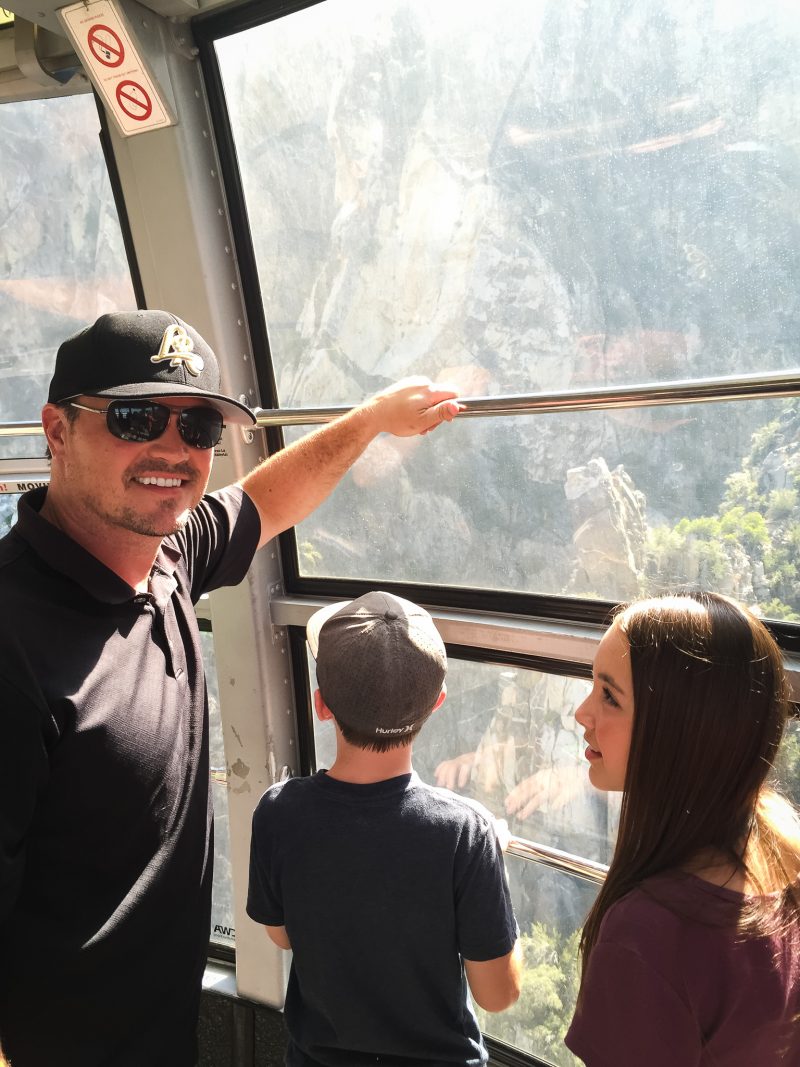 If you have never taken the tram to the peak of San Jacinto I highly recommend it. Holy cow, it's nuts!!!! It's the largest rotating aerial tramway the world and will take your breath away. Once at the top, the elevation is over 8,500 feet and you can enjoy the views, grab something to eat or hike the day away. It's 20 degrees cooler so believe me, the 85 degrees felt amazing.
If you only have a short window of time, you can park, take the tram up and down and the entire event will be under an hour. So worth it. Of course you can spend hours up there, too. The prices do go down after 4:00 and the tram is only a ten minute ride and they leave the station every 15 minutes. I was very impressed with how organized and easy the experience was.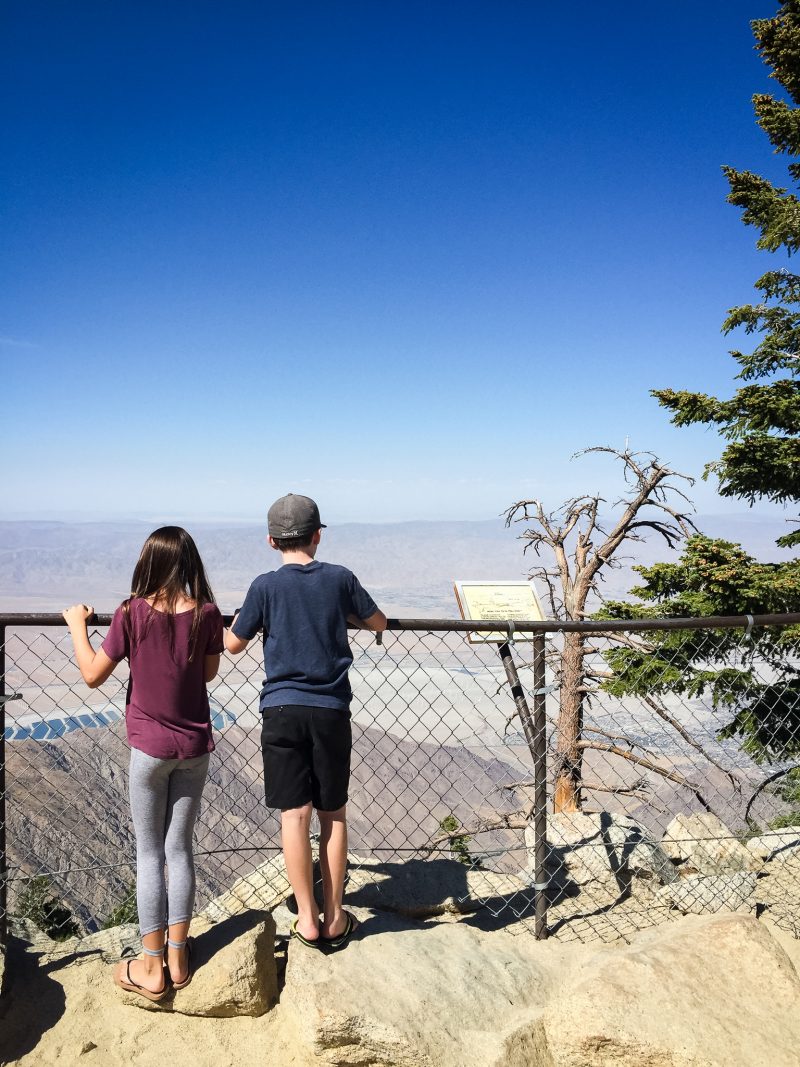 At 8,500 feet there are views for days! So much fun for these two to see. The house we were staying in is only five minutes away from the tram so it was back to swimming in the pool in no time!
DATE NIGHT OUT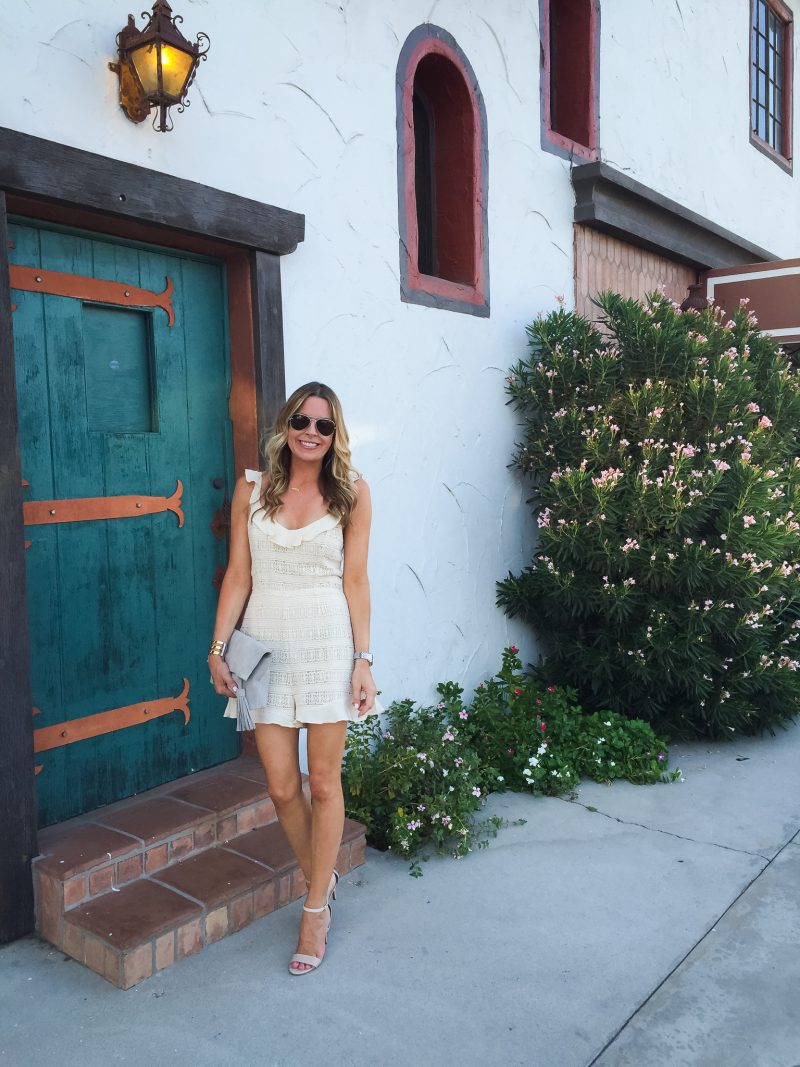 romper and heels (both on sale)
That night, we were so blessed to have dear friends come and spend time with our children. Friends of my parents, who I have known my entire life, live about 30 minutes away and graciously came to the house so we could sneak away. The came armed with pizza and games for the kids and it was so special for me to see them with our children. Between swimming, chatting away and games, the kids had a ball.
WORKSHOP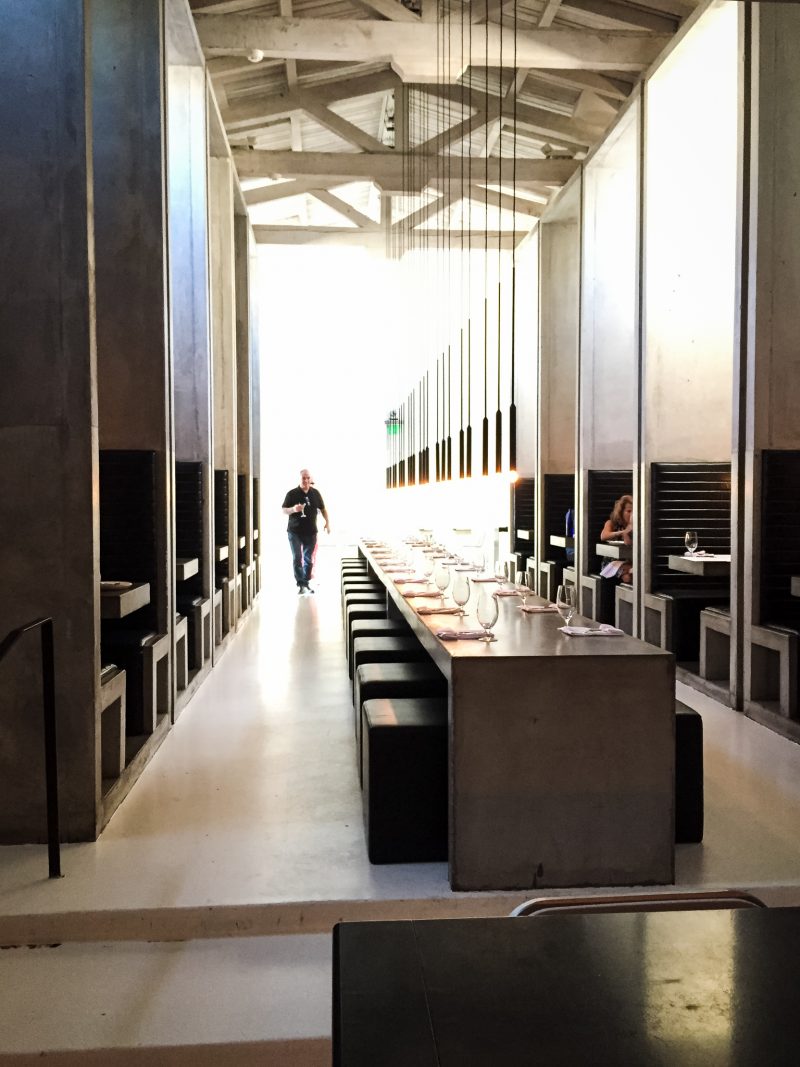 The owners of the home recommended Workshop Kitchen + Bar and they were right. First of all the interior will take your breath away. There is something so unique and different about it. The restaurant is lined with private booths while the center boasts a community style table. Definitely make a reservation and request a booth if you like a little bit more of a private setting (and back on your chair).
A refreshing cocktail at the bar was just what we needed. So much fun and a truly delicious restaurant. Unfortunately we didn't save room for dessert but were told the almond cake is not to be missed. Next time!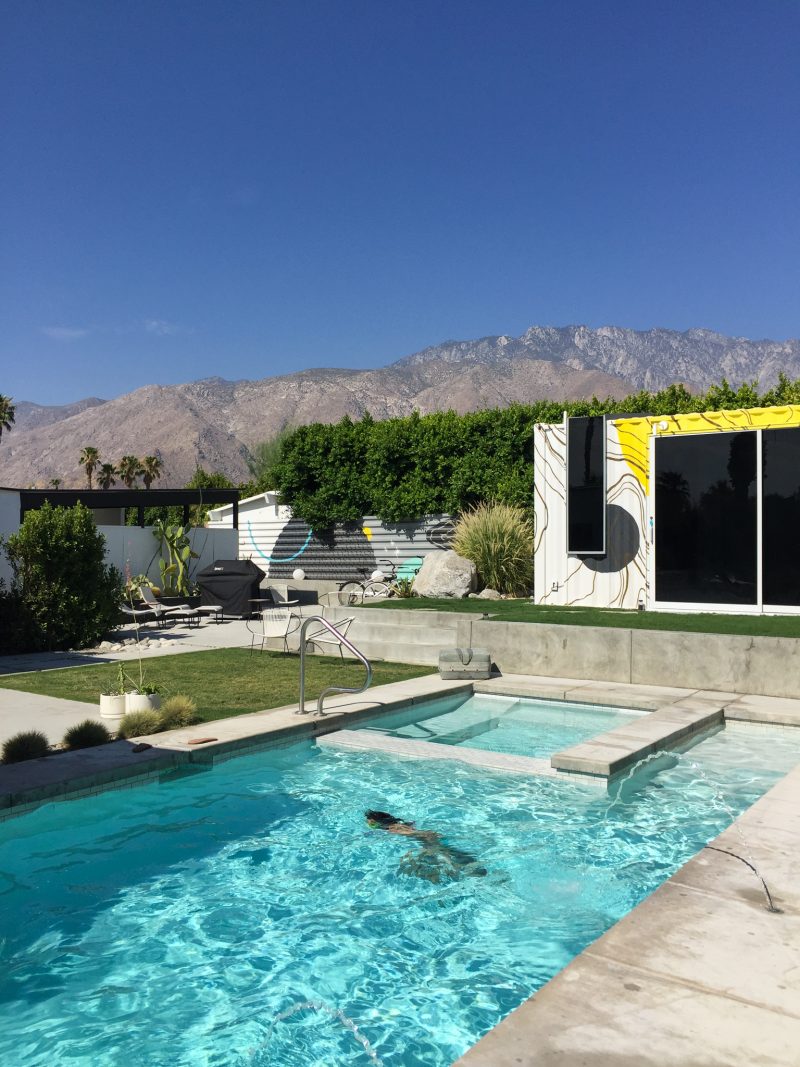 All in all, this was a great summer vacation and we couldn't ask for a better place to stay. You better believe my children are begging for a pool now. Early morning laps and late night swim sessions seem to agree with everyone.
You can find out more about The Butterfly House here. 
To read more about places we have traveled, check out this tab or see some viewer favorites below.
Temecula Valley | Napa Valley | San Francisco Day 1 | San Francisco Day 2