This weekend we tried a new slow-cooker recipe. It was so nice to have Saturday's dinner finished by noon. We were able to enjoy the day and have a yummy smelling soup cooking for most of it. I feel like most people who use a crockpot have already done a soup like this, but I am just getting into this whole thing. I found one that sounded delicious (and easy) and I adapted it to fit our family.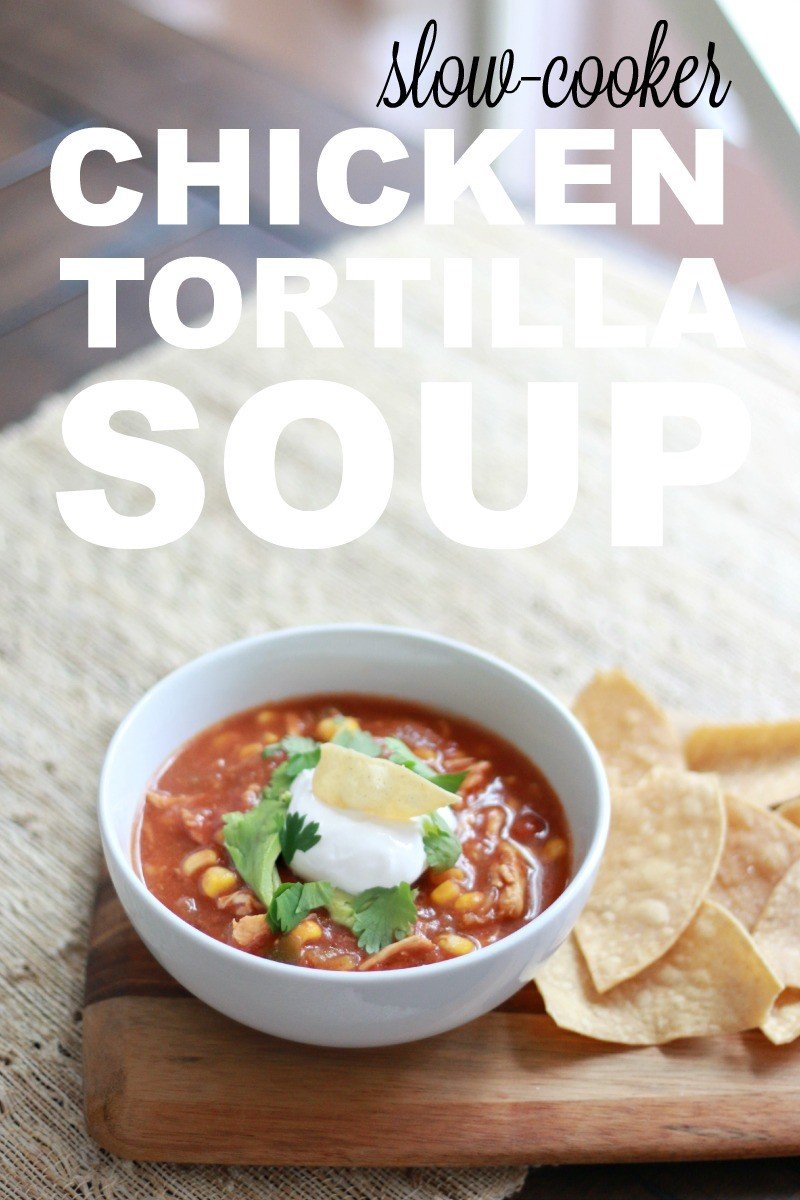 This was a crowd please for sure. Everyone had seconds. I served it with a green salad and tortilla chips.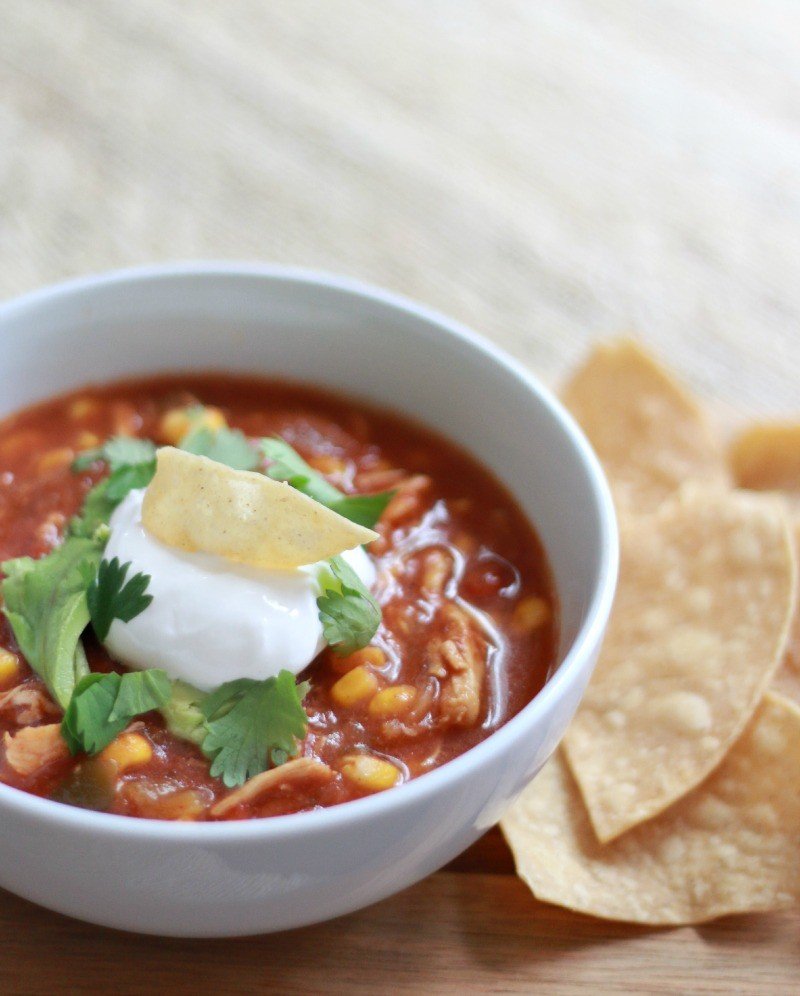 Slow-Cooker Chicken Tortilla Soup
INGREDIENTS:
1.5 lbs chicken breasts
1 can (15 oz) whole peeled tomatoes mashed
1 packet of enchilada sauce or 1 jar
1 4 oz can of green chile peppers
1 medium onion chopped
2 cloves garlic minced
20 oz low sodium chicken broth
tsp chili powder
1 tsp cumin
1 bay leaf
1 cup frozen corn
1 can of black beans (drained)
1 Tbsp. cilantro + more for serving
1/4 tsp of black pepper
vegetable oil (optional to make own chips)
corn tortillas(7) to make your own chips or store bought chips
sour cream, avocado and cheese optional for serving (but so yummy)
DIRECTIONS:
place raw chicken breasts in slow cooker
add all of the ingredients and stir
cook on high 3-4 hours or low 6-8
after about 2 hours, remove the chicken, shred and place back in the soup
NOTE: The original recipe called for a jar of enchilada sauce. I knew my children liked the one made from the packet (Lawry's) so I made that in a pan first and then added it to the soup. I didn't want to take a chance on a sauce we hadn't tried yet. Go with what your family likes!
Optional: Make your own tortillas. Heat oven to 400 degrees. Lightly brush both sides of tortillas with vegetable oil. Cut into strips and place on baking sheet. Bake until crisp, about 10-15 minutes. Serve on top of soup.
*Original source of recipe via allrecipes. I made changes to make it work for us.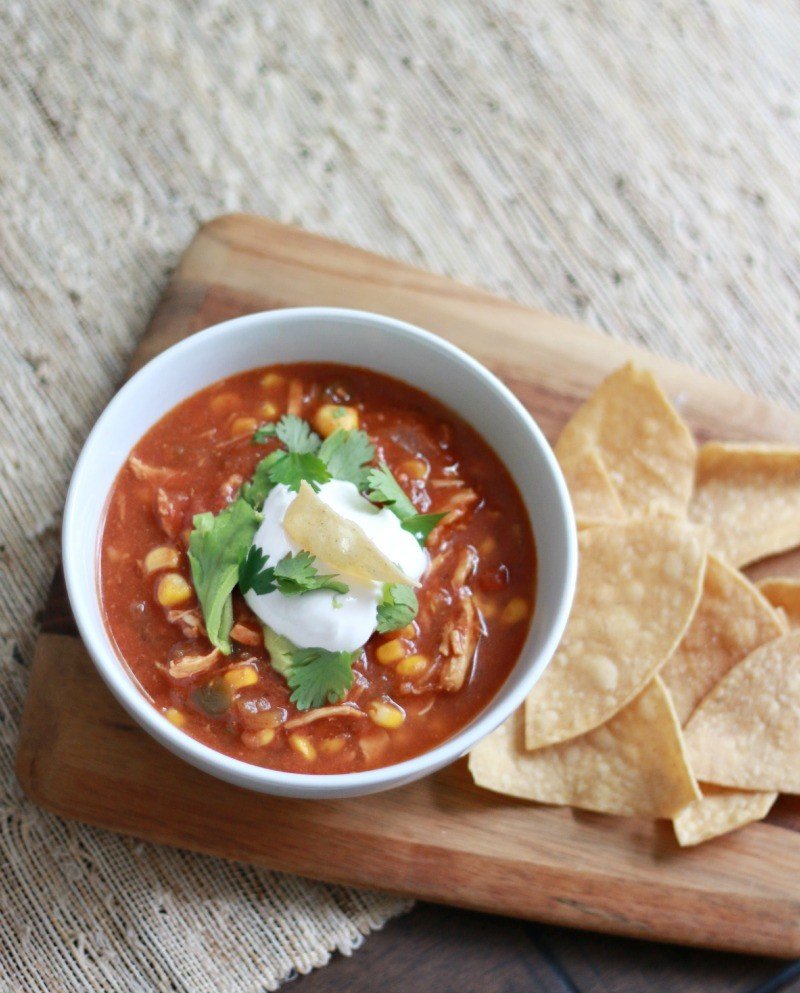 The original recipe did not call for black beans but I wish I had added them. The soup was really delicious. My whole family loved it. You will need to add more spice if you like things with some heat. I chose to keep it mild for the kiddos. It was delicious with sliced avocado, a spoonful of sour cream and cilantro. So yummy. We already had fresh tortilla chips on hand (from watching football) so we served the soup with those rather than making our own.
In general, I am horrible about remembering to pin to Pinterest, but I have this "Yummy" board where I will pin my recipes if you like checking out Pinterest.
Other Slow Cooker Recipes
More Scrumptious Dishes
Chicken & Vegetable Lettuce Wraps
Meat and Cheese Platter {with how to video}
*always looking for tried and true slow-cooker recipes so if you have a favorite feel free to email me at athoughtfulplaceblog@gmail.com