It's been a bit since I tried out a new recipe. I whipped out my trusty Make it Ahead cookbook by Ina Garten and tried her stuffed zucchini. It was really funny because the kids were at school, I had a candle lit, prepped all of my ingredients and then it all fell apart. Not the recipe, but the kitchen. I was a hot mess. You know when you start multi-tasking and it doesn't quite work. I was trying to unload the dishwasher while waiting for things to cook. Then I took so long the kids walked in and wanted their snacks. Needless to say I picked the wrong time to make this dish but it's DELICIOUS. Thank goodness. And it's not difficult if you actually focus on the task at hand!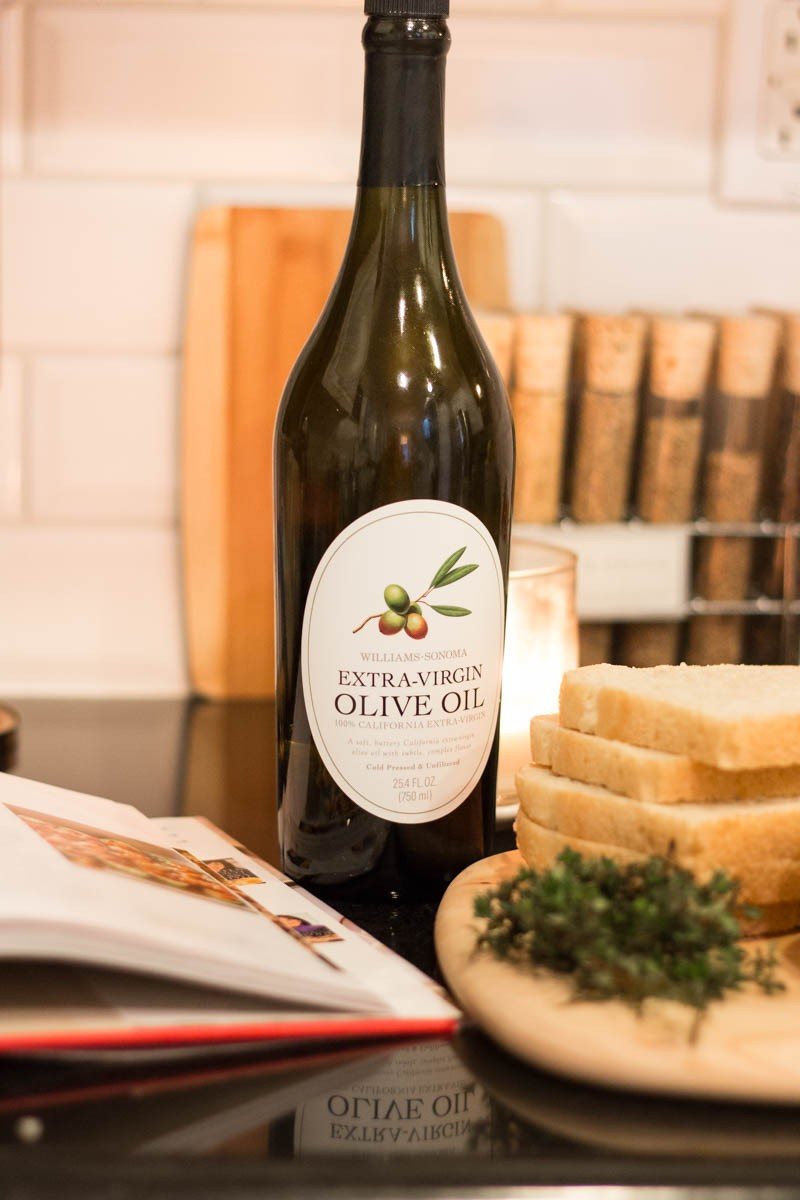 Have you noticed that when Ina Garten cooks she always says good olive oil? Well over the years I have come to learn it does actually make a difference in the taste. This is one I highly recommend. It was given to me as a hostess gift and I am so grateful otherwise I would not have tried it. It's really good. (And what a great idea to bring someone as a hostess gift with a pretty bow tied around it).
STUFFED ZUCCHINI by Ina Garten
INGREDIENTS:
5-6 small zucchini, trimmed ( 1 1/2 pounds total)
Good olive oil
1 cup (1/2-inch-diced) sourdough bread, crusts removed
1/4 cup sliced scallions, white and green parts (roughly 2)
1 1/2 cups (1/2 inch diced) tomatoes
2 teaspoons minced fresh thyme leaves
2 teaspoons minced garlic (2 cloves)
2 tablespoons freshly grated Parmesan cheese
Kosher salt and freshly ground black pepper
1 1/2 cups grated Gruyere cheese (4 ounces)
DIRECTIONS:
You can make this ahead and refrigerate up to 6 hours. I made it in the afternoon and baked it right before dinner.
Preheat oven to 450 degrees.
Fill a large pot with water and bring to a boil. Add zucchini and simmer for 8-10 minutes, until tender. Remove to a plate lined with paper towels (or a towel). When cool enough to handle, cut the zucchini in half lengthwise, scoop out the seeds with a small spoon, and place, cut side down, on the paper towels.
Meanwhile, heat 2 tablespoons of olive oil in a small (8-inch) saute pan, add the bread cubes, and cook over medium-low heat for 5 minutes, tossing frequently until golden brown.  Transfer to a medium bowl. In the same pan, heat 1 tablespoon of olive oil, add the scallions, tomatoes, thyme, and garlic, and cook over medium heat for 5 minutes, tossing frequently.  Add to the bowl with the bread cubes.  Add the Parmesan, 1 1/2 teaspoons salt, and 1/2 teaspoon pepper and toss gently.
Place the zucchini snugly in a 10 x 14 inch rectangular baking dish in one layer, cut sides up.  Sprinkle with 1 1/2 teaspoons salt and 1/2 teaspoon pepper.  With a small spoon, fill the cavities with the tomato and bread mixture.  Sprinkle with the Gruyere and bake 10-12 minutes, until lightly browned.  Serve hot.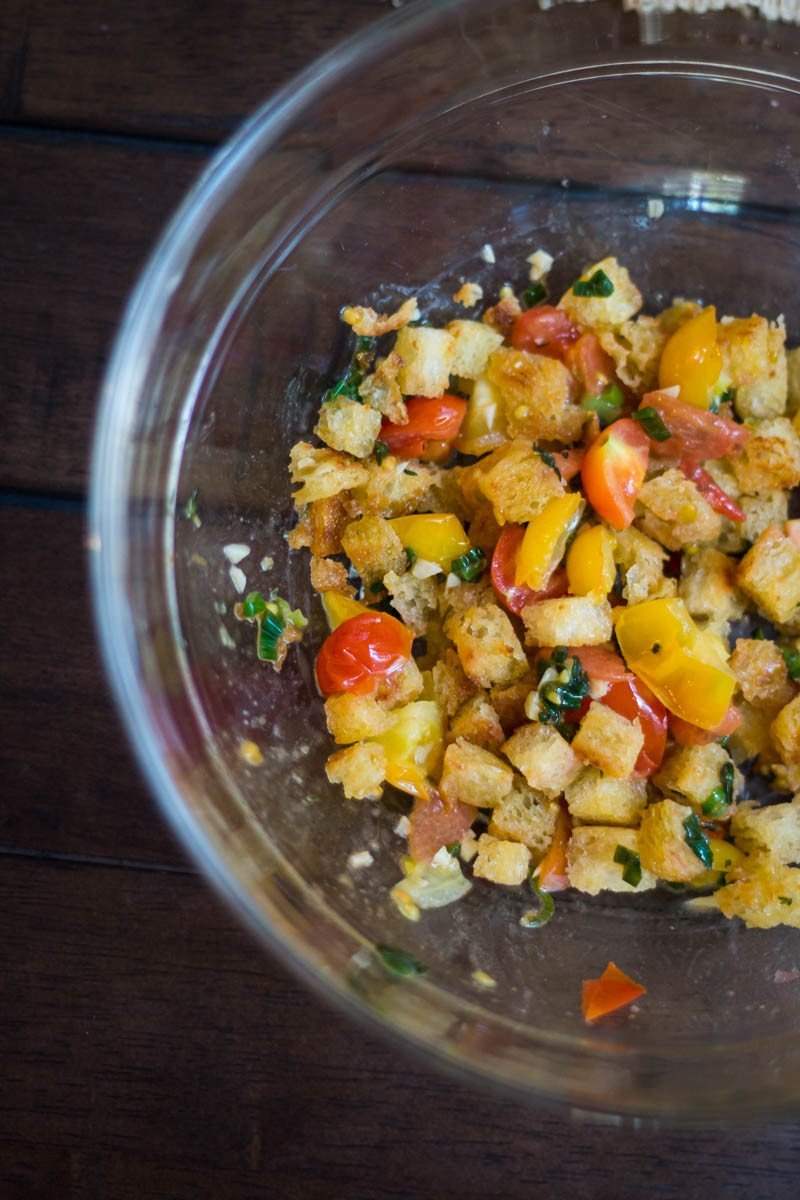 This mixture! It's sooooo good. My daughter had just walked in from school when I was completing this step and I let her try it. She wanted to eat the entire bowl. I am trying to figure out how else I can incorporate this into another dish. Let me know if you think of something. It's fantastic. And it surprised me. As I was making this, I was skeptical whether it would be very good. I shouldn't doubt Ina. Delicious.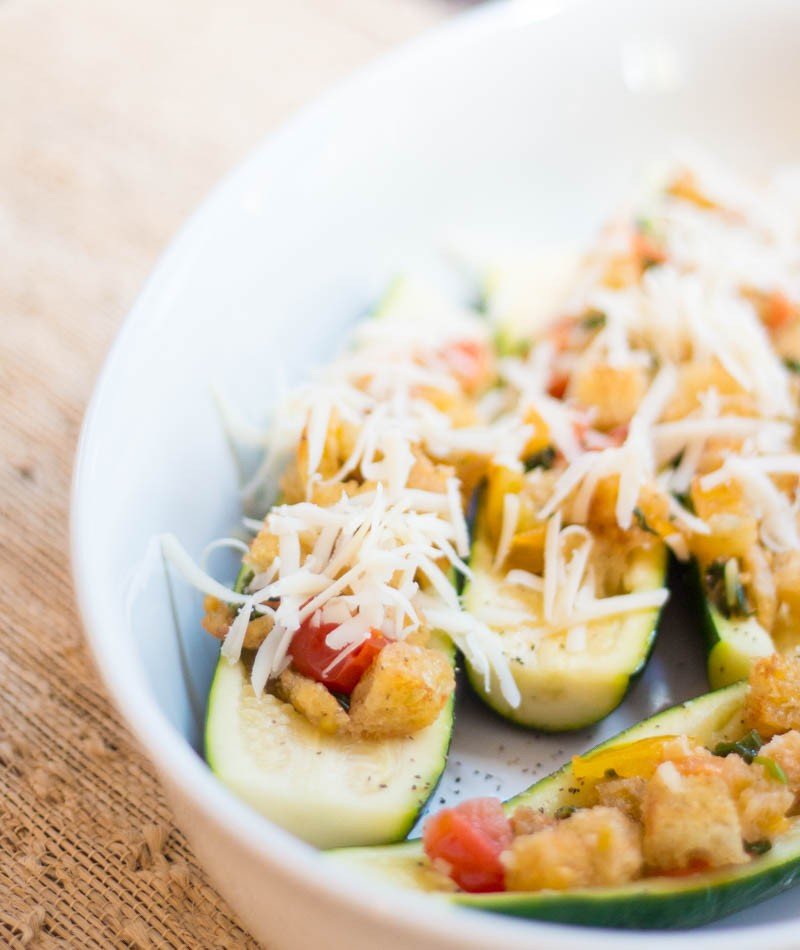 Here is how they looked prior to placing in the fridge for a few hours. Because I made them ahead of time, I covered and baked a few hours later. The only thing I left out was the Parmesan. We are not huge fans in this house. I also made one without Gruyere as my daughter does not care for cheese (is she really my daughter?!!!). I also didn't quite read the memo on small zucchini so I used large ones and it made half as many. Having said that, it was a perfect amount for our family.
I am so sorry about the iPhone after shot but we were running late with dinner (it was almost 7:00 because of after school activities) and I didn't have the heart to stop and make the family wait. We served this with grilled chicken and quinoa. And it was a HUGE HIT. My daughter called it a 10 and my son a 9! That's big. I will definitely make this again. It has so much flavor and would be great as a vegetable when you entertain. So much more interesting and fun than your average vegetable.
KID TIP: I called them Zucchini Boats and let my children pick them up at eat them with their hands. Normally we wouldn't but they thought it was super cool.
COOKING TIPS: I used red and yellow tomatoes as I love the idea of lots of color. It always helps the kiddos when I am serving up vegetables because the color looks great on the plate. The only bummer part about this recipe is that I have an entire loaf of sourdough bread leftover. I only used 3-4 slices. We are not a huge bread family so I think I will make some more croutons to have on hand. So buy the smallest loaf available or plan on freezing what remains.
Let me know if you give it a try. I am trying to prep either a side dish or the main dish during the day when the kids are in school. It frees up more of my evening and then I just worry about a quick salad or putting something on the grill. And I am more apt to try new things when I am not so tired in the evening.
More Scrumptious Dishes
Classic Chicken and Dumplings Soup
Chicken & Vegetable Lettuce Wraps
Meat and Cheese Platter {with how to video}