Good morning. Last week we headed out to Utah to explore Zion National Park and Bryce Canyon. The stay at home order took a toll and our troops needed a change of scenery. Without question, it was one of the most beautiful trips we have ever taken. I can't say enough great things about it. If it's on your bucket list, I am hoping that sharing our adventures helps you plan your own journey to Zion.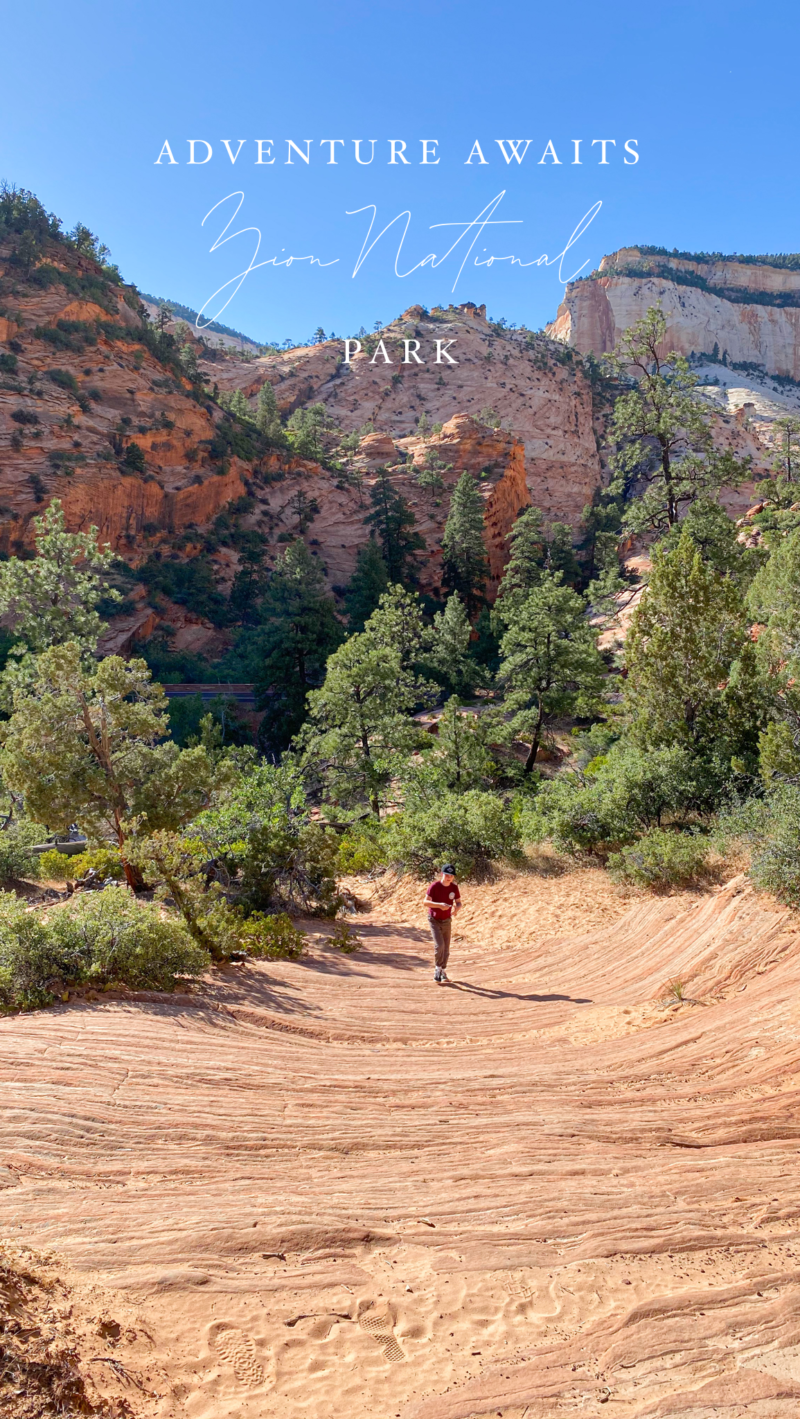 Photos just don't do it justice. Around every turn you spot more of God's beauty and creation. I loved watching the kids explore and take it all in. Being immersed in nature was good for our mental health, that's for sure.
SWEET TREAT STOP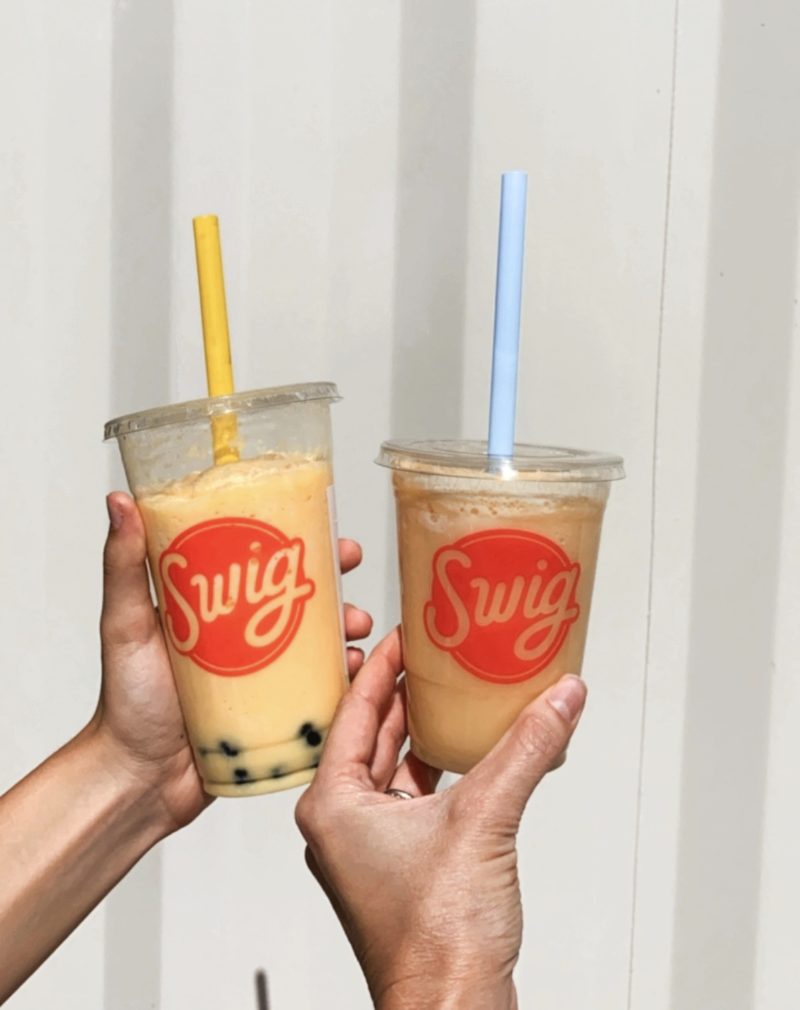 Because we drove from California (via the 15 ), it took us right through Saint George, Utah. It's about an hour outside of Springdale so it was a great stop for something sweet. It was recommended to us by friends and it really is a fun drive through soda shop right near Dixie University.
SPRINGDALE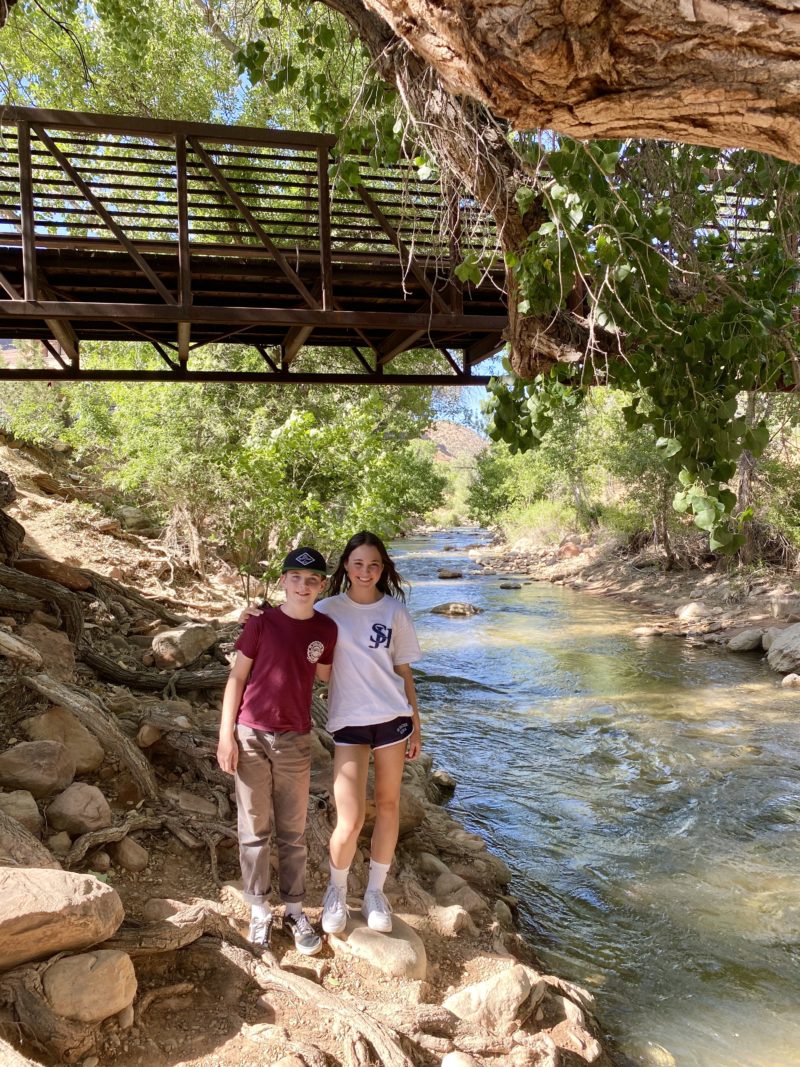 We pulled into Springdale (just outside of Zion National Park) to stretch our legs and rent our hiking gear from Zion Outfitters. They have a very small grocery store in case you forget something. I wouldn't bank on it to provide you with everything you need for your trip.
WHERE WE STAYED
A family we know and love stayed here twice and after talking with her, I knew it was the right spot for us. There are many places to choose from, but we wanted to stay somewhere that felt off the grid. The ranch is such a change of scenery for us and just what we were craving.
THE GROUNDS
The property is absolutely beautiful. That is the cabin we stayed in. The views, sounds of nature, and peaceful vibe take your breath away. This is the place to stay if you are wanting to truly feel away. This rustic and charming spot isn't apart of the hustle and bustle and feels like a breath of fresh air.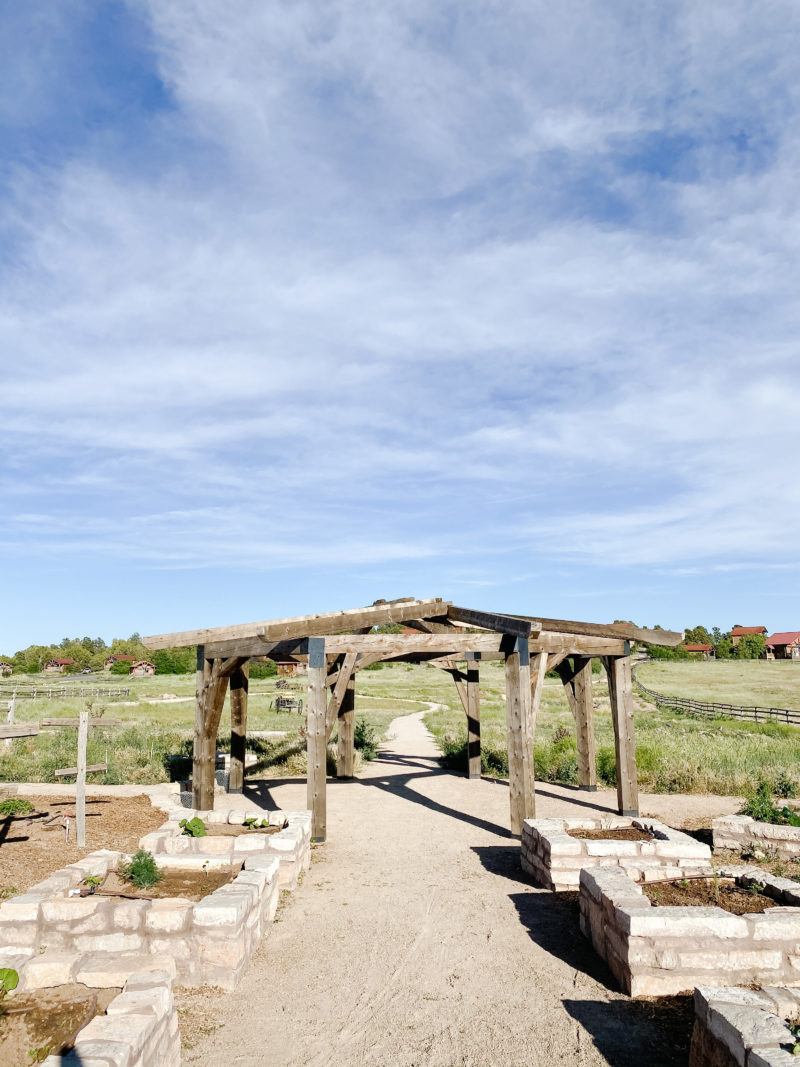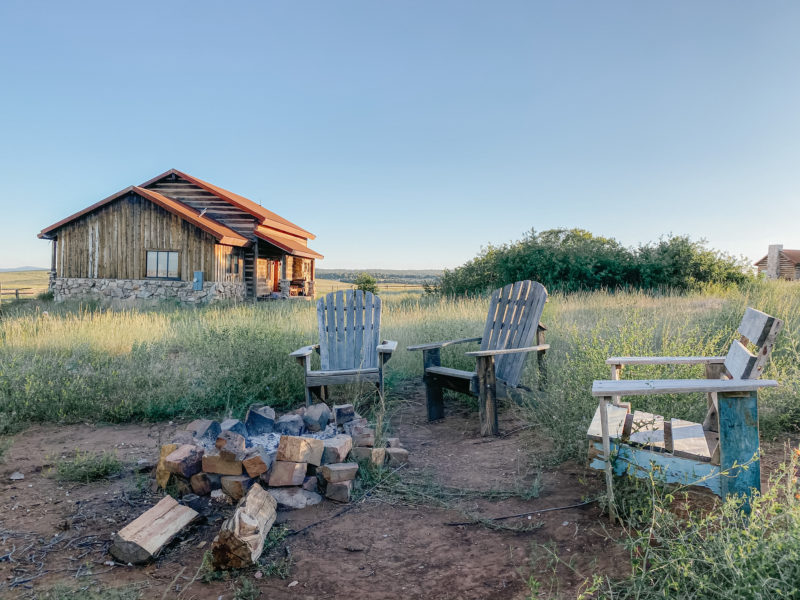 WHAT TO PACK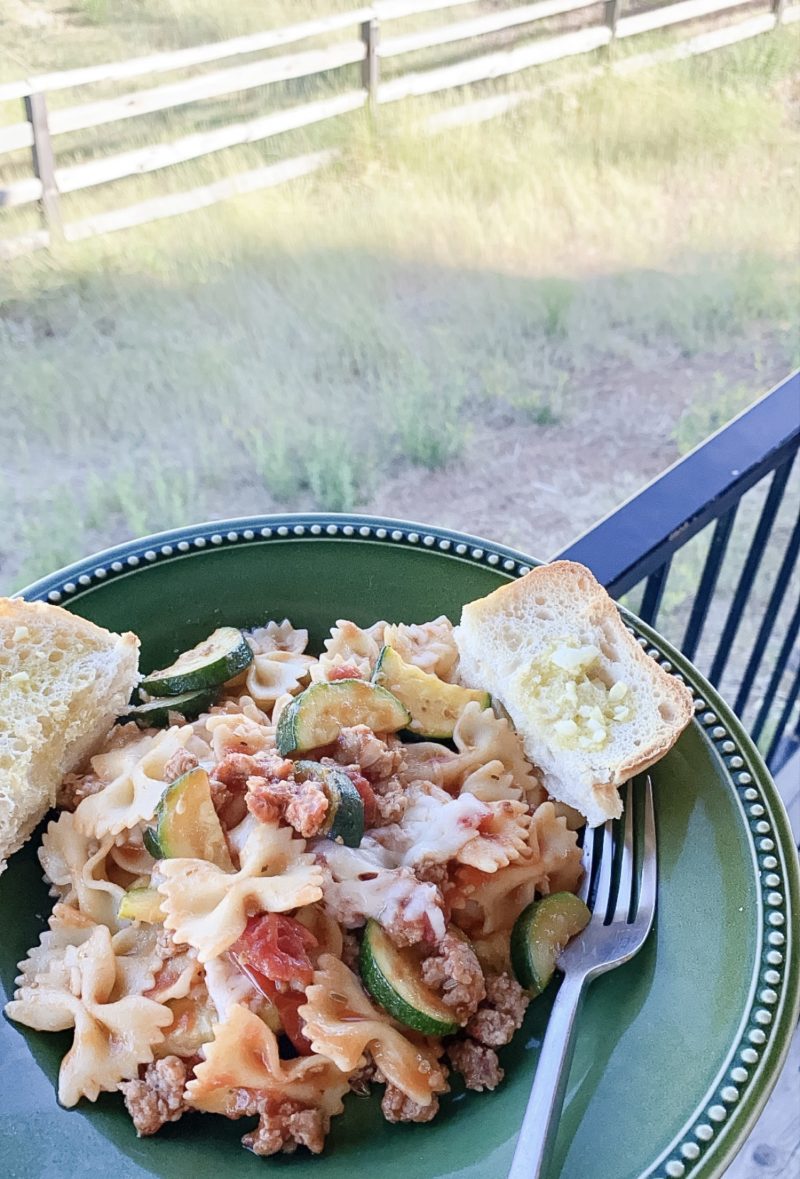 We really wanted to rent a place with a kitchen. Some of the cabins have them and some do not (so be sure to check). It was wonderful to be able to come back after a long, adventurous day and cook a simple meal. We ate outside each night and just enjoyed the quiet. This is the cooler we packed. It's a work horse and not very expensive. It still had ice cold water in it when we left days later. We packed food for dinners, cereal, milk, eggs, drinks and enough food to take on our hikes. Plus a few simple things like chips and guacamole to have in the afternoon. We were also really happy we brought the following:
Uno and playing cards
bottle of hand soap for the kitchen, sponge
first aid kit
extra sneakers (they get crazy dirty)
flip flops for just hanging out at the ranch
comfy clothes for the evening (sweatshirts)
workout clothes for during the day (shorts are preferred)
sunscreen, chapstick and lotion (it's very dry)
plastic bags for snacks and lunches
kitchen supplies: foil, salt & pepper, olive oil
My daughter loves to bake so she hooked us up with chocolate chip cookies and snicker doodles the day before we left. It was nice to have a few sweets in the house.
Of course if you stay in a hotel you won't need most of that but hope it's helpful if you rent a cabin.
PLACES TO STAY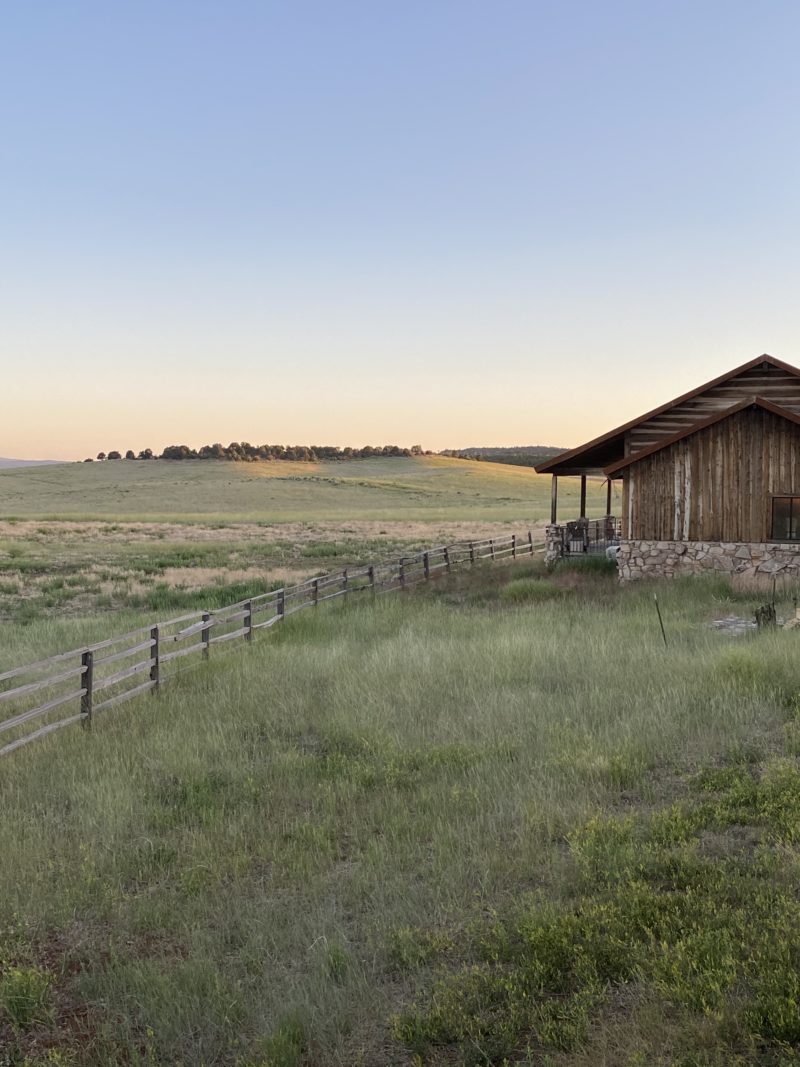 Between myself and two dear friends, we've stayed in all of these and highly recommend. They have nothing but great things to say about Zion Lodge and the Hilton. Both awesome locations.
ZION NATIONAL PARK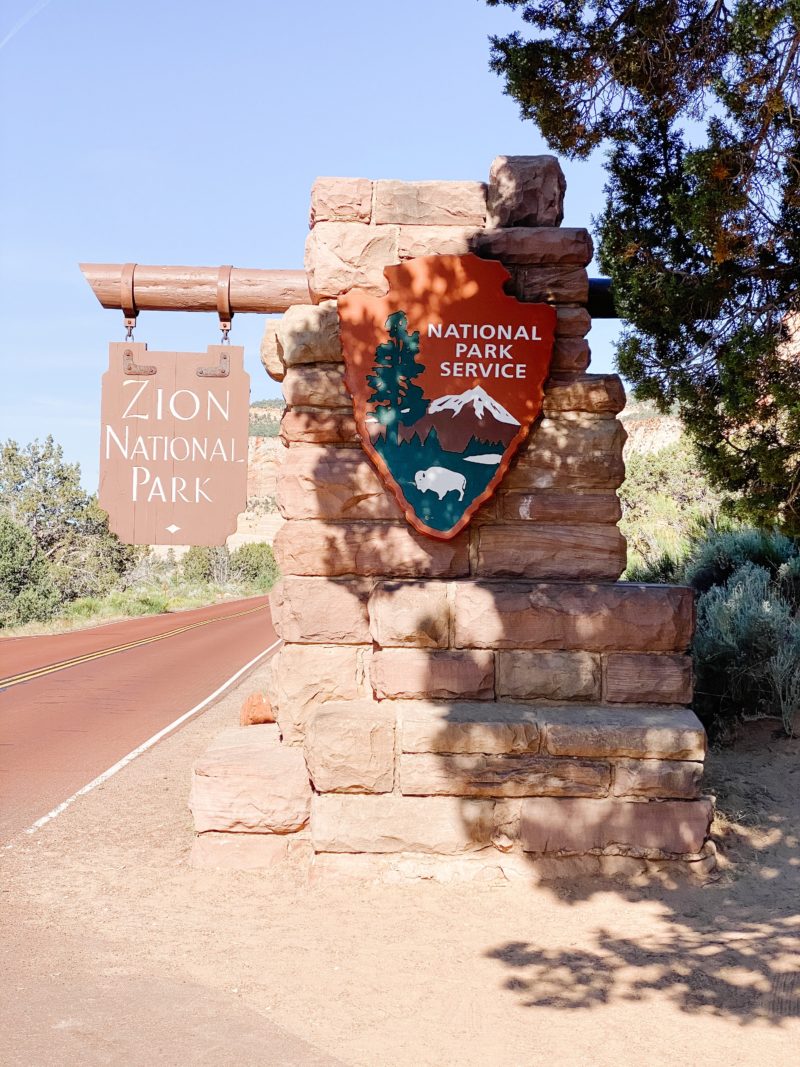 This is the Eastern entrance near the place we stayed. The Southern entrance is the one closest to Springdale and the famous scenic drive. It takes about 30 minutes to drive through the park.
SCENIC DRIVE AND TUNNEL
Because Zion Mountain Ranch is just three minutes outside the Eastern entrance of the park, we were able to drive though each day and it's spectacular. Truly. It really does take your breath away. And there is an historic tunnel that spans over one mile.
HIKING THE NARROWS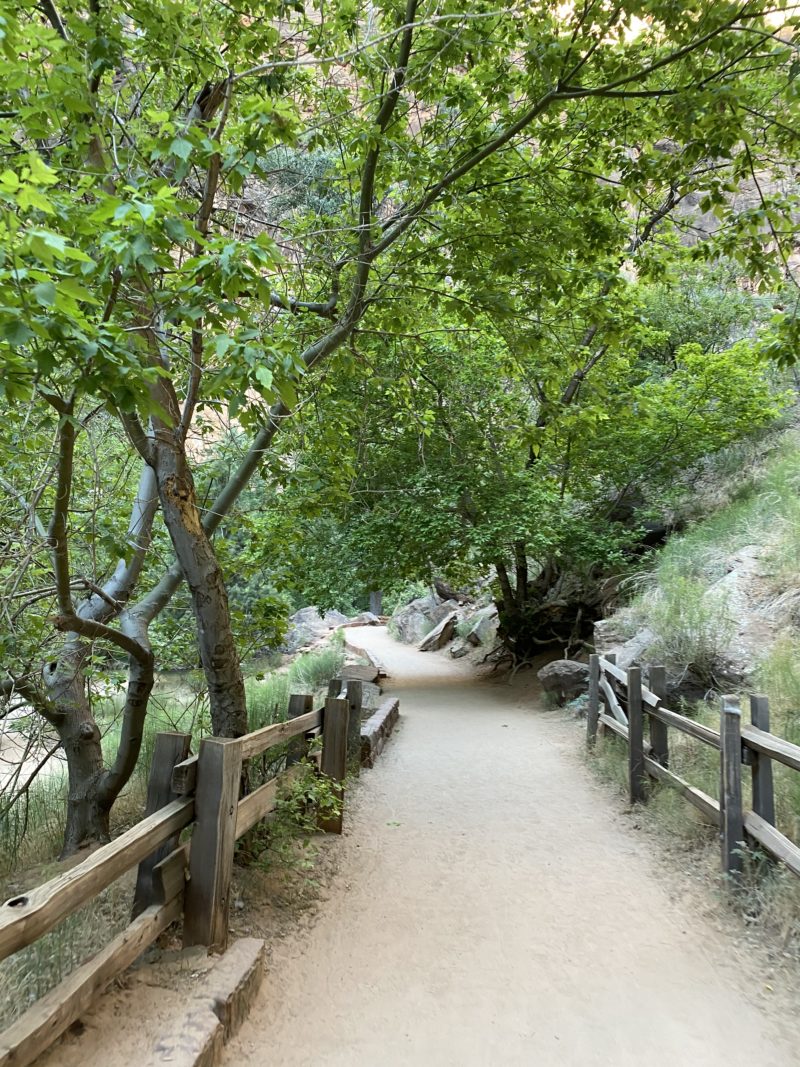 This may be one of our favorite things we have ever done. The photos don't begin to do it justice. The Zion Narrows is rated as one of the top ten hikes on Earth and now we see why. The hike begins at The Temple of Sinawava. The first mile is paved and called The Riverside Walk. Every inch of it is beautiful. If you are worried about younger children, you can do The Riverside walk plus a 1/2 mile walk in the water until Mystery Falls. A great way to experience it and not do anything too rigorous.
PARKING & SHUTTLES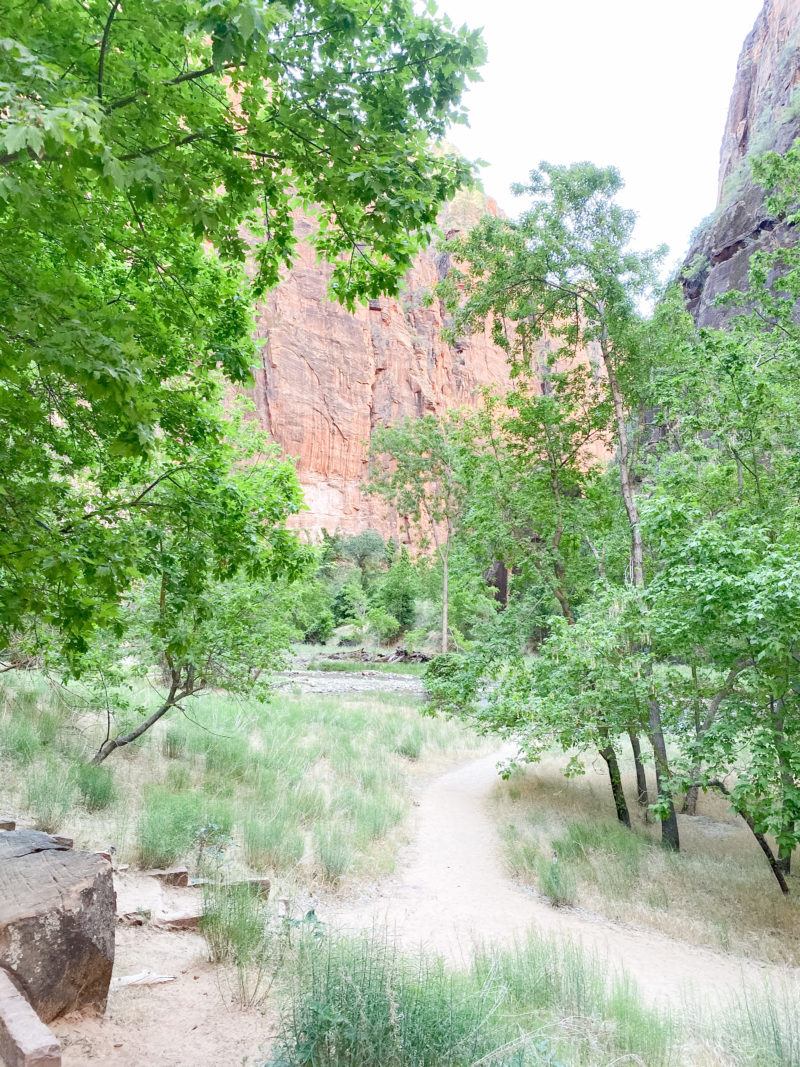 This may have been the number one asked question from our trip. How did you get to the park? Because of Covid-19, the public shuttle services are not running and the scenic drive is closed the majority of the time. Usually, you can turn onto the Scenic Drive (near the South entrance of the park) and drive the three miles into the parking lot and hike the Narrows. You would take a slightly shorter route to get to The Grotto (trailhead for Angels Landing). As of now, they close it once the lot is full. It has been filling up by 4:00 am. There was no way I was going to convince my family to wake up at 3:00 am in hopes of snagging a spot. You could rent bikes and ride those in. If you choose to walk, it's a three mile walk before you even begin the Narrows. Just be prepared for that.
SHUTTLE SERVICES
But not to worry, there is another option. Private shuttles are running. While they will cost you $30 a person, to us it was well worth it. We were able to drive to Zion Outfitters and catch our 8:00 am shuttle. By 8:30 am we were hiking! The only drawback is that you have a five hour window so you are on a bit of time crunch. We used Red Rock Shuttle & Tours. Nothing fancy, but gets the job done.
Red Rock Shuttle & Tours
Zion Guru
Zion Adventures
WHAT YOU NEED
We rented gear from Zion Outfitters. We actually stopped the night before on our way into town. So happy we did that. We rented the "Summer Package" which includes boots, socks, and a walking stick. We were all very happy to have those. The Narrows is a challenging hike (most of which is in water) so the ankle stability of the booties was great. Without a stick, there is no doubt in my mind we all would have fallen numerous times.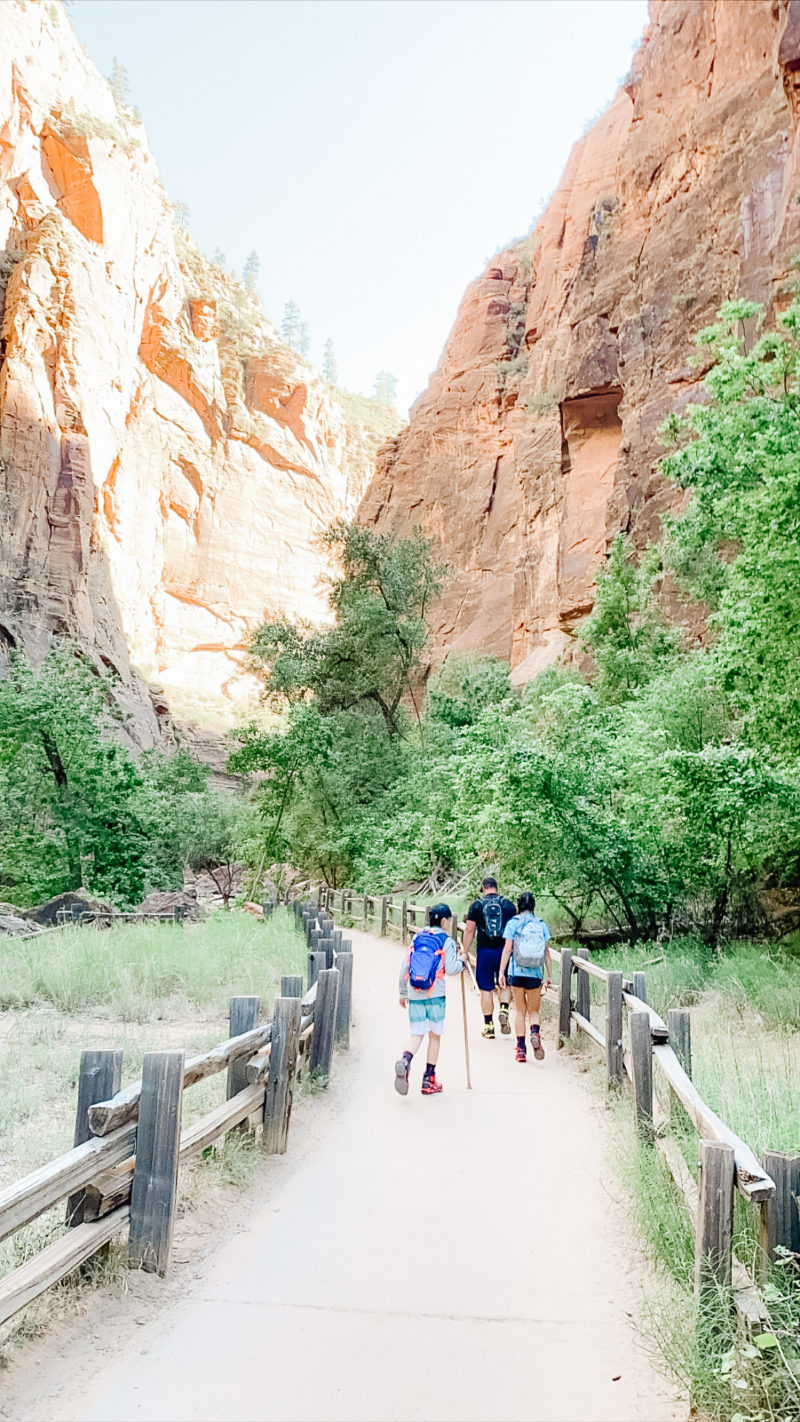 Zion Outfitters was extremely convenient as it's in the parking lot where our shuttle picked us up and dropped us off. So when we were done hiking and the shuttle brought us back to our car, we could slip off our gear and easily return it. There is also a small grocery store in the same center in case you need something.
CLOTHING TIPS
Of course you will want to check the weather. We were extremely fortunate on our trip. The temperature in the Narrows was only 86 degrees the day we hiked. Because we hiked in the morning, we were in the shade 95% of the hike. I was actually cold. I suggest wearing lightweight layers. The water level varies depending on what time of the year you go, but for us, it was never higher than my ribcage. Because you get wet, you'll want to wear clothing that dries quickly. I wore a rash guard to project me from the sun. My son wore a dri-fit pullover with swim trunks and never took it off.
BEYOND BEAUTIFUL
THINGS TO KNOW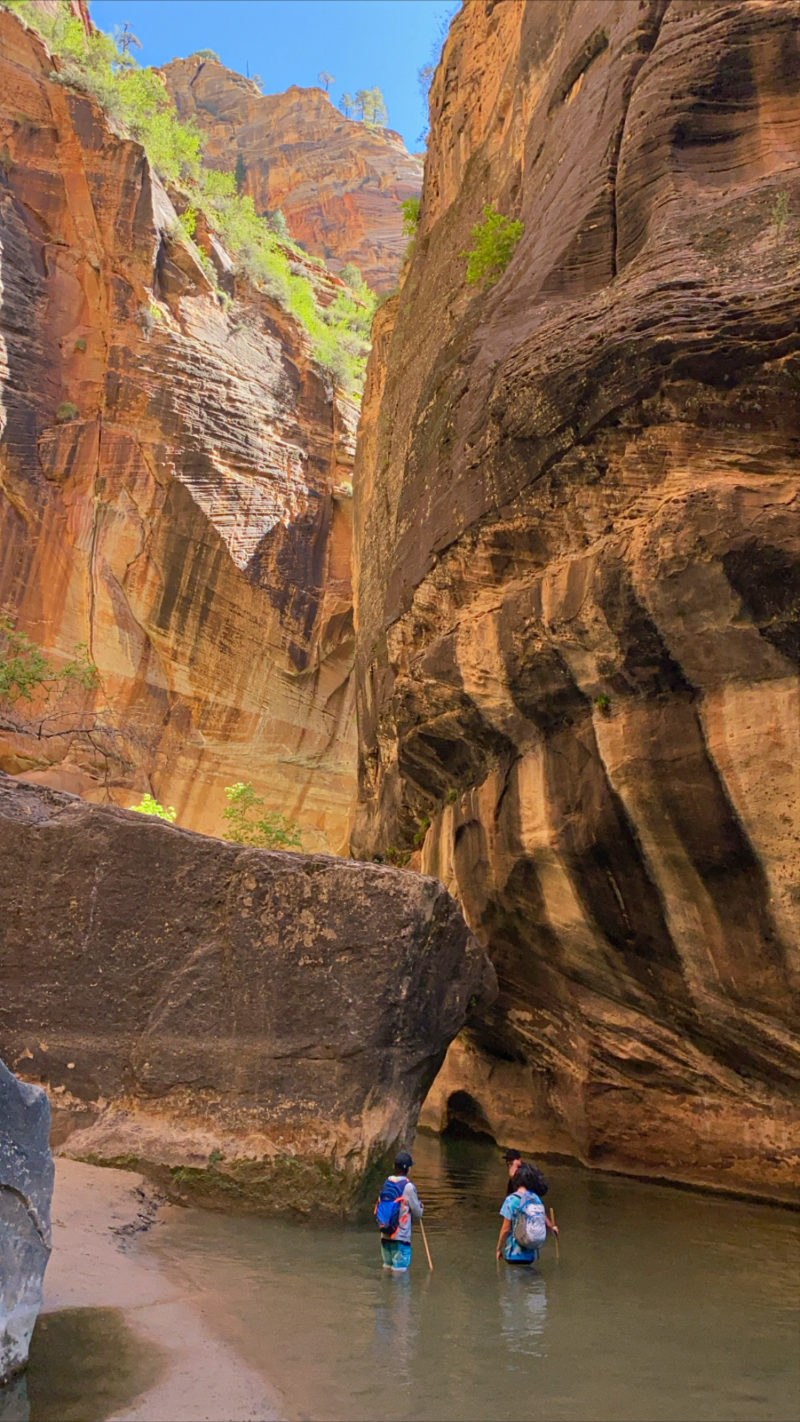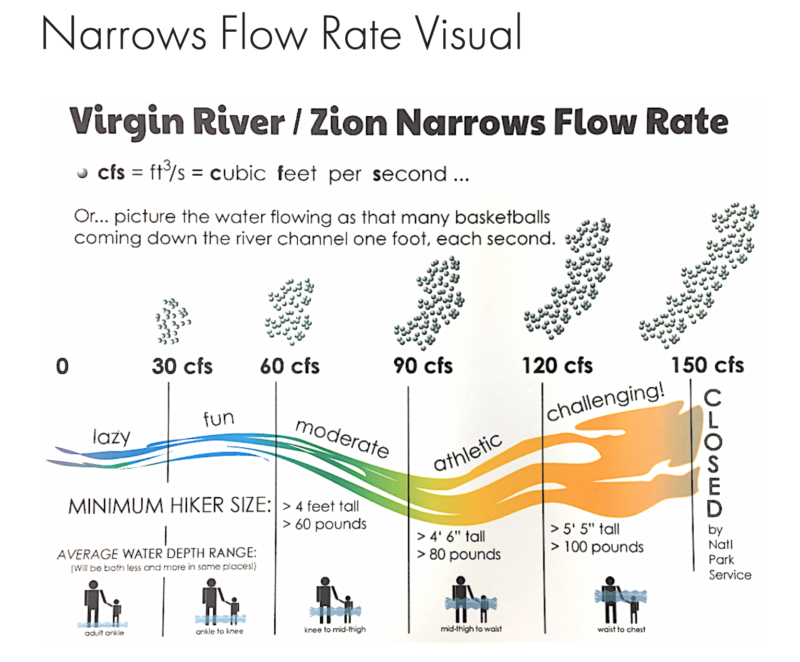 via zion guru
This area can be prone to flash floods. You'll want to make sure nothing is in the forecast. You will also want to know the flow rate of the river. That is extremely important. This is a great chart to keep on you phone so you know what you are getting in to. Literally. The day we hiked the cfs as only 45. That meant it was still in the "fun" range. But the hike still felt challenging so I can only imagine what the "athletic" hike must feel like. Knowing the flow rate as well as the water level will help you determine if everyone in your group is up for the adventure.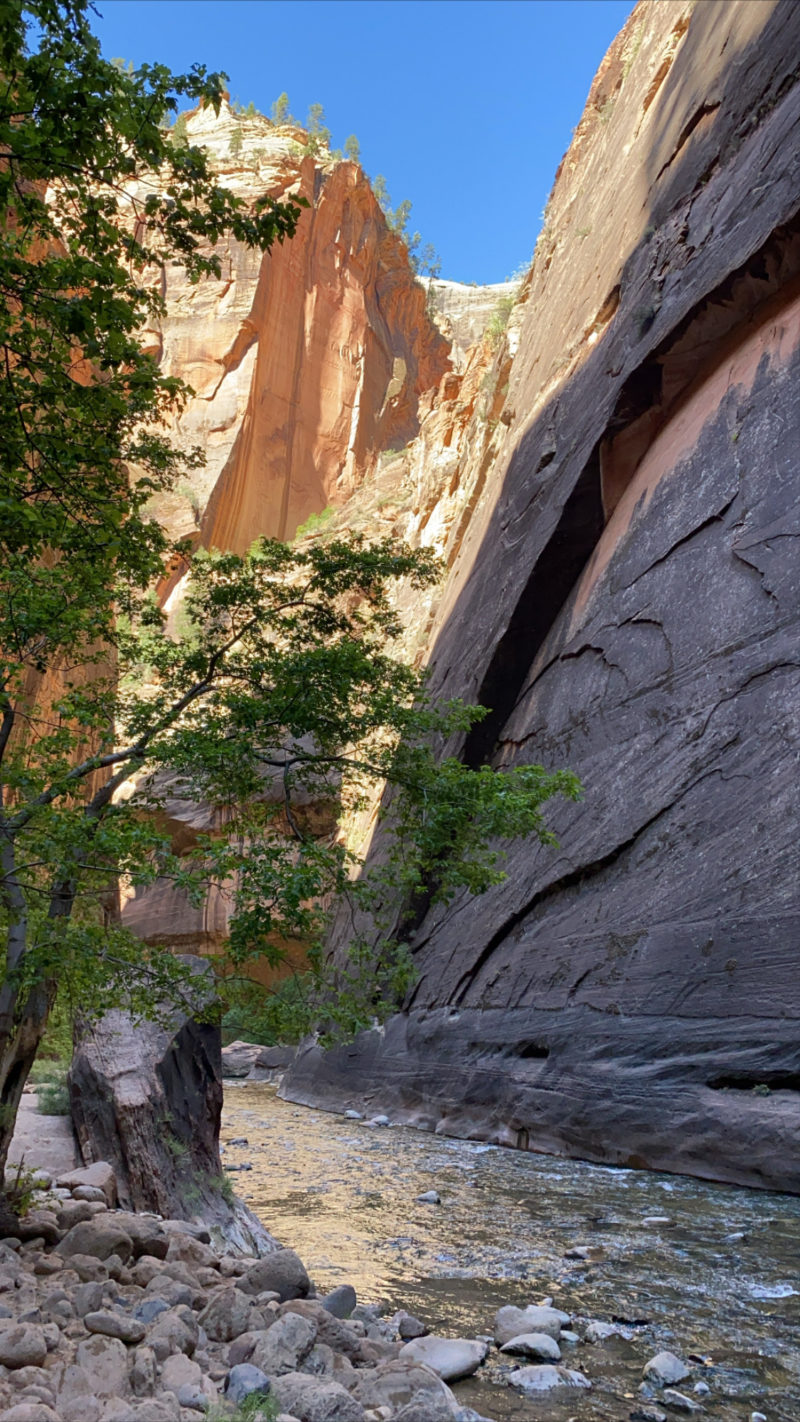 HOW FAR DID WE GO?
We hiked just over 6 miles round trip which means we did make it all the way to Wall Street. If you go the 3 miles in, there is a path to the right, called Veiled Falls, that you can take. I highly recommend it. It's glorious. There is one large step up that is tricky and after that it's quite easy. Definitely worth seeing.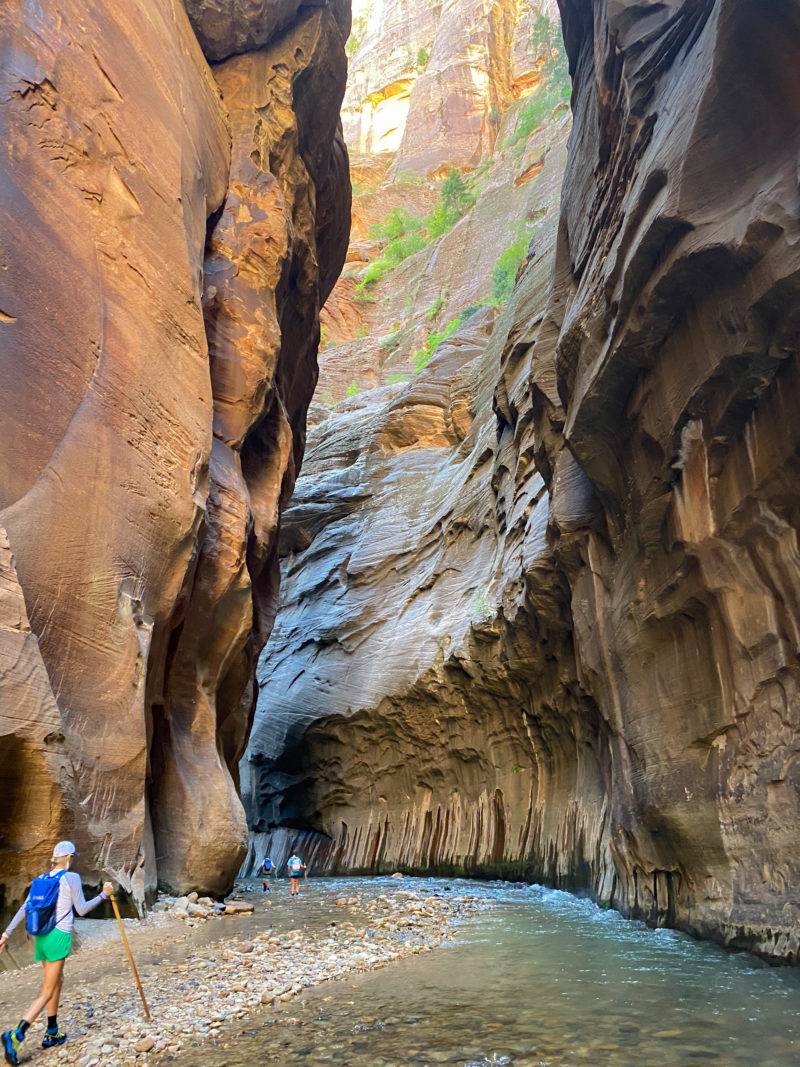 WHAT TO BRING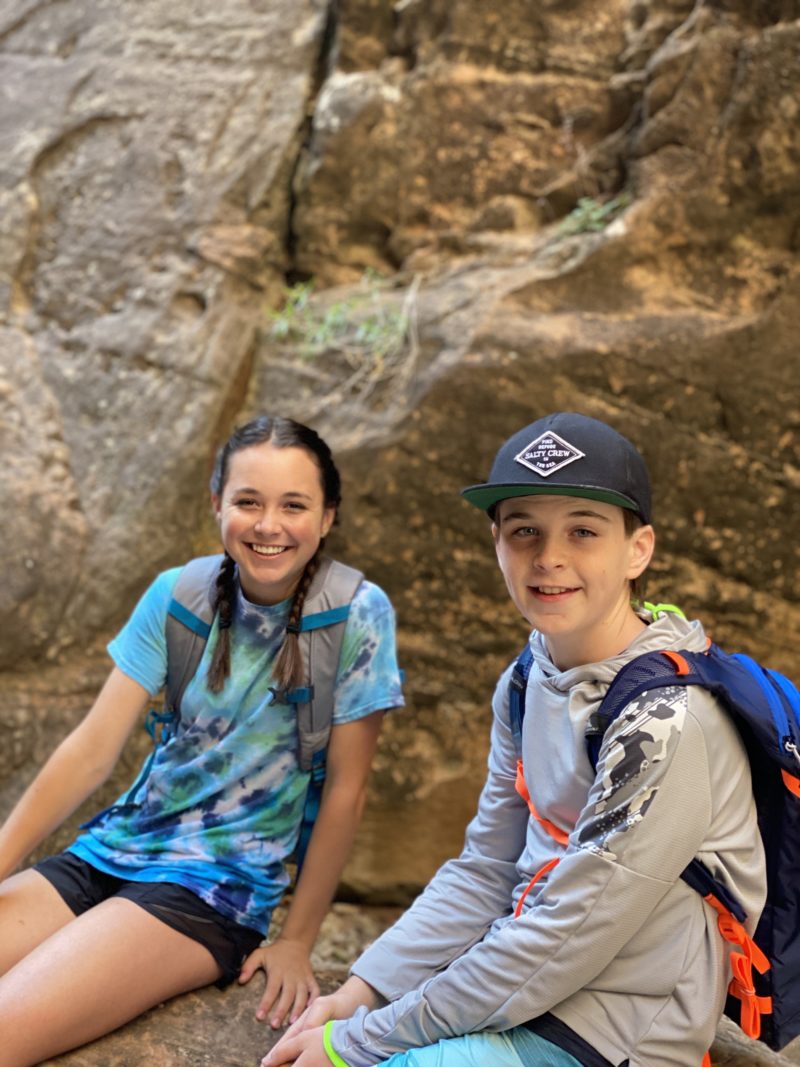 We all wore backpacks. They weren't all waterproof, so we each had a dry bag inside that held our lunch. Here is what we brought:
lightweight backpack
dry bag ( we love these)
water bottle unless it's built in to the backpack
sunscreen
chapstick
food – ie: beef jerky, peanut butter & jelly sandwich, protein bars (but nothing that could melt in the sun)
hat
We stopped once along they way for a snack. We ate the rest of our lunch once we were back and waiting for the shuttle. It was GREAT to have food and water when we were finished with the hike.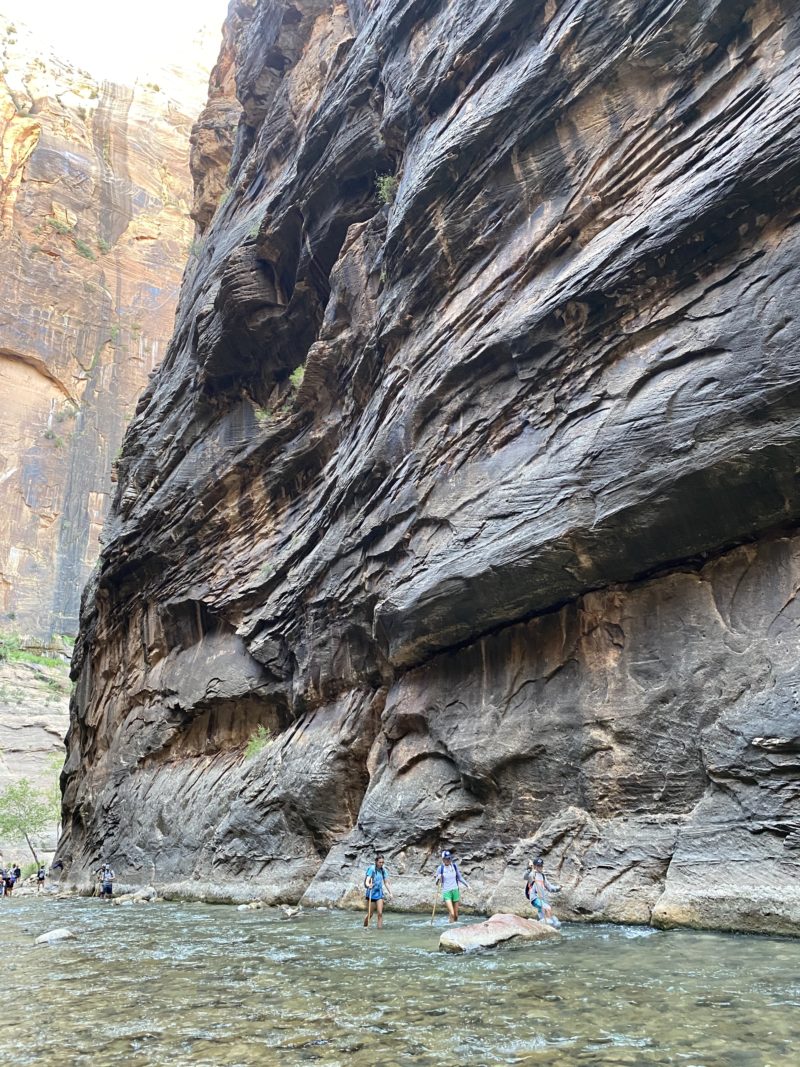 Every time I see these photos, I am struck by how small we look because the walls are 1500 feet tall. The scale of these gorgeous walls along The Virgin River is out of this world.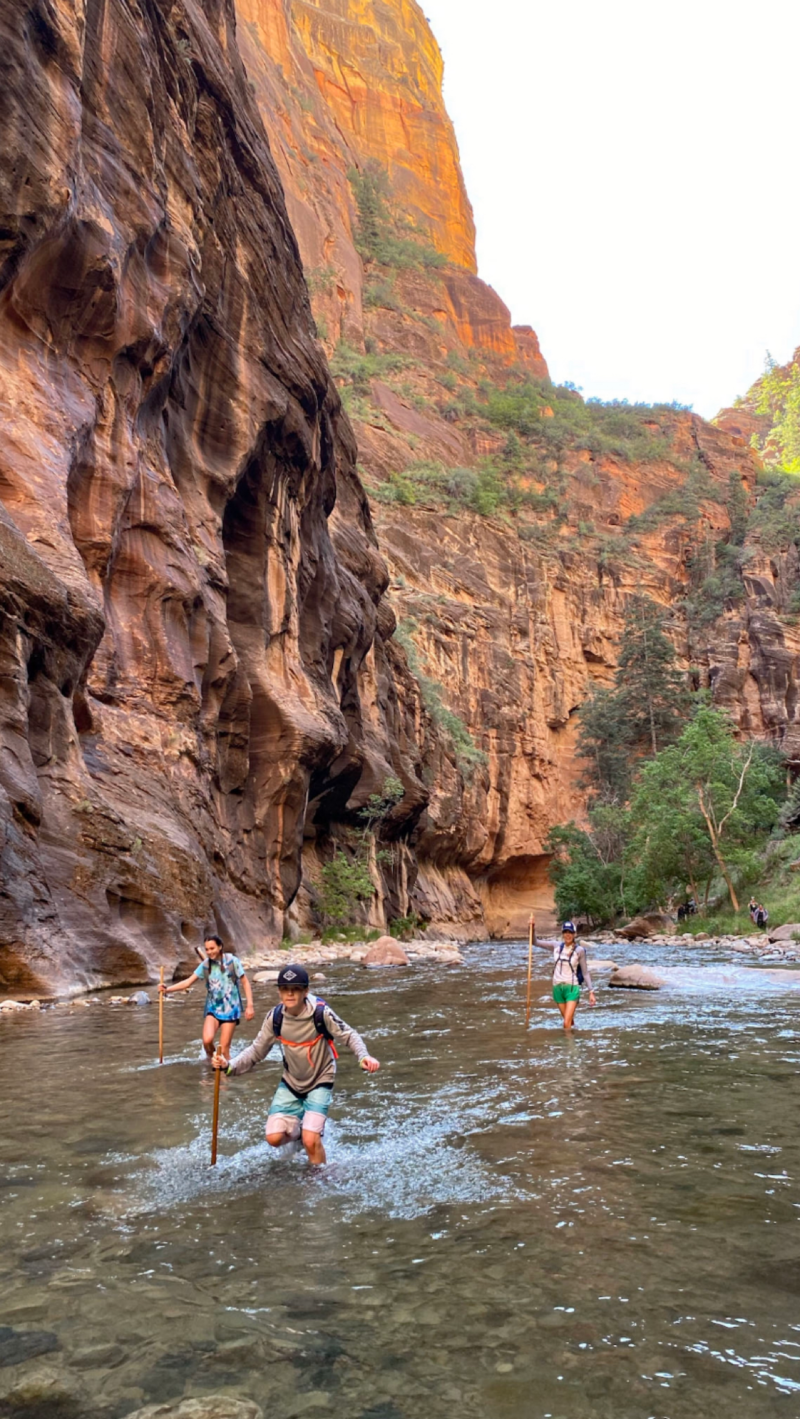 I am not sure if it's because we hiked during the week or if it was the time of day, but we really did have so many stretches to ourselves.
WATCHMAN TRAIL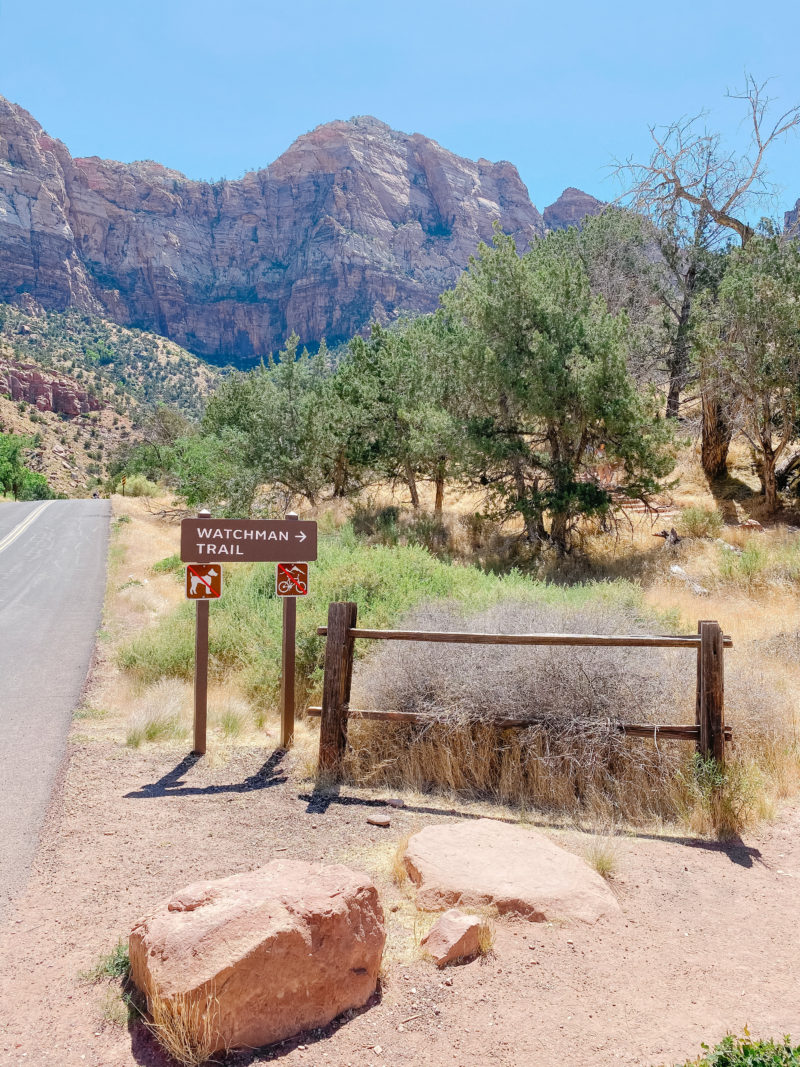 The following day we were pretty darn tired so we kept it very mellow. We hiked Watchman Trail which was an easy 3 mile hike. The campground and trailhead are near the South entrance of the park. It was easy to park and a nice way to spend the morning.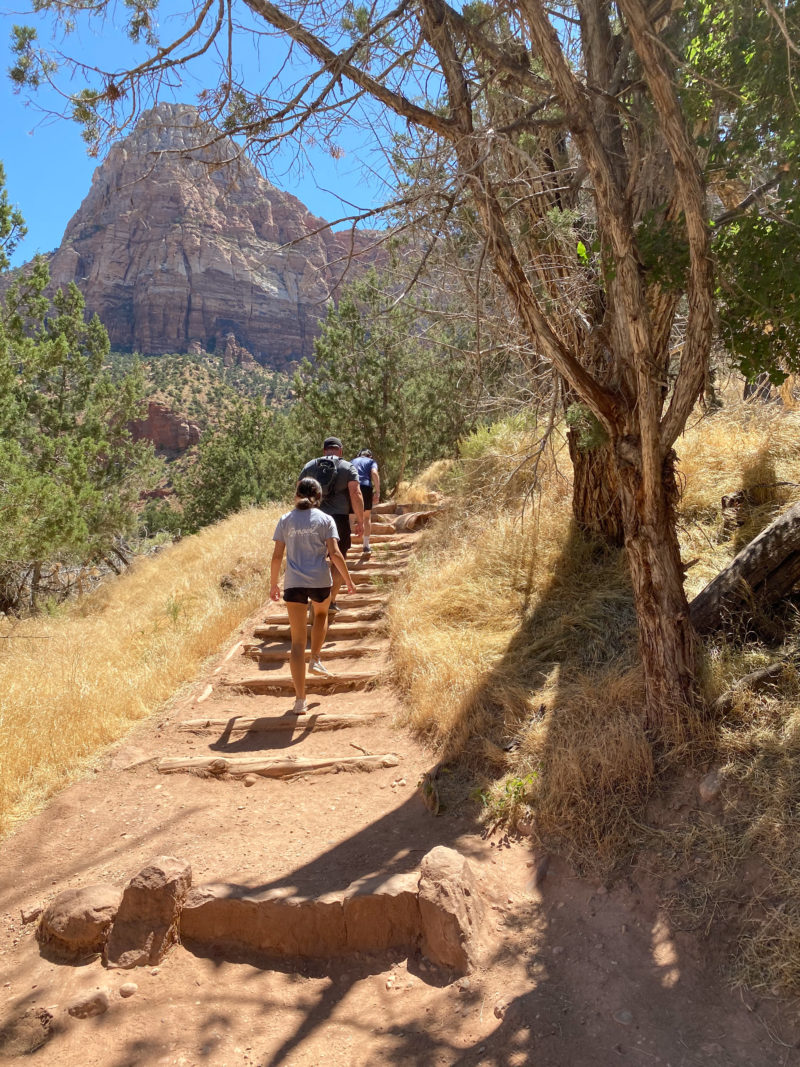 PLAYING IN THE CREEK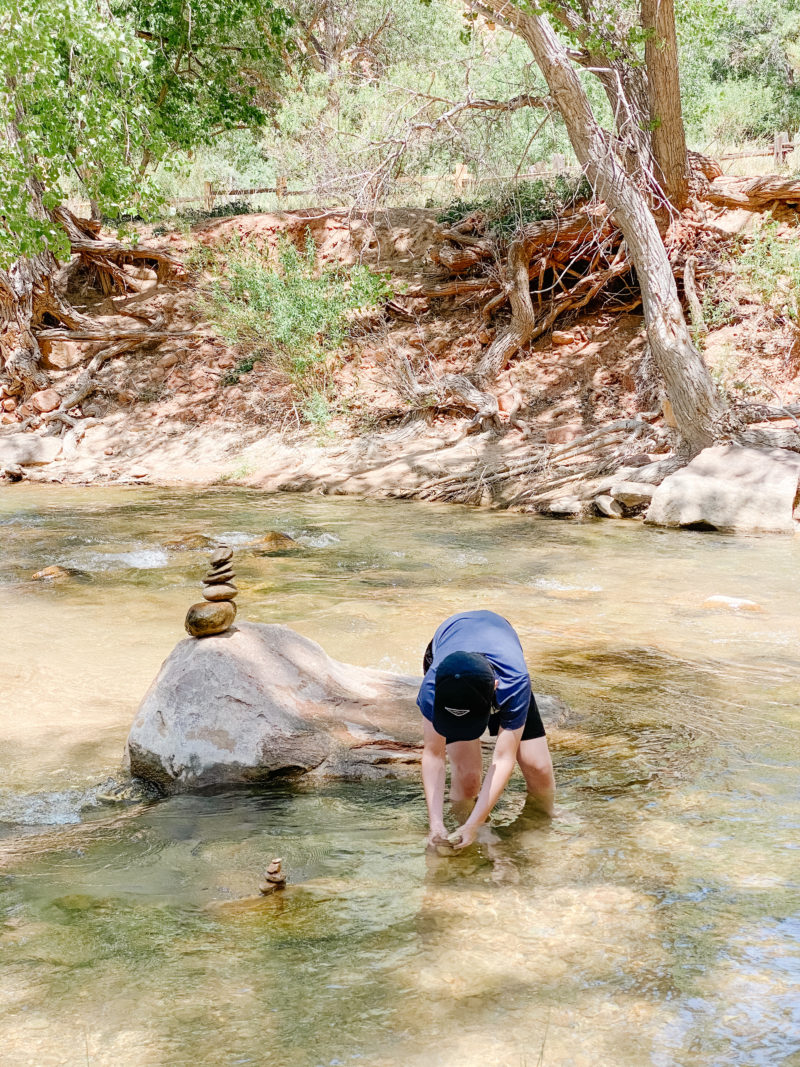 While not as famous as Angel's Landing or Narrows, it's a nice hike and allows you to overlook Springdale. Plus it sits beside a beautiful creek which my children loved playing in. After that we grabbed lunch in Springdale and headed back to relax at the ranch.
JEEP SUNSET TOUR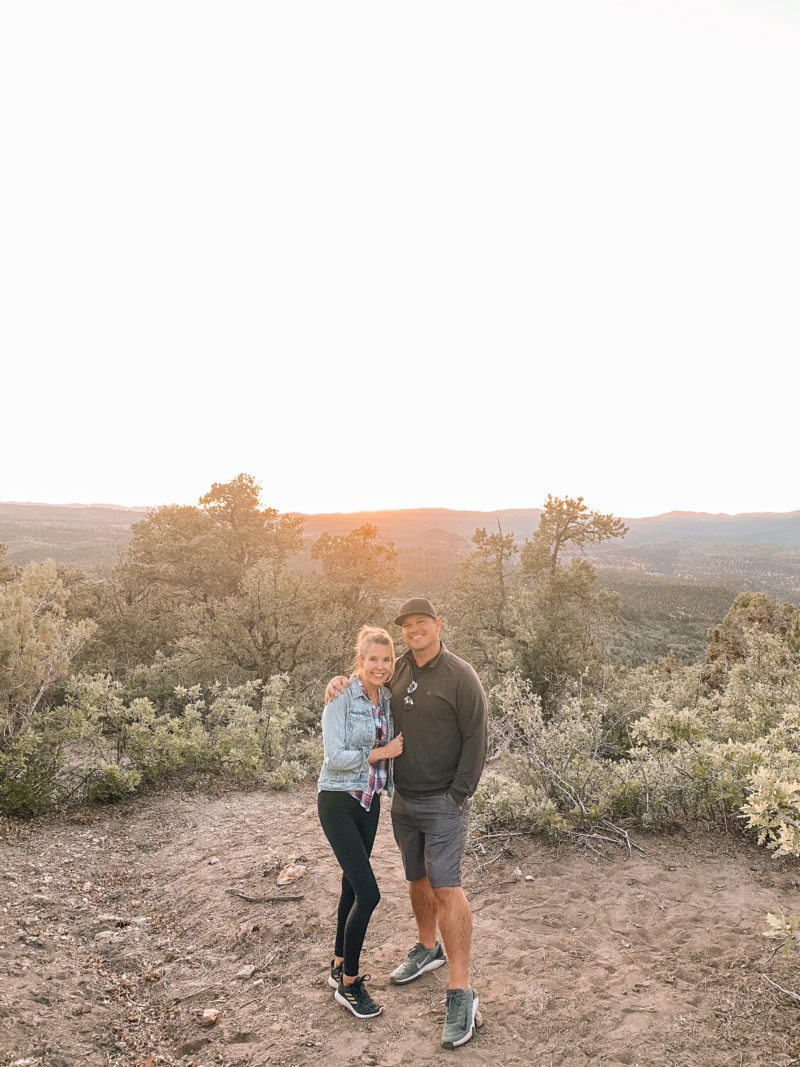 We booked a sunset jeep ride one night. Let me tell you! The kids LOVED it and I screamed the whole time. No joke. It takes off roading to a new level. Looking back it was crazy fun but I wish someone had told me I would be hanging on for dear life. The jeep took us up to a summit that had a 360 degree view. Truly beautiful. We used East Zion Adventures.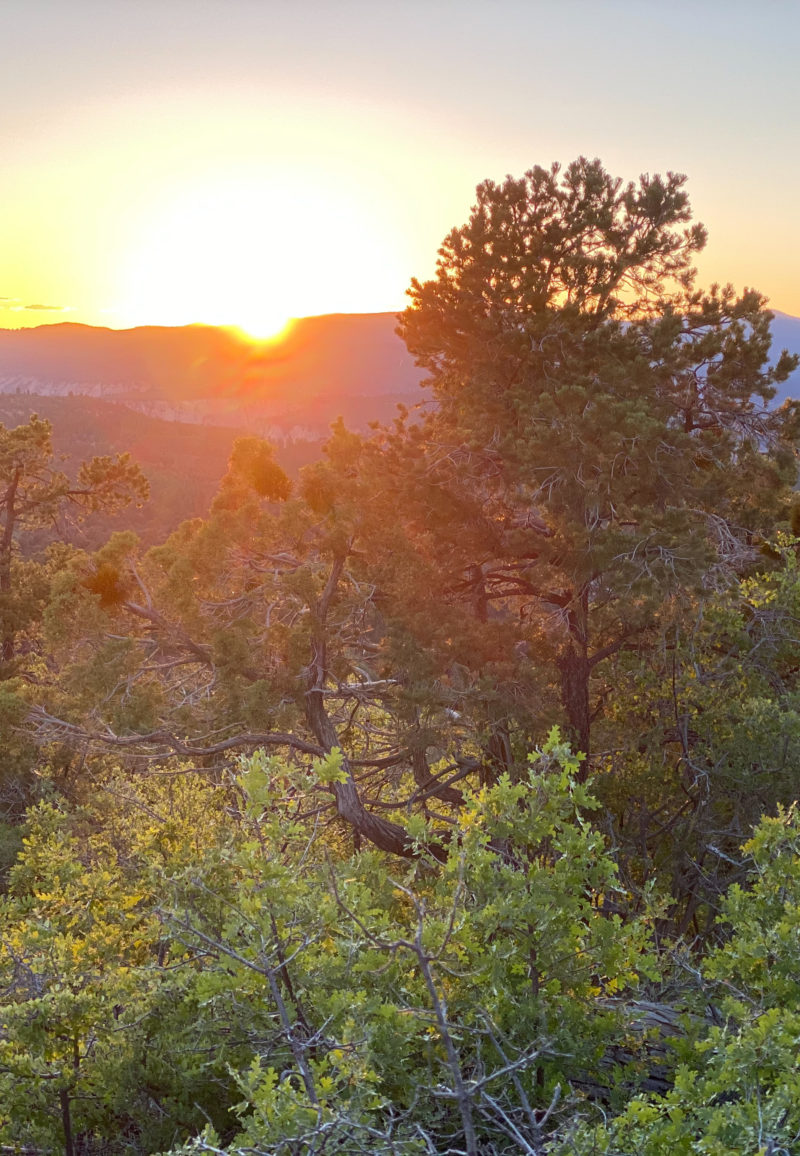 It was the perfect way to end the night and a beautiful sunset. Our tour left at 8:00 PM and we were back to our car by 9:30 PM. The roller coaster like jeep ride was definitely a highlight for my kids. My husband loved it, too.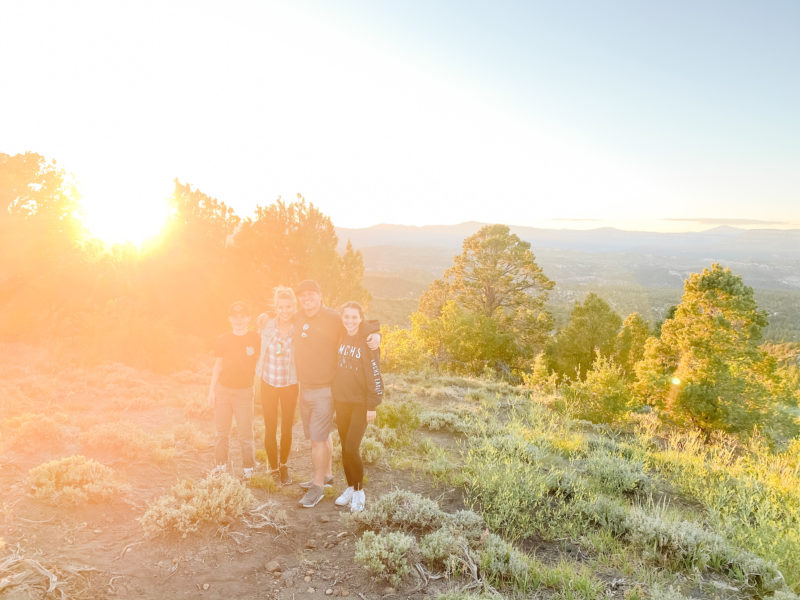 BRYCE CANYON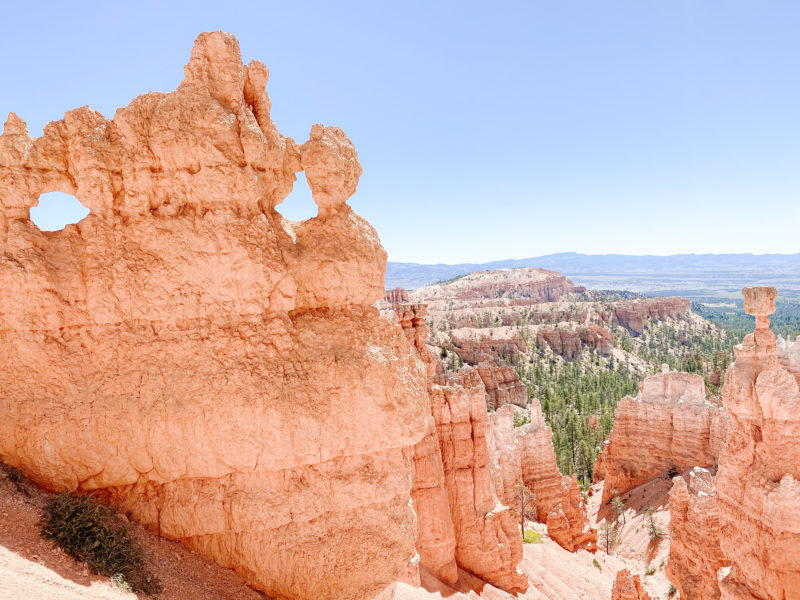 We were very thankful that we decided to head to Bryce Canyon one of the mornings. It's too close not to do it. You can read that travel guide here.
CORDWOOD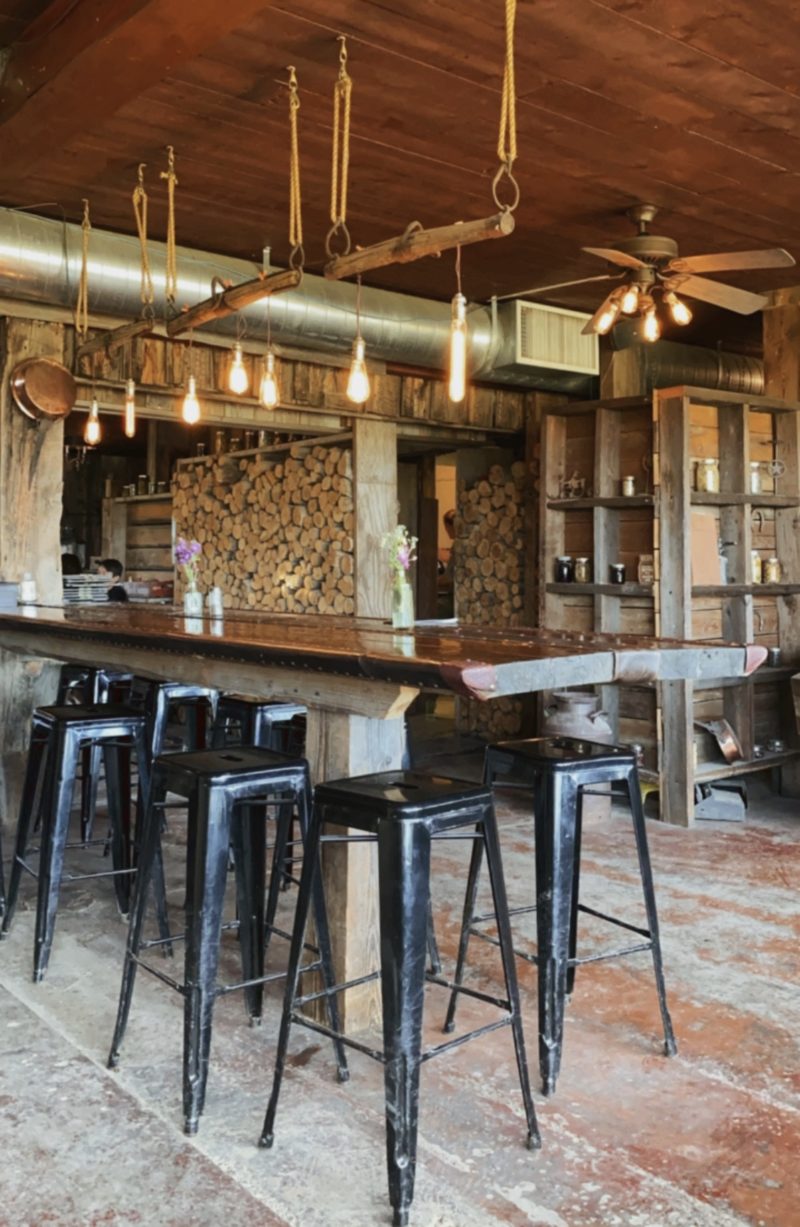 To celebrate my birthday we had dinner at Cordwood. It's the farm to table restaurant on the ranch. It's darling inside and delicious.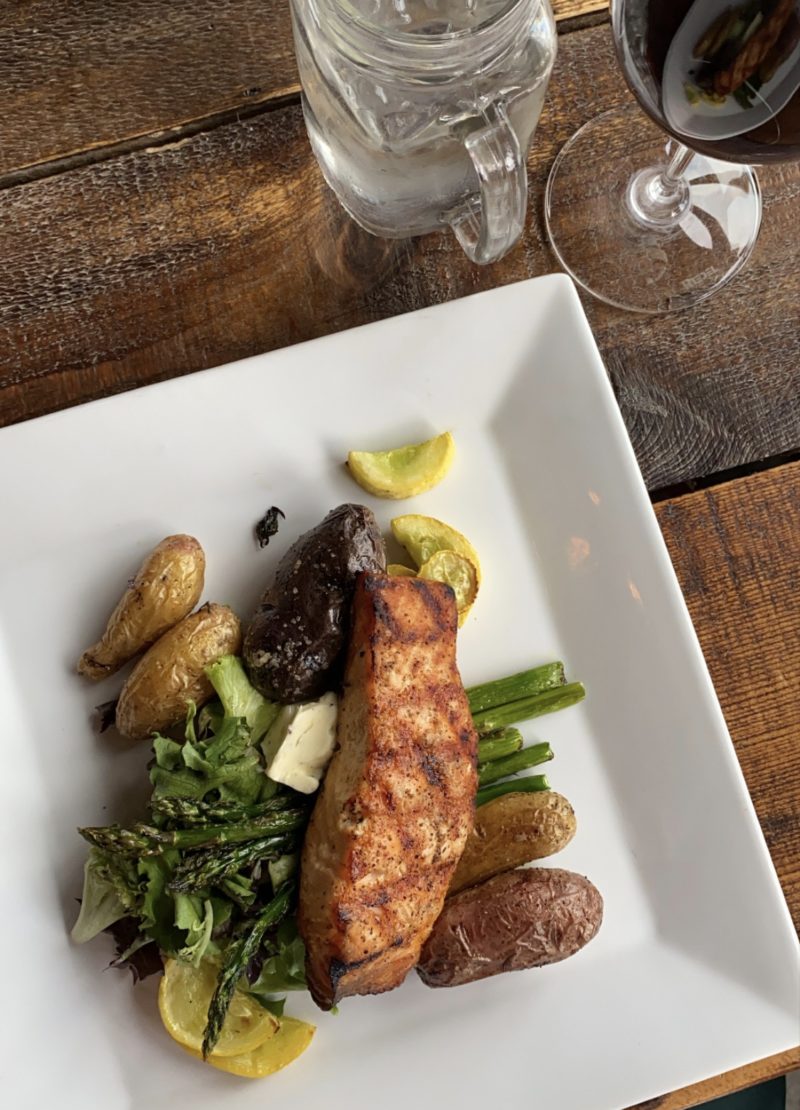 MORE PLACES TO EAT
Cordwood at Zion Mountain Ranch
Spotted Dog Cafe
The Parkhouse Cafe
THE RANCH LIFE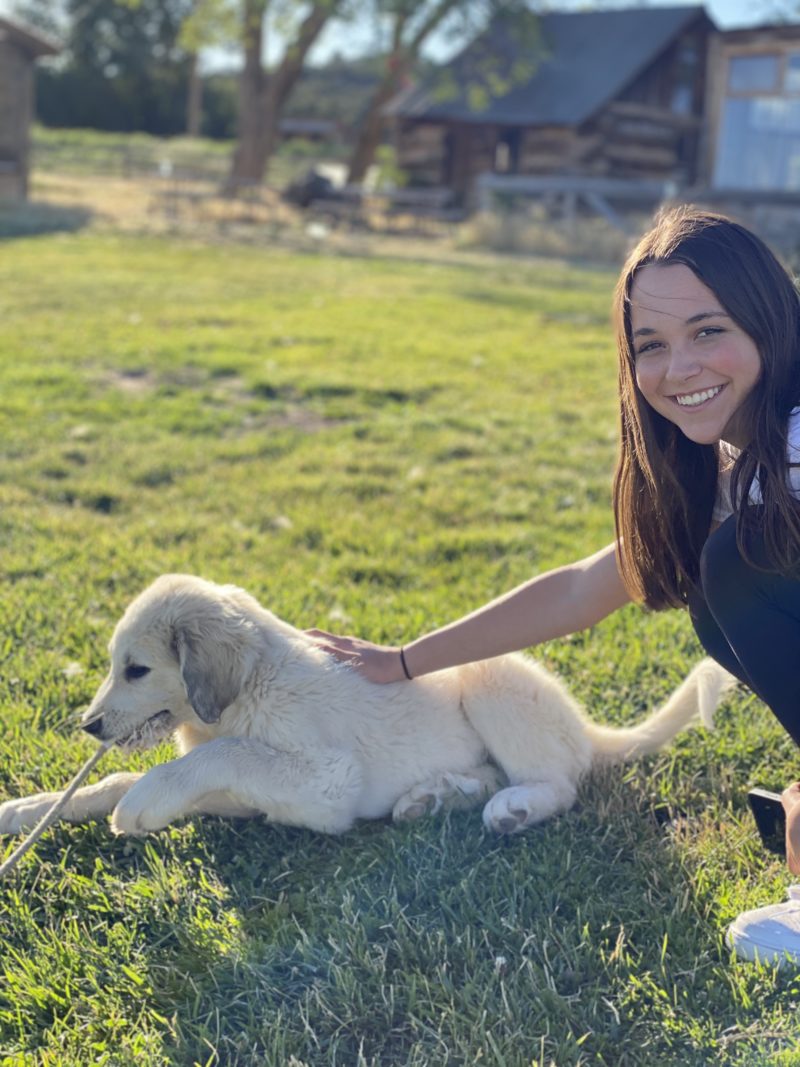 Cordwood sits right near the area with all of the animals. The kids loved spending time with them.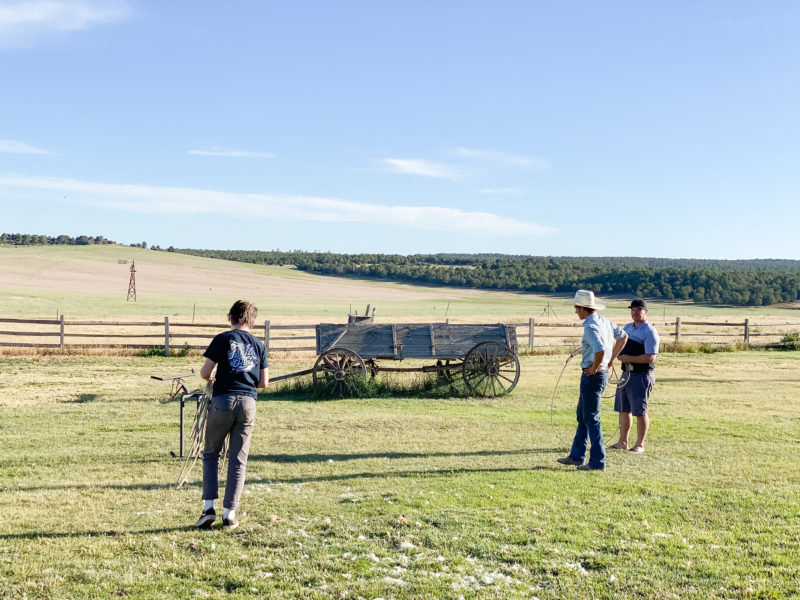 The boys even received an impromptu lasso lesson. Let's just say it's harder than it looks. Once successful, our son moved from this to a lesson in chopping wood. Safe to say he is ready to move to the ranch.
HORESBACK RIDING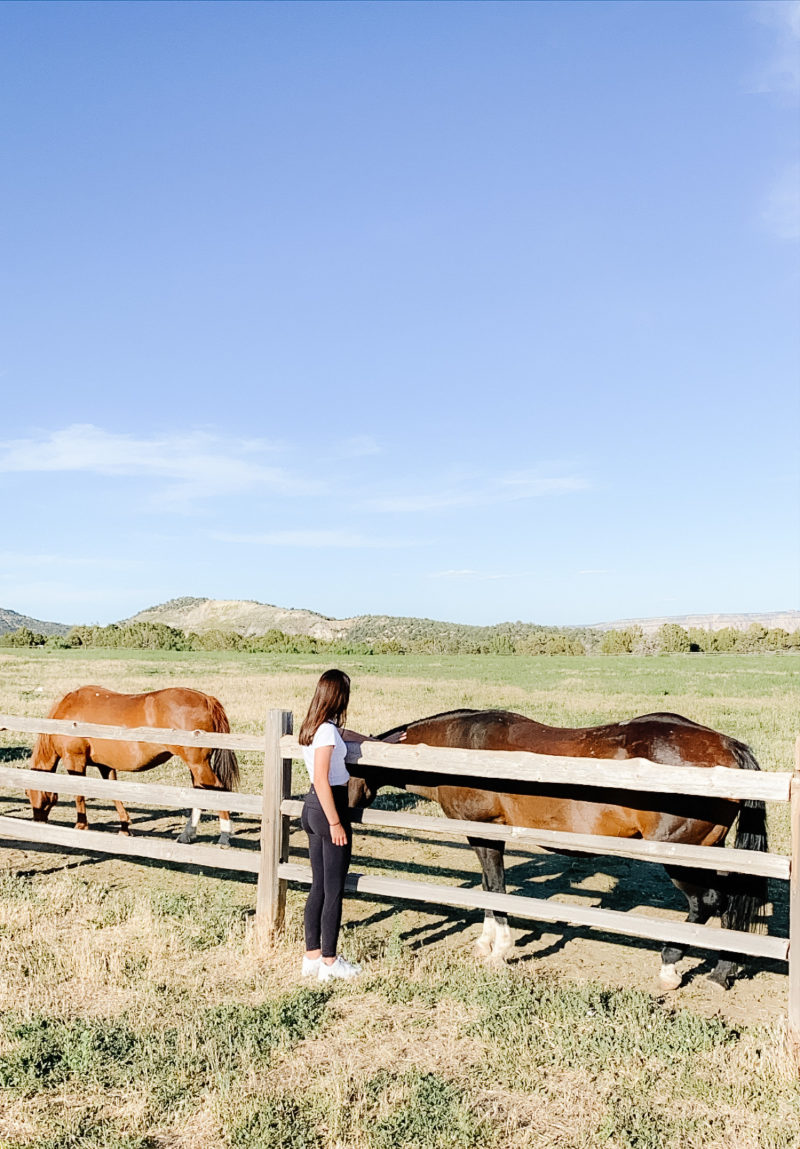 These beautiful horses are on the Zion Mountain Ranch property. They can arrange horse rides for you. A friend of mine also recommended contacting the Zion Wright Family Ranch for rides. She said they do an amazing job and let you roam the ranch with the guide. A bit more freedom. Sadly, we just couldn't fit it in this time around but plan to the next time we go.
MORE TO DO
I'm not sure you could ever run out of things to do in Zion. There is so much to explore. There is something for everyone: hiking, biking, tubing down the river, off-roading, horse back riding, canyoneering, backpacking, rock climbing and more. Just be sure you check Zion National Park site prior to scheduling a visit to see what is open.
GREAT BREAKFAST STOP
A big thank you to a reader who recommended Oscar's in Springdale. We hit it up on our way out of town. Best Huevos Rancheros ever. Good coffee, too.
ONE LAST STOP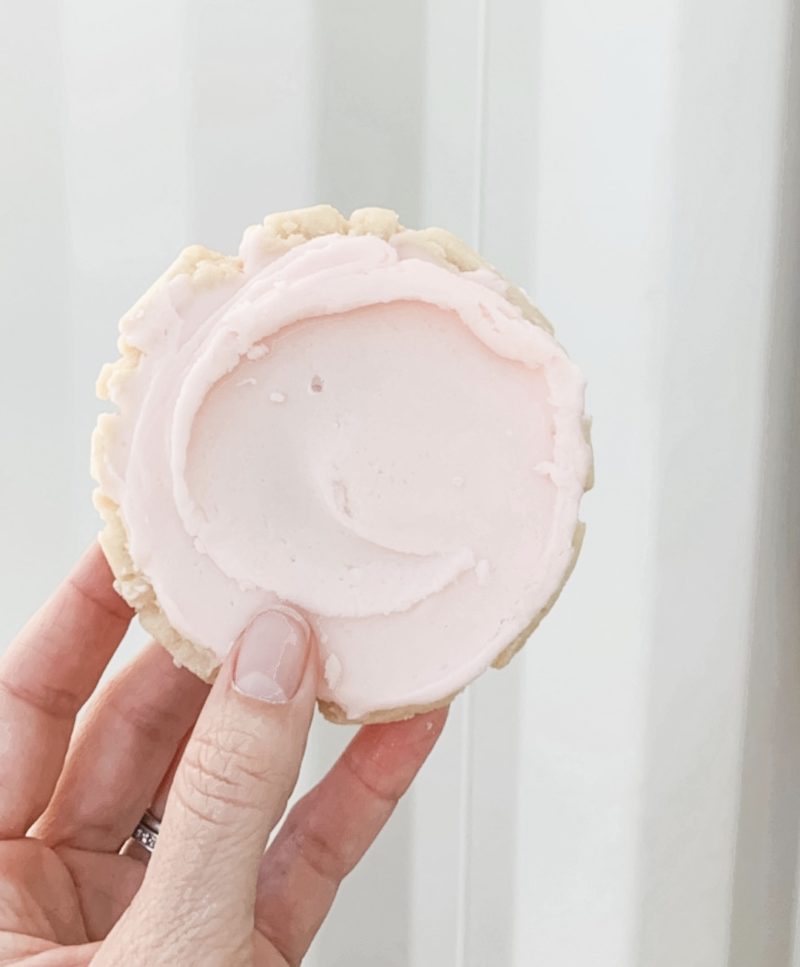 And of course we hit Swig in Saint George one more time. My vote is the Piña Colada Boba with strawberry pearls. It's so good!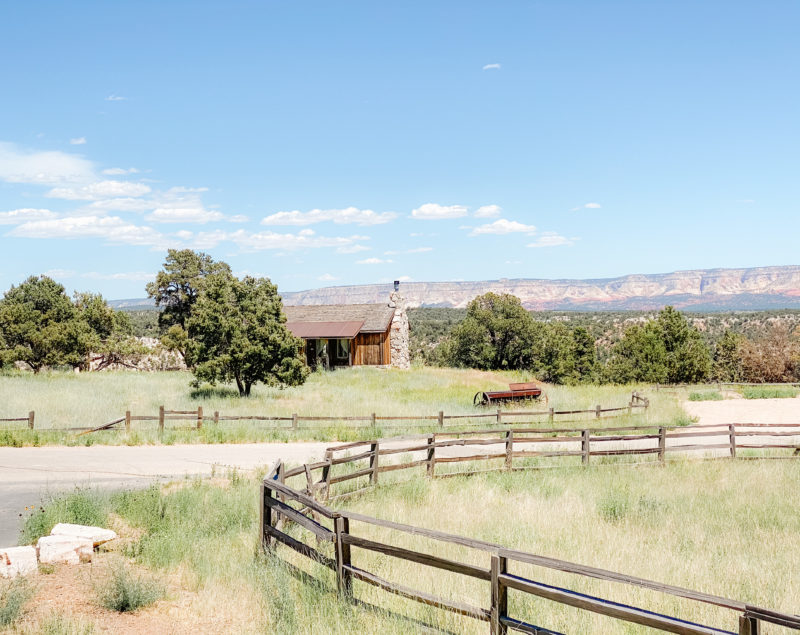 Zion is one of the most spectacular places I've ever seen. I actually cried leaving the ranch. It was a beautiful few days packed with the perfect balance of adventure and rest. I am so grateful for the experience and for the time with my family. If you are thinking of planning a trip, I hope this recap is helpful. Happy to answer more questions below.
More Places to Visit