The Nordstrom Anniversary Sale is live! The early access period is over and it's time to get your shop on. If you are a card holder, you may have already done so. Those of you just getting started, I've curated my favorite pieces to show you. Don't forget to think about back to school shopping as well as holiday gifts. It's a good time to take advantage of the lower prices and knock things off your list. I still need to take my son shopping and see what he can find for school. No more stalling! Let's jump in to the Anniversary Sale.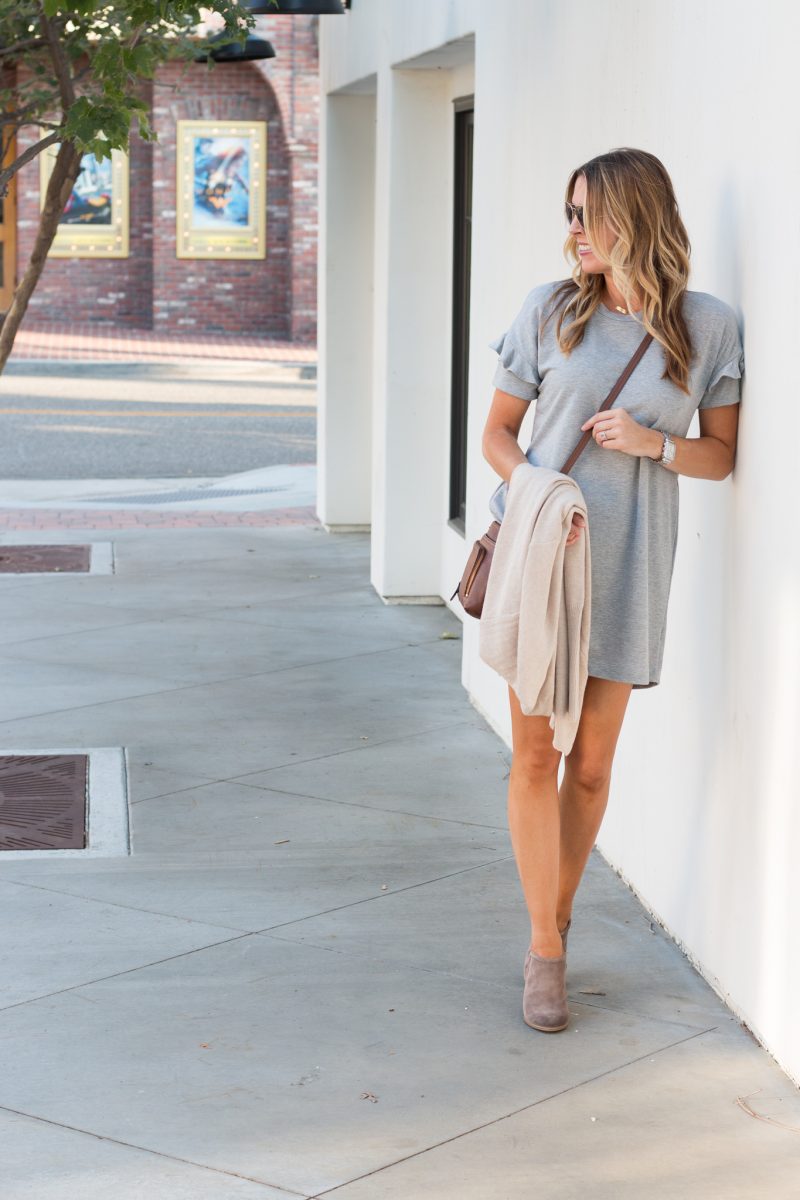 This $30 dress is one of my favorite finds. Sizes keep popping in and out of stock but it's one to watch for sure. It feels like pajamas and even has pockets. Great dress for now and for later. I've paired it with my favorite pair of booties from the sale. I also spotted this dress which has a very similar feel and a $30 pricetag!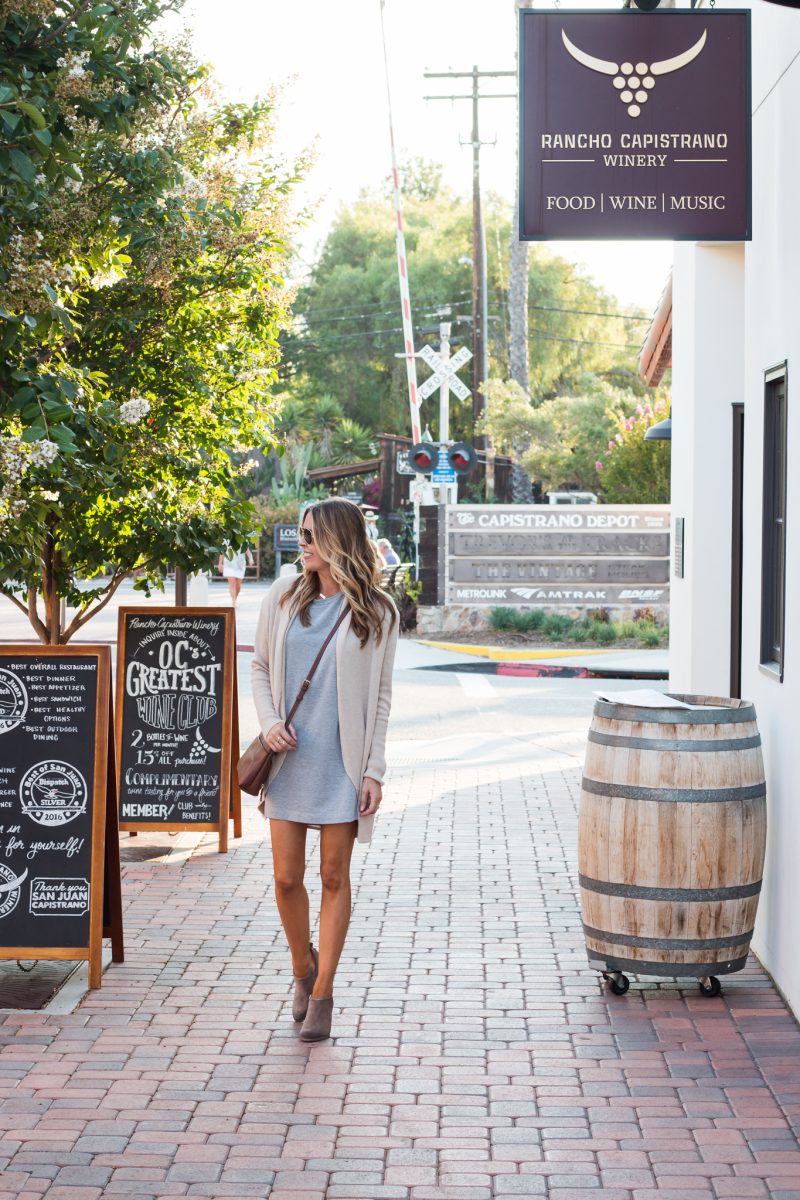 dress | cardigan | booties | handbag | sunglasses
This crossbody bag is also my top pick from the handbag section. It's actually one of my favorite finds from the entire sale. The bag has so many pockets and each one has a clasp or zipper to keep it shut. I can easily fit my wallet inside as well as my on the go makeup bag and phone. It also comes in black. This cardigan is extremely comfortable. So so soft.
If you are going to splurge on a bag, this is my choice. The Tory Burch tote is classic and comes in three colors. So pretty. It is almost $200 off during the sale period. It also comes in a crossbody version.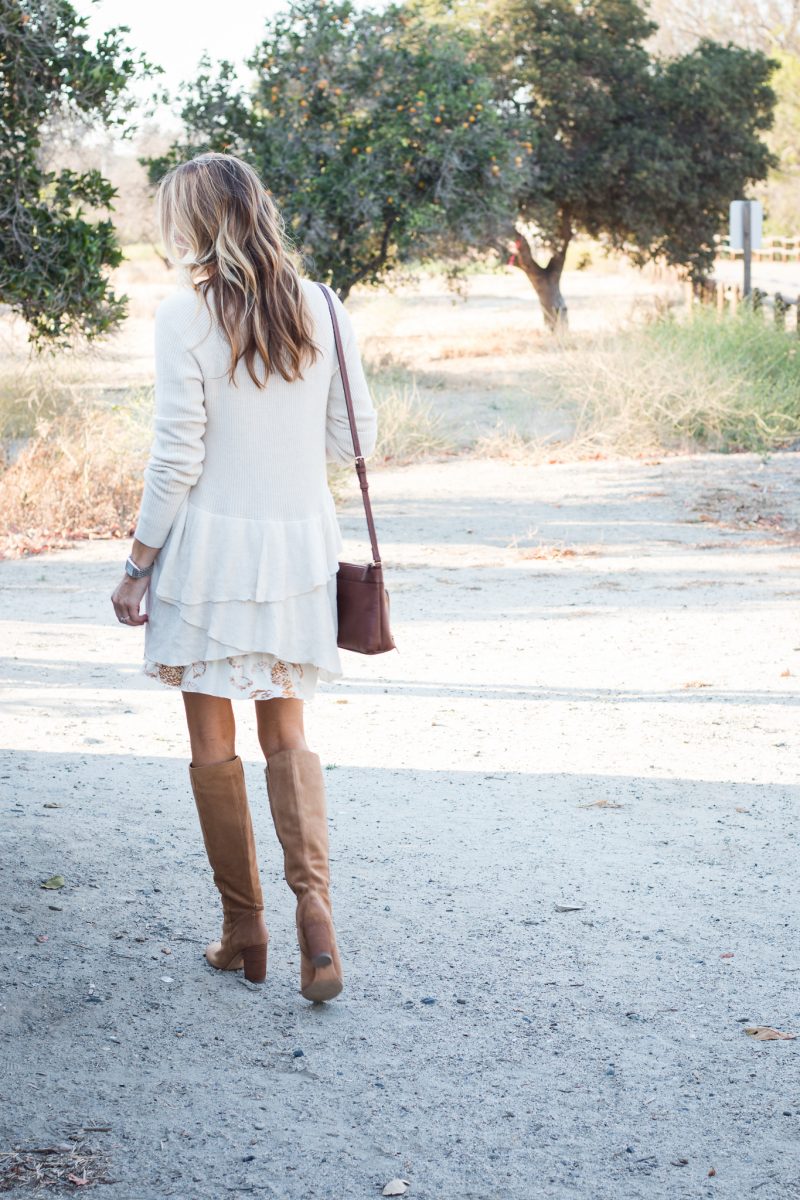 cardigan | dress | boots | handbag
The back of this cardigan!!!! It's so feminine and pretty. I love the way it drapes and it's so cute over dresses or jeans.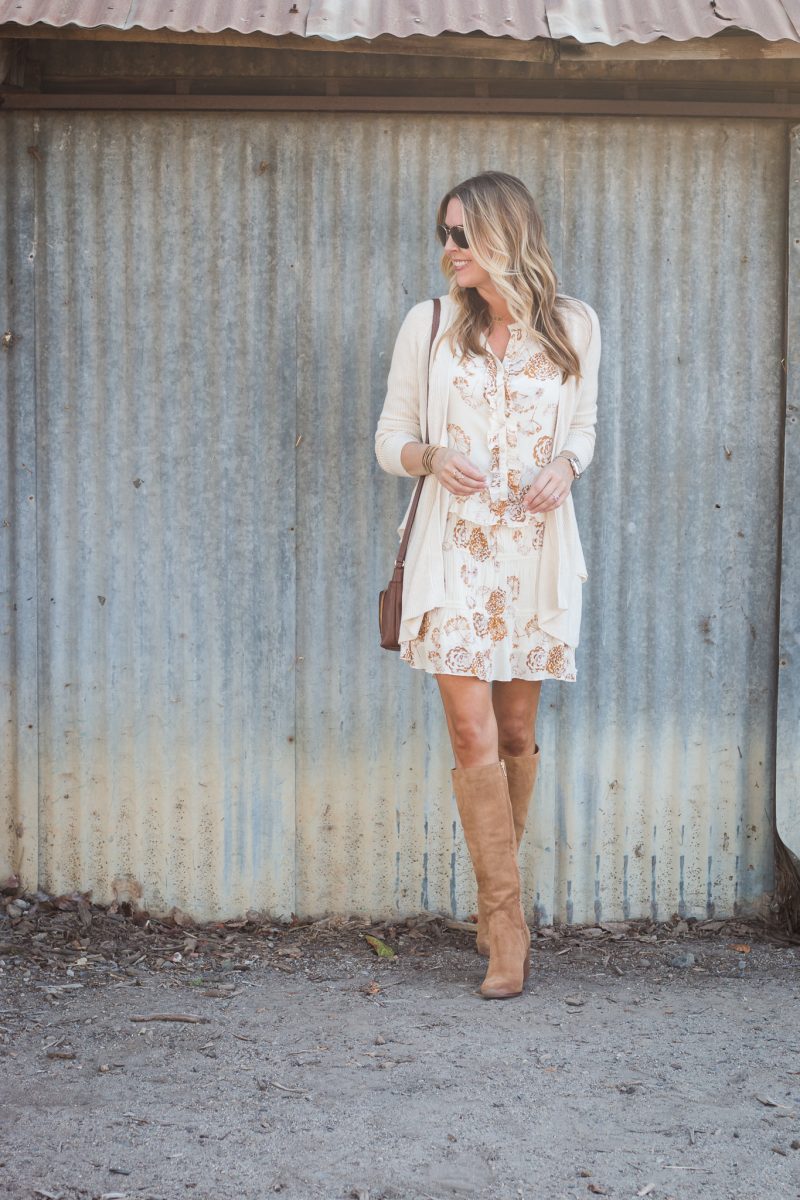 You know I love this dress. One of the reviews said it bunches as the bottom and I have not found that to be true at all. I love the way it hangs. It definitely has little ruffles but it adds to the femininity of the dress. I am wearing an XS. I LOVE these boots for fall. Such a gorgeous color and style. They also come in black and charcoal gray. Be sure to order one 1/2 size down as they do run big.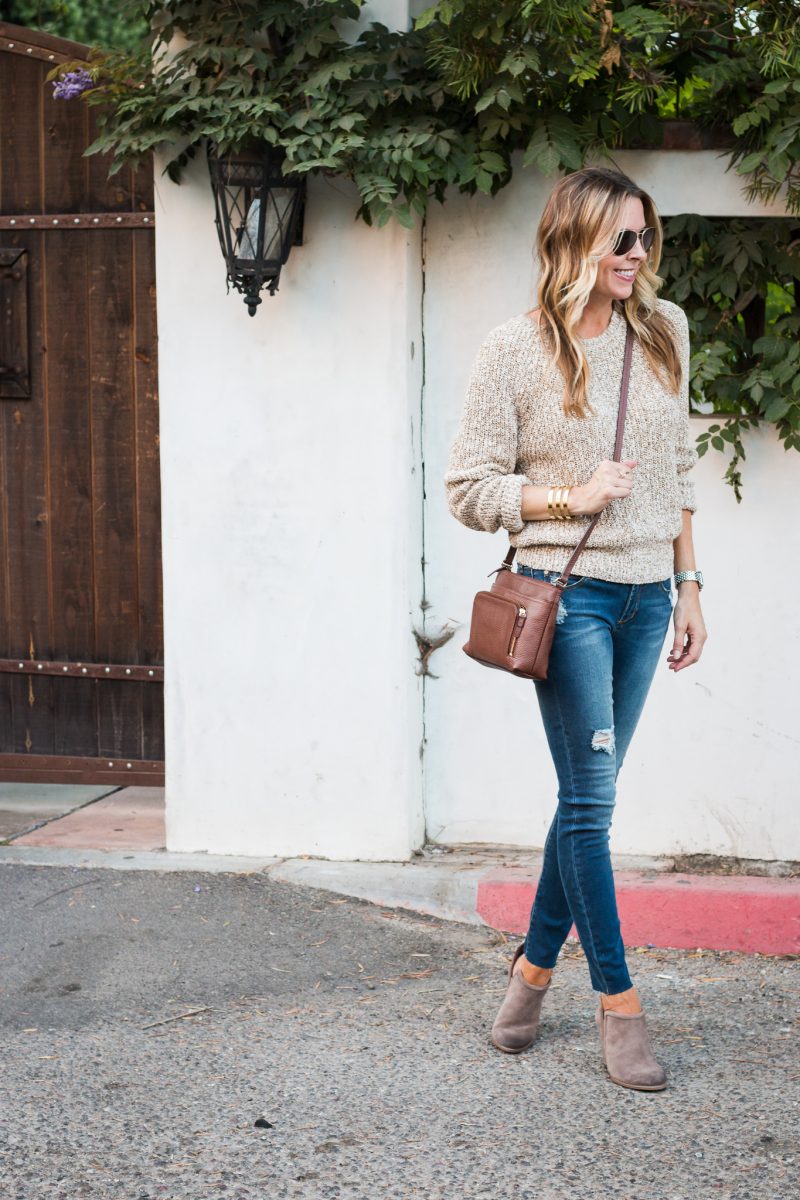 jeans | sweater | booties | handbag | sunglasses
Another top pick for fall is this sweater. It fits great and feels good on. I like the texture to it and it works so well with jeans. While my exact pair of jeans is currently sold out, these are part of the anniversary sale and only $41!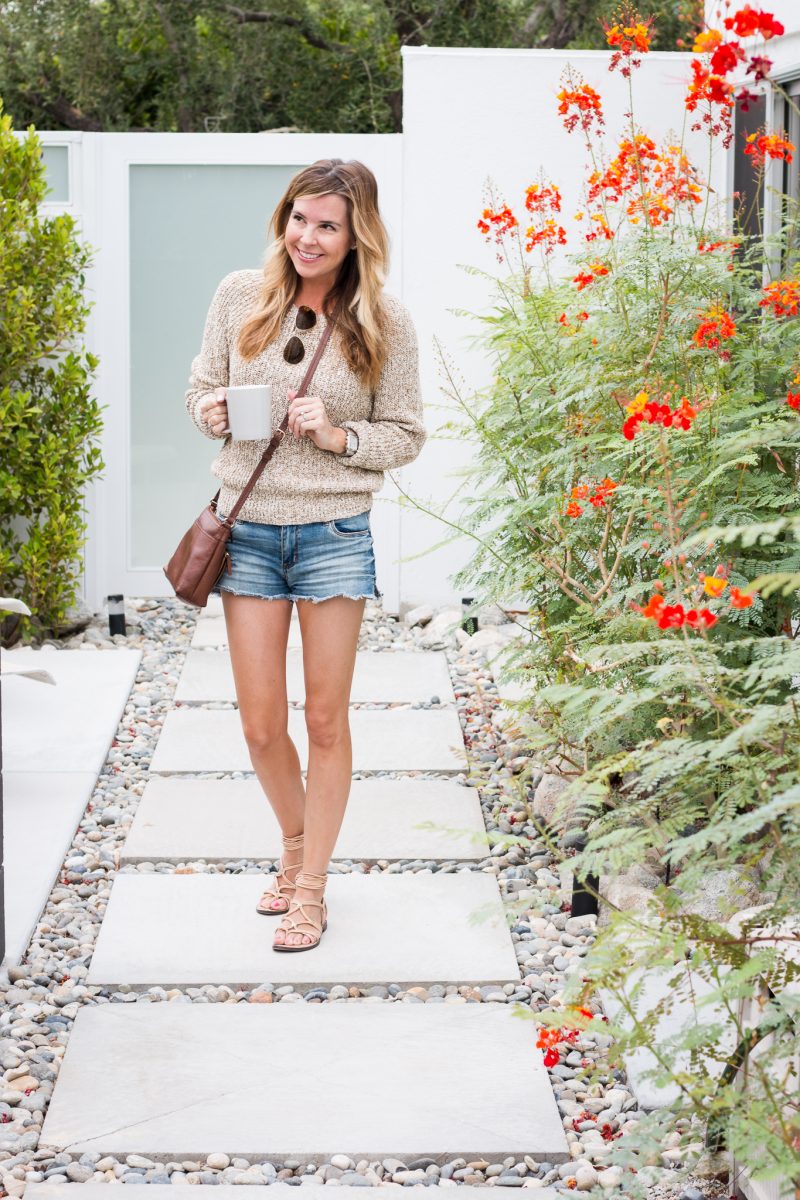 Also great with cut-offs during the summer. Our nights get really chilly so a sweater is always key.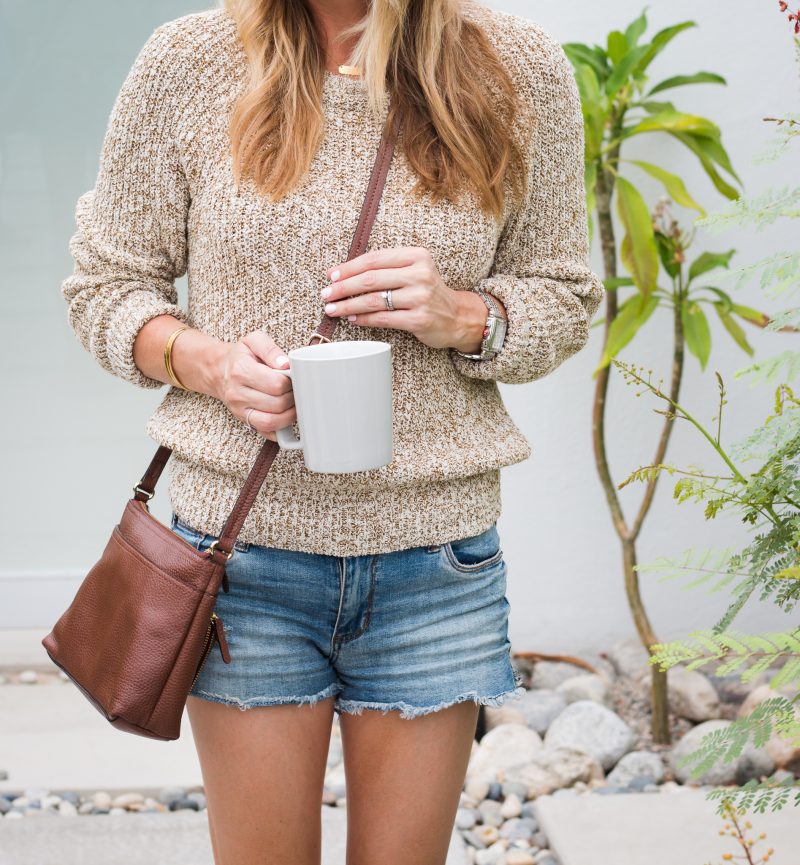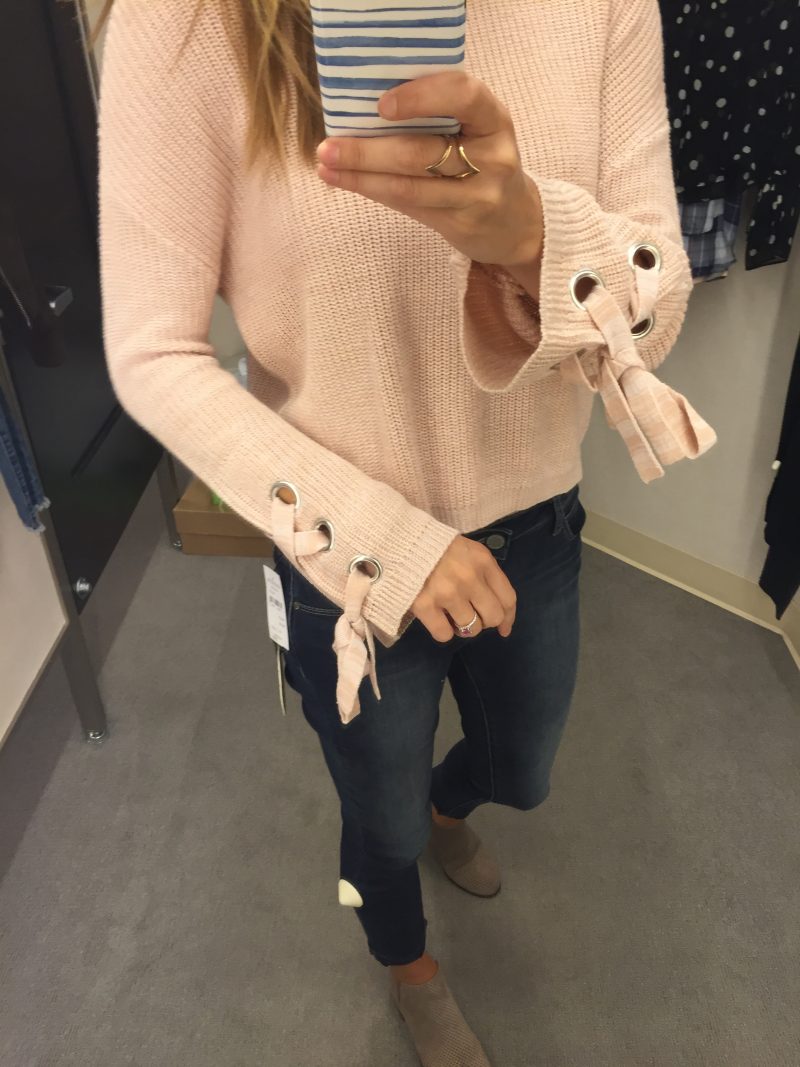 I adore this sweater. I am wearing a small and the sleeves are just so much fun. The blush color is beautiful but it also comes in gray and black.
jeans | booties | cardigan | t-shirt
Every year, Nordstrom has one of these striped t-shirts on sale and for good reason. They are lightweight and soft and so affordable at only $19. They almost always restock so be sure to keep an eye out for them.
COMFY AND COZY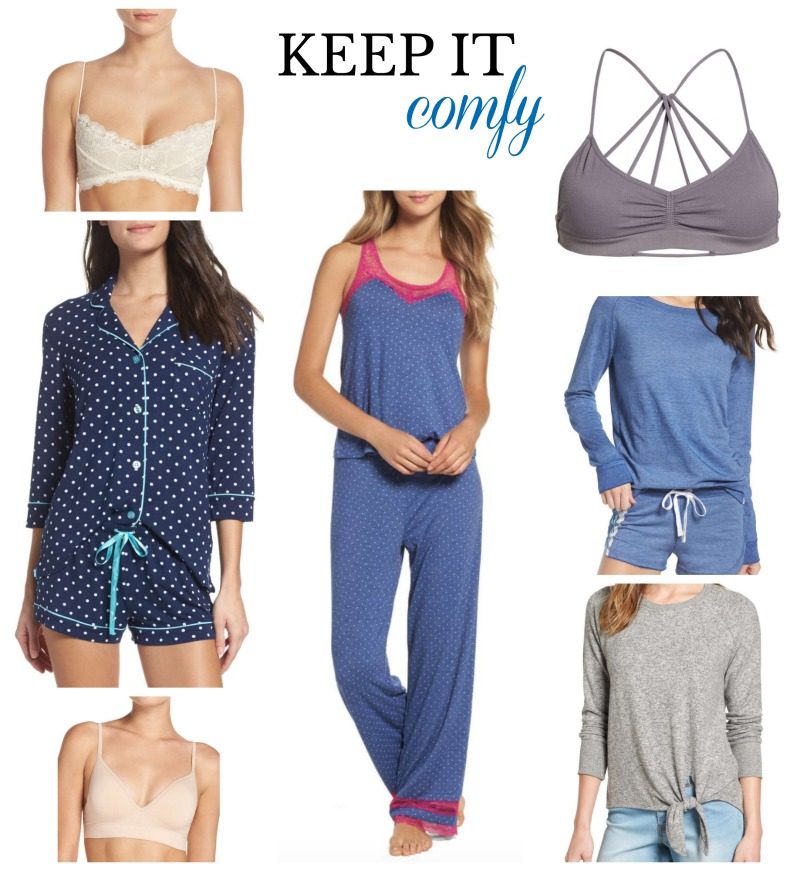 There is no question I spend a great deal of time in my loungewear. One of my very favorite bralettes is on sale and I just realized it and ordered two. I am also a big fan of the seamless bra. It's especially great under t-shirts and now under $20. You also can't beat a pair of soft as silk Honeydew pajamas. So good! I always give them as gifts, too. Great idea for the holidays or birthdays.
COMFY LOUNGEWEAR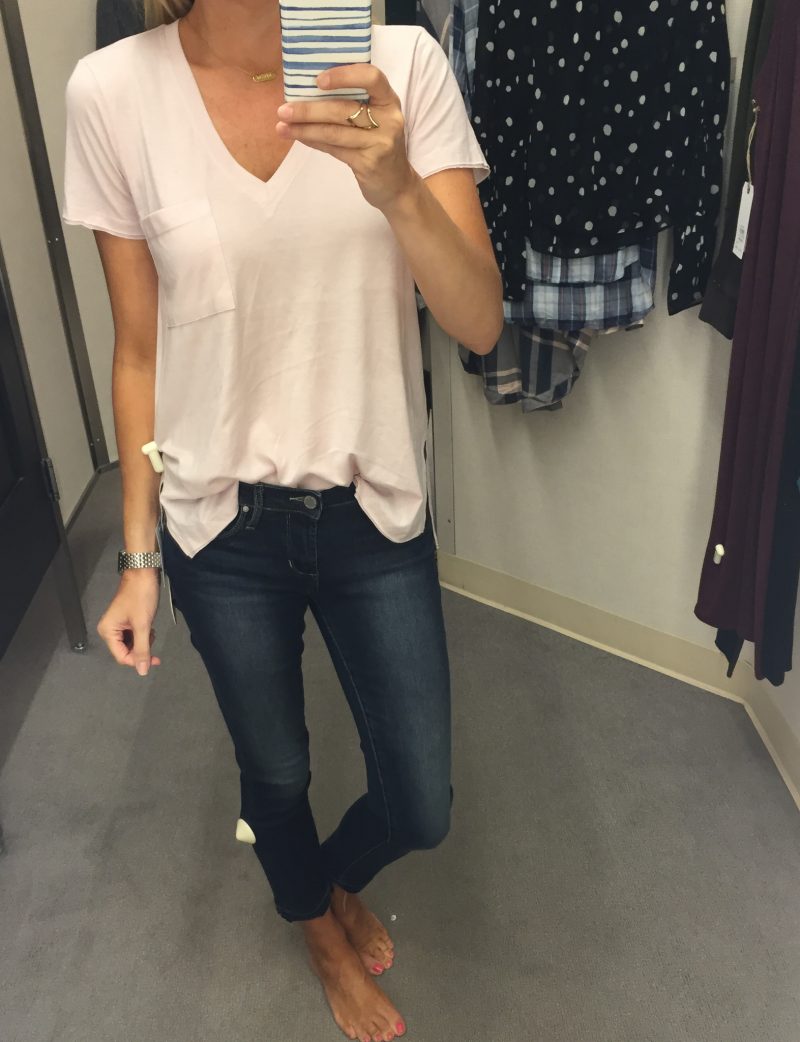 This side slit t-shirt is really soft and comfy and comes in a few colors. It also gets restocked every now and again.
top | shorts | bralette | sandals | handbag
This top has a super cute ruffle in the back. I wear it with this bralette (also on sale).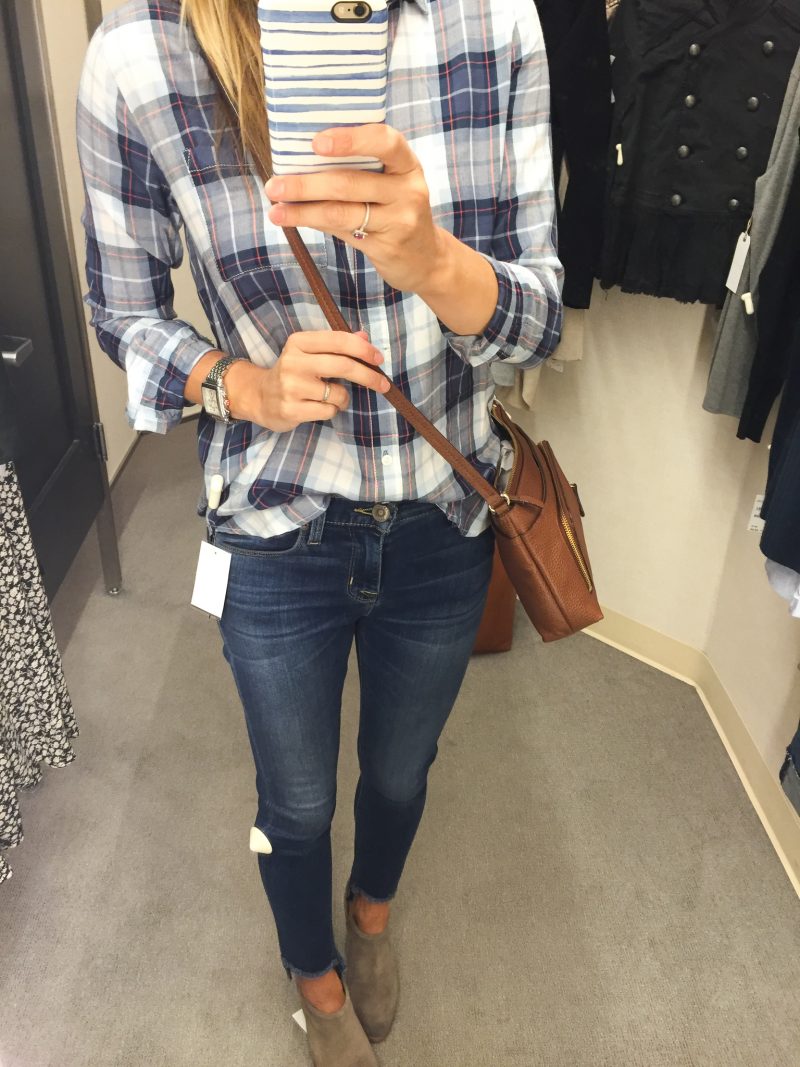 jeans | booties | plaid top | handbag
Everyone needs good plaid shirt for Fall and this is my pick this year. I love the colors and it looks so great with jeans and booties. I am wearing a 26 in these jeans. They really surprised me. Haven't bought a pair of Hudson's in ages and when I put them on I remember why I love them so much.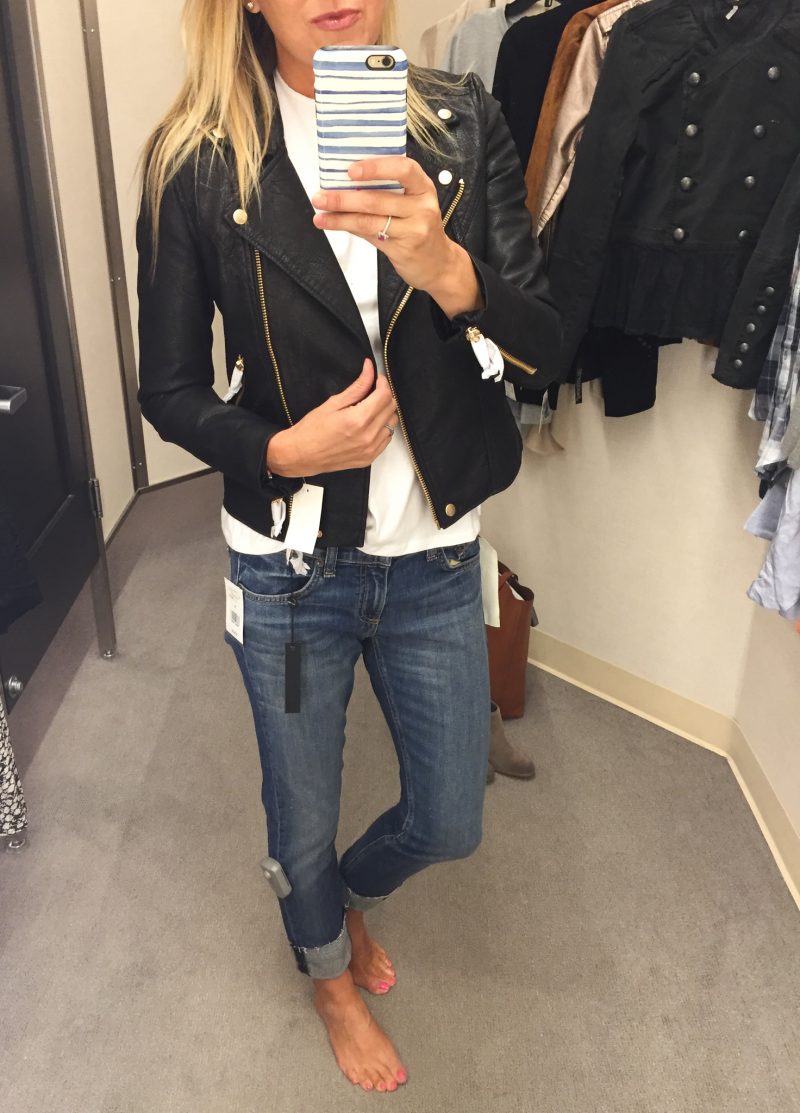 faux leather jacket $64 | jeans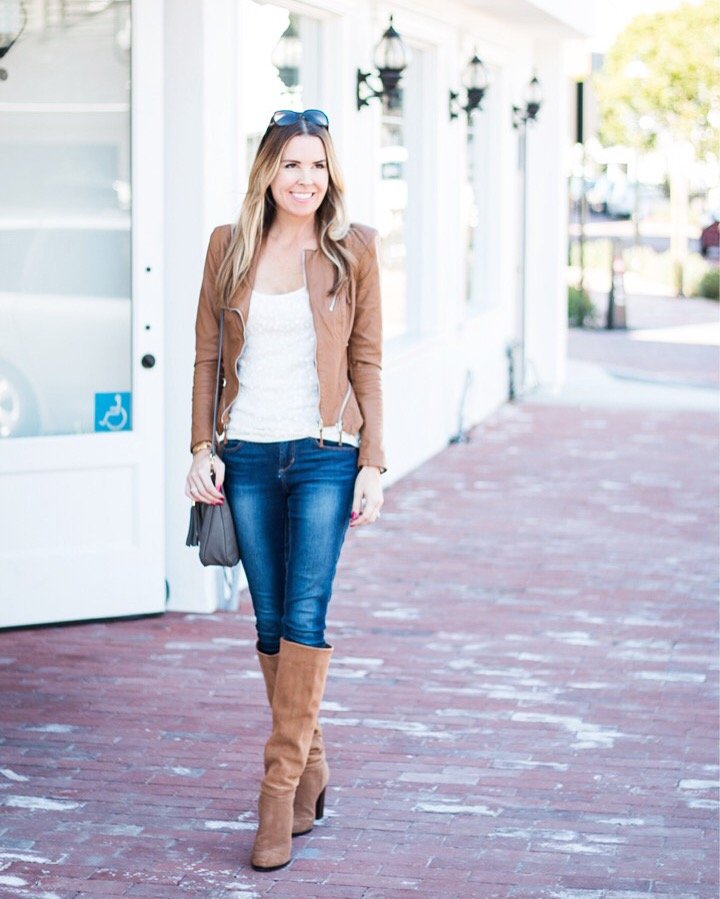 jacket | jeans (only $35) | this season's boots | handbag
This is one of my all time favorite faux leather jackets and it's available in a really pretty putty color for only $65! It runs small so size up. This really is a great jacket. The Maya skinny jeans are now only $35!!
GET ACTIVE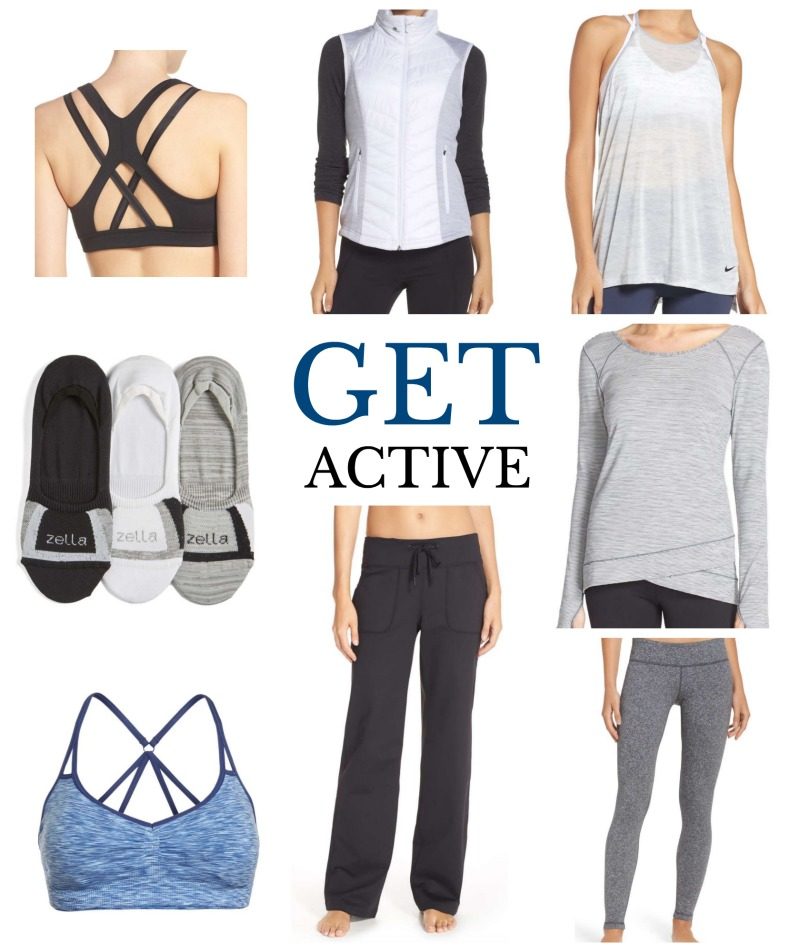 It's also a great time to stock up on workout wear. The prices are great and some of my favorite Zella basics are marked down. I love this vest and these pants. Really they are all great basic pieces. I also thought these leggings were pretty sexy!
SHOP ACTIVE WEAR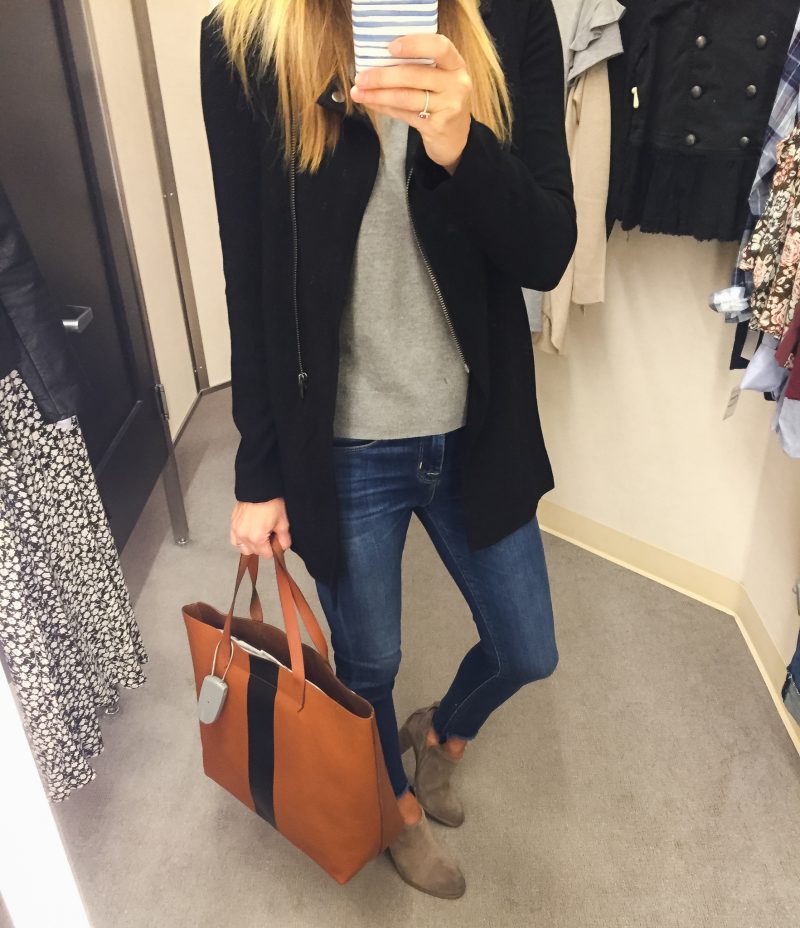 jeans | jacket | booties | tote | sweater jacket
This moto jacket is really cute on. It has a nice trim fit and is very soft. I think it would look adorable with these jeans that are also part of the sale. The tote bag is also awesome in person. The color combination allows you to wear it with anything.

Two great clutches for your wardrobe. I already own the solid black one and just ordered the leopard clutch. Leopard is a neutral in my book and so great with denim. It's marked down to $52 until next week.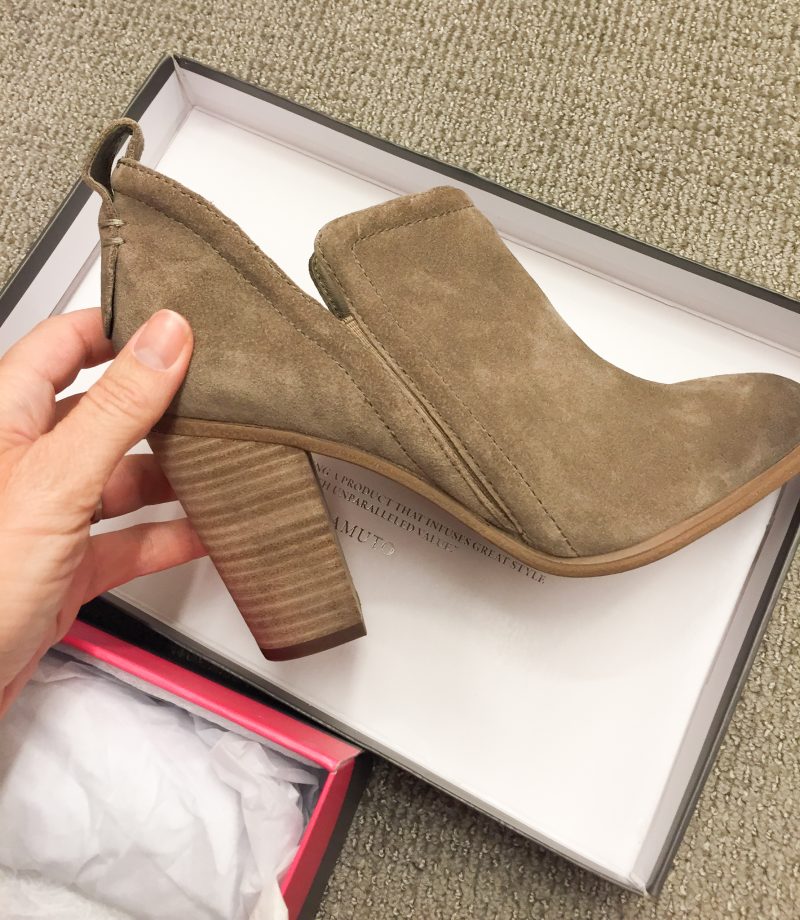 These are my favorite of the sale but I also really love this pair because they have a lower heel.
MORE BOOTIES ON SALE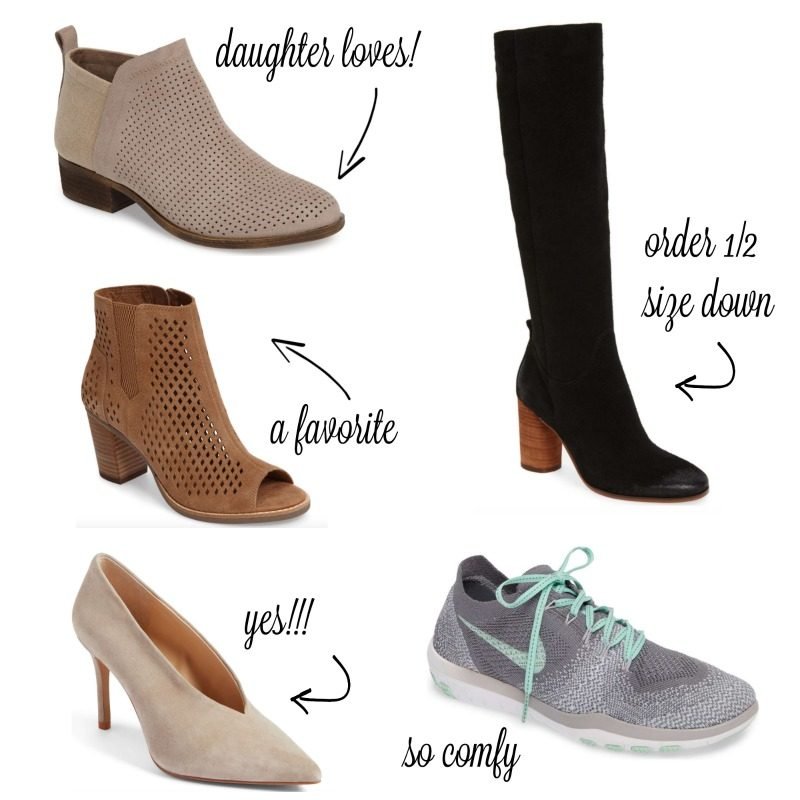 booties | boots | peep toe-booties | heel | nikes 
These are all such great styles and all in stock!!! Those are the boots I have in brown but really eyeing the black as I don't have a pair of black boots in my wardrobe.
These are also a screaming deal at $35. I wear my all the time.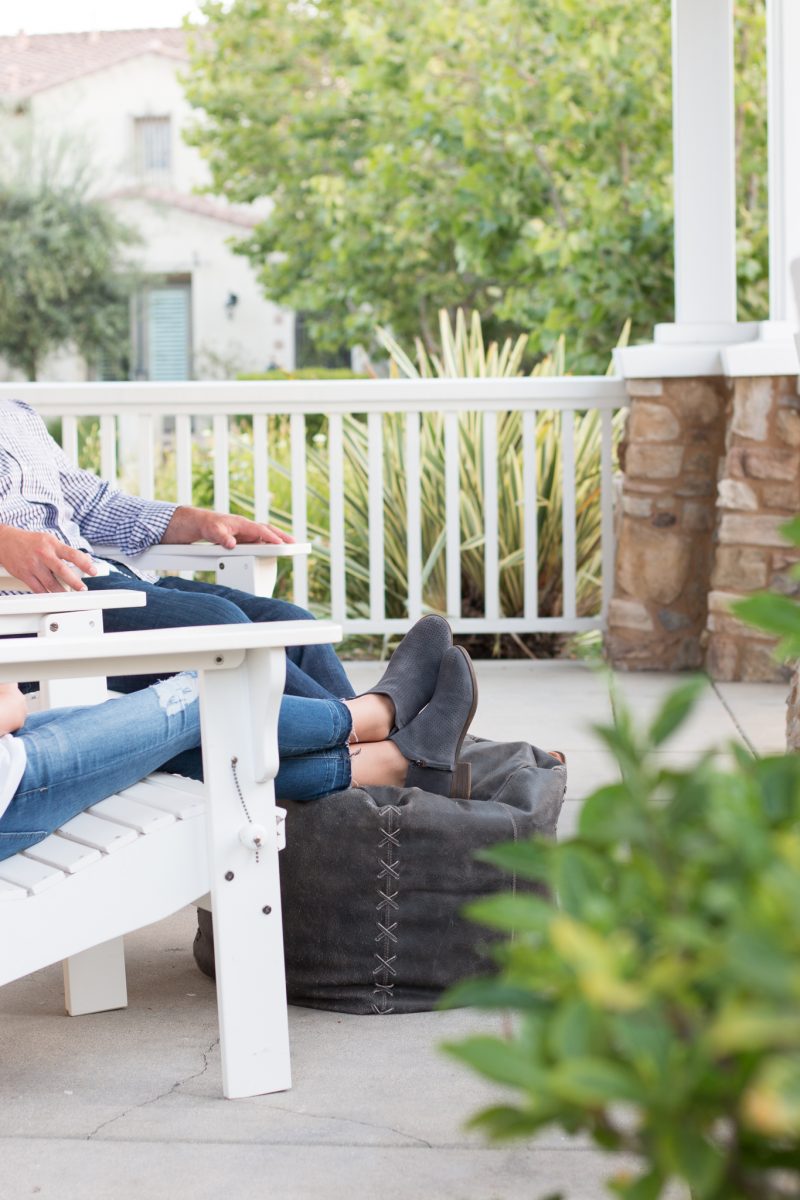 My daughter found these Toms booties for school and she loves how comfortable they are. Sadly she is out of the children's shoe department so these are women's. She's growing up too quickly! I highly recommend these because they are durable and comfy.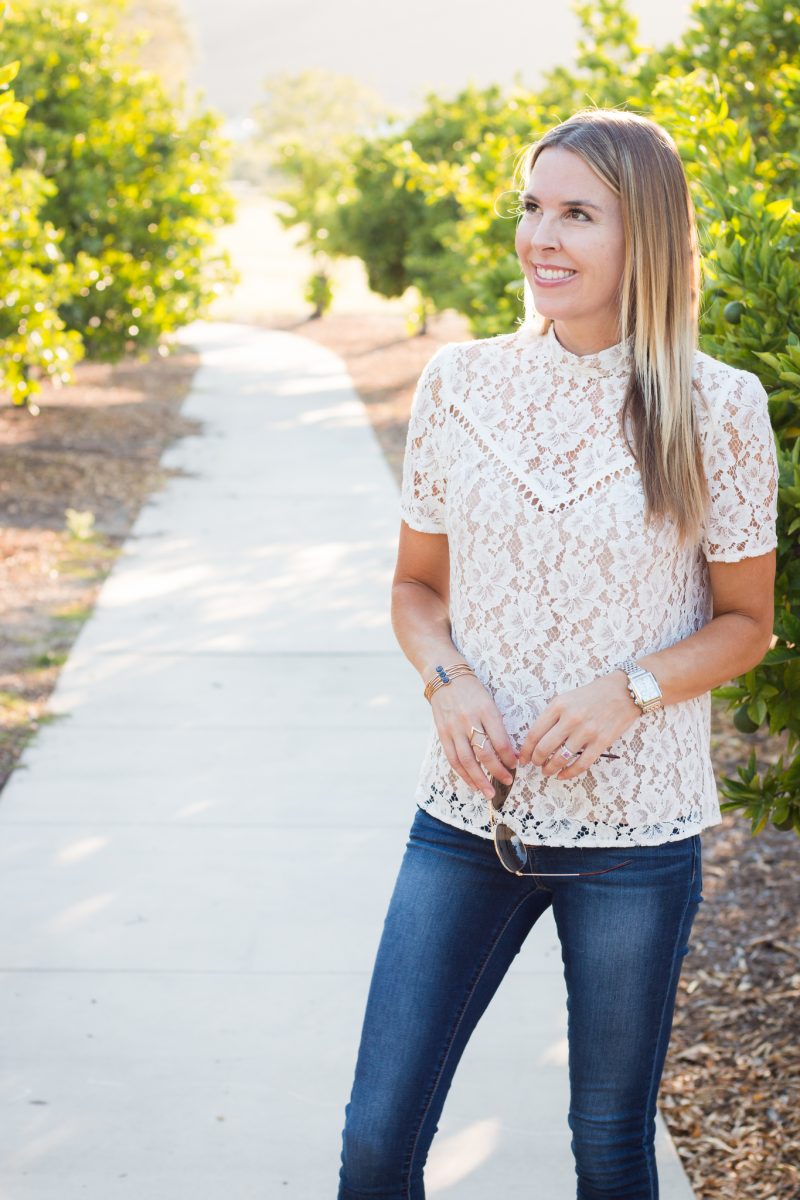 This pretty lace top feels like you are wearing a t-shirt and also comes in a pretty pink color. My  jeans are on sale for $35.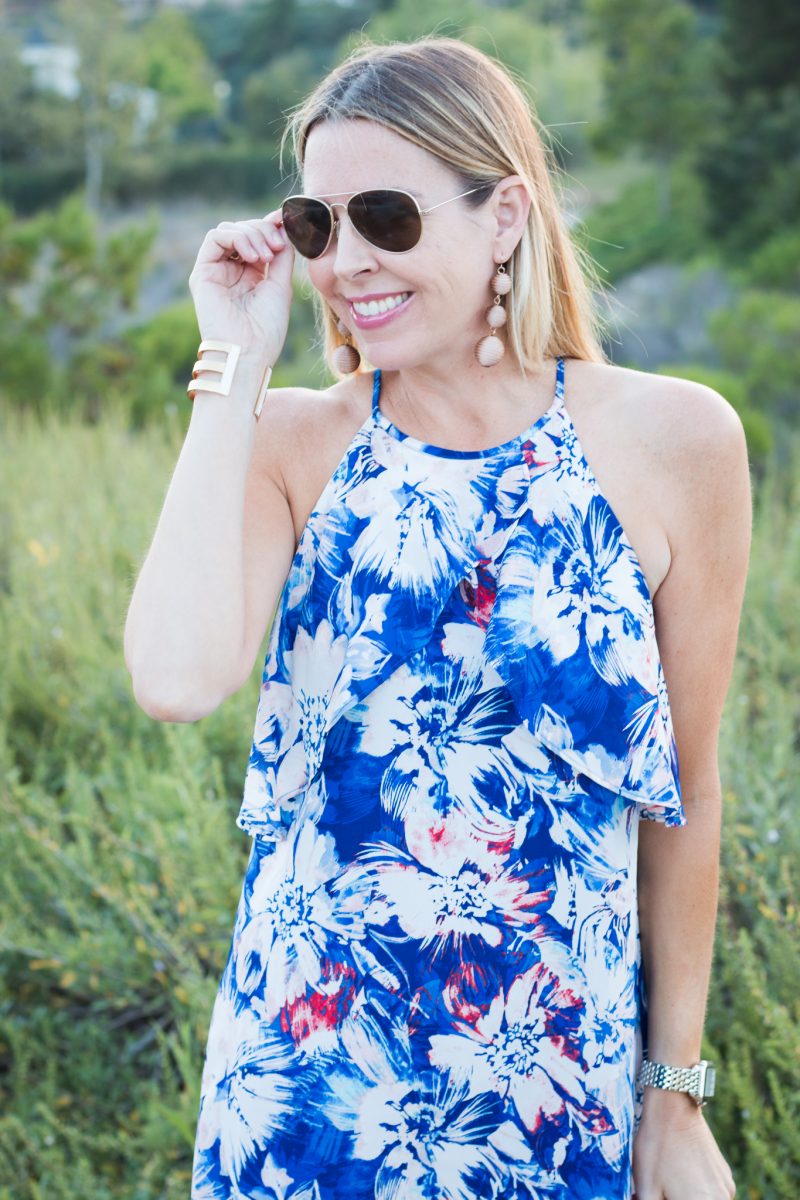 Such a fun and vibrant dress. The colors are beautiful and so is the cut. It's not too short and looks great with these statement earrings. It's $61 but will pop up to $94 after the sale ends.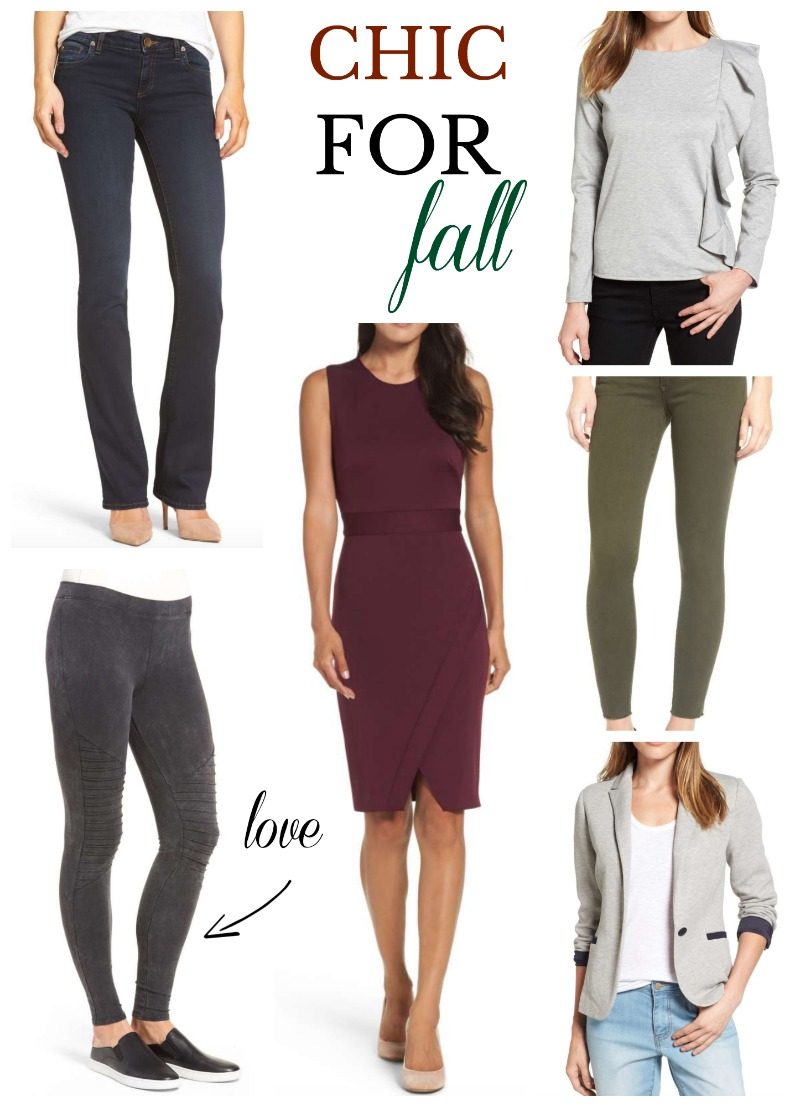 jeans | sweatshirt | moto leggings | green jeans | dress | blazer
If you are headed to the office every day, I thought this dress was just beautiful. I also love the blazer. I have had these moto leggings for a couple of years and adore them. Great staple for your wardrobe. I also appreciate a boot cut jean. They elongate your figure and look so great with a pair of heels or booties.
ORGANIZED FOR YOU
Kudos if you've made it through this entire post. I hope it's been helpful. To make it easier for you to go back and find your favorites, I have a page dedicated to the sale. It is organized into categories so that you can shop more simply. Click on the image above or here and it will lead you to that page (it can also be found on my sidebar).
More Nordstrom Sale Posts:
Early Access | Dressing Room | For Girls |  For Men
We took a break from reality this week and headed out to Palm Springs. It's been just what the doctor ordered and I can't wait to recap the trip with you. Hope you all have had a fantastic week. Thank you for always taking a moment out of your day to pop over to the blog. I appreciate it more than you know.
*affiliate links used