I am back with another edition of what we really think. Today I am rounding up a few of our smaller purchases and how they have worked out for us.
We thought it would be fun to post about decisions, projects or purchases we've made and let you know our thoughts after living with them for quite some time.  Occasionally we change our minds or wish we could have a do-over. It's all part of home ownership. Then there are times where we actually get it right and wouldn't change a thing. Today we are sharing five choices we've made and whether we nailed it or should have gone a different direction. Here's what we really think!
Copper Kitchen Additions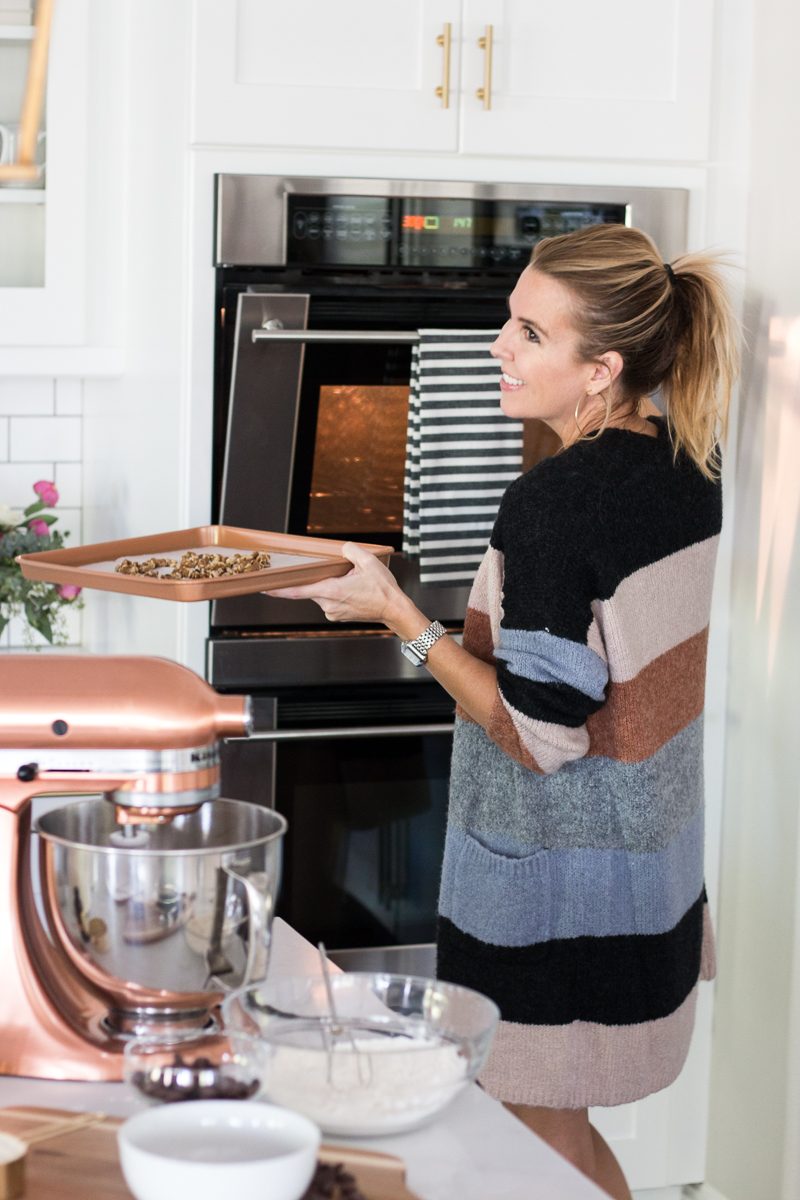 When we gave our kitchen a refresh, we bought a few new items. Just the other day my husband comment on the copper baking sheets. They have been GREAT. We use them almost daily and love them. You never know when you order something like that. We use them for baking and for roasting vegetables. The KitchenAid mixer has been life-changing. It took me 15 years of marriage before we treated ourselves but well worth it. (I waited for it to go on sale). Baking is so easy with the mixer and it's extremely easy to clean. While the copper version was a splurge, it makes me so happy and I don't regret it at all.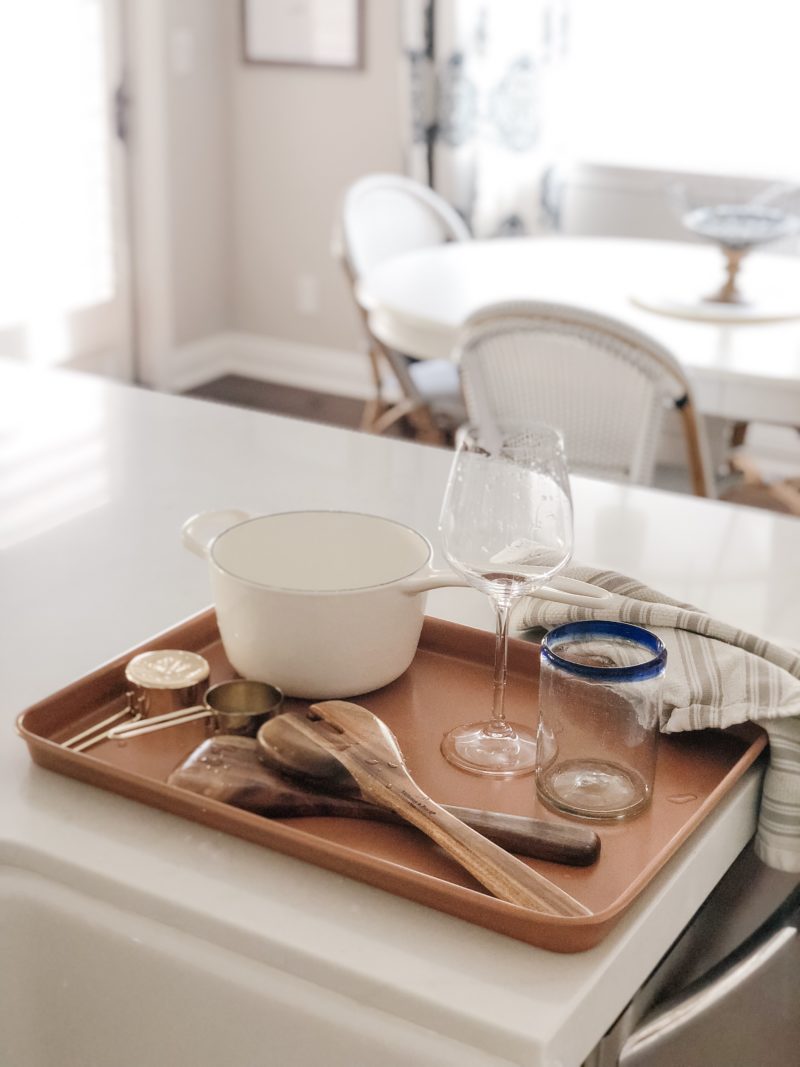 Lately I've been using one of the trays on my counter for when I am washing things that will be hand-dried. It just keeps the water from going all over. Plus the kids know that if things are on the tray, they can take a moment out do dry them (part of earning their allowance!).
Coconut Deodorant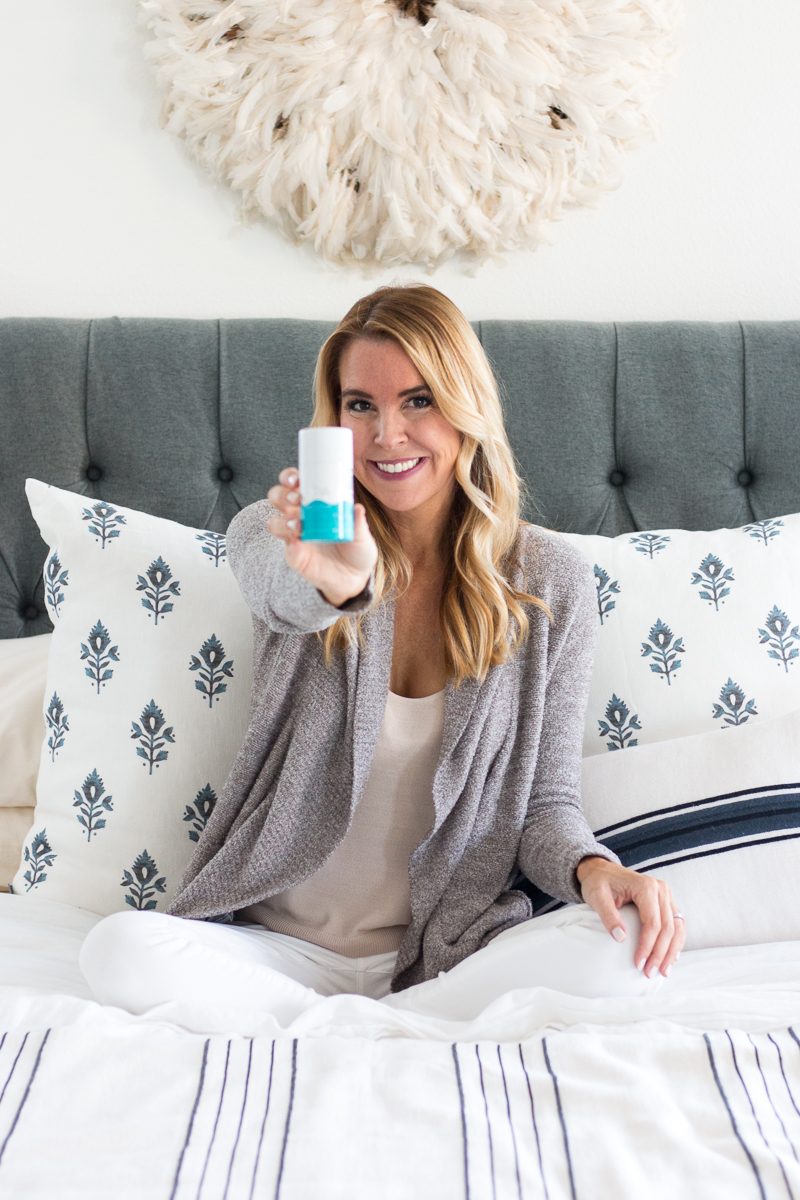 I made the switch to aluminum-free deodorant over eight months ago. First of all, it's completely frightening that it has been that long. Where does the time go?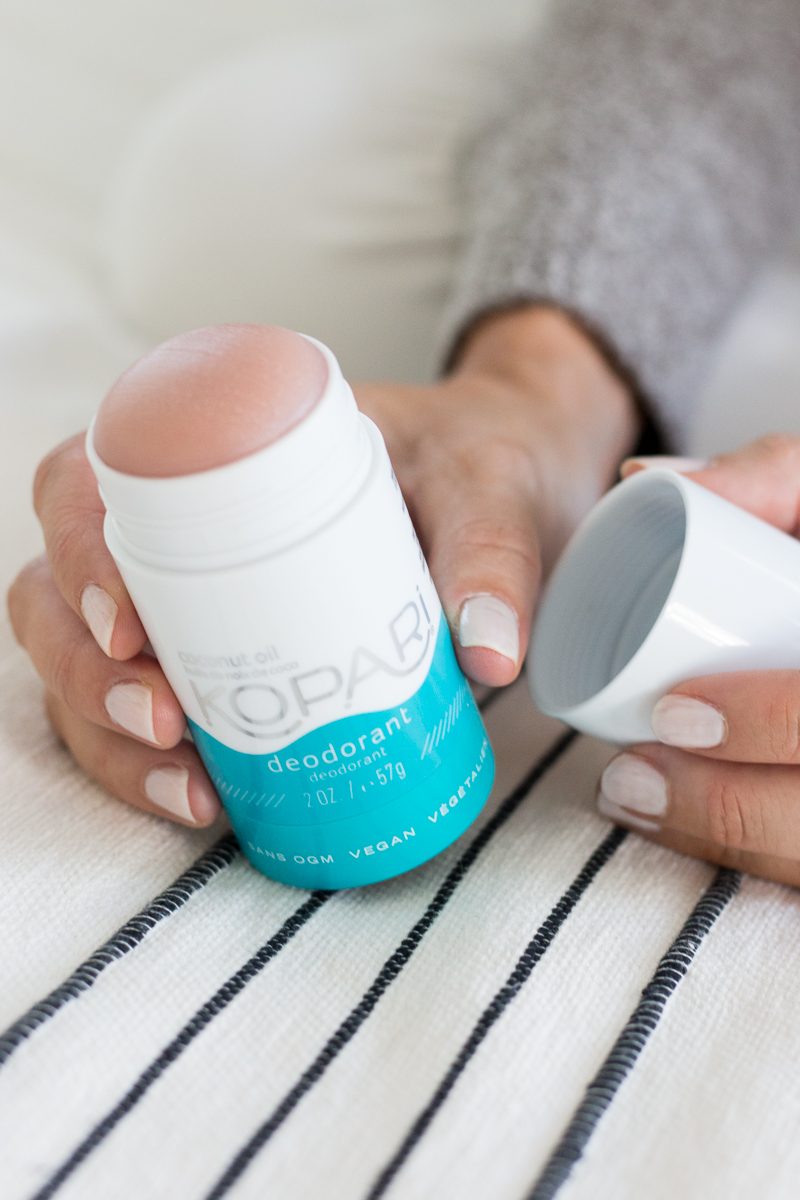 This took me about three weeks to adjust to and that period of time can be a bit sticky. Literally. But it was well worth it to me. You can read about why I switched here but it is officially the only deodorant I use and I still LOVE it. This is also what my daughter uses. The nice thing is that each one seems to last forever.
Pantry Storage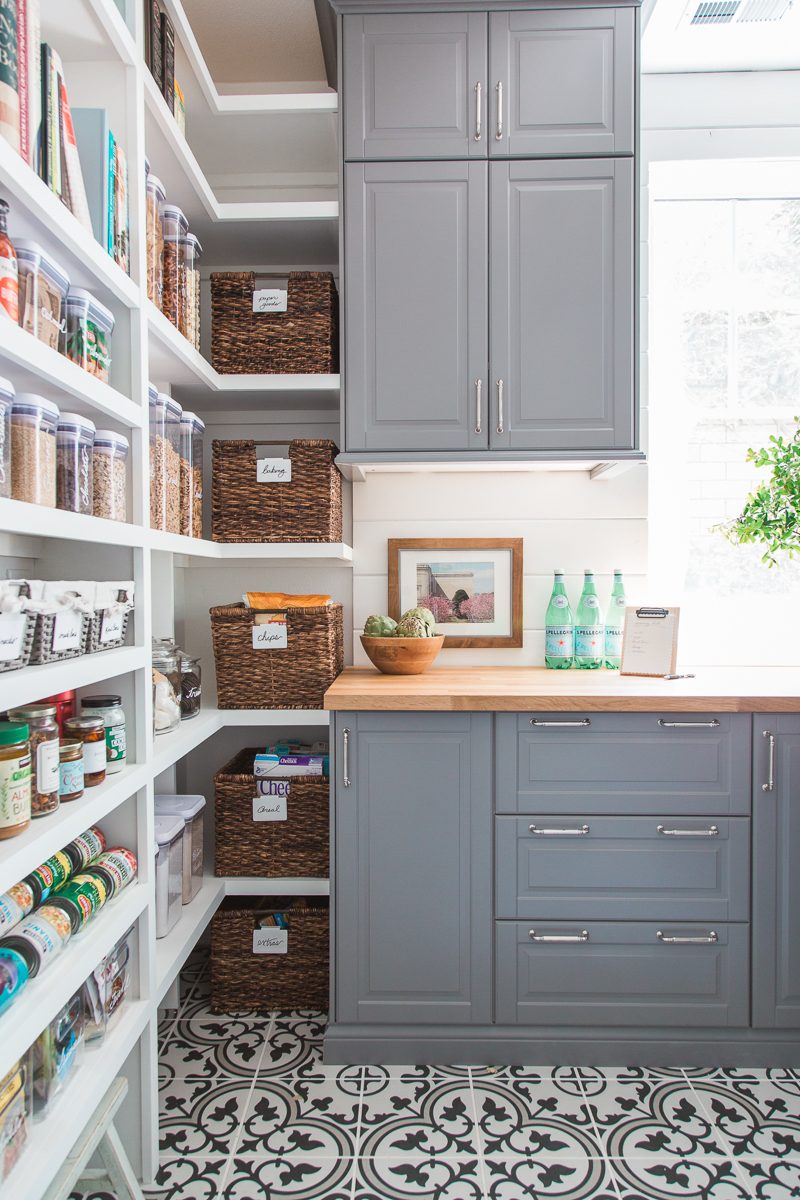 It's been almost a year since we created this pantry space in our home. It's been a wonderful addition and a great use of space for our family. But I did want to update you on the storage choices I made and what we think of them now. Some I nailed and others . . . well, I didn't.
I will say that the pantry looks almost exactly the same as the day we took the photos. With one main exception being too many OXO containers. Let me break it down for you. Here is the main question you should ask yourself when using a large plastic container – Do I use it every day? I think that is the key to the success of these.
If you do not use an item every day (like chips and snacks) the items will go stale. I no longer empty snacks into containers. We just don't go through them fast enough. It's better to keep those in their original bag and just use a clip to keep the air out. I toss those bags in one of the baskets and it works great.
*I've switched the cereal to the tall skinny containers. They are easier for the children to pour from and hold the perfect amount. If there is more left in the cereal box, I place the box in one of the labeled baskets until we need more.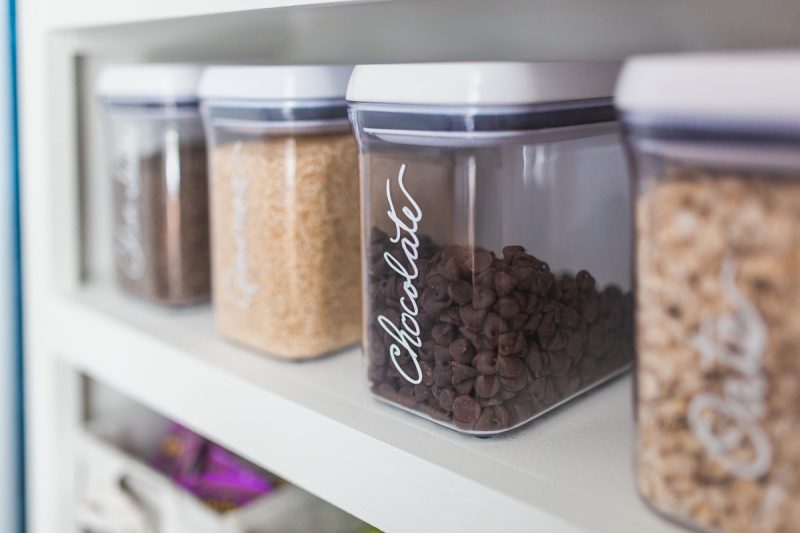 So what do we use these containers for? Here is a break down:
Tall skinny containers – cereal (LOVE them for cereal)
Small rectangular – chocolate chips, oats and chia seeds. I use the seeds daily in my protein shake and I make overnight oats for my daughter almost daily.
Small square – I use these for small packaged items
Here is a round up of the containers we use in the pantry and highly recommend:

The other storage choice we love are these glass jars. I store sugar and flour in them and they have worked out so well.
Ikea Chairs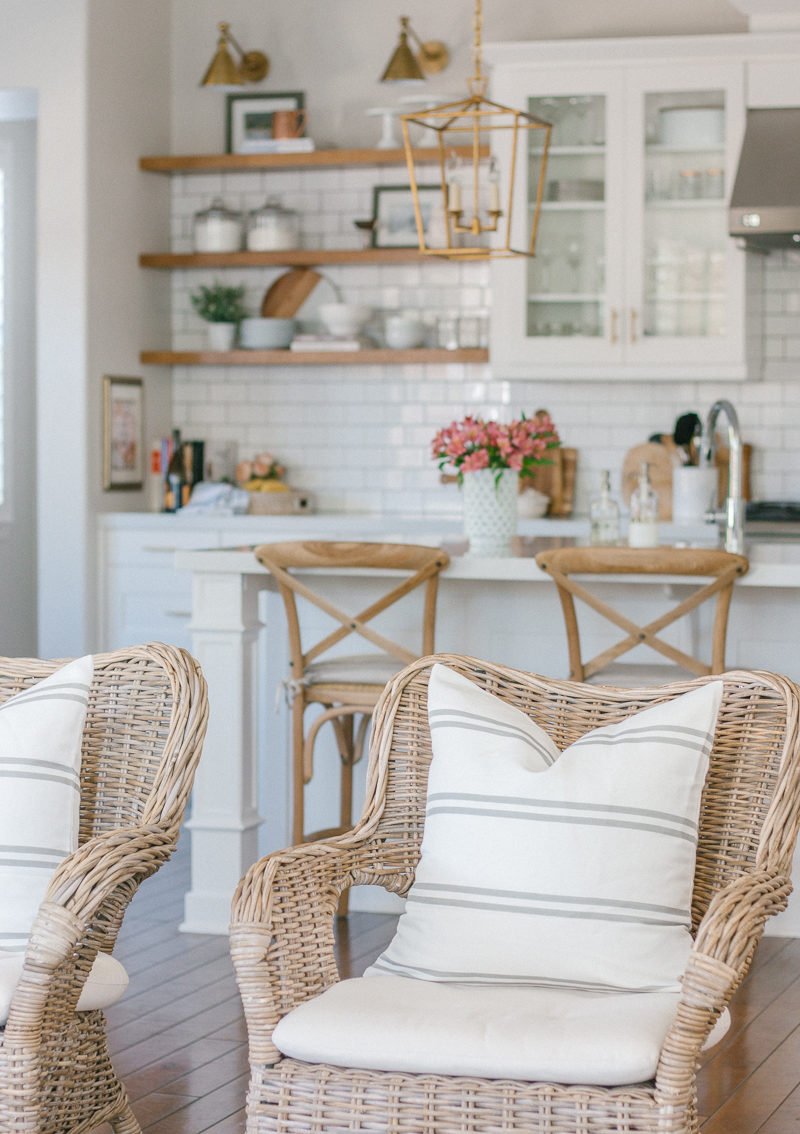 These inexpensive Ikea chairs were a random buy one day. I knew I wanted texture in our room but I didn't know exactly what I wanted. Well . . .here we are almost three years later still rocking the Ikea chairs. They are more comfortable than they look and have been a really nice addition. Will we keep them forever? I don't know but I really do love the look and the extra seating they provide. The striped pillows have been a pretty addition to this space, too.
Outdoor Pillows
Let's move this party outside! We love using this space and often entertain out here. I bought the monogram pillows over a year ago. I must say. Not the best buy if your pillows are in the sun. The "F" pillows were a dark navy when we bought them.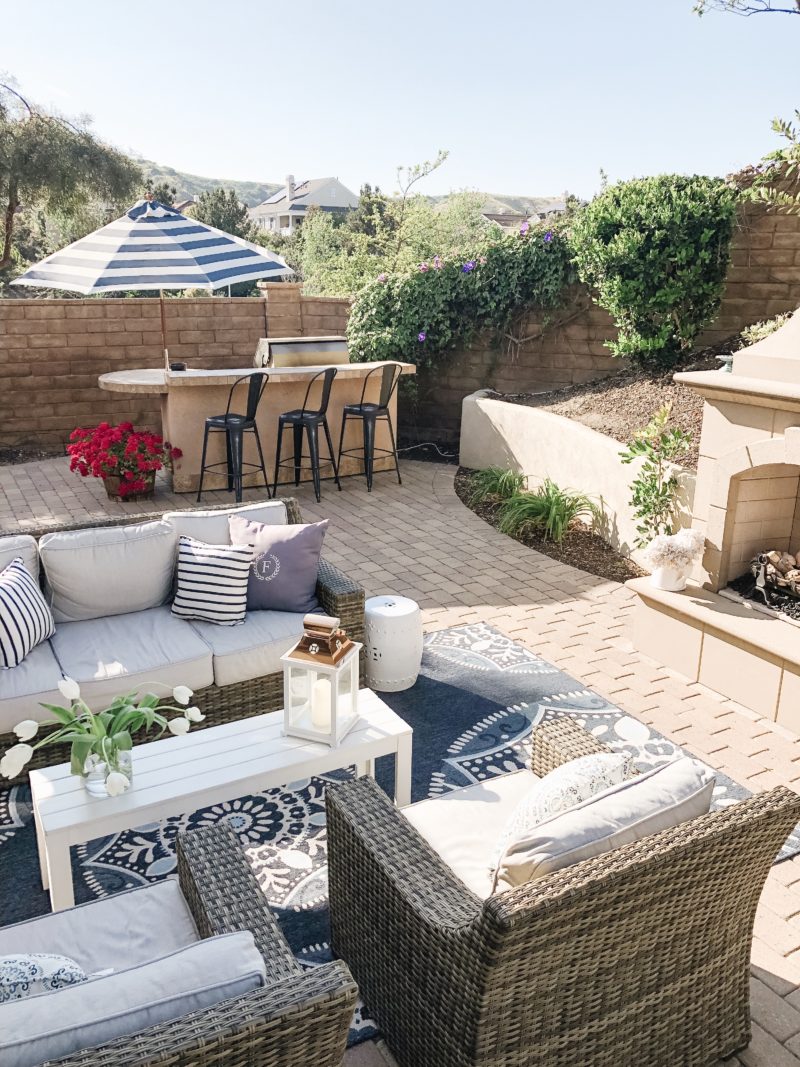 Now look at them. Ummm. . . they are pretty much purple. Super disappointing. If you have these, just be sure you keep them out of the sun. The striped pillows have held up beautifully! They are the exact same color as the day we bought them and they have endured years of sun. Great buy.
You can read about what we really think about our patio furniture here.
Missed the Other Installments?