Did you all have a nice weekend? We are knee-deep in purging almost every room in our home. I don't know if it's because we have been here almost ten years or because we let it go too long, but it is astounding what we have and don't need. It feels good to simplify. While we were cleaning the garage, I snuck away to prep this Slow-Cooker Honey Sesame Chicken recipe (which only took ten minutes!).  The whole family really liked it and I had requests to add this to our weekly menu.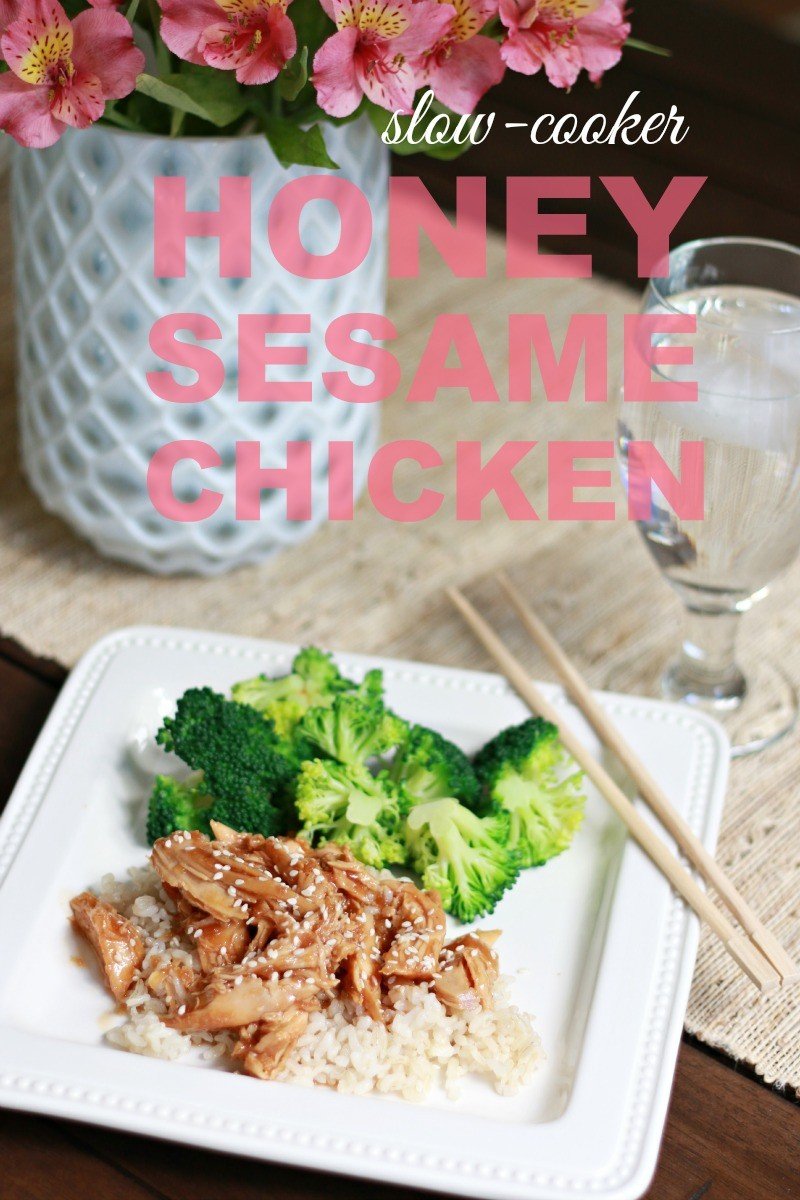 INGREDIENTS
4-6 boneless, flattened chicken breasts
salt and pepper
1/2 cup diced onions
1/2 cup soy sauce
3/4 cup honey
2 cloves garlic, minced
1/4 cup ketchup
1 tsp ginger
2 Tbsps olive oil
1/4 tsp. red pepper flakes (optional)
sesame seeds
2 tsp cornstarch dissolved in 3 Tbsp water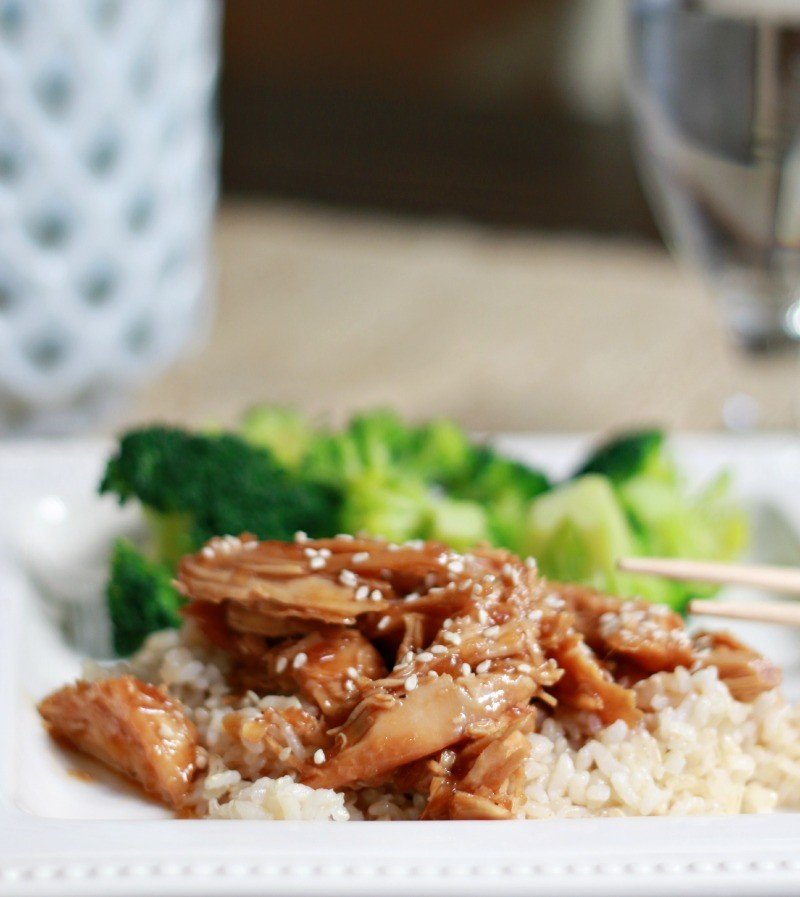 DIRECTIONS
Season chicken breasts with salt and pepper and place in crock pot. In a bowl, mix onions, soy sauce, honey, garlic, ketchup, ginger, olive oil and red pepper flakes. Pour over chicken. Cook on high for two hours or low for four. (I found 2 hours on high was perfect). Remove chicken and shred or dice.
Dissolve corn starch in water and add to sauce to thicken. You can either place the lid back on and allow sauce to thicken or remove from the crock pot and thicken on the stove. Once thick, combine with chicken and serve! Don't forget to add the sesame seeds on top.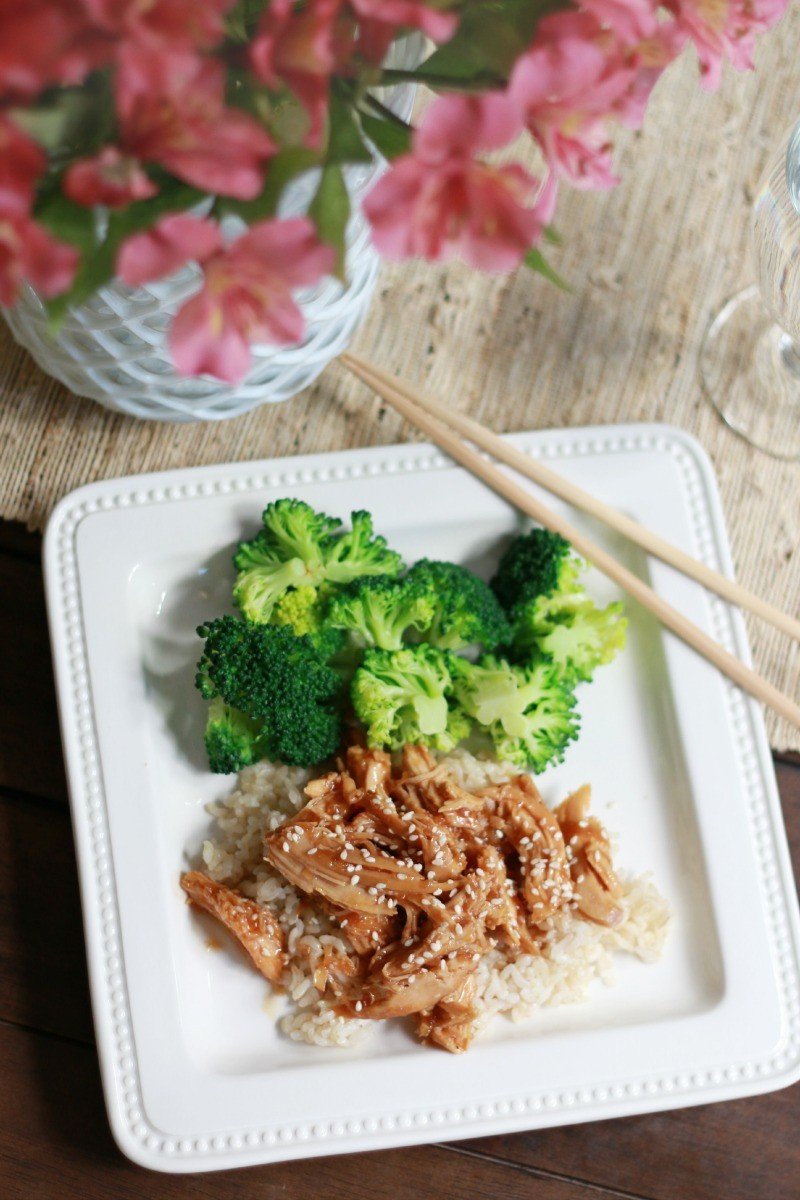 Serving Suggestions: 
I served this on top of jasmine rice alongside steamed broccoli. I might try adding pineapple to the chicken and sauce once it is finished. You can also serve this over chow mein noodles or quinoa. My children love any meal that allows them to use chopsticks so this one was definitely appreciated!
Let me know if you try this and make any yummy adjustments. My sauce did not thicken in the crock pot which is why I suggest removing it and thickening it on the stove. It would only take a couple of minutes. This recipe has been adapted from here. 
And was so thrilled to hear from a couple of readers how much they loved the Slow-Cooker Chicken Tortilla Soup. I love when you take the time to let me know. You can check out all of these recipes on my "Yummy" Pinterest page. 
Enjoy the week and prepping for Thanksgiving or for traveling. I hope it's a wonderful one.
Other Slow Cooker Recipes
Slow-Cooker Chicken Tortilla Soup
More Scrumptious Dishes
Chicken & Vegetable Lettuce Wraps
Meat and Cheese Platter {with how to video}