When we first moved to Nashville, one of the kind men who helped unload our moving truck told us all about the surrounding waterfalls in the area. From the moment I have been wanting to check them out. It may have taken us a year, but we are finally doing just that. Sharing all about Machine Falls and tips on making the best of the hike. It was absolutely beautiful and we definitely plan to go back.
MACHINE FALLS LOOP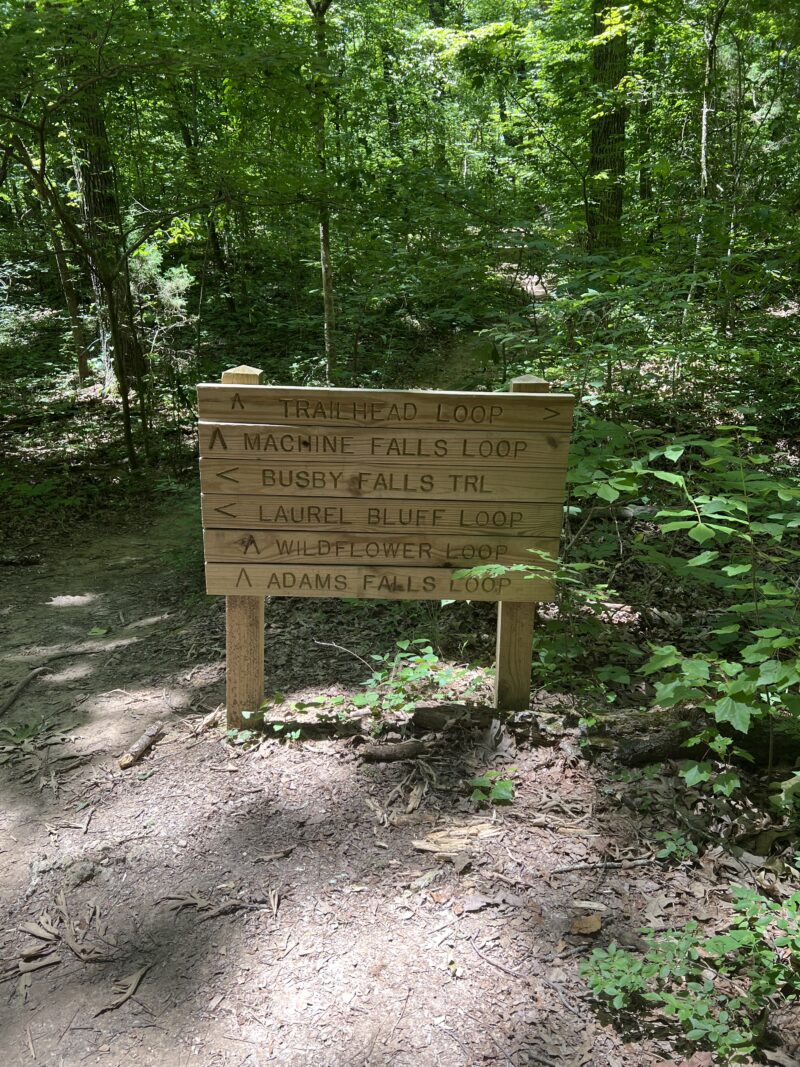 Machine Falls loop is part of the Short Springs Natural Area. Depending on where you are coming from, it's about an hour to an hour and a half outside of Nashville. It is an easy drive and absolutely worth it.
WHERE DO WE PARK?
Once you arrive at the destination (and you may be doubting as you drive up because it is not well marked) you'll find a parking lot on the right. To preserve the integrity of the trails, the lot is quite small. The sign says please come back if the lot is full. We waited about ten minutes until another family came off the trail and backed out of their spot. Just know you may have to wait if it's on a weekend.
WHAT DO WE BRING?
We picked up sandwiches on the way and ate them in the car before hitting the trail. Not sure about your family, but we all do much better on these adventures when everyone has just eaten. We applied sunscreen and headed out. Although the vast majority of the hike is heavily shaded which is wonderful. Water bottles are optional (it's not too long of a hike so it depends on what you want to carry). I brought one for all of us and left the rest in a cooler in the car.
You may want to consider bringing your lunch in a backpack and having a picnic near the waterfall. There were definitely a couple of families doing that. Just be prepared to bring your trash back with you.
Water shoes are also something to consider. Your shoes will absolutely get wet if you want to be close to the falls.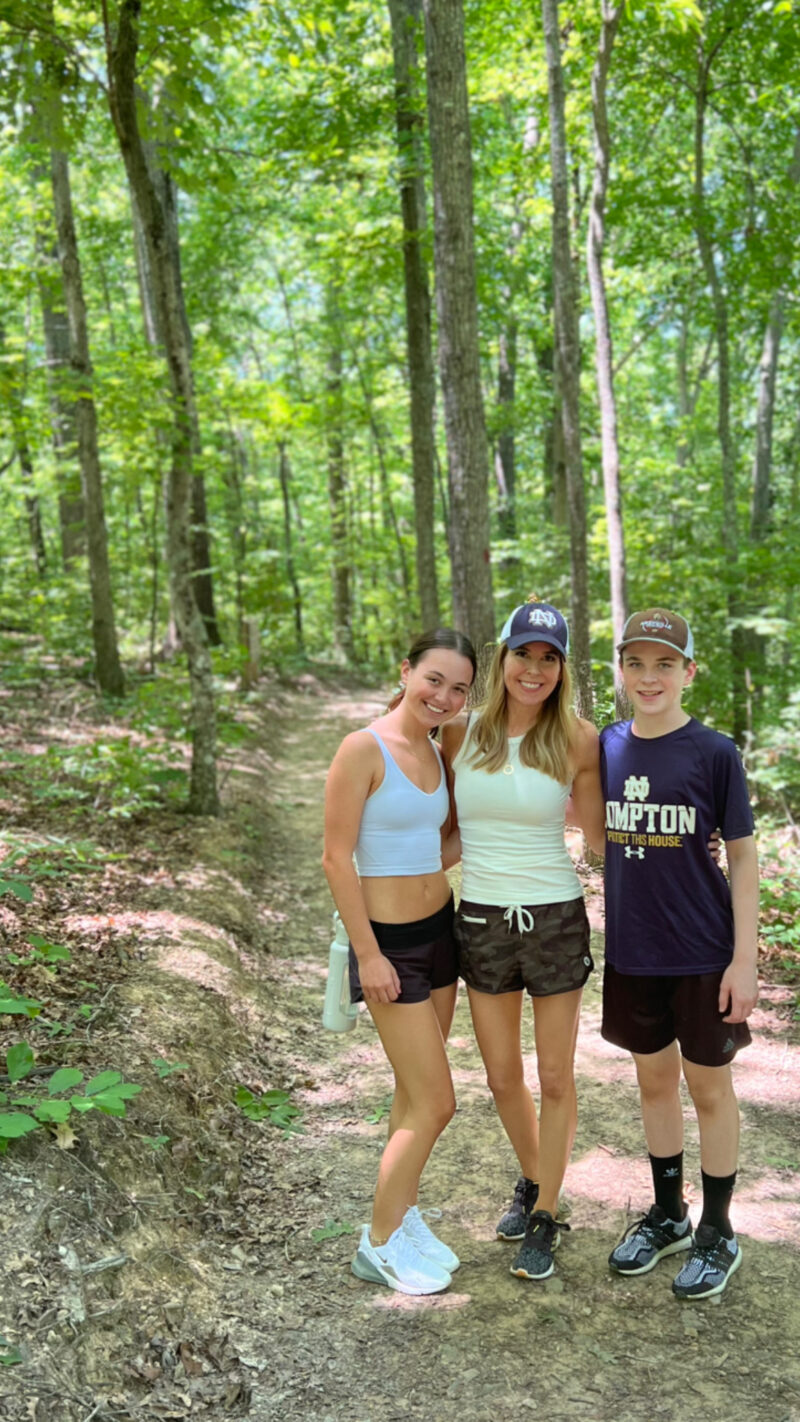 HOW LONG IS THE HIKE?
We chose to do the part of Machine Falls loop that takes you down to the base of the waterfall and back. It's about 1.6 miles round trip and quite quick. It took us maybe 15 or 20 minutes to reach the falls. This photo was taken near the beginning and most of the trail looks just like that (quite easy).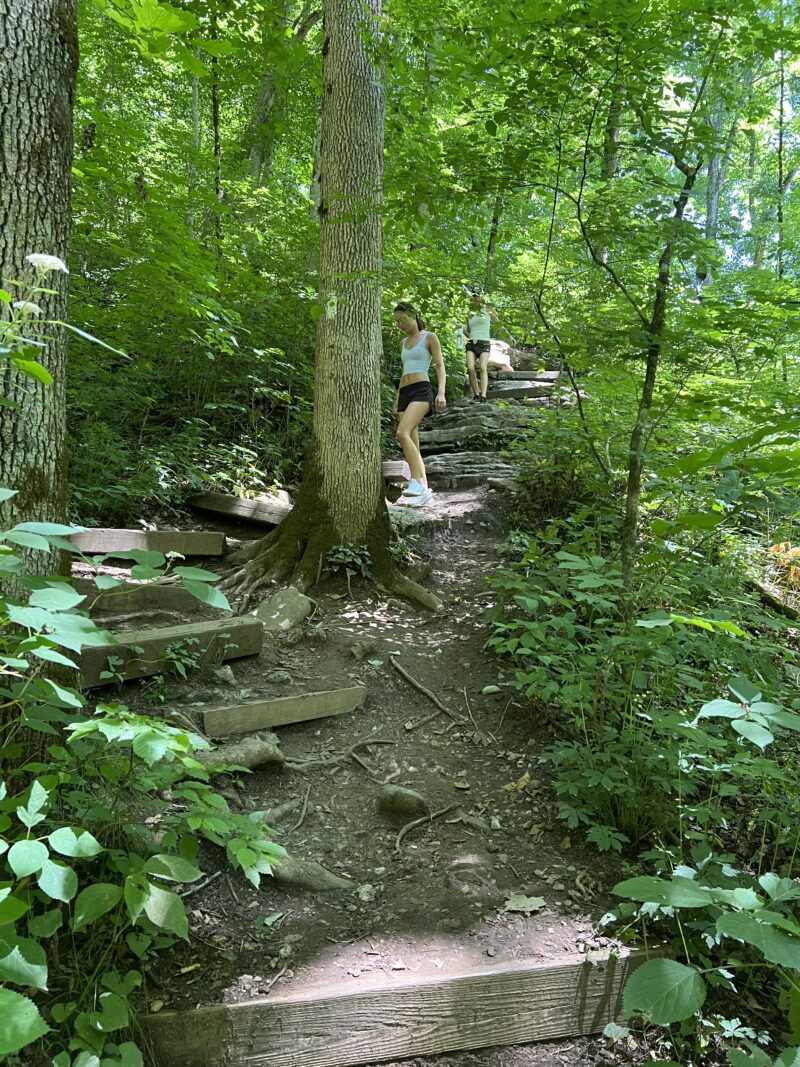 IS IT A DIFFICULT HIKE?
The majority of it is a piece of cake. Having said that, as you approach the falls, you'll need to go down this very steep section (pictured above). It is a combination of steps and natural tree roots. Please be sure everyone in your group is up for this. And then of course, heading back, it's quite a steep climb.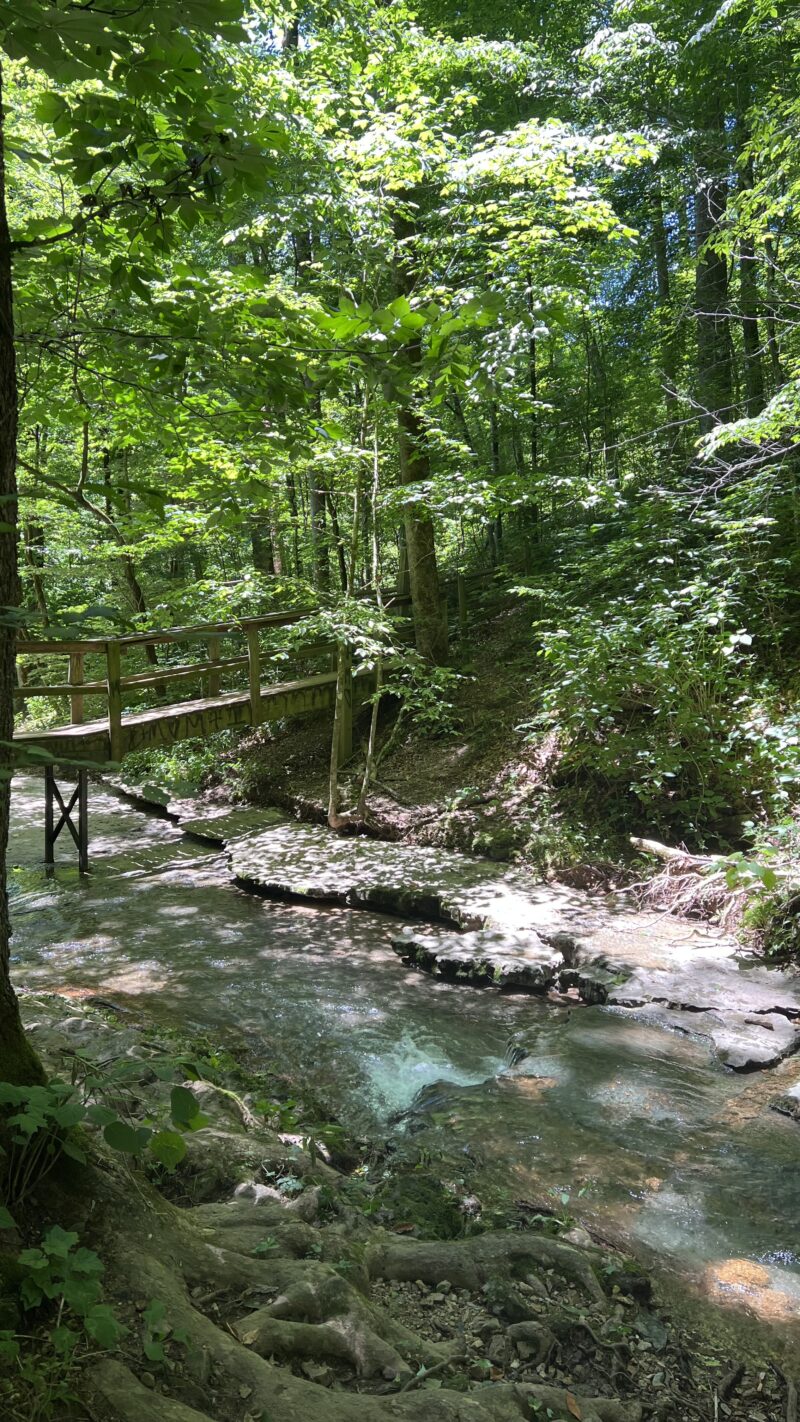 WAS IT CROWDED?
Because of the small parking lot, it really wasn't too bad. There were a handful of other groups enjoying the falls but we only passed one or two families on the actual hike. We went on this bridge but didn't cross it to continue the hike. We chose to stay at the base of the falls and then head back the way we came. Everyone was in a great mood and I am still a huge fan of ending on a high note.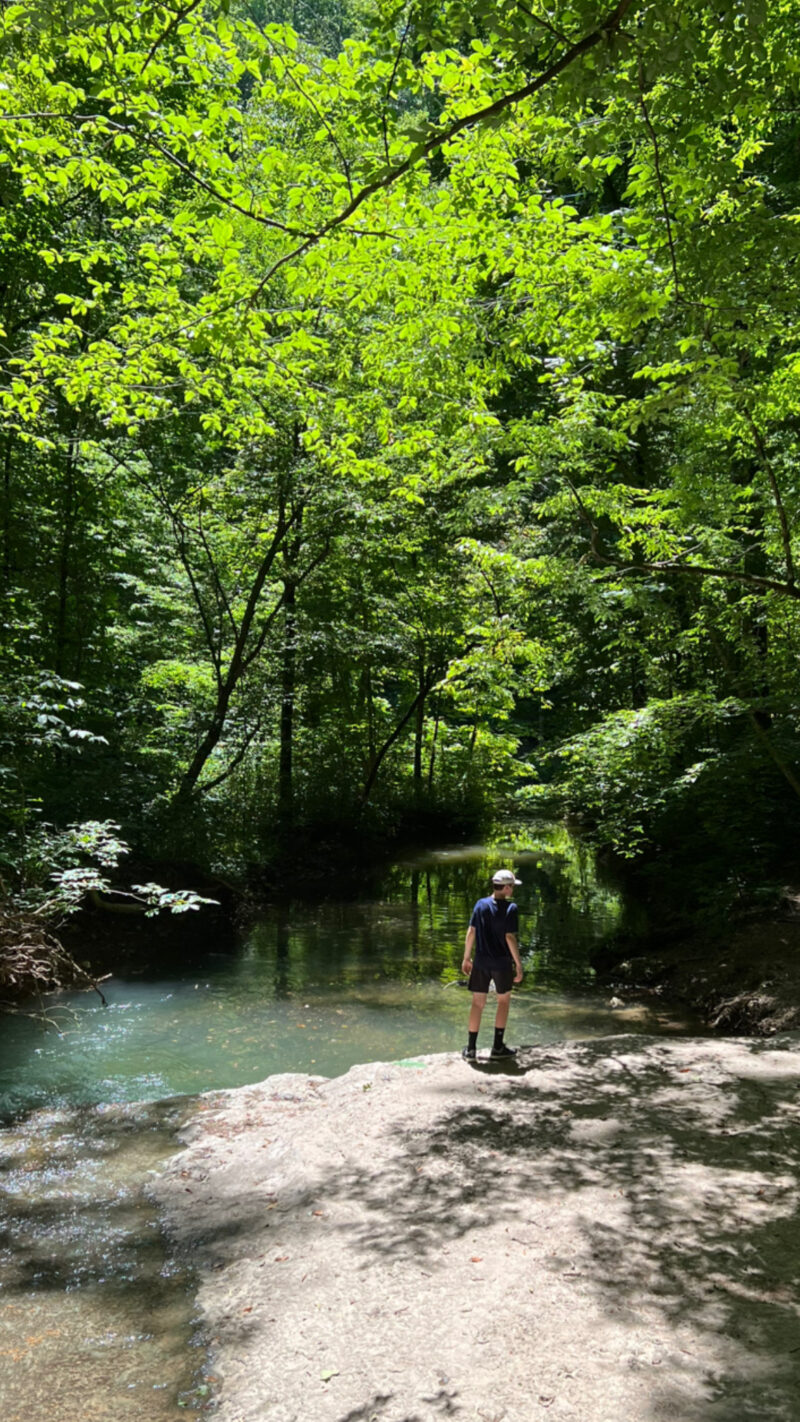 There are some really pretty and serene spots to just explore and enjoy.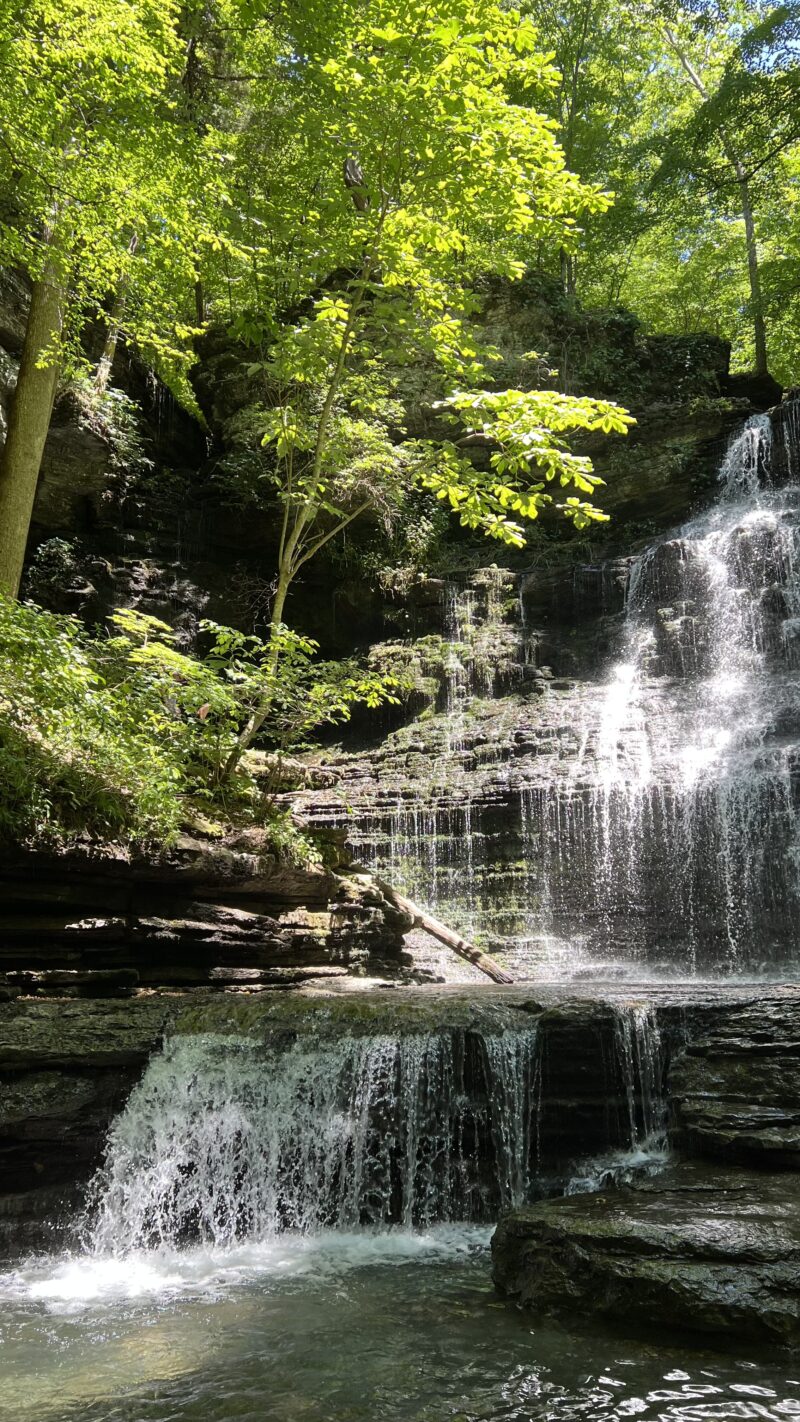 We climbed up the rocks on the right to stand by the water coming down. That's where waters shoes would have been great! You can climb up higher which my son did and of course I was holding my breath the entire time.
Please feel free to drop any questions below. This was a really fun afternoon and highly recommend checking out Machine Falls loop.
More Travel Guides