Good morning! I am excited to be sharing a little bit of our home for a Summer Home Tour hosted by Marty over at A Stroll Thru Life. If you are just popping in from Decor to Adore, welcome! You can get to know a little bit more about me here but I am a mommy of two who loves interiors, fashion and gatherings. Any excuse to toss on a cute dress and hang out with dear friends and family is always welcome in my book. Through many of life's ups and downs my sweet family has learned just how short life is and we love savoring the little things. Our summer style is paired down and simple. Hope you enjoy a little peek inside with our Summer Home Tour 2016.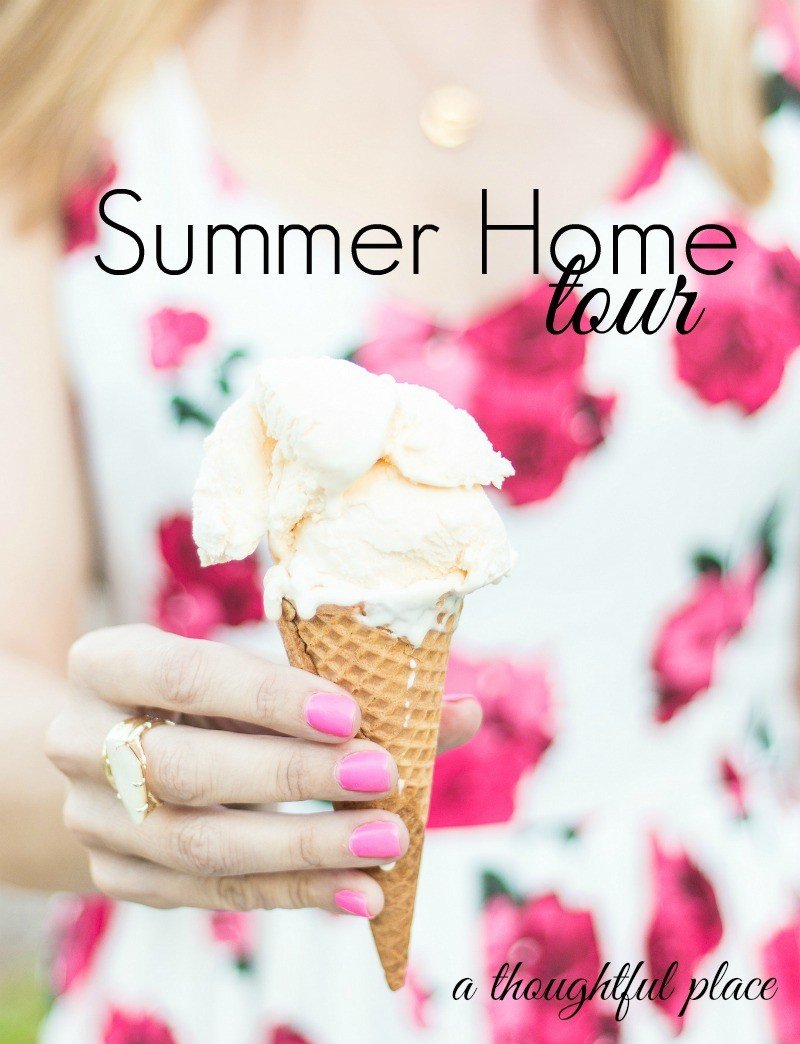 I think it's safe to say that during the holidays we pile on the decor and for summer we strip it down. It just seems like a great time for less is more. I didn't make any major changes to our living room but I did clear off the mantel and kept it super simple with two boxwoods from HomeGoods.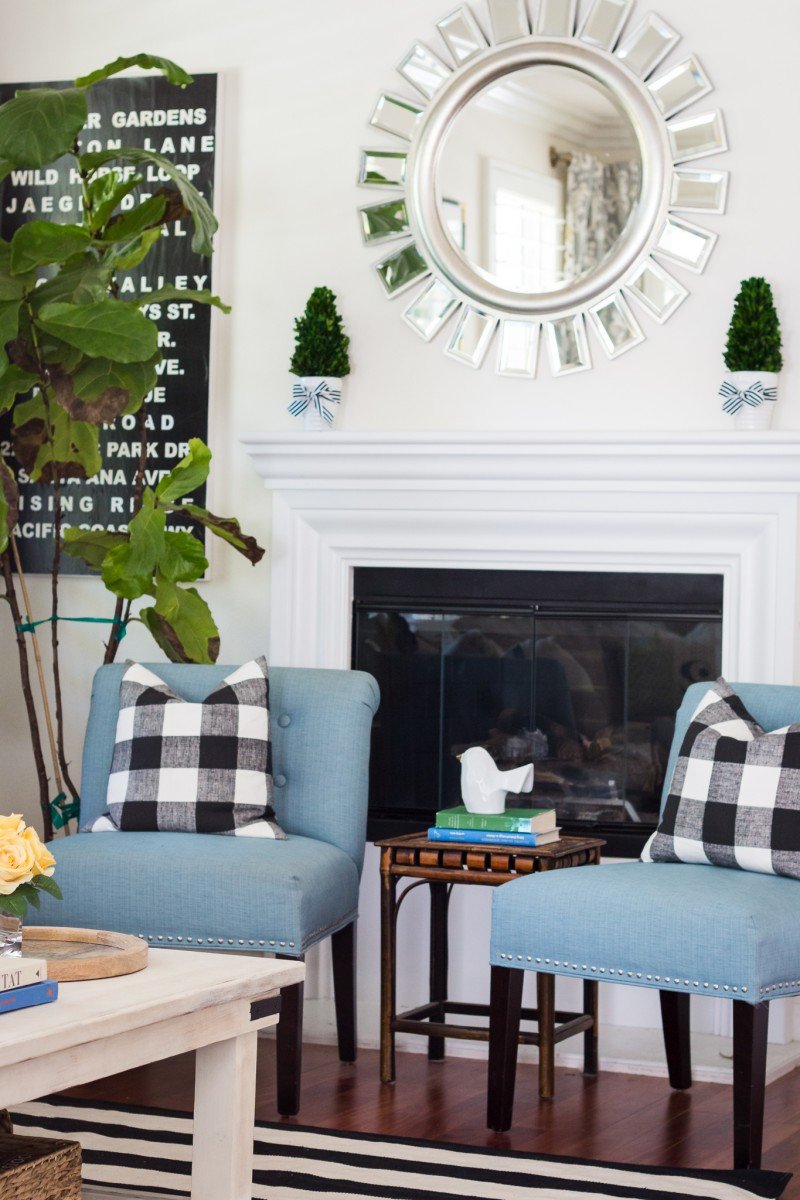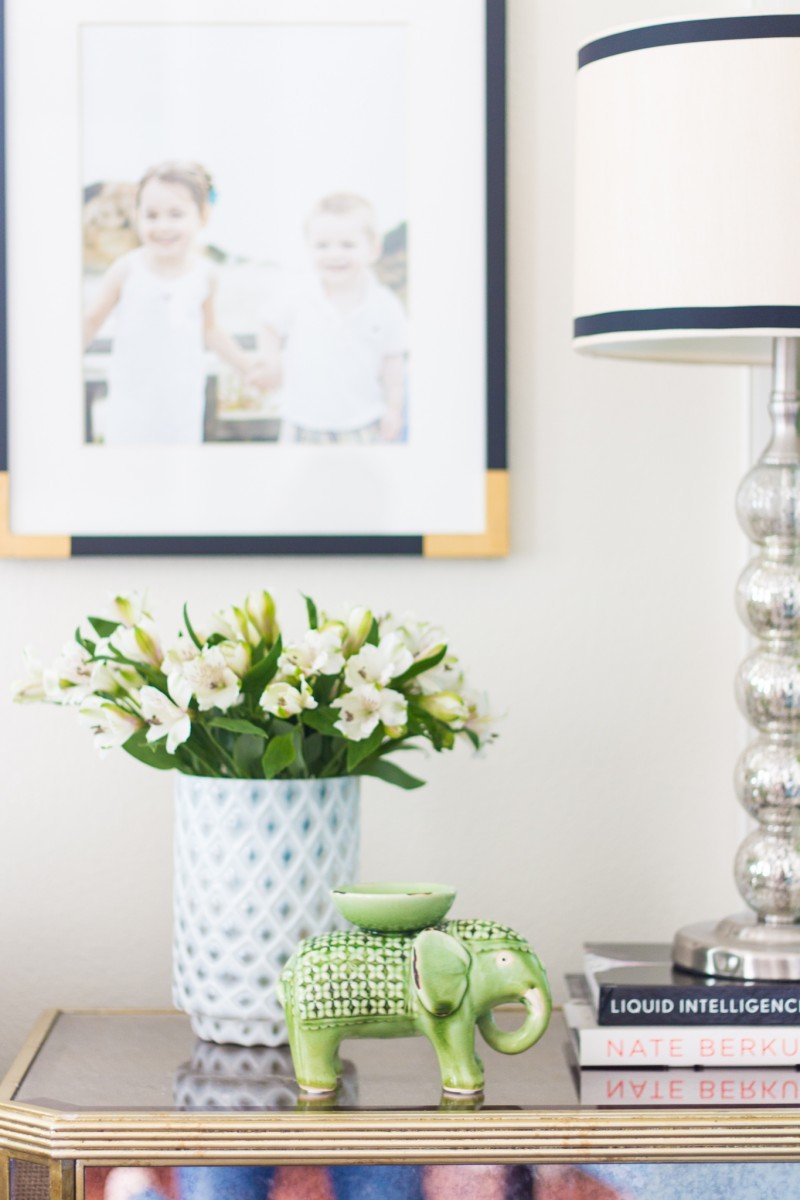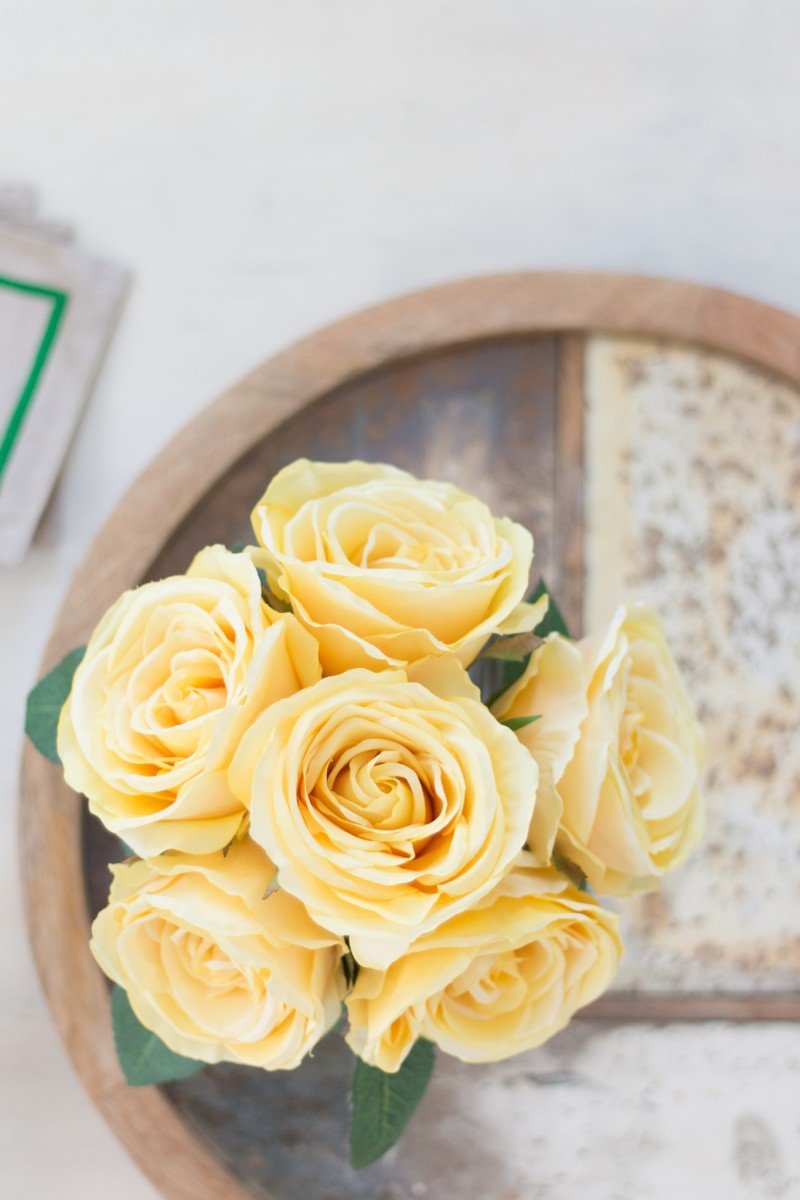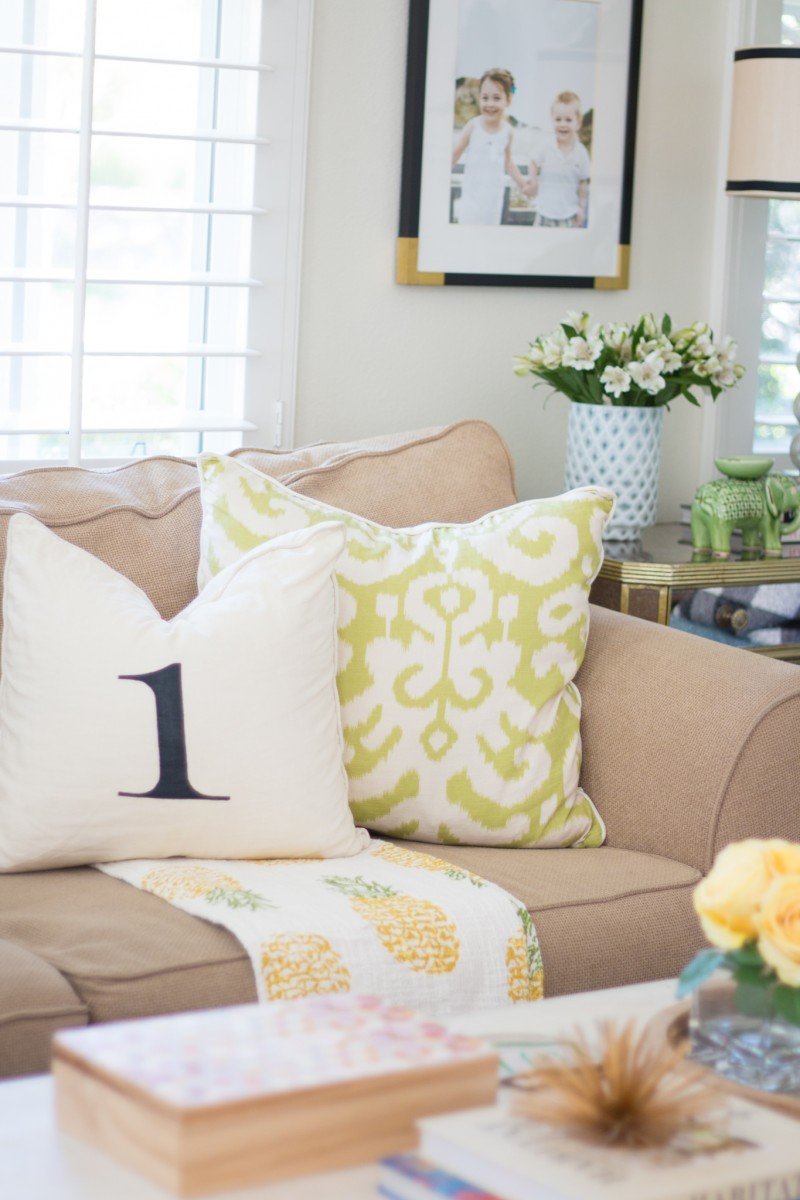 I spotted that cute pineapple throw at HomeGoods too and somehow it ended up in my cart. The splash of yellow is welcoming and fun for summer.  I think I need this pineapple tee now. Just sayin'!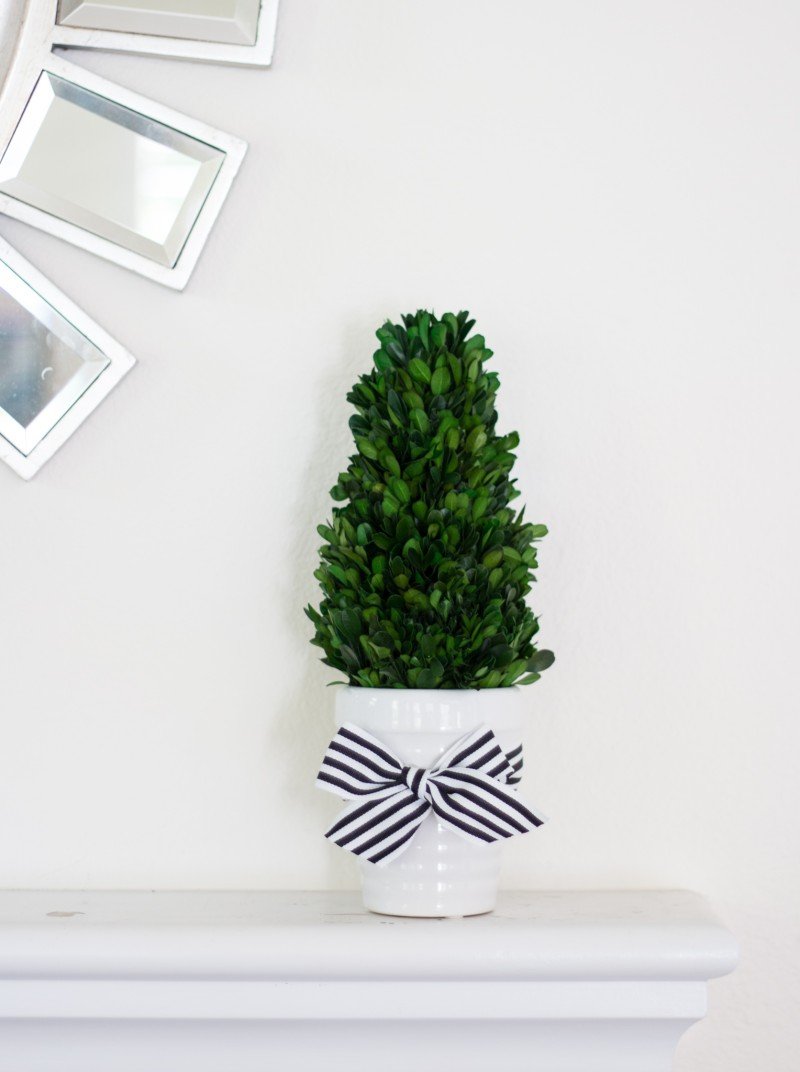 And you all know I can't pass up the back and white stripes so these little guys were a homerun for me. But add your own striped ribbon to any white vase and you can get a similar look. I used the same ribbon on this little DIY hostess gift not too long ago. You could add boxwoods and create this yourself.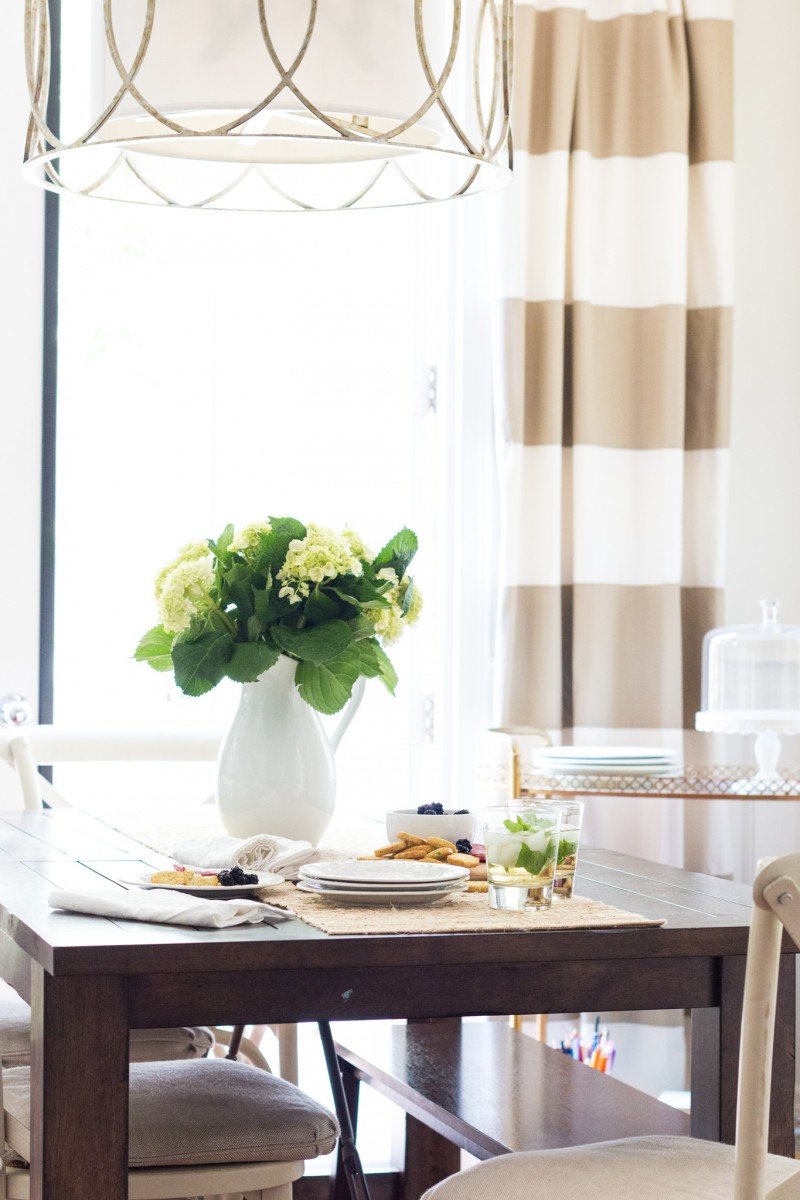 What we love most about the summer is just being outside all of the time. I have to be honest. These home tours stress me out because our home is far from perfect. We have dust, piles, laundry and life happening 24/7. To make these shots happen I threw a lot of junk out of the way. But I don't want it to be all smoke and mirrors so I am choosing to show what we really do enjoy around here. While not alway this clean, you will find an appetizer out on this table most summer afternoons. It stems from laziness and putting off the dinner hour and I'm okay with that. We then head outside to the porch and watch the kids play.
And on a random side note, just discovered that blackberries are an awesome compliment to most charcuterie platters. I never knew. I always rolled with the grapes.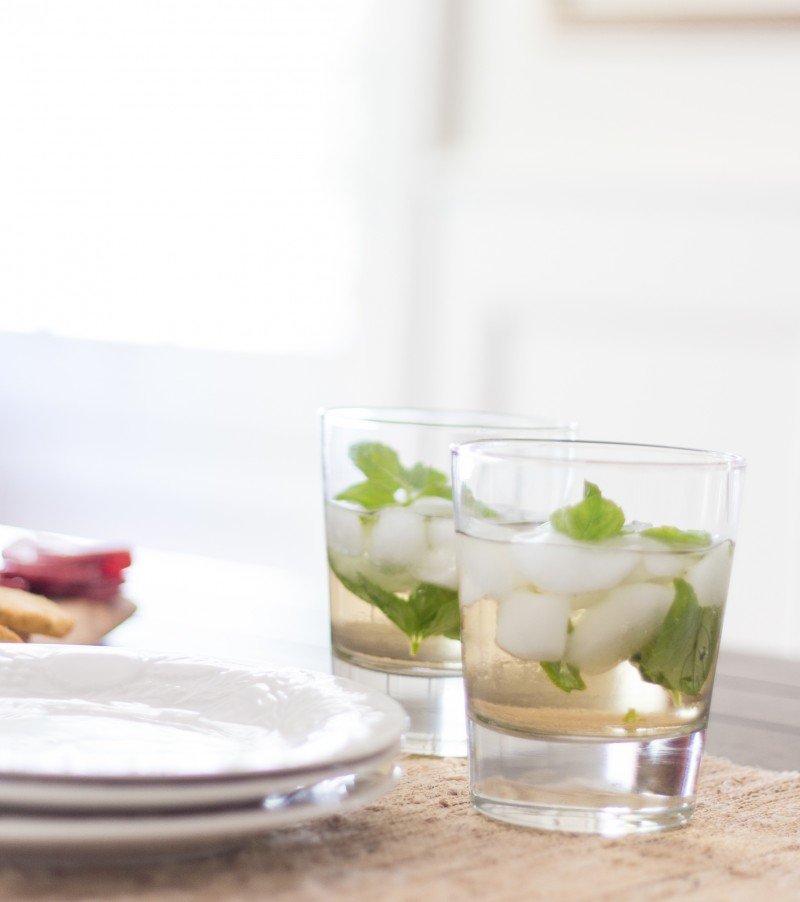 I am usually a red wine girl but for summer I will enjoy a glass of white wine. And a little white wine over mint and ice (I know, not what you are supposed to do with fancy white wine. . .but mine isn't fancy) is really refreshing.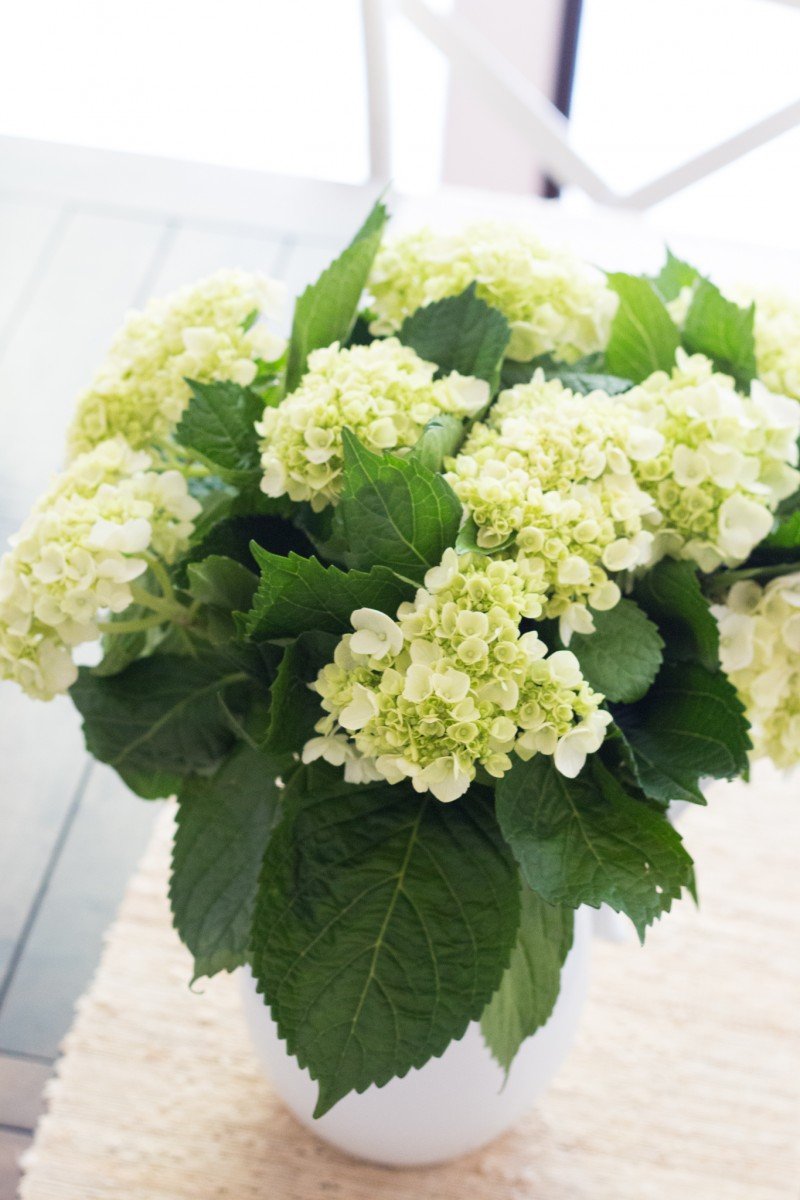 Viburnum is always my favorite go-to to make the house look like summer. So pretty in a simple white pitcher.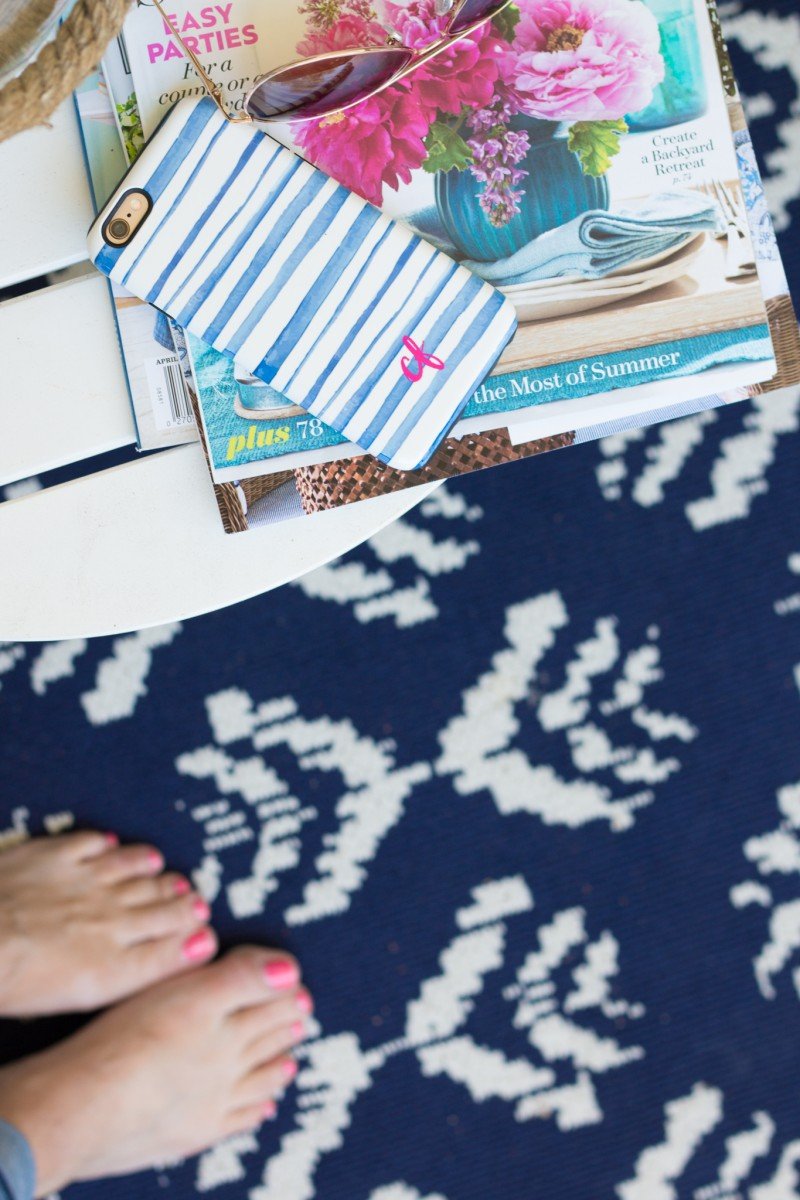 Then we take the yummy food and drinks outdoors. Our porch isn't grand in size but it's our happy place. We add color with a simple rug from Target and bougainvillea. My cute phone case is from my friend Elizabeth over at Pretty Smitten.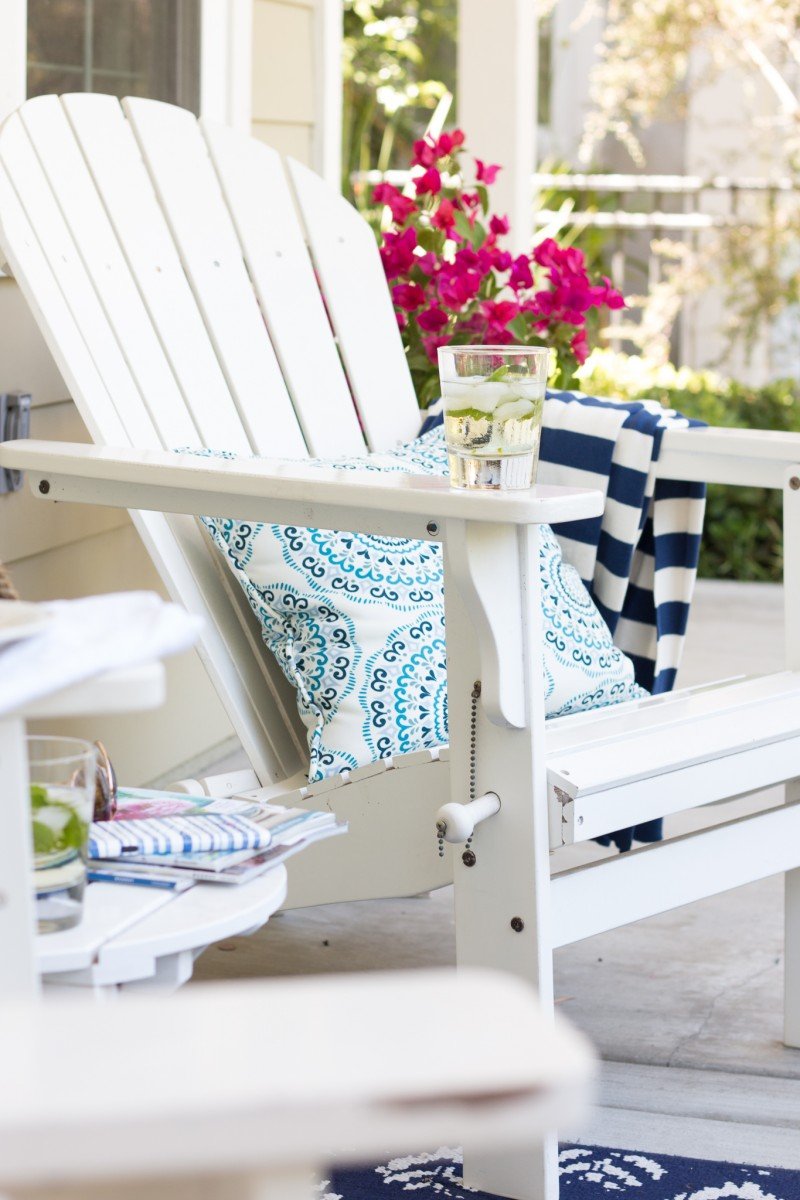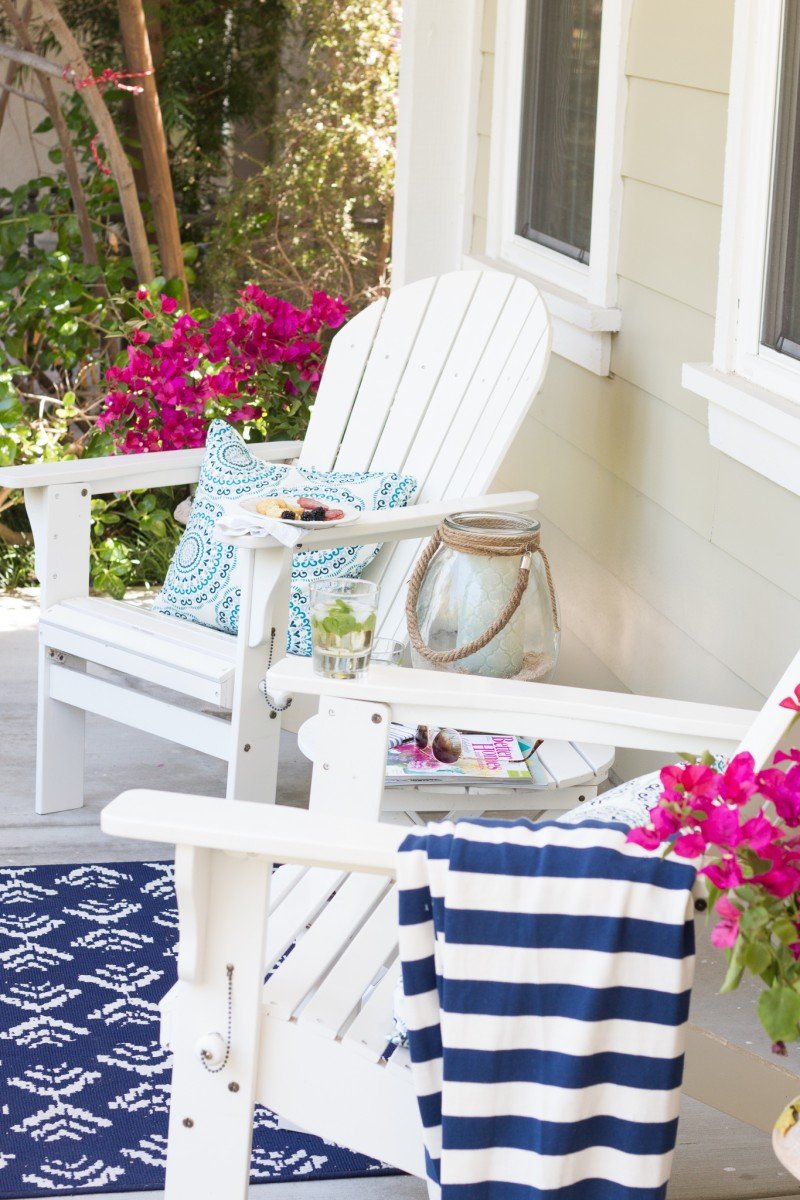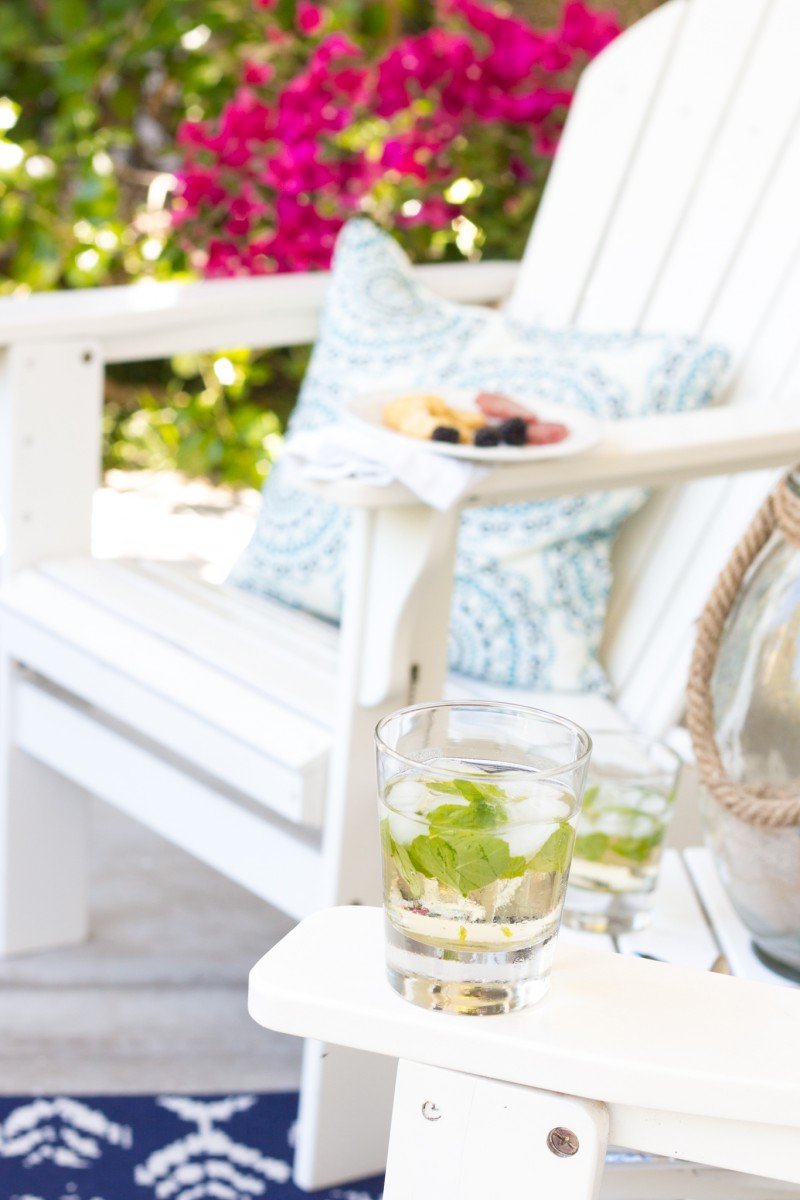 It's a fun spot to sit and enjoy an evening. We have spent many years out here chatting about life, love, heartache, wins, losses, goals and dreams. Our lives are far from perfect, as is our home, but I am a big believer in finding a spot somewhere in your house that really brings about calm. For us, it's our front porch.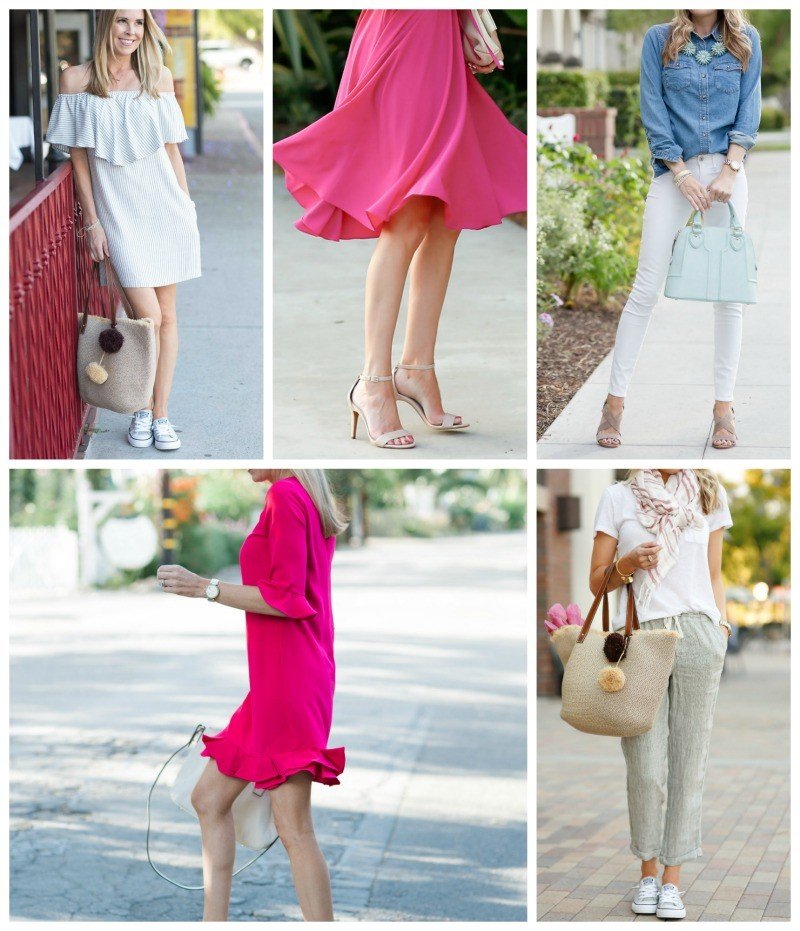 one | two | three | four | five
I think my next favorite thing to enjoying time outside in the summer is the fashion. Summer clothes are just so simple and pretty.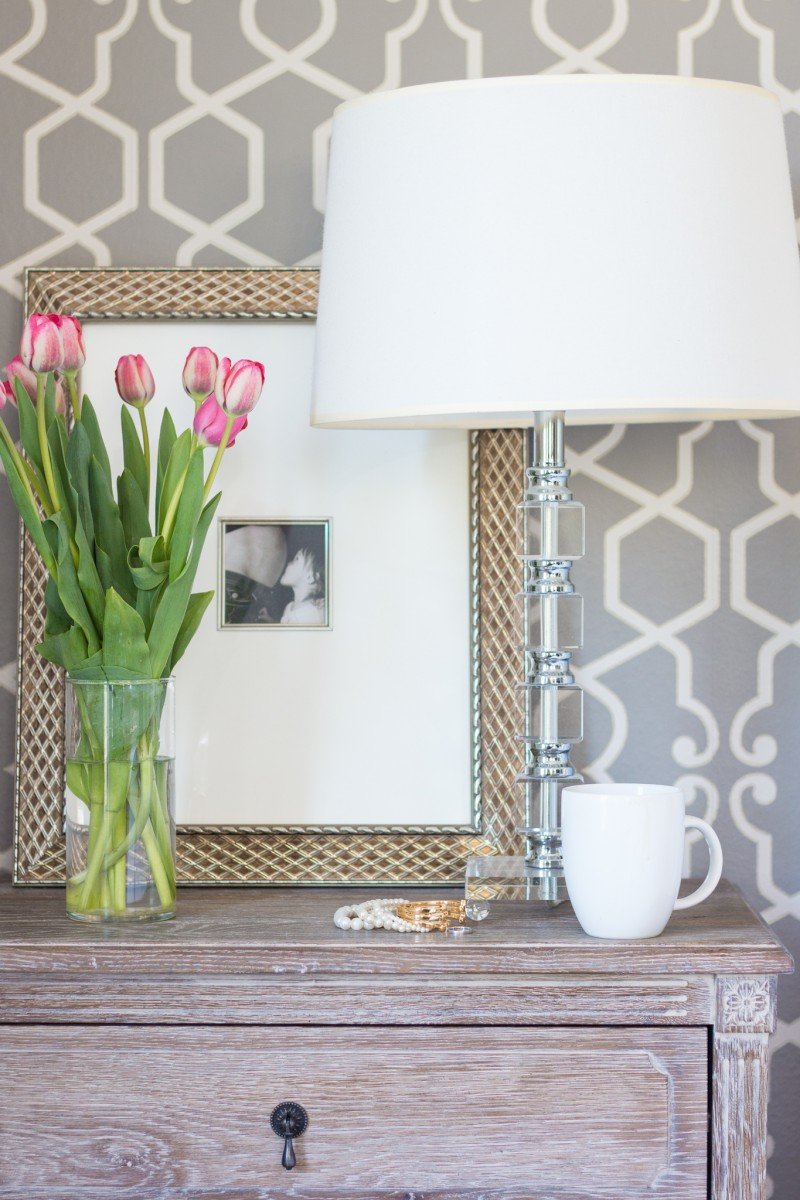 Lastly, I wanted to share our bedroom. I added a just a couple of summer touches with the addition of a new pillow and throw. It's amazing how just a couple of things can switch up the feel of a space. Our night stands are from Restoration Hardware.
This is definitely my office most days. I do a lot of blogging and work from my bed. It's just a nice bright area with a really pretty view so it is a good fit for me. I have never been one to sit at a desk so a cozy blanket and a soft bed are a far better choice.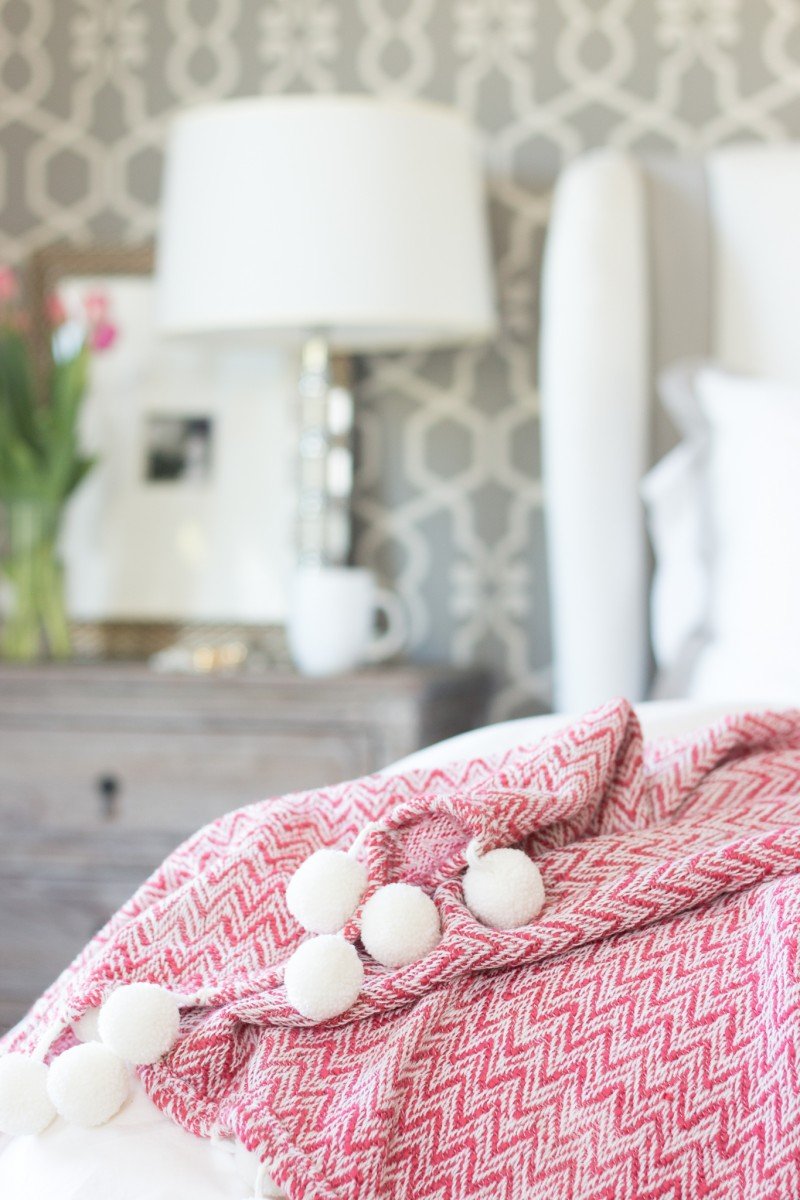 So here is my tip of the day! I found this darling pom pom throw at HomeGoods. It has a ton of snags on one side. Because of that they discounted it down to $10! Don't be afraid to ask. I was able to turn it over and it looks awesome on my bed.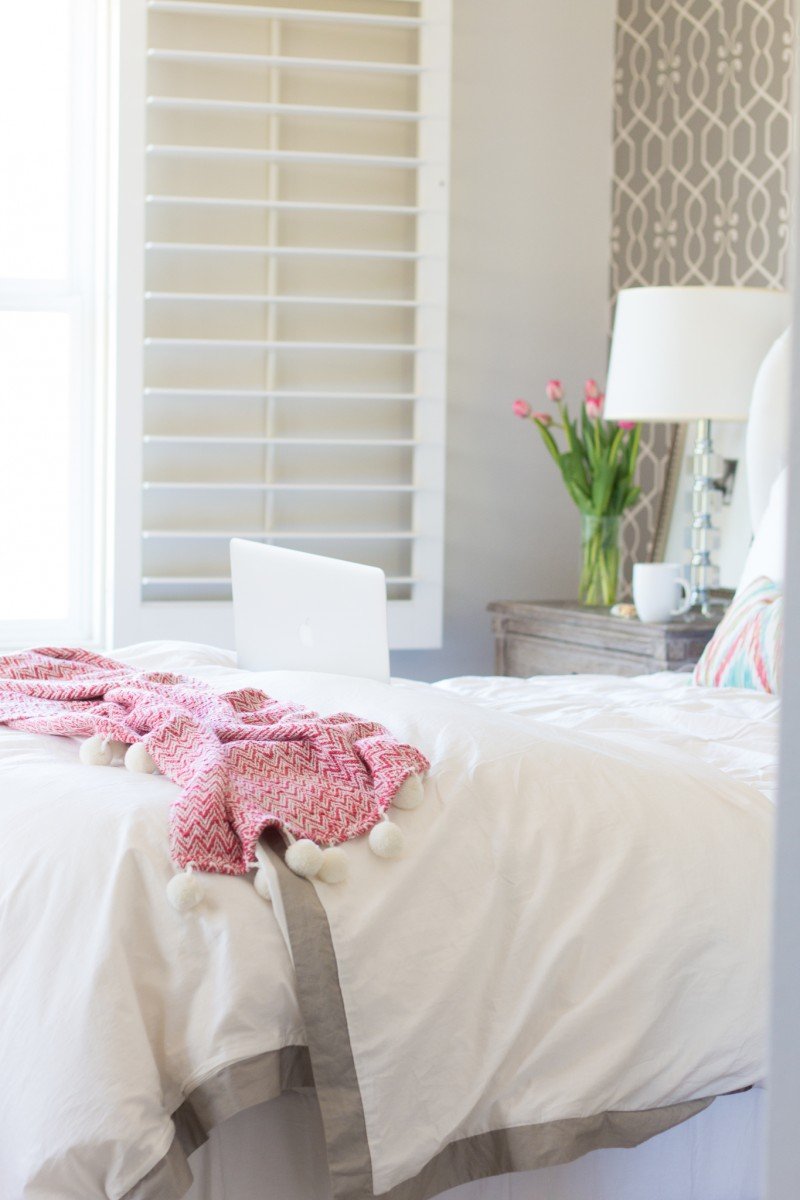 paint color: pale oak by benjamin moore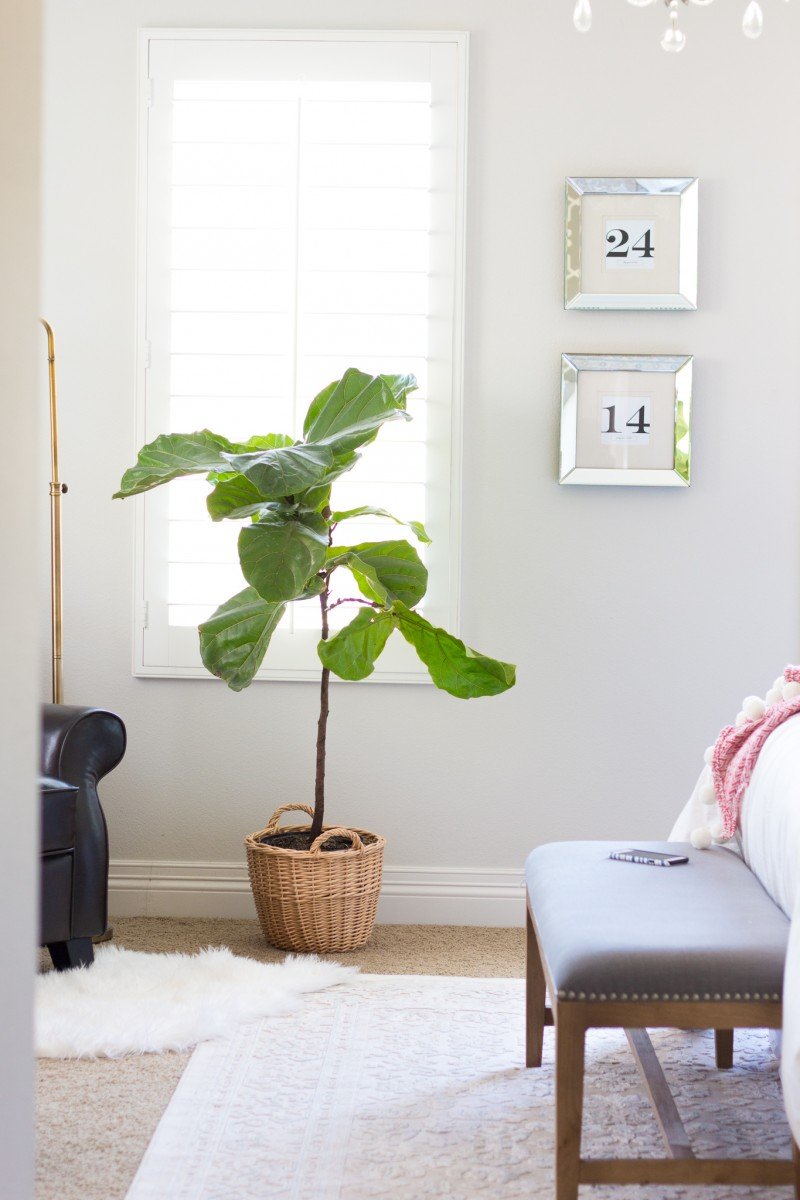 I get asked about these framed numbers quite a bit. They are the dates on which my children were born.  I just printed them from my computer and framed them.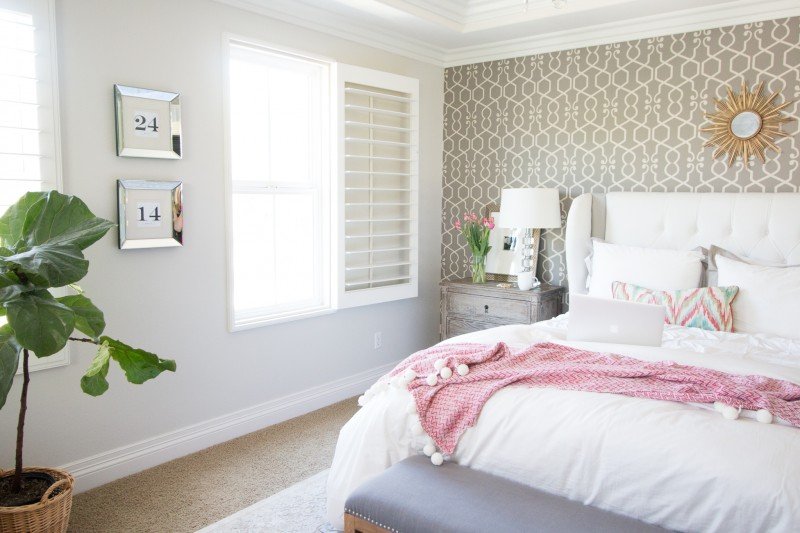 I hope you enjoyed getting a little peek into our home. And if you are wondering why you didn't see every room it's because it's a hot mess. It's the last week of school for us and both kids are in a play and well. . . .life is nuts right now. So we are enjoying the craziness rather than cleaning! But I can feel summer coming. It's within reach and I am so ready.
Thanks again for popping in.  21 Rosemary Lane is next up on the home tour. And if you are new to A Thoughtful Place you can see some of my popular posts here. I also open up from time to time about life's events and you can read those here.
Monday – June 6
A Stroll Thru Life | Life on Virginia Street | Remodelando La Casa | Thrifty and Chic | Rain On A Tin Roof | Duke Manor Farms
Tuesday – June 7
Life Love Larson | Haneens Haven | Claire Brody Designs | My Uncommon Slice of Suburbia | The House of Silver Lining | Hymns & Verses
Wednesday – June 8
Dimples & Tangles | Our Southern Home | Simple Details | Decor To Adore | A Thoughtful Place |  21 Rosemary Lane
Thursday – June 9
Our Fifth House | Decorating Delirium | Driven By Decor  | Making Home Base | Simple Stylings | Cuckoo4Design
Friday – June 10
Refresh Restyle | Splendor Styling | Monica Wants It | Life and Home @ 2102 |  It All Started With Paint | Far Above Rubies
*affiliate links used