I'm back with the 4th edition of "What We Really Think!" Taking a deep dive into some major home purchases. In case you are new to this series, this is a bit about it:
We thought it would be fun to post about decisions, projects or purchases we've made and let you know our thoughts after living with them for quite some time. Occasionally we change our minds or wish we could have a do-over. It's all part of home ownership. Then there are times where we actually get it right and wouldn't change a thing. Today we are sharing five choices we've made and whether we nailed it or should have gone a different direction. Here's what we really think!
OUR CORDAROY'S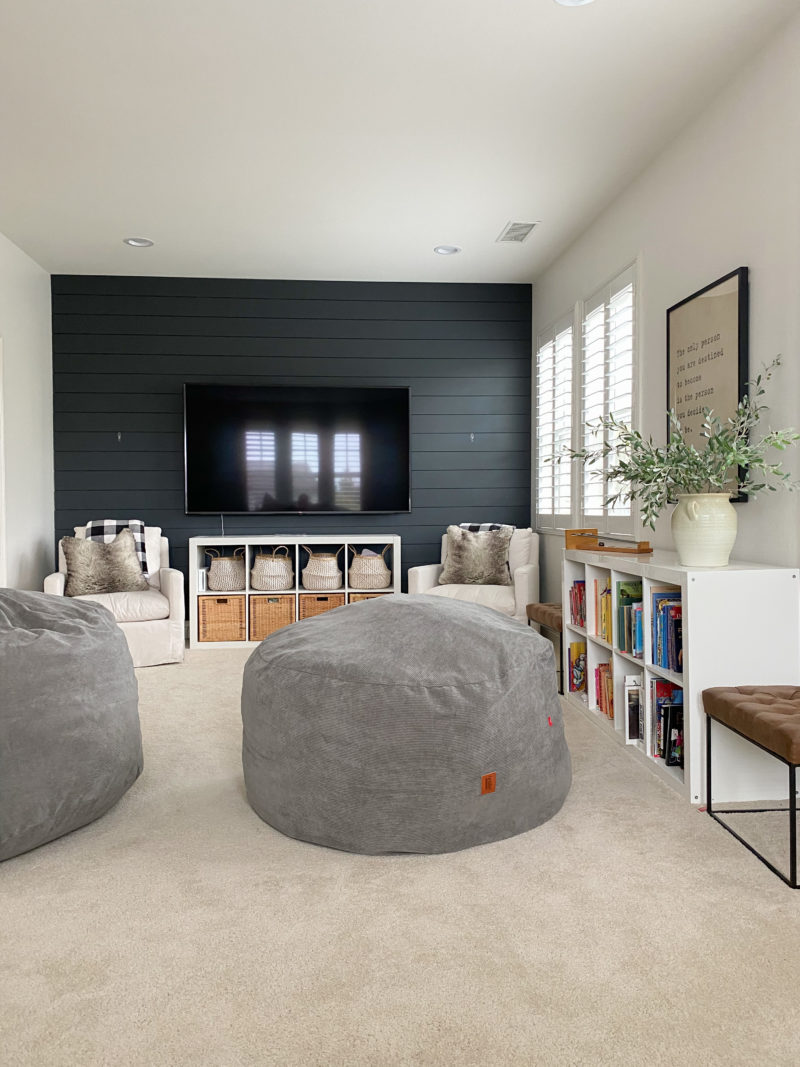 First up are the bean bags we chose for the new teen room. Cue the happy dance. CordaRoy's should hire me because I would be their number one spokesperson. LOL. The entire family loves these and I've been known to find my husband lounging on top of both of them. They are pretty amazing when you lay across both. Anytime we need the full place space in this room we can throw them out in the hallway or on top of the twin bed we have in here.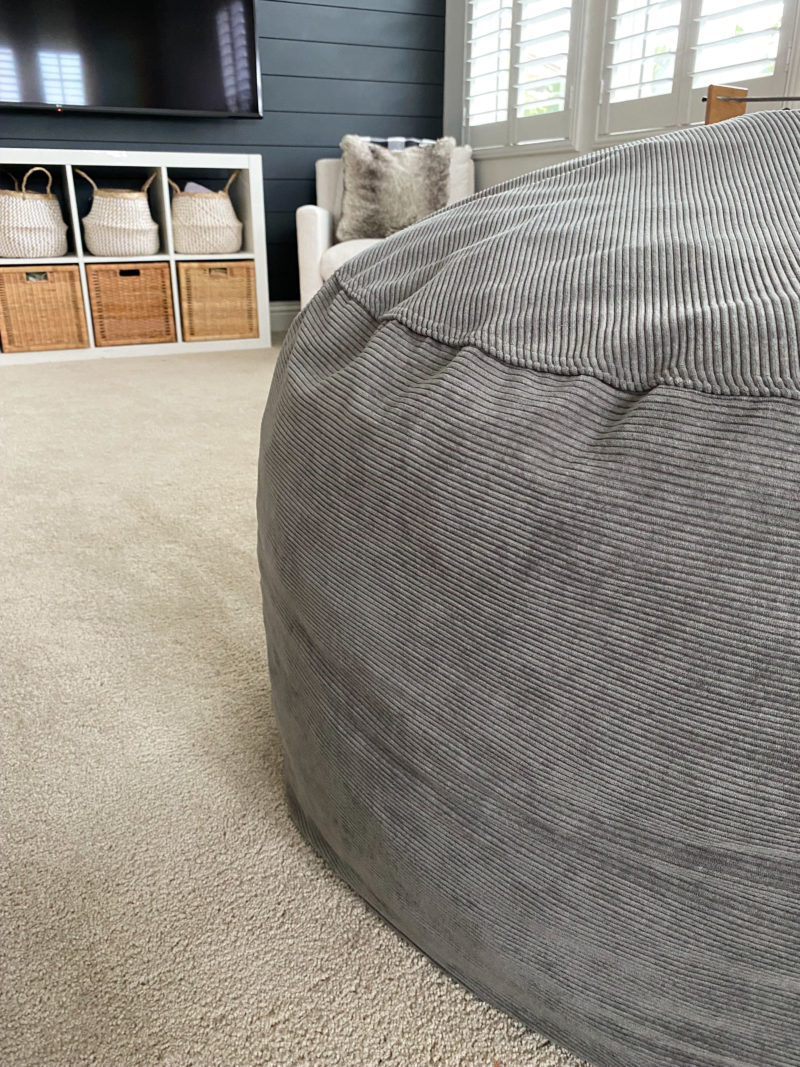 Here is an up close shot of the one we chose. So soft and I love the color. You can find them on Amazon (even Prime) or directly through the website.
Do they smoosh down? Yes, for sure, but they easily fluff back up if you flip it a few times. It's like magic.
Do they support adults? Absolutely. This room serves as my offie during the day and I often take my break and land on one. I LOVE them.
Are they heavy? Actually, yes. I think that's what makes them so supportive and substantial. I like to roll them to move them.
Are they washable? Yes! The cover comes right off to wash.
We wanted to keep this room free from bulky furniture while the kids still love playing mini sticks, dancing around and hosting sleepovers so this was a great solution for us. And I love that I can stack them both in the corner when we need to.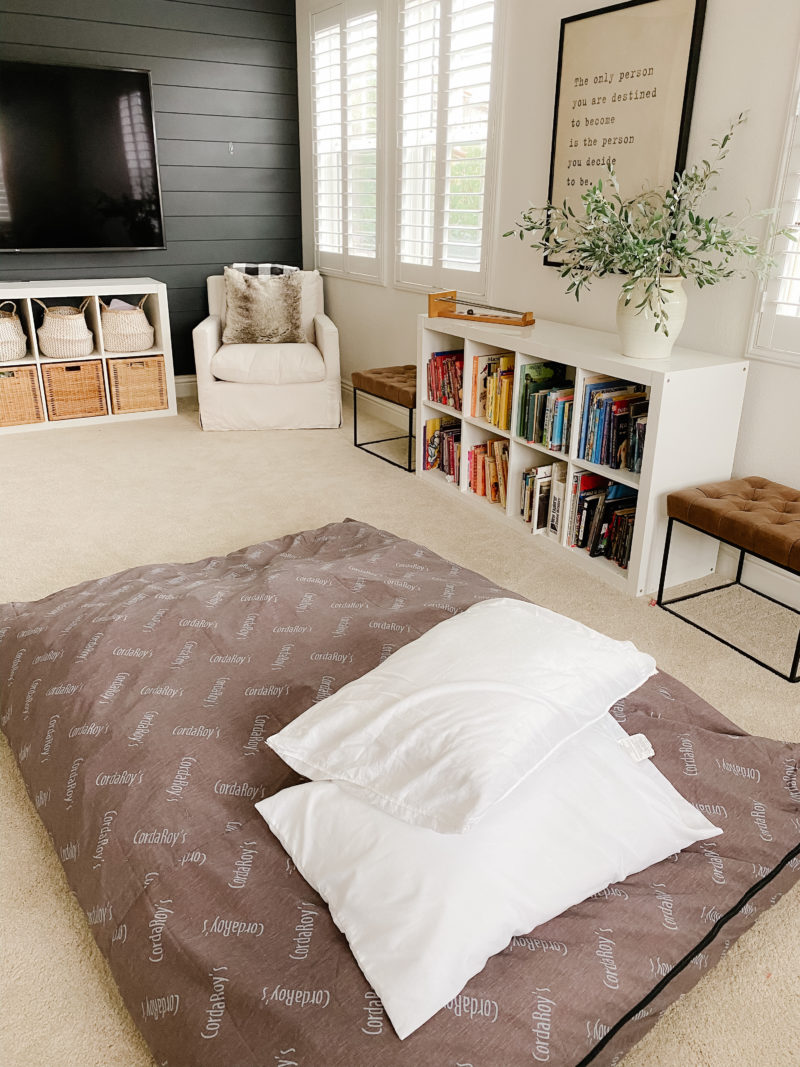 white chairs | leather stools | cordaroy's
The best part is that these mattresses are tucked inside each chair. Genius. They only take a couple of minutes to fold and shake back into their cover (much easier with two people). We love that it adds two more comfy sleeping spots for sleepovers. The polyfoam stuffing is hard to explain. It's a bit lumpy but extremely comfortable. And I love that it is silent.
BRASS HARDWARE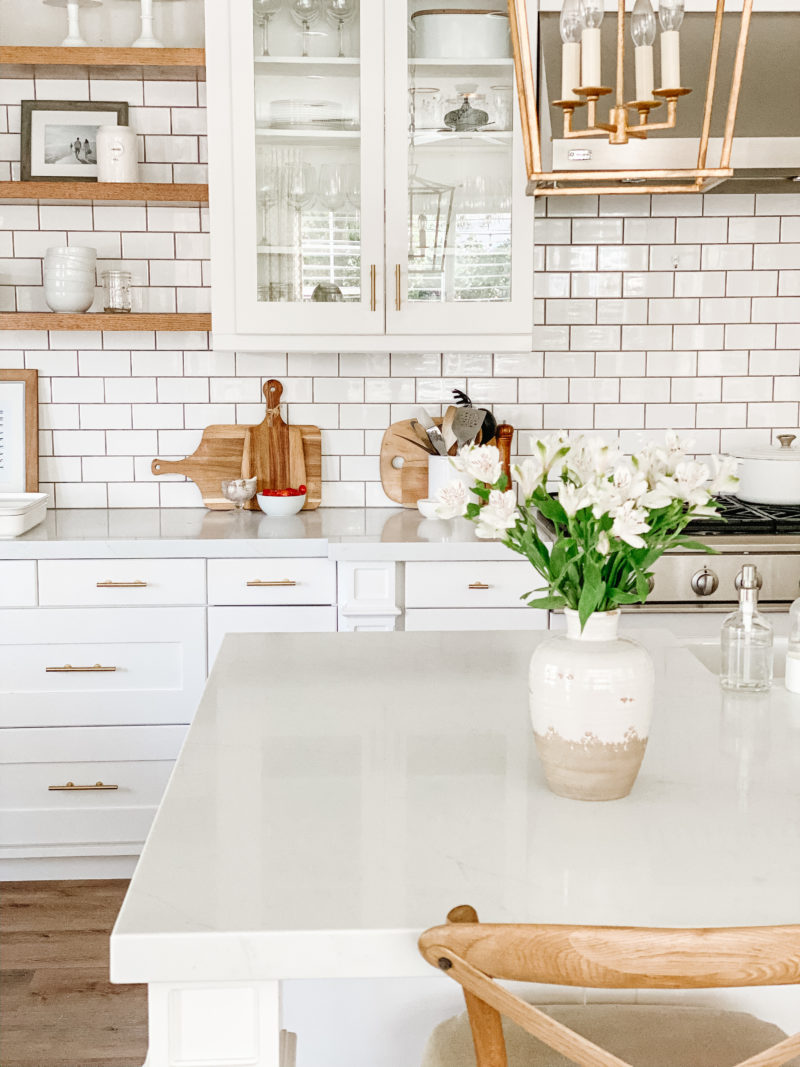 I get asked about our kitchen hardware all the time. It's available here and we have loved it since the day we installed it. We appreciate the warmth it adds to white cabinets.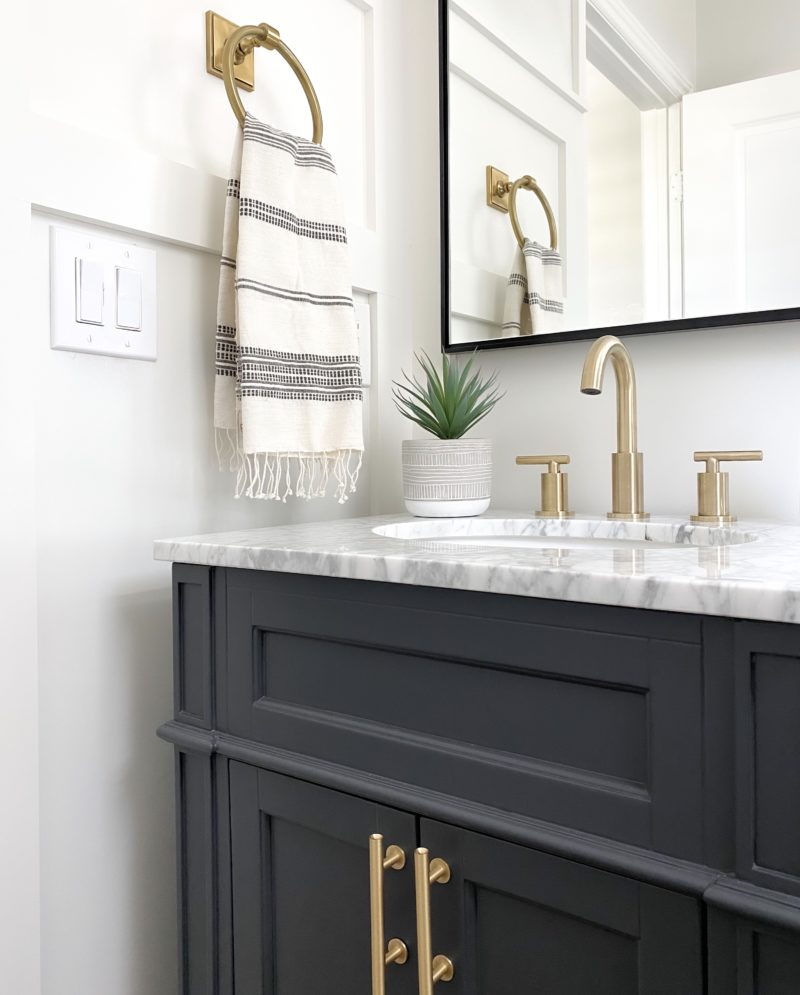 vanity | hardware | faucet | mirror | towel | plant | towel ring
We actually like this hardware so much we used it in our powder room. It works nicely with the faucet and I love the brass against the vanity color.
While you often see this hardware, what sets it apart are the round disks at the base of each post (where it meets the cabinet). Do you see that? Many don't have that and it adds an extra detail.
*Vanity color is French Beret by Benjamin Moore.
OUR SON'S BOOKCASE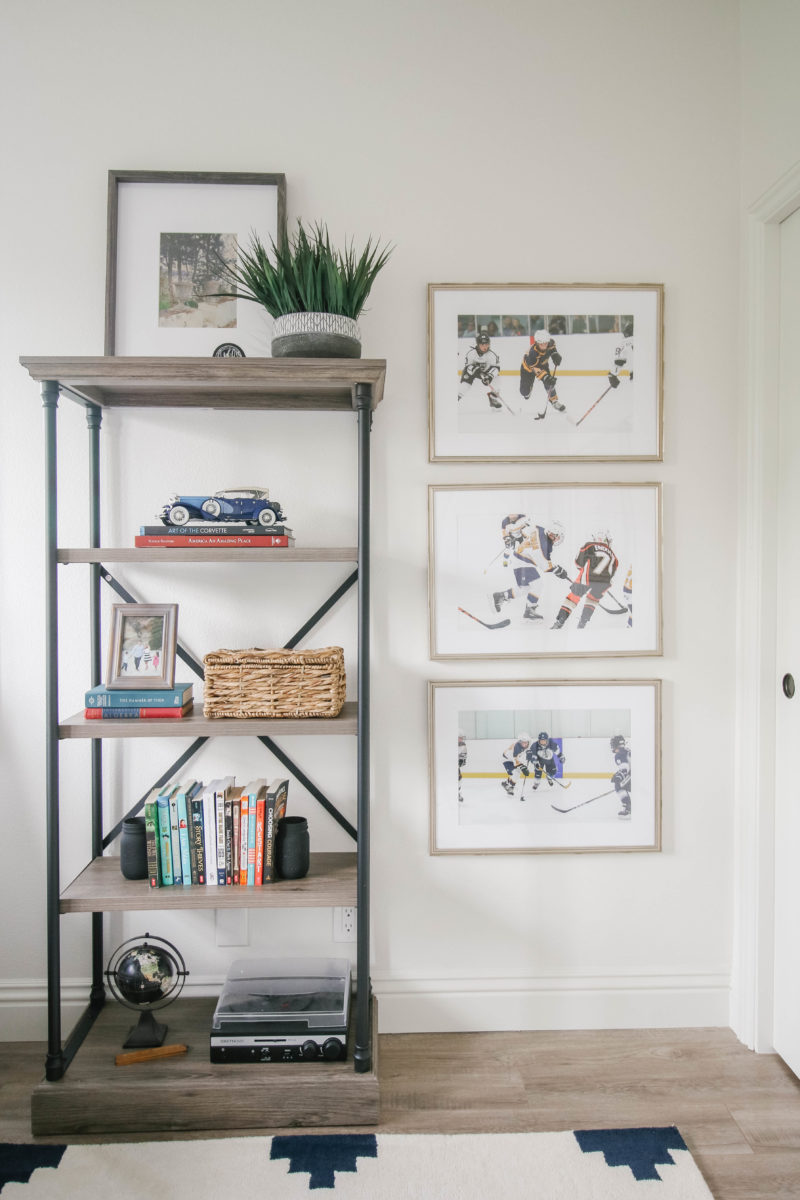 When I first discovered this bookcase from Target, it reminded me so much of the more expensive Restoration Hardware one. The look and feel is so similar. But sometimes going the cheaper route can . . . well, look cheap. Buying it was a good call. We LOVE it and every time I walk in his room it catches my eye. If you are in need of vertical storage and love the Restoration Hardware style, I highly recommend this one.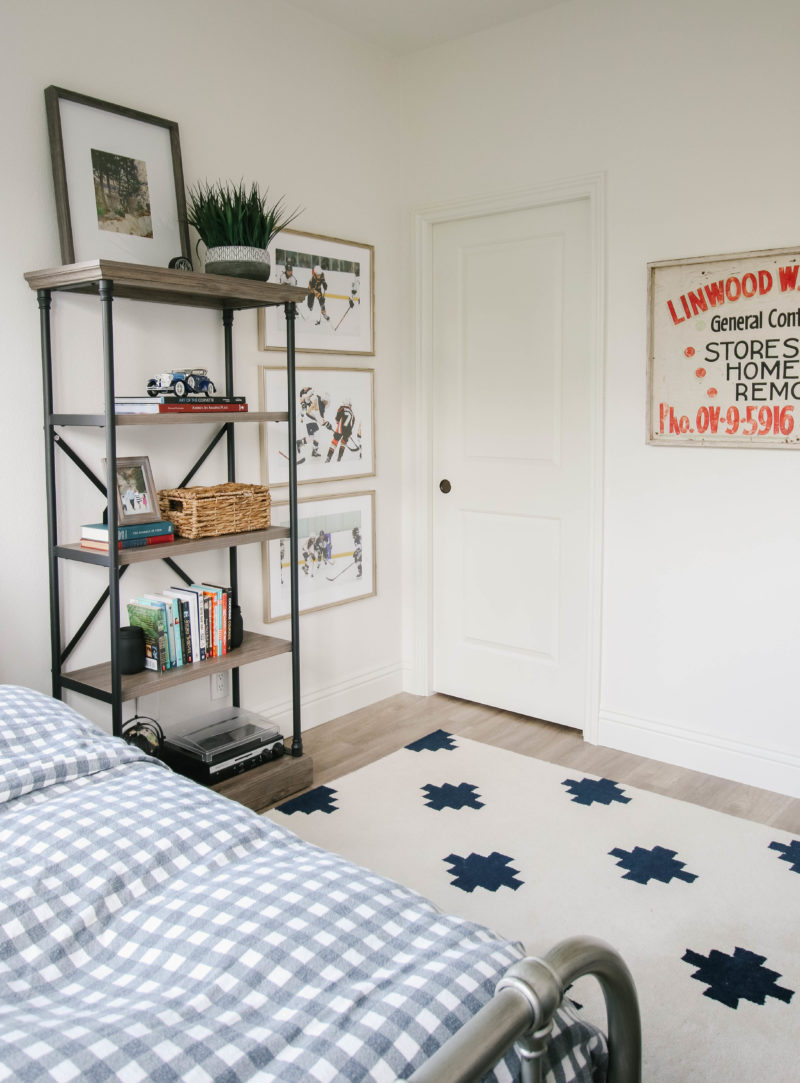 our son's room | artwork in our home
The Restoration Hardware bookcase will set you back well over $1000 so $170 is an amazing buy. I like adding visual height to a room. It adds interest and keeps the design balances. You can see more of our son's room here.
BLACK FAUCETS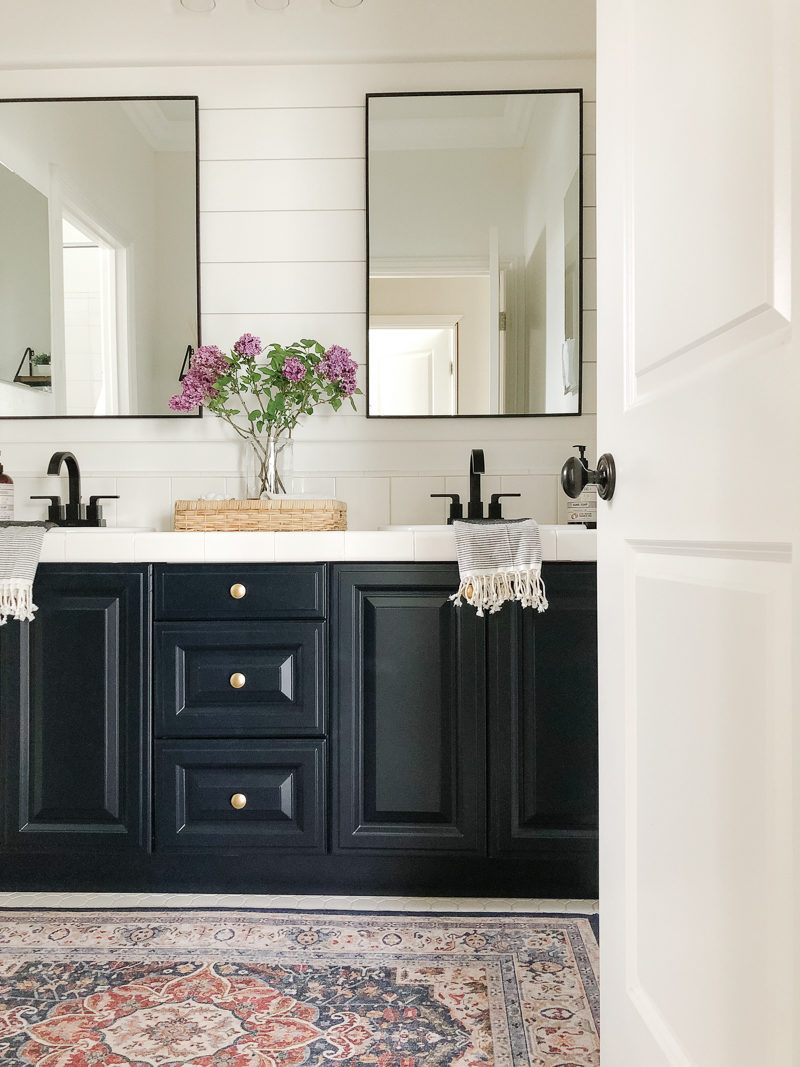 Do you remember our bathroom on a budget remodel? I was actually just telling my husband that I still love walking by this bathroom on a daily basis. We spent under $1000 and completely transformed it. BUT the faucets. have let me down. I'm super bummed.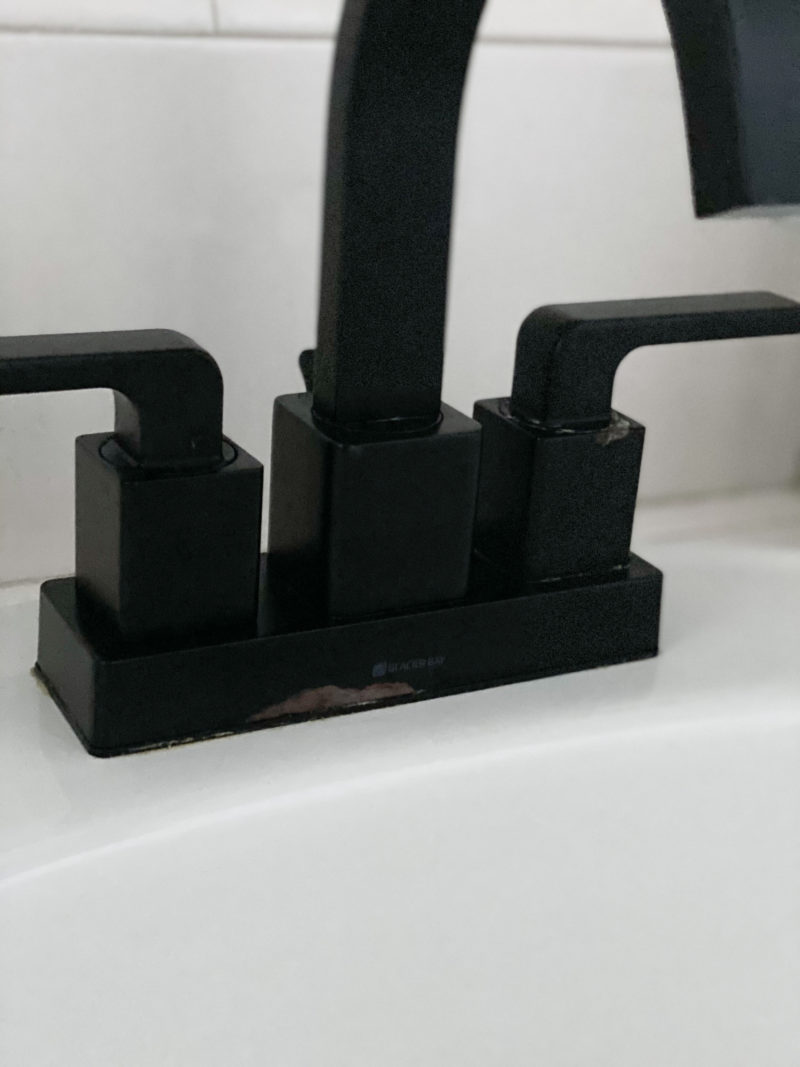 Do you see where the faucet meets the sink? The black paint is coming off. Not cool. It's also happening on the cold water handle. We have hard water and I thought it was that but when I scrubbed, paint came off. I'm pretty disappointed and haven't had time to deal with it yet. You know how it goes. There is only so much time in the day. But I plan to reach out to Home Depot. They were definitely a budget friendly but I read the reviews carefully and the few complaints were about low flow. Overall they had GREAT reviews. I am wondering if I just got a lemon. To be continued.
WHITE SECTIONAL SOFA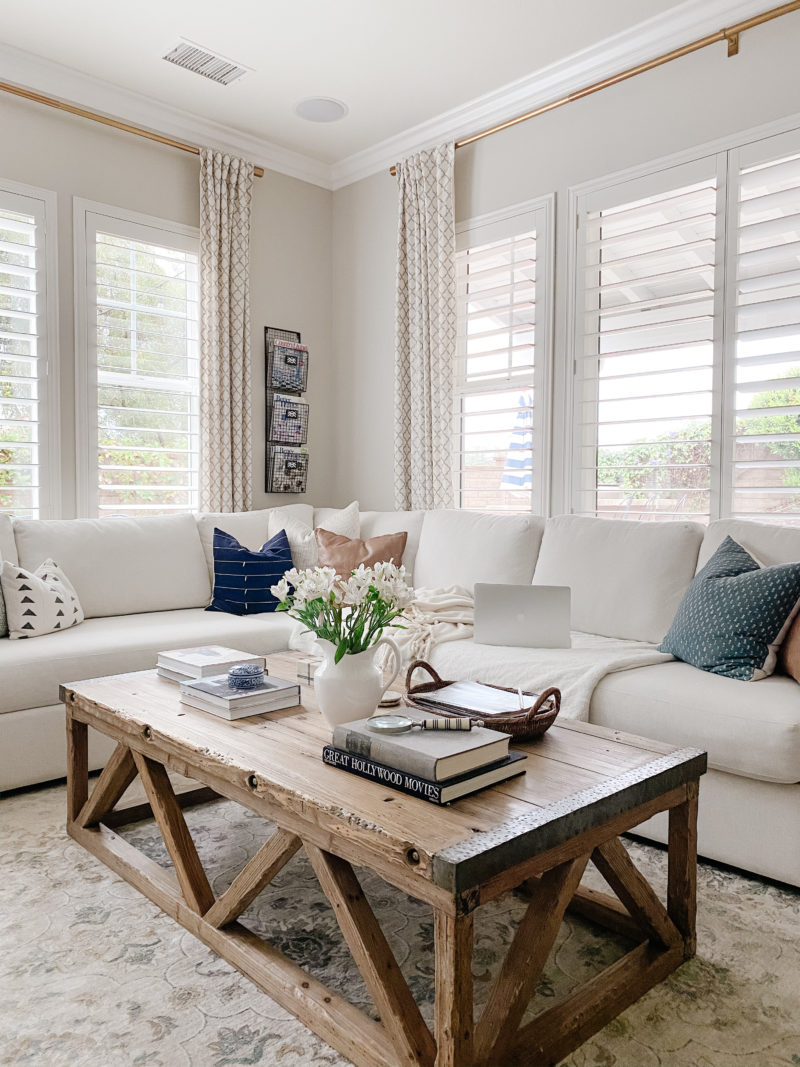 You may remember "The Great Sectional Debate" in which I shared our family's dilemma. I had no I idea it would spark so many responses from all of you, too. It was so much fun reading all of your thoughts and ideas. We have had our new ivory sectional since November and thought it was time to share our thoughts as well as how we are keeping it clean.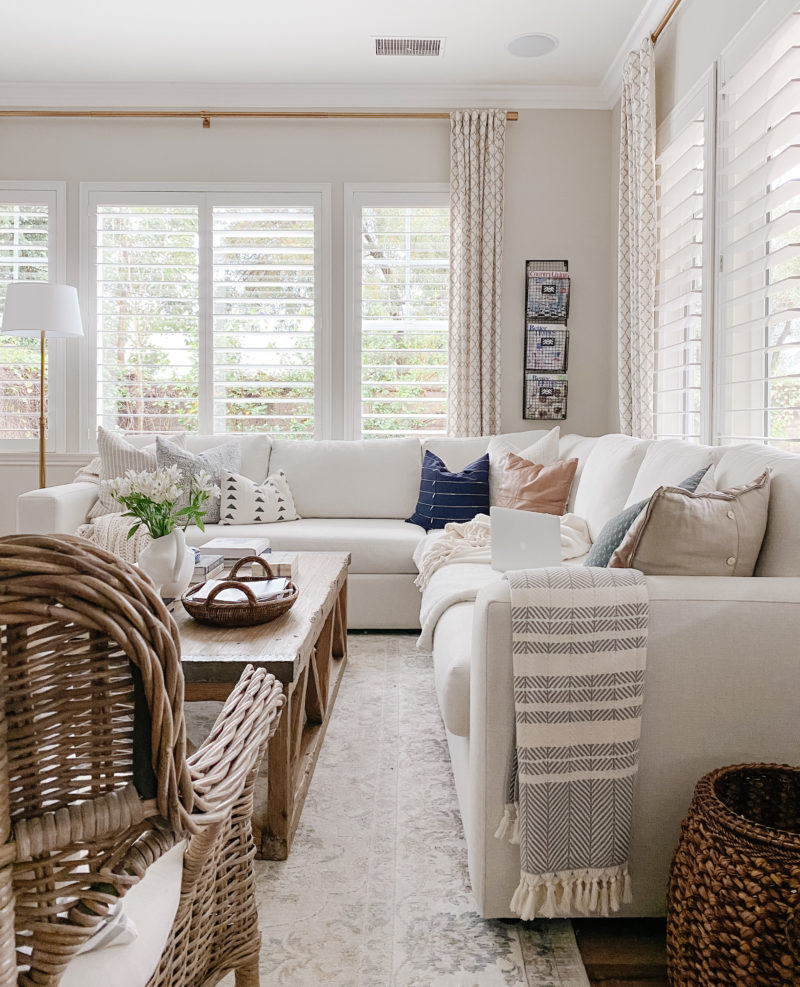 There is no question about it, this was the right decision for our family. Not only did it add seating but it has increased the amount of snuggle time by tenfold. We seriously love the couch. My husband is the biggest fan and continues to thank me for making it happen which is sweet. We went through The Sofa Shop, a local shop that makes custom pieces. They can recreate designer pieces with any measurements, fabric, cushion, etc. And it still beats the price of designer stores. Because we kept the existing coffee table and chairs (Ikea) it was beneficial for me to be able to dictate the exact dimensions of the new sectional. I didn't want to change up anything else.
KEEPING IT WHITE
Inquiring minds want to know how we keep it clean? We chose a performance fabric so right out of the gate, spills and such should clean right up. I bought two super soft inexpensive blankets from HomeGoods that we keep on both sides of the sectional on a regular basis. Not only are they comfy and cozy but they keep the sofa clean. I will tell you that denim is the enemy. It doesn't matter what color sofa you have, that denim dye comes off and onto your fabric. Our previous gray sofa was victim to that. The blanket prevents all of that and I am able to throw them into the washing machine on a weekly basis. Great system for any sofa since you can't be getting your couch cleaned all the time.
When we entertain I just fold the blankets up and toss them into the baskets we have in the room. So far so great.
GET CAUGHT UP
I hope these posts are helpful. Sometimes it really takes living with something for quite some time before you know whether it was a good decision or not. If you have any other questions about these choices, I am happy to answer them in the comment section below.