So excited to share one of my all time favorite recipes with you. I can't believe I haven't passed it on until now. This is a one of the dishes my mom made for us growing up and I loved the way the house smelled each time she made it. The same holds true for my family. It's super easy but has fantastic flavor and I love hearing every one in the house say, "That smells so good!" And you can make this gluten-free, too. Thanks to mom, here is the recipe for Spinach & Chicken Pasta.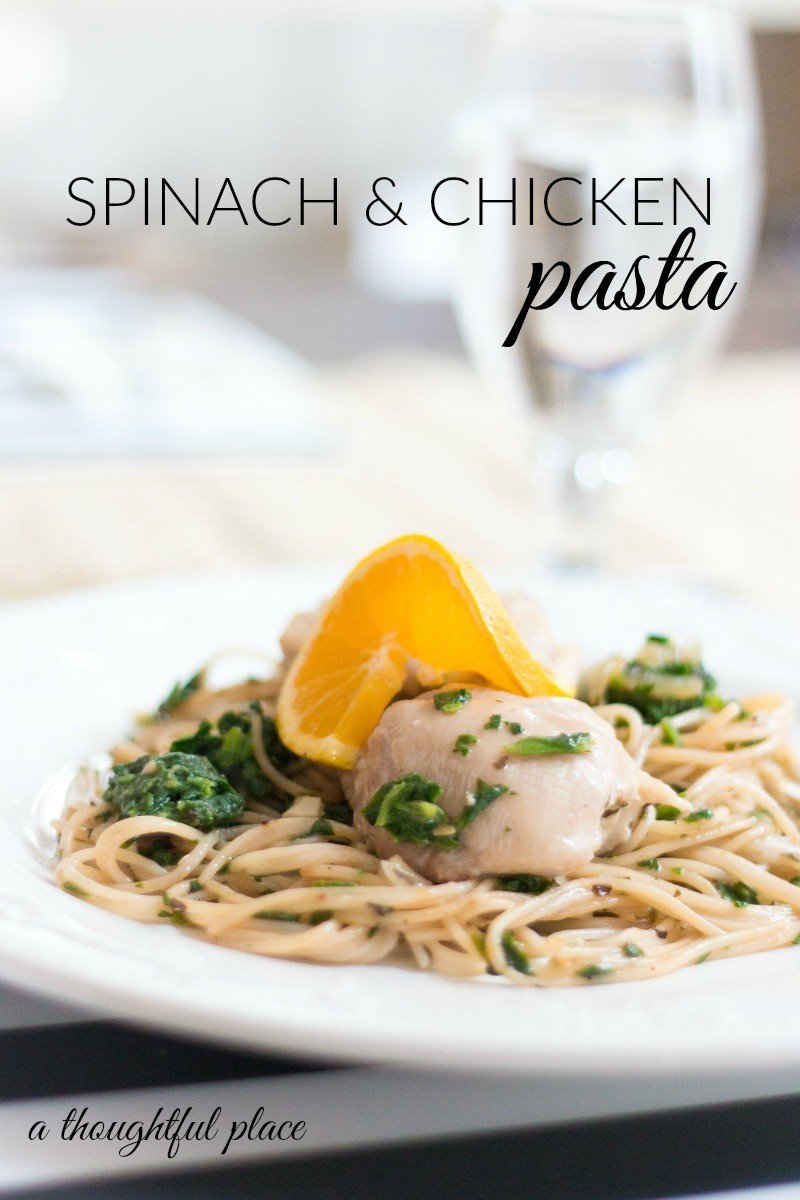 Oven Temp: 400 degrees. Cooking Time: 45 mins. Serves: 5.  Prep time: 15 minutes From: Sunset Magazine
ingredients
1/2 cup butter
1 medium onion, thinly sliced
2 garlic cloves, minced
1 Tbsp dry basil
3/4 tsp. crushed red pepper
8 chicken thighs (I use boneless, skinless)
1 package frozen chopped spinach
8 oz linguine or spaghetti
1 C. grated parmesan cheese ( I skip this)
salt to taste
1 small orange for garnish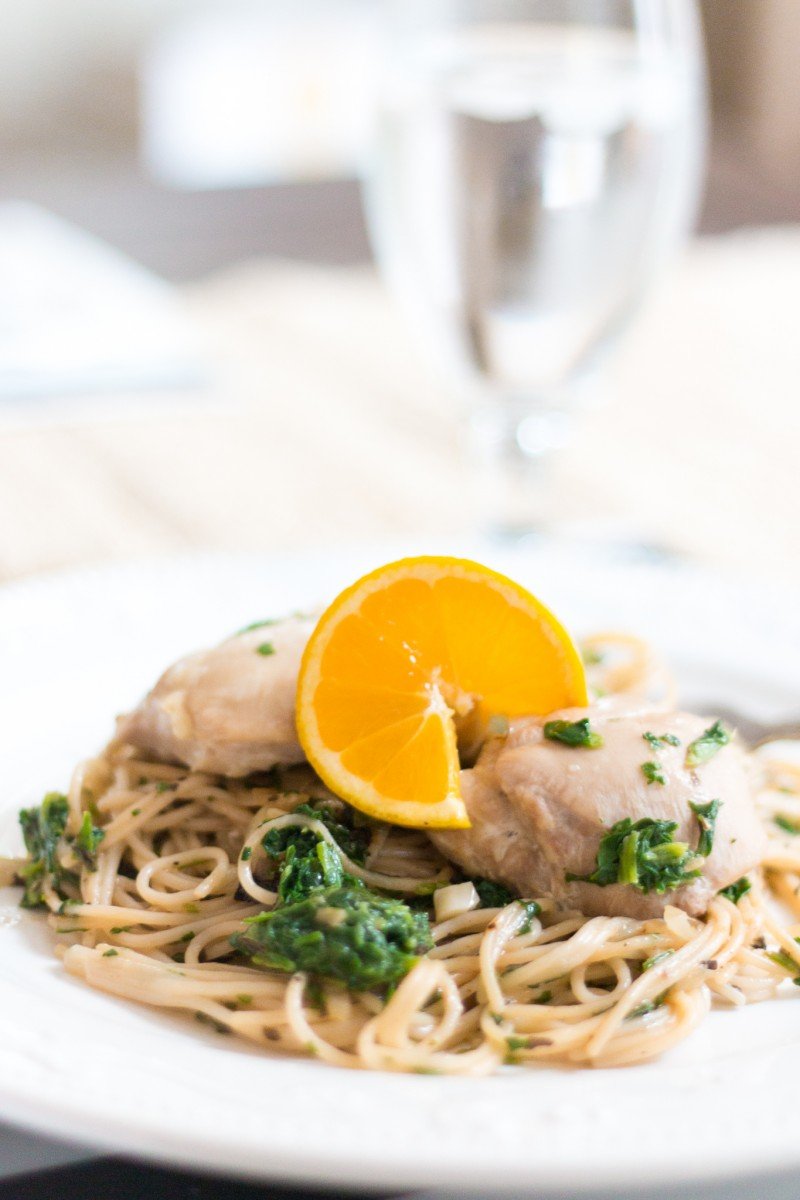 DIRECTIONS
Thaw spinach under running water in a colander. Squeeze out the liquid. Set aside.
Melt butter in a 12 x 15 pan in a 400 degree oven.  Mix onion, garlic, basil and red pepper with the melted butter. Lay chicken on top skin up (or skinless). Bake 45 minutes or until browned (may only take 35 if boneless, small thighs).
After chicken has cooked about 20 minutes, boil water to cook the pasta. Drain.
When chicken is done, lift it from the pan and place in a dish. Cover with foil to keep warm. Add spinach to the pan and scrape up any browned bits from the pan to incorporate into the spinach. Add pasta and parmesan (optional). Mix well using two forks to lift and combine repeatedly. Season with salt. It's sooooo good!
Serve chicken atop pasta. Use an orange slice to garnish.
TIPS: Do not spray pan with anything prior to making this dish. You want the onions and garlic to brown. Be sure you use fresh chicken. Using thawed, frozen chicken only works if you make sure it's 100% thawed otherwise the recipe will be watery.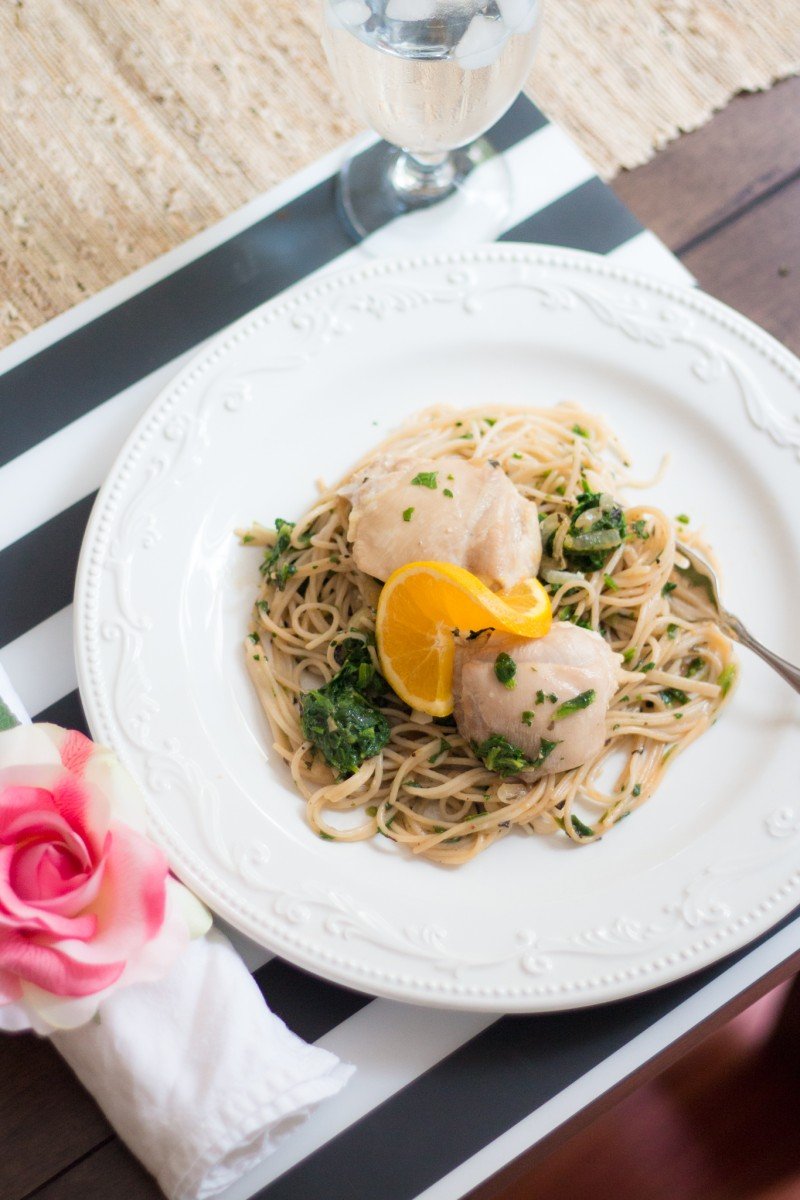 GLUTEN FREE TIP: I made this with a gluten-free brown rice noodle from Trader Joes and it was delicious. No one knew the difference. And truth be told I thought I was buying whole wheat pasta but I wasn't. So I inadvertently tested out the gluten-free version and it passed the taste test with flying colors!
This really does rank up there as one of my all time favorite dishes. Amazing comfort food. There is something about the aroma of this dish while it's cooking. If you try it, please let me know!
More Scrumptious Dishes
Classic Chicken and Dumplings Soup
Chicken & Vegetable Lettuce Wraps
Meat and Cheese Platter {with how to video}