Morning. I'm excited to share some really fun finds with you today. If you are new to this series, you can get caught up on all of the installments at the end of this post. I have always been about mixing high and low and this series is designed to give you beautiful options as you work to decorate your own spaces or update your wardrobe.
PAY THIS NOT THAT
I love nothing more than finding a great alternative for a more expensive item. While you may notice a difference in quality when you choose not to go high-end, sometimes it doesn't matter at all. Nor would anyone know the difference. And more money left in the bank is always a good thing.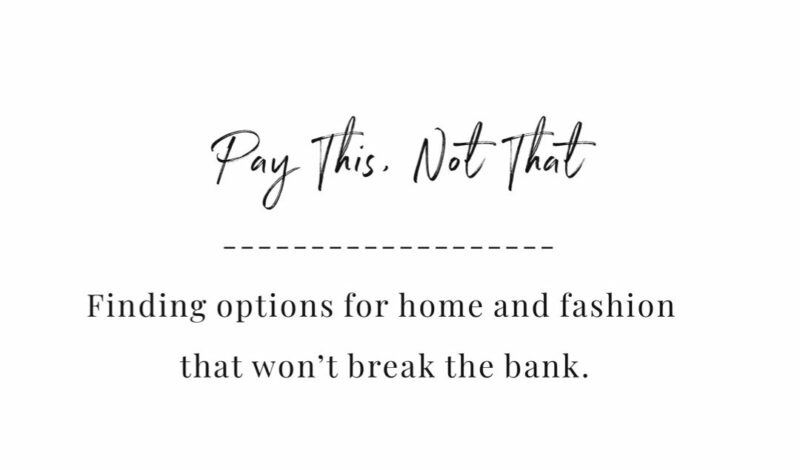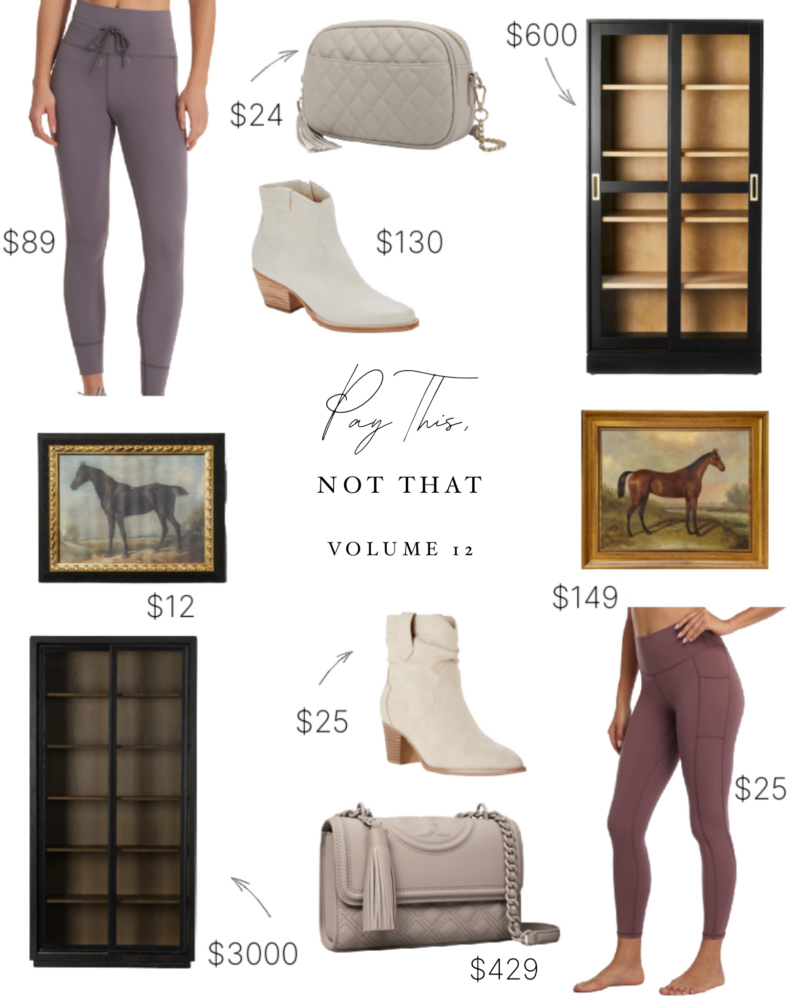 QUILTED CROSSBODY BAGS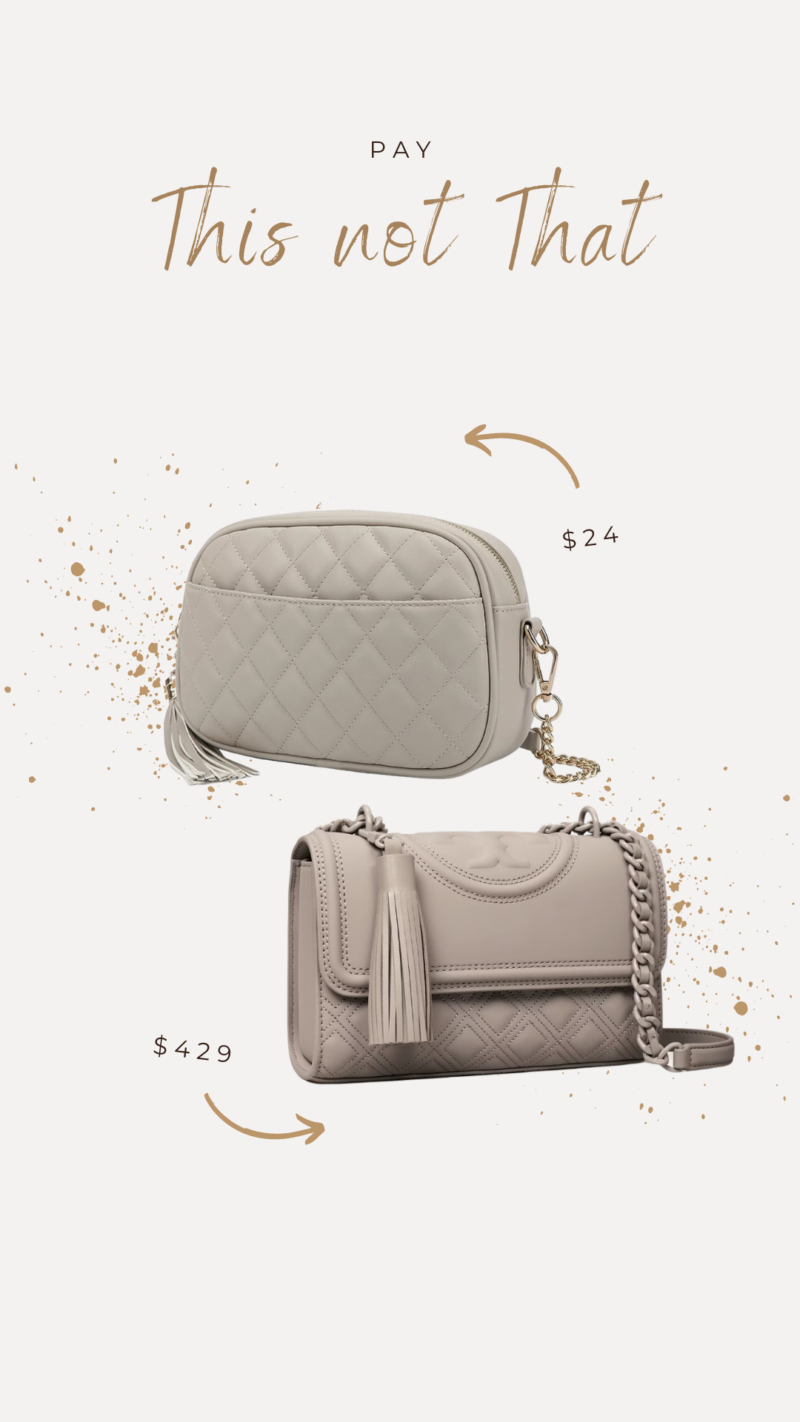 I love a beautiful handbag just as much as the next girl. And there is no question Tory Burch makes a beautiful bag. I do have a larger one (similar to this one) and it has lasted for years. Having said that, I also have this $25 version and adore it. It goes with everything and is nice and lightweight. It's been a good one for sure (lots of colors available).
HORSE PAINTING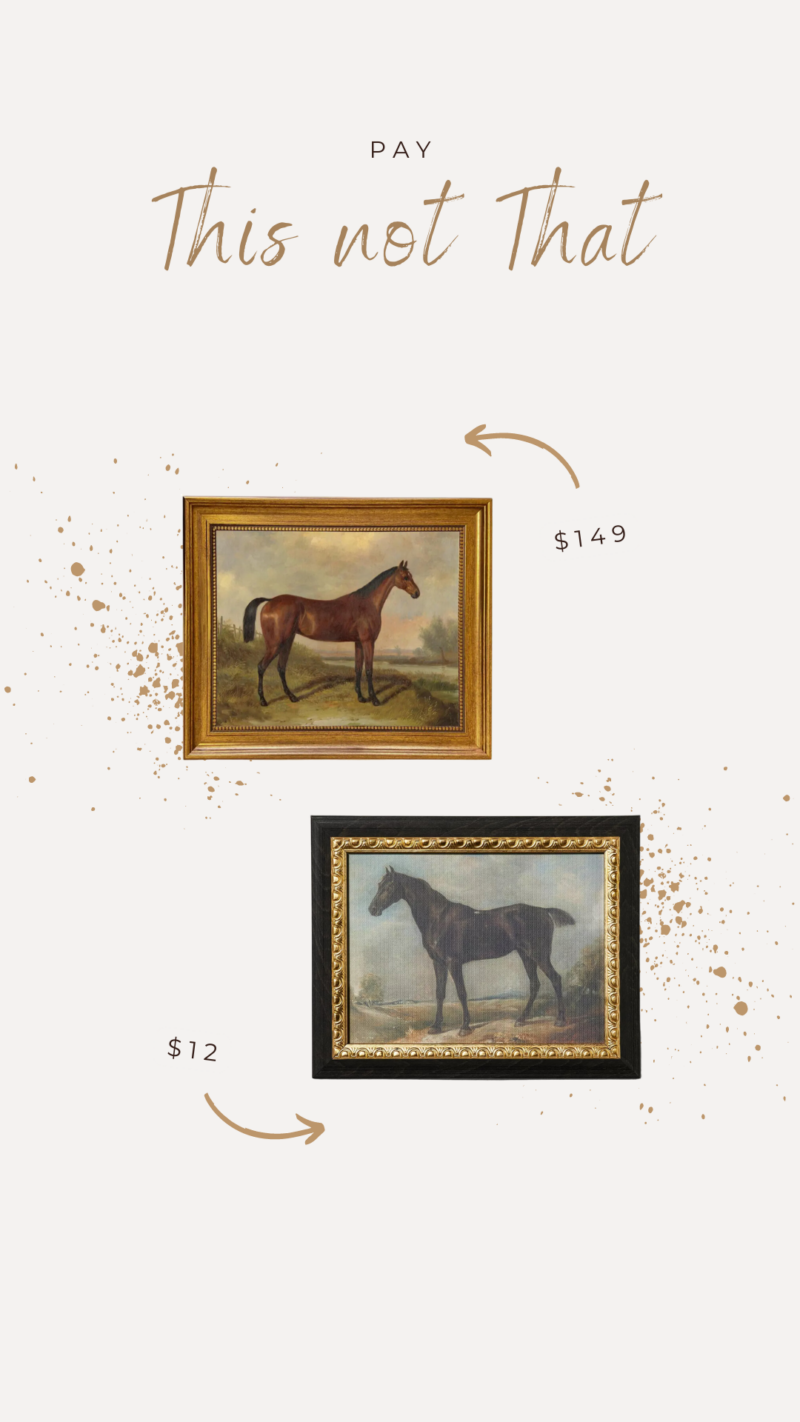 You've most likely seen this fun horse painting by now. It's smaller in scale and perfect to tuck into a bookshelf. It adds that cozy, old world feel and is very pretty. At $12 it's a steal. The more expensive version is $149.
BLACK DISPLAY CABINET
Ever since moving in to our home, I've looked for a spot for one of these cabinets. I just love the look. They really are beautiful and are all over the map with pricing and quality. Here is my thinking on this. When it's a piece that rarely even gets touched, why not save some money? This beautiful version is $3000 (and very well made) but you can get a very similar look for $600. Will the quality be the same? Absolutely not. But that is when you decide how much money you would like to keep in the bank. And don't forget to check dimensions on pieces like this. Very important.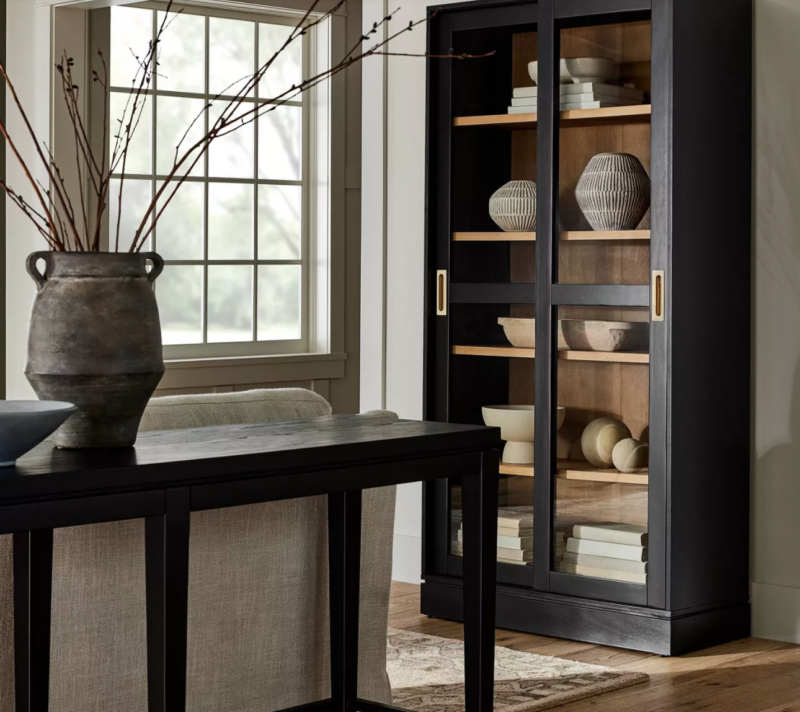 I actually love how this one looks styled. I think everything looks great against the lighter wood and I really like the gold detail on the handles.
NEUTRAL BOOTIES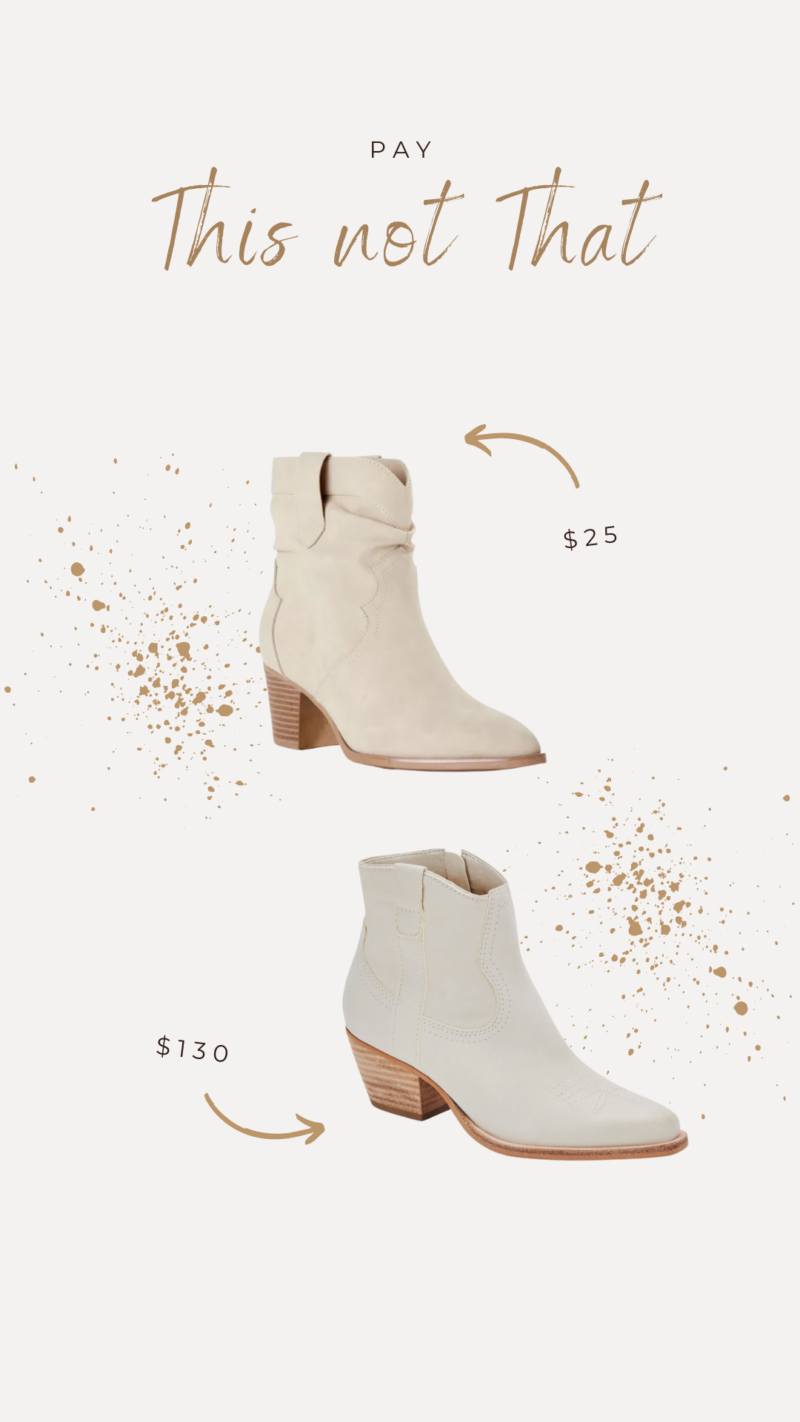 I have personal experience with both of these, my friends. The higher end version will set you back $130 but I am telling you, this $25 pair is so darn cute. I have them and love the way they look with dresses and cropped jeans. My daughter has worn both of them a few times which tells you they are winners.
SUPER SOFT LEGGINGS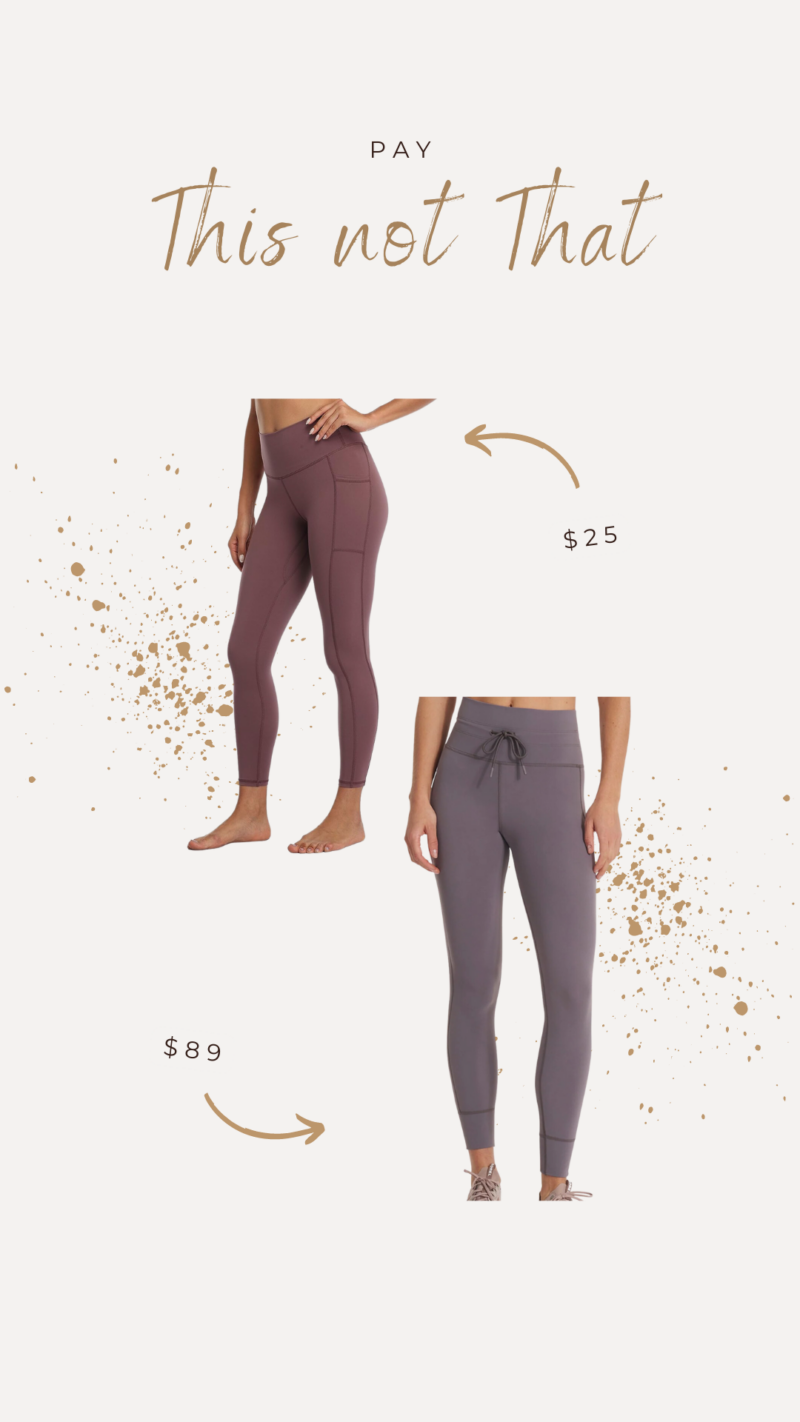 Both of these are in my closet. I will forever be a Vuori fan and these Daily Leggings $89 are so incredibly soft and comfortable. I rarely splurge on them (usually a gift from my husband). But I have the $25 version in a few colors and really do love them. This dusty red color is so pretty. They are very soft and stay in place. Truly a fantastic option.
I hope this has been helpful. If you are new to this series, there are more to check out below.
*Also today is the last day to enter the pillow giveaway. Head here to enter.
PAY THIS NOT THAT