With the onset of the new year I was really tempted to just forge ahead and jump right into new content and projects. I think it's the itch we all have. Let's get going. Let's start fresh. But it just was sitting right. I was skipping over one of the most important practices, reflection. Having forced myself to sit down and really take a look at all that had happened, I was so thankful. I've put together some of the most popular posts from 2017 and those that really resonated with all of you. I am grateful to have this space to share my thoughts, ideas, projects and style. I hope you'll enjoy this look back as much as I did. Here is 2017 in review.
HELPFUL HINTS
There is no question you all like the posts that have tried and true tips on how to make life easier. Here are the best of the best.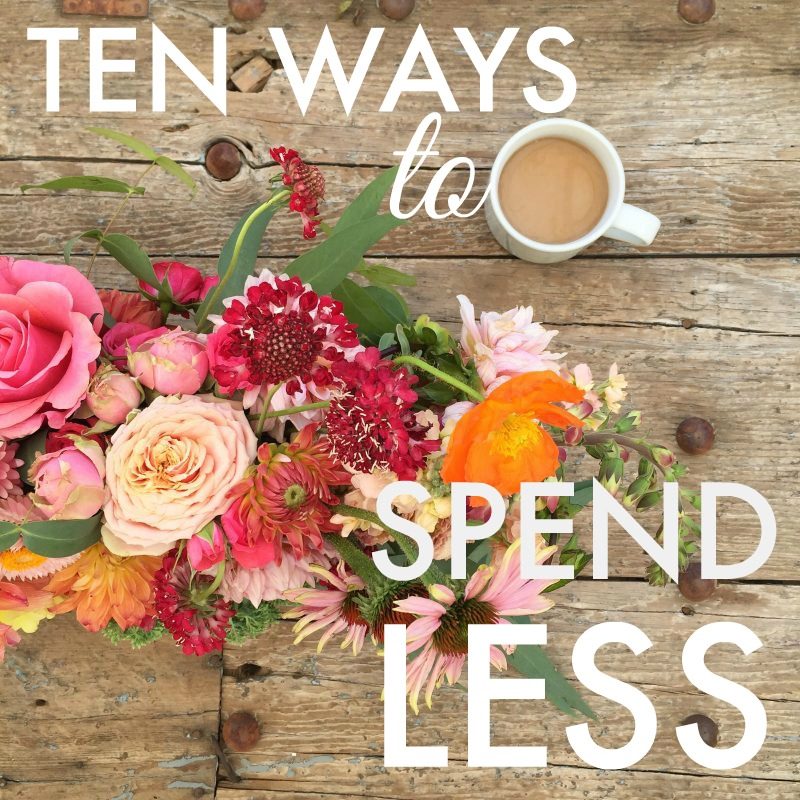 I kicked off 2017 brainstorming ways to spend less. At the heart of it, I am truly a saver but it always helps to be intentional about cutting back. Are you a spender or a saver?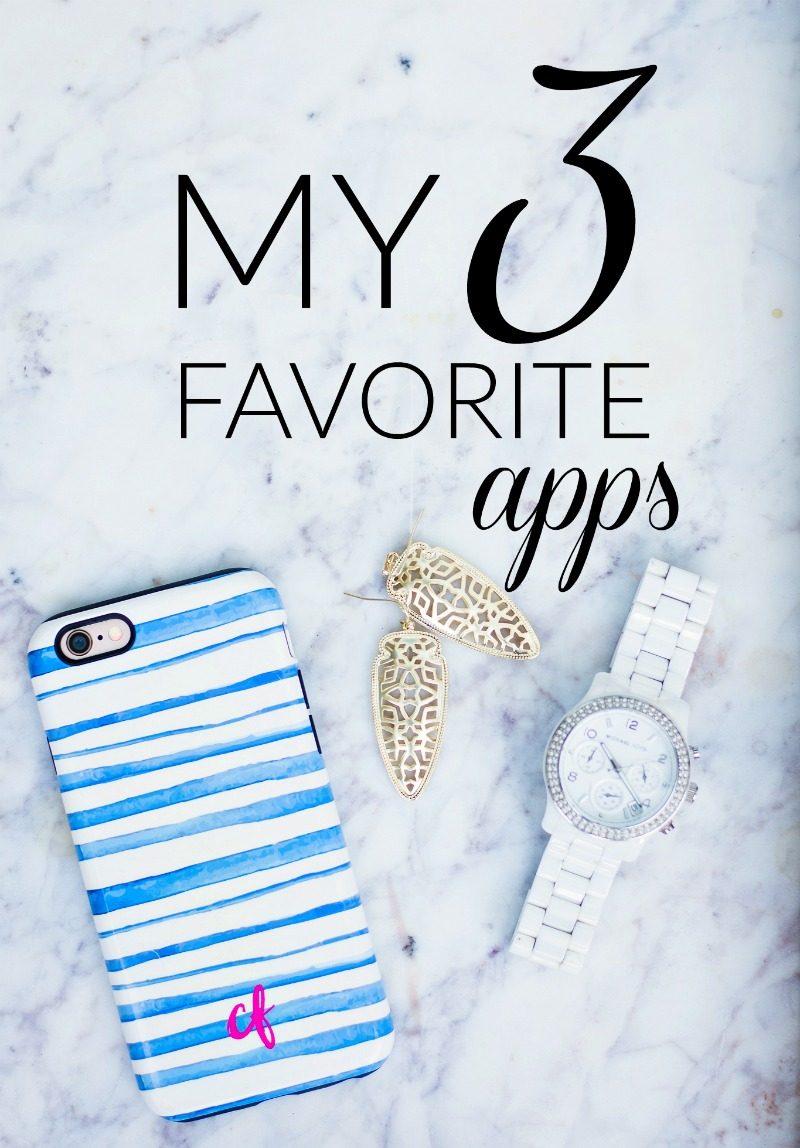 I shared my three favorite apps and the media one ( to check on the appropriateness of shows for children) remains something we use on the daily. You can check all of them out here.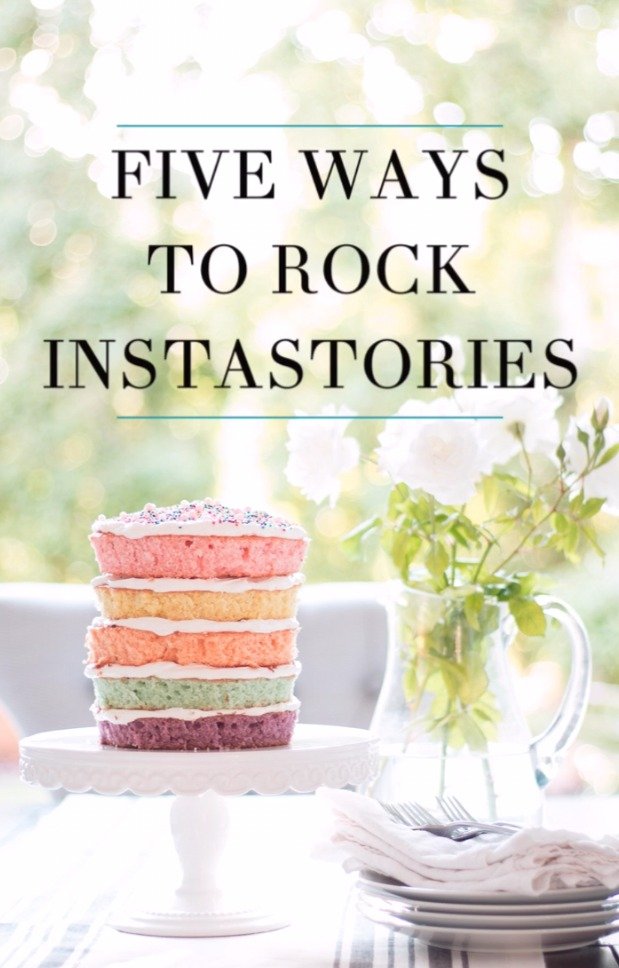 With the onset of Instastories, I am always receiving direct messages asking how to do certain things. I rounded up my best tips into this post. I will be adding to it shortly.
OPENING UP
It's not always easy to open up and be vulnerable. But that is how we truly get to know someone. That is also where the human connection happens. Over the course of the year I shared quite a bit of myself and I am overwhelmed by the response each time that I do. Here are some of your favorites.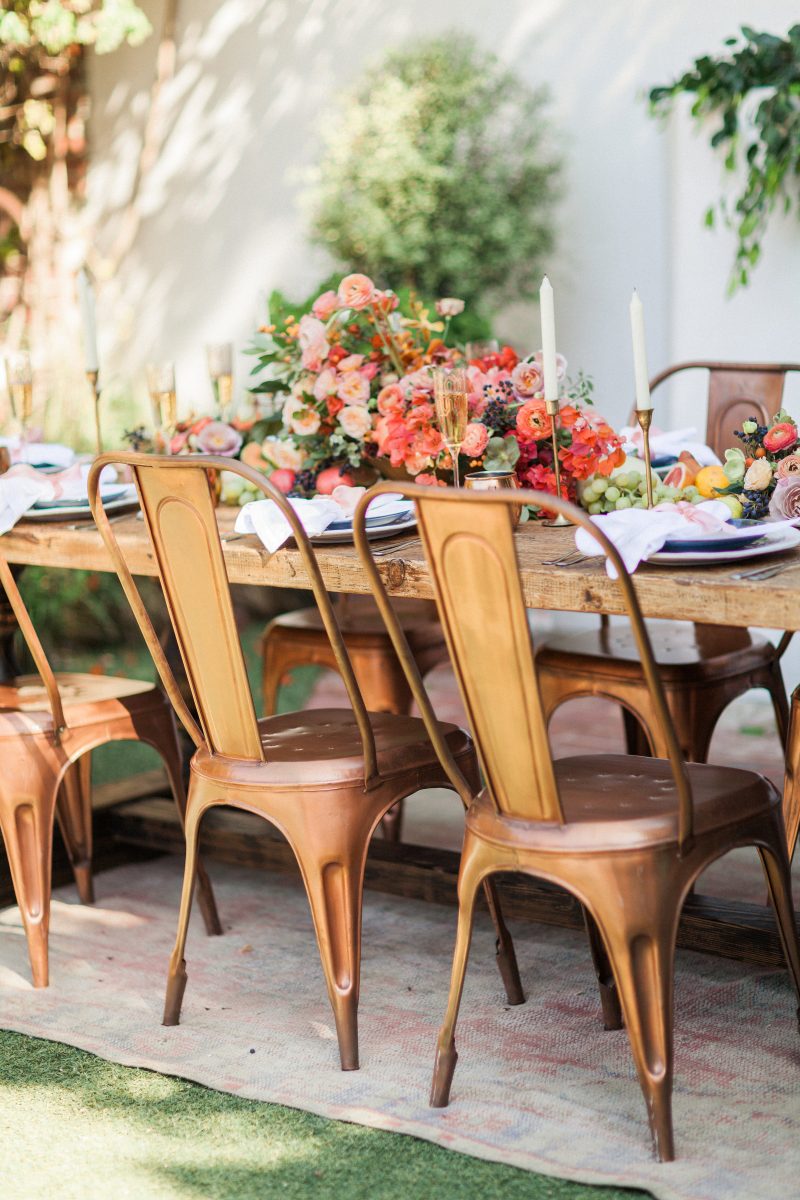 This past year also found me stepping outside of my comfort zone (which surprised many of you). It's not always easy for me to do and you can read about that here.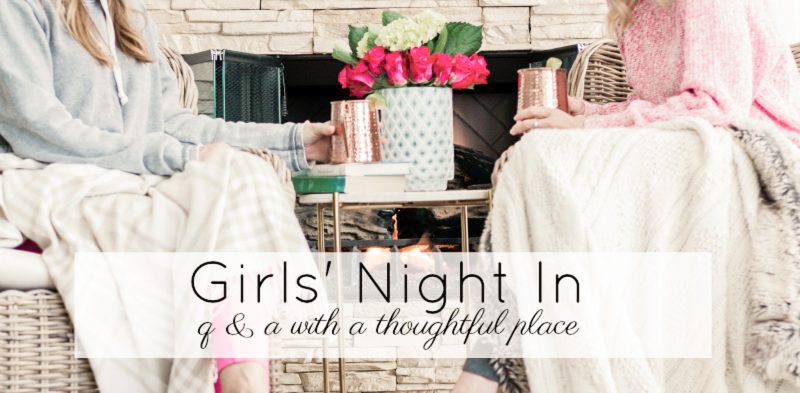 Over the years, I have had so many of you ask for a Q & A post. So far I have put together two and they have been a huge hit. I will resume this series in 2018 so get your questions ready! I cover love, family, parenting, blogging, home decor . . . you name it. You can get caught up in night one here and night two here.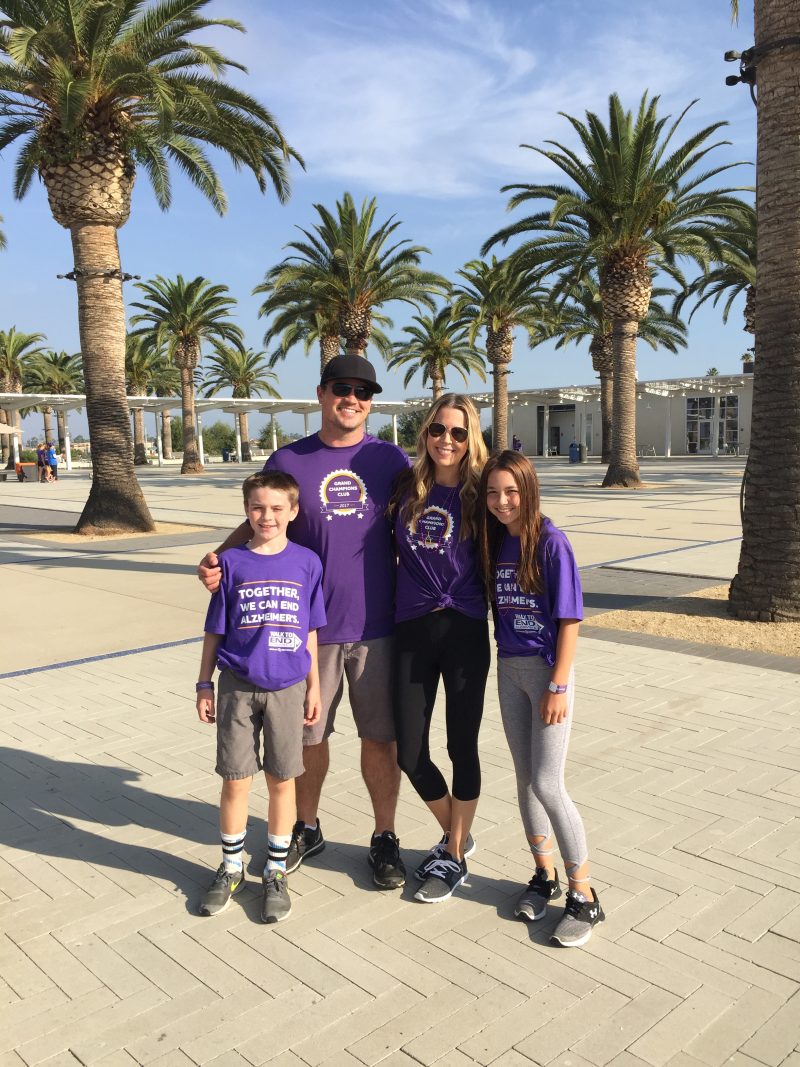 While this was not a dedicated post, I did open up about my mom's battle with Alzheimer's. Participating in this year's walk ranks up there with one of the most difficult things I have ever done. Emotionally. And yet one of the most rewarding. A HUGE heartfelt thank you to all of my family and friends who donated money to the Alzheimer's Association. Your generosity astounded us. We must find a cure. To any of you who are dealing with Alzheimer's in an up close and personal way, I am sending you so much virtual love and support. I understand.
That brings me to my most vulnerable post of the year and one that resonated with so many of you. Thank you to everyone who opened up about their own journey with grief. If you have ever lost someone, this post is one you may want to read. I share what I have learned from the grieving process. All of which has been a welcome surprise.
I share more posts like these under the musings tab in my navigation bar. Just choose "my heart."
TRAVEL
If I could pack up and travel all the time I would. There is something about traveling that makes me feel more alive. After settling into our new home and because of other family commitments, 2017 found us staying close to home but still fitting in short trips here and there to get our fix.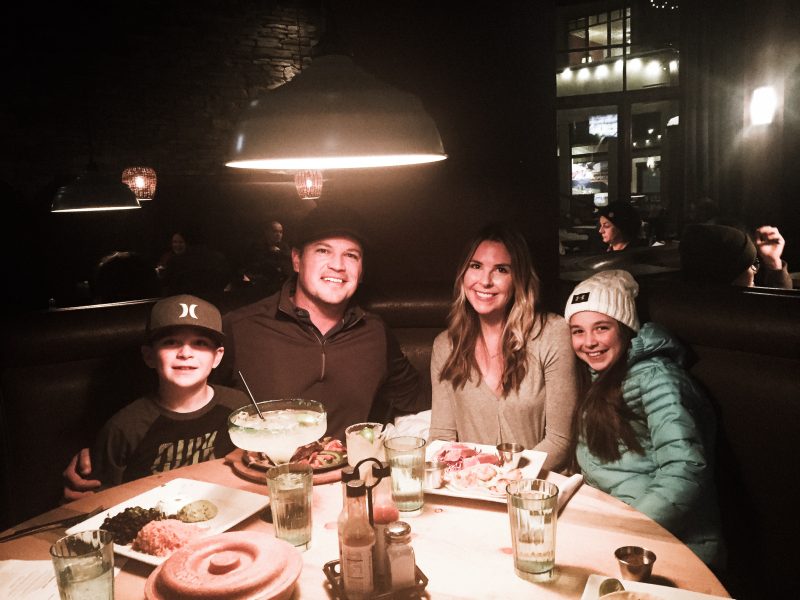 This year also brought about really fun trips with this crew. Mammoth was one of our favorite getaways. It's these adventures with the family that create all the good memories! They are still talking about the giant drink daddy accidentally ordered and the blizzard like conditions we skied in. So much fun. This was also the trip I borrowed my friend's adorable ski pants and boots. I just broke down and bought my own for the upcoming ski season.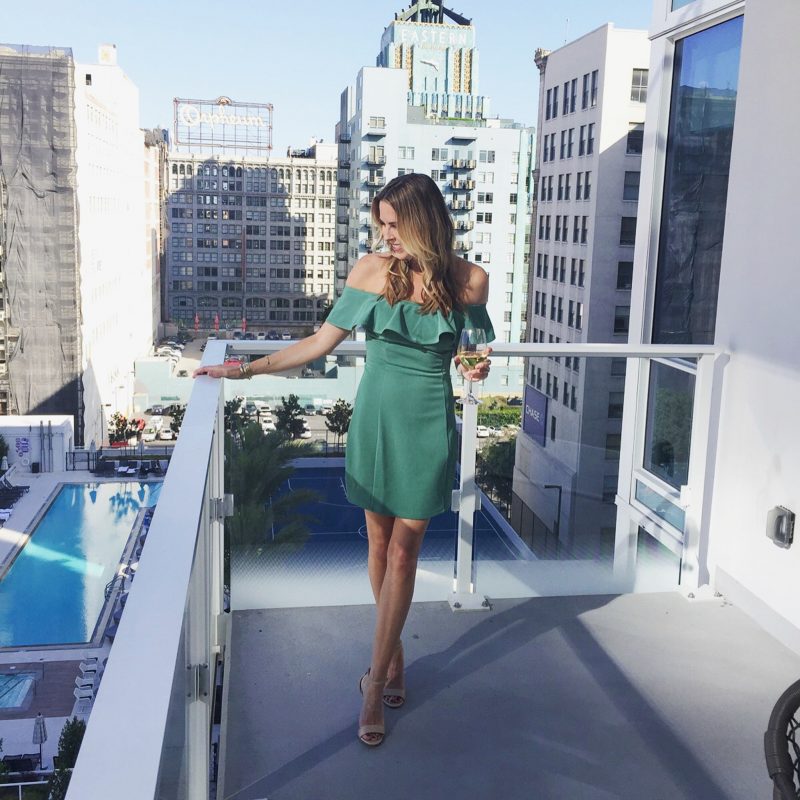 A quick trip to LA with a good girlfriend is sometimes what life calls for! We had a wonderful time laughing, crying and just being girls.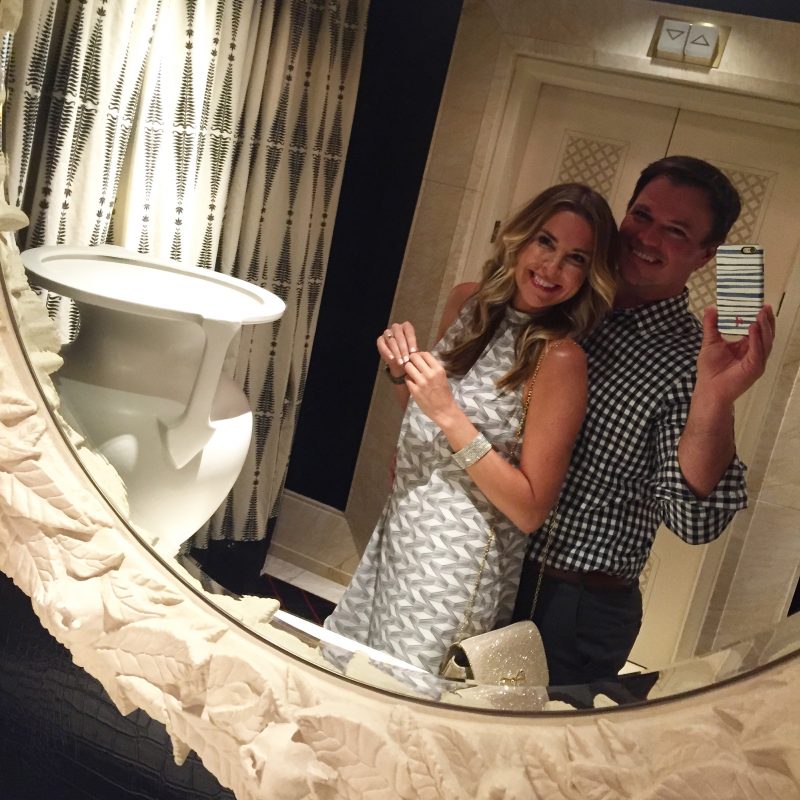 Once a year, my husband and I try to sneak off to Vegas. It's just a fun getaway where you can check your responsibility at the door. Love this guy so much. This is one of my all time favorite dresses. Ever.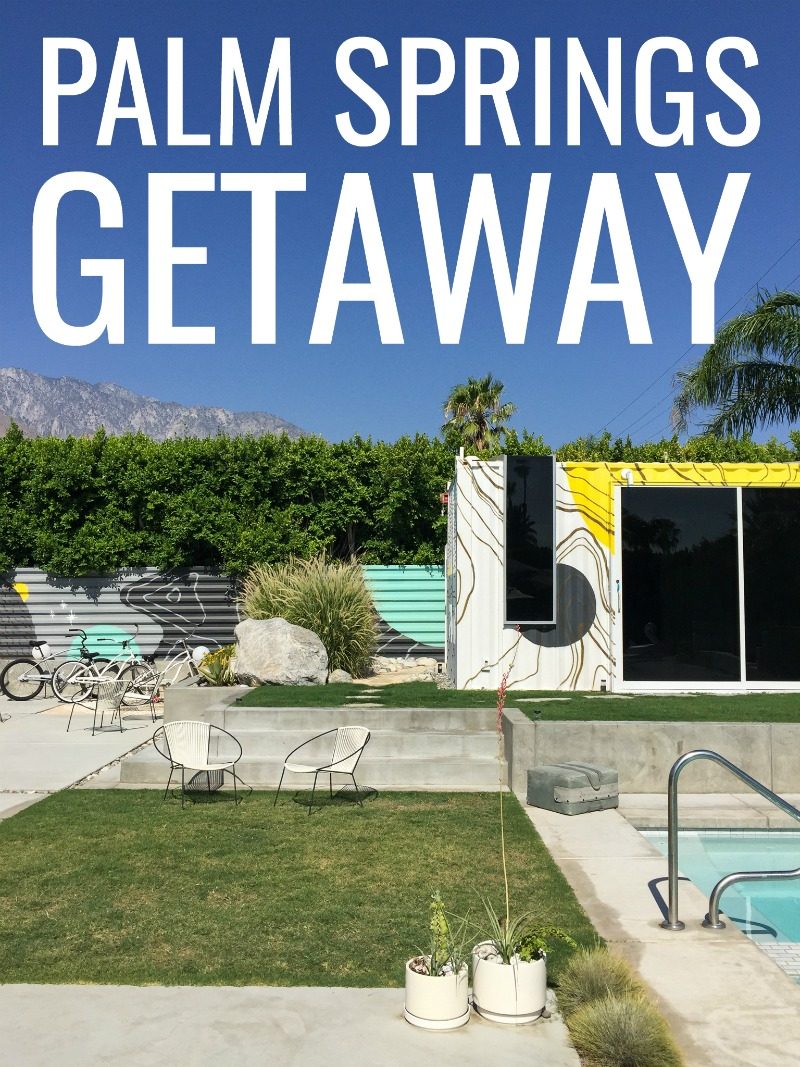 Our family snuck off to Palm Springs for a getaway and it was fantastic. We stayed in this mid century modern home and soaked in every second of that pool. You can see more of the property here plus a recipe for a scrumptious cocktail here.  If your looking for an amazing restaurant for a special occasion, the one I chat about in this post is our pick!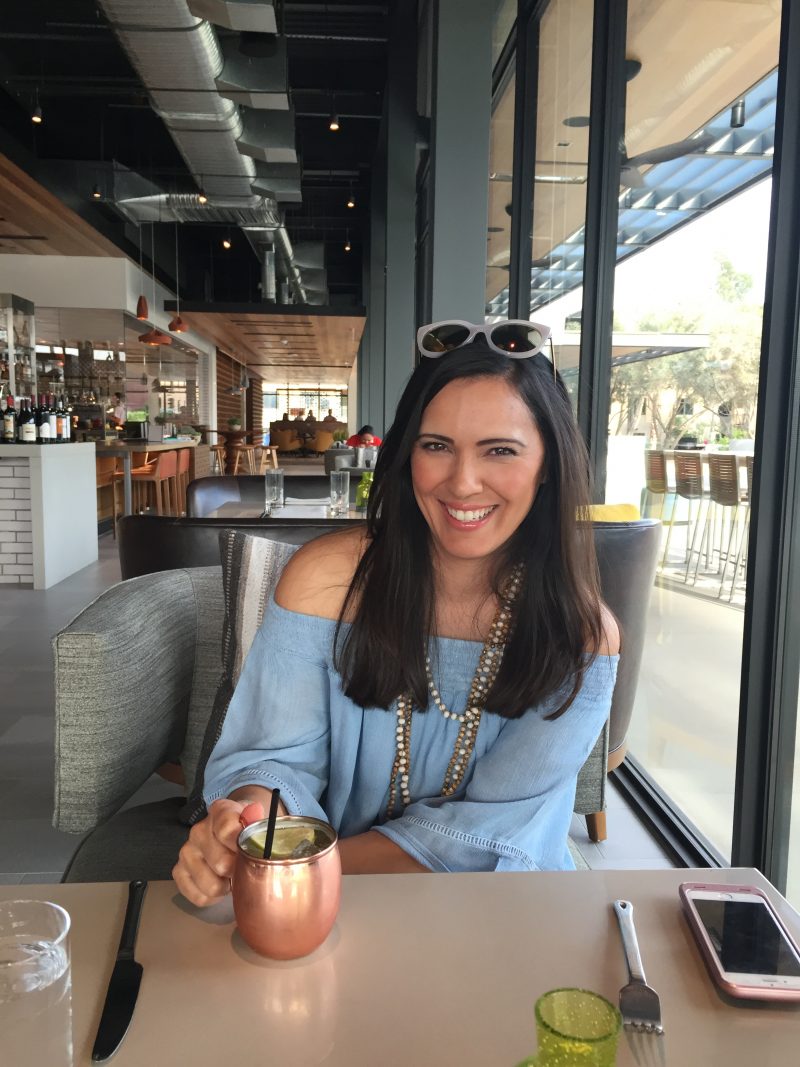 An unexpected fun trip was traveling with my friend Carmel to tour the HGTV Smart Home in Arizona. The home was spectacular and we had the best time. Another major highlight was being asked by Nate Berkus to sit down and chat appliances over coffee. An afternoon I won't soon forget.
GATHERINGS
Entertaining and spending time with friends and family in our home ranks right up there with one of my very favorite things to do. I love everything about it. Here are some of your favorite gatherings post from the year.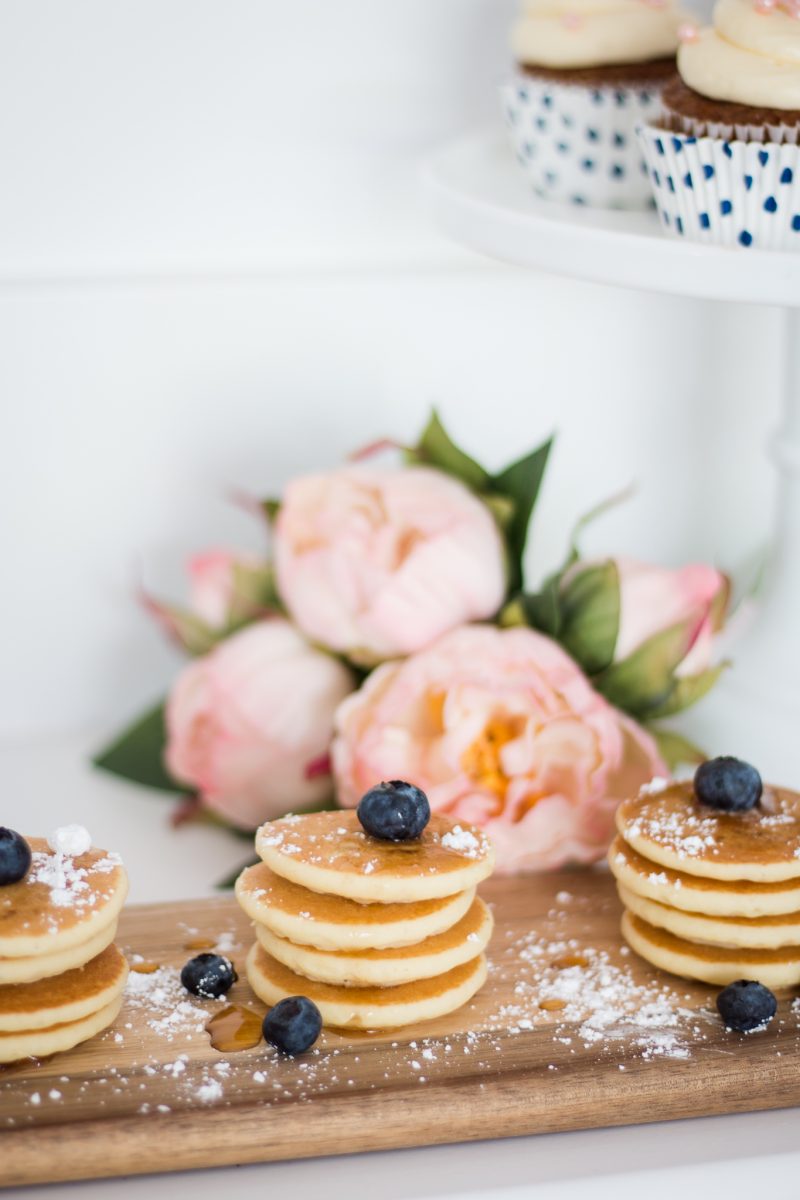 One of my favorite entertaining posts was this breakfast one. Who can resist mini pancakes. In fact it would be perfect for the upcoming Valentine's Day holiday. We made a donut stand and I also shared ways to easily throw a kids bash.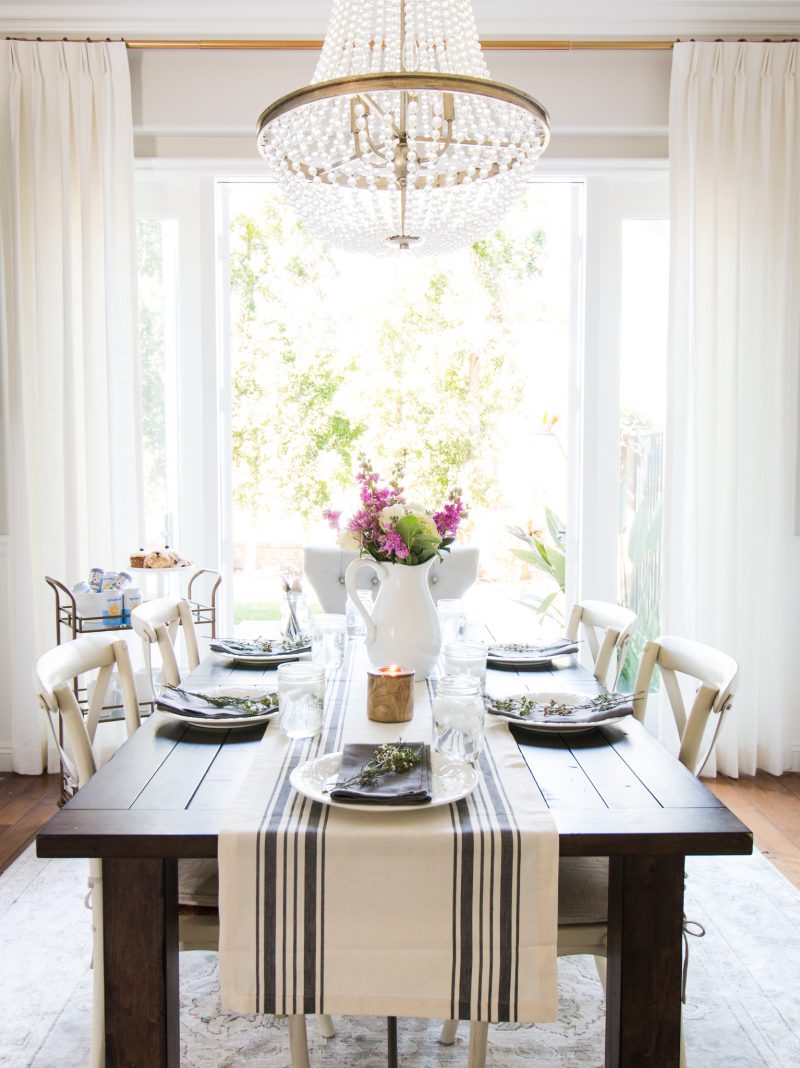 Decking out our dining room is always fun and you all loved this table as well as this colorful Easter post. Two of my favorites as well.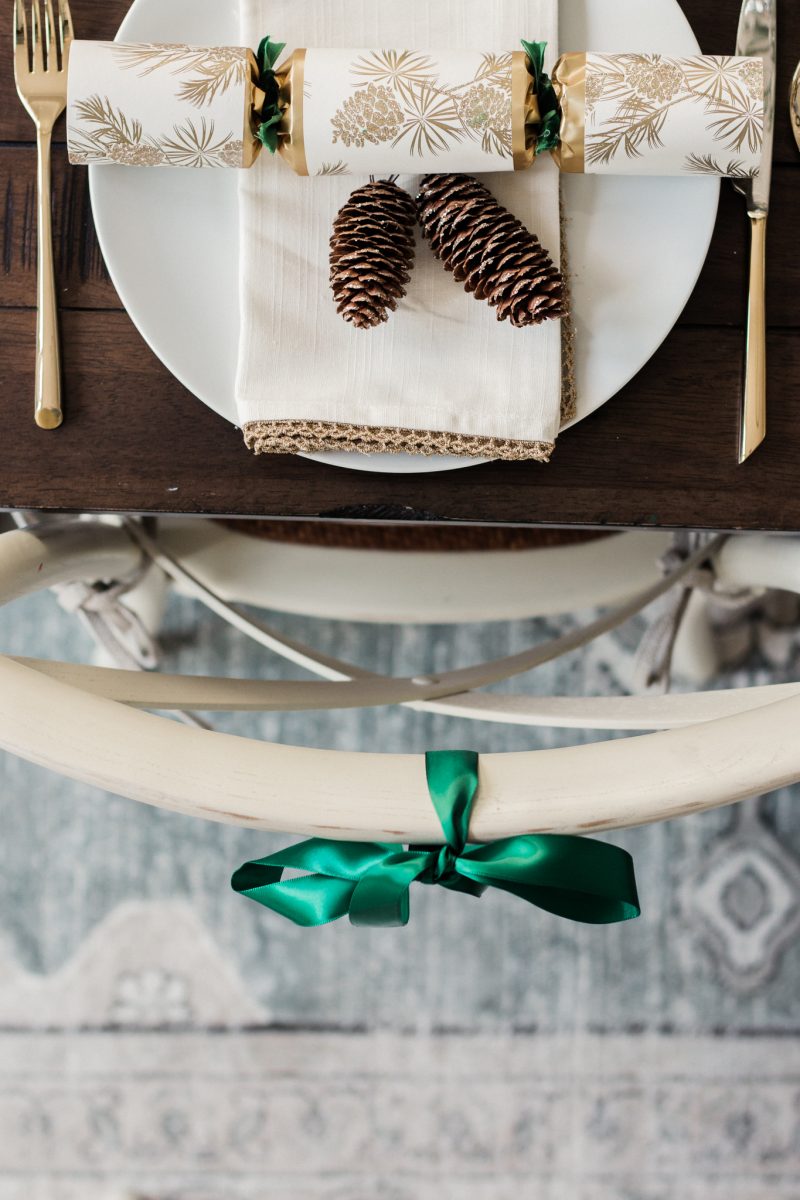 And by far, our 2017 forest inspired Christmas table was your very favorite. We loved it as well and had so much fun celebrating Christmas eve with our family right here.
DATE NIGHTS
If you have followed along on our adventures over the last few years, you know that date nights and together time are a huge priority for us. I could go on and on about the value of the together time. Really, I could. LOL.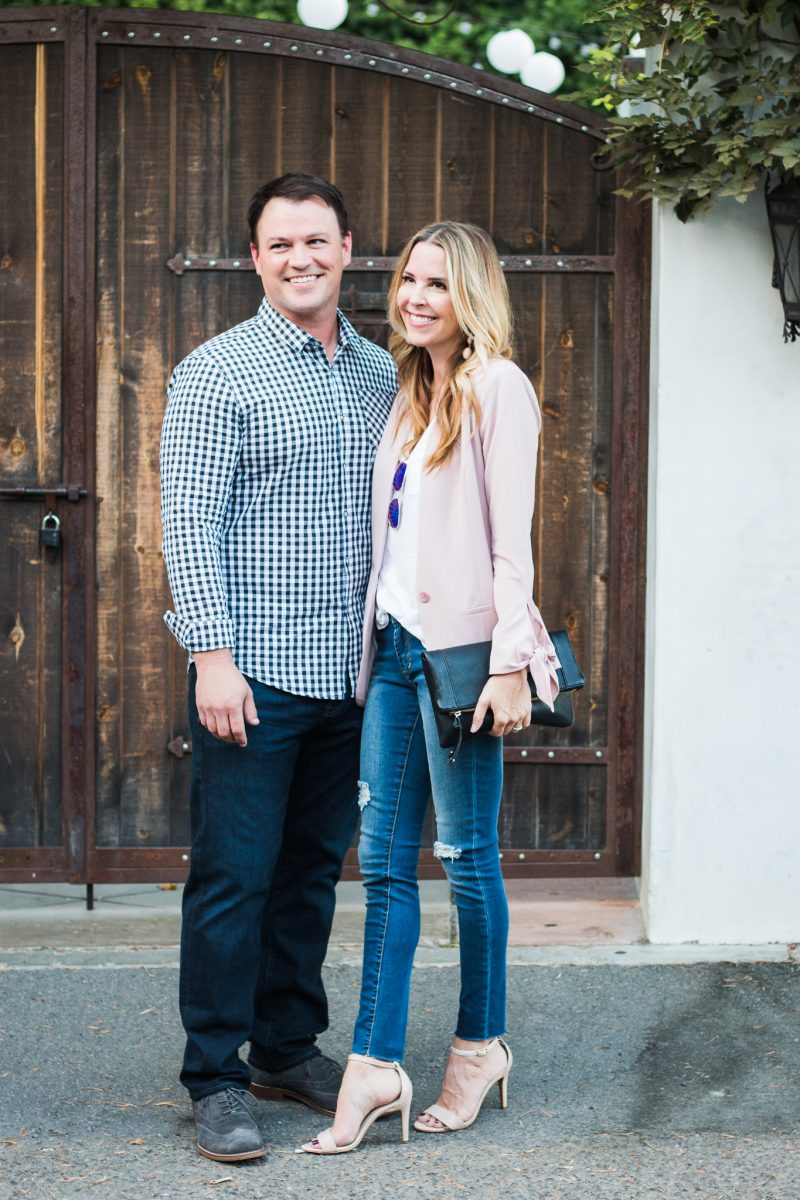 In this post, I shared five ways that we stay connected. It's so important to us, especially as life gets busier and much more complicated.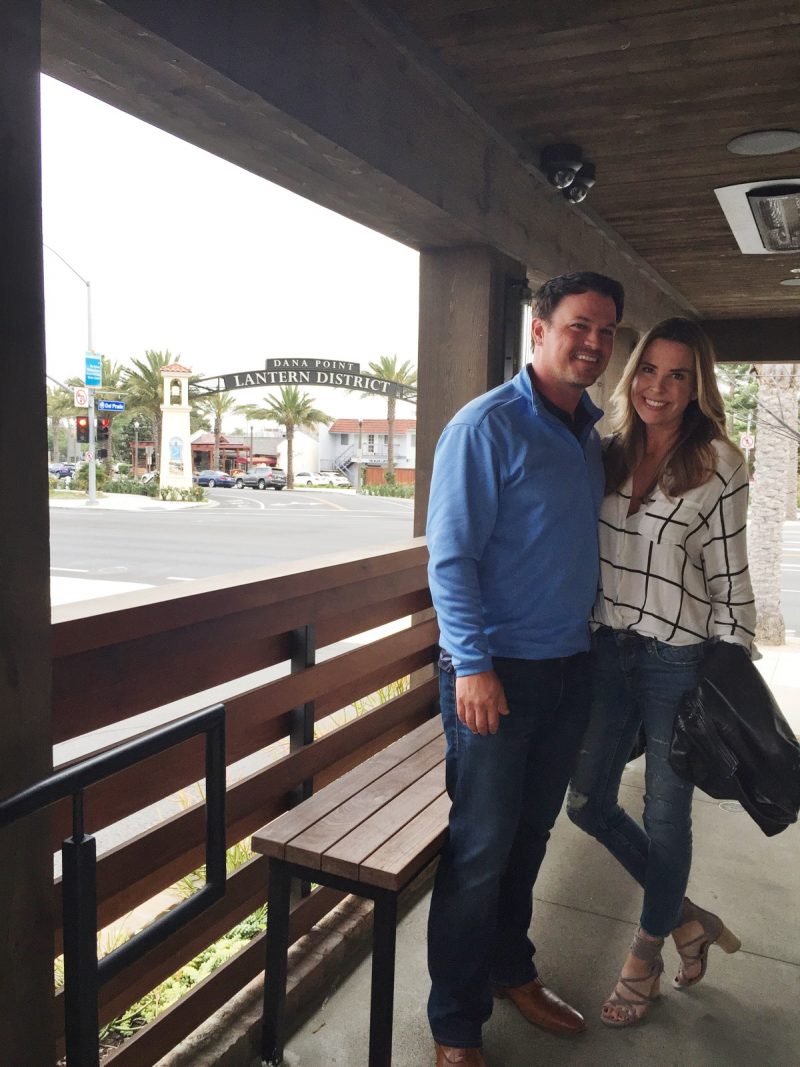 One of my more popular series on the blog is the "It's a Date!" series. If you are unfamiliar with it, it's a super casual way to share date night hot spots and ideas for getting out and about with the love in your life. This particular one is in Dana Point.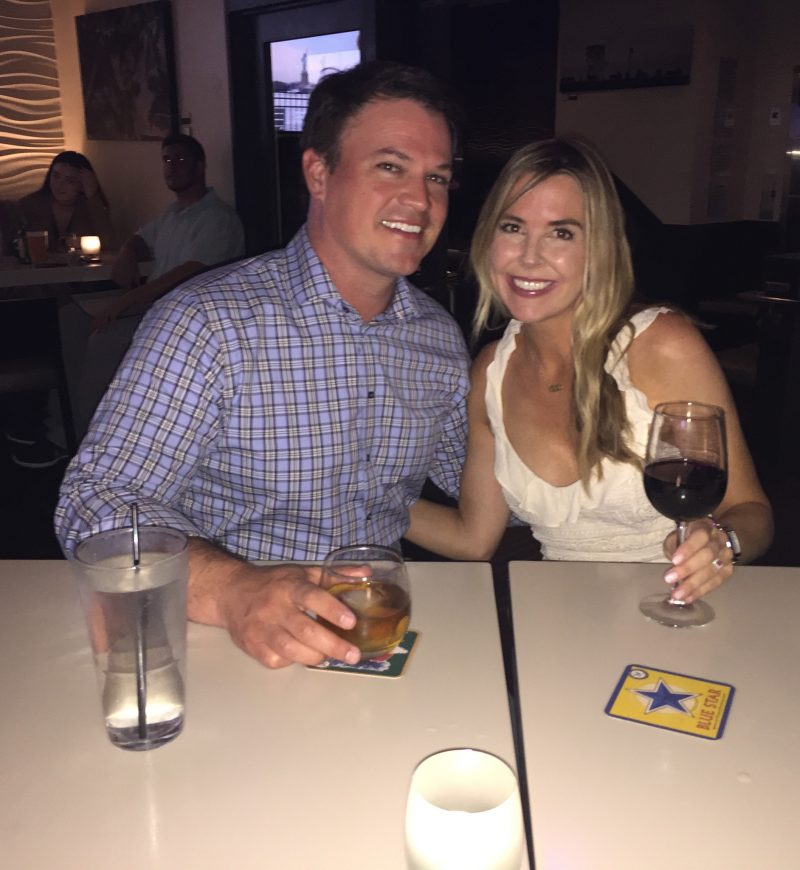 BEAUTY ROUTINE
Another topic that resonated with all of you was when I opened up about my skincare issues and routine.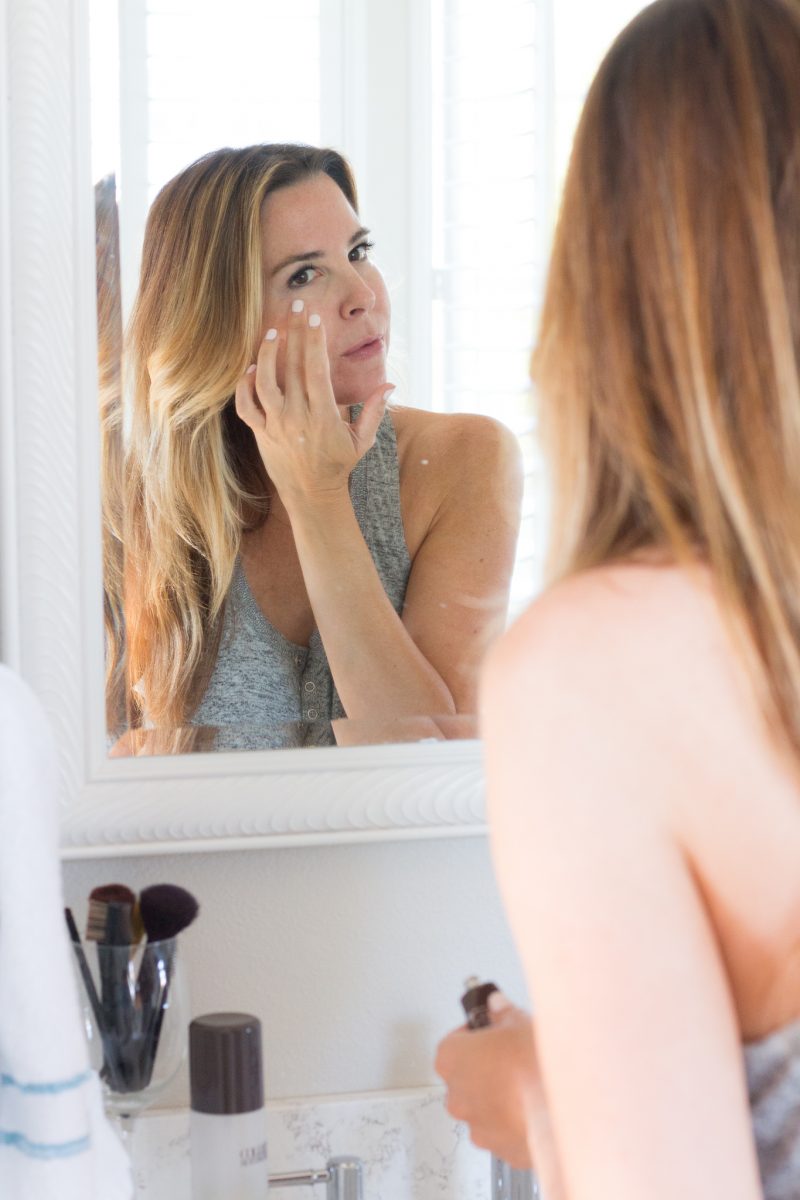 Going bare faced is not exactly comfortable when on camera, but I wanted to share with you my skincare routine and why it works for me. I have been trying a new line that I will share soon, too.
SOME FAVORITES

HOLIDAY HACKS
The holidays can be super stressful. We all know that. This year I shared a few ways to keep the stress at bay and to keep decorating simple.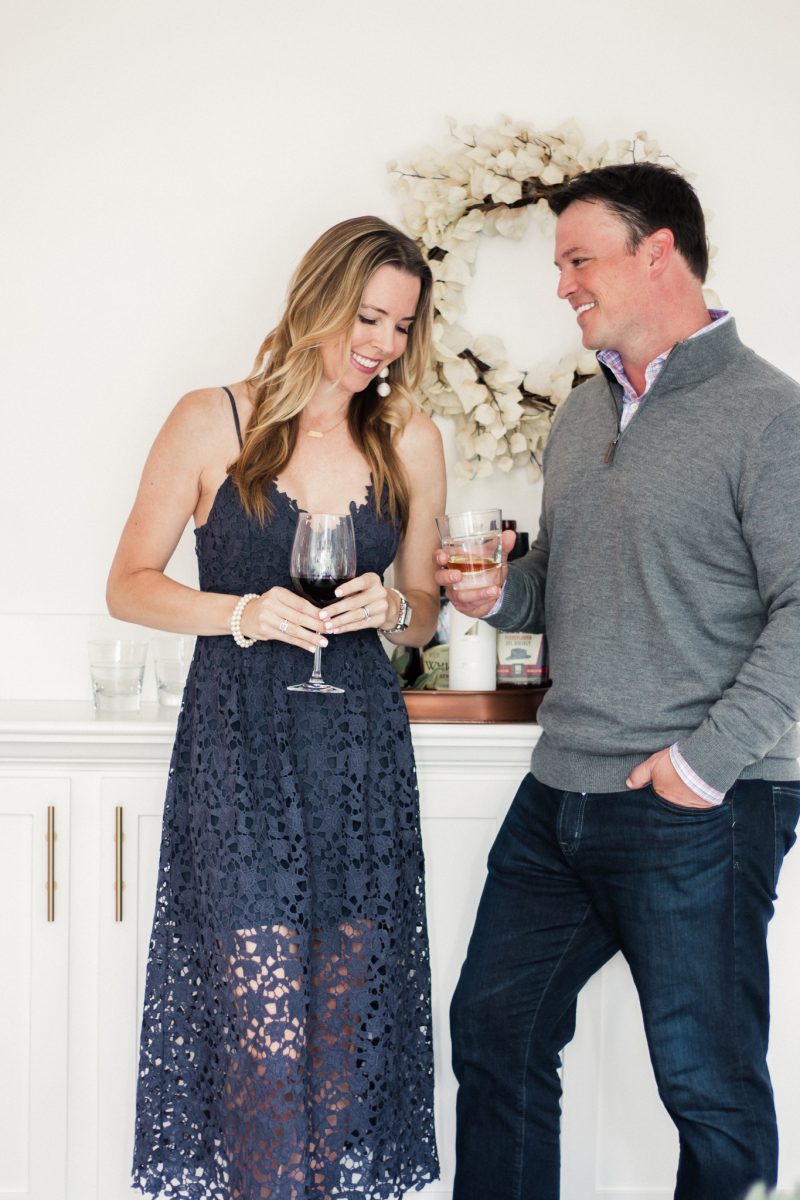 In this post I shared our top tips for hosting Thanksgiving and still wanting to stay married. We've done it for years and have learned some things along the way. My dress was one that I loved wearing all season long.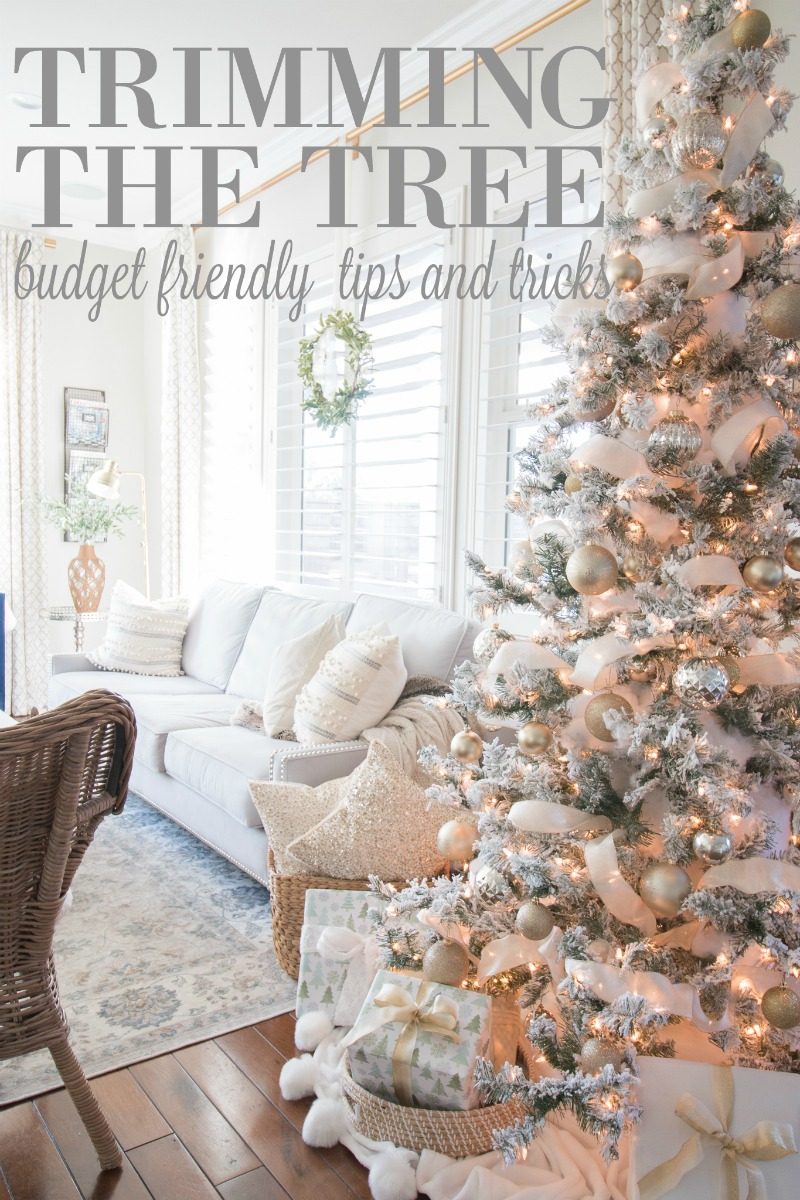 Creating a really pretty tree does not have to cost a lot of money or be difficult. Here I shared my tips and trips for trimming your tree on a budget. 
DIY PROJECTS
DIY is in my blood. My parents were my inspiration and teachers. They always created the most beautiful projects, tables, you name it. I truly believe my mom would have been the best blogger ever had there been blogs when she was raising us.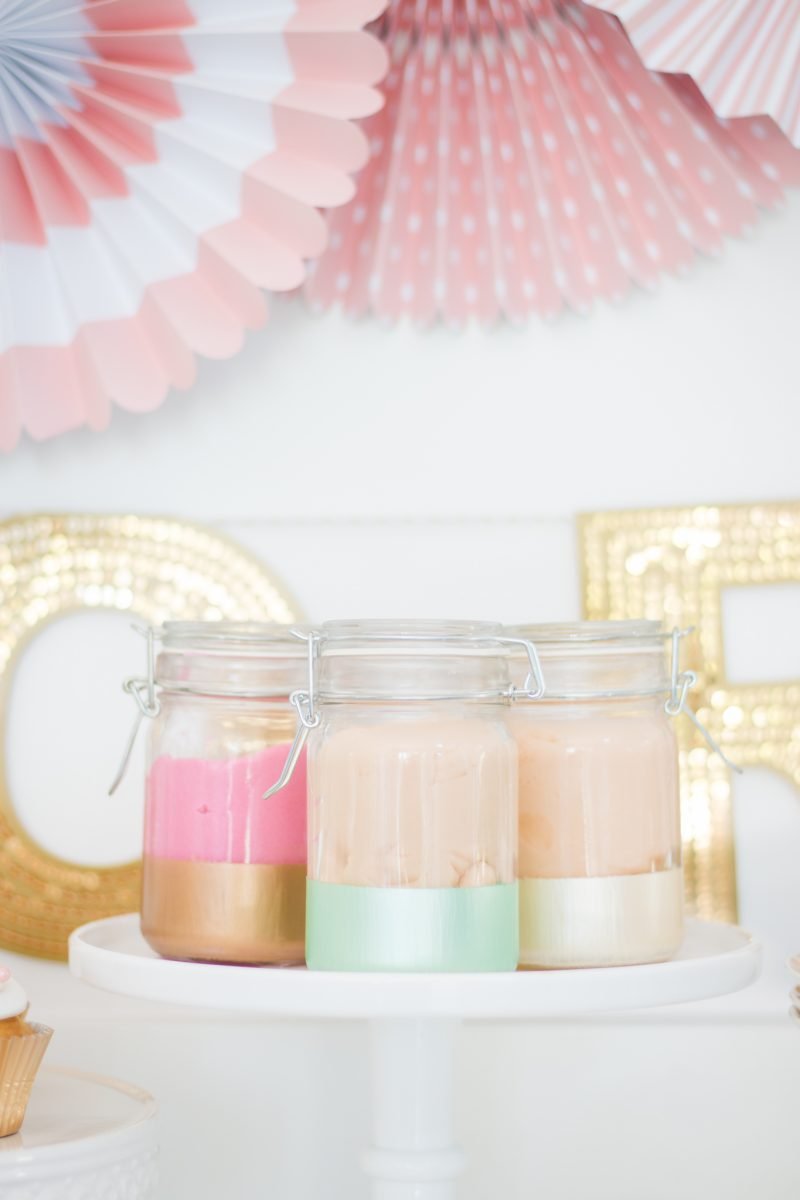 A fun and simple way to hand out party treats (without sugar!!!). We made homemade play dough and packaged them in a fun and unique way. So simple.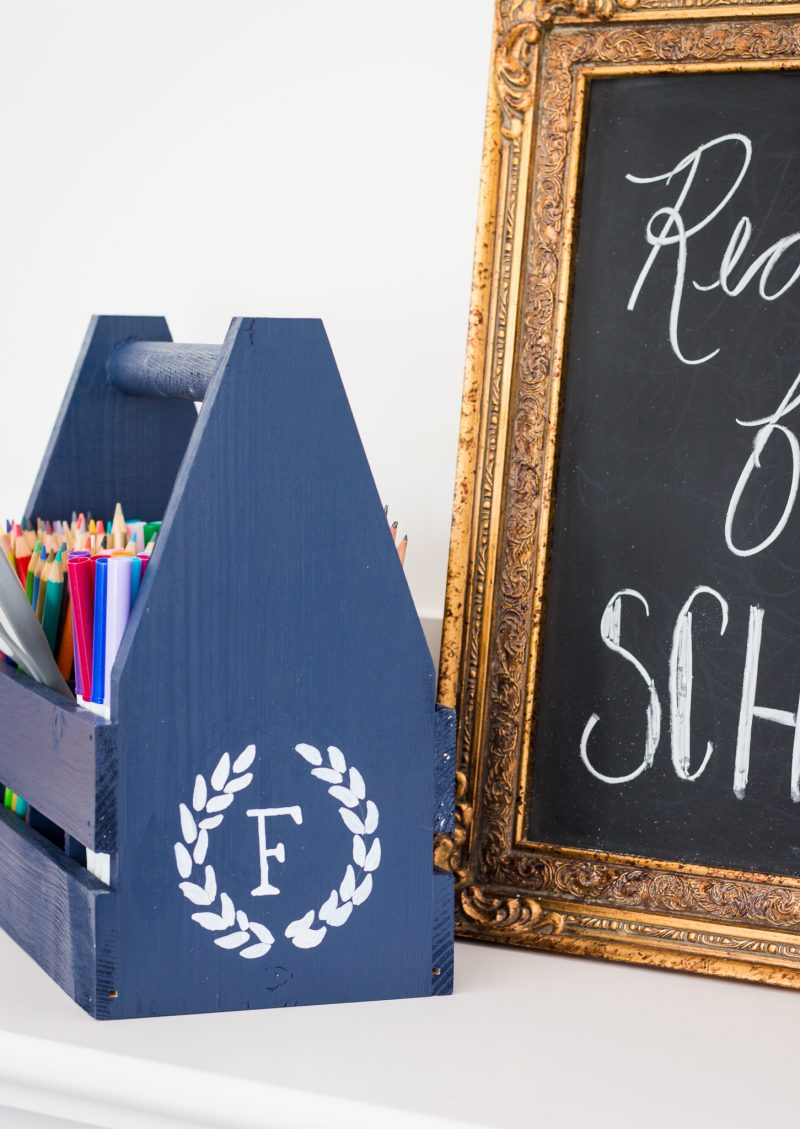 This might be my favorite easy DIY from the year because my children use it every. single. day. No exaggeration. I wish I had made this monogrammed supply caddy years ago. Highly recommend. The growth chart ruler was another post you all loved.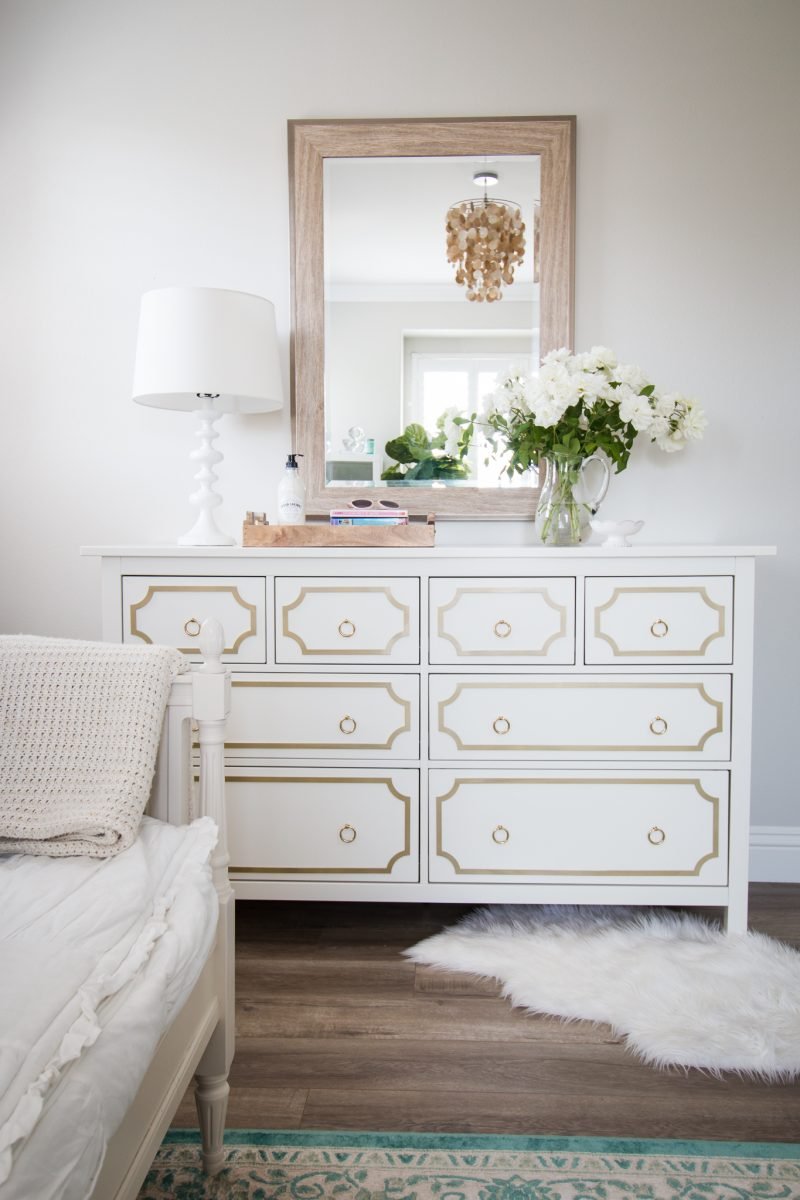 This was one of my favorite reveals of the year. We took this Ikea dresser, added some glam decals and bam! Such a fun and easy project. You can catch the details and how to recreate this look here.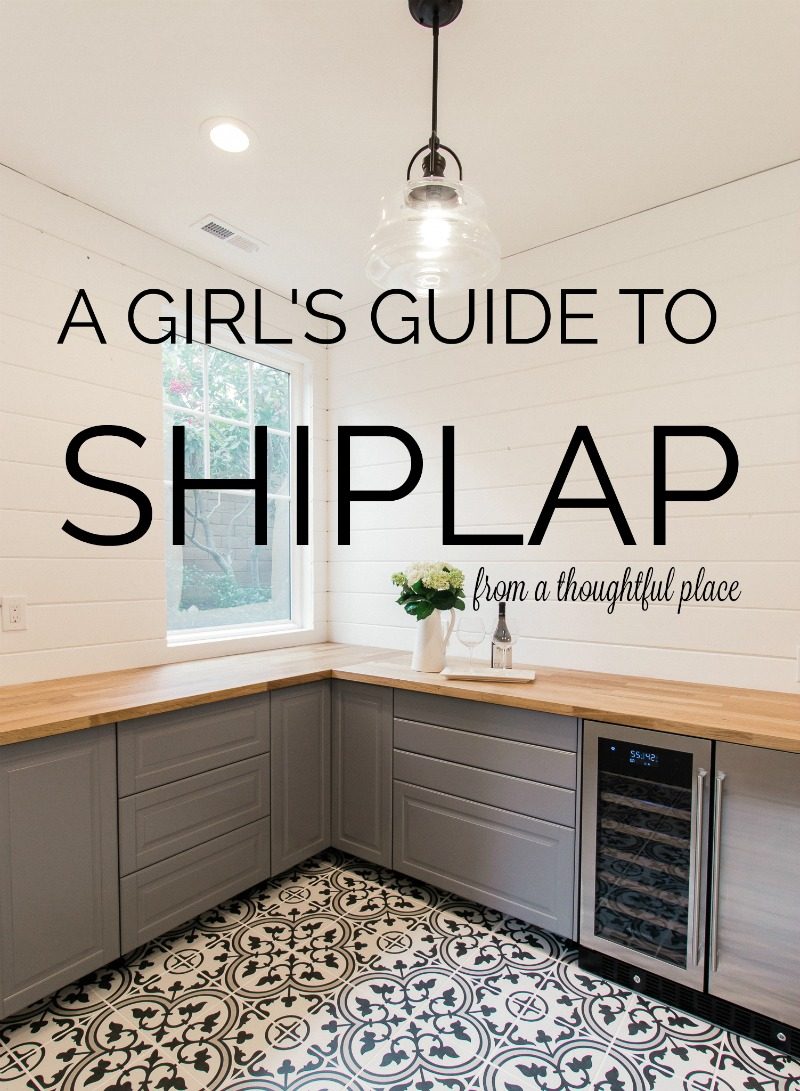 Our biggest accomplishment was creating this room from nothing. We took our first swing at shiplap and loved the process. Shared all of our tips and tricks here. 
YUMMY RECIPES
Nothing better than sharing recipes with a friend. Always fun to share what we are cooking up over here.
Hands down this was your all time favorite. And I understand why. These salted caramel chocolate chip bars are ridiculously good. Take it from someone who doesn't have a sweet tooth. And there is printable recipe for you as well. This breakfast dish also garnered a lot of praise from you. It's one of our very favorites.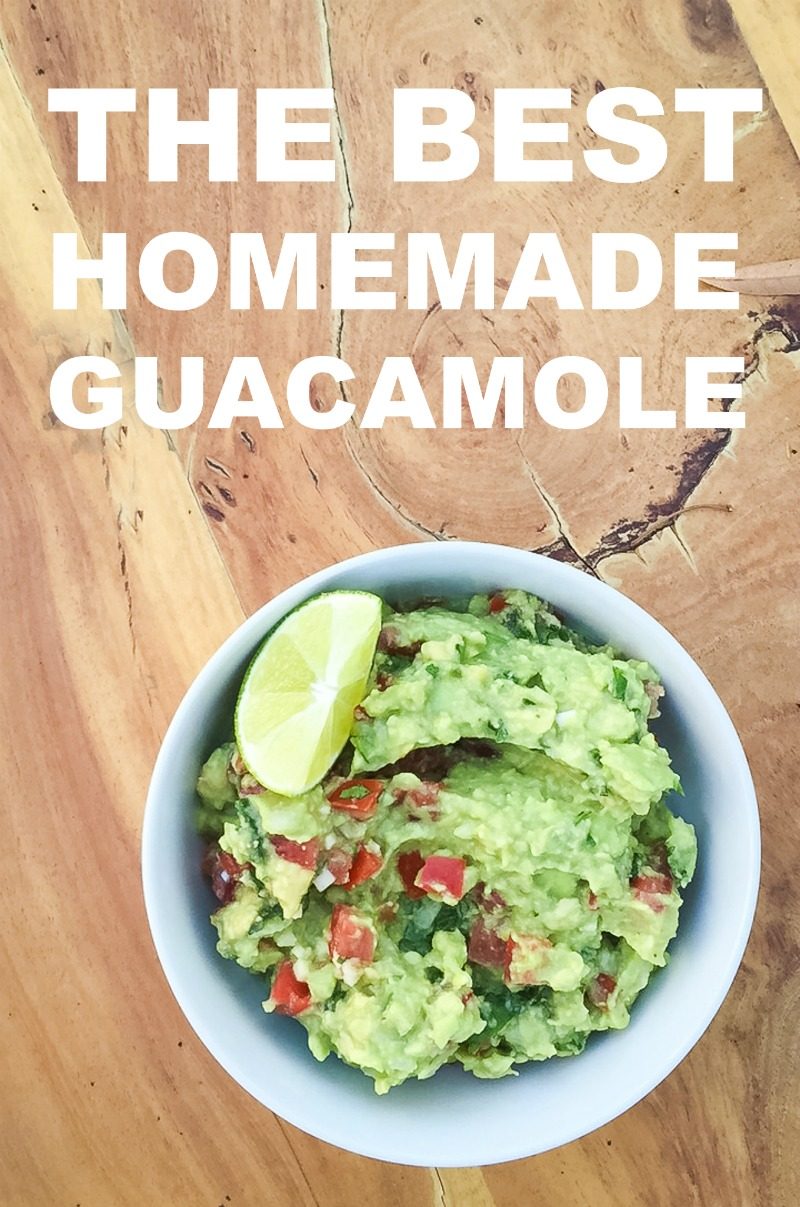 I live for guacamole. That is all. Here is my favorite recipe. 
All of my recipes are under the gatherings tab at the top of my blog. Just choose "yummy!"
INTERIORS
We love a beautiful interior. I always joke that when I am watching television I'm never really watching. Instead, I am looking around the room and rearranging things in my head. There isn't anything I don't love about interior design and decorating. Apparently you all do, too!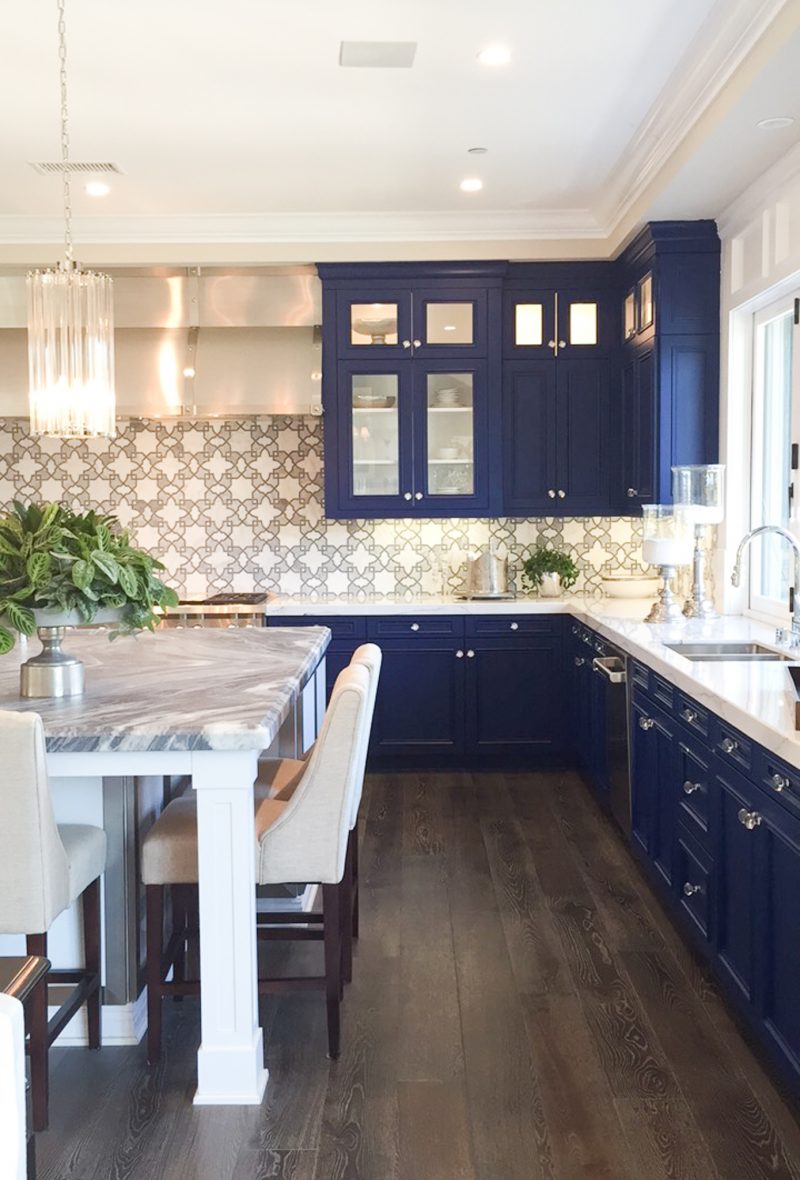 I toured this model home with my family and you all went bananas. It's a good one!!!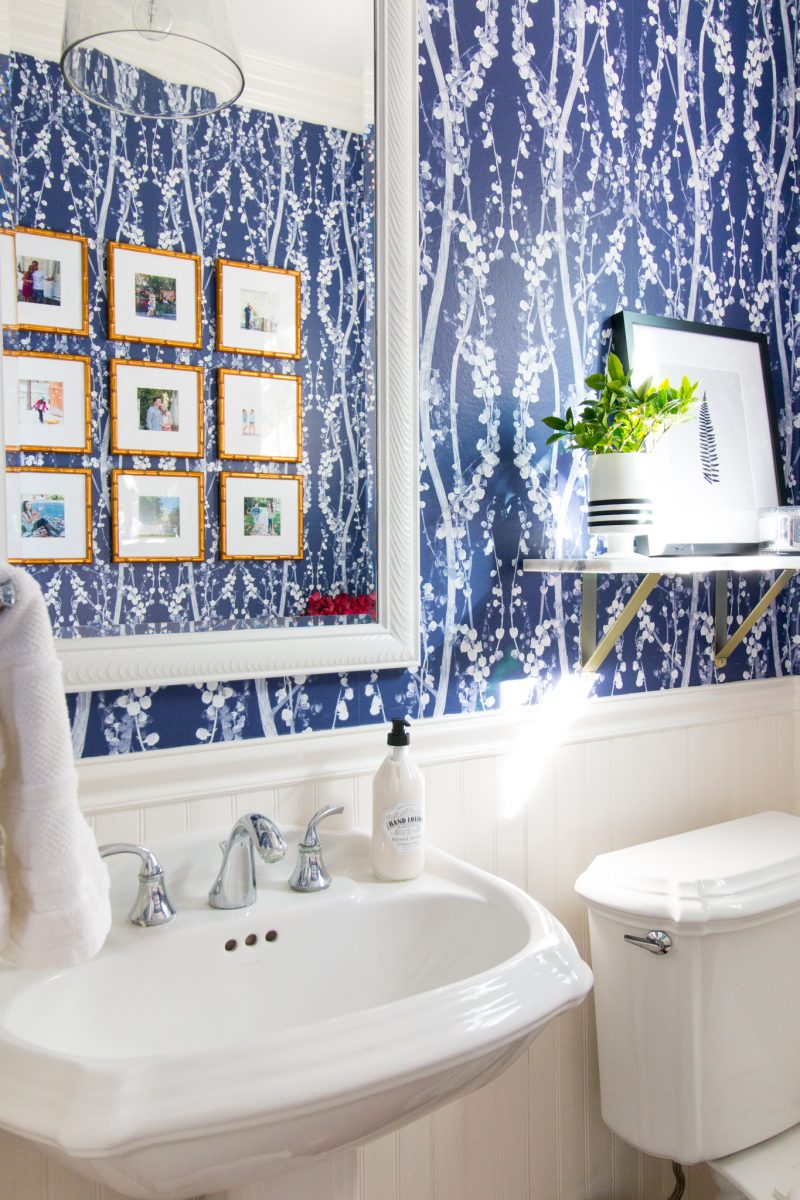 One of the first projects we tackled was our downstairs powder room. The gallery wall from Framebridge is still one of my very favorites.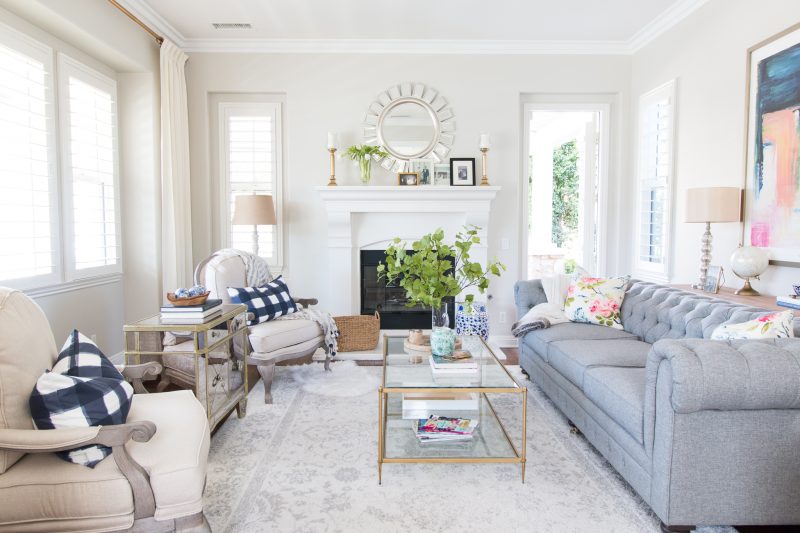 This living room tour was one of your favorite posts. While the overall design of this space is quite neutral, we weren't afraid to go bold with some accent pieces.
The image that was the biggest hit from our Christmas home tour was this kitchen shot. It was the most pinned on Pinterest and one of my favorites, too. Tip . . if you ever decorate your barstools, just use painter's tape to secure the ribbon. They won't budge!
And your favorite project of the year is our new pantry. Mine, too. Thank you for all of your love and support and for following along. I have yet to blog about it as we aren't quite finished. We have more shelves to build on the opposite wall and then I will share the completed space. It's actually our first project of 2018! Stay tuned.
FAVORITE LOOKS
I love sharing my looks with all of you. I like to think I keep things pretty simple. Adding in a bit of edge plus something feminine seems to be my go-to. Thank you for all of your awesome feedback about the styles I shared in 2017. I love hearing from all of you. That is why I do what I do.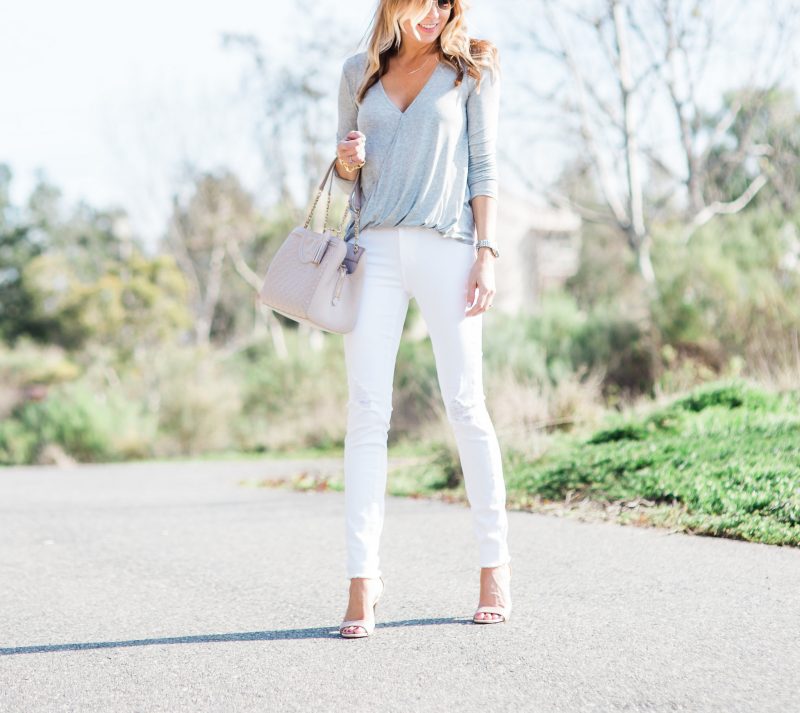 By far, this was one of your very favorite looks. The white pants are a major piece in my wardrobe. The heels are, too. While this exact top is no longer being sold, this one is a similar style. Toss on flats and you're good to go during the day. That's pretty much how my wardrobe works. Same for day and night but I swap out shoes and accessories. Do you do that as well?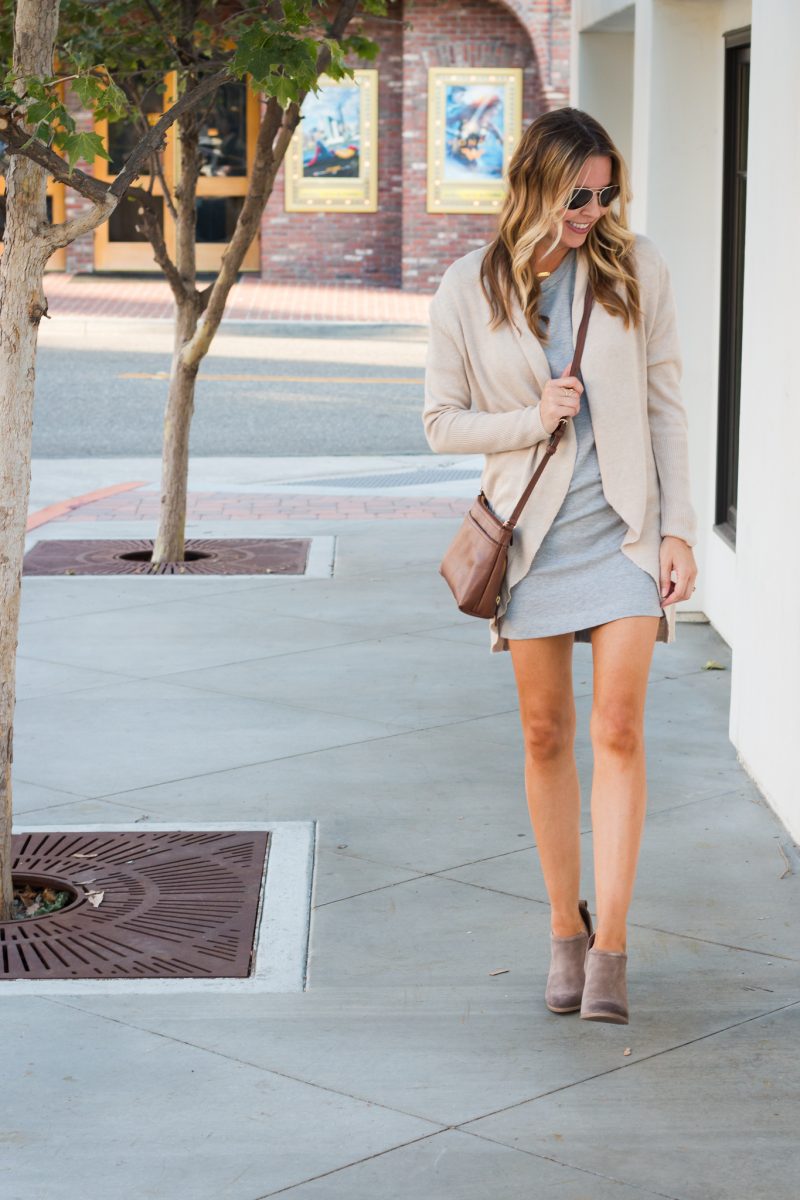 These booties were the number one selling item of the year. I scooped them up at the Nordstrom Anniversary sale and have been wearing them ever since. A great bootie and clearly you all thought so, too! Great minds. They are currently on sale again. The cardigan is also on sale.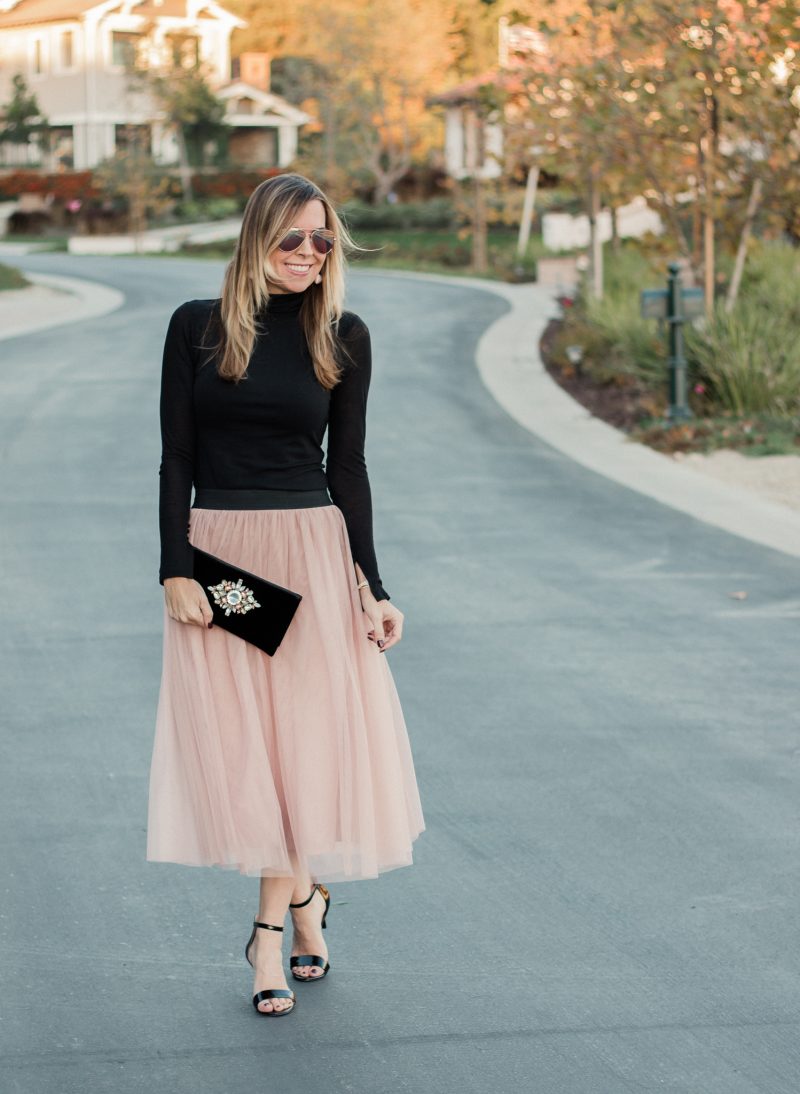 top  | skirt | heel | clutch | earrings  | sun glasses $14
This feminine holiday look was another huge hit with all of you. I think it's fun to step out of our comfort zone now and again and a tulle skirt will definitely force you to do that!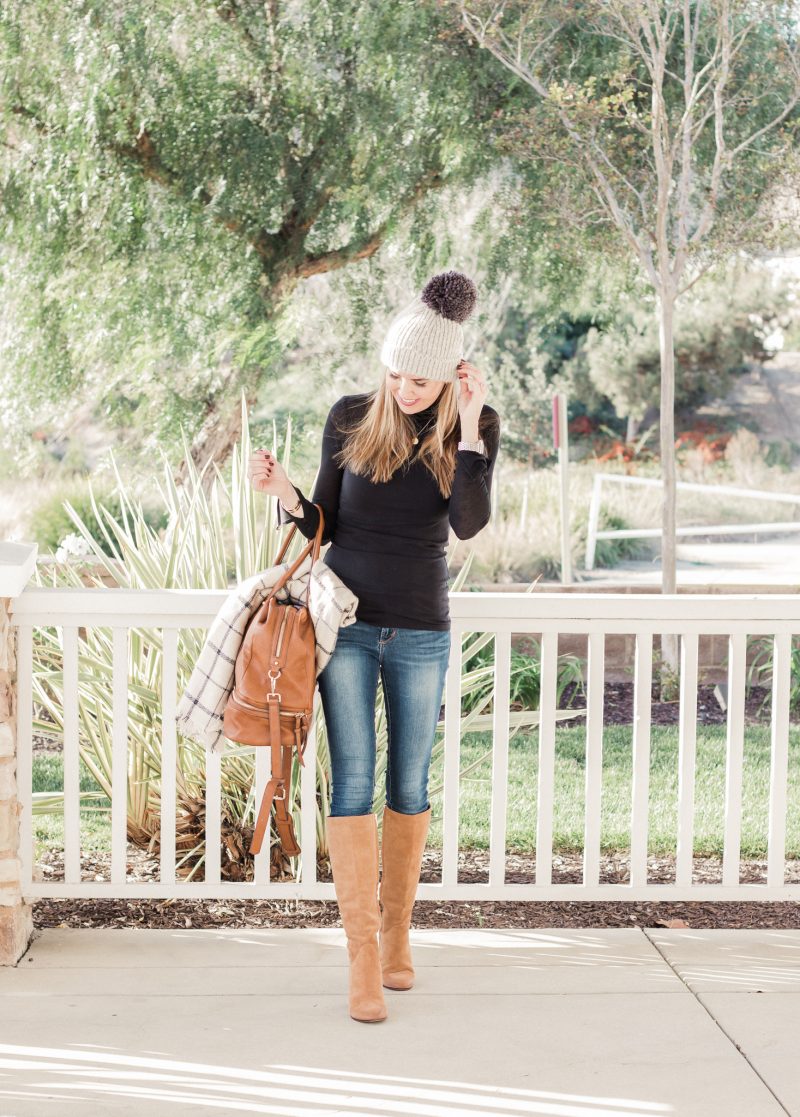 jeans | top | travel bag | scarf | hat | boots | necklace
This was another look that you all really liked. There is something about mixing brown and black that just works. And a fun beanie sure does help when you are on day three of dry shampoo. Just saying!!! It's my favorite winter trick. And lastly, these pajamas were one of your favorites and I can see why. They are beyond soft and on sale, too. These lounge pants continue to be a fan favorite as well.
You can get caught up with all of my looks under the fashion tab and shop my Instagram looks right here.
THOUGHTS FROM YOU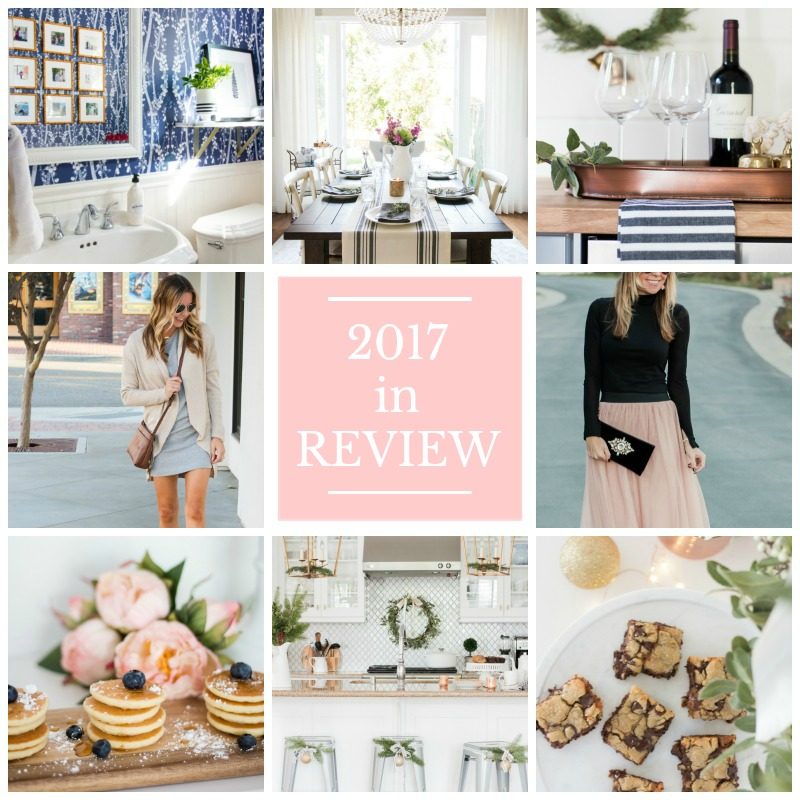 First of all, if you made it through this post you are to be commended. I never dreamed it would be so lengthy but by the time I was half way through there was no turning back. Thank you for being the most important part of this blog. It's the connection I feel with all of you that keeps me coming back to share and write more.
So what would you love to see more of in 2018? I really want to know. Feel free to let me know in the comments or leave question for the upcoming Q & A post. Hearing from you is what makes all of this so much fun. Love to you all. xo